Afghanistan Google Maps is a site/tool that offers a wide range of map views (topographic, satellite, street view) and navigation options, with little effort on your part, yet efficiently. If you need to plan a trip to a new place like Afghanistan, Google maps are available on desktop, mobile, or tablet. This Google maps and information page is dedicated to Afghanistan, Asia (22 countries), showing its location, country facts, details about its capital city Kabul, bordering countries like China, Iran, Pakistan, Tajikistan, Turkmenistan, Uzbekistan, and plenty of other information which may be interesting when you visit this Asian state.
Quick links: Google maps Afghanistan, Kabul Google maps, Driving Directions Afghanistan, Printable Road Map.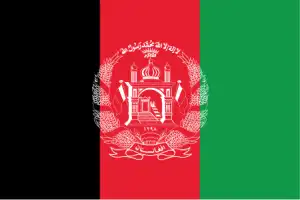 About Afghanistan in a nutshell
The UN estimates that it could take 100 years to remove the 10 million landmines laid since 1979.
Conventional short form of the name: Afghanistan
The conventional long form of the name: Islamic Republic of Afghanistan
Local long form: Jamhuri-ye Islami-ye Afghanistan
Local short form: Afghanistan
Former name(s): Republic of Afghanistan
Etymology: the name Afghan originally referred to the Pashtun people (today it is understood to include all the country's ethnic groups), while the suffix -stan means place of or country; so Afghanistan literally means the Land of the Afghans.
The legal system in Afghanistan: mixed legal system of civil, customary, and Islamic (sharia) law.
Climate: Harsh continental. Hot, dry summers. Cold winters with heavy snow, especially in the Hindu Kush.
The national symbols are lion; national colors: red, green, black.
Internet TLD: .af
The country, which survived more than thirty years of war and Taliban rule, is still recovering from the ruins: the time seems unclear when it will regain its reputation of forty years ago and become a popular tourist destination again after the minefields have been cleared. Yet the country, which is seven times the size of our country, is surrounded by the 7,000m-high Hindu Kush and is rich in historical and cultural attractions as well as stunning natural wonders. The Kabul Museum's once world-famous collection of antiquities was lost during the war. Ghazni's main attractions are its international bazaar, minarets, and monuments unearthed during ongoing excavations – including a recently discovered Buddhist stupa dating from before the 7th-century Arab conquest. Herat was the cultural center of the Timurid Empire in the 15th century.
It's number one attraction is the Friday Mosque – one of the most beautiful Muslim buildings in the world. The jewel of Kandahar is the Holy Robe Mosque, which hides the Prophet's robe from prying eyes. Jam's ornate 65m-high brick rampart, built in the 12th century, is a relic of the Ghurid civilization. World Heritage in Danger. The Bamiyan Valley's cultural heritage and archaeological remains are also on the List of World Heritage in Danger. The Buddhist shrines and sculptures of ancient Bakhtria, dating from the 1st to the 13th century, bring together the different cultural trends of so-called Western Buddhism. The Taliban blew up the statues in 2001.
Background

Ahmad Shah DURRANI unified the Pashtun tribes and founded Afghanistan in 1747. The country served as a buffer between the British and Russian Empires until it won independence from notional British control in 1919. A brief experiment in increased democracy ended in a 1973 coup and a 1978 communist countercoup. The Soviet Union invaded in 1979 to support the tottering Afghan communist regime, touching off a long and destructive war. The USSR withdrew in 1989 under relentless pressure by internationally supported anti-communist mujahidin rebels. A series of subsequent civil wars saw Kabul finally fall in 1996 to the Taliban, a hardline Pakistani-sponsored movement that emerged in 1994 to end the country's civil war and anarchy. Following the 11 September 2001 terrorist attacks, a U.S., Allied, and anti-Taliban Northern Alliance military action toppled the Taliban for sheltering Usama BIN LADIN. An UN-sponsored Bonn Conference in 2001 established a process for political reconstruction that included the adoption of a new constitution, a presidential election in 2004, and National Assembly elections in 2005. In December 2004, Hamid KARZAI became the first democratically elected president of Afghanistan, and the National Assembly was inaugurated the following December. KARZAI was reelected in August 2009 for a second term.
The 2014 presidential election was the country's first to include a runoff, which featured the top two vote-getters from the first round, Abdullah ABDULLAH and Ashraf GHANI. Throughout the summer of 2014, their campaigns disputed the results. They traded accusations of fraud, leading to a US-led diplomatic intervention that included a full vote audit and political negotiations between the two camps. In September 2014, GHANI and ABDULLAH agreed to form the Government of National Unity, with GHANI inaugurated as president and ABDULLAH elevated to the newly-created position of chief executive officer. The day after the inauguration, the GHANI administration signed the US-Afghan Bilateral Security Agreement and NATO Status of Forces Agreement, which provide the legal basis for the post-2014 international military presence in Afghanistan. After two postponements, the next presidential election was held in September 2019. The Taliban remains a severe challenge to the Afghan Government in almost every province. The Taliban still considers itself the rightful Government of Afghanistan. It remains a capable and confident insurgent force fighting for the withdrawal of foreign military forces from Afghanistan, the establishment of sharia law, and the rewriting of the Afghan constitution. In 2019, negotiations between the U.S. and the Taliban in Doha entered their highest level yet, building on the momentum in late 2018. Underlying the negotiations is the unsettled state of Afghan politics, and prospects for a sustainable political settlement remain unclear.
Geography

Predominantly mountainous. The highest range is the Hindu Kush. Fertile plains border mountains. Desert plateau in the south.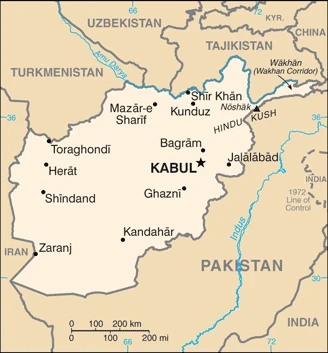 Afghanistan is a land invaded by all countries in the world. The country has been under the control of different groups for hundreds of years and has changed hands many times. However, this area had seen a significant change more recently when it became part of the Islamic State's territory.
This state is located in Southern Asia, north and west of Pakistan, east of Iran, under the coordinates of 33 00 N, 65 00 E, covering an area of 652,230 sq km with a coastline of 0 km (landlocked country). Afghanistan is Almost six times the size of Virginia, slightly smaller than Texas.
Afghanistan has 5,987 km of land boundaries in total, and bordering with (6 nations): China 91 km, Iran 921 km, Pakistan 2670 km, Tajikistan 1357 km, Turkmenistan 804 km, Uzbekistan 144 km.
Primarily rugged mountains, plains in north and southwest, with Noshak 7,492 m as the highest point of Afghanistan, while Amu Darya 258 m as the lowest point, causing a mean elevation at 1,884 m throughout the country. With 652,230 sq km, Afghanistan has 652,230 sq km of land and 0 sq km water surface area.
Major water bodies in the country: Ab-e Istadah-ye Muqur (endorheic basin) – 520 sq km (saltwater lake) while the major rivers are: Amu Darya (shared with Tajikistan, Turkmenistan, and Uzbekistan) – 2,620 km, Helmand river source (shared with Iran) – 1,130 km. The significant watersheds for Afghanistan are Indian Ocean drainage: Indus (1,081,718 sq km), Internal (endorheic basin) drainage: Amu Darya (534,739 sq km), Tarim Basin (1,152,448 sq km).
Landlocked; the Hindu Kush mountains that run northeast to southwest divide the northern provinces from the rest of the country; the highest peaks are in the northern Vakhan (Wakhan Corridor).
The climate in Afghanistan is as follows: Arid to semiarid, cold winters, and hot summers.
When you visit Afghanistan, the natural hazards shall be considered: Damaging earthquakes occur in Hindu kush mountains; flooding; droughts.
The following major health-threatening issues shall be considered when visiting Afghanistan: degree of risk: intermediate (2020), bacterial diarrhea, hepatitis A, typhoid fever, Crimea-Congo hemorrhagic fever, malaria.
Current environmental issues affecting the Afghan people: limited natural freshwater resources; inadequate supplies of potable water; soil degradation; overgrazing; deforestation (much of the remaining forests are being cut down for fuel and building materials); desertification; air and water pollution in congested urban areas.
Google maps Afghanistan
The capital and other divisions
Capital city: Kabul found under the coordinates 34 31 N, 69 11 E, applying the time zone UTC+4.5 (9.5 hours ahead of Washington, DC, during Standard Time), using the following daylight saving time: does not observe daylight savings time.
The capital and largest city of Afghanistan, Kabul, is the country's political, cultural, and economic center. It is located where the Panj River meets the Kabul Valley on a plateau formed by the Hindu Kush mountain range.
Afghanistan became independent on 19 August 1919 (from U.K. control over Afghan foreign affairs), and its national holiday is Independence Day, 19 August (1919).
Administrative divisions: 34 provinces (welayat, singular – welayat); Badakhshan, Badghis, Baghlan, Balkh, Bamyan, Daykundi, Farah, Faryab, Ghazni, Ghor, Helmand, Herat, Jowzjan, Kabul, Kandahar, Kapisa, Khost, Kunar, Kunduz, Laghman, Logar, Nangarhar, Nimroz, Nuristan, Paktika, Paktiya, Panjshir, Parwan, Samangan, Sar-e Pul, Takhar, Uruzgan, Wardak, Zabul.
People and society

Mujahideen factions fought first against Soviet invaders (from 1979) and then against each other (after 1989). Taliban insurgents won control in 1996 and imposed a strict Islamist regime: women were denied all rights, and ethnic tensions were exacerbated. In 2001, a US-led intervention justified as a "war on terrorism" helped install an elected anti-Taliban regime. NATO troops led the anti-insurgency campaign but ultimately aimed to hand over and withdraw.
The population in Afghanistan is 37,466,414 (July 2021 estimate), with an average of 2.34% (2021 estimate) change. That means Afghanistan is the No. 39 in the world's populated rank list. With an average of 19.5 years median age (19.4 years for males and 19.4 years for women), Afghanistan ranks No. 201 on the globe's median age rank list.
The people living in this country are the Afghan(s) (noun) or Afghan (adjective) and belong mainly to the following ethnic groups: Pashtun, Tajik, Hazara, Uzbek, other (includes smaller numbers of Baloch, Turkmen, Nuristani, Pamiri, Arab, Gujar, Brahui, Qizilbash, Aimaq, Pashai, and Kyrghyz) (2015). Note: current statistical data on the sensitive subject of ethnicity in Afghanistan are not available, and ethnicity data from small samples of respondents to opinion polls are not a reliable alternative; Afghanistan's 2004 constitution recognizes 14 ethnic groups: Pashtun, Tajik, Hazara, Uzbek, Baloch, Turkmen, Nuristani, Pamiri, Arab, Gujar, Brahui, Qizilbash, Aimaq, and Pashai.
They speak Afghan Persian or Dari (official language) 78% (Dari functions as the lingua franca), Pashto (official language) 50%, Uzbek 10%, English 5%, Turkmen 2%, Urdu 2%, Pashayi 1%, Nuristani 1%, Arabic 1%, Balochi 1%, other <1% (2017 estimate) languages and practice the following religions: Muslim 99.7% (Sunni 84.7 – 89.7%, Shia 10 – 15%), other 0.3% (2009 estimate). We can conclude the following about the population in Afghanistan: Populations tend to cluster in the foothills and periphery of the rugged Hindu kush range. Smaller groups are found in many of the country's interior valleys. The east is generally more densely settled, while the south is sparsely populated. In Afghanistan, we are talking about 26.3% (2021) of the total population is living in cities, and most of them reside in the following municipalities: 4.336 million, Kabul (capital city) (2021).
Industry

Mainly agricultural, severely disrupted by war. The illicit opium trade is a big cash earner. Natural gas pipeline planned from the Caspian Sea to Pakistan.
Before 2001, Afghanistan was an impoverished, landlocked, and foreign aid-dependent country. Increased domestic economic activity occurred following the US-led invasion and significant international economic development assistance. This increased activity expanded access to water, electricity, sanitation, education, and health services and fostered consistent growth in government revenues since 2014. While international security forces have been drawing down since 2012, with much higher U.S. forces drawdowns occurring since 2017, economic progress continues, albeit uneven across sectors and key economic indicators. After recovering from the 2018 drought and growing 3.9% in 2019, political instability, expiring international financial commitments, and the COVID-19 pandemic have wrought significant adversity on the Afghan economy, with a projected 5% contraction. Current political parties' power-sharing agreement following the September 2019 presidential elections and ongoing Taliban attacks and peace talks have led to Afghan economic instability. This instability, coupled with expiring international grants and assistance, endangers recent fiscal gains and has led to more internally displaced persons.
In November 2020, Afghanistan secured $12 billion in additional international aid for 2021-2025, much of which is conditional upon Taliban peace progress. Additionally, Afghanistan continues to experience influxes of repatriating Afghanis, mainly from Iran, significantly straining economic and security institutions. Afghanistan's trade deficit remains at approximately 31% of GDP and is highly dependent on financing through grants and aid. While Afghan agricultural growth remains consistent, recent industrial and services growth has been enormously impacted by COVID-19 lockdowns and trade cessations.
While trade with the Peoples Republic of China has rapidly expanded in recent years, Afghanistan still relies heavily upon India and Pakistan as export partners. Still, it is more diverse in its import partners. Furthermore, Afghanistan struggles to effectively enforce business contracts, facilitate accessible tax collection, and enable more significant international trade for domestic enterprises. Current Afghan priorities focus on the following goals: Securing international economic agreements, many of which are contingent on Taliban peace progress; Increasing exports to USD 2 billion by 2023; Continuing to expand government revenue collection; Countering corruption and navigating challenges from the power-sharing agreement; and Developing a solid private sector that can empower the economy.
Afghanistan is rich in the following natural resources: Natural gas, petroleum, coal, copper, chromite, talc, barites, sulfur, lead, zinc, iron ore, salt, precious and semiprecious stones, arable land.
The main industrial sectors are typically small-scale bricks, textiles, soap, furniture, shoes, fertilizer, apparel, food products, non-alcoholic beverages, mineral water, cement, hand-woven carpets, natural gas, coal, copper.
The country's export sectors are particularly strong in gold, grapes, opium, fruits and nuts, insect resins, cotton, hand-woven carpets, soapstone, scrap metal (2019), partnering with these nations: the United Arab Emirates 45%, Pakistan 24%, India 22%, China 1% (2019). The export trade resulted in $1.48 billion. Note: Data are in current year dollars (2020 estimate). In a global rank of the export, values resulted in Afghanistan's position of 165.
Land use in Afghanistan: 1.85% (2018 estimate) forest, 40.1% (2018) other.
The arable land area is 11.8% (2018), and the agricultural land is 58.1% (2018 estimate). Land use for permanent crops 0.3% (2018), permanent pasture 46% (2018). The sum of the area of the irrigated land is 32,080 sq km (2012).
The main agro-industrial products of Afghanistan are wheat, milk, grapes, vegetables, potatoes, watermelons, melons, rice, onions, apples.
The country typically needs to import: wheat flours, broadcasting equipment, refined petroleum, rolled tobacco, aircraft parts, synthetic fabrics (2019), partnering with the following nations: the United Arab Emirates 23%, Pakistan 17%, India 13%, China 9%, United States 9%, Uzbekistan 7%, Kazakhstan 6% (2019) in a sum value of $6.98 billion. Note: data are in current year dollars (2020 estimate) $7.37 billion. Note: data are in current year dollars (2019 estimate) $7.98 billion. Note: data are in current year dollars (2018 estimate). This sum value on the global ranking list of imports resulted in Afghanistan 126.
Afghanistan Driving Directions

You learned about Afghanistan, Southern Asia, north and west of Pakistan, east of Iran in this post. We published some basic information about its capital Kabul, and the Afghan nation.
Are you interested in visiting Afghanistan and looking for driving directions? Click here to plan your route, or see a printable road map of Afghanistan below to overview the route network.
Printable map of Afghanistan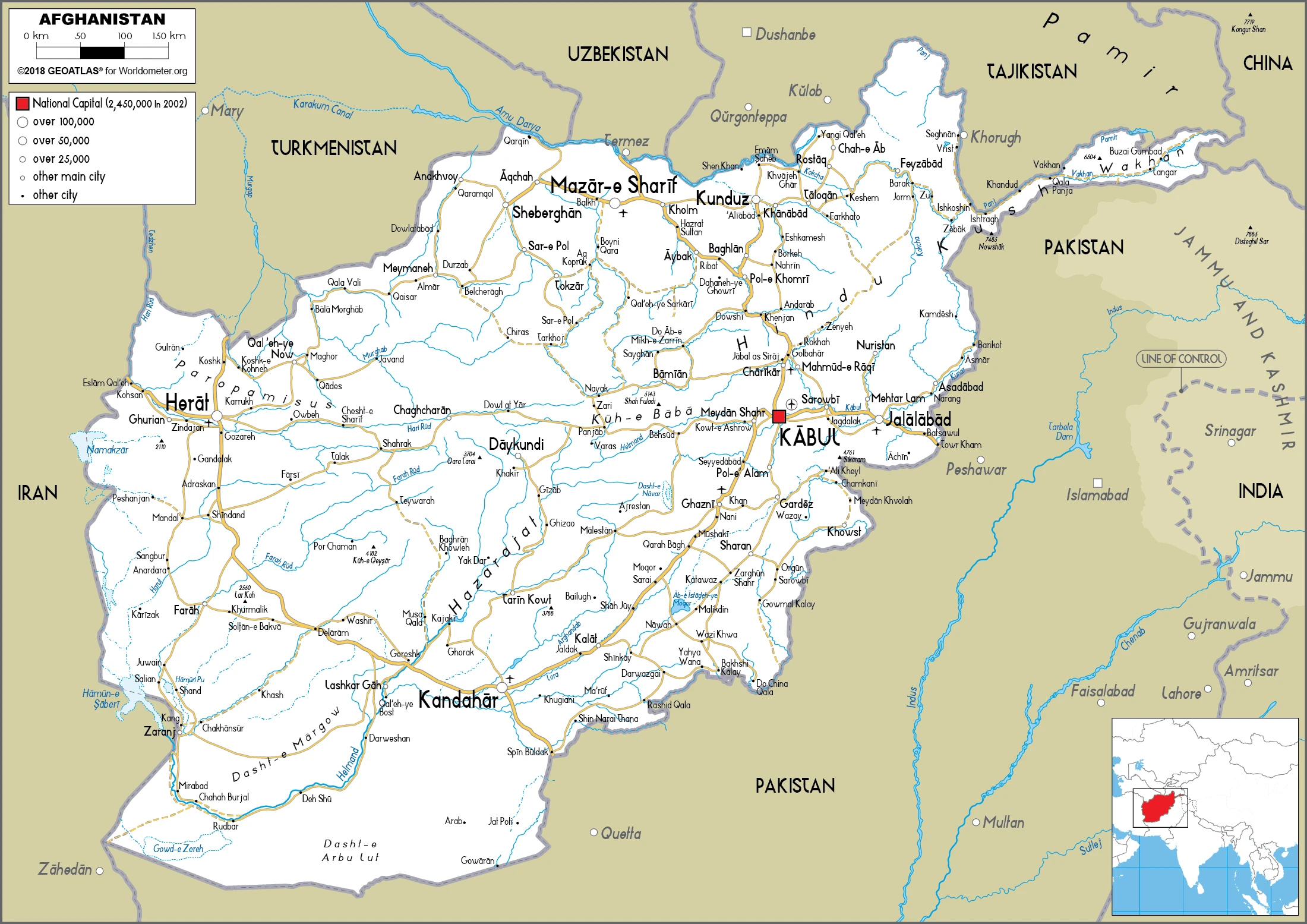 Did you know about Afghanistan?
Afghanistan is one of the most dangerous countries in the world. However, it's not as bad as some people believe, and it has a lot to offer those who travel there. The country's breathtaking scenery and architecture offer some of the best views on earth. You can also find some incredible old buildings and traditional villages throughout Afghanistan. It's also a fantastic place to see wildlife!
After virtually visiting Afghanistan, you may also be interested in the neighboring countries: China, Iran, Pakistan, Tajikistan, Turkmenistan, Uzbekistan.
If you liked our Google map and Afghanistan information page,
please share it with others or save the link https://www.drivingdirections.net in your bookmarks.