Christmas Island Google Maps is a site/tool that offers a wide range of map views (topographic, satellite, street view) and navigation options, with little effort on your part, yet efficiently. If you need to plan a trip to a new place like Christmas Island, Google maps are available on desktop, mobile, or tablet. This Google maps and information page is dedicated to Christmas Island, Southeast Asia (19 countries), showing its location, country facts, details about its capital city, The Settlement (Flying Fish Cove), bordering countries like none, and plenty of other information which may be interesting when you visit this Southeastern Asian state.
Quick links: Google maps Christmas Island, The Settlement (Flying Fish Cove) Google maps, Driving Directions Christmas Island, Printable Road Map.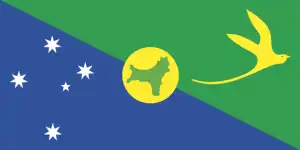 About Christmas Island in a nutshell
Conventional short form of the name: Christmas Island
The conventional long form of the name: Territory of Christmas Island
Etymology: named by English Captain William MYNORS for the day of its rediscovery, Christmas Day (25 December 1643); the island had been sighted by Europeans as early as 1615.
The legal system in Christmas Island: legal system is under the authority of the governor general of Australia and Australian law.
Climate: N/A
The national symbols are golden bosun bird.
Internet TLD: .cx
Background

Although Europeans sighted the island as early as 1615, it was only named in 1643 by English Captain William MYNORS for the day of its rediscovery. Another English ship sailed by the island in 1688 and found it uninhabited. Cliffs and dense jungle hampered attempts to explore the island over the next two centuries. Phosphate discovery on the island in 1887 led to the UK annexing it the following year. In 1898, the Christmas Island Phosphate Company brought in 200 Chinese indentured servants to work the mines, along with Malays, Sikhs, and a small number of Europeans. The UK administered Christmas Island from Singapore.
Japan invaded the island in 1942, but islanders sabotaged Japanese mining operations, making the mines relatively unproductive. After World War II, Australia and New Zealand bought the Christmas Island Phosphate Company. In 1958, the UK transferred sovereignty from Singapore to Australia for $20 million for losing future phosphate income. In 1980, Australia set up the Christmas Island National Park and expanded its boundaries throughout the 1980s until it covered more than 60% of the island's territory. The phosphate mine was closed in 1987 because of environmental concerns, and Australia has rejected several efforts to reopen it. In the 1980s, boats of asylum seekers started landing on Christmas Island, and the migrants claimed refugee status since they were on Australian territory.
In 2001, Australia declared Christmas Island outside the Australian migration zone and built an immigration detention center on the island. In 2008, the controversial detention center was officially closed 2018, although plans to reopen it were announced in early 2019.
Geography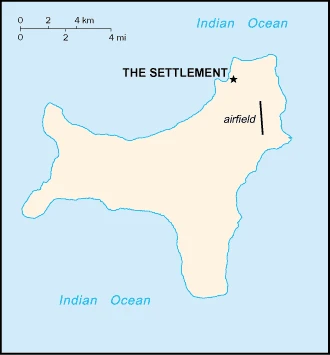 British Christmas Island is a remote tropical island in the Indian Ocean. It has been inhabited for thousands of years and is home to the Pitcairn Islanders, descendants of British colonists who settled on the island in 1856.
This state is located in Southeastern Asia, an island in the Indian Ocean, south of Indonesia, under the coordinates of 10 30 S, 105 40 E, covering an area of 135 sq km with a coastline of 138.9 km. Christmas Island is About three-quarters the size of Washington, DC.
Cliffs along the coast rise abruptly to the central plateau, with Murray hill 361 m as the highest point of Christmas Island, while the Indian Ocean 0 m as the lowest point. With a total of 135 sq km, Christmas Island has 135 sq km of land and 0 sq km water surface area.
Located along major sea lanes of the Indian Ocean.
The climate in Christmas Island is as follows: Tropical with a wet season (December to April) and dry season, heat, and humidity moderated by trade winds.
The natural hazards of visiting Christmas Island shall be considered: The narrow fringing reef surrounding the island can be a maritime hazard.
The following major health-threatening issues shall be considered when visiting Christmas Island: none.
Current environmental issues affecting the Christmas Island people: loss of rainforest and phosphate mining impact.
Google maps Christmas Island
The capital and other divisions
Capital city: The Settlement (Flying Fish Cove) found under the coordinates 10 25 S, 105 43 E, applying the time zone UTC+7 (12 hours ahead of Washington, DC, during Standard Time), using the following daylight saving time: none.
Christmas Island is a small island in the south Pacific Ocean. It was also known as Kiritimati Island and was settled by Polynesians some 3,500 years ago. The capital of Christmas Island is named Flying Fish Cove.
Christmas Island became independent on none (territory of Australia), and its national holiday is Australia Day (commemorates the arrival of the First Fleet of Australian settlers), 26 January (1788).
Administrative divisions: none (territory of Australia).
People and society
The population in Christmas Island is 2,205 (2016 estimate), with an average of 1.11% (2014 estimate) change. That means Christmas Island is the No. 230 in the world's populated rank list.
The people living in this country are the Christmas Islander(s) (noun) or Christmas Island (adjective) and belong mainly to the following ethnic groups: Chinese 70%, European 20%, Malay 10% (2001). Note: no indigenous population.
They speak English (official language) 27.6%, Mandarin 17.2%, Malay 17.1%, Cantonese 3.9%, Min Nan 1.6%, Tagalog 1%, other 4.5%, unspecified 27.1% (2016 estimate). Note: data represent language spoken at home languages and practice the following religions: Muslim 19.4%, Buddhist 18.3%, Roman Catholic 8.8%, Protestant 6.5% (includes Anglican 3.6%, Uniting Church 1.2%, other 1.7%), other Christian 3.3%, other 0.6%, none 15.3%, unspecified 27.7% (2016 estimate).
Industry
The main economic activities on Christmas Island are the mining of low-grade phosphate, limited tourism, the provision of government services, and, since 2005, the construction and operation of the Immigration Detention Center. The government sector includes administration, health, education, policing, customs, quarantine, and defense.
Christmas Island is rich in the following natural resources: Phosphate beaches.
The main industrial sectors are typically tourism, phosphate extraction (near depletion).
The country's export sectors are particularly strong in calcium phosphates, fertilizers, valves, air pumps, industrial printers (2019), partnering with these nations: Malaysia 36%, New Zealand 21%, Indonesia 20%, Australia 10% (2019).
Land use in Christmas Island: N/A forest, 100% (2018 estimate) other.
The country typically needs to import: refined petroleum, cars, iron structures, aircraft, crustaceans (2019), partnering with the following nations: Australia 80%, United States 7%, Canada 5% (2019).
Christmas Island Driving Directions

In this post, you learned about Christmas Island, Southeastern Asia, an island in the Indian Ocean, south of Indonesia. We published some basic information about its capital, The Settlement (Flying Fish Cove), and the Christmas Island nation.
Are you interested in visiting Christmas Island and looking for driving directions? Click here to plan your route, or see a printable road map of Christmas Island below for an overview of the route network.
Printable map of Christmas Island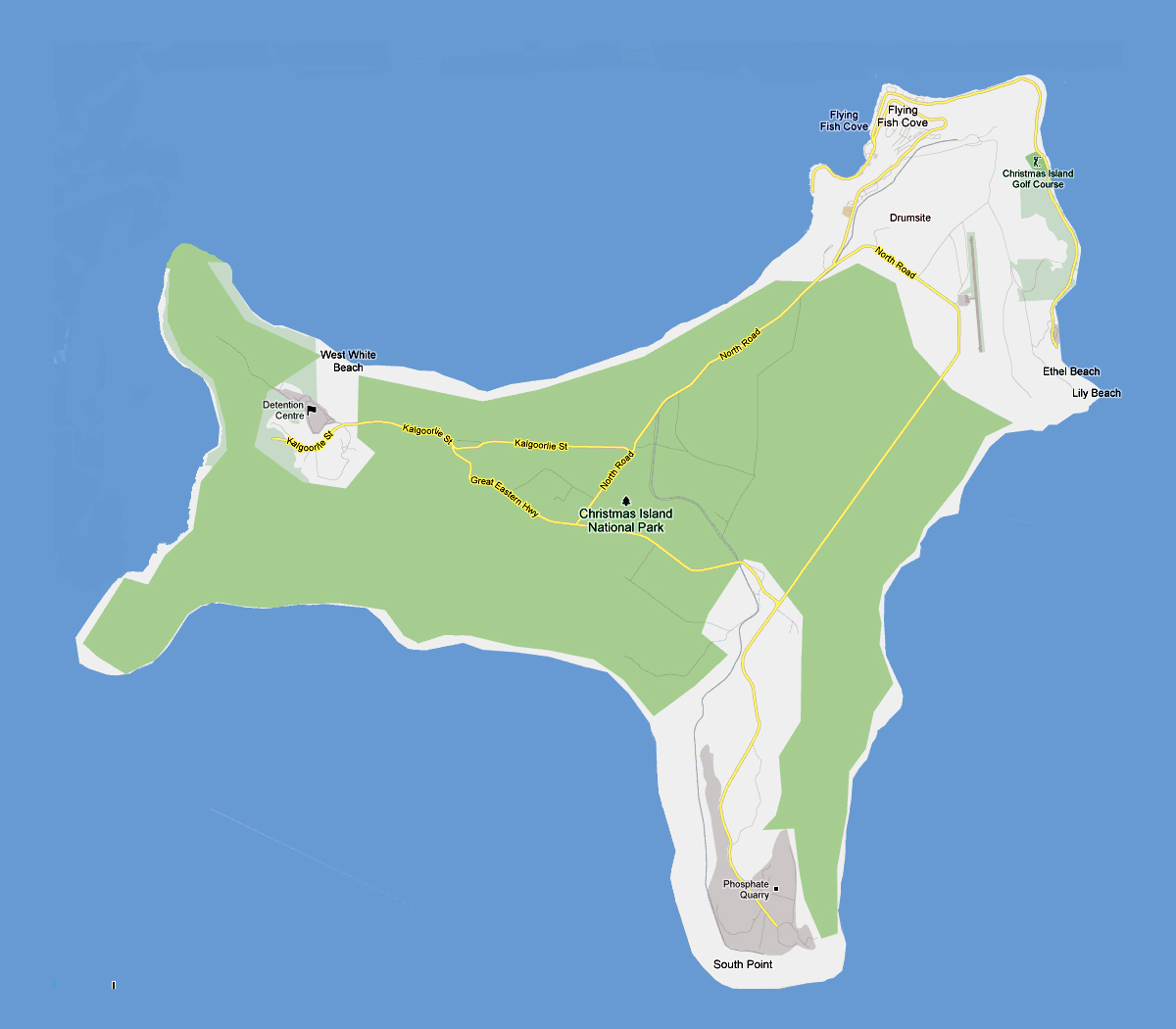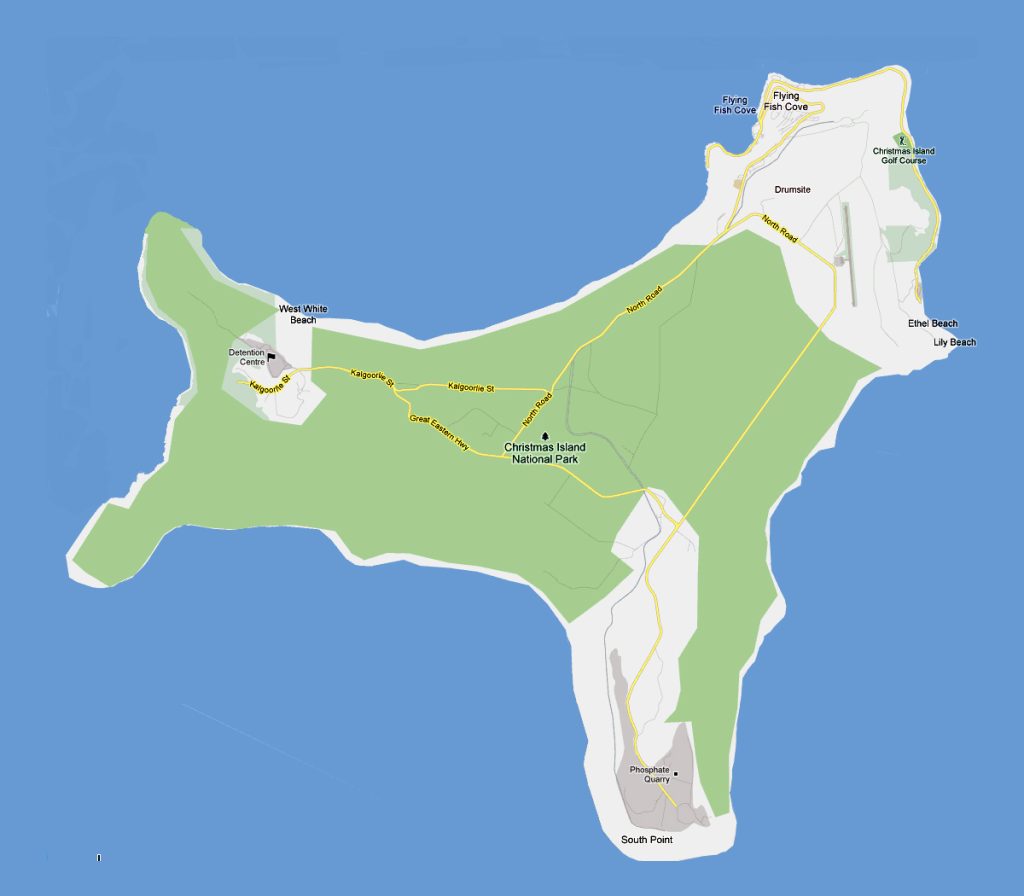 Did you know about Christmas Island?
Often referred to as the "lonely island" in the Indian Ocean, Christmas Island is an Australian territory. Despite its distance, it has a rich historical and cultural significance seen in the traditional dancers, dances, music, arts, and crafts.
This small island is home to red crabs, spiders, and unique plants that exist nowhere else in the world. There are no cars or motorized vehicles on the island, but a fascinating history dates back centuries.
After virtually visiting Christmas Island, you may also be interested in the neighboring countries: none.
If you liked our Google map and Christmas Island information page,
please share it with others or save the link https://www.drivingdirections.net in your bookmarks.