Ecuador Google Maps is a site/tool that offers a wide range of map views (topographic, satellite, street view) and navigation options, with little effort on your part, yet efficiently. If you need to plan a trip to a new place like Ecuador, Google maps are available on desktop, mobile, or tablet. This Google maps and information page is dedicated to Ecuador, South America (13 countries), showing its location, country facts, details about its capital city Quito, bordering countries like Colombia Peru, and plenty of other information which may be interesting when you visit this South American state.
Quick links: Google maps Ecuador, Quito Google maps, Driving Directions Ecuador, Printable Road Map.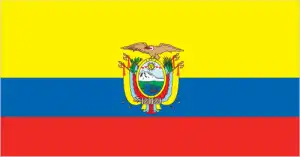 About Ecuador in a nutshell
Darwin's study on the Galápagos Islands in 1856 played a major part in his theory of evolution.
Conventional short form of the name: Ecuador
The conventional long form of the name: Republic of Ecuador
Local long form: Republica del Ecuador
Local short form: Ecuador
Former name(s): N/A
Etymology: the country's position on the globe, straddling the Equator, accounts for its Spanish name.
The legal system in Ecuador: civil law based on the Chilean civil code with modifications; traditional law in indigenous communities.
Climate: The is hot and moist on the coast, cool in the Andes, and hot equatorial in the Amazon basin. PEOPLE & SOCIETY
The national symbols are Andean condor; national colors: yellow, blue, red.
Internet TLD: .ec
Ecuador, three countries across the Equator, is dominated by the central Andes and some left-bank tributaries of the Amazon, including the Napo Valley. In 1541, Francisco Orellana was the first to cross the Andes and descend the Napo, sailing down the Amazon. Volcanic cones rise from the Ecuadorian highlands. Their height far exceeds the height of the ridges of the two Cordillera. At 6272 m, Chimborazo was long considered the highest mountain range on Earth and then on the continent.
The highest volcanic cone still in operation on Earth is Cotopaxi at 5896 m, and the most active is Sangay, which erupts every 8-10 minutes. The latter is a World Natural Heritage Site, as are the Galápagos Islands, famous for their extraordinary wildlife, which comprises five large and several small islands just in line with the Equator. The old city of Quito, founded in 1534 at an altitude of 2,850 m above sea level, and Santa Ana de Los Ríos de Cuenca, the finest example of colonial town planning and architecture, are part of the cultural heritage.
Background

Ecuador formed part of the northern Inca Empire until the Spanish conquest in 1533. Quito became a seat of the Spanish colonial government in 1563 and part of the Viceroyalty of New Granada in 1717. The territories of the Viceroyalty – New Granada (Colombia), Venezuela, and Quito – gained their independence between 1819 and 1822 and formed a federation known as Gran Colombia. When Quito withdrew in 1830, the traditional name was changed to favor the Republic of the Equator. Between 1904 and 1942, Ecuador lost territories in conflicts with its neighbors. A border war with Peru that flared in 1995 was resolved in 1999.
Although Ecuador marked 30 years of civilian governance in 2004, the period was marred by political instability. Protests in Quito contributed to the mid-term ouster of three of Ecuador's last four democratically elected presidents. In late 2008, voters approved a new constitution, Ecuador's 20th since gaining independence. General elections were held in April 2021, and voters elected Guillermo LASSO president.
Geography

The broad coastal plain, inter-Andean central highlands, dense jungle in upper Amazon basin.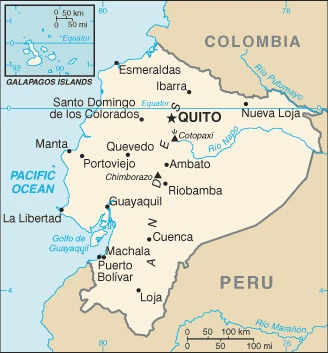 Once part of the Inca heartland, Ecuador lies on the western coast of South America. Its territory includes the fascinating Galápagos Islands, 610 miles (970 km) to the west.
This state is located in Western South America, bordering the Pacific Ocean at the Equator, between Colombia and Peru, under the coordinates of 2 00 S, 77 30 W, covering an area of 283,561 sq km with a coastline of 2,237 km. Ecuador is Slightly smaller than Nevada.
Ecuador has 2,237 km of land boundaries in total, and bordering with (2 nations): Colombia 708 km, Peru 1529 km.
Coastal plain (costa), Inter-Andean central highlands (sierra), and flat to the rolling eastern jungle (Oriente), with Chimborazo 6,267 as the highest point of Ecuador, while Pacific Ocean 0 m as the lowest point, causing a mean elevation at 1,117 m throughout the country. With 283,561 sq km, Ecuador has 276,841 sq km of land and 6,720 sq km water surface area.
The significant watersheds for Ecuador are Atlantic Ocean drainage: Amazon (6,145,186 sq km).
Cotopaxi in the Andes is the highest active volcano in the world.
The climate in Ecuador is as follows: Tropical along the coast, becoming cooler inland at higher elevations, tropical in amazonian jungle lowlands.
When you visit Ecuador, the natural hazards shall be considered: Frequent earthquakes; landslides; volcanic activity; floods; periodic droughts volcanism: volcanic activity concentrated along the Andes mountains; Sangay (5,230 m), which erupted in 2010, is mainland Ecuador's most active volcano; other historically active volcanoes in the Andes include Antisana, Cayambe, Chacana, Cotopaxi, Guagua Pichincha, Reventador, Sumaco, and Tungurahua. Fernandina (1,476 m), a shield volcano that last erupted in 2009, is the most active of the many Galapagos volcanoes; other historically active Galapagos volcanoes include wolf, Sierra Negra, Cerro Azul, Pinta, Marchena, and Santiago.
The following major health-threatening issues shall be considered when visiting Ecuador: degree of risk: high (2020), bacterial diarrhea, hepatitis A, typhoid fever, dengue fever, and malaria.
Current environmental issues affecting the Ecuadorian people: deforestation, soil erosion; desertification; water pollution; pollution from oil production wastes in ecologically sensitive areas of the Amazon Basin and Galapagos Islands.
Google maps Ecuador
The capital and other divisions
Capital city: Quito found under the coordinates 0 13 S, 78 30 W, applying the time zone UTC-5 (same time as Washington, DC, during Standard Time), using the following daylight saving time: none.
One of the world's most recognizable cities few people know much about. Quito, the capital of Ecuador, is a perpetually active area with an enchanting blend of cultures, art forms, and architecture. This fascinating city is well-known for its many landmarks and events; they're not just pretty tourist attractions to be photographed!
Ecuador became independent on 24 May 1822 (from Spain), and its national holiday is Independence Day (independence of Quito), 10 August (1809).
Administrative divisions: 24 provinces (provincias, singular – provincia); Azuay, Bolivar, Canar, Carchi, Chimborazo, Cotopaxi, El Oro, Esmeraldas, Galapagos, Guayas, Imbabura, Loja, Los Rios, Manabi, Morona-Santiago, Napo, Orellana, Pastaza, Pichincha, Santa Elena, Santo Domingo de los Tsachilas, Sucumbios, Tungurahua, Zamora-Chinchipe.
People and society

Most people are of Amerindian– Spanish extraction (mestizo). Black communities exist on the coast. The strong and largely unified Amerindian movement leads the pressure for social reform. Current left-wing policies have given women, the poor, and Amerindians greater rights. Extreme poverty has fallen from 17% in 2006 to 8.6% in 2013.
The population in Ecuador is 17,093,159 (July 2021 estimate), with an average of 1.16% (2021 estimate) change. That means Ecuador is No. 71 in the world's populated rank list. With an average of 28.8 years median age (28 years for males and 28 years for women), Ecuador ranks No. 140 on the globe's median age rank list.
The people living in this country are the Ecuadorian(s) (noun) or Ecuadorian (adjective) and belong mainly to the following ethnic groups: Mestizo (mixed Amerindian and White) 71.9%, Montubio 7.4%, Amerindian 7%, White 6.1%, Afroecuadorian 4.3%, Mulatto 1.9%, Black 1%, other 0.4% (2010 estimate).
They speak Spanish (Castilian) 93% (official language), Quechua 4.1%, other indigenous 0.7%, foreign 2.2% languages and practice the following religions: Roman Catholic 74%, Evangelical 10.4%, Jehovahs Witness 1.2%, other 6.4% (includes Church of Jesus Christ, Buddhist, Jewish, Spiritualist, Muslim, Hindu, indigenous, African American, Pentecostal), atheist 7.9%, agnostic 0.1% (2012 estimate), note: data represent persons at least 16 years of age from five Ecuadoran cities.
We can conclude the following about the population in Ecuador: Nearly half of the population is concentrated in the interior in the Andean intermontane basins and valleys, with large concentrations also found along the western coastal strip. The rainforests of the east remain sparsely populated. In Ecuador, we are talking about 64.4% (2021) of the total population is living in cities, and most of them reside in the following municipalities: 3.043 million, Guayaquil, 1.901 million, Quito (capital city) (2021).
Industry

Oil provides around half of the export earnings. World's biggest banana exporter. The use of the US dollar offers stability but less control. Defaulted on debt in 2008, prioritizing social spending.
Ecuador is substantially dependent on its petroleum resources, which accounted for about a third of its export earnings in 2017. Remittances from overseas Ecuadorian are also important., In 1999/2000, Ecuador's economy suffered from a banking crisis that led to some reforms, including adopting the US dollar as legal tender. Dollarization stabilized the economy, and positive growth returned in most of the following years. China has become Ecuador's largest foreign lender since 2008 and now accounts for 77.7% of Ecuador's bilateral debt. Various economic policies under the CORREA administration, such as an announcement in 2017 that Ecuador would terminate 13 bilateral investment treaties – including one with the US, generated economic uncertainty and discouraged private investment.
Faced with a 2013 trade deficit of $1.1 billion, Ecuador imposed tariff surcharges from 5% to 45% on an estimated 32% of imports. Ecuador's economy fell into recession in 2015 and remained in recession in 2016. Declining oil prices and exports forced the CORREA administration to cut government outlays. Due to the unstable regulatory environment and the weak rule of law, foreign investment in Ecuador is low. n April of 2017, Lenin MORENO was elected President of Ecuador by popular vote. His immediate challenge was to reengage the private sector to improve cash flow in the country. Ecuador's economy returned to positive but sluggish growth. In early 2018, the MORENO administration held a public referendum on seven economic and political issues to move counter to CORREA-administration policies, reduce corruption, strengthen democracy, and revive employment and the economy. The referendum resulted in the repeal of taxes associated with recovery from the earthquake of 2016, reduced restrictions on metal mining in the Yasuni Intangible Zone – a protected area, and several political reforms.
Ecuador is rich in the following natural resources: Petroleum, fish, timber, hydropower.
The main industrial sectors are petroleum, food processing, textiles, wood products, chemicals.
The country's export sectors are particularly strong in crude petroleum, crustaceans, bananas, fish, refined petroleum (2019), partnering with these nations: the United States 30%, China 13%, Panama 8%, Chile 7% (2019). The export trade resulted in $22.23 billion. Note: Data are in current year dollars (2020 estimate). In a global rank of the export, values resulted in Ecuador's position of 77.
Land use in Ecuador: 38.9% (2018 estimate) forest, 31.4% (2018 estimate) other.
The arable land area is 4.7% (2018 estimate), and the agricultural land is 29.7% (2018 estimate). Land use for permanent crops 5.6% (2018 estimate), permanent pasture 19.4% (2018 estimate). The sum of the area of the irrigated land is 15,000 sq km (2012).
The main agro-industrial products of Ecuador are sugar cane, bananas, milk, oil palm fruit, maize, rice, plantains, poultry, cocoa, potatoes.
The country typically needs to import: refined petroleum, coal tar oil, cars, packaged medicines, soybean products (2019), partnering with the following nations: the United States 22%, China 18%, Colombia 9%, Panama 5% (2019) in a sum value of $19.89 billion. Note: data are in current year dollars (2020 estimate) $25.89 billion. Note: data are in current year dollars (2019 estimate) $26.29 billion. Note: data are in current year dollars (2018 estimate). This sum value on the global ranking list of imports resulted in Ecuador 84.
Ecuador Driving Directions

In this post, you learned about Ecuador, Western South America, bordering the Pacific Ocean at the Equator, between Colombia and Peru. We published some basic information about its capital Quito, and the Ecuadorian nation.
Are you interested in visiting Ecuador and looking for driving directions? Click here to plan your route, or see a printable road map of Ecuador below for an overview of the route network.
Printable map of Ecuador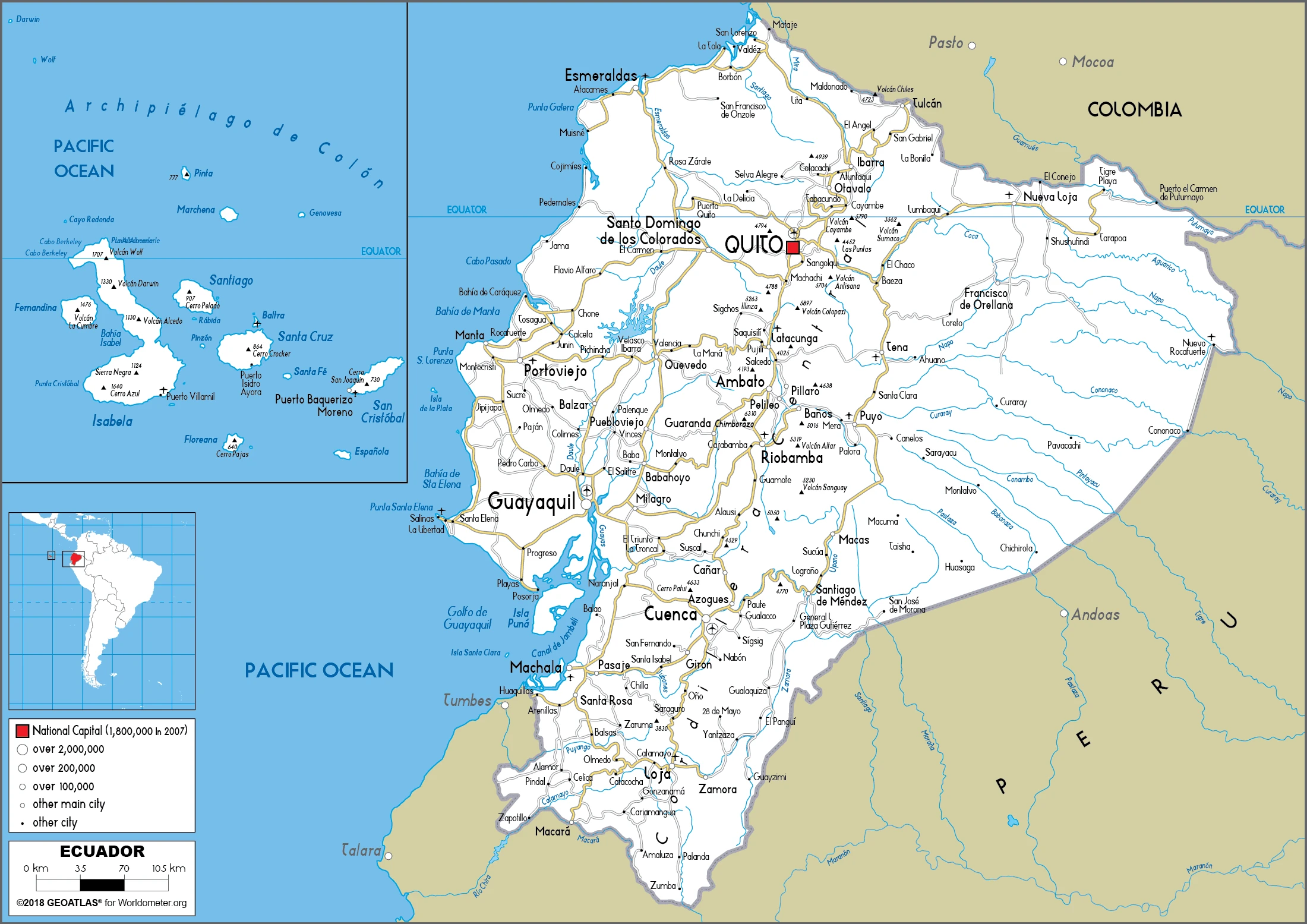 Did you know about Ecuador?
Ecuador is the best place to visit in Latin America. It's a small country with diverse landscapes and a rich culture. With just 17 million residents, it's one of the least densely populated countries in the world. Ecuador has an impressive list of UNESCO World Heritage Sites, including Quito's historic downtown, Cotopaxi National Park, and La Mitad del Mundo Monument despite its size.
After virtually visiting Ecuador, you may also be interested in the neighboring countries: Colombia Peru.
If you liked our Google map and Ecuador information page,
please share it with others or save the link https://www.drivingdirections.net in your bookmarks.