Cyprus Google Maps is a site/tool that offers a wide range of map views (topographic, satellite, street view) and navigation options, with little effort on your part, yet efficiently. If you need to plan a trip to a new place like Cyprus, Google maps are available on desktop, mobile, or tablet. This Google maps and information page is dedicated to Cyprus, Middle East (19 countries), showing its location, country facts, details about its capital city Nicosia (Lefkosia/Lefkosa), bordering countries like none, and plenty of other information which may be interesting when you visit this Middle Eastern state.
Quick links: Google maps Cyprus, Nicosia (Lefkosia/Lefkosa) Google maps, Driving Directions Cyprus, Printable Road Map.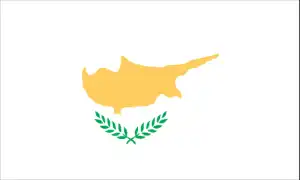 About Cyprus in a nutshell
The Green Line, which separates north from south, was opened for the first time in 2003.
Conventional short form of the name: Cyprus
The conventional long form of the name: Republic of Cyprus
Local long form: Kypriaki Dimokratia / Kibris Cumhuriyeti
Local short form: Kypros / Kibris
Former name(s): N/A
Etymology: the derivation of the name Cyprus is unknown, but the extensive mining of copper metal on the island in antiquity gave rise to the Latin word cuprum for copper.
The legal system in Cyprus: mixed legal system of English common law and civil law with European law supremacy.
Climate: Mediterranean. Summers are hot and dry. Winters are mild, with snow in the mountains.
The national symbols are Cypriot mouflon (wild sheep), white dove; national colors: blue, white.
Internet TLD: .cy
It is the third-largest island in the Mediterranean Sea, just 65 km off the coast of Asia Minor. In the north of the island, which has a distinctly Mediterranean climate, are the sedimentary Kyrenia Mountains, with the Troodos Massif, an ancient oceanic basement of igneous rocks, rising in the center. At the gateway to Europe, Africa, and the Middle East, the island was occupied by the Mycenaeans, Phoenicians, Egyptians, Assyrians, and Persians, then Alexander the Great, the Greeks, and the Romans. Later, the Byzantine and Islamic empires, the Crusaders, the Knights Templar, the Venetians, the Turks, and finally, the English. Liberated from British crown colony status, Cyprus enjoyed a single independent national existence for barely 14 years: the conflict between the island's Greek and Turkish inhabitants led to the island's division.
Today, most of the island – the Republic of Cyprus – is inhabited by Greeks in the south and Turks in the north. The Turkish Cypriot Republic of Northern Cyprus is recognized only by Turkey. Since 2004, the Republic of Cyprus has been a full member of the EU. Remains of the Neolithic culture of Choirokoitia date from the 7th and 4th millennia BC – it was once the most important settlement in the eastern Mediterranean basin. Paphos has also been inhabited since Neolithic times, and legend has it that Aphrodite emerged from the sea here – its temple, the jewel of Mycenaean culture, was built around 1200 BC. The mosaics of Nea Paphos are the finest of their kind from antiquity. Ten of the early Byzantine monasteries of the Troodos Mountains, richly decorated with wall paintings, have been inscribed on the World Heritage List.
Background

A former British colony, Cyprus became independent in 1960 following years of resistance to British rule. Tensions between the Greek Cypriot majority and Turkish Cypriot minority communities came to a head in December 1963, when violence broke out in the capital of Nicosia. Despite the deployment of UN peacekeepers in 1964, sporadic intercommunal violence continued, forcing most Turkish Cypriots into enclaves throughout the island. In 1974, a Greek Government-sponsored attempt to overthrow the elected president of Cyprus was met by military intervention from Turkey, which soon controlled more than a third of the island.
In 1983, the Turkish Cypriot administered area declared itself the Turkish Republic of Northern Cyprus (TRNC), but it is recognized only by Turkey. An UN-mediated agreement, the Annan Plan, failed to win approval by both communities in 2004. In February 2014, after a hiatus of nearly two years, the leaders of the two communities resumed formal discussions under UN auspices aimed at reuniting the divided island. The most recent round of negotiations to reunify the island was suspended in July 2017 after failing to achieve a breakthrough. The entire island entered the EU on 1 May 2004. However, the EU acquis – the body of common rights and obligations – applies only to the areas under the internationally recognized government and is suspended in the TRNC. However, individual Turkish Cypriots can document their eligibility for Republic of Cyprus citizenship legally enjoy the same rights accorded to other citizens of EU states.
Geography

Mountains in the center-west give way to a fertile plain in the east, flanked by hills to the northeast.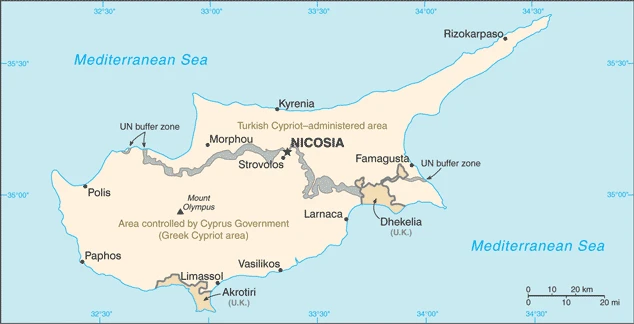 Cyprus lies south of Turkey in the eastern Mediterranean. Since 1974, it has been partitioned between the Turkish-occupied north and the Greek-Cypriot south.
This state is located in the Middle East, an island in the Mediterranean Sea, south of Turkey, under the coordinates of 35 00 N, 33 00 E, covering an area of 9,251 sq km (of which 3,355 sq km are in north Cyprus) with a coastline of 648 km. Cyprus is About 0.6 times the size of Connecticut.
Cyprus has 156 km of land boundaries and borders with no country.
Central plain with mountains to north and south, scattered but significant plains along the southern coast, with Mount Olympus 1,951 m as the highest point of Cyprus, while the Mediterranean Sea 0 m as the lowest point, causing a mean elevation at 91 m throughout the country. With a total of 9,251 sq km (of which 3,355 sq km are in north Cyprus), Cyprus has 9,241 sq km of land and 10 sq km water surface area.
The third-largest island in the Mediterranean Sea (after Sicily and Sardinia), several small Cypriot enclaves exist within the Dhekelia Sovereign Base AreaThe climate in Cyprus is as follows: Temperate, Mediterranean with hot, dry summers and cool winters.
When you visit Cyprus, the natural hazards shall be considered: Moderate earthquake activity; droughts.
The following major health-threatening issues shall be considered when visiting Cyprus: none.
Current environmental issues affecting the Cypriot people: water resource problems (no natural reservoir catchments, the seasonal disparity in rainfall, seawater intrusion to islands largest aquifer, increased salination in the north); water pollution from sewage, industrial wastes, and pesticides; coastal degradation; erosion; loss of wildlife habitats from urbanization.
Google maps Cyprus
The capital and other divisions
Capital city: Nicosia (Lefkosia/Lefkosa) found under the coordinates 35 10 N, 33 22 E, applying the time zone UTC+2 (7 hours ahead of Washington, DC, during Standard Time), using the following daylight saving time: +1hr begins last Sunday in March; ends last Sunday in October.
Nicosia is the largest city in Cyprus and the capital of Northern Cyprus. Here you will find many things to do and see in your time exploring the city – from museums to ancient ruins, to shopping malls and natural attractions like beaches. You can also learn about Nicosia's history from a walk around its ancient walls or even take a self-guided walking tour through the old town of Nicosia.
Cyprus became independent on 16 August 1960 (from the UK);, and its national holiday is Independence Day, 1 October (1960);.
Administrative divisions: 6 districts; Ammochostos (Famagusta); (all but a small part located in the Turkish Cypriot community), Keryneia (Kyrenia; the only district located entirely in the Turkish Cypriot community), Larnaka (Larnaca; with a small part located in the Turkish Cypriot community), Lefkosia (Nicosia; a small part administered by Turkish Cypriots), Lemesos (Limassol), Pafos (Paphos).
People and society

The Greek majority practice Orthodox Christianity. Since the 16th century, a minority community of Turkish Muslims has lived in the island's north. In 1974 Turkish troops occupied the north and proclaimed the Turkish Republic of Northern Cyprus (TRNC), but it is recognized only by Turkey. Over 100,000 mainland Turks have settled there since. UN-led mediation failed to reunite the island ahead of EU accession in 2004, so the north was left out of membership; peace talks continued.
The population in Cyprus is 1,281,506 (July 2021 estimate), with an average of 1.11% (2021 estimate) change. That means Cyprus is the No. 157 in the world's populated rank list. With an average of 37.9 years median age (36.7 years for males and 36.7 years for women), Cyprus ranks No. 65 on the globe's median age rank list.
The people living in this country are the Cypriot(s) (noun) or Cypriot (adjective) and belong mainly to the following ethnic groups: Greek 98.8%, other 1% (includes Maronite, Armenian, Turkish-Cypriot), unspecified 0.2% (2011 estimate). Note: data represent only the Greek-Cypriot citizens in the Republic of Cyprus.
They speak Greek (official language) 80.9%, Turkish (official language) 0.2%, English 4.1%, Romanian 2.9%, Russian 2.5%, Bulgarian 2.2%, Arabic 1.2%, Filipino 1.1%, other 4.3%, unspecified 0.6%; languages and practice the following religions: Orthodox Christian 89.1%, Roman Catholic 2.9%, Protestant/Anglican 2%, Muslim 1.8%, Buddhist 1%, other (includes Maronite, Armenian Church, Hindu) 1.4%, unknown 1.1%, none/atheist 0.6% (2011 estimate) note: data represent only the government-controlled area of Cyprus.
We can conclude the following about the population in Cyprus: Population concentrated in central Nicosia and the major cities of the south: Paphos, Limassol, and Larnaca. In Cyprus, we are talking about 66.9% (2021) of the total population is living in cities, and most of them reside in the following municipalities: 269,000 Nicosia (capital city) (2018).
Industry

Tourism. Eurozone member. Weathered 2009 downturn, but banks crashed in 2013: Cypriots lost savings under IMF/EU bailout terms. North lacks investment, and wages are lower.
Under government control, the area of the Republic of Cyprus has a market economy dominated by a services sector that accounts for more than four-fifths of GDP. Tourism, finance, shipping, and real estate have traditionally been essential services. Cyprus has been a member of the EU since May 2004 and adopted the euro as its national currency in January 2008. During the first five years of EU membership, the Cyprus economy grew at an average rate of about 4%, with unemployment between 2004 and 2008 averaging about 4%. However, the economy tipped into recession in 2009 as the ongoing global financial crisis and resulting low demand hit the tourism and construction sectors. An overextended banking sector with excessive exposure to Greek debt added to the contraction. Cyprus's biggest two banks were among the largest holders of Greek bonds in Europe and had a substantial presence in Greece through bank branches and subsidiaries. Following numerous downgrades of its credit rating, Cyprus lost access to international capital markets in May 2011.
In July 2012, Cyprus became the fifth euro-zone government to request an economic bailout program from the European Commission, European Central Bank, and the International Monetary Fund – known collectively as the Troika. Shortly after the election of President Nikos ANASTASIADES in February 2013, Cyprus reached an agreement with the Troika on a $13 billion bailout that triggered a two-week bank closure and the imposition of capital controls that remained partially in place until April 2015. Cyprus's two largest banks merged, and the combined entity was recapitalized by converting some large bank deposits to shares and imposition of losses on bank bondholders. The Troika conditioned the bailout on passing financial and structural reforms and privatizing state-owned enterprises as with other EU countries.
Despite downsizing and restructuring, the Cypriot financial sector remains burdened by the most extensive stock of non-performing loans in the euro-zone, equal to nearly half of all loans. Since the bailout, Cyprus has received positive appraisals by the Troika and outperformed fiscal targets but has struggled to overcome political opposition to bailout-mandated legislation, particularly regarding privatizations. The rate of non-performing loans (NPLs) is still very high at around 49%, and growth would accelerate if Cypriot banks could increase the pace of resolution of the NPLs., In October 2013, a US-Israeli consortium completed preliminary appraisals of hydrocarbon deposits in Cyprus exclusive economic zone (EEZ), which estimated gross mean reserves of about 130 billion cubic meters. Though exploration continues in Cyprus EEZ, no additional commercially exploitable reserves have been identified. Developing offshore hydrocarbon resources remains a critical component of the government's economic recovery efforts, but development has been delayed due to regional developments and disagreements about exploitation methods.
Cyprus is rich in the following natural resources: Copper, pyrites, asbestos, gypsum, timber, salt, marble, clay earth pigment.
The main industrial sectors are typically tourism, food and beverage processing, cement and gypsum, ship repair and refurbishment, textiles, light chemicals, metal products, wood, paper, stone, and clay products.
The country's export sectors are particularly strong in ships, refined petroleum, packaged medicines, cheese, crude petroleum (2019), partnering with these nations: India 9%, Greece 9%, Libya 8%, the United Kingdom 7% (2019). The export trade resulted in $16.1 billion. Note: Data are in current year dollars (2020 estimate). In a global rank of the export, values resulted in Cyprus's position of 90.
Land use in Cyprus: 18.8% (2018 estimate) forest, 67.8% (2018 estimate) other.
The arable land area is 9.8% (2018 estimate), and the agricultural land is 13.4% (2018 estimate). Land use for permanent crops 3.2% (2018 estimate), permanent pasture 0.4% (2018 estimate). The sum of the area of the irrigated land is 460 sq km (2012).
The main agro-industrial products of Cyprus are milk, potatoes, pork, sheep milk, goat milk, barley, wheat, poultry, olives, tangerines/mandarins.
The country typically needs to import: refined petroleum, ships, cars, coal tar oil, packaged medicines (2019), partnering with the following nations: Greece 16%, Italy 10%, Turkey 8%, Russia 5%, Germany 5%, United Kingdom 5%, China 5% (2019) in a sum value of $17.58 billion. Note: data are in current year dollars (2020 estimate) $18.2 billion. Note: data are in current year dollars (2019 estimate) $18.6 billion. Note: data are in current year dollars (2018 estimate). This sum value on the global ranking list of imports resulted in Cyprus 91.
Cyprus Driving Directions

In this post, you learned about Cyprus, the Middle East, an island in the Mediterranean Sea, south of Turkey. We published some basic information about its capital Nicosia (Lefkosia/Lefkosa), and the Cypriot nation.
Are you interested in visiting Cyprus and looking for driving directions? Click here to plan your route, or see a printable road map of Cyprus below for an overview of the route network.
Printable map of Cyprus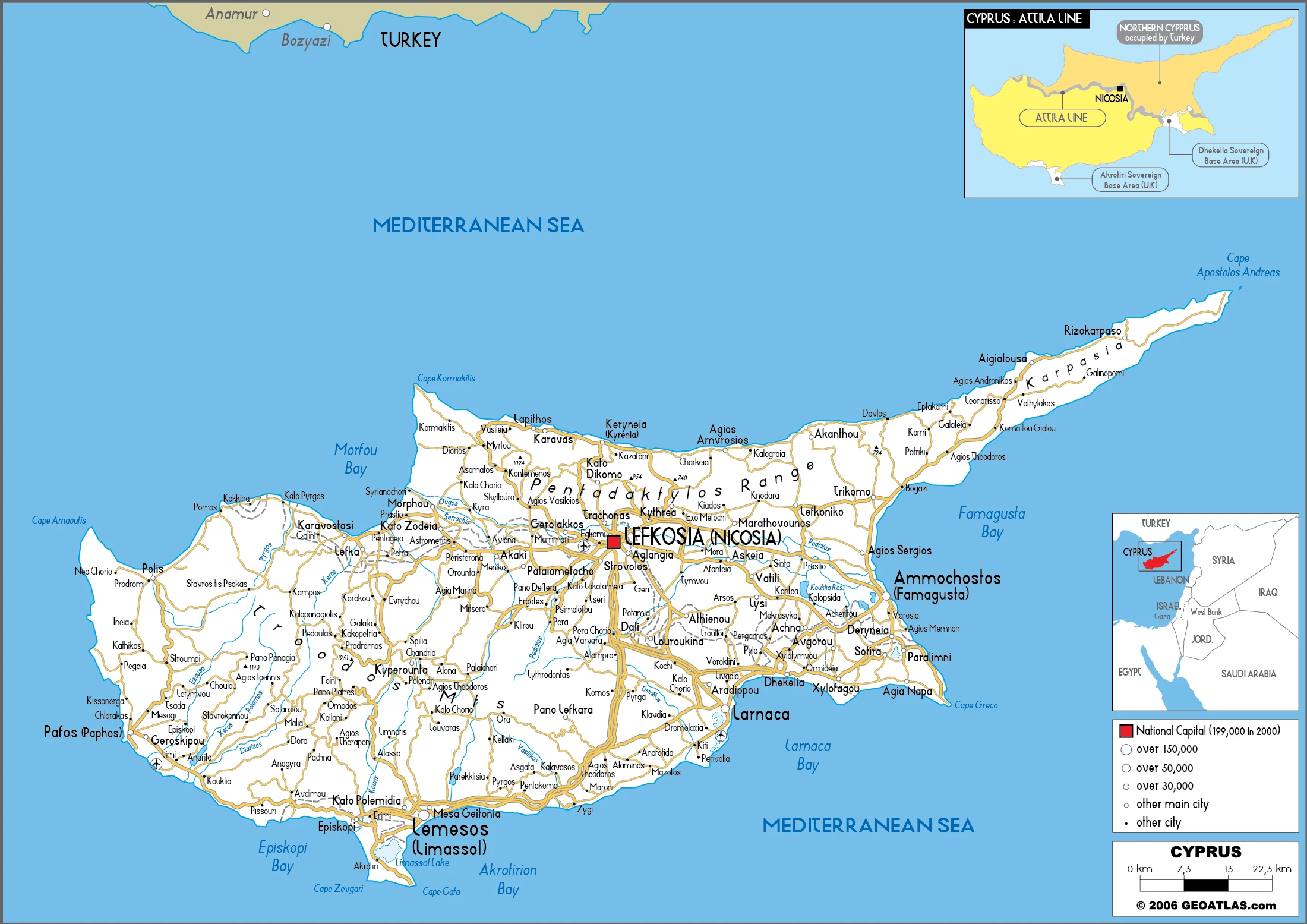 Did you know about Cyprus?
Cyprus is a popular tourist destination and has been for centuries. A large percentage of the island consists of forests, and it has some of the most beautiful mountains in the world. Ancient Cypriots worshipped Cybele and Apollo and dated back to 2000 BC.
It is known for its 300 days of sunshine per year and has an excellent climate for outdoor activities. The capital city of Nicosia is home to many ancient churches, mosques, and temples that are worth visiting.
After virtually visiting Cyprus, you may also be interested in the neighboring countries: Greece, Israel, Lebanon, Syria, Turkey, West Bank.
If you liked our Google map and Cyprus information page,
please share it with others or save the link https://www.drivingdirections.net in your bookmarks.