Akrotiri Google Maps is a site/tool that offers a wide range of map views (topographic, satellite, street view) and navigation options, with little effort on your part, yet efficiently. If you need to plan a trip to a new place like Akrotiri, Google maps are available on desktop, mobile, or tablet. This Google maps and information page is dedicated to Akrotiri, Middle East (19 countries), showing its location, country facts, details about its capital city Episkopi Cantonment (base administrative center for Akrotiri and Dhekelia), bordering countries like Cyprus, and plenty of other information which may be interesting when you visit this Middle Eastern state.
Quick links: Google maps Akrotiri, Episkopi Cantonment (base administrative center for Akrotiri and Dhekelia) Google maps, Driving Directions Akrotiri, Printable Road Map.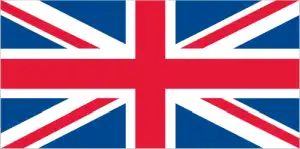 About Akrotiri in a nutshell
Conventional short form of the name: Akrotiri
The conventional long form of the name: none
Etymology: named for the village within the Western Sovereign Base Area in Cyprus.
The legal system in Akrotiri: laws applicable to the Cypriot population are, as far as possible, the same as the laws of the Republic of Cyprus.
Climate: Temperate, Mediterranean with hot, dry summers and cool winters.
Background

By terms of the 1960 Treaty of Establishment that created the independent Republic of Cyprus, the UK retained full sovereignty and jurisdiction over two areas of almost 254 square kilometers – Akrotiri and Dhekelia. The southernmost and smallest of these is the Akrotiri Sovereign Base Area, also referred to as the Western Sovereign Base Area.
Geography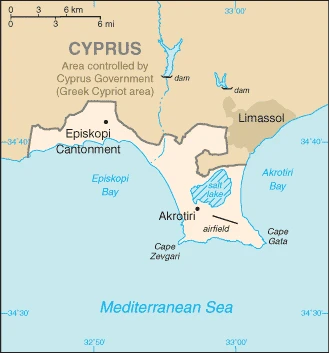 The island of Akrotiri is located just off the coastline of Turkey, and it is a popular destination for many people from around the world. The island has a rich history and offers visitors a unique Mediterranean experience.
This state is located in Eastern Mediterranean, a peninsula on the southwest coast of Cyprus, under the coordinates of 34 37 N, 32 58 E, covering an area of 123 sq km with a coastline of 56.3 km. Akrotiri is About 0.7 times the size of Washington, DC.
Akrotiri has 48 km of land boundaries and borders with (1 nation): Cyprus 48 km.
British extraterritorial rights also extended to several small off-post sites scattered across Cyprus. Of the Sovereign Base Area (SBA) land, 60% is privately owned and farmed, the Ministry of Defense owns 20%, and 20% is SBA Crown land.
The climate in Akrotiri is as follows: Temperate, Mediterranean with hot, dry summers and cool winters.
When you visit Akrotiri, the natural hazards shall be considered: none.
The following major health-threatening issues shall be considered when visiting Akrotiri: none.
Current environmental issues affecting the Akrotirian people: hunting around the salt lake.
Google maps Akrotiri
The capital and other divisions
Capital city: Episkopi Cantonment (base administrative center for Akrotiri and Dhekelia) found under the coordinates 34 40 N, 32 51 E, applying the time zone UTC+2 (7 hours ahead of Washington, DC, during Standard Time), using the following daylight saving time: +1hr, begins last Sunday in March; ends last Sunday in October.
The capital of Greece's Northern Aegean region, Episkopi, is a relatively small city with a population of about 17,000. The city is famous for its traditionally lively and happening nightlife. It holds many festivals and events throughout the year, such as the annual horse race, fireworks festival at the end of July, and strawberry festival in May. The most important monuments in Episkopi are the church of Saint Demetrios, Saint George Temple, and Sts. Constantine and Helen Orthodox Church was built-in 1837.
People and society
The population in Akrotiri is approximately 18,195 on the Sovereign Base Areas of Akrotiri and Dhekelia, including 11,000 Cypriots and 7,195 Service and UK-based contract personnel and dependents (2020), with an average of N/A change.
They speak English and Greek languages and practice the following religions: N/A.
Industry
Economic activity is limited to providing services to the military and their families in Akrotiri. All food and manufactured goods must be imported.
Akrotiri is rich in the following natural resources: none.
Akrotiri Driving Directions

In this post, you learned about Akrotiri, the Eastern Mediterranean peninsula on the southwest coast of Cyprus. We published some basic information about its capital Episkopi Cantonment (base administrative center for Akrotiri and Dhekelia).
Are you interested in visiting Akrotiri and looking for driving directions? Click here to plan your route, or see a printable road map of Akrotiri below for an overview of the route network.
Printable map of Akrotiri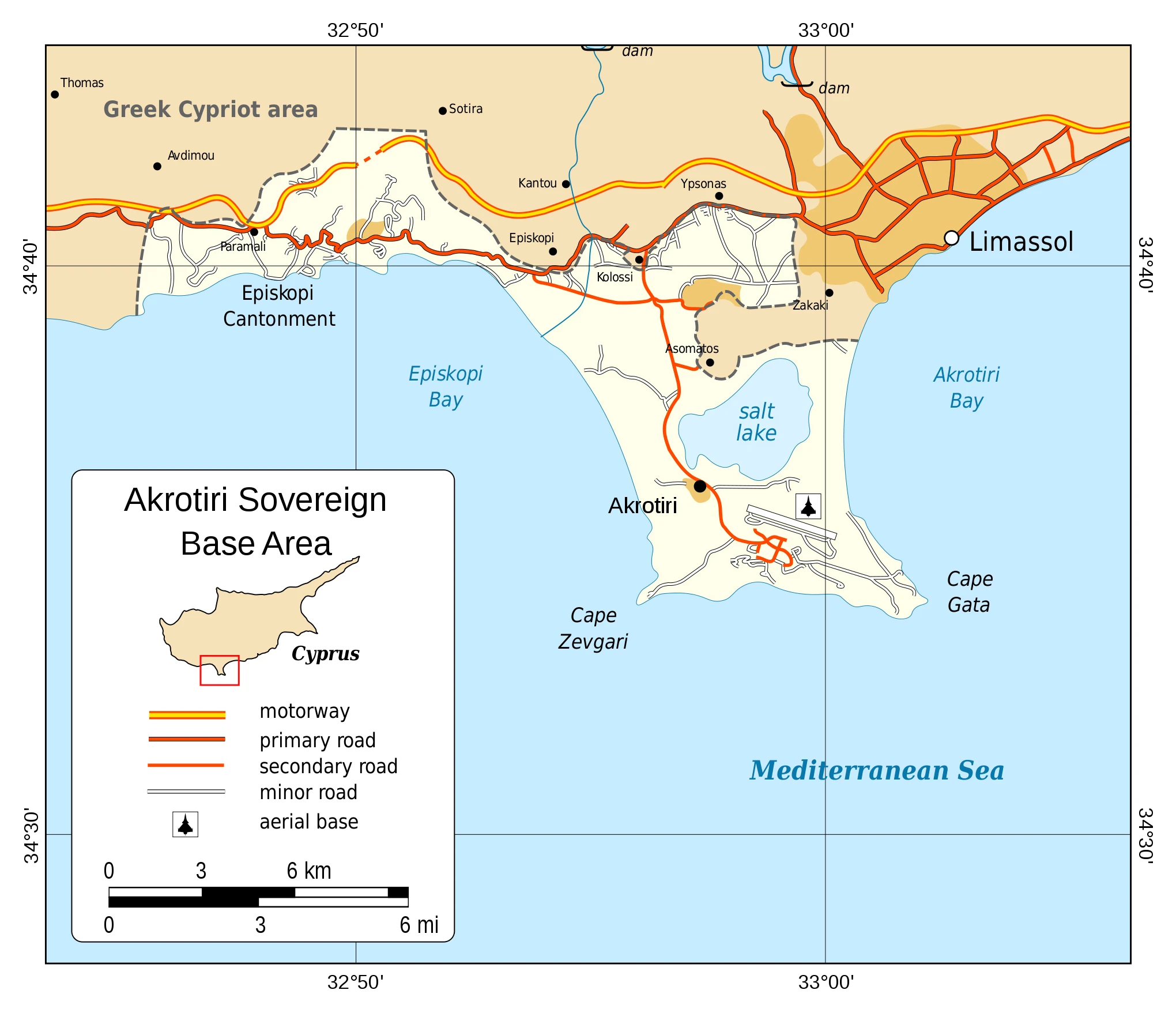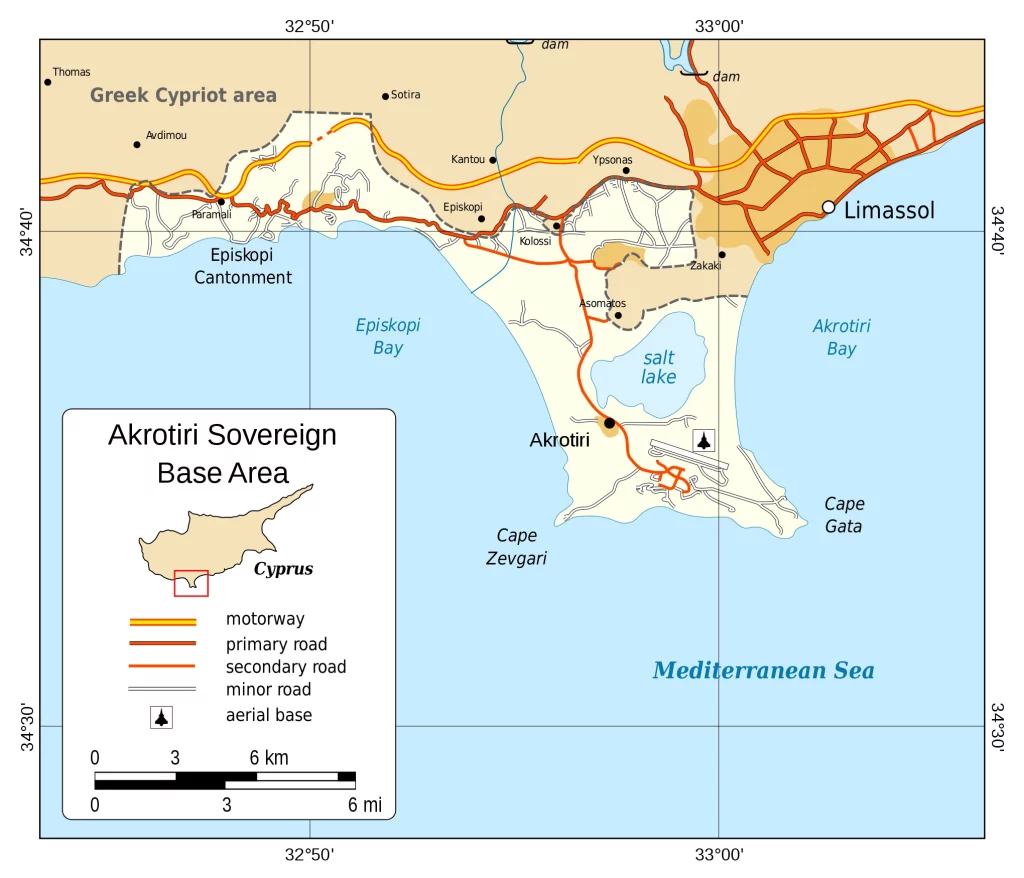 Did you know about Akrotiri?
Akrotiri is a Minoan Bronze Age settlement on the volcanic Greek island of Thera. The town was destroyed around 1600 BC by a powerful volcanic eruption and was deserted for more than 16 centuries before its modern rediscovery.
After virtually visiting Akrotiri, you may also be interested in the neighboring country: Cyprus.
If you liked our Google map and Akrotiri information page,
please share it with others or save the link https://www.drivingdirections.net in your bookmarks.