Turkey Google Maps is a site/tool that offers a wide range of map views (topographic, satellite, street view) and navigation options, with little effort on your part, yet efficiently. If you need to plan a trip to a new place like Turkey, Google maps are available on desktop, mobile, or tablet. This Google maps and information page is dedicated to Turkey, Middle East (19 countries), showing its location, country facts, details about its capital city Ankara, bordering countries like Armenia, Azerbaijan, Bulgaria, Georgia, Greece, Iran, Iraq, Syria, and plenty of other information which may be interesting when you visit this Middle Eastern state.
Quick links: Google maps Turkey, Ankara Google maps, Driving Directions Turkey, Printable Road Map.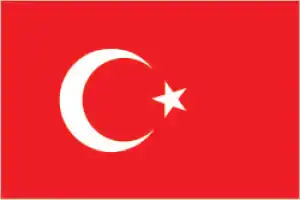 About Türkiye in a nutshell
Update: The UN has accepted Turkey's request for a name change. The change took effect immediately after the Turkish government's request. Turkey's new official name from now on: Türkiye.
Conventional short form of the name: Turkey
The conventional long form of the name: Republic of Turkey
Local long form: Turkiye Cumhuriyeti
Local short form: Türkiye
Former name(s): Turkey
Etymology: the name means Land of the Turks.
The legal system in Turkey: civil law system is based on various European legal systems, notably the Swiss civil code.
Climate: Coast has a Mediterranean climate. The interior has cold, snowy winters and hot, dry summers.
The national symbols are a vertical crescent moon with an adjacent five-pointed star; national colors: red and white.
Internet TLD: .tr
Europe's eastern border is the Bosporus and the Dardanelles straits. The part of Turkey east of the strait is now officially Asia Minor. The central part of its surface is the dry and barren Anatolian plateau, dissected by basins, interspersed to the north and south by the Pontic and Toros mountain ranges, and the Armenian Highlands covers the eastern part of the country. The Ottoman Empire ruled the southeast of Europe for almost half a millennium. The country's World Heritage Sites include the ruins of the 4,000-year-old Hittite capital of Hattusha, perhaps the world's most remarkable archaeological discovery, the ruins of Troy, also 4,000 years old, the ruins of the ancient city of Nerut, on Mount Nemrut, 2,000 meters above sea level, and the remains of the ancient city of Hattusha, which was built in the Roman Empire in the early Ottoman period. The sculptures of the 1st century BC Hellenic mausoleum of Antiochus, the 2nd century BC thermal baths of Hierapolis, and the thermal springs of Pamukkale, the Hellenic, Roman, and Byzantine ruins of Xanthos-Letoon, the center of Lycia. Among Istanbul's monuments spanning 2,000 years of history and different cultures, one of the most significant is the Byzantine Orthodox basilica of Hagia Sophia, built in the 6th century and later used as a mosque, now a museum. Notable Islamic World Heritage Sites in Turkey include the 16th century Suleiman Mosque in Istanbul, the Seljuk Turkish buildings in Divrigi, and the medieval caravan town of Safranbolu. The volcanic tufa pyramids and rock temples of the Göreme National Park in Cappadocia are both natural and cultural heritage sites.
Turkey had two of the seven wonders of the ancient world: the tomb of King Mausolus at Halicarnassus (now Bodrum) and the temple of Artemis at Ephesus.
Background

Modern Turkey was founded in 1923 from the remnants of the defeated Ottoman Empire by national hero Mustafa KEMAL, who was later honored with the title Ataturk or Father of the Turks. Under his leadership, the country adopted radical social, legal, and political reforms. After a period of one-party rule, an experiment with multi-party politics led to the 1950 election victory of the opposition Democrat Party and the peaceful transfer of power. Since then, Turkish political parties have multiplied, but democracy has been fractured by periods of instability and military coups (1960, 1971, 1980), resulting in a return of formal political power to civilians. In 1997, the military again helped engineer the ouster – popularly dubbed a post-modern coup – of the then Islamic-oriented government. An unsuccessful coup attempt was made in July 2016 by a faction of the Turkish Armed Forces. Turkey intervened militarily on Cyprus in 1974 to prevent a Greek takeover of the island and has since acted as a patron state to the Turkish Republic of Northern Cyprus, which only Turkey recognizes. A separatist insurgency began in 1984 by the Kurdistan Workers Party (PKK), a US-designated terrorist organization, has long dominated the attention of Turkish security forces and claimed more than 40,000 lives.
In 2013, the Turkish government and the PKK conducted negotiations to end the violence. However, intense fighting resumed in 2015. Turkey joined the UN in 1945, and in 1952, it became a member of NATO. In 1963, Turkey became an associate member of the European Community. It began accession talks with the EU in 2005. Over the past decade, economic reforms, coupled with some political reforms, have contributed to a growing economy, although economic growth slowed in recent years. From 2015 and 2016, Turkey witnessed an uptick in terrorist violence, including major attacks in Ankara, Istanbul, and Turkey's predominantly Kurdish southeastern region. On 15 July 2016, elements of the Turkish Armed forces attempted a coup that ultimately failed following widespread popular resistance. More than 240 people were killed and over 2,000 injured when Turkish citizens took to the streets en masse to confront the coup forces. The government accused followers of the Fethullah Gulen transnational religious and social movement (Hizmet) of allegedly instigating the failed coup and designated the movement's followers as terrorists. Since the attempted coup, Turkish Government authorities arrested, suspended, or dismissed more than 130,000 security personnel, journalists, judges, academics, and civil servants due to their alleged connection to Gulen's movement. Following the failed coup, the Turkish government instituted the State of Emergency from July 2016 to July 2018. The Turkish government conducted a referendum on 16 April 2017 in which voters approved constitutional amendments changing Turkey from a parliamentary to a presidential system. The amendments went into effect fully following the presidential and parliamentary elections in June 2018.
Geography

Asian Turkey (Anatolia) is dominated by two mountain ranges, separated by a high, semidesert plateau. Coastal regions are fertile.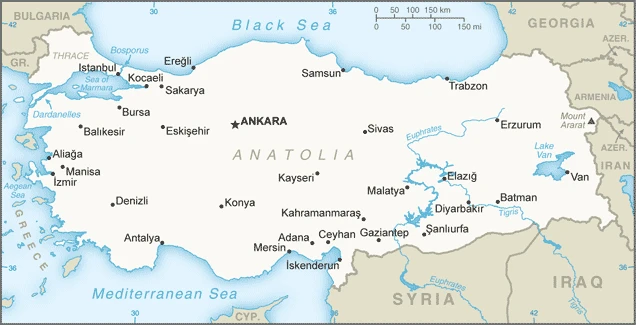 Lying partly in the region of eastern Thrace in Europe but mainly in Asia, Turkey's position gives it significant influence in the Mediterranean, the Black Sea, and the Middle East.
This state is located in Southeastern Europe and Southwestern Asia (that portion of Turkey west of the Bosporus is geographically part of Europe), bordering the Black Sea, between Bulgaria and Georgia, and bordering the Aegean Sea and the Mediterranean Sea, between Greece and Syria, under the coordinates of 39 00 N, 35 00 E, covering an area of 783,562 sq km with a coastline of 7,200 km. Turkey is slightly larger than Texas.
Turkey has 2,816 km of land boundaries in total and borders (8 nations): Armenia 311 km, Azerbaijan 17 km, Bulgaria 223 km, Georgia 273 km, Greece 192 km, Iran 534 km, Iraq 367 km, Syria 899 km.
High central plateau (Anatolia), narrow coastal plain, and several mountain ranges, with Mount Ararat 5,137 m as the highest point of Turkey, while the Mediterranean Sea 0 m as the lowest point, causing a mean elevation of 1,132 m throughout the country. With a total of 783,562 sq km, Turkey has 769,632 sq km of land and 13,930 sq km of water surface area.
Major water bodies in the country: Lake Beysehir – 650 sq km; Lake Egridir – 520 sq km (freshwater lake), Lake Van – 3,740 sq km; Lake Tuz – 1,640 sq km; (saltwater lake) while the major rivers are: Euphrates river source (shared with Syria, Iran, and Iraq m) – 3,596 km, Tigris river source (shared with Syria, Iran, and Iraq) – 1,950 km. The significant watersheds for Turkey are the Indian Ocean drainage: (Persian Gulf) Tigris, and Euphrates (918,044 sq km).
strategic location controlling the Turkish Straits (Bosporus, Sea of Marmara, Dardanelles) that link the Black and Aegean Seas; the 3% of Turkish territory north of the Straits lies in Europe and goes by the names of European Turkey, Eastern Thrace, or Turkish Thrace; the 97% of the country in Asia is referred to as Anatolia; Istanbul, which straddles the Bosporus, is the only metropolis in the world located on two continents; Mount Ararat, the legendary landing place of Noah's ark, is in the far eastern portion of the country
The climate in Turkey is as follows: Temperate, hot, dry summers with mild, wet winters, harsher in the interior.
When you visit Turkey, the natural hazards shall be considered: Severe earthquakes, especially in northern Turkey, along an arc extending from the sea of Marmara to lake van; landslides; flooding volcanism: limited volcanic activity; its three historically active volcanoes; Ararat, Nemrut Dagi, and Tendurek Dagi have not erupted since the 19th century or earlier.
The following major health-threatening issues shall be considered when visiting Turkey: none.
Current environmental issues affecting the Turkish people: water pollution from dumping of chemicals and detergents; air pollution, particularly in urban areas; deforestation; land degradation; concern for oil spills from increasing Bosporus ship traffic; conservation of biodiversity.
Google maps Türkiye (Turkey)
The capital and other divisions
Capital city: Ankara found under the coordinates 39 56 N, 32 52 E, applying the time zone UTC+2 (7 hours ahead of Washington, DC, during Standard Time), using the following daylight saving time: none.
Ankara is the capital of Turkey. It's a diverse city with many different cultures and religions: Muslims, Jews, and Christians live in harmony here. The Turkish capital also offers plenty to see and do. You'll find many historical buildings in Ankara, museums, concert halls, shopping areas, and restaurants that'll make you feel like you're living in the future!
Turkey became independent on 29 October 1923 (republic proclaimed, succeeding the Ottoman Empire), and its national holiday is Republic Day, 29 October (1923).
Administrative divisions: 81 provinces (iller, singular – ili); Adana, Adiyaman, Afyonkarahisar, Agri, Aksaray, Amasya, Ankara, Antalya, Ardahan, Artvin, Aydin, Balikesir, Bartin, Batman, Bayburt, Bilecik, Bingol, Bitlis, Bolu, Burdur, Bursa, Canakkale, Cankiri, Corum, Denizli, Diyarbakir, Duzce, Edirne, Elazig, Erzincan, Erzurum, Eskisehir, Gaziantep, Giresun, Gumushane, Hakkari, Hatay, Igdir, Isparta, Istanbul, Izmir (Smyrna), Kahramanmaras, Karabuk, Karaman, Kars, Kastamonu, Kayseri, Kilis, Kirikkale, Kirklareli, Kirsehir, Kocaeli, Konya, Kutahya, Malatya, Manisa, Mardin, Mersin, Mugla, Mus, Nevsehir, Nigde, Ordu, Osmaniye, Rize, Sakarya, Samsun, Sanliurfa, Siirt, Sinop, Sirnak, Sivas, Tekirdag, Tokat, Trabzon (Trebizond), Tunceli, Usak, Van, Yalova, Yozgat, Zonguldak.
People and society

Despite racial diversity, Turkey has a strong sense of national identity and close links with other Turkic states. Kurds, the most significant minority based in the southeast, have waged a violent campaign for greater autonomy intermittently since 1984. The current political dominance of Islamists challenges Turkey's cherished identity as a secular state. It has applied to join the EU, but progress will be slow.
The population in Turkey is 82,482,383 (July 2021 estimate), with an average of 0.7% (2021 estimate) change. That means Turkey is the No. 18 in the world's populated rank list. With an average of 32.2 years median age (31.7 years for males and 31.7 years for women), Turkey ranks No. 111 on the globe's median age rank list.
The people living in this country are the Turk(s) (noun) or Turkish (adjective) and belong mainly to the following ethnic groups: Turkish 70-75%, Kurdish 19%, other minorities 7-12% (2016 estimate).
They speak Turkish (official language), Kurdish, and other minority languages and practice the following religions: Muslim 99.8% (predominantly Sunni), other 0.2% (mostly Christians and Jews).
We can conclude the following about the population in Turkey: The most densely populated area is found around the bosporus in the northwest, where 20% of the population lives in Istanbul. Except for Ankara, urban centers remain small and scattered throughout the interior of Anatolia. An overall pattern of peripheral development exists, particularly along with the Aegean sea coast in the west and the Tigris and Euphrates river systems in the southeast. In Turkey, we talk about 76.6% (2021) of the total population lives in cities. Most of them reside in the following municipalities: 15.190 million, Istanbul, 5.118 million, Ankara (capital city), 2.993 million, Izmir, 1.986 million, Bursa, 1.771 million, Adana, 1.704 million, Gaziantep (2020).
Industry

Liberalized economy, boosted by self-sufficient agriculture, textiles, tourism, and manufacturing sectors. Route of Asian oil pipelines to Europe.
Turkey's largely free-market economy is driven by its industry and, increasingly, service sectors, although its traditional agriculture sector still accounts for about 25% of employment. The automotive, petrochemical and electronics industries have risen in importance and surpassed the traditional textiles and clothing sectors within Turkey's export mix. However, the recent period of political stability and economic dynamism has given way to domestic uncertainty and security concerns, which are generating financial market volatility and weighing on Turkey's economic outlook., Current government policies emphasize populist spending measures and credit breaks, while implementation of structural economic reforms has slowed. The government plays a more active role in some strategic sectors and uses economic institutions and regulators to target political opponents, undermining private sector confidence in the judicial system. Between July 2016 and March 2017, three credit rating agencies downgraded Turkey's sovereign credit ratings, citing concerns about the rule of law and the pace of economic reforms. Turkey remains highly dependent on imported oil and gas but is pursuing energy relationships with a broader set of international partners and taking steps to increase the use of domestic energy sources, including renewables, nuclear, and coal.
The joint Turkish-Azerbaijani Trans-Anatolian Natural Gas Pipeline is moving forward to increase the transport of Caspian gas to Turkey and Europe and, when completed, will help diversify Turkey's sources of imported gas. After Turkey experienced a severe financial crisis in 2001, Ankara adopted financial and fiscal reforms as an IMF program. The reforms strengthened the country's economic fundamentals and ushered in an era of strong growth, averaging more than 6% annually until 2008. An aggressive privatization program also reduced state involvement in primary industry, banking, transport, power generation, and communication. Global economic conditions and tighter fiscal policy caused GDP to contract in 2009, but Turkey's well-regulated financial markets and banking system helped the country weather the global financial crisis, and GDP growth rebounded to around 9% in 2010 and 2011, as exports and investment recovered following the crisis., The growth of Turkish GDP since 2016 has revealed the persistent underlying imbalances in the Turkish economy. In particular, Turkey's large current account deficit means it must rely on external investment inflows to finance growth, leaving the economy vulnerable to destabilizing shifts in investor confidence. Other troublesome trends include rising unemployment and inflation, which increased in 2017, given the Turkish liras continuing depreciation against the dollar. Although government debt remains low at about 30% of GDP, bank and corporate borrowing have almost tripled as a percent of GDP during the past decade, outpacing its emerging-market peers and prompting investor concerns about its long-term sustainability.
Turkey is rich in the following natural resources: Coal, iron ore, copper, chromium, antimony, mercury, gold, barite, borate, celestite (strontium), emery, feldspar, limestone, magnesite, marble, perlite, pumice, pyrites (sulfur), clay, arable land, hydropower.
The main industrial sectors are textiles, food processing, automobiles, electronics, mining (coal, chromate, copper, boron), steel, construction, lumber, and paper.
The country's export sectors are robust in cars and vehicle parts, refined petroleum, delivery trucks, jewelry, clothing, and apparel (2019), partnering with these nations: Germany 9%, United Kingdom 6%, Iraq 5%, Italy 5%, United States 5% (2019). The export trade resulted in $203.29 billion. Note: Data are in current year dollars (2020 estimate). In a global rank of the export, values resulted in Turkey's position of 30.
Land use in Turkey: 14.9% (2018 estimate) forest, 35.4% (2018 estimate) other.
The arable land area is 26.7% (2018 estimate), and the agricultural land is 49.7% (2018 estimate). Land use for permanent crops 4% (2018 estimate), permanent pasture 19% (2018 estimate). The sum of the area of the irrigated land is 52,150 sq km (2012).
The main agro-industrial products of Turkey are milk, wheat, sugar beet, tomatoes, barley, maize, potatoes, grapes, watermelons, and apples.
The country typically needs to import: gold, refined petroleum, crude petroleum, vehicle parts, and scrap iron (2019), partnering with the following nations: Germany 11%, China 9%, Russia 9%, United States 5%, Italy 5% (2019) in a sum value of $232.01 billion. Note: data are in current year dollars (2020 estimate) $227.06 billion. Note: data are in current year dollars (2019 estimate) $248.09 billion. Note: data are in current year dollars (2018 estimate). This sum value on the global ranking list of imports resulted in Turkey 25.
Türkiye Driving Directions

In this post, you learned about Turkey, Southeastern Europe, and Southwestern Asia (that portion of Turkey west of the Bosporus is geographically part of Europe), bordering the Black Sea, between Bulgaria and Georgia, and bordering the Aegean Sea and the Mediterranean Sea, between Greece and Syria. We published some basic information about its capital Ankara, and the Turkish nation.
Are you interested in visiting Turkey and looking for driving directions? Click here to plan your route, or see a printable road map of Turkey below for an overview of the route network.
Printable map of Türkiye (Turkey)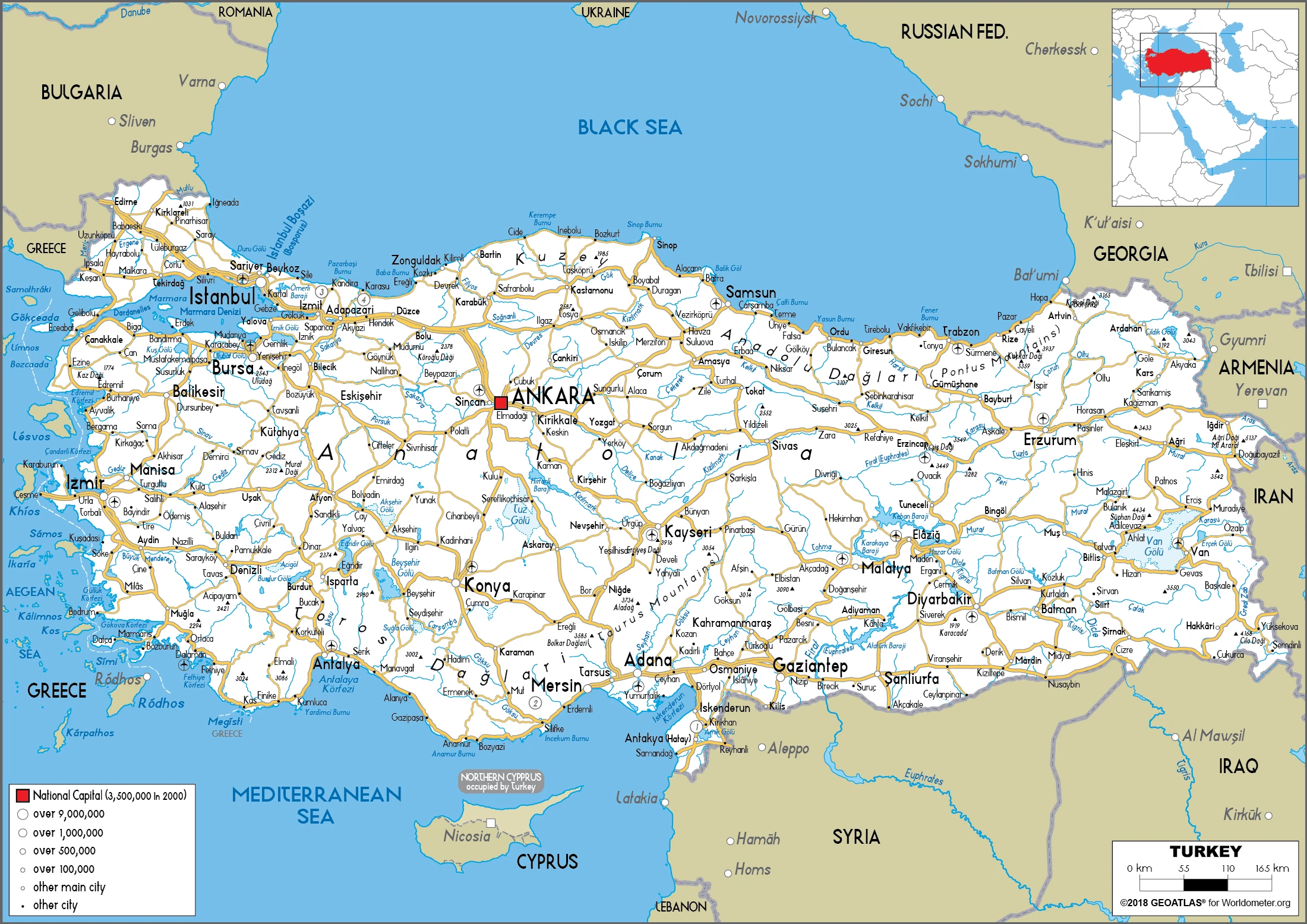 Did you know about Türkiye?
Türkiye (Turkey) has a rich history that is still being explored. It is a country with a diverse culture and beautiful landscapes. The people are friendly and welcoming, and they are known for their delicious food and drinks. Turkey is also a strategically important country, as it is located between Europe and Asia. It is home to many different cultures and languages, making it a great place.
Turkish culture is influenced by its Ottoman history and includes elements of Islam, Christianity, and Judaism. Turkey has many unique attractions, such as the ruins of Troy and Ephesus.
After virtually visiting Turkey, you may also be interested in the neighboring countries: Armenia, Azerbaijan, Bulgaria, Georgia, Greece, Iran, Iraq, and Syria.
If you liked our Google map and Türkiye information page,
please share it with others or save the link https://www.drivingdirections.net in your bookmarks.