Haiti Google Maps is a site/tool that offers a wide range of map views (topographic, satellite, street view) and navigation options, with little effort on your part, yet efficiently. If you need to plan a trip to a new place like Haiti, Google maps are available on desktop, mobile, or tablet. This Google maps and information page is dedicated to Haiti, Central America and the Caribbean (35 countries), showing its location, country facts, details about its capital city Port-au-Prince, bordering countries like the Dominican Republic, and plenty of other information which may be interesting when you visit this Central American and the Caribbean state.
Quick links: Google maps Haiti, Port-au-Prince Google maps, Driving Directions Haiti, Printable Road Map.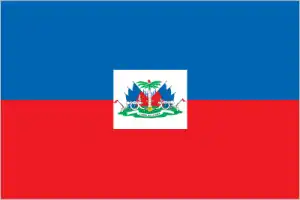 About Haiti in a nutshell
A slave rebellion headed by Toussaint Louverture in 1791 led to Haiti's independence.
Conventional short form of the name: Haiti
The conventional long form of the name: Republic of Haiti
Local long form: Republique dHaiti/Repiblik d Ayiti
Local short form: Haiti/Ayiti
Etymology: the native Taino name means Land of High Mountains and was originally applied to the entire island of Hispaniola.
The legal system in Haiti: civil law system strongly influenced by Napoleonic Code.
Climate: Tropical, with rain throughout the year. Humid in coastal areas, much cooler in the mountains.
The national symbols are Hispaniolan trogon (bird), hibiscus flower; national colors: blue, red.
Internet TLD: .ht
Background

The native Taino – who inhabited the island of Hispaniola when Christopher COLUMBUS first landed on it in 1492 – were virtually wiped out by Spanish settlers within 25 years. In the early 17th century, the French established a presence on Hispaniola. In 1697, Spain ceded the western third of the island to the French, which later became Haiti. Based on forestry and sugar-related industries, the French colony became one of the wealthiest in the Caribbean. Still, it relied heavily on the forced labor of enslaved Africans and environmentally degrading practices. In the late 18th century, Toussaint Louverture led a revolution of Haiti's nearly half a million slaves that ended Frances's rule on the island.
After a prolonged struggle, and under the leadership of Jean-Jacques DESSALINES, Haiti became the first country in the world led by formerly enslaved people after declaring its independence in 1804. Still, it was forced to pay an indemnity to France for more than a century and shunned other countries for nearly 40 years. After the US occupied Haiti from 1915-1934, Francois Papa Doc DUVALIER and his son Jean-Claude "Baby Doc" DUVALIER led repressive and corrupt regimes that ruled Haiti from 1957-1971 and 1971-1986, respectively. A massive magnitude 7.0 earthquake struck Haiti in January 2010 with an epicenter about 25 km (15 mi) west of the capital, Port-au-Prince. Estimates are that over 300,000 people were killed and some 1.5 million left homeless. The earthquake was assessed as the worst in this region in over 200 years. On 4 October 2016, Hurricane Matthew made landfall in Haiti, resulting in over 500 deaths and causing extensive damage to crops, houses, livestock, and infrastructure. Currently the poorest country in the Western Hemisphere, Haiti continues to experience bouts of political instability.
Geography

Predominantly mountainous, with forests and fertile plains.
Formerly a French colony, Haiti shares the Caribbean island of Hispaniola with the Dominican Republic. At independence in 1804, it became the world's first black republic.
This state is located in the Caribbean, western one-third of the island of Hispaniola, between the Caribbean Sea and the North Atlantic Ocean, west of the Dominican Republic, under the coordinates of 19 00 N, 72 25 W, covering an area of 27,750 sq km with a coastline of 1,771 km. Haiti is slightly smaller than Maryland.
Haiti has 376 km of land boundaries in total, and bordering with (1 nation): Dominican Republic 376 km.
Mostly rough and mountainous, with Pic la Selle 2,674 m as the highest point of Haiti, while the Caribbean Sea 0 m as the lowest point, causing a mean elevation at 470 m throughout the country. With a total of 27,750 sq km, Haiti has 27,560 sq km of land and 190 sq km water surface area.
Shares island of Hispaniola with the Dominican Republic (western one-third is Haiti, eastern two-thirds is the Dominican Republic); it is the most mountainous nation in the Caribbean.
The climate in Haiti is as follows: Tropical, semiarid where mountains in the east cut off trade winds.
When you visit Haiti, the natural hazards shall be considered: Lies in the middle of the hurricane belt and subject to severe storms from June to October; occasional flooding and earthquakes; periodic droughts.
The following major health-threatening issues shall be considered when visiting Haiti: degree of risk: very high (2020), bacterial and protozoal diarrhea, hepatitis A and E, typhoid fever, dengue fever, and malaria.
Current environmental issues affecting the Haitian people: extensive deforestation (much of the remaining forested land is being cleared for agriculture and used as fuel); soil erosion; overpopulation leads to inadequate supplies of potable water and a lack of sanitation; natural disasters.
Google maps Haiti
The capital and other divisions
Capital city: Port-au-Prince found under the coordinates 18 32 N, 72 20 W, applying the time zone UTC-5 (same time as Washington, DC, during Standard Time), using the following daylight saving time: +1hr begins second Sunday in March; ends first Sunday in November.
Port-au-Prince is the capital and largest city of the Republic of Haiti and the Metropolitan City of Port au Prince. It is located on the eastern coast of Haiti's Hispaniola island, which it shares with the Dominican Republic. In 2010, it was destroyed by a catastrophic earthquake, killing more than 200,000 people and injuring more than 300,000 others. Today, Port-au-Prince is still severely damaged, and the reconstruction process is lasting longer than expected.
Haiti became independent on 1 January 1804 (from France), and its national holiday is Independence Day, 1 January (1804).
Administrative divisions: 10 departments (departements, singular – departement); Artibonite, Centre, GrandAnse, Nippes, Nord, Nord-Est, Nord-Ouest, Ouest, Sud, Sud-Est.
People and society

Most Haitians are of African descent. A few have European roots, primarily French. The rigid class structure maintains vast disparities of wealth. The majority of the population live in extreme poverty; Haiti is one of the poorest countries in the Americas. A combination of political oppression and a collapsing economy led thousands to seek asylum in the US or the Dominican Republic. Though most are Christians, many Haitians practice Voodoo, recognized as an official religion in 2003. is mestizo (mixed European-–Amerindian). An English-speaking garífuna (black) community and Miskito Amerindians struggle to preserve their rights to land along the remote Caribbean coast. Women's status remains low. Wealth inequalities are prominent, and poverty is at the root of social tension. Two-thirds of the population live in poverty. The army ousted the president in 2009. Violent crime is a significant issue.
The population in Haiti is 11,198,240 (July 2021 estimate). Note: estimates for this country explicitly take into account the effects of excess mortality due to AIDS; this can result in lower life expectancy, higher infant mortality, higher death rates, lower population growth rates, and changes in the distribution of the population by age and sex than would otherwise be expected, with an average of 1.22% (2021 estimate) change. That means Haiti is the No. 82 in the world's populated rank list. With an average of 24.1 years median age (23.8 years for males and 23.8 years for women), Haiti ranks No. 167 on the globe's median age rank list.
The people living in this country are the Haitian(s) (noun) or Haitian (adjective) and belong mainly to the following ethnic groups: Black 95%, mixed and White 5%.
They speak French (official language), Creole (official language) languages and practice the following religions: Protestant/Methodist/Adventist/Jehovahs Witness 51.8%, Roman Catholic 35.4%, Vodou 1.7%, none 11% (2016-17 estimate), note: many Haitians practice elements of Vodou in addition to another religion, most often Roman Catholicism; Vodou was recognized as an official religion in 2003.
We can conclude the following about the population in Haiti: Fairly even distribution. The largest concentrations are located near coastal areas. In Haiti, we are talking about 58% (2021) of the total population is living in cities, and most of them reside in the following municipalities: 2.844 million, Port-Au-Prince (capital city) (2021).
Industry

Fragile economy completely shattered by 2010 earthquake. Ongoing problems of instability, hurricane damage, high unemployment, narcotics trafficking.
Haiti is a free market economy with low labor costs and tariff-free access to the US for many of its exports. Two-fifths of all Haitians depend on the agricultural sector, mainly small-scale subsistence farming, which remains vulnerable to frequent natural disasters. Poverty, corruption, vulnerability to natural disasters, and low levels of education for much of the population represent some of the most severe impediments to Haiti's economic growth. Remittances are the primary source of foreign exchange, equivalent to more than a quarter of GDP and nearly double the combined value of Haitian exports and foreign direct investment. Currently, the poorest country in the Western Hemisphere, with close to 60% of the population living under the national poverty line, Haiti's GDP growth rose to 5.5% in 2011 as the Haitian economy began recovering from the devastating January 2010 earthquake that destroyed much of its capital city, Port-au-Prince, and neighboring areas. However, growth slowed to below 2% in 2015 and 2016 as political uncertainty, drought conditions, decreasing foreign aid, and the depreciation of the national currency took a toll on investment and economic growth. In nearly a decade, Hurricane Matthew, the fiercest Caribbean storm, made landfall in Haiti on 4 October 2016, with 140 mile-per-hour winds, creating a new humanitarian emergency.
An estimated 2.1 million people were affected by the category 4 storm, which caused extensive damage to crops, houses, livestock, and infrastructure across Haiti's southern peninsula. US economic engagement under the Caribbean Basin Trade Partnership Act (CBTPA) and the 2008 Haitian Hemispheric Opportunity through Partnership Encouragement Act (HOPE II) have contributed to increased apparel exports and investment by providing duty-free access to the US. The Haiti Economic Lift Program (HELP) Act of 2010 extended the CBTPA and HOPE II until 2020. The Trade Preferences Extension Act of 2015 extended trade benefits provided to Haiti in the HOPE and HELP Acts through September 2025. Apparel sector exports in 2016 reached approximately $850 million and account for over 90% of Haitian exports and more than 10% of the GDP. Investment in Haiti is hampered by the difficulty of doing business and weak infrastructure, including access to electricity. Haiti's outstanding external debt was canceled by donor countries following the 2010 earthquake but has since risen to $2.6 billion as of December 2017, the majority of which is owed to Venezuela under the PetroCaribe program. Although the government has increased its revenue collection, it continues to rely on formal international economic assistance for fiscal sustainability, with over 20% of its annual budget coming from foreign aid or direct budget support.
Haiti is rich in the following natural resources: Bauxite, copper, calcium carbonate, gold, marble, hydropower, arable land.
The main industrial sectors are textiles, sugar refining, flour milling, cement, light assembly using imported parts.
The country's export sectors are particularly strong in clothing and apparel, eels, essential oils, perfumes, mangoes, cocoa beans (2019), partnering with these nations: the United States 81%, Canada 7% (2019). The export trade resulted in $1.73 billion. Note: Data are in current year dollars (2019 estimate). In a global rank of the export, values resulted in Haiti's position of 160.
Land use in Haiti: 3.6% (2018 estimate) forest, 30% (2018 estimate) other.
The arable land area is 38.5% (2018 estimate), and the agricultural land is 66.4% (2018 estimate). Land use for permanent crops 10.2% (2018 estimate), permanent pasture 17.7% (2018 estimate). The sum of the area of the irrigated land is 970 sq km (2012).
The main agro-industrial products of Haiti are sugar cane, cassava, mangoes/guavas, plantains, bananas, yams, avocados, maize, rice, vegetables.
The country typically needs to import: refined petroleum, rice, clothing, and apparel, palm oil, poultry meats (2019), partnering with the following nations: the United States 39%, China 22%, Turkey 5% (2019) in a sum value of $5.21 billion. Note: data are in current year dollars (2019 estimate) $5.67 billion. Note: data are in current year dollars (2018 estimate). This sum value on the global ranking list of imports resulted in Haiti 136.
Haiti Driving Directions

In this post, you learned about Haiti, the Caribbean, western one-third of the island of Hispaniola, between the Caribbean Sea and the North Atlantic Ocean, west of the Dominican Republic. We published some basic information about its capital Port-au-Prince, and the Haitian nation.
Are you interested in visiting Haiti and looking for driving directions? Click here to plan your route, or see a printable road map of Haiti below for an overview of the route network.
Printable map of Haiti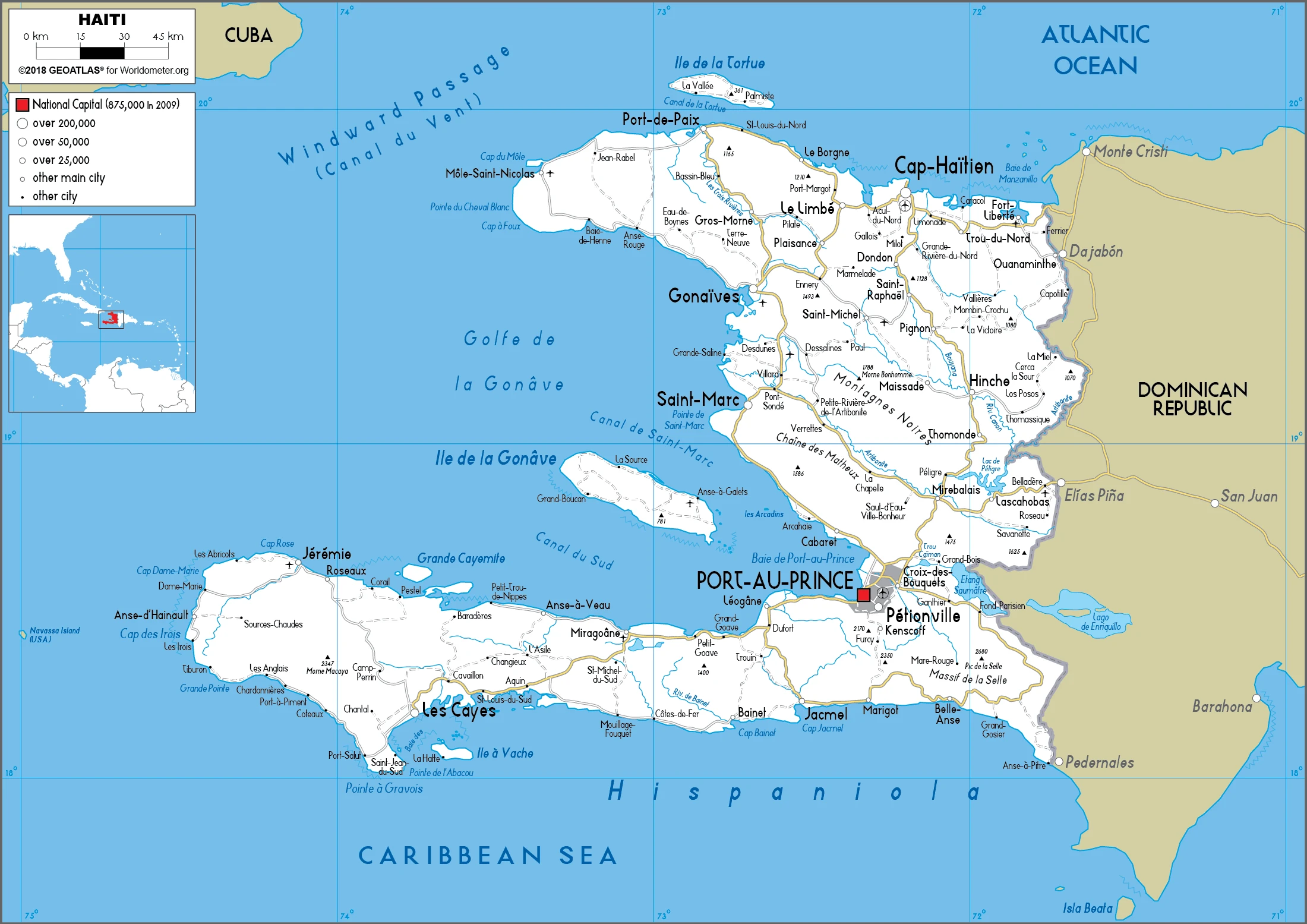 Did you know about Haiti?
Haiti is an island nation in the Caribbean Sea, off the southern coast of the island of Hispaniola. The name comes from the Arawak word "Ayiti", meaning "mountain." The country became independent in 1804. Haiti has since been hit with many natural disasters, including earthquakes and tropical storms.
After virtually visiting Haiti, you may also be interested in the neighboring country: the Dominican Republic.
If you liked our Google map and Haiti information page,
please share it with others or save the link https://www.drivingdirections.net in your bookmarks.