Kenya Google Maps is a site/tool that offers a wide range of map views (topographic, satellite, street view) and navigation options, with little effort on your part, yet efficiently. If you need to plan a trip to a new place like Kenya, Google maps are available on desktop, mobile, or tablet. This Google maps and information page is dedicated to Kenya, Africa (54 countries), showing its location, country facts, details about its capital city Nairobi, bordering countries like Ethiopia, Somalia, South Sudan, Tanzania, Uganda, and plenty of other information which may be interesting when you visit this African state.
Quick links: Google maps Kenya, Nairobi Google maps, Driving Directions Kenya, Printable Road Map.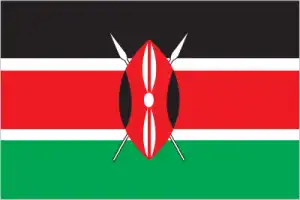 About Kenya in a nutshell
Kenya has more than 60 game reserves, national parks, and marine reservations.
Conventional short form of the name: Kenya
The conventional long form of the name: Republic of Kenya
Local long form: Republic of Kenya / Jamhuri ya Kenya
Local short form: Kenya
Former name(s): British East Africa
Etymology: named for Mount Kenya; the meaning of the name is unclear but may derive from the Kikuyu, Embu, and Kamba words kirinyaga, kirenyaa, and kiinyaa – all of which mean Gods resting place.
The legal system in Kenya: mixed legal system of English common law, Islamic law, and customary law; judicial review in the new Supreme Court established by the new constitution.
Climate: The coast and the Great Rift Valley are hot and humid. The plateau interior is temperate. The northeastern desert is hot and dry. Rain usually falls April–May
The national symbols are lion; national colors: black, red, green, white.
Internet TLD: .ke
This large East African country is divided by the Great Rift Valley running north-south, and the Equator divides it into two equal parts. Along this famous line, almost exactly in the geometrical center of the country, rises the 'top' of the country, the extinct giant volcano with its icecap, the World Heritage-listed Mount Kenya. The Equator is a geographical dividing line and an important cultural one. The tribal lifestyle of the Nile nomads grazing on the dry steppe scrub of the semidesert in the legendary wilds of the former Northern Frontier contrasts sharply with that of the Bantu, who cultivate the lush plantations of the more humid southern highlands, or the Islamic Swahili people who populate the coastline (including the World Heritage-listed island of Lamu). Originally grazing in the Great Rift Valley, Maasai pastoralists are responding to the challenges of tourism, with souvenir-selling herders increasingly turning up in the colorful bustle of markets hidden among the skyscrapers of big cities and luxury oceanfront hotels. Among the almost half a hundred national parks and reserves are savannahs home to diverse wildlife, the colorful coral gardens of the Indian Ocean's African coastline, and the World Heritage-listed prehistoric sites around Lake Turkana (Rudolf).
Background

Founding president and liberation struggle icon Jomo KENYATTA led Kenya from independence in 1963 until he died in 1978 when Vice President Daniel Arap MOI took power in a constitutional succession. The country was a de facto one-party state from 1969 until 1982. After that time, the ruling Kenya African National Union (KANU) changed the constitution to make itself the sole legal party in Kenya. MOI acceded to internal and external pressure for political liberalization in late 1991. The ethnically fractured opposition failed to dislodge KANU from power in elections in 1992 and 1997, which were marred by violence and fraud. President MOI stepped down in December 2002 following fair and peaceful elections.
Mwai KIBAKI, running as the multiethnic, united opposition group candidate, the National Rainbow Coalition (NARC), defeated KANU candidate Uhuru KENYATTA, the son of the son of founding president Jomo KENYATTA, and assumed the presidency following a campaign centered on an anticorruption platform. Kibaki's reelection in December 2007 brought charges of vote-rigging from Orange Democratic Movement (ODM) candidate Raila ODINGA and unleashed two months of violence in which approximately 1,100 people died. African Union-sponsored mediation led by former UN Secretary-General Kofi ANNAN in late February 2008 resulted in a power-sharing accord bringing ODINGA into the government in the restored position of prime minister. The power-sharing accord included a broad reform agenda, the centerpiece of which was constitutional reform. In August 2010, Kenyans overwhelmingly adopted a new constitution in a national referendum.
The new constitution introduced additional checks and balances to executive power and devolved power and resources to 47 newly created counties. It also eliminated the position of prime minister. Uhuru KENYATTA won the first presidential election under the new constitution in March 2013 and was sworn into office the following month. He began a second term in November 2017 following a contentious, repeat election.
Geography

A central plateau is divided by the Great Rift Valley. North of the Equator is mainly semidesert. To the east lies a fertile coastal belt.
Kenya straddles the Equator on Africa's east coast. After nearly 40 years in power, the KANU party was soundly defeated in elections in 2002. Corruption is a severe issue.
This state is located in Eastern Africa, bordering the Indian Ocean, between Somalia and Tanzania, under the coordinates of 1 00 N, 38 00 E, covering an area of 580,367 sq km with a coastline of 536 km. Kenya is Five times the size of Ohio; slightly more than twice the size of Nevada.
Kenya has 3,457 km of land boundaries in total, and bordering with (5 nations): Ethiopia 867 km, Somalia 684 km, South Sudan 317 km, Tanzania 775 km, Uganda 814 km.
Low plains rise to central highlands bisected by great rift valley, a fertile plateau in the west, with Mount Kenya 5,199 m as the highest point of Kenya, while Indian Ocean 0 m as the lowest point, causing a mean elevation at 762 m throughout the country. With 580,367 sq km, Kenya has 569,140 sq km of land and 11,227 sq km water surface area.
Major water bodies in the country: Lake Victoria (shared with Tanzania and Uganda) – 62,940 sq km (a freshwater lake), Lake Turkana (shared with Ethiopia) – 6,400 sq km (saltwater lake). The significant watersheds for Kenya are Atlantic Ocean drainage: (Mediterranean Sea) Nile (3,254,853 sq km).
The Kenyan Highlands comprise one of the most successful agricultural production regions in Africa; glaciers are found on Mount Kenya, Africa's second-highest peak; unique physiography supports abundant and varied wildlife of scientific and economic value; Lake Victoria, the world's largest tropical lake and the second-largest freshwater lake, is shared among three countries: Kenya, Tanzania, and Uganda.
The climate in Kenya is as follows: Varies from tropical along coast to arid in the interior.
When you visit Kenya, the natural hazards shall be considered: Recurring drought, flooding during rainy seasons, volcanism: limited volcanic activity; the barrier (1,032 m) last erupted in 1921; the south island is the only other historically active volcano.
The following major health-threatening issues shall be considered when visiting Kenya: degree of risk: very high (2020), bacterial and protozoal diarrhea, hepatitis A, typhoid fever, malaria, dengue fever, Rift Valley fever, schistosomiasis, rabies.
Current environmental issues affecting the Kenyan people: water pollution from urban and industrial wastes; water shortage and degraded water quality from increased use of pesticides and fertilizers; flooding; water hyacinth infestation in Lake Victoria; deforestation; soil erosion; desertification; poaching.
Google maps Kenya
The capital and other divisions
Capital city: Nairobi found under the coordinates 1 17 S, 36 49 E, applying the time zone UTC+3 (8 hours ahead of Washington, DC, during Standard Time), using the following daylight saving time: none.
Nairobi is the capital of Kenya. It is a city of bright colors and sounds. The colonial buildings and English names remind that it was founded as a British settlement in 1899. The modern presence of mosques, Somali businesses, and Indian shops shows how it has become an international hub.
Kenya became independent on 12 December 1963 (from the UK), and its national holiday is Jamhuri Day (Independence Day), 12 December (1963).
Administrative divisions: 47 counties; Baringo, Bomet, Bungoma, Busia, Elgeyo/Marakwet, Embu, Garissa, Homa Bay, Isiolo, Kajiado, Kakamega, Kericho, Kiambu, Kilifi, Kirinyaga, Kisii, Kisumu, Kitui, Kwale, Laikipia, Lamu, Machakos, Makueni, Mandera, Marsabit, Meru, Migori, Mombasa, Muranga, Nairobi City, Nakuru, Nandi, Narok, Nyamira, Nyandarua, Nyeri, Samburu, Siaya, Taita/Taveta, Tana River, Tharaka-Nithi, Trans Nzoia, Turkana, Uasin Gishu, Vihiga, Wajir, West Pokot.
People and society

Seventy ethnic groups share about 40 languages. Strong clan and family links in rural areas are being weakened by urban migration. Poverty, severe drought, and years of high population growth exacerbate ethnic tensions.
The population in Kenya is 54,685,051 (July 2021 estimate). Note: estimates for this country explicitly take into account the effects of excess mortality due to AIDS; this can result in lower life expectancy, higher infant mortality, higher death rates, lower population growth rates, and changes in the distribution of the population by age and sex than would otherwise be expected, with an average of 2.15% (2021 estimate) change. That means Kenya is the No. 27 in the world's populated rank list. With an average of 20 years median age (19.9 years for males and 19.9 years for women), Kenya ranks No. 195 on the globe's median age rank list.
The people living in this country are the Kenyan(s) (noun) or Kenyan (adjective) and belong mainly to the following ethnic groups: Kikuyu 17.1%, Luhya 14.3%, Kalenjin 13.4%, Luo 10.7%, Kamba 9.8%, Somali 5.8%, Kisii 5.7%, Mijikenda 5.2%, Meru 4.2%, Maasai 2.5%, Turkana 2.1%, non-Kenyan 1%, other 8.2% (2019 estimate).
They speak English (official language), Kiswahili (official language), numerous indigenous languages and practice the following religions: Christian 85.5% (Protestant 33.4%, Catholic 20.6%, Evangelical 20.4%, African Instituted Churches 7%, other Christian 4.1%), Muslim 10.9%, other 1.8%, none 1.6%, dont know/no answer 0.2% (2019 estimate).
We can conclude the following about the population in Kenya: Population heavily concentrated in the west along the shore of lake victoria. Other areas of high density include the capital of Nairobi and in the southeast along the Indian Ocean coast, as shown in this population distribution map. In Kenya, we are talking about 28.5% (2021) of the total population is living in cities, and most of them reside in the following municipalities: 4.922 million, Nairobi (capital city), 1.341 million, Mombassa (2021).
Industry

Tourism, hurt by sporadic violence. Flowers, tea, and coffee. Sizable informal economy. Diversified manufacturing sector. Needs food aid, especially to cope with the 2011 famine. Oil exploration.
Kenya is the economic, financial, and transport hub of East Africa. Kenya's real GDP growth has averaged over 5% for the last decade. Since 2014, Kenya has been ranked as a lower middle-income country because its per capita GDP crossed a World Bank threshold. While Kenya has a growing entrepreneurial middle class and steady growth, weak governance and corruption have impaired its economic development. Although reliable numbers are hard to find, unemployment and under-employment are excessively high and could be near 40% of the population. In 2013, the country adopted a devolved system of government with the creation of 47 counties and was devolving state revenues and responsibilities to the counties. Agriculture remains the backbone of the Kenyan economy, contributing one-third of GDP. About 75% of Kenya's population of roughly 48.5 million works part-time in the agricultural sector, including livestock and pastoral activities. Over 75% of agricultural output is from small-scale, rain-fed farming or livestock production.
Tourism also holds a significant place in Kenya's economy. Despite political turmoil throughout the second half of 2017, tourism was up 20%, showcasing the strength of this sector. Kenya has long been a target of terrorist activity and has struggled with instability along its northeastern borders. Some high visibility terrorist attacks during 2013-2015 (e.g., at Nairobi's Westgate Mall and Garissa University) affected the tourism industry severely, but the sector rebounded strongly in 2016-2017 and appears poised to continue growing. Inadequate infrastructure continues to hamper Kenya's efforts to improve its annual growth to address poverty and unemployment meaningfully. The KENYATTA administration has been successful in courting external investment for infrastructure development. International financial institutions and donors remain essential to Kenya's growth and development. Still, Kenya has also successfully raised capital in the global bond market, issuing its first sovereign bond offering in mid-2014, with a second occurring in February 2018. The first phase of a Chinese-financed and constructed standard gauge railway connecting Mombasa and Nairobi opened in May 2017.
In 2016 the government was forced to take over three small and undercapitalized banks when underlying weaknesses were exposed. The government also enacted legislation limiting interest rates banks can charge on loans and set a rate that banks must pay their depositors. This measure led to a sharp shrinkage of credit in the economy. A prolonged election cycle in 2017 hurt the economy, drained government resources, and slowed GDP growth. Drought-like conditions in parts of the country pushed 2017 inflation above 8%, but the rate had fallen to 4.5% in February 2018. The economy, however, is well placed to resume its decade-long 5%-6% growth rate. While fiscal deficits continue to pose risks in the medium term, other economic indicators, including foreign exchange reserves, interest rates, current account deficits, remittances, and FDI, are favorable. The credit and drought-related impediments were temporary. In his second term, President KENYATTA has pledged to make economic growth and development a centerpiece of his second administration, focusing on his Big Four initiatives of universal healthcare, food security, affordable housing, and manufacturing expansion.
Kenya is rich in the following natural resources: Limestone, soda ash, salt, gemstones, fluorspar, zinc, diatomite, gypsum, wildlife, hydropower.
The main industrial sectors are typically small-scale consumer goods (plastic, furniture, batteries, textiles, clothing, soap, cigarettes, flour), agricultural products, horticulture, oil refining, aluminum, steel, lead, cement, commercial ship repair, tourism, information technology.
The country's export sectors are robust in tea, cut flowers, refined petroleum, coffee, titanium (2019), partnering with these nations: Uganda 10%, United States 9%, Netherlands 8%, Pakistan 7%, United Kingdom 6%, United Arab Emirates 6%, Tanzania 5% (2019). The export trade resulted in $11.49 billion. Note: Data are in current year dollars (2019 estimate). In a global rank of the export, values resulted in Kenya's position of 99.
Land use in Kenya: 6.1% (2018 estimate) forest, 45.8% (2018 estimate) other.
The arable land area is 9.8% (2018 estimate), and the agricultural land is 48.1% (2018 estimate). Land use for permanent crops 0.9% (2018 estimate), permanent pasture 37.4% (2018 estimate). The sum of the area of the irrigated land is 1,030 sq km (2012).
The main agro-industrial products of Kenya are sugar cane, milk, maize, potatoes, bananas, camel milk, cassava, sweet potatoes, mangoes/guavas, cabbages.
The country typically needs to import: refined petroleum, cars, packaged medicines, wheat, iron products (2019), partnering with the following nations: China 24%, United Arab Emirates 10%, India 10%, Saudi Arabia 7%, Japan 5% (2019) in a sum value of $20.41 billion. Note: data are in current year dollars (2019 estimate) $20.17 billion. Note: data are in current year dollars (2018 estimate) $18.653 billion (2017 estimate). This sum value on the global ranking list of imports resulted in Kenya 81.
Kenya Driving Directions

In this post, you learned about Kenya, Eastern Africa, bordering the Indian Ocean, between Somalia and Tanzania. We published some basic information about its capital Nairobi, and the Kenyan nation.
Are you interested in visiting Kenya and looking for driving directions? Click here to plan your route, or see a printable road map of Kenya below for an overview of the route network.
Printable map of Kenya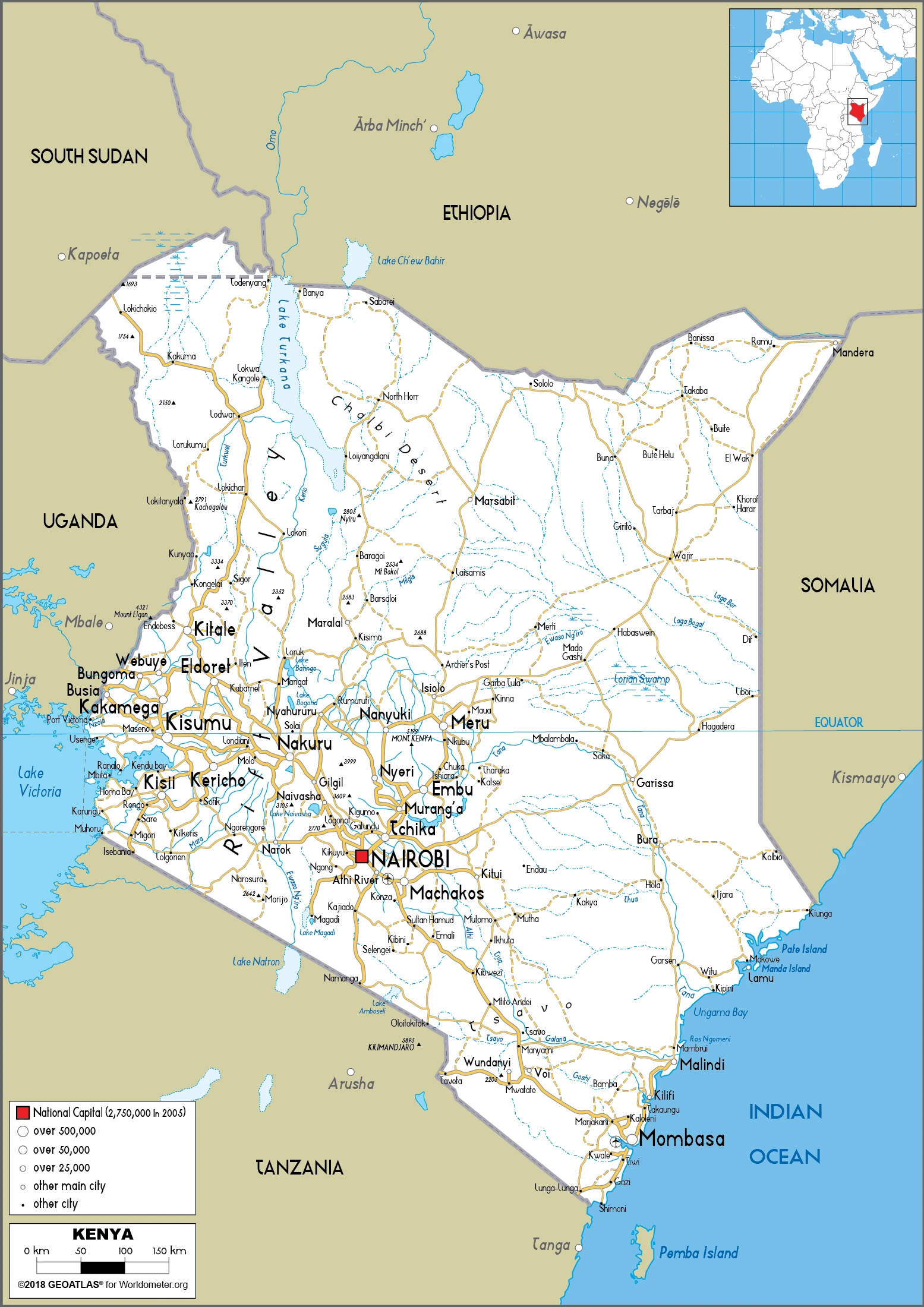 Did you know about Kenya?
Did you know that Kenya is home to some of the most spectacular and most endangered animals in the world? Big-game animals like the African elephant, African buffalo, and rhinoceros. Many wild cats, including cheetahs, leopards, lions, and tigers. The country is also home to more than 200 birds and rare reptiles.
After virtually visiting Kenya, you may also be interested in the neighboring countries: Ethiopia, Somalia, South Sudan, Tanzania, Uganda.
If you liked our Google map and Kenya information page,
please share it with others or save the link https://www.drivingdirections.net in your bookmarks.