Mali Google Maps is a site/tool that offers a wide range of map views (topographic, satellite, street view) and navigation options, with little effort on your part, yet efficiently. If you need to plan a trip to a new place like Mali, Google maps are available on desktop, mobile, or tablet. This Google maps and information page is dedicated to Mali, Africa (54 countries), showing its location, country facts, details about its capital city Bamako, bordering countries like Algeria, Burkina Faso, Côte d'Ivoire, Guinea, Mauritania, Niger, Senegal, and plenty of other information which may be interesting when you visit this African state.
Quick links: Google maps Mali, Bamako Google maps, Driving Directions Mali, Printable Road Map.
About Mali in a nutshell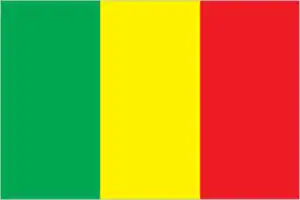 Conventional short form of the name: Mali
The conventional long form of the name: Republic of Mali
Local long form: Republique de Mali
Local short form: Mali
Former name(s): French Sudan and Sudanese Republic
Etymology: name derives from the West African Mali Empire of the 13th to 16th centuries A.D..
The legal system in Mali: civil law system based on the French civil law model and influenced by customary law; judicial review of legislative acts in the Constitutional Court.
Climate: In the south, intensely hot, dry weather precedes the westerly rains. The north is almost rainless.
The national symbols are Great Mosque of Djenne; national colors: green, yellow, red.
Internet TLD: .ml
Located at the crossroads of the Saharan trade routes, the mysterious Timbuktu's former wealth attracted not only traders and adventurers but also masters of science and religious scholars. It was home to one of Islam's most excellent universities in the Middle Ages. Today, the desert that once brought wealth buries the city and its memories in dew-drenched sand. The 16th-century Gingareyber Mosque, a World Heritage clay mosque in danger, is no longer open to the faithful, but the largest in the world, the Great Mosque of Djenne, is also a World Heritage site, can only be seen from the outside. In the market square in front of it, vendors come from all over Mali: Bambara peasants bring their millet, Boko fishers their fish, Dogon their onions, Tuaregs their salt and camels, Fulani their cattle: every Monday, on market day, the clay town of Djenné becomes the melting pot of West Africa for a day.
The actual center of Mali is Mopti, built at the confluence of the Bani and the Niger. You can also reach Timbuktu and Djenne, and the road branches off to the Bandiagara plateau, the land of the Dogon people. This unique group of people, both Animist and Islamic, have their own ancient culture and traditions. Hiking through rock-walled villages, great granaries, onion plots, and ancient burial sites, you can learn about the customs of these mysterious people with a mysterious way of life. On the banks of the Niger, in the town of Gao, stands the 17m-high clay pyramid tomb of Mohammed Askia, the last ruler of the Songhai Empire, which ruled Mali for eight centuries and made Islam the state religion of the empire in the early 16th century.
Tombouctou (Timbuktu) was the center of the 14th-century Malinké trading empire.
Background

Present-day Mali is named after the Mali Empire that ruled the region between the 13th and 16th centuries. At its peak in the 14th century, it was the most prominent and wealthiest empire in West Africa and controlled an area about twice the size of modern-day France. Primarily a trading empire, Mali derived its wealth from gold and maintained several goldfields and trade routes in the Sahel. The empire also influenced West African culture by spreading its language, laws, and customs, but by the 16th century, it fragmented into mostly small chiefdoms. The Songhai Empire, previously a Mali dependency centered in Timbuktu, gained prominence in the 15th and 16th centuries. Under Songhai's rule, Timbuktu became a large commercial center and was well-known for its scholarship and religious teaching. Timbuktu remains a center of culture in West Africa today. In the late 16th century, the Songhai Empire fell to Moroccan invaders and disintegrated into independent sultanates and kingdoms. France, expanding from Senegal, seized control of the area in the 1890s and incorporated it into French West Africa as French Sudan. In 1960, French Sudan gained independence from France and became the Mali Federation. After only a few months, Senegal withdrew, the remaining area was renamed the Republic of Mali. Mali saw 31 years of dictatorship until 1991, when a military coup ousted the Government, established a new constitution, and instituted a multiparty democracy.
President Alpha Oumar KONARE won Malis's first two democratic presidential elections in 1992 and 1997. In keeping with Malis's two-term constitutional limit, he stepped down in 2002 and was succeeded by Amadou Toumani TOURE, who won a second term in 2007. In 2012, rising ethnic tensions and an influx of fighters – some linked to Al-Qaida – from Libya led to a rebellion and military coup. Following the coup, rebels expelled the military from the country's three northern regions, allowing terrorist organizations to develop strongholds in the area. With French military intervention, the Malian Government managed to retake most of the north. However, the Government's grasp in the region remains weak, with local militias, terrorists, and insurgent groups continuously trying to expand control. In 2015, the Malian Government and northern rebels signed an internationally mediated peace accord. Despite a June 2017 target for implementation of the agreement, the signatories have made little progress. Extremist groups were left out of the peace process, and terrorist attacks remain common. Ibrahim Boubacar KEITA won the Malian presidential elections in 2013 and 2018. Aside from security and logistic shortfalls, international observers deemed these elections credible. Terrorism, banditry, ethnic-based violence, and extra-judicial military killings plagued the country during KEITAs second term. In August 2020, the military arrested KEITA, his prime minister, and other senior government members and established a military junta called the National Committee for the Salvation of the People (CNSP). In September 2020, the junta established a transition government. It appointed Bah NDAW, a retired army officer and former defense minister, as interim president and Colonel Assimi GOITA, the coup leader and chairman of the CNSP, as interim vice president. The transition government's charter allows it to rule for 18 months before calling a general election.
Geography

The northern half lies in the Sahara. The inland delta of the Niger River flows through the grassy savanna in the south.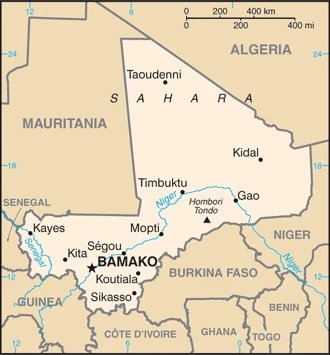 A former French colony, Mali is landlocked in the heart of West Africa. The 1991 coup ended the 23-year dictatorship of Moussa Traoré and ushered in multiparty elections from 1992.
This state is located in Interior Western Africa, southwest of Algeria, north of Guinea, Côte d'Ivoire, and Burkina Faso, west of Niger, under the coordinates of 17 00 N, 4 00 W, covering an area of 1,240,192 sq km with a coastline of 0 km (landlocked country). Mali is Slightly less than twice the size of Texas.
Mali has 7,908 km of land boundaries in total, and bordering with (7 nations): Algeria 1359 km, Burkina Faso 1325 km, Côte d'Ivoire 599 km, Guinea 1062 km, Mauritania 2236 km, Niger 838 km, Senegal 489 km.
Mostly flat to rolling northern plains covered by sand, savanna in south, rugged hills in northeast, with Hombori tondo 1,155 m as the highest point of Mali, while Senegal River 23 m as the lowest point, causing a mean elevation at 343 m throughout the country. With a total of 1,240,192 sq km, Mali has 1,220,190 sq km of land and 20,002 sq km water surface area.
Major water bodies in the country: Lac Faguibine – 590 sq km (a freshwater lake), N/A (saltwater lake) while the major rivers are: Niger (shared with Guinea, Niger, and Nigeria) – 4,200 km, Senegal (shared with Senegal and Mauritania) – 1,641 km. The significant watersheds for Mali are Atlantic Ocean drainage: Niger (2,261,741 sq km), Senegal (456,397 sq km), Volta (410,991 sq km).
Landlocked; divided into three natural zones: the southern, cultivated Sudanese; the central, semiarid Sahelian; and the northern, arid Saharan.
The climate in Mali is as follows: Subtropical to arid, hot and dry (February to June), rainy, humid, and mild (June to November), cool and dry (November to February).
When you visit Mali, the natural hazards shall be considered: Hot, dust-laden harmattan haze familiar during dry seasons; recurring droughts; occasional niger river flooding.
The following major health-threatening issues shall be considered when visiting Mali: degree of risk: very high (2020), bacterial and protozoal diarrhea, hepatitis A, typhoid fever, malaria, and dengue fever, schistosomiasis, rabies, meningococcal meningitis.
Current environmental issues affecting the Malian people: deforestation, soil erosion; desertification; loss of pasture land; inadequate potable water supplies.
Google maps Mali
The capital and other divisions
Capital city: Bamako found under the coordinates 12 39 N, 8 00 W, applying the time zone UTC 0 (5 hours ahead of Washington, DC, during Standard Time), using the following daylight saving time: none.
Bamako is the capital of Mali and one of the most important cities in West Africa. It is also known as the "City of Light," which has been used since Mandinka chief Sundiata Keita founded it. Though Bamako was under French control, it was not until after World War II that it became a prominent center for commerce and industry, including textiles, clothing, agricultural products, and timber.
Mali became independent on 22 September 1960 (from France), and its national holiday is Independence Day, 22 September (1960).
Administrative divisions: 10 regions (regions, singular – region), 1 district; District de Bamako, Gao, Kayes, Kidal, Koulikoro, Menaka, Mopti, Segou, Sikasso, Taoudenni, Tombouctou (Timbuktu).
People and society

Most people live in the south and are farmers, herders, or river fishers. Nomadic Fulani and Tuareg herders travel the northern plains. Rebellion broke out there in 2012, initially Tuareg-led, but Islamist insurgents soon seized vital towns. They were pushed back with international help, but low-level conflict continued. Women have minor status.
The population in Mali is 20,137,527 (July 2021 estimate), with an average of 2.97% (2021 estimate) change. That means Mali is the No. 63 in the world's populated rank list. With an average of 16 years median age (15.3 years for males and 15.3 years for women), Mali ranks No. 224 on the globe's median age rank list.
The people living in this country are the Malian(s) (noun) or Malian (adjective) and belong mainly to the following ethnic groups: Bambara 33.3%, Fulani (Peuhl) 13.3%, Sarakole/Soninke/Marka 9.8%, Senufo/Manianka 9.6%, Malinke 8.8%, Dogon 8.7%, Sonrai 5.9%, Bobo 2.1%, Tuareg/Bella 1.7%, other Malian 6%, from members of Economic Community of West Africa 0.4%, other 0.3% (2018 estimate).
They speak French (official language), Bambara 46.3%, Peuhl/Foulfoulbe 9.4%, Dogon 7.2%, Maraka/Soninke 6.4%, Malinke 5.6%, Sonrhai/Djerma 5.6%, Minianka 4.3%, Tamacheq 3.5%, Senoufo 2.6%, Bobo 2.1%, other 6.3%, unspecified 0.7% (2009 estimate). Note: Mali has 13 national languages in addition to its official language languages and practice the following religions: Muslim 93.9%, Christian 2.8%, animist .7%, none 2.5% (2018 estimate).
We can conclude the following about the population in Mali: The overwhelming majority of the population lives in the southern half of the country, with greater density along the border with Burkina Faso, as shown in this population distribution map. In Mali, we are talking about 44.7% (2021) of the total population is living in cities, and most of them reside in the following municipalities: 2.713 million, Bamako (capital city) (2021).
Industry

Widespread poverty. Less than 2% of land can be cultivated. Vulnerable to drought. Gold, high-quality cotton, and livestock account for 90% of exports. Tourism was held back by instability and kidnappings by Al-Qaeda in the Maghreb.
Among the 25 poorest countries globally, landlocked Mali depends on gold mining and agricultural exports for revenue. The country's fiscal status fluctuates with gold and agricultural commodity prices and harvests; cotton and gold exports make up around 80% of export earnings. Mali remains dependent on foreign aid., Economic activity is largely confined to the riverine area irrigated by the Niger River; about 65% of Malis land area is desert or semidesert. About 10% of the population is nomadic, and about 80% of the labor force is engaged in farming and fishing. Industrial activity is concentrated on processing farm commodities. The Government subsidizes the production of cereals to decrease the country's dependence on imported foodstuffs and reduce its vulnerability to food price shocks. Mali is developing its iron ore extraction industry to diversify foreign exchange earnings away from gold, but the pace will depend on global price trends. Although the political coup in 2012 slowed Malis's growth, the economy has since bounced back, with GDP growth above 5% in 2014-17. However, physical insecurity, high population growth, corruption, weak infrastructure, and low levels of human capital continue to constrain economic development. Higher rainfall helped boost cotton output in 2017, and the country's 2017 budget increased spending by more than 10%, much of which was devoted to infrastructure and agriculture. Corruption and political turmoil are vital downside risks in 2018 and beyond.
Mali is rich in natural resources: Gold, phosphates, kaolin, salt, limestone, uranium, gypsum, granite, hydropower, note, bauxite, iron ore, manganese, tin, and copper deposits are known but not exploited.
The main industrial sectors are food processing, construction, phosphate, and gold mining.
The country's export sectors are robust in gold, cotton, sesame seeds, lumber, vegetable oils/residues (2019), partnering with these nations: United Arab Emirates 66%, Switzerland 26% (2019). The export trade resulted in $4.18 billion. Note: Data are in current year dollars (2018 estimate). In a global rank of the export, values resulted in Mali's position of 132.
Land use in Mali: 10.2% (2018 estimate) forest, 55.7% (2018 estimate) other.
The arable land area is 5.6% (2018 estimate), and the agricultural land is 34.1% (2018 estimate). Land use for permanent crops 0.1% (2018 estimate), permanent pasture 28.4% (2018 estimate). The sum of the area of the irrigated land is 3,780 sq km (2012).
The main agro-industrial products of Mali are maize, rice, millet, sorghum, mangoes/guavas, cotton, watermelons, green onions/shallots, okra, sugar cane.
The country typically needs to import: refined petroleum, clothing, and apparel, packaged medicines, cement, broadcasting equipment (2019), partnering with the following nations: Senegal 23%, Côte d'Ivoire 15%, China 11%, France 9% (2019) in a sum value of $6.08 billion. Note: data are in current year dollars (2018 estimate) $3.403 billion (2016 estimate). This sum value on the global ranking list of imports resulted in Mali 130.
Mali Driving Directions

In this post, you learned about Mali, Interior Western Africa, southwest of Algeria, north of Guinea, Côte d'Ivoire, and Burkina Faso, west of Niger. We published some basic information about its capital Bamako, and the Malian nation.
Are you interested in visiting Mali and looking for driving directions? Click here to plan your route, or see a printable road map of Mali below for an overview of the route network.
Printable map of Mali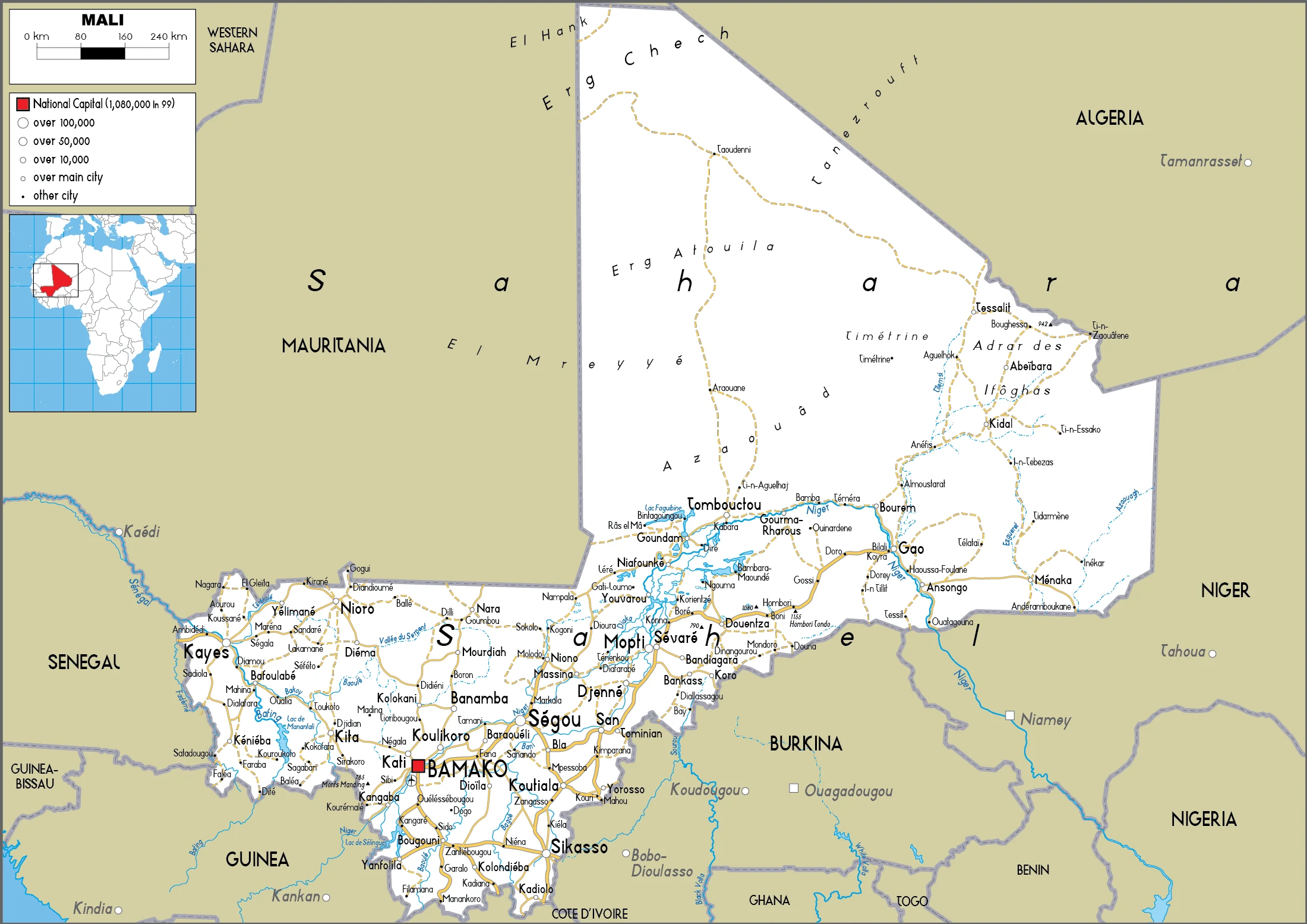 Did you know about Mali?
Even though Mali was once a wealthy country with gold mines and trading routes along the Niger River and to Europe through its coastal towns, it has been beset for decades by poverty, military coups, and invasions from France.
After virtually visiting Mali, you may also be interested in the neighboring countries: Algeria, Burkina Faso, Côte d'Ivoire, Guinea, Mauritania, Niger, Senegal.
If you liked our Google map and Mali information page,
please share it with others or save the link https://www.drivingdirections.net in your bookmarks.