Malta Google Maps is a site/tool that offers a wide range of map views (topographic, satellite, street view) and navigation options, with little effort on your part, yet efficiently. If you need to plan a trip to a new place like Malta, Google maps are available on desktop, mobile, or tablet. This Google maps and information page is dedicated to Malta, Europe (47 countries), showing its location, country facts, details about its capital city Valletta, and plenty of other information which may be interesting when you visit this European state.
Quick links: Google maps Malta, Valletta Google maps, Driving Directions Malta, Printable Road Map.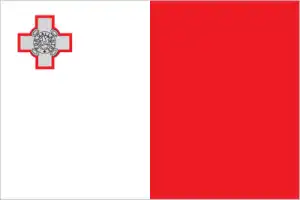 About Malta in a nutshell
Conventional short form of the name: Malta
The conventional long form of the name: Republic of Malta
Local long form: Repubblika ta Malta,
Local short form: Malta
Former name(s): N/A
Etymology: the ancient Greeks called the island Melite meaning honey-sweet from the Greek word meli meaning honey and referring to the islands honey production.
The legal system in Malta: mixed legal system of English common law and civil law based on the Roman and Napoleonic civil codes; subject to European Union law.
Climate: Mediterranean climate. There are many hours of sunshine all year round, with very little rainfall.
The national symbols are Maltese eight-pointed cross; national colors: red, white.
Internet TLD: .mt
Located in the central Mediterranean basin, about 90 km from Sicily, this archipelago of three large and two small islands are the remains of a former land bridge between Europe and Africa, which sank and is now the only island without a single watercourse. The submerged estuaries of the karstic limestone plateau make excellent natural harbors, and the archipelago, strategically located, has been inhabited since prehistoric times. It was later occupied by the Phoenicians, Greeks, Romans, Byzantines, Arabs, Normans, and even by the Knights Hospitallers, the Spanish, the French, and, most recently, for 150 years by the British. The remains of the early settlements are universal treasures of humanity. The seven megalithic temples found on the islands of Malta, about the size of the island of Csepel, and Gozo, the size of the island of Szentendre, are the masterpieces of the Bronze Age craftsmen. The necropolis of the Hypogeum of Hal Safien, built around 2500 BC, is a labyrinth of countless underground chambers and passages. Valletta, the capital of Malta, was founded in the 16th century by the Knights of the Order of St John. Covering just half a square kilometer, it has around 320 buildings, including countless Renaissance and Baroque churches, palaces, and residences – the most significant number of monuments globally for its size.
Malta is the only country to receive the George Cross for gallantry in 1942 for national resilience to relentless German bombardment.
Background

With a civilization that dates back thousands of years, Malta boasts some of the oldest megalithic sites in the world. Situated in the center of the Mediterranean, Malta's islands have long served as a strategic military asset, with the islands at various times have come under the control of the Phoenicians, Carthaginians, Greeks, Romans, Byzantines, Moors, Normans, Sicilians, Spanish, Knights of St. John, and the French. Most recently, a British colony (since 1814), Malta, gained its independence in 1964 and declared itself a republic ten years later. While under British rule, the island staunchly supported the UK through both world wars. Since about the mid-1980s, the island has transformed itself into a freight transshipment point, a financial center, and a tourist destination while its key industries moved toward more service-oriented activities. Malta became an EU member in May 2004 and began using the euro as currency in 2008.
Geography

The main island of Malta has low hills and a rugged coastline with numerous harbors, bays, sandy beaches, and rocky coves. The island of Gozo is more densely vegetated.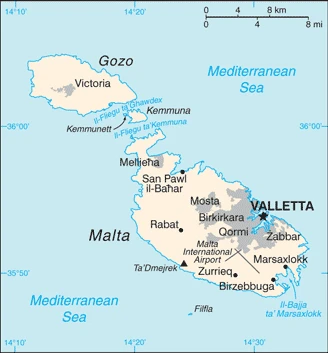 The densely populated Maltese archipelago lies between Africa and Europe. Controlled throughout its history by successive colonial powers, it gained independence from the UK in 1964.
This state is located in Southern Europe, islands in the Mediterranean Sea, south of Sicily (Italy), under the coordinates of 35 50 N, 14 35 E, covering an area of 316 sq km with a coastline of 196.8 km. Malta is Slightly less than twice the size of Washington, DC.
Mostly low, rocky, flat to dissected plains, many coastal cliffs, with Tadmejrek on Dingli Cliffs 253 m, as the highest point of Malta, while the Mediterranean Sea 0 m as the lowest point, causing a mean elevation at N/A throughout the country. With a total of 316 sq km, Malta has 316 sq km of land and 0 sq km of water surface area.
The country comprises an archipelago, with only the three largest islands (Malta, Ghawdex or Gozo, and Kemmuna or Comino) inhabited; numerous bays provide good harbors; Malta and Tunisia are discussing oil exploration on the continental shelf between their countries, although no commercially viable reserves have been found as of 2017.
The climate in Malta is as follows: Mediterranean, mild, rainy winters, hot, dry summers.
When you visit Malta, the natural hazards shall be considered: Occasional droughts.
The following major health-threatening issues shall be considered when visiting Malta: none.
Current environmental issues affecting the Maltese people: limited natural freshwater resources; increasing reliance on desalination; deforestation; wildlife preservation.
Google maps Malta
The capital and other divisions
Capital city: Valletta found under the coordinates 35 53 N, 14 30 E, applying the time zone UTC+1 (6 hours ahead of Washington, DC, during Standard Time), using the following daylight saving time: +1hr begins last Sunday in March; ends last Sunday in October.
Valletta is the capital of Malta and is one of the best Mediterranean cities that are experiencing a renaissance. The city has many important cultural and architectural landmarks, including churches, palaces, and monuments. In addition to being an important center for business and commerce, Valletta also serves as a tourism hub because of its rich historical background.
Malta became independent on 21 September 1964 (from the UK), and its national holiday is Independence Day, 21 September (1964); Republic Day, 13 December (1974).
Administrative divisions: 68 localities (Il-lokalita); Attard, Balzan, Birgu, Birkirkara, Birzebbuga, Bormla, Dingli, Fgura, Floriana, Fontana, Ghajnsielem, Gharb, Gharghur, Ghasri, Ghaxaq, Gudja, Gzira, Hamrun, Iklin, Imdina, Imgarr, Imqabba, Imsida, Imtarfa, Isla, Kalkara, Kercem, Kirkop, Lija, Luqa, Marsa, Marsaskala, Marsaxlokk, Mellieha, Mosta, Munxar, Nadur, Naxxar, Paola, Pembroke, Pieta, Qala, Qormi, Qrendi, Rabat, Rabat (Ghawdex), Safi, San Giljan/Saint Julian, San Gwann/Saint John, San Lawrenz/Saint Lawrence, Sannat, San Pawl il-Bahar/Saint Pauls Bay, Santa Lucija/Saint Lucia, Santa Venera/Saint Venera, Siggiewi, Sliema, Swieqi, Tarxien, Ta Xbiex, Valletta, Xaghra, Xewkija, Xghajra, Zabbar, Zebbug, Zebbug (Ghawdex), Zejtun, Zurrieq.
People and society

Over the centuries, the Maltese have been subject to Arab, Sicilian, Spanish, French, and British influences. Today, the population is socially conservative and devoutly Roman Catholic – Malta only legalized divorce in 2011, the last European country except for the Vatican. Population density is among the highest in the world. Illegal migration from Africa has increased since Malta joined the EU in 2004.
The population in Malta is 460,891 (July 2021 estimate), with an average of 0.75% (2021 estimate) change. That means Malta is the No. 174 in the world's populated rank list. With an average of 42.3 years median age (41.2 years for males and 41.2 years for women), Malta ranks No. 35 on the globe's median age rank list.
The people living in this country are the Maltese (also singular and plural) (noun) or Maltese (adjective) and belong mainly to the following ethnic groups: Maltese (descendants of ancient Carthaginians and Phoenicians with vital elements of Italian and other Mediterranean stock).
They speak Maltese (official language) 90.1%, English (official language) 6%, multilingual 3%, other 0.9% (2005 estimate) languages and practice the following religions: Roman Catholic (official) more than 90% (2006 estimate).
We can conclude the following about the population in Malta: Most of the population lives in the eastern half of malta, the largest of the three inhabited islands. In Malta, we are talking about 94.8% (2021) of the total population lives in cities, and most of them reside in the following municipalities: 213,000 Valletta (capital city) (2018).
Industry

Tourism provides 30% of GDP. Joined eurozone in 2008. Developing offshore banking, high-tech industry. Semiconductors exported. Most goods have to be imported.
Malta's free-market economy – , the smallest economy in the eurozone, – relies heavily on trade in goods and services, principally with Europe. Malta produces less than a quarter of its food needs, has limited freshwater supplies, and has few domestic energy sources. Malta's economy is dependent on foreign trade, manufacturing, and tourism. Malta joined the EU in 2004 and adopted the euro on 1 January 2008., Malta has weathered the eurozone crisis better than most EU member states due to a low debt-to-GDP ratio and financially sound banking sector. It maintains one of the lowest unemployment rates in Europe, and growth has fully recovered since the 2009 recession. From 2014 through 2016, Malta led the eurozone in growth, expanding by more than 4.5% per year. Malta's services sector continues to grow, with sustained growth in the financial services and online gaming sectors.
Advantageous tax schemes remained attractive to foreign investors. However, EU discussions of anti-tax avoidance measures have raised concerns among Maltas financial services and insurance providers, as the measures could significantly impact those sectors. The tourism sector also continued to grow, with 2016 showing record-breaking numbers of air and cruise passenger arrivals. Maltas GDP growth remains strong and is supported by a strong labor market. The government has implemented new programs, including free childcare, to increase labor participation. The high cost of borrowing and small labor market remain potential constraints to future economic growth. Other EU and European migrants are increasingly relocating to Malta for employment, though wages have remained low compared to other European countries. Inflation remains low.
Malta is rich in the following natural resources: Limestone, salt, arable land.
The main industrial sectors are typically tourism, electronics, shipbuilding and repair, construction, food and beverages, pharmaceuticals, footwear, clothing, tobacco, aviation services, financial services, information technology services.
The country's export sectors are robust in integrated circuits, refined petroleum, packaged medicines, children's toys, stuffed animals, postage stamps (2019), partnering with Germany 12%, France 9%, and Italy 9% (2019). The export trade resulted in $19.04 billion. Note: Data are in current year dollars (2020 estimate). In a global rank of the export, values resulted in Malta's position of 86.
Land use in Malta: 0.9% (2018 estimate) forest, 66.8% (2018 estimate) other.
The arable land area is 28.4% (2018 estimate), and the agricultural land is 32.3% (2018 estimate). Land use for permanent crops 3.9% (2018 estimate), permanent pasture 0% (2018 estimate). The sum of the area of the irrigated land is 35 sq km (2012).
The main agro-industrial products of Malta are milk, tomatoes, potatoes, onions, cauliflowers, broccoli, eggplants, pork, cabbages, poultry.
The country typically needs to import: refined petroleum, recreational boats, ships, aircraft, coal tar oil (2019), partnering with the following nations: Russia 22%, Italy 12%, United Kingdom 11%, Germany 6%, Turkey 5%, France 5%, China 5%, South Korea 5% (2019) in a sum value of $18.01 billion. Note: data are in current year dollars (2020 estimate) $18.45 billion. Note: data are in current year dollars (2019 estimate) $17.87 billion. Note: data are in current year dollars (2018 estimate). This sum value on the global ranking list of imports resulted in Malta 90.
Malta Driving Directions

In this post, you learned about Malta, Southern Europe, islands in the Mediterranean Sea south of Sicily (Italy). We published some basic information about its capital Valletta, and the Maltese nation.
Are you interested in visiting Malta and looking for driving directions? Click here to plan your route, or see a printable road map of Malta below for an overview of the route network.
Printable map of Malta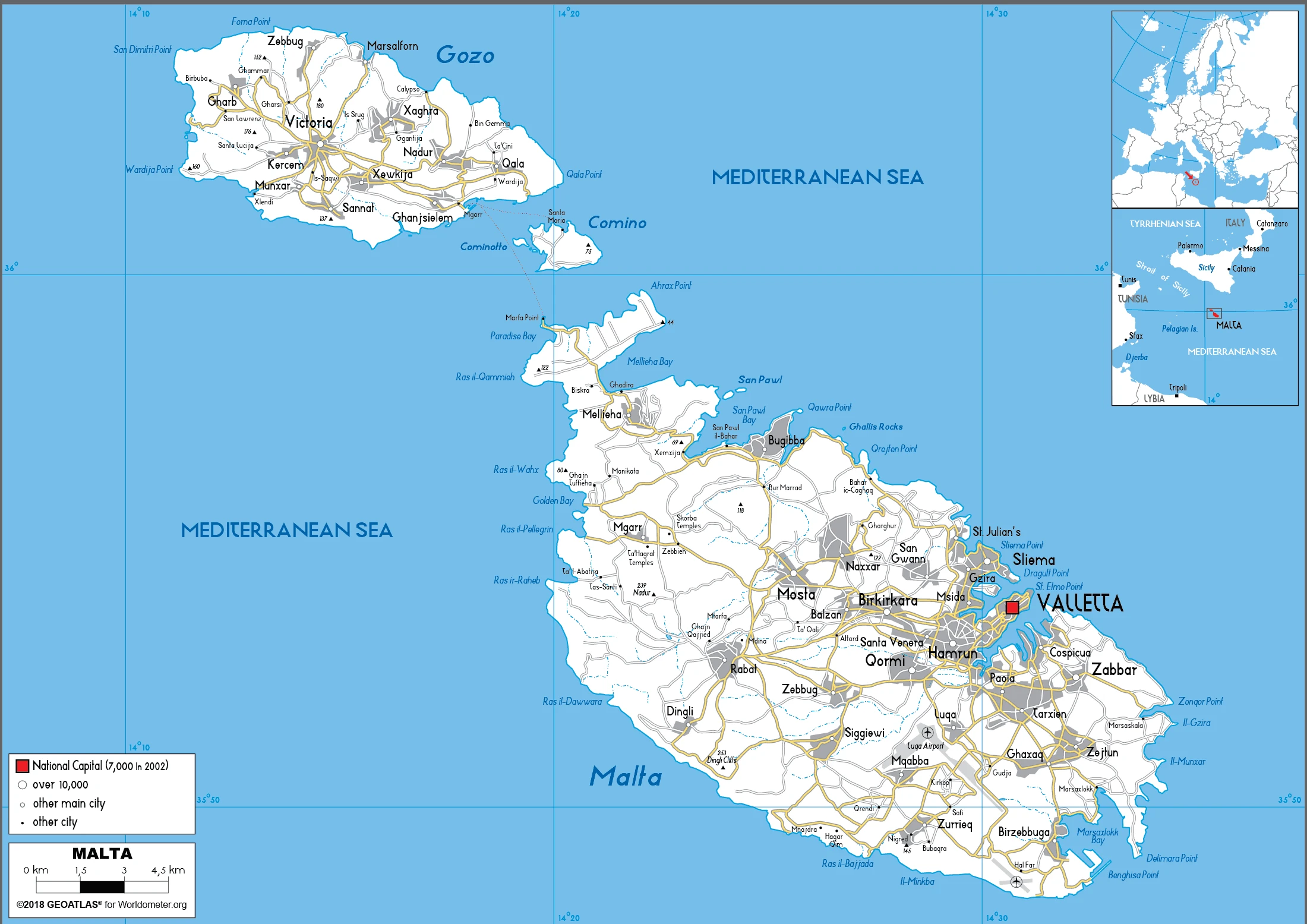 Did you know about Malta?
Malta is an island country in the Mediterranean Sea. Malta is a member of the European Union and the United Nations. Malta was also part of the Commonwealth of Nations until it withdrew in 1974 to become a republic. The three languages of Malta are Maltese, English, and Italian. Malta has been inhabited since 12,000 BCE and has been home to various civilizations throughout history, including the Phoenicians and Romans.
After virtually visiting Malta, you may also be interested in the neighboring countries: none.
If you liked our Google map and Malta information page,
please share it with others or save the link https://www.drivingdirections.net in your bookmarks.