Macau Google Maps is a site/tool that offers a wide range of map views (topographic, satellite, street view) and navigation options, with little effort on your part, yet efficiently. If you need to plan a trip to a new place like Macau, Google maps are available on desktop, mobile, or tablet. This Google maps and information page is dedicated to Macau, Southeast Asia (19 countries), showing its location, country facts, bordering countries like China, and plenty of other information which may be interesting when you visit this Southeastern Asian state.
Quick links: Google maps Macau, N/A Google maps, Driving Directions Macau, Printable Road Map.
About Macau in a nutshell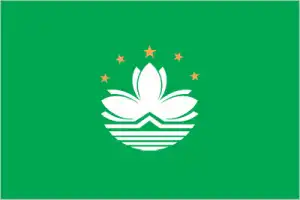 Conventional short form of the name: Macau
The conventional long form of the name: Macau Special Administrative Region
Etymology: name is thought to derive from the A-Ma Temple – built in 1488 and dedicated to Mazu, the goddess of seafarers and fishermen – which is referred to locally as Maa Gok – and in Portuguese became Macau; the Chinese name Aomen means inlet gates.
The legal system in Macau: civil law system based on the Portuguese model.
Climate: N/A
The national symbols are lotus blossom; national colors: green, white, yellow.
Internet TLD: .mo
Macau is a unique administrative region of the People's Republic of China. It is located on the southern coast of China and borders Guangdong Province. A city in China has increased in the past few years. It was named a World Heritage Site because of its unique architecture and culture. Macau is also famous for gambling, which only makes up a small percentage of the economy.
Background

In the 16th century, Macau was the first European settlement in the Far East, Colonized by the Portuguese. Under an agreement signed by China and Portugal on 13 April 1987, Macau became the Macau Special Administrative Region of the Peoples Republic of China on 20 December 1999. In this agreement, China promised that, under its one country, two systems formula, China's political and economic system would not be imposed on Macau and that Macau would enjoy a high degree of autonomy in all matters except foreign affairs and defense for the subsequent 50 years.
Geography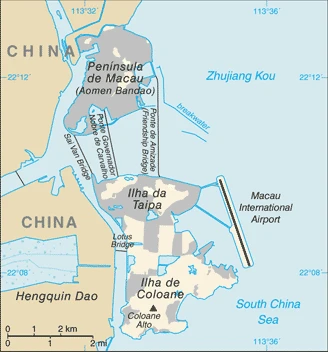 Macau is a Special Administrative Region (SAR) of China. The first Portuguese settlement in China was also the last European colony in Asia. Nowadays, many mainlands Chinese have migrated to Macau and are settling there permanently.
This state is located in Eastern Asia, bordering the South China Sea and China, under the coordinates of 22 10 N, 113 33 E, covering an area of 28 sq km with a coastline of 41 km. Macau is Less than one-sixth the size of Washington, DC.
Macau has 3 km of land boundaries in total and borders with Regional borders (1 nation): China 3 km.
Generally flat, with Alto Coloane 172 m as the highest point of Macau, while the South China Sea 0 m as the lowest point, causing a mean elevation at N/A throughout the country. With a total of 28 sq km, Macau has 28.2 sq km of land and 0 sq km water surface area.
Essentially urban, an area of land reclaimed from the sea measuring 5.2 sq km and known as Cotai now connects the islands of Coloane and Taipa; the island area is connected to the mainland peninsula by three bridges.
The climate in Macau is as follows: Subtropical, marine with cool winters, warm summers.
When you visit Macau, the natural hazards shall be considered: Typhoons.
The following major health-threatening issues shall be considered when visiting Macau: none.
Current environmental issues affecting the Chinese people: air pollution, coastal waters pollution; insufficient policies in reducing and recycling solid wastes; increasing population density worsening noise pollution.
Google maps Macau
The capital and other divisions
Macao is China's only particular administrative region located south of Hong Kong. It was under Portuguese colonial rule from 1557 to 1999.
Macau became independent on none (unique administrative region of China), and its national holiday is National Day (Anniversary of the Founding of the Peoples Republic of China), 1 October (1949).
Administrative divisions: none (unique administrative region of the Peoples Republic of China).
People and society
The population in Macau is 630,396 (July 2021 estimate), with an average of 0.79% (2021 estimate) change. That means Macau is the No. 169 in the world's populated rank list. With an average of 40.8 years median age (40.7 years for males and 40.7 years for women), Macau ranks No. 49 on the globe's median age rank list.
The people living in this country are the Chinese (noun) or Chinese (adjective) and belong mainly to the following ethnic groups: Chinese 88.7%, Portuguese 1.1%, mixed 1.1%, other 9.2% (includes Macanese – mixed Portuguese and Asian ancestry) (2016 estimate).
They speak Cantonese 80.1%, Mandarin 5.5%, other Chinese dialects 5.3%, Tagalog 3%, English 2.8%, Portuguese 0.6%, other 2.8% languages and practice the following religions: folk religion 58.9%, Buddhist 17.3%, Christian 7.2%, other 1.2%, none 15.4% (2010 estimate).
We can conclude the following about the population in Macau: Population is pretty equally distributed. In Macau, we are talking about 100% (2021) of the total population is living in the city.
Industry
Since opening up its locally-controlled casino industry to foreign competition in 2001, Macau has attracted tens of billions of dollars in foreign investment, transforming the territory into one of the world's largest gaming centers. Macaus gaming and tourism businesses fueled China's decision to relax travel restrictions on Chinese citizens wishing to visit Macau. In 2016, Macaus gaming-related taxes accounted for more than 76% of total government revenue., Macaus economy slowed dramatically in 2009 due to the global economic slowdown. Still, strong growth resumed in the 2010-13 period, mainly on tourism from mainland China and the gaming sectors. In 2015, this city of 646,800 hosted nearly 30.7 million visitors.
Almost 67% came from mainland China. Macaus traditional manufacturing industry has slowed dramatically since the termination of the Multi-Fiber Agreement in 2005. Services export — , primarily gaming — increasingly has driven Macau's economic performance. Mainland Chinas anti-corruption campaign brought Macau's gambling boom to a halt in 2014, with spending in casinos contracting 34.3% in 2015. As a result, Macau's inflation-adjusted GDP contracted 21.5% in 2015 and another 2.1% in 2016 – down from double-digit expansion rates in the period 2010-13 – but the economy recovered handsomely in 2017., Macau continues to face the challenges of managing its growing casino industry, risks from money-laundering activities, and the need to diversify the economy from heavy dependence on gaming revenues. Macaus currency, the pataca, is closely tied to the Hong Kong dollar, which is also freely accepted in the territory.
Macau is rich in the following natural resources: none.
The main industrial sectors are tourism, gambling, clothing, textiles, electronics, footwear, toys.
The country's export sectors are powerful in broadcasting equipment, jewelry, watches, trunks/cases, and telephones (2019), partnering with Hong Kong 66%, China 9% (2019). The export trade resulted in $45.35 billion. Note: Data are in current year dollars (2019 estimate). In a global rank of the export, values resulted in Macau's position of 58.
The main agro-industrial products of Macau are pork, poultry, beef, pig fat, pig offals, eggs, pepper, cattle offals, cattle hides, goose/guinea fowl meat.
The country typically needs to import: jewelry, watches, electricity, aircraft, cars (2019), partnering with the following nations: China 33%, Hong Kong 31%, France 5% (2019) in a sum value of $17.35 billion. Note: data are in current year dollars (2019 estimate) $18.28 billion. Note: data are in current year dollars (2018 estimate). This sum value on the global ranking list of imports resulted in Macau 94.
Macau Driving Directions

In this post, you learned about Macau, Eastern Asia, bordering the South China Sea and China. We published some basic information about its capital and the Chinese nation.
Are you interested in visiting Macau and looking for driving directions? Click here to plan your route, or see a printable road map of Macau below for an overview of the route network.
Printable map of Macau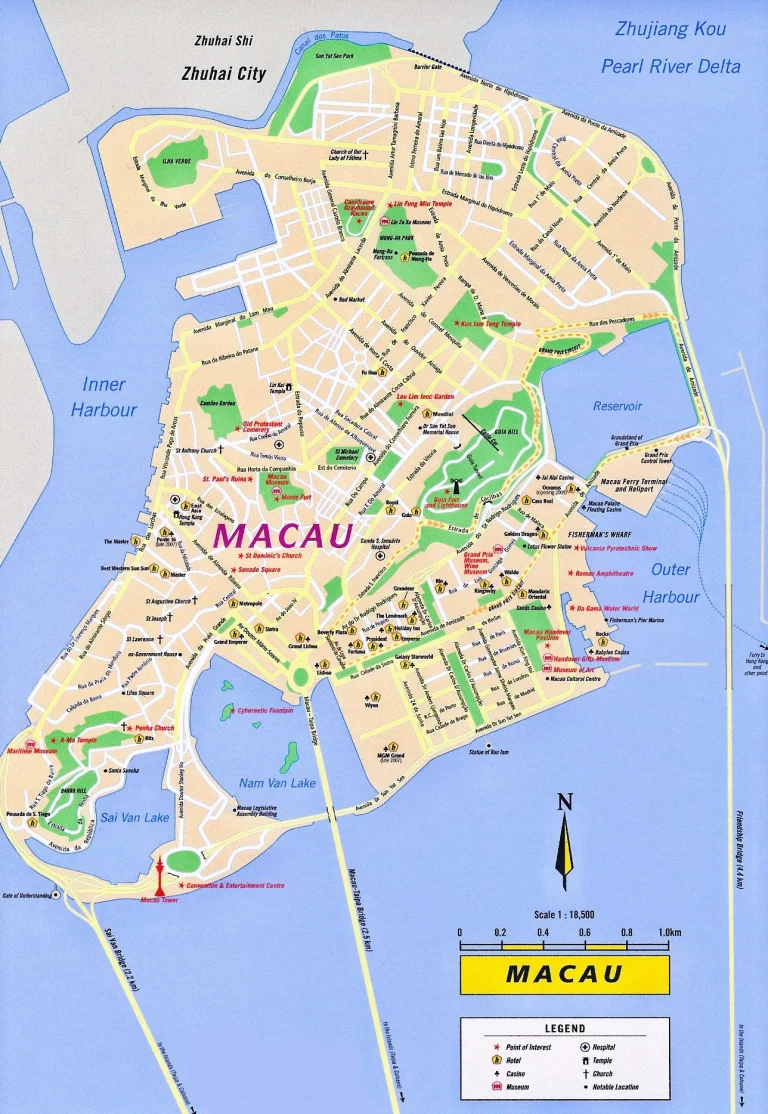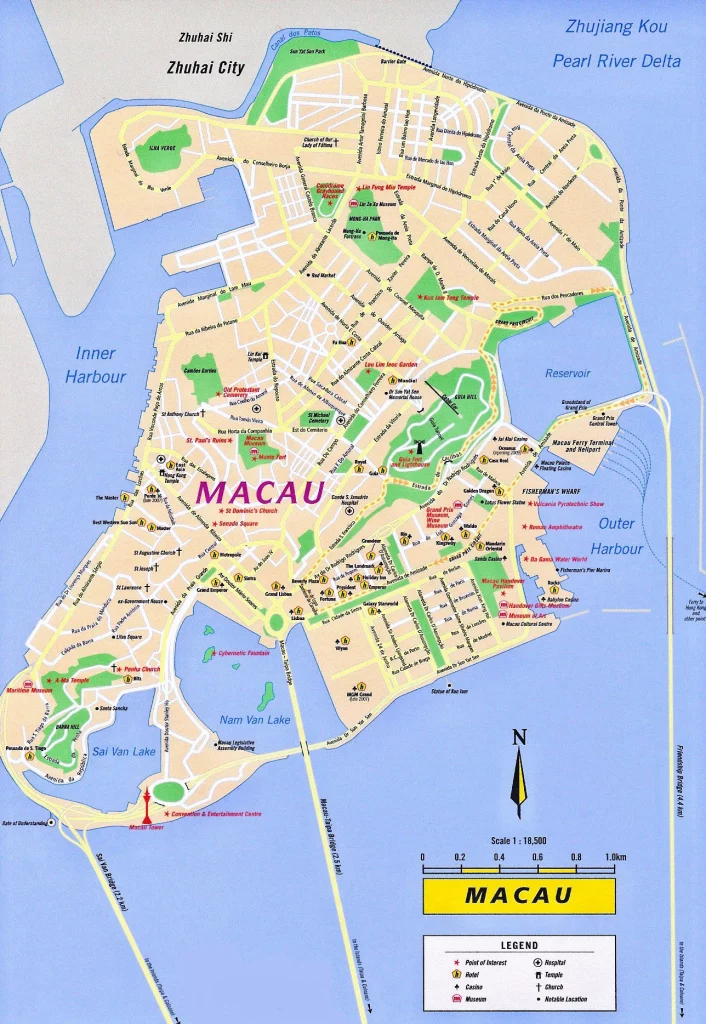 Did you know about Macau?
Macau is a former Portuguese colony, but now it is under Chinese rule. It is located in the Pearl River Delta next to Hong Kong and Guangzhou. Macau's economy is booming due to its gambling industry, which attracts gamers worldwide. Money from this industry has helped fund social programs in Macau, such as its public transportation system.
After virtually visiting Macau, you may also be interested in the neighboring country: China.
If you liked our Google map and Macau information page,
please share it with others or save the link https://www.drivingdirections.net in your bookmarks.