Taiwan Google Maps is a site/tool that offers a wide range of map views (topographic, satellite, street view) and navigation options, with little effort on your part, yet efficiently. If you need to plan a trip to a new place like Taiwan, Google maps are available on desktop, mobile, or tablet. This Google maps and information page is dedicated to Taiwan, Southeast Asia (19 countries), showing its location, country facts, details about its capital city Taipei, bordering countries like none, and plenty of other information which may be interesting when you visit this Southeastern Asian state.
Quick links: Google maps Taiwan, Taipei Google maps, Driving Directions Taiwan, Printable Road Map.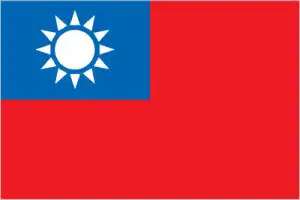 About Taiwan in a nutshell
Conventional short form of the name: Taiwan
The conventional long form of the name: none
Local long form: none
Local short form: Taiwan
Former name(s): Formosa
Etymology: Tayowan was the name of the coastal sandbank where the Dutch erected their colonial headquarters on the island in the 17th century; the former name Formosa means beautiful in Portuguese.
The legal system in Taiwan: civil law system.
Climate: Tropical monsoon. Hot and humid. Typhoons July–September. Snow falls in the mountains in winter.
The national symbols are white, 12-rayed sun on a blue field; national colors: blue, white, and red.
Internet TLD: .tw
Located just 160 km off the coast of China, the island, which is subject to frequent earthquakes, is dominated by the ridges of the Taiwanese mountains, which are part of the fault/seismic zone of the Pacific's mountain system and rise well above 3,000 meters. 90% of the population of 23 million settled in the narrow and fertile west coastal plain. An island once ruled by the Dutch, Spanish, Japanese, and Chinese, the Republic of China broke away from the People's Republic of China and declared independence in 1949. Neither of the two countries recognizes the sovereignty of the other, and general international political recognition of the island nation, particularly in the context of People's China, is still awaited. Although it is not recognized by the UN and has no UNESCO World Heritage sites, the island's tourist attractions, with its subtropical climate, are attracting more and more visitors every year. The densely populated western coastline has lost some of its native species. Still, the sometimes inaccessible mountainous terrain has created 6 national parks and 61 nature reserves in the last 20 years.
Taiwan lost its seat at the UN to Beijing in 1971: both claim to represent "China".
Background

First inhabited by Austronesian people, Taiwan became home to Han immigrants beginning in the late Ming Dynasty (17th century). In 1895, military defeat forced China's Qing Dynasty to cede Taiwan to Japan, which governed Taiwan for 50 years. After World War II, Taiwan came under Chinese Nationalist (Kuomintang, KMT) control. With the communist victory in the Chinese civil war in 1949, the Nationalist-controlled Republic of China government and 2 million Nationalists fled to Taiwan. It claimed to be the legitimate government for mainland China and Taiwan based on a 1947 Constitution drawn up for all of China. Until 1987, however, the Nationalist government ruled Taiwan under a civil war martial law declaration dating to 1948. Beginning in the 1970s, Nationalist authorities gradually incorporated the native population into the governing structure beyond the local level. The democratization process expanded rapidly in the 1980s, leading to the then illegal founding of Taiwan's first opposition party (the Democratic Progressive Party or DPP) in 1986 and the lifting of martial law the following year. Taiwan held legislative elections in 1992, the first in over forty years, and its first direct presidential election in 1996. In the 2000 presidential elections, Taiwan underwent its first peaceful transfer of power with the KMT loss to the DPP and afterward experienced two additional democratic transfers of power in 2008 and 2016. Throughout this period, the island prospered and became one of East Asia's economic Tigers, and after 2000 became a significant investor in mainland China as cross-Strait ties matured. The dominant political issues continue to be economic reform, growth, and management of diplomatic relations between Taiwan and China.
Geography

The Mountain region covers two-thirds of the island. Highly fertile lowlands and coastal plains.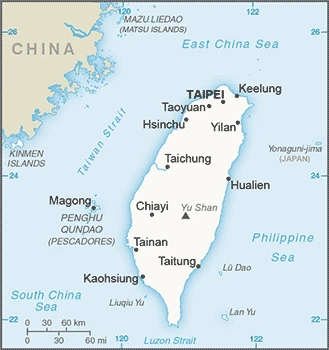 The republic of Taiwan (formerly Formosa) is on an island 80 miles (130 km) off the southeast coast of mainland China, which still considers it to be a renegade province.
This state is located in Eastern Asia, islands bordering the East China Sea, Philippine Sea, South China Sea, and Taiwan Strait, north of the Philippines, off the southeastern coast of China, under the coordinates of 23 30 N, 121 00 E, covering an area of 35,980 sq km with a coastline of 1,566.3 km. Taiwan is slightly smaller than Maryland and Delaware combined.
Eastern two-thirds mostly rugged mountains, flat to gently rolling plains in the west, with Yu shan 3,952 m as the highest point of Taiwan, while the South China Sea 0 m as the lowest point, causing a mean elevation at 1,150 m throughout the country. With 35,980 sq km, Taiwan has 32,260 sq km of land and 3,720 sq km of water surface area.
The strategic location is adjacent to the Taiwan Strait and the Luzon Strait.
The climate in Taiwan is as follows: Tropical, marine, rainy season during southwest monsoon (June to August), persistent and extensive cloudiness all year.
When you visit Taiwan, the natural hazards shall be considered: Earthquakes, typhoons, and volcanism: Kueishantao Island (401 m), east of Taiwan, is its only historically active volcano, although it has not erupted in centuries.
The following major health-threatening issues shall be considered when visiting Taiwan: none.
Current environmental issues affecting the Taiwan (or Taiwanese) people: air pollution; water pollution from industrial emissions and raw sewage; contamination of drinking water supplies; trade in endangered species; low-level radioactive waste disposal.
Google maps Taiwan
The capital and other divisions
Capital city: Taipei found under the coordinates 25 02 N, 121 31 E, applying the time zone UTC+8 (13 hours ahead of Washington, DC, during Standard Time), using the following daylight saving time: none.
Taipei is the capital of Taiwan, and it is a growing city. It has been voted as one of the most livable cities in Asia. Taipei's main attractions are its wide, tree-lined avenues, historic buildings, and magnificent Taipei 101 building, designed by famous architect Álvaro Siza. It also has many beautiful parks with Taipei City and the East China Sea views. Taipei's most popular features include its traditional Chinese architecture and museums, such as the National Palace Museum, Songshan Cultural Landscape, and the National Taiwan Museum of History.
Taiwan became independent on N/A, and its national holiday is Republic Day (National Day), 10 October (1911).
Administrative divisions include the main island of Taiwan plus smaller islands nearby and off the coast of Chinas Fujian Province; Taiwan is divided into 13 counties (xian, singular, and plural), 3 cities (shi, singular and plural), and 6 special municipalities directly under the jurisdiction of the Executive Yuan, counties: Changhua, Chiayi, Hsinchu, Hualien, Kinmen, Lienchiang, Miaoli, Nantou, Penghu, Pingtung, Taitung, Yilan, Yunlin cities: Chiayi, Hsinchu, Keelung special municipalities: Kaohsiung (city), New Taipei (city), Taichung (city), Tainan (city), Taipei (city), Taoyuan (city) note: Taiwan uses a variety of romanization systems; while a modified Wade-Giles system still dominates, the city of Taipei has adopted a Pinyin romanization for street and place names within its boundaries; other local authorities use different romanization systems.
People and society

Most Taiwanese are Han Chinese, descendants of the 1644 migration of the Ming dynasty from the mainland. The modern republic was created in 1949 when the nationalist Kuomintang was expelled from the mainland following the Communist victory in the civil war. One hundred thousand emigrés established themselves as a ruling class. Initial resentment has subsided as a new Taiwan-born generation has taken over the reins of power. The aboriginal minority suffers discrimination.
The population in Taiwan is 23,572,052 (July 2021 estimate), with an average of 0.04% (2021 estimate) change. That means Taiwan is the No. 57 in the world's populated rank list. With an average of 42.3 years median age (41.5 years for males and 41.5 years for women), Taiwan ranks No. 36 on the globe's median age rank list.
The people living in this country are the Taiwan (also singular and plural) (noun) or Taiwan (or Taiwanese) (adjective) and belong mainly to the following ethnic groups: Han Chinese (including Holo, who compose approximately 70% of Taiwans population, Hakka, and other groups originating in mainland China) more than 95%, indigenous Malayo-Polynesian peoples 2.3%, note 1: there are 16 officially recognized indigenous groups: Amis, Atayal, Bunun, Hlaalua, Kanakaravu, Kavalan, Paiwan, Puyuma, Rukai, Saisiyat, Sakizaya, Seediq, Thao, Truku, Tsou, and Yami; Amis, Paiwan, and Atayal are the largest and account for roughly 70% of the indigenous population, note 2: although not definitive, the majority of current genetic, archeological, and linguistic data support the theory that Taiwan is the ultimate source for the spread of humans across the Pacific to Polynesia; the expansion (ca. 3000 B.C. to A.D. 1200) took place via the Philippines and eastern Indonesia and reached Fiji and Tonga by about 900 B.C.; from there voyagers spread across the rest of the Pacific islands over the next two millennia.
They speak Mandarin Chinese (official language), Taiwanese (Min Nan), Hakka dialects, approximately 16 indigenous languages, and practice the following religions: Buddhist 35.3%, Taoist 33.2%, Christian 3.9%, folk religion (includes Confucian) approximately 10%, none or unspecified 18.2% (2005 estimate).
We can conclude the following about the population in Taiwan: Distribution exhibits a peripheral coastal settlement pattern, with the largest populations on the north and west coasts. In Taiwan, we talk about 79.3% (2021) of the total population lives in cities. Most of them reside in the following municipalities: 4.435 million, New Taipei City, 2.731 million, Taipei (capital city), 2.272 million, Taoyuan, 1.542 million, Kaohsiung, 1.338 million, Taichung, 857,000 Tainan (2021).
Industry

The booming economy of small, adaptable companies. High-tech goods: TVs, computers, and semiconductors. Rising trade and investment with China.
Taiwan has a dynamic capitalist economy primarily driven by industrial manufacturing, especially exports of electronics, machinery, and petrochemicals. This heavy dependence on exports exposes the economy to fluctuations in global demand. Taiwan's diplomatic isolation, low birth rate, rapidly aging population, and increasing competition from China and other Asia Pacific markets are significant long-term challenges. Following the landmark Economic Cooperation Framework Agreement (ECFA) signed with China in June 2010, Taiwan, in July 2013, signed a free trade deal with New Zealand – Taipei's first-ever with a country with which it does not maintain diplomatic relations – and, in November of that year, inked a trade pact with Singapore. However, follow-on components of the ECFA, including a signed agreement on trade in services and negotiations on trade in goods and dispute resolution, have stalled. In early 2014, the government bowed to public demand and proposed a new law governing the oversight of cross-Strait agreements before any other deals with China are implemented; the legislature has yet to vote on such legislation, leaving the future of ECFA uncertain. Since taking office in May 2016, President TSAI has promoted greater economic integration with South and Southeast Asia through the New Southbound Policy initiative and has also expressed interest in Taiwan joining the Trans-Pacific Partnership and bilateral trade deals with partners such as the US. These overtures have likely increased Taiwan's total exports, which rose 11% during the first half of 2017, buoyed by solid demand for semiconductors.
Taiwan's total fertility rate of just over one child per woman is among the lowest globally, raising the prospect of future labor shortages, falling domestic demand, and declining tax revenues. Taiwan's population is aging quickly, with the number of people over 65 expected to account for nearly 20% of the island's total population by 2025., The island runs a trade surplus with many economies, including China and the US. Its foreign reserves are the world's fifth-largest, behind China, Japan, Saudi Arabia, and Switzerland. In 2006, China overtook the US to become Taiwan's second-largest source of imports after Japan. China is also the island's number one destination for foreign direct investment. Taiwan, since 2009 has gradually loosened rules governing Chinese investment and has also secured greater market access for its investors on the mainland. In August 2012, the Taiwan Central Bank signed a memorandum of understanding (MOU) on cross-Strait currency settlement with its Chinese counterpart. The MOU allows for the direct settlement of the Chinese renminbi (RMB) and the New Taiwan dollar across the Strait, which has helped Taiwan develop into a local RMB hub., Closer economic links with the mainland bring opportunities for Taiwan's economy but also pose challenges as political differences remain unresolved and Chinas economic growth is slowing. President Tsai's administration had made little progress on the domestic economic issues that loomed large when she was elected, including concerns about stagnant wages, high housing prices, youth unemployment, job security, and financial security in retirement. TSAI has made more progress on boosting trade with South and Southeast Asia, which may help insulate Taiwan's economy from a fall in mainland demand should China's growth slow in 2018.
Taiwan is rich in natural resources: Small coal deposits, natural gas, limestone, marble, asbestos, and arable land.
The main industrial sectors are electronics, communications, information technology products, petroleum refining, chemicals, textiles, iron and steel, machinery, cement, food processing, vehicles, consumer products, and pharmaceuticals.
The country's export sectors are robust in integrated circuits, office machinery/parts, computers, refined petroleum, and liquid crystal displays (2019), partnering with these nations: China 26%, the United States 14%, Hong Kong 12%, Japan 7%, Singapore 7%, South Korea 5% (2019). The export trade resulted in $388.49 billion. Note: Data are in current year dollars (2019 estimate). A global rank of the export values resulted in Taiwan's position of 19.
Land use in Taiwan: N/A forest, 77.3% (2018 estimate) other.
The arable land area is 16.9% (2018 estimate), and the agricultural land is 22.7% (2018 estimate). Land use for permanent crops 5.8% (2018 estimate), permanent pasture N/A. The sum of the area of the irrigated land is 3,820 sq km (2012).
The main agro-industrial products of Taiwan are rice, vegetables, pork, cabbages, poultry, sugar cane, milk, eggs, pineapples, and tropical fruit.
The country typically needs to import: integrated circuits, crude petroleum, photography equipment, natural gas, and refined petroleum (2019), partnering with the following nations: China 21%, Japan 16%, the United States 11%, South Korea 6% (2019) in a sum value of $308.744 billion (2019 estimate) $305.428 billion (2018 estimate) $303.067 billion (2017 estimate). This sum value on the global ranking list of imports resulted in Taiwan at 19.
Taiwan Driving Directions

In this post, you learned about Taiwan, Eastern Asia, islands bordering the East China Sea, Philippine Sea, South China Sea, and Taiwan Strait, north of the Philippines, off the southeastern coast of China. We published some basic information about its capital Taipei, and the Taiwan (or Taiwanese) nation.
Are you interested in visiting Taiwan and looking for driving directions? Click here to plan your route, or see a printable road map of Taiwan below to overview the route network.
Printable map of Taiwan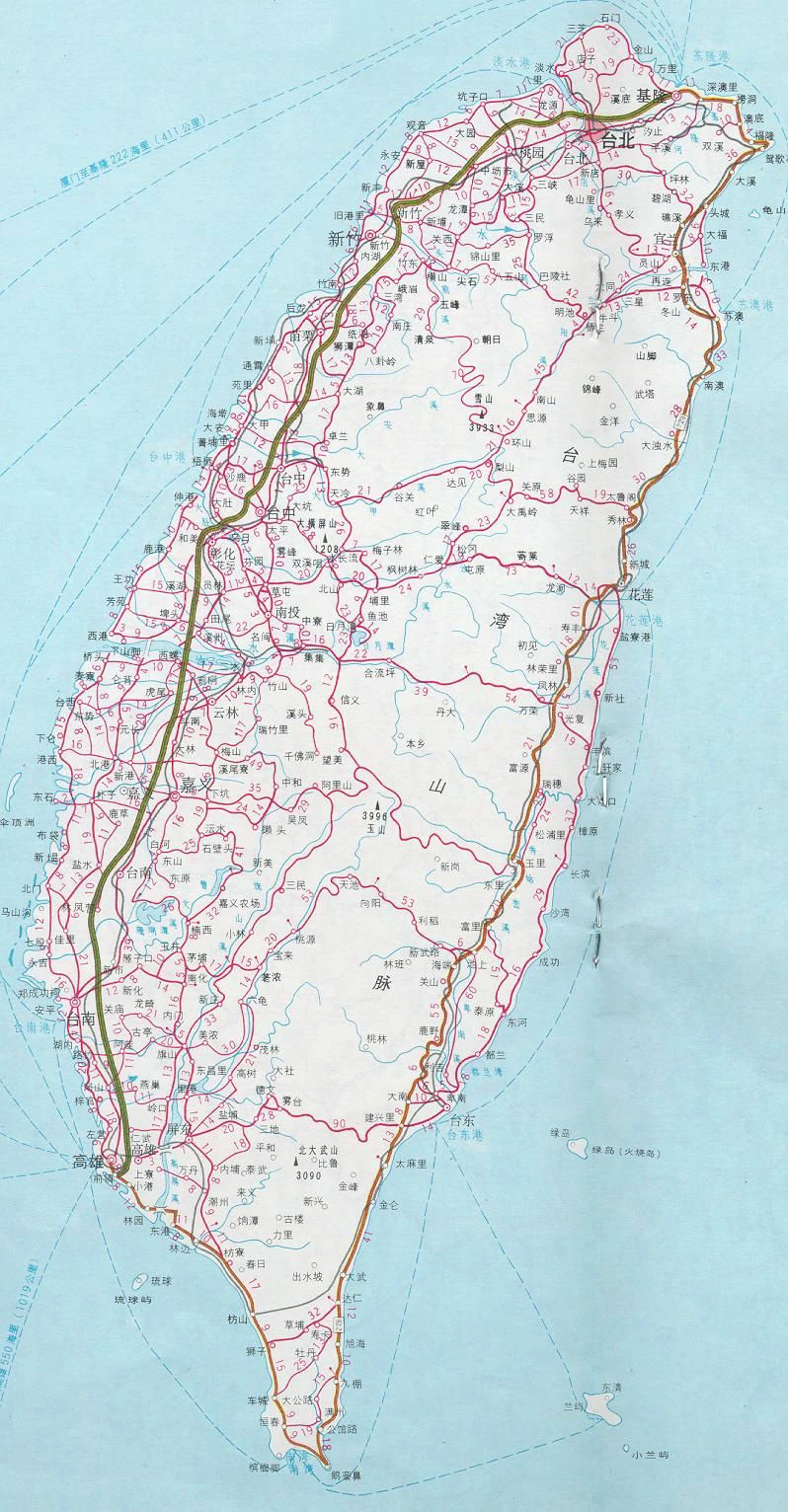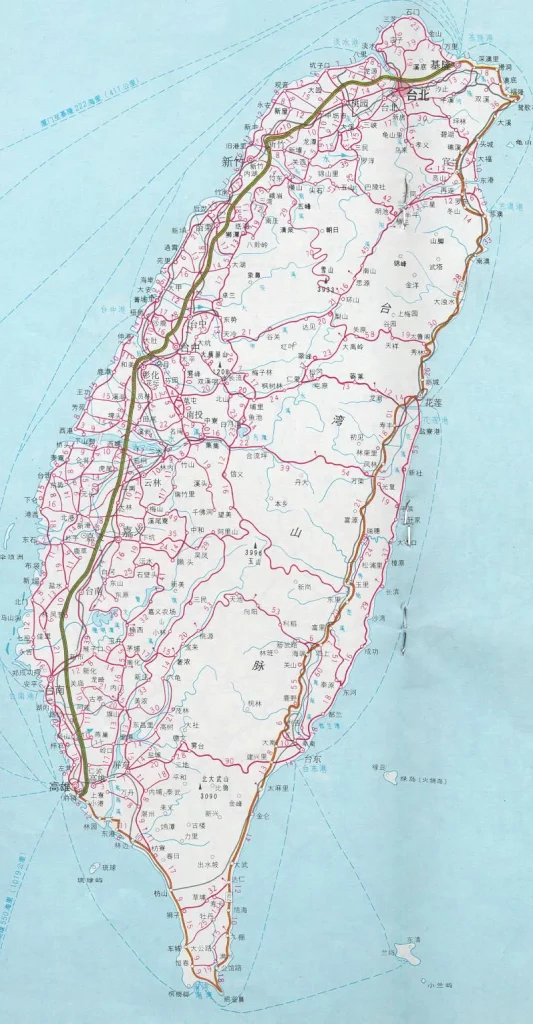 Did you know about Taiwan?
Taiwan is a fascinating country with many interesting facts. For example, Taiwan is the third-largest economy in Asia and the tenth-largest economy globally. It also has a highly advanced technology sector. Another interesting fact about Taiwan is that it has one of the lowest crime rates in the world. This is because Taiwan has a well-developed legal system and strict punishments for crime.
Taiwan is known for its cuisine, scenery, and nightlife. It is also home to the world's second-largest park, Taichung Park.
After virtually visiting Taiwan, you may also be interested in the neighboring countries: none.
If you liked our Google map and Taiwan information page,
please share it with others or save the link https://www.drivingdirections.net in your bookmarks.