Anguilla Google Maps is a site/tool that offers a wide range of map views (topographic, satellite, street view) and navigation options, with little effort on your part, yet efficiently. If you need to plan a trip to a new place like Anguilla, Google maps are available on desktop, mobile, or tablet. This Google maps and information page is dedicated to Anguilla, Central America, and the Caribbean (35 countries), showing its location, country facts, details about its capital city, The Valley, bordering countries like none, and plenty of other information which may be interesting when you visit this Central American and the Caribbean state.
Quick links: Google maps Anguilla, N/A Google maps, Driving Directions Anguilla, Printable Road Map.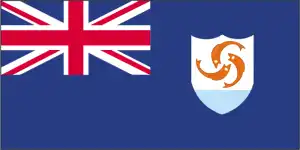 About Anguilla in a nutshell
Conventional short form of the name: Anguilla
The conventional long form of the name: none
Etymology: Anguilla means eel in various Romance languages (Spanish, Italian, Portuguese, French) and likely derives from the island's long shape.
The legal system in Anguilla: common law based on the English model.
Climate: N/A
The national symbols are dolphins.
Internet TLD: .ai
Background

Colonized by English settlers from Saint Kitts in 1650, Anguilla was administered by Great Britain until the early 19th century, when the island – against the inhabitants' wishes – was incorporated into a single British dependency along with Saint Kitts and Nevis. Several attempts at separation failed. In 1971, two years after a revolt, Anguilla was finally allowed to secede. This arrangement was formally recognized in 1980, with Anguilla becoming a separate British dependency. On 7 September 2017, the island suffered extensive damage from Hurricane Irma, particularly to communications and residential and business infrastructure.
Geography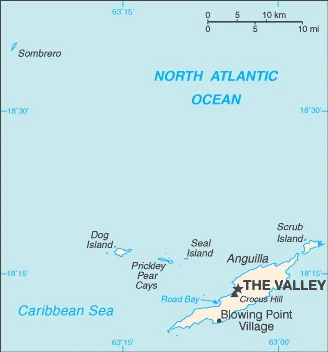 American Anguilla is a small island located in the Caribbean Sea. This island offers visitors the opportunity to see beautiful beaches, national parks, and tropical forests.
This state is located in the Caribbean, islands between the Caribbean Sea and North Atlantic Ocean, east of Puerto Rico, under the coordinates of 18 15 N, 63 10 W, covering an area of 91 sq km with a coastline of 61 km. Anguilla is About one-half the size of Washington, DC.
Flat and low-lying island of coral and limestone, with Crocus hill 73 m as the highest point of Anguilla, while the Caribbean Sea 0 m as the lowest point, causing a mean elevation at N/A throughout the country. With a total of 91 sq km, Anguilla has 91 sq km of land and 0 sq km of water surface area.
The most northerly of the Leeward Islands in the Lesser Antilles
The climate in Anguilla is as follows: Tropical, moderated by northeast trade winds.
When you visit Anguilla, the natural hazards are frequent hurricanes and other tropical storms (July to October).
The following major health-threatening issues shall be considered when visiting Anguilla: none.
Current environmental issues affecting the Anguillan people: potable water supplies sometimes cannot meet increasing demand mainly because of the poor distribution system.
Google maps Anguilla
The capital and other divisions
Capital city: The Valley found under the coordinates 18 13 N, 63 03 W, applying the time zone UTC-4 (1 hour ahead of Washington, DC, during Standard Time), using the following daylight saving time: none.
Anguilla was the first English settlement in the Caribbean and is home to about 10,000 people. The island's capital city is George Town, which features a beautiful harbor. Several other towns on the island include Valley Church, Clark's Town, Union Hill, and East End.
Anguilla became independent on none (overseas territory of the UK), and its national holiday is Anguilla Day, 30 May (1967).
Administrative divisions: none (overseas territory of the UK).
People and society
The population in Anguilla is 18,403 (July 2021 estimate), with an average of 1.84% (2021 estimate) change. That means Anguilla is the No. 219 in the world's populated rank list. With an average of 35.7 years median age (33.7 years for males and 33.7 years for women), Anguilla ranks No. 81 on the globe's median age rank list.
The people living in this country are the Anguillan(s) (noun) or Anguillan (adjective) and belong mainly to the following ethnic groups: African/Black 85.3%, Hispanic 4.9%, mixed 3.8%, White 3.2%, East Indian/Indian 1%, other 1.6%, unspecified 0.3% (2011 estimate). Note: data represent population by ethnic origin.
They speak English (official language) languages and practice the following religions: Protestant 73.2% (includes Anglican 22.7%, Methodist 19.4%, Pentecostal 10.5%, Seventh Day Adventist 8.3%, Baptist 7.1%, Church of God 4.9%, Presbyterian 0.2%, Brethren 0.1%), Roman Catholic 6.8%, Jehovahs Witness 1.1%, other Christian 10.9%, other 3.2%, unspecified 0.3%, none 4.5% (2011 estimate).
We can conclude the following about the population in Anguilla: Most of the population is concentrated in the valley in the island's center. Settlement is pretty uniform in the southwest but relatively sparse in the northeast. In Anguilla, we are talking about 100% (2021) of the total population living in cities, and most of them reside in the following municipalities: 1,000 The Valley (capital city) (2018).
Industry
Anguilla has few natural resources, is unsuited for agriculture, and the economy depends heavily on luxury tourism, offshore banking, lobster fishing, and remittances from emigrants. Increased activity in the tourism industry has spurred the construction sector's growth, contributing to economic growth. Anguillan officials have put substantial effort into developing the offshore financial sector, which is small but growing. In the medium term, prospects for the economy will depend mainly on the recovery of the tourism sector and, therefore, on revived income growth in the industrialized nations and favorable weather conditions.
Anguilla is rich in the following natural resources: salt, fish, and lobster.
The main industrial sectors are typically tourism, boat building, and offshore financial services.
The country's export sectors are solid in lobster, fish, livestock, salt, concrete blocks, and rum, partnering with these nations: N/A. The export trade resulted in $7.9 million. Note: Data are in current year dollars (2017 estimate). In a global rank of the export, values resulted in Anguilla's position of 220.
Land use in Anguilla: 61.1% (2018 estimate) forest, 38.9% (2018 estimate) other.
The arable land area is 0% (2018 estimate), and the agricultural land is 0% (2018 estimate). Land use for permanent crops 0% (2018 estimate), permanent pasture 0% (2018 estimate). The sum of the area of the irrigated land is 0 sq km (2012).
The main agro-industrial products of Anguilla are small quantities of tobacco, vegetables, and cattle raising.
The country typically needs to import: fuels, foodstuffs, manufacturers, chemicals, trucks, and textiles in a sum value of $186.2 million (2017 estimate) and $170.1 million (2016 estimate). This sum value on the global ranking list of imports resulted in Anguilla 212.
Anguilla Driving Directions

In this post, you learned about Anguilla, Caribbean, islands between the Caribbean Sea and North Atlantic Ocean, east of Puerto Rico. We published some basic information about its capital, The Valley, and the Anguillan nation.
Are you interested in visiting Anguilla and looking for driving directions? Click here to plan your route, or see a printable road map of Anguilla below for an overview of the route network.
Printable map of Anguilla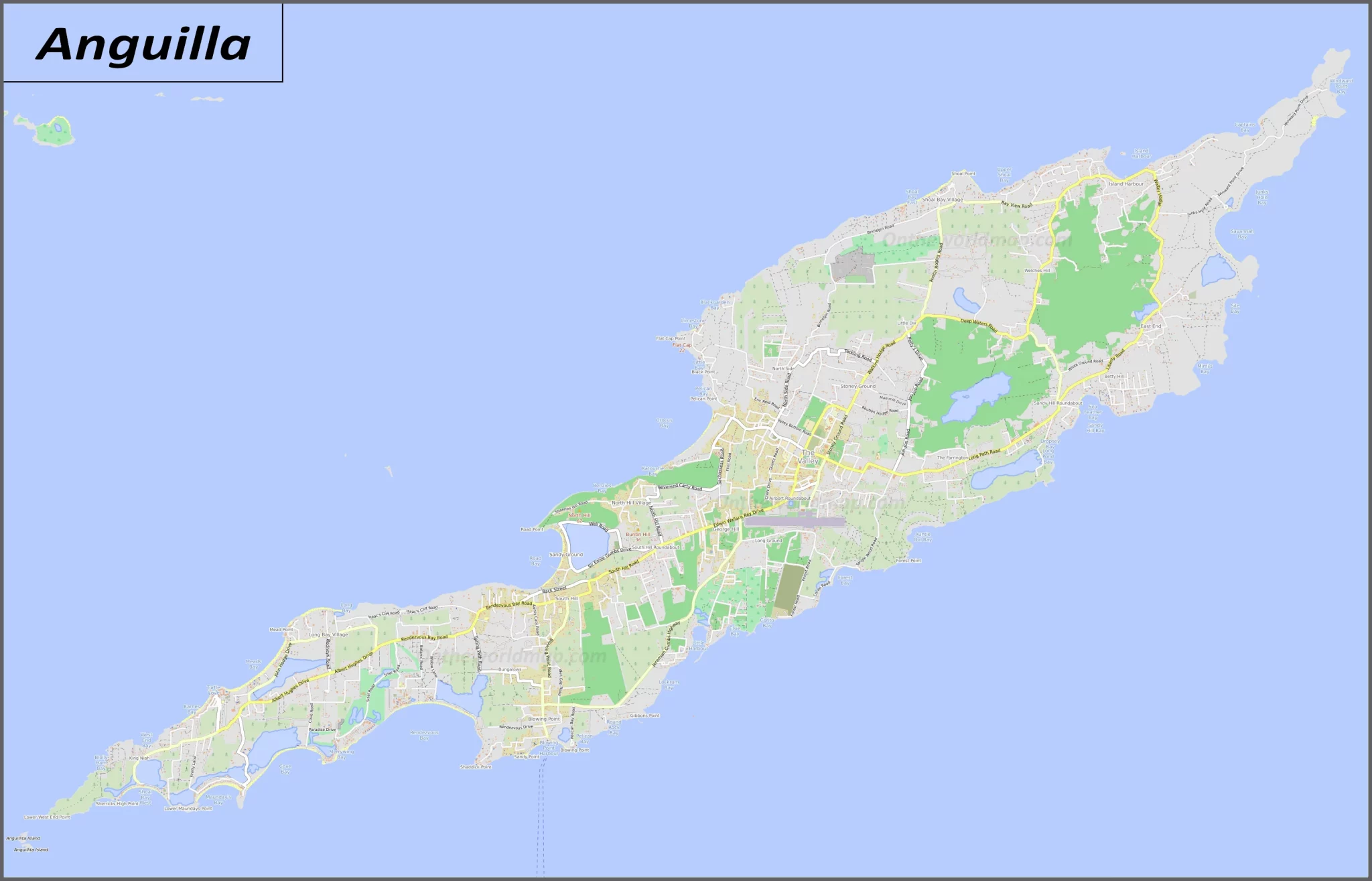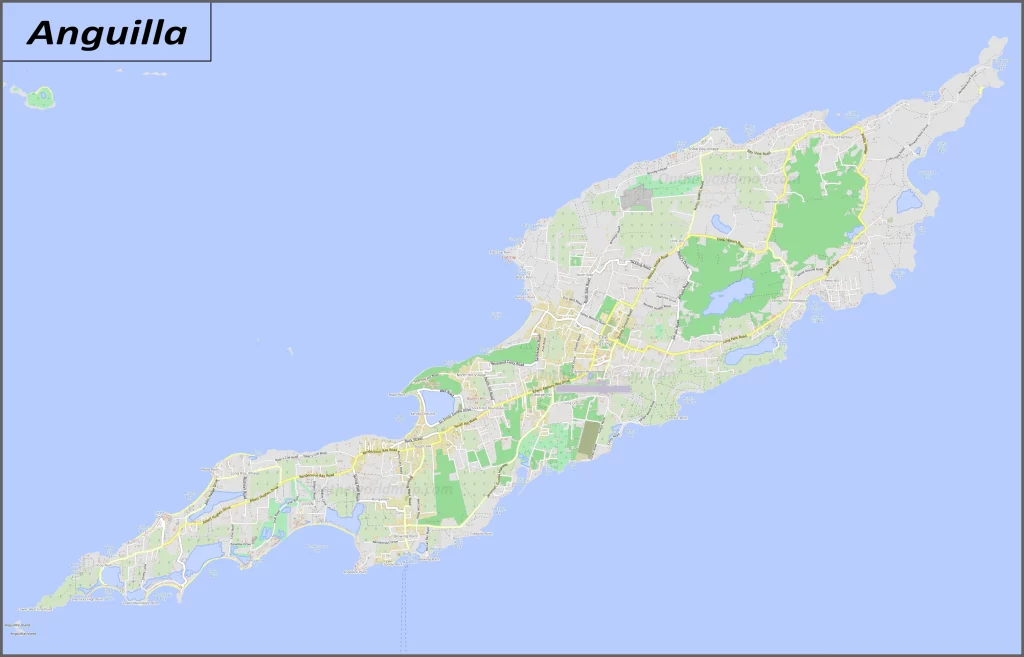 Did you know about Anguilla?
You might not have heard about Anguilla, but you should make sure to visit this country if you ever get the chance. This tiny Caribbean nation is a great place to spend a holiday with its sandy beaches, coral reefs, and history. The food is phenomenal as well as the people. You can even take tours around the country or enjoy its many festivals.
After virtually visiting Anguilla, you may also be interested in the neighboring country: Saint Martin.
If you liked our Google map and Anguilla information page,
please share it with others or save the link https://www.drivingdirections.net in your bookmarks.