Canada Google Maps is a site/tool that offers a wide range of map views (topographic, satellite, street view) and navigation options, with little effort on your part, yet efficiently. If you need to plan a trip to a new place like Canada, Google maps are available on desktop, mobile, or tablet. This Google maps and information page is dedicated to Canada, and North America (4 countries), showing its location, country facts, details about its capital city Ottawa, bordering countries like the US, and plenty of other information which may be interesting when you visit this North American state.
Quick links: Google maps Canada, Ottawa Google maps, Driving Directions Canada, Printable Road Map.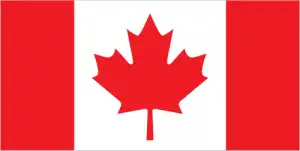 About Canada in a nutshell
Conventional short form of the name: Canada
The conventional long form of the name: none
Former name(s): N/A
Etymology: the country name likely derives from the St. Lawrence Iroquoian word Kanata meaning village or settlement.
The legal system in Canada: the common law system except in Quebec, where civil law based on the French civil code prevails.
Climate: Ranges from polar and subpolar in the north to continental in the south. Winters in the interior are colder and longer than on the coast, with temperatures well below freezing and deep snow; summers are hotter. The Pacific coast has the mildest winters.
The national symbols are maple leaf and beaver; the national colors: are red and white.
Internet TLD: .ca
The first Europeans to set foot on Canadian soil were the Vikings, who landed at New Foundland at the end of the 1st millennium AD, followed by the French in the 16th century and the English a century later. Northwards, sailors, explorers, trappers, and adventurers searched in vain for centuries for a shipping route to the Pacific Ocean, the legendary Northwest Passage. Bilingual Canada is a member of the Commonwealth.
Around four-fifths of it is built up by ancient rocks eroded by glaciers in the Canadian Icecap, with the rest shared by the Rocky Mountain ranges. The ice sheet stretched to the Great Lakes during the Great Ice Age. The traces of the ancient ice castles and the terrible power of the ice are now visible in the ice-carved islands of the archipelago, which are filled with interlocking lakes and narrow sea channels.
In the country's south, the endless prairies have been taken over by agriculture, while further north, the taiga and then the tundra along the Arctic Circle dominate the landscape. In the Rocky Mountains, snow-capped mountain ranges rise above dark green forested slopes, salmon-filled rivers run through valleys, and thousands of turquoise lakes mirror the shimmer of glaciers on the peaks. The uniqueness of Canada's landscape is illustrated by the fact that eight of the country's 14 World Heritage Sites are natural heritage sites. The estuary of the St. Lawrence River, which drains the Great Lakes into the Atlantic Ocean, has the highest tidal range on Earth.
The Magnetic North Pole, where the dipping needle of a compass stands still, migrates across northern Canada.
Background

A land of vast distances and rich natural resources, Canada became a self-governing dominion in 1867 while retaining ties to the British crown. Canada repatriated its constitution from the UK in 1982, severing a final colonial tie. Economically and technologically, the nation has developed in parallel with the US, its neighbor to the south across the world's longest international border. Canada faces the political challenges of meeting public demands for quality improvements in health care, education, social services, and economic competitiveness and responding to the particular concerns of predominantly francophone Quebec. Canada also aims to develop its diverse energy resources while maintaining its environmental commitment.
Geography

The world's second-largest country, stretching north to Cape Colombia on Ellesmere Island, south to Lake Erie, and across five time zones from the Pacific seaboard to Newfoundland. Arctic tundra and islands in the far north give way southward to forests, interspersed with lakes and rivers, and then the vast Canadian Shield, which covers over half the area of Canada. The Rocky Mountains in the west, beyond which are the Coast Mountains, islands, and fjords. Fertile lowlands in the east.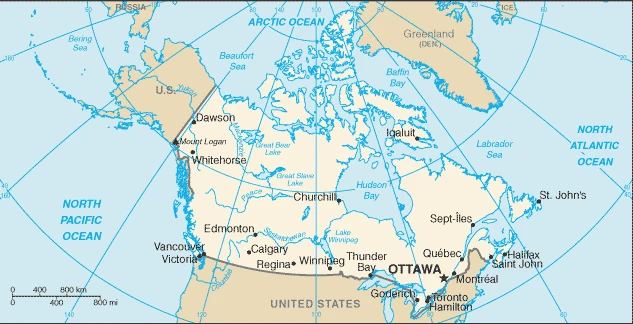 Canada extends from the Arctic to its US border along the 49th parallel. Unified under British rule from 1763, its development and expansion attracted large-scale immigration.
This state is located in Northern North America, bordering the North Atlantic Ocean on the east, the North Pacific Ocean on the west, and the Arctic Ocean on the north, north of the conterminous US, under the coordinates of 60 00 N, 95 00 W, covering an area of 9,984,670 sq km with a coastline of 202,080 km. Canada is slightly larger than the US.
Canada has 8,891 km of land boundaries in total and borders (3 nations): the US has 8,891 km (including 2,475 km with Alaska).
Mostly plains with mountains in the west, and lowlands in the southeast, with Mount logan 5,959 m as the highest point of Canada, while Atlantic/Pacific/Arctic Oceans 0 m as the lowest point, causing a mean elevation at 487 m throughout the country. With a total of 9,984,670 sq km, Canada has 9,093,507 sq km of land and 891,163 sq km of water surface area.
Major water bodies in the country: Huron – 35,972 sq km; Great Bear Lake – 31,328 sq km; Superior – 28,754 sq km; Great Slave Lake – 28,568 sq km; Lake Winnipeg – 24,387 sq km; Erie – 12,776 sq km; Ontario – 9,790 sq km; Lake Athabasca – 7,935 sq km; Reindeer Lake – 6,650 sq km; Nettilling Lake – 5,542 sq km (a freshwater lake), while the major rivers are: Mackenzie – 4, 241 km, Yukon river source (shared with the US m) – 3,185 km, Nelson – 2,570 km, Columbia river source (shared with the US) – 1,953 km, Churchill – 1,600 km, Fraser – 1,368 km, Ottawa – 1,271 km, Athabasca – 1,231 km, North Saskatchewan – 1,220 km, Liard – 1,115 km. The significant watersheds for Canada are Atlantic Ocean drainage: Mississippi (Gulf of Mexico) (3,202,185 sq km, Canada only 32,000 sq km), Nelson (Hudson Bay) (1,093,141 sq km), Saint Lawrence (1,049,636 sq km, Canada only 839,200 sq km) Arctic Ocean drainage: Mackenzie (1,706,388 sq km) Pacific Ocean drainage: Yukon (847,620 sq km, Canada only 823,800 sq km), Columbia (657,501 sq km, Canada only 103,000 sq km).
The second-largest country in the world (after Russia) and most extensive in the Americas; strategic location between Russia and the US via the north polar route; approximately 90% of the population is concentrated within 160 km (100 mi) of the US border.
The climate in Canada is as follows: It varies from temperate in the south to subarctic and arctic in the north.
When you visit Canada, the natural hazards shall be considered: Continuous permafrost in the north is a severe obstacle to development; cyclonic storms form east of the rocky mountains, a result of the mixing of air masses from the arctic, pacific, and North American interior, and produce most of the country's rain and snow east of the mountains, volcanism: the vast majority of volcanoes in western Canada's coast mountains remain dormant.
The following major health-threatening issues shall be considered when visiting Canada: none.
Current environmental issues affecting the Canadian people: metal smelting, coal-burning utilities, and vehicle emissions impacting agricultural and forest productivity; air pollution and resulting acid rain severely affecting lakes and damaging forests; ocean waters becoming contaminated due to agricultural, industrial, mining, and forestry activities.
Google maps Canada
The capital and other divisions
Capital city: Ottawa found under the coordinates 45 25 N, 75 42 W, applying the time zone UTC-5 (same time as Washington, DC, during Standard Time), using the following daylight saving time: +1hr begins the second Sunday in March; ends first Sunday in November.
Ottawa is the capital of Canada and the second-largest city in the country. It's shaped like a diamond with low-lying hills and green space surrounding it, meaning that there's always something to explore in this city.
Canada became independent on 1 July 1867 (union of British North American colonies), 11 December 1931 (recognized by the UK per Statute of Westminster), and its national holiday is Canada Day, 1 July (1867). Visit the Canada Driving Directions page for the Public Holidays in Canada in Canada.
Administrative divisions: 10 provinces and 3 territories; Alberta, British Columbia, Manitoba, New Brunswick, Newfoundland and Labrador, Northwest Territories, Nova Scotia, Nunavut, Ontario, Prince Edward Island, Quebec, Saskatchewan, and the Yukon.
People and society

Two-thirds of the population live in the Great Lakes–St. Lawrence lowlands, fostering shared cultural values with the neighboring US. Significant differences, however, include more comprehensive welfare provisions and Commonwealth membership. The French-speaking Québécois wish to preserve their culture and language from further Anglicization and demand to be recognized as a "distinct society." The government welcomes ethnic diversity among immigrants, promoting a policy that encourages each group to maintain its culture. Other sizable immigrant groups include Chinese, Italians, and Germans. Ukrainians, and Portuguese. Land claims made by the indigenous peoples are being redressed. Nunavut, an Inuit-governed territory that covers nearly a quarter of Canada's land area, was created from a portion of the Northwest Territories in 1999. Women are well-represented at most levels of business and government.
The population in Canada is 37,943,231 (July 2021 estimate), with an average of 0.77% (2021 estimate) change. That means Canada is the No. 38 in the world's populated rank list. With an average of 41.8 years median age (40.6 years for males and 40.6 years for women), Canada ranks No. 40 on the globe's median age rank list.
The people living in this country are Canadian(s) (noun) or Canadian (adjective) and belong mainly to the following ethnic groups: Canadian 32.3%, English 18.3%, Scottish 13.9%, French 13.6%, Irish 13.4%, German 9.6%, Chinese 5.1%, Italian 4.6%, North American Indian 4.4%, East Indian 4%, other 51.6% (2016 estimate). Note: percentages add up to 100% because respondents could identify more than one ethnic origin.
They speak English (official language) 58.7%, French (official language) 22%, Punjabi 1.4%, Italian 1.3%, Spanish 1.3%, German 1.3%, Cantonese 1.2%, Tagalog 1.2%, Arabic 1.1%, other 10.5% (2011 estimate) languages and practice the following religions: Catholic 39% (includes Roman Catholic 38.8%, other Catholic .2%), Protestant 20.3% (includes United Church 6.1%, Anglican 5%, Baptist 1.9%, Lutheran 1.5%, Pentecostal 1.5%, Presbyterian 1.4%, other Protestant 2.9%), Orthodox 1.6%, other Christian 6.3%, Muslim 3.2%, Hindu 1.5%, Sikh 1.4%, Buddhist 1.1%, Jewish 1%, other 0.6%, none 23.9% (2011 estimate).
We can conclude the following about the population in Canada: Vast majority of Canadians are positioned in a discontinuous band within approximately 300 km of the southern border with the United States. The most populated province is Ontario, followed by Quebec and British Columbia. We are talking about 81.7% (2021) of the total population living in cities in Canada. Most of them reside in the following municipalities: 6.255 million; Toronto, 4.247 million; Montreal, 2.606 million; Vancouver, 1.581 million, Calgary, 1.491 million; Edmonton, 1.408 million; Ottawa (capital city) (2021).
Industry

Wide-ranging resources, providing exports, cheap energy, and raw materials for manufacturing underpin a high standard of living, with smaller wealth disparities than in the US. Prices for primary exports fluctuate, but the high oil price has encouraged the development of Alberta's vast oil fields. Manufactured exports have flourished under growing global competition, especially since the creation in 1994 of the NAFTA free trade area, but reliance on the US market makes the Canadian economy vulnerable to US slowdowns. Unemployment rose during the 2009 recession but rebounded quickly.
Canada resembles the US in its market-oriented economic system, production pattern, and high living standards. Since World War II, the impressive growth of the manufacturing, mining, and service sectors has transformed the nation from a largely rural economy into a primarily industrial and urban one. Canada has a large oil and natural gas sector, with most crude oil production derived from oil sands in the western provinces, especially Alberta. Canada now ranks third in the world in proven oil reserves behind Venezuela and Saudi Arabia and is the world's seventh-largest oil producer.
The 1989 Canada-US Free Trade Agreement and the 1994 North American Free Trade Agreement (Mexico) dramatically increased trade and economic integration between the US and Canada. Canada and the US enjoy the world's most comprehensive bilateral trade and investment relationship, with goods and services trade totaling more than $680 billion in 2017 and two-way investment stocks of more than $800 billion. Over three-fourths of Canada's merchandise exports are destined annually for the US.
Canada is the largest foreign energy supplier to the US, including oil, natural gas, and electric power, and a top source of US uranium imports. Given its abundant natural resources, highly skilled labor force, and modern capital stock, Canada enjoyed solid economic growth from 1993 through 2007. The global economic crisis of 2007-08 moved the Canadian economy into a sharp recession by late 2008, and Ottawa posted its first fiscal deficit in 2009 after 12 years of surplus. Canada's central banks emerged from the financial crisis of 2008-09 among the strongest in the world, owing to the financial sector's tradition of conservative lending practices and strong capitalization. Canada's economy posted strong growth in 2017 at 3%, but most analysts project Canada's economic growth will drop closer to 2% in 2018.
Canada is rich in the following natural resources: Bauxite, iron ore, nickel, zinc, copper, gold, lead, uranium, rare earth elements, molybdenum, potash, diamonds, silver, fish, timber, wildlife, coal, petroleum, natural gas, hydropower.
The main industrial sectors are typically transportation equipment, chemicals, processed and unprocessed minerals, food products, wood and paper products, fish products, petroleum, and natural gas.
The country's export sectors are particularly strong in crude petroleum, cars and vehicle parts, gold, refined petroleum, and natural gas (2019), partnering with these nations: US 73% (2019). The export trade resulted in $477.31 billion. Note: Data are in current year dollars (2020 estimate). In a global rank of the export, values resulted in Canada's position of 14.
Land use in Canada: 34.1% (2018 estimate) forest, 59.1% (2018 estimate) other.
The arable land area is 4.7% (2018 estimate), and the agricultural land is 6.8% (2018 estimate). Land use for permanent crops is 0.5% (2018 estimate), and permanent pasture is 1.6% (2018 estimate). The summed area of the irrigated land is 8,700 sq km (2012).
The main agro-industrial products of Canada are wheat, rapeseed, maize, barley, milk, soybeans, potatoes, oats, peas, and pork.
The country typically needs to import: cars and vehicle parts, delivery trucks, crude petroleum, and refined petroleum (2019), partnering with the following nations: the US 57%, China 11%, and Mexico 5% (2019) in a sum value of $510.29 billion. Note: data are in current year dollars (2020 estimate) $583.6 billion. Note: data are in current year dollars (2019 estimate) $589.55 billion. Note: data are in current year dollars (2018 estimate). This sum value on the global ranking list of imports resulted in Canada being 10.
Canada Driving Directions

In this post, you learned about Canada, and Northern North America, bordering the North Atlantic Ocean on the east, the North Pacific Ocean on the west, and the Arctic Ocean on the north, north of the conterminous US. We published some basic information about its capital Ottawa, and the Canadian nation.
Are you interested in visiting Canada and looking for driving directions? Click here to plan your route, or see a printable road map of Canada below for an overview of the route network.
Printable map of Canada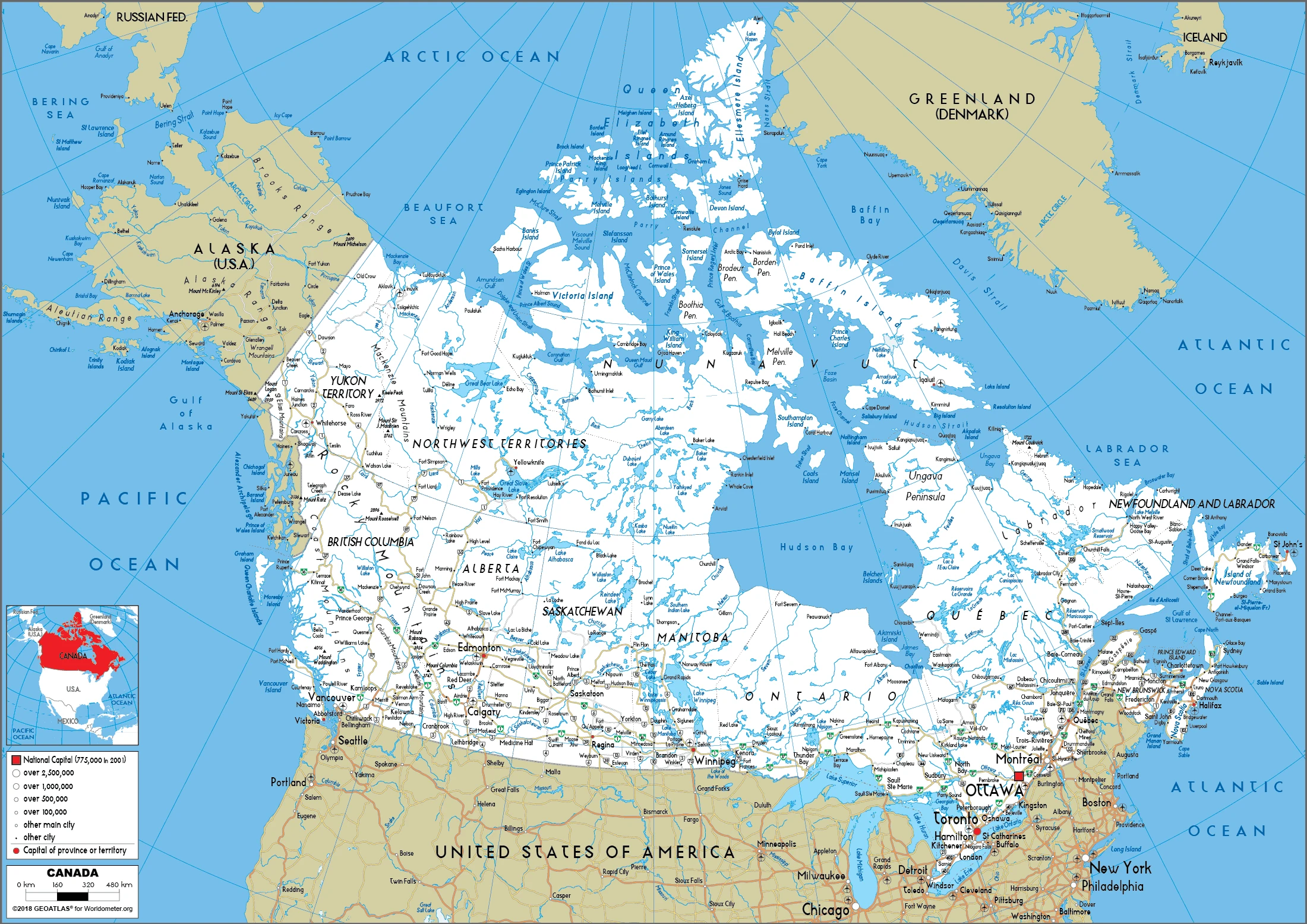 Did you know about Canada?
It is the 2nd largest country in terms of landmass. Canada's varied geography includes urban centers, snow-capped mountains, vast prairie farmland, deep river valleys, and ice-blue oceans. Canada has the world's longest coastline (along with its Arctic Ocean), much of which is influenced by ice sheets forming when the sea freezes in winter. The climate varies across this expanse depending on longitude. Here are the fascinating facts about Canada in a nutshell:
Canada is the second-largest country in the world by land area, covering nearly 10 million square kilometers.
Canada is a bilingual country, with both English and French as official languages.
Canada is known for its beautiful natural landscapes, including the Rocky Mountains, the Canadian Shield, and the boreal forest.
Canada is home to the longest coastline in the world, stretching over 202,080 km.
The Canadian flag was officially adopted in 1965 and featured a red leaf on a white background with a red bar on each side.
Canada has a rich history of Indigenous cultures, with over 600 recognized First Nations communities.
The world-famous Niagara Falls is located on the border of Ontario and New York and is one of Canada's most popular tourist attractions.
Canada is known for its diverse and multicultural population, with immigrants from all over the world making up a significant percentage of the population.
Canada has a strong economy, with a high standard of living, and is consistently ranked as one of the best countries in the world to live in.
Canada has a rich art, literature, and music tradition, with many famous writers, artists, and musicians hailing from the country.
After virtually visiting Canada, you may also be interested in the neighboring country: the United States.
If you liked our Google map and Canada information page,
please share it with others or save the link https://www.drivingdirections.net in your bookmarks.