Ireland Google Maps is a site/tool that offers a wide range of map views (topographic, satellite, street view) and navigation options, with little effort on your part, yet efficiently. If you need to plan a trip to a new place like Ireland, Google maps are available on desktop, mobile, or tablet. This Google maps and information page is dedicated to Ireland, Europe (47 countries), showing its location, country facts, details about its capital city Dublin, bordering countries like the U.K., and plenty of other information which may be interesting when you visit this European state.
Quick links: Google maps Ireland, Dublin Google maps, Driving Directions Ireland, Printable Road Map.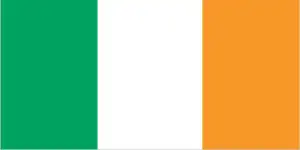 About Ireland in a nutshell
Conventional short form of the name: Ireland
The conventional long form of the name: none
Local long form: none
Local short form: Eire
Former name(s): N/A
Etymology: the modern Irish name Eire evolved from the Gaelic Eriu, the name of the matron goddess of Ireland (goddess of the land); the names Ireland in English and Eire in Irish are direct translations of each other.
The legal system in Ireland: common law system based on the English model but substantially modified by customary law; judicial review of legislative acts by Supreme Court.
Climate: The Gulf Stream accounts for the mild and wet climate. Snow is rare, except in the mountains.
The national symbols are the harp, and shamrock (trefoil), while the national colors are blue and green.
Internet TLD: .ie
Ireland is a beautiful country that contains different cultures, which can cause a lot of confusion for travelers. Both Old Ireland and New Ireland have their pros and cons, but there are also similarities. It is hard to predict which Ireland people will encounter in their travels, as both sides of Ireland still exist to some extent, making it an even more exciting place to visit. Innovation and new prosperity have left a mark on many aspects of life in Ireland, some for the better and some for the worse. Innovation has created a newly affluent society with intolerance of those who don't fit in. There is a dark cloud behind Ireland's economic silver lining, and this is inflation. Restaurants and hotels are now selling food and accommodation for 40 dollars, where it was once cheaper. New legislation like the Immigrant Act has propelled people to feel more prejudice toward immigrants. The old and new Ireland is welcoming, but keep your wallet at the ready because it will cost you.
Seen from a bird's eye view, the island's surface is slightly oval, resembling a bowl of chips on its western edge: the heavily degraded and ice-carved clod mountains surround the undulating Irish lowlands, which are colored by lakes, marshes, and small rivers. The first hunter-gatherers arrived on land in Ireland 9,500 years ago – the island only separated from the European continent in the last ice age. Farmers who settled here in the 4th millennium B.C. created Europe's most extensive megalithic culture: the archaeological site excavated in the bend of the River Boyne is a World Heritage Site from this period.
The Celts landed around 300 BC and ruled the island for a millennium – their language and culture still dominate Irish life today. Christianity began in 432 with the mission of St. Patrick. The surviving early Christian monuments on the island of Skellig Michael are also universal treasures of humanity. The Vikings arrived in the 9th century and founded Dublin. The Norman and English influences were dominant for almost 800 years. The Catholic Irish Republic, which occupied 85% of the island, gained complete independence in 1949 – Protestant Northern Ireland remained part of the British Crown.
About 40% of Irish people can speak Irish Gaelic.
Background

Celtic tribes arrived on the island between 600 and 150 B.C. Invasions by Norsemen that began in the late 8th century ended when King Brian BORU defeated the Danes in 1014. Norman invasions began in the 12th century and set off more than seven centuries of Anglo-Irish struggle marked by fierce rebellions and harsh repressions. The Irish famine of the mid-19th century was responsible for a drop in the island's population by more than one quarter through starvation, disease, and emigration. For more than a century afterward, the island's population continued to fall, only to begin growing again in the 1960s. Over the last 50 years, Ireland's high birthrate has made it demographically one of the youngest populations in the E.U. The modern Irish state traces its origins to the failed 1916 Easter Monday Uprising that touched off several years of guerrilla warfare resulting in independence from the U.K. in 1921 for 26 southern counties.
Six northern (Ulster) counties remained part of the U.K. Deep sectarian divides between the Catholic and Protestant populations and systemic discrimination in Northern Ireland erupted into years of violence known as the Troubles that began in the 1960s. The Government of Ireland was part of a process along with the U.K. and U.S. governments that helped broker the Good Friday Agreement in Northern Ireland in 1998. This initiated a new phase of cooperation between the Irish and British Governments. Ireland was neutral in World War II and continues its policy of military neutrality. Ireland joined the European Community in 1973 and the euro-zone currency union in 1999. The economic boom years of the Celtic Tiger (1995-2007) saw rapid economic growth, which came to an abrupt end in 2008 with the meltdown of the Irish banking system. Today the economy is recovering, fueled by significant and growing foreign direct investment, especially from U.S. multinationals.
Geography

Low mountain ranges along an irregular coastline surround an inland plain punctuated by lakes, undulating hills, and peat bogs.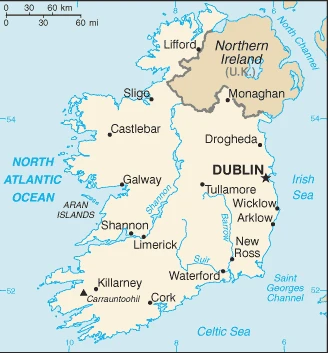 In the Atlantic Ocean off the west coast of Britain, the Irish Republic governs about 85% of the island of Ireland, with the remainder (Northern Ireland) being part of the U.K.
This state is located in Western Europe, occupying five-sixths of the island of Ireland in the North Atlantic Ocean, west of Great Britain, under the coordinates of 53 00 N, 8 00 W, covering an area of 70,273 sq km with a coastline of 1,448 km. Ireland is slightly larger than West Virginia.
Ireland has 490 km of land boundaries in total, and bordering with (1 nation): UK 490 km.
Mostly flat to rolling interior plain surrounded by rugged hills and low mountains, sea cliffs on the west coast, with Carrauntoohil 1,041 m as the highest point of Ireland, while Atlantic Ocean 0 m as the lowest point, causing a mean elevation at 118 m throughout the country. With 70,273 sq km, Ireland has 68,883 sq km of land and 1,390 sq km of water surface area.
Strategic location on major air and sea routes between North America and northern Europe; over 40% of the population resides within 100 km of Dublin.
The climate in Ireland is as follows: Temperate maritime, modified by North Atlantic current, mild winters, cool summers, consistently humid, overcast about half the time.
The natural hazards shall be considered when you visit Ireland: Rare extreme weather events.
The following major health-threatening issues shall be considered when visiting Ireland: none.
Current environmental issues affecting the Irish people: water pollution, especially of lakes, from agricultural runoff; acid rain kills plants, destroys soil fertility, and contributes to deforestation.
Google maps Ireland
The capital and other divisions
Capital city: Dublin found under the coordinates 53 19 N, 6 14 W, applying the time zone UTC 0 (5 hours ahead of Washington, DC, during Standard Time), using the following daylight saving time: +1hr, begins last Sunday in March; ends last Sunday in October.
Dublin is the capital and largest city in Ireland. In Dublin, you will find culture, history, and tons of Irish culture! The walls are painted green, white, and gold – the colors of the Irish flag. The streets are lined with blue limestone buildings that date back to their founding by Viking raiders in 841 AD. Some people might not think of Dublin as a city, but it's a great place to visit.
Ireland became independent on 6 December 1921 (from the U.K. by the Anglo-Irish Treaty, which ended British rule); 6 December 1922 (Irish Free State established); 18 April 1949 (the Republic of Ireland Act enabled), and its national holiday is Saint Patricks Day, 17 March.
Administrative divisions: 28 counties and 3 cities*; Carlow, Cavan, Clare, Cork, Cork, Donegal, Dublin, Dun Laoghaire-Rathdown, Fingal, Galway, Galway, Kerry, Kildare, Kilkenny, Laois, Leitrim, Limerick, Longford, Louth, Mayo, Meath, Monaghan, Offaly, Roscommon, Sligo, South Dublin, Tipperary, Waterford, Westmeath, Wexford, Wicklow.
People and society

Though homogeneous in ethnicity and Roman Catholic by religion, society has undergone a significant generational change, liberalizing birth control, divorce, abortion, and general attitudes. Traditionally an emigrant nation, except for a decade of net immigration in the 2000s. Ireland and the U.K. signed a peace deal over Northern Ireland in 1998.
The population in Ireland is 5,224,884 (July 2021 estimate), with an average of 0.97% (2021 estimate) change. That means Ireland is the No. 122 in the world's populated rank list. With an average of 37.8 years median age (37.4 years for males and 37.4 years for women), Ireland ranks No. 66 on the globe's median age rank list.
The people living in this country are the Irishman (men), Irishwoman (women), Irish (collective plural) (noun) or Irish (adjective) and belong mainly to the following ethnic groups: Irish 82.2%, Irish travelers 0.7%, other White 9.5%, Asian 2.1%, Black 1.4%, other 1.5%, unspecified 2.6% (2016 estimate).
They speak English (official language, the language generally used), Irish (Gaelic or Gaeilge) (official language, spoken by approximately 39.8% of the population as of 2016; mainly spoken in areas along Ireland's western coast known as Gaeltachtai, which are officially recognized regions where Irish is the predominant language) languages and practice the following religions: Roman Catholic 78.3%, Church of Ireland 2.7%, other Christian 1.6%, Orthodox 1.3%, Muslim 1.3%, other 2.4%, none 9.8%, unspecified 2.6% (2016 estimate).
We can conclude the following about the population in Ireland: Population distribution is weighted to the eastern side of the island, with the largest concentration being in and around Dublin. Populations in the west are negligible due to mountainous land, poorer soil, lack of suitable transport routes, and fewer job opportunities. In Ireland, we are talking about 63.9% (2021) of the total population is living in cities, and most of them reside in the following municipalities: 1.242 million, Dublin (capital city) (2021).
Industry

Efficient agriculture, electronics, and food-processing industries. Rapid growth until 2008: housing bubble burst, banks faltered. Large EU bailouts to avoid bankruptcy. Struggling with the budget deficit.
Ireland is a small, modern, trade-dependent economy. Among the initial group of 12 E.U. nations, it began circulating the euro on 1 January 2002. GDP growth averaged 6% in 1995-2007, but economic activity dropped sharply during the world financial crisis and the subsequent collapse of its domestic property market and construction industry during 2008-11. Faced with sharply reduced revenues and a burgeoning budget deficit from efforts to stabilize its fragile banking sector, the Irish Government first introduced a series of draconian budgets in 2009. These measures were not sufficient to stabilize Ireland's public finances. In 2010, the budget deficit reached 32.4% of GDP – the world's most significant deficit as a percentage of GDP. In late 2010, the former COWEN government agreed to a $92 billion loan package from the E.U. and IMF to help Dublin recapitalize Ireland's banking sector and avoid defaulting on its sovereign debt. In March 2011, the KENNY government intensified austerity measures to meet the deficit targets under Ireland's EU-IMF bailout program., In late 2013, Ireland formally exited its EU-IMF bailout program, benefiting from its strict adherence to deficit-reduction targets and success in refinancing a large amount of banking-related debt. In 2014, the economy rapidly picked up. In late 2014, the Government introduced a fiscally neutral budget, marking the end of the austerity program.
The continued growth of tax receipts has allowed the Government to lower some taxes and increase public spending while keeping its deficit-reduction targets. In 2015, GDP growth exceeded 26%. The magnitude of the increase reflected one-off statistical revisions, multinational corporate restructurings in intellectual property, and the aircraft leasing sector, rather than real gains in the domestic economy, which was still growing. Growth moderated to around 4.1% in 2017, but the recovering economy assisted in lowering the deficit to 0.6% of GDP. In the wake of the collapse of the construction sector and the downturn in consumer spending and business investment during the 2008-2011 economic crisis, the export sector, dominated by foreign multinationals, has become an even more important component of Ireland's economy. Ireland's low corporation tax of 12.5% and a talented pool of high-tech laborers have been some of the key factors in encouraging business investment. Loose tax residency requirements made Ireland a common destination for international firms seeking to pay less.
In 2014, amid growing international pressure, the Igovernmentnment announced it would phase in more stringent tax laws, effectively closing a commonly used loophole. The Irish economy continued to grow in 2017 and is forecast to do so through 2019, supported by a strong export sector, robust job growth, and low inflation, to the point that Government must now address concerns about overheating and potential loss of competitiveness. The most significant economic risks are the U.K.'s scheduled departure from the European Union (Brexit) in March 2019, possible changes to international taxation policies affecting Ireland's revenues, and global trade pressures.
Ireland is rich in natural resources: Natural gas, peat, copper, lead, zinc, silver, barite, gypsum, limestone, and dolomite.
The main industrial sectors are typically pharmaceuticals, chemicals, computer hardware and software, food products, beverages, and brewing, medical devices.
The country's export sectors are powerful in medical cultures/vaccines, nitrogen compounds, packaged medicines, integrated circuits, and scented mixtures (2019), partnering with these nations: the United States 28%, Belgium 10%, Germany 10%, U.K. 9%, China 5%, Netherlands 5% (2019). The export trade resulted in $502.31 billion. Note: Data are in current year dollars (2019 estimate). In a global rank of the export, values resulted in Ireland's position of 12.
Land use in Ireland: 10.9% (2018 estimate) forest, 23% (2018 estimate) other.
The arable land area is 15.4% (2018 estimate), and the agricultural land is 66.1% (2018 estimate). Land use for permanent crops 0% (2018 estimate), permanent pasture 50.7% (2018 estimate). The sum of the area of the irrigated land is 0 sq km (2012).
The main agro-industrial products of Ireland are milk, barley, beef, wheat, potatoes, pork, oats, poultry, mushrooms/truffles, mutton.
The country typically needs to import: aircraft, computers, packaged medicines, refined petroleum, and medical cultures/vaccines (2019), partnering with the following nations: the United Kingdom 31%, the United States 16%, Germany 10%, Netherlands 5%, France 5% (2019) in a sum value of $452.98 billion. Note: data are in current year dollars (2019 estimate) $361.12 billion. Note: data are in current year dollars (2018 estimate) $359.725 billion (2017 estimate). This sum value on the global ranking list of imports resulted in Ireland 14.
Ireland Driving Directions

In this post, you learned about Ireland, Western Europe, occupying five-sixths of the island of Ireland in the North Atlantic Ocean, west of Great Britain. We published some basic information about its capital Dublin, and the Irish nation.
Are you interested in visiting Ireland and looking for driving directions? Click here to plan your route, or see a printable road map of Ireland below for an overview of the route network.
Printable map of Ireland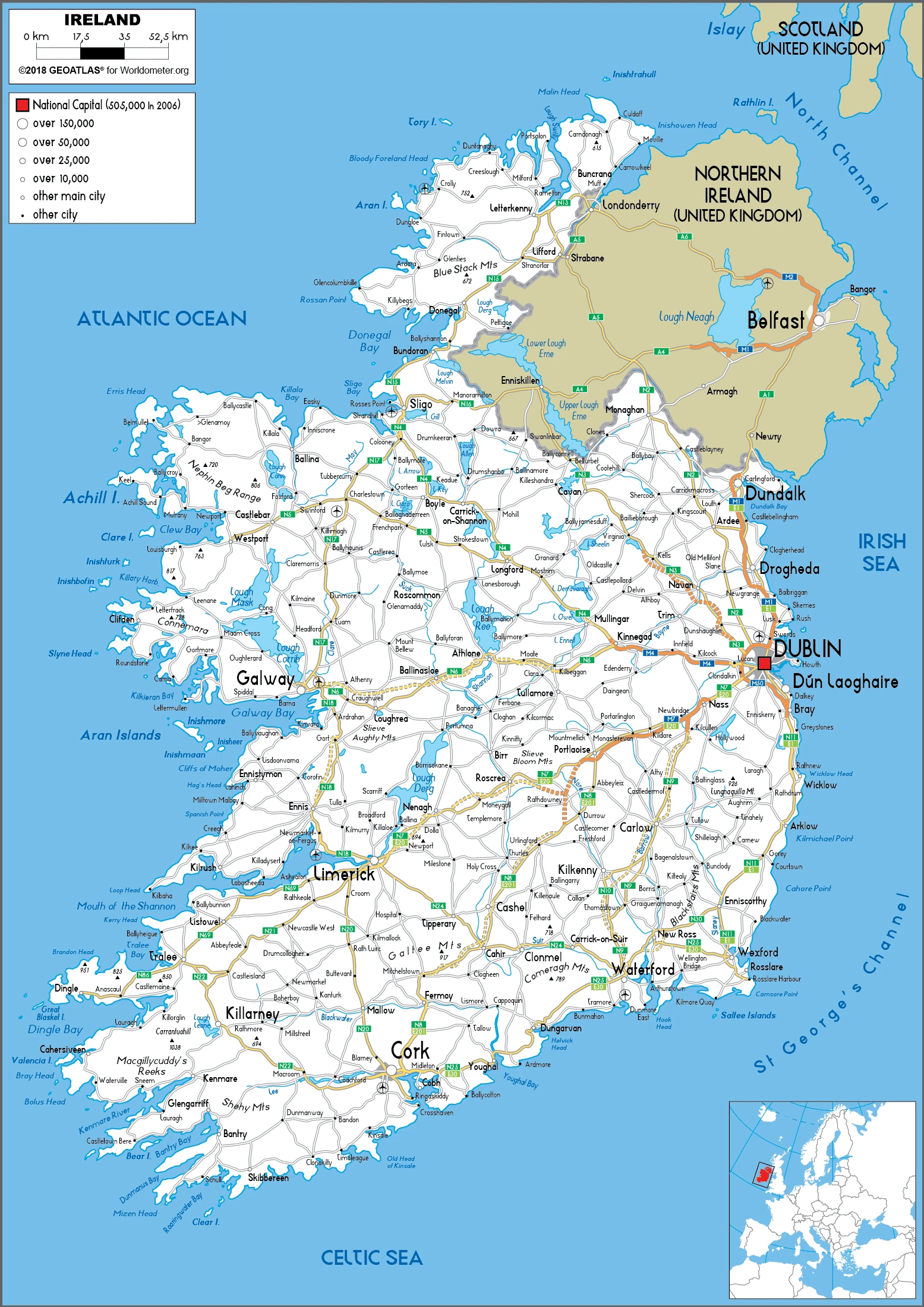 Did you know about Ireland?
Ireland is an island country once home to an influential and confident culture. However, today much of Ireland's cultural heritage is mixed with Catholicism throughout the country. The Irish are strong and hard-working people with great pride in their heritage and traditions such as Irish step dancing, music, art, and literature.
After virtually visiting Ireland, you may also be interested in the neighboring country: the United Kingdom.
If you liked our Google map and Ireland information page,
please share it with others or save the link https://www.drivingdirections.net in your bookmarks.