Eswatini Google Maps is a site/tool that offers a wide range of map views (topographic, satellite, street view) and navigation options, with little effort on your part, yet efficiently. If you need to plan a trip to a new place like Eswatini, Google maps are available on desktop, mobile, or tablet. This Google maps and information page is dedicated to Eswatini, Africa (54 countries), showing its location, country facts, details about its capital city Mbabane (administrative capital); Lobamba (royal and legislative capital), bordering countries like Mozambique, South Africa, and plenty of other information which may be interesting when you visit this African state.
Quick links: Google maps Eswatini, Mbabane (administrative capital); Lobamba (royal and legislative capital) Google maps, Driving Directions Eswatini, Printable Road Map.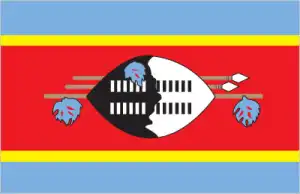 About Eswatini in a nutshell
Polygamy is practiced in Swaziland – when King Sobhuza died in 1982, he left 100 widows.
Conventional short form of the name: Eswatini
The conventional long form of the name: Kingdom of Eswatini
Local long form: Umbuso weSwatini
Local short form: eSwatini
Former name(s): Swaziland
Etymology: the country name derives from 19th century King MSWATI II, under whose rule Swati territory was expanded and unified.
The legal system in Eswatini: mixed legal system of civil, common, and customary law.
Climate: Temperatures rise and rainfall declines as the land descends eastward, from high to low grassy veld.
The national symbols are lion, elephant; national colors: blue, yellow, red.
Internet TLD: .sz
Background

Autonomy for Eswatini was guaranteed by the British in the late 19th century. Independence was granted in 1968. A new constitution came into effect in 2006, which included provisions for a more independent parliament and judiciary, but the legal status of political parties remains unclear. King MSWATI III renamed the country from Swaziland to Eswatini in April 2018. Despite its classification as a lower-middle-income country, Eswatini suffers from severe poverty and high unemployment. Eswatini has the world's highest HIV/AIDS prevalence rate, although recent years have shown marked declines in new infections.
Geography

Mainly high plateaus and mountains. Rolling grasslands and low scrub plains to the east. Pine forests on the western border.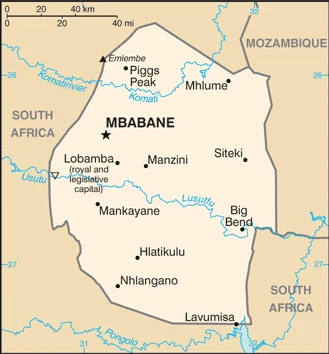 Eswatini is a small landlocked country in southern Africa. It achieved independence from South Africa in 1968. It is known for its nature reserves and the massive granite rock formations that make up the central plateau.
This state is located in Southern Africa, between Mozambique and South Africa, under the coordinates of 26 30 S, 31 30 E, covering an area of 17,364 sq km with a coastline of 0 km (landlocked country). Eswatini is Slightly smaller than New Jersey.
Eswatini has 546 km of land boundaries in total and borders with (2 nations): Mozambique 108 km, South Africa 438 km.
Mostly mountains and hills, some moderately sloping plains, with Emlembe 1,862 m as the highest point of Eswatini, while Great Usutu River 21 m as the lowest point, causing a mean elevation at 305 m throughout the country. With a total of 17,364 sq km, Eswatini has 17,204 sq km of land and 160 sq km water surface area.
Landlocked; almost surrounded by South AfricaThe climate in Eswatini is as follows: Varies from tropical to near temperate.
When you visit Eswatini, the natural hazards shall be considered: Drought.
The following major health-threatening issues shall be considered when visiting Eswatini: degree of risk: intermediate (2020), bacterial diarrhea, hepatitis A, typhoid fever, malaria, schistosomiasis.
Current environmental issues affecting the Swati; people: limited supplies of potable water; wildlife populations being depleted because of excessive hunting; population growth, deforestation, and overgrazing lead to soil erosion and soil degradation.
Google maps Eswatini
The capital and other divisions
Capital city: Mbabane (administrative capital); Lobamba (royal and legislative capital) found under the coordinates 26 19 S, 31 08 E, applying the time zone UTC+2 (7 hours ahead of Washington, DC, during Standard Time), using the following daylight saving time: none.
Mbabane is a city in the central-southern part of Swaziland, containing a population of about 60,000. Mbabane is popularly known as the "City of Song".
Eswatini became independent on 6 September 1968 (from the UK), and its national holiday is Independence Day (Somhlolo Day), 6 September (1968).
Administrative divisions: 4 regions; Hhohho, Lubombo, Manzini, Shiselweni.
People and society

One of Africa's most conservative states, though there is pressure from urban-based modernizers. The political system promotes Swazi tradition and is dominated by a powerful monarchy. Women face discrimination. Swaziland has the world's highest prevalence of HIV/AIDS: chastity is urged to combat its spread.
The population in Eswatini is 1,113,276 (July 2021 estimate). Note: estimates for this country explicitly take into account the effects of excess mortality due to AIDS; this can result in lower life expectancy, higher infant mortality, higher death rates, lower population growth rates, and changes in the distribution of the population by age and sex than would otherwise be expected, with an average of 0.77% (2021 estimate) change. That means Eswatini is the No. 160 in the world's populated rank list. With an average of 23.7 years median age (22.5 years for males and 22.5 years for women), Eswatini ranks No. 174 on the globe's median age rank list.
The people living in this country are the liSwati (singular), emaSwati (plural); (noun) or Swati; (adjective) and belong mainly to the following ethnic groups: predominantly Swazi; smaller populations of other African ethnic groups, including the Zulu, as well as people of European ancestry.
They speak English (official language, used for government business), siSwati (official language) languages and practice the following religions: Christian 90% (Zionist – a blend of Christianity and indigenous ancestral worship – 40%, Roman Catholic 20%, other 30% – includes Anglican, Methodist, Church of Jesus Christ, Jehovahs Witness), Muslim 2%, other 8% (includes Bahai, Buddhist, Hindu, indigenous, Jewish) (2015 estimate).
We can conclude the following about the population in Eswatini: Because of its mountainous terrain, the population distribution is uneven throughout the country, concentrating primarily in valleys and plains, as shown in this population distribution map. In Eswatini, we are talking about 24.4% (2021) of the total population is living in cities, and most of them reside in the following municipalities: 68,000 Mbabane (capital city) (2018).
Industry

Sugarcane is the main cash crop. Wood pulp and soft drink concentrates are also exported. Loss of workforce to HIV/AIDS, and high cost of health care.
A small, landlocked kingdom, Eswatini is bordered in the north, west, and south by the Republic of South Africa and by Mozambique in the east. Eswatini depends on South Africa for a majority of its exports and imports. Eswatini's currency is pegged to the South African rand, effectively relinquishing Eswatinis monetary policy to South Africa. The government is dependent on customs duties from the Southern African Customs Union (SACU) for almost half of its revenue. Eswatini is a lower-middle-income country. As of 2017, more than one-quarter of the adult population was infected by HIV/AIDS; Eswatini has the world's highest HIV prevalence rate, financial strain, and source of economic instability.
The manufacturing sector diversified in the 1980s and 1990s, but manufacturing has grown little in the last decade. Sugar and soft drink concentrate are the largest foreign exchange earners, although a drought in 2015-16 decreased sugar production and exports. Overgrazing, soil depletion, drought, and floods are persistent problems. Mining has declined in importance in recent years. Coal, gold, diamond, and quarry stone mines are small-scale, and the only iron ore mine closed in 2014. With an estimated 28% unemployment rate, Eswatinis need to increase the number and size of small and medium enterprises and to attract foreign direct investment is acute., Eswatini's national development strategy, which expires in 2022, prioritizes increases in infrastructure, agriculture production, and economic diversification while aiming to reduce poverty and government spending. Eswatini's revenue from SACU receipts is likely to continue to decline as South Africa pushes for a new distribution scheme, making it harder for the government to maintain fiscal balance without introducing new sources of revenue.
Eswatini is rich in the following natural resources: Asbestos, coal, clay, cassiterite, hydropower, forests, small gold and diamond deposits, quarry stone, and talc.
The main industrial sectors are typically soft drink concentrates, coal, forestry, sugar processing, textiles, and apparel.
The country's export sectors are particularly strong in soft drink concentrates, sugar, timber, cotton yarn, refrigerators, citrus, and canned fruit, partnering with these nations: South Africa 94% (2017). The export trade resulted in $1.81 billion. Note: Data are in current year dollars (2020 estimate). In a global rank of the export, values resulted in Eswatini's position of 155.
Land use in Eswatini: 31.7% (2018 estimate) forest, 0% (2018 estimate) other.
The arable land area is 9.8% (2018 estimate), and the agricultural land is 68.3% (2018 estimate). Land use for permanent crops 0.8% (2018 estimate), permanent pasture 57.7% (2018 estimate). The sum of the area of the irrigated land is 500 sq km (2012).
The main agro-industrial products of Eswatini are sugar cane, maize, roots/tubers nes, grapefruit, oranges, milk, beef, potatoes, vegetables, bananas.
The country typically needs to import: motor vehicles, machinery, transport equipment, foodstuffs, petroleum products, chemicals, partnering with the following nations: South Africa 81.6%, China 5.2% (2017) in a sum value of $1.7 billion. Note: data are in current year dollars (2020 estimate) $1.93 billion. Note: data are in current year dollars (2019 estimate) $2.07 billion. Note: data are in current year dollars (2018 estimate). This sum value on the global ranking list of imports resulted in Eswatini 178.
Eswatini Driving Directions

In this post, you learned about Eswatini, Southern Africa, between Mozambique and South Africa. We published some basic information about its capital Mbabane (administrative capital), Lobamba (royal and legislative capital), and the Swati nation.
Are you interested in visiting Eswatini and looking for driving directions? Click here to plan your route, or see a printable road map of Eswatini below for an overview of the route network.
Printable map of Eswatini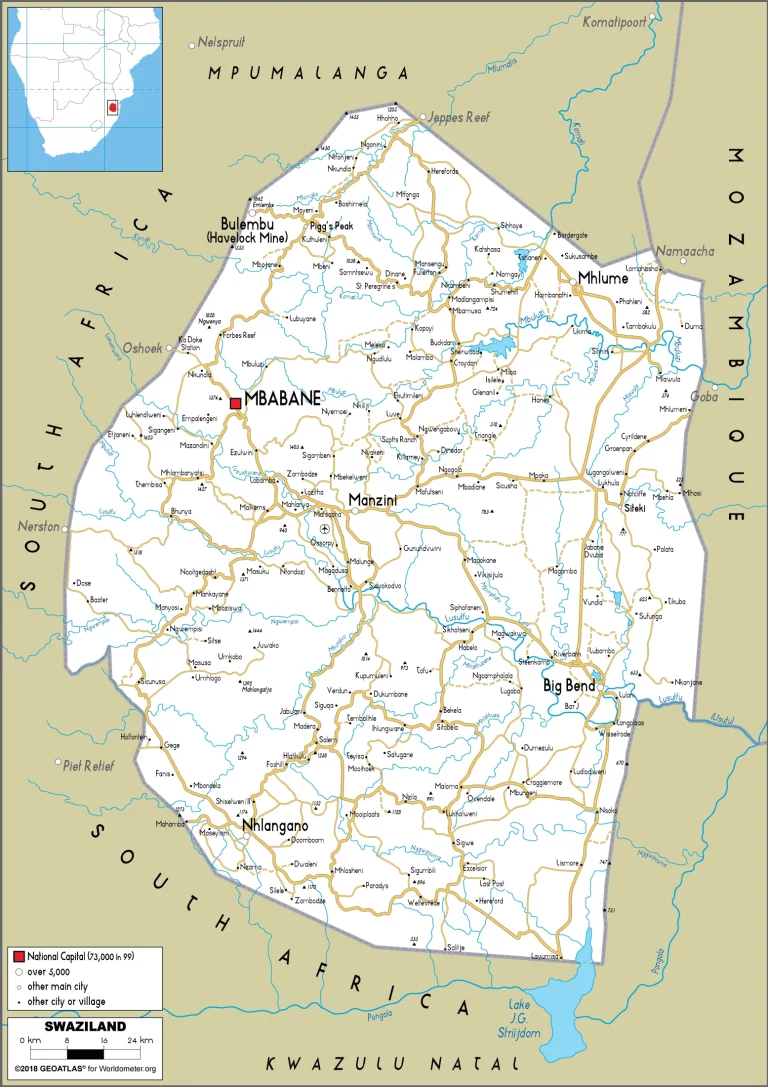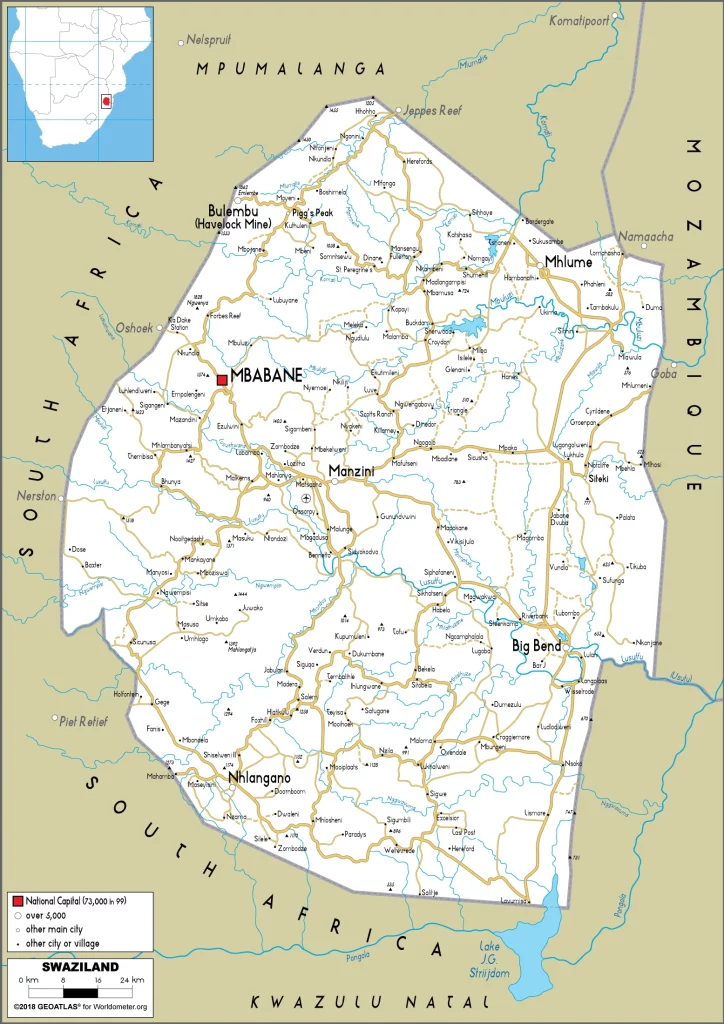 Did you know about Eswatini?
Eswatini has been known as Swaziland, but they recently changed their name to Eswatini. It is the second smallest country in Africa and is late becoming a sovereign nation. The regions are divided into four – Hhohho, Manzini, Shiselweni, and Lubombo – each region is ruled by its king.
Eswatini has a beautiful coastline, rich culture, and abundant biodiversity. It is home to the largest concentration of marine life in Africa. It is also home to many different animal species threatened with extinction. Eswatini's culture is a mixture of Swazi and Bantu traditions mixed with Christianity, Islam, Judaism, and other African religions. The national language is Sesotho.
After virtually visiting Eswatini, you may also be interested in the neighboring countries: Mozambique, South Africa.
If you liked our Google map and Eswatini information page,
please share it with others or save the link https://www.drivingdirections.net in your bookmarks.