Gibraltar Google Maps is a site/tool that offers a wide range of map views (topographic, satellite, street view) and navigation options, with little effort on your part, yet efficiently. If you need to plan a trip to a new place like Gibraltar, Google maps are available on desktop, mobile, or tablet. This Google maps and information page is dedicated to Gibraltar, Europe (47 countries), showing its location, country facts, details about its capital city Gibraltar, bordering countries like Spain, and plenty of other information which may be interesting when you visit this European state.
Quick links: Google maps Gibraltar, Gibraltar Google maps, Driving Directions Gibraltar, Printable Road Map.
About Gibraltar in a nutshell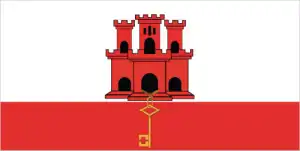 Conventional short form of the name: Gibraltar
The conventional long form of the name: none
Etymology: from the Spanish derivation of the Arabic Jabal Tariq, which means Mountain of Tariq and which refers to the Rock of Gibraltar.
The legal system in Gibraltar: the laws of the UK, where applicable, apply.
Climate: Mediterranean with mild winters and warm summers.
The national symbols are Barbary macaque; national colors: red, white, yellow.
Internet TLD: .gi
Background

Strategically important, Gibraltar was reluctantly ceded to Great Britain by Spain in the 1713 Treaty of Utrecht. The British garrison formally declared a colony in 1830. In a referendum held in 1967, Gibraltarians voted overwhelmingly to remain a British dependency. The subsequent granting of autonomy in 1969 by the U.K. led Spain to close the border and sever all communication links. Between 1997 and 2002, the U.K. and Spain held a series of talks on establishing temporary joint sovereignty over Gibraltar. In response to these talks, the Gibraltar Government called a referendum in late 2002 in which the majority of citizens voted overwhelmingly against any sharing of sovereignty with Spain. Since late 2004, Spain, the U.K., and Gibraltar have held tripartite talks to resolve problems that affect the local population cooperatively, and work continues on cooperation agreements in areas such as taxation and financial services, communications and maritime security, policy, legal and customs services, environmental protection, and education and visa services.
A new noncolonial constitution came into force in 2007, and the European Court of First Instance recognized Gibraltar's right to regulate its tax regime in December 2008. The U.K. retains responsibility for defense, foreign relations, internal security, and financial stability. Spain and the U.K. continue to spar over the territory. Throughout 2009, a dispute over Gibraltars claim to territorial waters extending out three miles gave rise to periodic non-violent maritime confrontations between Spanish and U.K. naval patrols, and in 2013, the British reported a record number of entries by Spanish vessels into waters claimed by Gibraltar following a dispute over Gibraltars creation of an artificial reef in those waters. Spain renewed its demands for an eventual return of Gibraltar to Spanish control after the U.K.'s June 2016 vote to leave the E.U. Still, London has dismissed any connection between the vote and its continued sovereignty over Gibraltar. The E.U. has said that Gibraltar will be outside the territorial scope of any future UK-EU trade deal. Separable agreements between the E.U. and U.K. regarding Gibraltar require Spain's prior approval.
Geography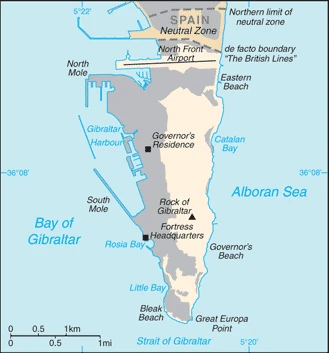 Gibraltar is a small rocky outcrop in the southernmost part of Spain that sits on the Mediterranean Sea and is surrounded by Spanish territory. It was first identified as a potential spot for an Iberian military outpost in the early 15th century. Still, until 1713, when Gibraltar became an official British colony, any real growth began.
This state is located in Southwestern Europe, bordering the Strait of Gibraltar, which links the Mediterranean Sea and the North Atlantic Ocean, on the southern coast of Spain, under the coordinates of 36 08 N, 5 21 W, covering an area of 7 sq km with a coastline of 12 km. Gibraltar is More than 10 times the size of the national mall in Washington, D.C.
Gibraltar has 1.2 km of land boundaries in total, and bordering with (1 nation): Spain 1.2 km.
A narrow coastal lowland borders the Rock of Gibraltar, with Rock of Gibraltar 426 m as the highest point of Gibraltar, while the Mediterranean Sea 0 m as the lowest point, causing a mean elevation at N/A throughout the country. With 7 sq km, Gibraltar has 6.5 sq km of land and 0 sq km water surface area.
Strategic location on the Strait of Gibraltar links the North Atlantic Ocean and the Mediterranean Sea.
The climate in Gibraltar is as follows: the Mediterranean with mild winters and warm summers.
When you visit Gibraltar, the natural hazards shall be considered: Occasional droughts; no streams or large bodies of water on the peninsula (all potable water comes from desalination).
The following major health-threatening issues shall be considered when visiting Gibraltar: none.
Current environmental issues affecting the Gibraltar people: limited natural freshwater resources: more than 90% of drinking water supplied by desalination, the remainder from stored rainwater; a separate supply of saltwater used for sanitary services.
Google maps Gibraltar
The capital and other divisions
Capital city: Gibraltar found under the coordinates 36 08 N, 5 21 W, applying the time zone UTC+1 (6 hours ahead of Washington, DC, during Standard Time), using the following daylight saving time: +1hr begins last Sunday in March; ends last Sunday in October.
In the straits between Spain and Morocco, the tiny outcrop of Gibraltar is a strategic location for controlling the passage through the Mediterranean. Its citizens are also some of Europe's most ancient, with traces of prehistoric life dating back to 36,000 BC!
Gibraltar became independent on none (overseas territory of the U.K.), and its national holiday is National Day, 10 September (1967).
Administrative divisions: none (overseas territory of the U.K.).
People and society
The population in Gibraltar is 29,516 (July 2021 estimate), with an average of 0.19% (2021 estimate) change. That means Gibraltar is the No. 217 in the world's populated rank list. With an average of 35.5 years median age (34.4 years for males and 34.4 years for women), Gibraltar ranks No. 84 on the globe's median age rank list.
The people living in this country are the Gibraltarian(s) (noun) or Gibraltar (adjective) and belong mainly to the following ethnic groups: Gibraltarian 79%, other British 13.2%, Spanish 2.1%, Moroccan 1.6%, other EU 2.4%, other 1.6% (2012 estimate). Note: data represent population by nationality.
They speak English (used in schools and for official purposes), Spanish, Italian, Portuguese languages and practice the following religions: Roman Catholic 72.1%, Church of England 7.7%, other Christian 3.8%, Muslim 3.6%, Jewish 2.4%, Hindu 2%, other 1.1%, none 7.1%, unspecified 0.1% (2012 estimate).
In Gibraltar, we are talking about 100% (2021) of the total population is living in cities, and most of them reside in the following municipalities: 35,000 Gibraltar (capital city) (2018).
Industry
Self-sufficient Gibraltar benefits from an extensive shipping trade, offshore banking, and its position as an international conference center. Tax rates are low to attract foreign investment. The British military presence has been sharply reduced and now contributes about 7% to the local economy, compared with 60% in 1984. In recent years, Gibraltar has seen a significant structural change from a public to a private sector economy. However, changes in government spending still have a significant impact on employment. The financial sector, tourism (over 11 million visitors in 2012), gaming revenues, shipping services fees, and duties on consumer goods also generate revenue. The financial sector, tourism, and shipping sector contribute 30%, 30%, and 25% of GDP. Telecommunications, e-commerce, and e-gaming account for the remaining 15%.
Gibraltar is rich in the following natural resources: None.
The main industrial sectors are tourism, banking, finance, ship repairing, tobacco.
The country's export sectors are particularly strong in cars, ships, refined petroleum, fish, recreational boats (2019), partnering with these nations: Poland 31%, Netherlands 27%, France 11%, Germany 8%, United States 6% (2019). The export trade resulted in $202.3 million. Note: Data are in current year dollars (2014 estimate). In a global rank of the export, values resulted in Gibraltar's position of 205.
The main agro-industrial products of Gibraltar are none.
The country typically needs to import: refined petroleum, recreational boats, cars, coal tar oil, crude petroleum (2019), partnering with the following nations: Spain 19%, U.S. 12%, India 12%, Italy 12%, Netherlands 11%, United Kingdom 7%, Greece 6% (2019) in a sum value of $2.967 billion (2004 estimate). This sum value on the global ranking list of imports resulted in Gibraltar 159.
Gibraltar Driving Directions

In this post, you learned about Gibraltar, Southwestern Europe, bordering the Strait of Gibraltar, which links the Mediterranean Sea and the North Atlantic Ocean on the southern coast of Spain. We published some basic information about its capital Gibraltar, and the Gibraltar nation.
Are you interested in visiting Gibraltar and looking for driving directions? Click here to plan your route, or see a printable road map of Gibraltar below for an overview of the route network.
Printable map of Gibraltar
Did you know about Gibraltar?
Gibraltar is a British Overseas Territory located on the southern part of the Iberian Peninsula. The territory also lies on the eastern side of the Strait of Gibraltar, which separates Spain's Mediterranean coast from Morocco. The Rock is one of Europe's most important strategic locations because it sits at the entrance to the Mediterranean Sea. British sovereignty over Gibraltar dates back to 1713 when Spain ceded it under the Treaty of Utrecht following Britain's victory in Spanish Succession.
After virtually visiting Gibraltar, you may also be interested in the neighboring country: Spain.
If you liked our Google map and Gibraltar information page,
please share it with others or save the link https://www.drivingdirections.net in your bookmarks.