Oman Google Maps is a site/tool that offers a wide range of map views (topographic, satellite, street view) and navigation options, with little effort on your part, yet efficiently. If you need to plan a trip to a new place like Oman, Google maps are available on desktop, mobile, or tablet. This Google maps and information page is dedicated to Oman, Middle East (19 countries), showing its location, country facts, details about its capital city Muscat, bordering countries like Saudi Arabia, UAE, Yemen, and plenty of other information which may be interesting when you visit this Middle Eastern state.
Quick links: Google maps Oman, Muscat Google maps, Driving Directions Oman, Printable Road Map.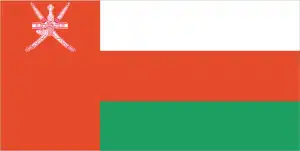 About Oman in a nutshell
Conventional short form of the name: Oman
The conventional long form of the name: Sultanate of Oman
Local long form: Saltanat Uman
Local short form: Uman
Former name(s): Sultanate of Muscat and Oman
Etymology: named by Portuguese explorer Ferdinand MAGELLAN during the Spanish circumnavigation of the world in 1521; encountering favorable winds upon reaching the ocean, he called it Mar Pacifico, which means peaceful sea in both Portuguese and Spanish.
The legal system in Oman: mixed legal system of Anglo-Saxon law and Islamic law.
Climate: Blistering heat in the west. Summer temperatures often climb above 113°F (45°C). Southern uplands receive rains in June– and September.
The national symbols are the khanjar dagger superimposed on two crossed swords; national colors: red, white, and green.
Internet TLD: .om
The exact territory of the Sultanate of Oman is still unknown: together with Saudi Arabia, it claims the "empty quarter" of the Rub al Khali desert, so the border is disputed along this stretch. The Musandam peninsula, extending into the Strait of Hormuz, can only be approached through the UAE. The tiny enclave of Madha, halfway between the peninsula and Oman, is entirely enclosed by the UAE. The Sultans of Oman once sailed their sailing ships all over the Indian Ocean, trading with the peoples of the East African coast, even dominating the island of Zanzibar and the port of Mombasa, and establishing trading posts on the Mozambique coast. They transported frankincense and myrrh to East Africa and spices, ivory, and mangrove wood to Arabia.
The surface of Oman is varied, with rocky and sandy beaches, salty Oman's land varies from sandy coasts to salt flats, desert oases, and mountain ranges rising to almost 3,000 m. Oman's four cultural world heritage sites span five millennia. The archaeological sites of Bat, Al Khutm, and Al-Avn are relics of settlements and burial sites from the 3rd millennium BC. The ancient aflaj irrigation system preserves a 200-year-old tradition. The oasis fortress of Bahla is a monument to the power of the Banu Nebham ethnic group, which ruled the area between the 12th and 15th centuries. Stops on the 'Incense Route': the incense trees of Dawkah Vadi, the caravan oases of Shisr and Wubar, and the ports of Khor Rori and Al-Balid, are testimony to the vital trade in incense in ancient and medieval times.
Until the late 1980s, Oman was closed to all but business or official visitors.
Background

The inhabitants of the area of Oman have long prospered from the Indian Ocean trade. In the late 18th century, the nascent sultanate in Muscat signed the first in a series of friendship treaties with Britain. Over time, Oman's dependence on British political and military advisors increased, although the Sultanate never became a British colony. In 1970, QABOOS bin Said Al-Said overthrew his father and had since ruled as sultan. Sultan QABOOS has no children and has not designated a successor publicly. The Basic Law of 1996 outlines Oman's succession procedure. Sultan QABOOS's extensive modernization program opened the country to the outside world, and the sultan has prioritized strategic ties with the UK and US.
Oman's moderate, independent foreign policy has sought to maintain good relations with its neighbors and avoid external entanglements. Inspired by the popular uprisings that swept the Middle East and North Africa beginning in January 2011, some Omanis staged demonstrations, calling for more jobs and economic benefits and ending corruption. In response to those protester demands, QABOOS 2011 pledged to implement economic and political reforms, such as granting Oman's bicameral legislative body more power and authorizing direct elections for its lower house in November 2011. Additionally, the Sultan increased unemployment benefits and, in August 2012, issued a royal directive mandating the speedy implementation of a national job creation plan for thousands of public and private sector Omani jobs. As part of the government's efforts to decentralize authority and allow greater citizen participation in local governance, Oman successfully conducted its first municipal council elections in December 2012. Announced by the sultan in 2011, the municipal councils have the power to advise the Royal Court on the needs of local districts across Oman's 11 governorates. Sultan QABOOS, Oman's longest-reigning monarch, died on 11 January 2020. His cousin, HAYTHAM bin Tariq bin Taimur Al-Said, former Minister of Heritage and Culture, was sworn in as Oman's new sultan the same day.
Geography

Mostly gravelly desert, with mountains in the north and south. Some narrow fertile coastal strips.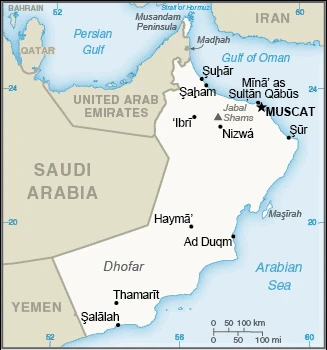 Oman occupies a strategic position on the Arabian Peninsula, at the entrance to the Persian Gulf. It is the least developed Gulf state, despite modest oil exports.
This state is located in the Middle East, bordering the Arabian Sea, Gulf of Oman, and the Persian Gulf, between Yemen and the UAE, under the coordinates of 21 00 N, 57 00 E, covering an area of 161.760 million sq km with a coastline of 2,092 km. Oman is Twice the size of Georgia.
Oman has 1,561 km of land boundaries and borders with (3 nations): Saudi Arabia, 658 km, UAE, 609 km, and Yemen, 294 km.
Central desert plain, rugged mountains in north and south, with Jabal shams 3,004 m as the highest point of Oman, while the Arabian Sea 0 m as the lowest point, causing a mean elevation at 310 m throughout the country. With a total of 161.760 million sq km, Oman has 309,500 sq km of land and 0 sq km of water surface area.
Consists of Oman proper and two northern exclaves, Musandam and Al Madhah; the former is a peninsula that occupies a strategic location adjacent to the Strait of Hormuz, a vital transit point for world crude oilThe climate in Oman is as follows: Desert, hot, humid along coast, hot, dry interior, strong southwest summer monsoon (May to September) in far south.
When you visit Oman, the natural hazards shall be considered: Summer winds often raise large sandstorms and dust storms in the interior; periodic droughts.
The following major health-threatening issues shall be considered when visiting Oman: none.
Current environmental issues affecting the Omani people: limited natural freshwater resources; high levels of soil and water salinity in the coastal plains; beach pollution from oil spills; industrial effluents are seeping into the water tables and aquifers; desertification due to high winds driving desert sand into arable lands.
Google maps Oman
The capital and other divisions
Capital city: Muscat found under the coordinates 23 37 N, 58 35 E, applying the time zone UTC+4 (9 hours ahead of Washington, DC, during Standard Time), using the following daylight saving time: none.
It is a modern city with a large population and many tourist attractions. In Muscat, you can find many restaurants and bars where people like to party late. It was founded in 1753 and is the birthplace of Oman's current Sultan Qaboos bin Said al Said.
Oman became independent in 1650 (expulsion of the Portuguese), and its national holiday is National Day, 18 November.
Administrative divisions: 11 governorates (muhafazat, singular – muhafaza); Ad Dakhiliyah, Al Buraymi, Al Wusta, Az Zahirah, Janub al Batinah (Al Batinah South), Janub ash Sharqiyah (Ash Sharqiyah South), Masqat (Muscat), Musandam, Shamal al Batinah (Al Batinah North), Shamal ash Sharqiyah (Ash Sharqiyah North), Zufar (Dhofar).
People and society

Urban drift has seen most Omanis move to northern towns. The majority are Ibadi Muslims who follow an appointed leader, the imam. Ibadism is not opposed to freedom for women, and a few women hold positions of authority. Baluchi from Pakistan is the largest group of foreign workers.
The population in Oman is 3,694,755 (July 2021 estimate). Note: immigrants make up approximately 46% of the total population (2019), with an average of 1.89% (2021 estimate) change. That means Oman is the No. 131 in the world's populated rank list. With an average of 26.2 years median age (27.2 years for males and 27.2 years for women), Oman ranks No. 155 on the globe's median age rank list.
The people living in this country are the Omani(s) (noun) or Omani (adjective) and belong mainly to the following ethnic groups: Arab, Baluchi, South Asian (Indian, Pakistani, Sri Lankan, Bangladeshi), and African.
They speak Arabic (official language), English, Baluchi, Swahili, Urdu, and Indian dialects languages and practice the following religions: Muslim 85.9%, Christian 6.5%, Hindu 5.5%, Buddhist 0.8%, Jewish <0.1%, other 1%, unaffiliated 0.2% (2010 estimate) note: Omani citizens represent approximately 56.4% of the population and are overwhelming Muslim (Ibadhi and Sunni sects each constitute about 45% and Shia about 5%); Christians, Hindus, and Buddhists account for roughly 5% of Omani citizens. We can conclude the following about the population in Oman: The vast majority of the population is located in and around the al Hagar mountains in the north of the country. Another smaller cluster is found around the city of Salalah in the far south. Most of the country remains sparsely populated. In Oman, we are talking about 87% (2021) of the total population living in cities, and most of them reside in the following municipalities: 1.590 million, Muscat (capital city) (2021).
Industry

Oil and natural gas account for almost all export revenue. Commercially extractable reserves are limited. Other exports include fish, animals, and dates. Foreigners working in all sectors.
Oman is heavily dependent on oil and gas resources, generating between 68% and 85% of government revenue, depending on fluctuations in commodity prices. In 2016, low global oil prices drove Oman's budget deficit to $13.8 billion, or approximately 20% of GDP. Still, the budget deficit is estimated to have reduced to 12% of GDP in 2017 as Oman reduced government subsidies. As of January 2018, Oman has sufficient foreign assets to support its currency's fixed exchange rates. It is issuing debt to cover its deficit. Oman is using enhanced oil recovery techniques to boost production. Still, it has pursued a development plan that focuses on diversification, industrialization, and privatization to reduce the oil sector's contribution to GDP. The critical components of the government's diversification strategy are tourism, shipping and logistics, mining, manufacturing, and aquaculture. Muscat has also focused on creating more Omani jobs to employ the rising number of nationals entering the workforce. However, high social welfare benefits – which had increased in the wake of the 2011 Arab Spring – have made it impossible for the government to balance its budget in light of current oil prices. In response, Omani officials imposed austerity measures on its gasoline and diesel subsidies in 2016. These spending cuts have had only a moderate effect on the government's budget, which is projected to face a deficit of $7.8 billion in 2018.
Oman is rich in the following natural resources: Petroleum, copper, asbestos, some marble, limestone, chromium, gypsum, and natural gas.
The main industrial sectors are crude oil production and refining, natural and liquefied natural gas production, construction, cement, copper, steel, chemicals, and optic fiber.
The country's export sectors are robust in crude petroleum, natural gas, refined petroleum, iron products, and fertilizers (2019), partnering with these nations: China 46%, India 8%, Japan 6%, South Korea 6%, United Arab Emirates 6%, Saudi Arabia 5% (2019). The export trade resulted in $43.69 billion. Note: Data are in current year dollars (2019 estimate). In a global rank of the export, values resulted in Oman's position of 59.
Land use in Oman: 0% (2018 estimate) forest, 95.3% (2018 estimate) other.
The arable land area is 0.1% (2018 estimate), and the agricultural land is 4.7% (2018 estimate). Land use for permanent crops 0.1% (2018 estimate), permanent pasture 4.5% (2018 estimate). The sum of the area of the irrigated land is 590 sq km (2012).
The main agro-industrial products of Oman are dates, tomatoes, vegetables, goat milk, milk, cucumbers, green chilies/peppers, watermelons, sorghum, and melons.
The country typically needs to import: cars, refined petroleum, broadcasting equipment, gold, and iron (2019), partnering with the following nations: the United Arab Emirates 36%, China 10%, Japan 7%, India 7%, United States 5% (2019) in a sum value of $32.55 billion. Note: data are in current year dollars (2019 estimate) $35.37 billion. Note: data are in current year dollars (2018 estimate). This sum value on the global ranking list of imports resulted in Oman 69.
Oman Driving Directions

In this post, you learned about Oman, the Middle East bordering the Arabian Sea, the Gulf of Oman, and the Persian Gulf, between Yemen and the UAE. We published some basic information about its capital Muscat, and the Omani nation.
Are you interested in visiting Oman and looking for driving directions? Click here to plan your route, or see a printable road map of Oman below for an overview of the route network.
Printable map of Oman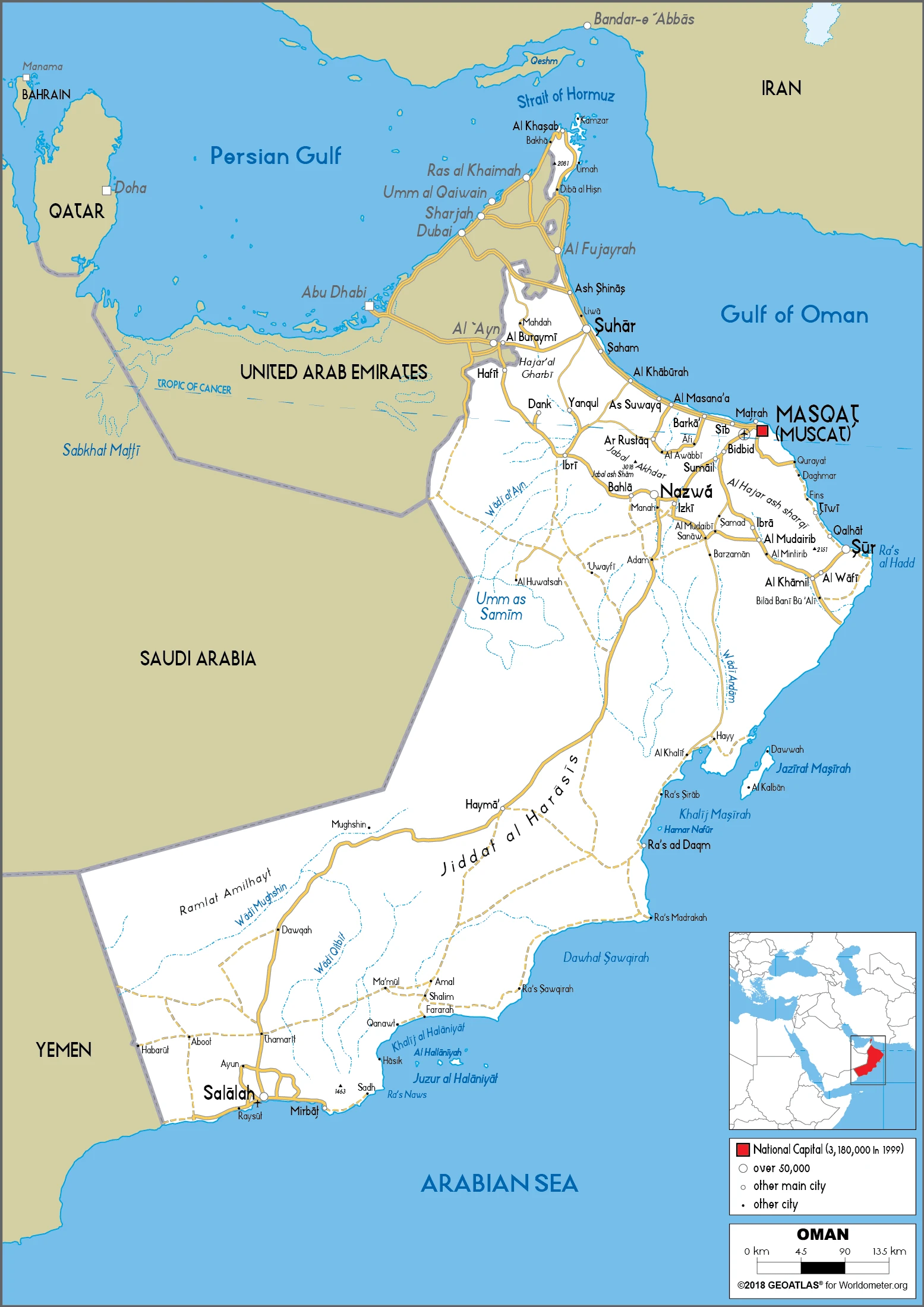 Did you know about Oman?
Oman has a population of just over 3,6 million people and an area of just over 97,000 square kilometers. It is one of the most sparsely populated countries in the world. Approximately 95% of Oman's population lives in the city of Muscat. Muscat is the capital and largest city in Oman. It is also the country's economic, political, and cultural center. The capital city is home to many significant institutions, including the Royal Oman Police Force and the Ministry of Defense.
The Sultanate of Oman is a small country in the Middle East that the Al Said dynasty has ruled for over 300 years. The country has a rich history and is known for its beautiful architecture and natural landscapes. Oman is also known for its natural resources, including oil, gas, and mineral deposits. The country is also home to the world's largest desert, Rub Al-Khali.
After virtually visiting Oman, you may also be interested in the neighboring countries: Saudi Arabia, UAE, and Yemen.
If you liked our Google map and Oman information page,
please share it with others or save the link https://www.drivingdirections.net in your bookmarks.