Uruguay Google Maps is a site/tool that offers a wide range of map views (topographic, satellite, street view) and navigation options, with little effort on your part, yet efficiently. If you need to plan a trip to a new place like Uruguay, Google maps are available on desktop, mobile, or tablet. This Google maps and information page is dedicated to Uruguay, South America (13 countries), showing its location, country facts, details about its capital city Montevideo, bordering countries like Argentina and Brazil, and plenty of other information which may be interesting when you visit this South American state.
Quick links: Google maps Uruguay, Montevideo Google maps, Driving Directions Uruguay, Printable Road Map.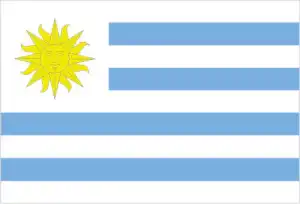 About Uruguay in a nutshell
Conventional short form of the name: Uruguay
The conventional long form of the name: Oriental Republic of Uruguay
Local long form: Republica Oriental del Uruguay
Local short form: Uruguay
Former name(s): Banda Oriental, Cisplatine Province
Etymology: name derives from the Spanish pronunciation of the Guarani Indian designation of the Uruguay River, which makes up the country's western border and whose name later came to be applied to the entire country.
The legal system in Uruguay: civil law system based on the Spanish civil code.
Climate: Temperate throughout the country. Warm summers, mild winters, and moderate rainfall.
The national symbols are the Sun of May (a sun-with-face symbol). The national colors are blue, white, and yellow.
Internet TLD: .uy
Surrounded by the Atlantic Ocean, the La Plata estuary, and the Uruguay River, the 'small' country is only small by South American standards. Five rivers, originating on the fringes of the Brazilian highlands, cut through the gentle hills of the cattle herding gaucho and flow into the eponymous border river. To the east are sand dunes: the internationally renowned temperate Atlantic coastline's most popular resorts. Almost one in two Uruguayans live in Montevideo, the capital on the north coast of La Plata. The mix of Spanish, Italian, and Art Nouveau buildings gives the cosmopolitan city a European feel. Yet it was not the capital, but Colonia South Sacramento, built on a promontory to the west of the capital on the La Plata estuary, that was the first European settlement in Uruguay. Founded by the Portuguese in 1680, it was only a century later that it fell into Spanish hands. The historic quarter of Colonia is still Uruguay's only world heritage site: its extremely well-preserved buildings bear the architectural traditions of Portuguese, Spanish, and post-colonial architecture.
Background

Montevideo, founded by the Spanish in 1726 as a military stronghold, soon took advantage of its natural harbor to become an important commercial center. Claimed by Argentina but annexed by Brazil in 1821, Uruguay declared its independence four years later and secured its freedom in 1828 after a three-year struggle. The administration of President Jose BATLLE in the early 20th century launched widespread political, social, and economic reforms that established a statist tradition. A violent Marxist urban guerrilla movement named the Tupamaros, launched in the late 1960s, led Uruguay's president to cede government control to the military in 1973. The rebels had been crushed by yearend, but the military continued to expand its hold on the government. Civilian rule was restored in 1985. In 2004, the left-of-center Frente Amplio Coalition won national elections that effectively ended 170 years of political control previously held by the Colorado and National (Blanco) parties. Uruguay's political and labor conditions are among the freest on the continent.
Geography

Low, rolling grasslands cover 80% of the country. Narrow coastal plain. Alluvial floodplain in the southwest. Five rivers flow westward and drain into the Uruguay River.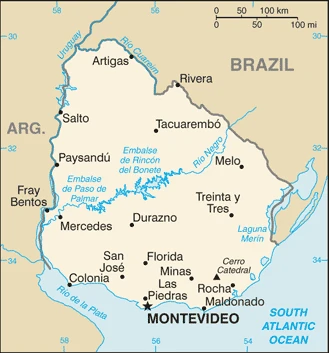 Situated in southeastern South America, Uruguay returned to civilian government in 1985 after 12 years of military rule. Most land is used for farming: Uruguay is a significant wool exporter.
This state is located in Southern South America, bordering the South Atlantic Ocean, between Argentina and Brazil, under the coordinates of 33 00 S, 56 00 W, covering an area of 176,215 sq km with a coastline of 660 km. Uruguay is About the size of Virginia and West Virginia combined, slightly smaller than the state of Washington.
Uruguay has 1,591 km of land boundaries and borders (2 nations): Argentina, 541 km, and Brazil, 1050 km.
Mostly rolling plains and low hills, fertile coastal lowland, with Cerro Catedral 514 m as the highest point of Uruguay, while Atlantic Ocean 0 m as the lowest point, causing a mean elevation at 109 m throughout the country. With a total of 176,215 sq km, Uruguay has 175,015 sq km of land and 1,200 sq km of water surface area.
Major water bodies in the country: Lagoa Mirim (shared with Brazil) – 2,970 sq km (saltwater lake), while the major rivers are: Rio de la Plata/Parana (shared with Brazil, Argentina, Paraguay, and Bolivia) – 4,880 km, Uruguay (shared with Brazil and Argentina) – 1,610 km.
Second-smallest South American country (after Suriname); most of the low-lying landscape (three-quarters of the country) is grassland, ideal for cattle and sheep raising.
The climate in Uruguay is as follows: Warm temperate, freezing temperatures almost unknown.
When you visit Uruguay, the natural hazards shall be considered: Seasonally high winds (the pampero is a chilly and occasional violent wind that blows north from the Argentine pampas), droughts, and floods because of the absence of mountains, which act as weather barriers, all locations are particularly vulnerable to rapid changes from weather fronts.
The following major health-threatening issues shall be considered when visiting Uruguay: none.
Current environmental issues affecting the Uruguayan people: water pollution from the meat packing/tannery industry, heavy metal pollution, inadequate solid/hazardous waste disposal, and deforestation.
Google maps Uruguay
The capital and other divisions
Capital city: Montevideo found under the coordinates 34 51 S, 56 10 W, applying the time zone UTC-3 (2 hours ahead of Washington, DC, during Standard Time), using the following daylight saving time: none.
Montevideo is the capital of Uruguay, a country located on the southeastern coast of South America. Montevideo is also known as being a very diverse city with a lot of different types of people, food, and culture. Montevideo has a temperate Mediterranean climate with cold winters and mild summers. It is said to be one of the greenest cities in South America due to its two massive parks covering more than 10% of the city's surface area and its wide range of tree species. With the rapid economic growth and development that has taken place in Uruguay recently, Montevideo is emerging as a business center for Latin America.
Uruguay became independent on 25 August 1825 (from Brazil), and its national holiday is Independence Day, 25 August (1825).
Administrative divisions: 19 departments (departamentos, singular – departamento); Artigas, Canelones, Cerro Largo, Colonia, Durazno, Flores, Florida, Lavalleja, Maldonado, Montevideo, Paysandu, Rio Negro, Rivera, Rocha, Salto, San Jose, Soriano, Tacuarembo, Treinta y Tres.
People and society

Uruguayans are largely second-or third-generation Italians or Spaniards. Wealth derived from cattle ranching enabled the country to establish the first welfare state in South America. Waves of emigration occurred during the economic decline of the 1960s, the period of military rule, and the 1999–-2002 economic crisis. Though a Roman Catholic country, Uruguay is liberal in its attitude to religion, and all forms are tolerated.
The population in Uruguay is 3,398,239 (July 2021 estimate), with an average of 0.26% (2021 estimate) change. That means Uruguay is the No. 132 in the world's populated rank list. With an average of 35.5 years (33.8 years for males and 33.8 years for women), Uruguay ranks No. 85 on the globe's median age rank list.
The people living in this country are the Uruguayan(s) (noun) or Uruguayan (adjective) and belong mainly to the following ethnic groups: White 87.7%, Black 4.6%, Indigenous 2.4%, other 0.3%, none or unspecified 5% (2011 estimate). Note: data represent primary ethnic identity.
They speak Spanish (the official language) and practice the following religions: Roman Catholic 47.1%, non-Catholic Christians 11.1%, nondenominational 23.2%, Jewish 0.3%, atheist or agnostic 17.2%, other 1.1% (2006 estimate).
We can conclude the following about the population in Uruguay: Most of the country's population resides in the southern half. Approximately 80% of the populace is urban, living in towns or cities. Nearly half of the population lives in and around the capital of Montevideo. In Uruguay, we are talking about 95.6% (2021) of the total population lives in cities, and most of them reside in the following municipalities: 1.760 million, Montevideo (capital city) (2021).
Industry

Exports wool, meat, hides, rice, wood, and soy. Well-educated workforce. Banking services. Mineral potential.
Uruguay has a free market economy characterized by an export-oriented agricultural sector, a well-educated workforce, and high levels of social spending. Uruguay has sought to expand trade within the Common Market of the South (Mercosur) and with non-Mercosur members. President VAZQUEZ has maintained his predecessor's mix of pro-market policies and a solid social safety net. Following financial difficulties in the late 1990s and early 2000s, Uruguay's economic growth averaged 8% annually from 2004 to 2008. The 2008-2009 global financial crisis broke Uruguay's vigorous growth, decelerating to 2.6% in 2009.
Nevertheless, the country avoided a recession and kept growth rates positive, mainly through higher public expenditure and investment; GDP growth reached 8.9% in 2010 but slowed markedly in the 2012-16 period as a result of a renewed slowdown in the global economy and Uruguay's main trade partners and Mercosur counterparts, Argentina and Brazil. Reforms in those countries should give Uruguay an economic boost. Growth picked up in 2017.
Uruguay is rich in natural resources: Arable land, hydropower, minor minerals, and fish.
The main industrial sectors are food processing, electrical machinery, transportation equipment, petroleum products, textiles, chemicals, and beverages.
The country's export sectors are robust in sulfate wood pulp, beef, soybeans, concentrated milk, and rice (2019), partnering with these nations: China 29%, Brazil 12%, the United States 5%, the Netherlands 5%, Argentina 5% (2019). The export trade resulted in $13.55 billion. Note: Data are in current year dollars (2020 estimate). In a global export rank, values resulted in Uruguay's position of 96.
Land use in Uruguay: 10.2% (2018 estimate) forest, 2.6% (2018 estimate) other.
The arable land area is 10.1% (2018 estimate), and the agricultural land is 87.2% (2018 estimate). Land use for permanent crops is 0.2% (2018 estimate), and permanent pasture is 76.9% (2018 estimate). The area of the irrigated land is 2,380 sq km (2012).
The main agro-industrial products of Uruguay are soybeans, milk, rice, maize, wheat, barley, beef, sugar cane, sorghum, and oranges.
The country typically needs to import: crude petroleum, packaged medicines, cars, broadcasting equipment, and delivery trucks (2019), partnering with the following nations: Brazil 25%, China 15%, the United States 11%, Argentina 11% (2019) in a sum value of $11.29 billion. Note: data are in current year dollars (2020 estimate) $13.31 billion. Note: data are in current year dollars (2019 estimate) $13.82 billion. Note: data are in current year dollars (2018 estimate). This sum value on the global list of imports resulted in Uruguay's 100.
Uruguay Driving Directions

In this post, you learned about Uruguay, Southern South America, bordering the South Atlantic Ocean, between Argentina and Brazil. We published some basic information about its capital Montevideo, and the Uruguayan nation.
Are you interested in visiting Uruguay and looking for driving directions? Click here to plan your route, or see a printable road map of Uruguay below for an overview of the route network.
Printable map of Uruguay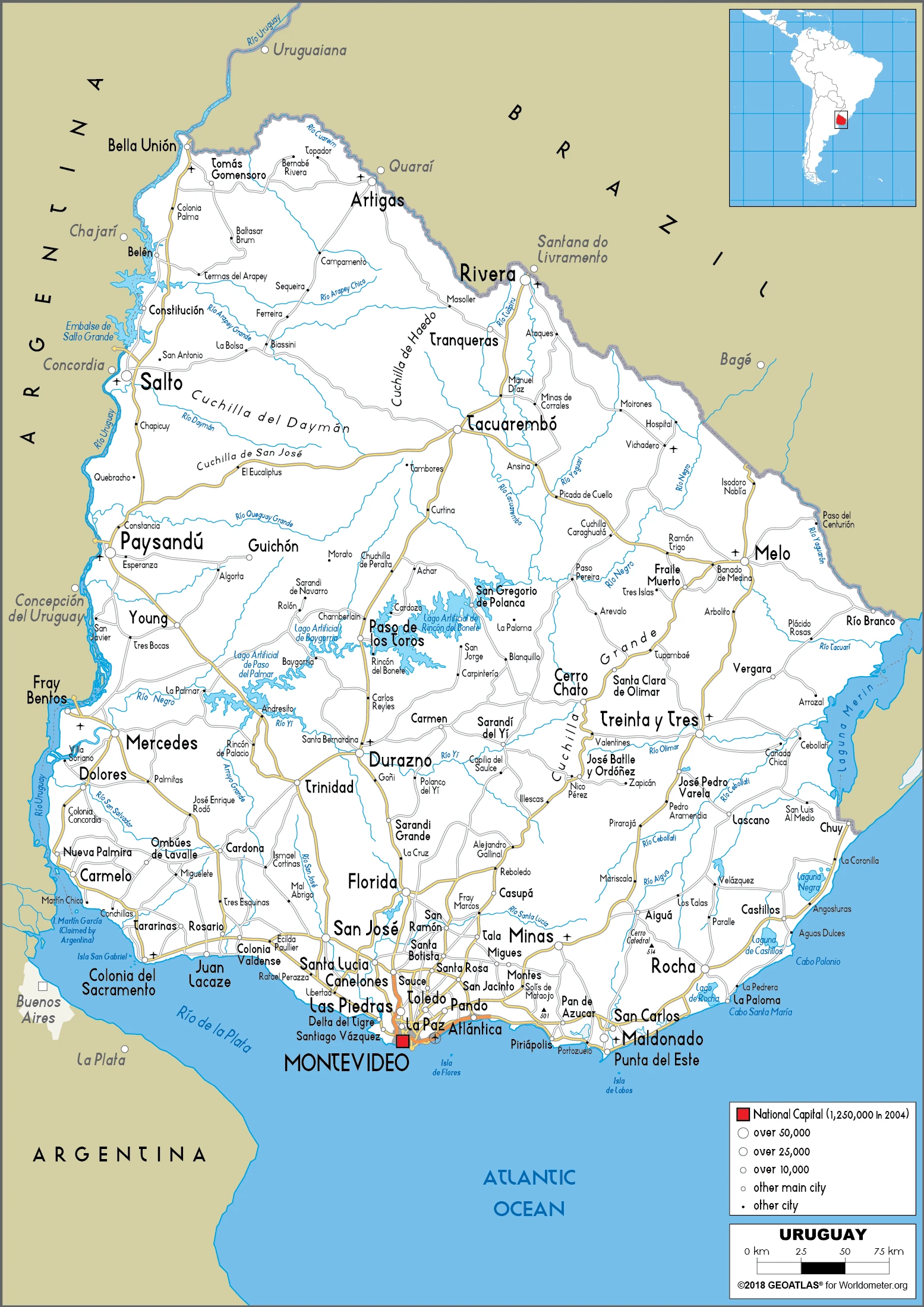 Did you know about Uruguay?
Did you know that Uruguay is a small South American country located between Argentina and Brazil? Despite its size, the country is known for its rich culture, stunning natural landscapes, and unique history. Uruguay was one of the first countries in the world to legalize marijuana and gay marriage, making it a progressive nation in terms of social policies. Montevideo, the capital city, is home to one of the largest ports in South America and serves as the country's cultural and economic hub. Uruguay is also known for its strong agricultural industry, producing a variety of crops, including soybeans, wheat, and corn. In terms of tourism, the country offers picturesque beaches, historic architecture, and vibrant nightlife. Whether you're interested in history, culture, or nature, Uruguay has something to offer everyone.
After virtually visiting Uruguay, you may also be interested in the neighboring countries: Argentina and Brazil.
If you liked our Google map and Uruguay information page,
please share it with others or save the link https://www.drivingdirections.net in your bookmarks.