Azerbaijan Google Maps is a site/tool that offers a wide range of map views (topographic, satellite, street view) and navigation options, with little effort on your part, yet efficiently. If you need to plan a trip to a new place like Azerbaijan, Google maps are available on desktop, mobile, or tablet. This Google maps and information page is dedicated to Azerbaijan, Asia (22 countries), showing its location, country facts, details about its capital city Baku (Baki, Baky), bordering countries like Armenia, Georgia, Iran, Russia, Turkey, and plenty of other information which may be interesting when you visit this Asian state.
Quick links: Google maps Azerbaijan, Baku (Baki, Baky) Google maps, Driving Directions Azerbaijan, Printable Road Map.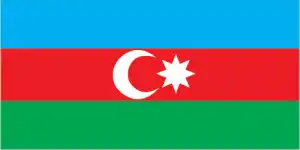 About Azerbaijan in a nutshell
The fire-worshipping Zoroastrian faith originated in Azerbaijan in the 6th century BCE.
Conventional short form of the name: Azerbaijan
The conventional long form of the name: Republic of Azerbaijan
Local long form: Azarbaycan Respublikasi
Local short form: Azarbaycan
Former name(s): Azerbaijan Soviet Socialist Republic
Etymology: the name translates as Land of Fire and refers to naturally occurring surface fires on ancient oil pools or from natural gas discharges.
The legal system in Azerbaijan: civil law system.
Climate: Low rainfall. Continental, with bitter winters, inland. Subtropical in coastal regions.
The national symbols are flames of fire; national colors: blue, red, green.
Internet TLD: .az
Primarily Muslim, Azerbaijan straddles the southeastern flanks of the Caucasus and the broad valley of the Kura River, which flows into the Caspian Sea. From 1200 BC, the region was populated by Indo-European peoples, ruled by Greeks and Romans, and then invaded by Mongol, Turkish and Persian conquerors. During World War I, the Turks displaced 1.75 million Armenians. However, the transfer of Nagorno-Karabakh and Nakhichevan, predominantly inhabited by Armenians, to Azerbaijan later became a source of further conflict. Azerbaijan's two World Heritage Sites are the medieval fortress city of Baku, which preserves the culture of almost all the region's conquerors for almost a millennium, and the 40,000-year-old rock paintings of Gobustan.
Background

Azerbaijan – a secular nation with a majority-Turkic and majority-Shia Muslim population – was briefly independent (from 1918 to 1920) following the collapse of the Russian Empire. It was subsequently incorporated into the Soviet Union for seven decades. Azerbaijan remains involved in the protracted Nagorno-Karabakh conflict with Armenia. Nagorno-Karabakh was a primarily ethnic Armenian region that Moscow recognized in 1923 as an autonomous oblast within Soviet Azerbaijan. In the late Soviet period, a separatist movement developed to end Azerbaijani control over the region. Fighting over Nagorno-Karabakh began in 1988 and escalated after Armenia and Azerbaijan attained independence from the Soviet Union in 1991.
By the time a ceasefire took effect in May 1994, separatists, with Armenian support, controlled Nagorno Karabakh and seven surrounding Azerbaijani territories. Following a Second Nagorno-Karabakh War in September-November 2020, Azerbaijan recaptured much of its lost territory a quarter-century earlier. Under a ceasefire agreement, Armenia returned the remaining territories to Azerbaijan. After 25 years following its independence, Azerbaijan significantly reduced the poverty rate and directed revenues from its oil and gas production to develop its infrastructure. However, corruption remains a problem, and the government has been accused of authoritarianism.
The country's leadership has remained in the Aliyev family since Heydar ALIYEV became president in 1993 and was succeeded by his son, President Ilham ALIYEV, in 2003. Following two national referendums in the past several years that eliminated presidential term limits and extended presidential terms from 5 to 7 years, President ALIYEV secured a fourth term as president in April 2018 in an election that international observers noted had severe shortcomings. Reforms are underway to diversify the country's non-oil economy. Additional reforms are needed to address weaknesses in government institutions, particularly in the education and health sectors and the court system.
Geography

The Caucasus Mountains in the west, including Naxçivan exclave south of Armenia. Flat, low-lying terrain on the coast of the Caspian Sea.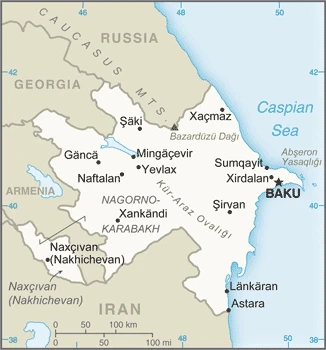 Situated on the western coast of the Caspian Sea, it was the first Soviet republic to declare independence in 1991. Territorial disputes with Armenia have dominated politics since.
This state is located in Southwestern Asia, bordering the Caspian Sea, between Iran and Russia, with a small European portion north of the Caucasus range, under the coordinates of 40 30 N, 47 30 E, covering an area of 86,600 sq km with a coastline of 0 km (landlocked country). Azerbaijan is About three-quarters the size of Pennsylvania, slightly smaller than Maine.
Azerbaijan has 2,468 km of land boundaries in total and borders with (5 nations): Armenia 996 km, Georgia 428 km, Iran 689 km, Russia 338 km, Turkey 17 km.
Large, flat Kur-Araz Ovaligi (Kura-Araks Lowland, much of it below sea level) with Great Caucasus mountains to the north, Qarabag Yaylasi (Karabakh Upland) to the west, Baku lies on Abseron Yasaqligi (Apsheron Peninsula) that juts into the Caspian Sea, with Bazarduzu Dagi 4,466 m as the highest point of Azerbaijan, while the Caspian Sea -28 m as the lowest point, causing a mean elevation at 384 m throughout the country. With a total of 86,600 sq km, Azerbaijan has 82,629 sq km of land and 3,971 sq km water surface area.
Major water bodies in the country: Dongting Hu – 3,100 sq km; Poyang Hu – 3,350 sq km; Hongze Hu – 2,700 sq km; Tai Hu – 2,210 sq km; Hulun Nur – 1,590 (freshwater lake), Quinghai Hu – 4,460 sq km; Nam Co – 2,500 sq km; Siling Co – 1,860 sq km; Tangra Yumco – 1,400 sq km; Bosten Hu 1,380 sq km (saltwater lake) while the major rivers are: none.
Both the central area of the country and the Naxcivan exclave are landlocked.
The climate in Azerbaijan is as follows: Dry, semiarid steppe.
When you visit Azerbaijan, the natural hazards shall be considered: Droughts.
The following major health-threatening issues shall be considered when visiting Azerbaijan: none.
Current environmental issues affecting the Azerbaijani people: local scientists consider the Abseron Yasaqligi (Apsheron Peninsula) (including Baku and Sumqayit) and the Caspian Sea to be the ecologically most devastated area in the world because of severe air, soil, and water pollution; soil pollution results from oil spills, from the use of DDT pesticide, and toxic defoliants used in the production of cotton; surface and underground water are polluted by untreated municipal and industrial wastewater and agricultural run-off.
Google maps Azerbaijan
The capital and other divisions
Capital city: Baku (Baki, Baky) found under the coordinates 40 23 N, 49 52 E, applying the time zone UTC+4 (9 hours ahead of Washington, DC, during Standard Time), using the following daylight saving time: does not observe daylight savings time.
For thousands of years, the city of Baku was best known for its history and the story of its people. It's home to the old city, where the Fire Temple is located. Its many cultural monuments are not just a rare sight but a must-see. Nowadays, it's also known as the financial capital of Azerbaijan.
Azerbaijan became independent on 30 August 1991 (declared from the Soviet Union); 18 October 1991 (adopted by the Supreme Council of Azerbaijan), and its national holiday is Republic Day (founding of the Democratic Republic of Azerbaijan), 28 May (1918).
Administrative divisions: 66 districts (rayonlar; rayon – singular), 11 cities (saharlar; sahar – singular); rayons: Abseron, Agcabadi, Agdam, Agdas, Agstafa, Agsu, Astara, Babak, Balakan, Barda, Beylaqan, Bilasuvar, Cabrayil, Calilabad, Culfa, Daskasan, Fuzuli, Gadabay, Goranboy, Goycay, Goygol, Haciqabul, Imisli, Ismayilli, Kalbacar, Kangarli, Kurdamir, Lacin, Lankaran, Lerik, Masalli, Neftcala, Oguz, Ordubad, Qabala, Qax, Qazax, Qobustan, Quba, Qubadli, Qusar, Saatli, Sabirabad, Sabran, Sadarak, Sahbuz, Saki, Salyan, Samaxi, Samkir, Samux, Sarur, Siyazan, Susa, Tartar, Tovuz, Ucar, Xacmaz, Xizi, Xocali, Xocavand, Yardimli, Yevlax, Zangilan, Zaqatala, Zardab cities: Baku, Ganca, Lankaran, Mingacevir, Naftalan, Naxcivan (Nakhichevan), Saki, Sirvan, Sumqayit, Xankandi, Yevlax.
People and society

Azeris, a Muslim people with ethnic links to Turks, form a large majority. Thousands of Armenians, Russians, and Jews have left since independence. The influx of half a million Azeri refugees fleeing war with Armenia over the disputed enclave of Nagorno Karabakh. Armenians there operate with de facto independence. The status of women deteriorated after the fall of communism, but they are slowly regaining their position.
The population in Azerbaijan is 10,282,283 (July 2021 estimate), with an average of 0.71% (2021 estimate) change. That means Azerbaijan is the No. 89 in the world's populated rank list. With an average of 32.6 years median age (31.1 years for males and 31.1 years for women), Azerbaijan ranks No. 108 on the globe's median age rank list.
The people living in this country are the Azerbaijani(s) (noun) or Azerbaijani (adjective) and belong mainly to the following ethnic groups: Azerbaijani 91.6%, Lezghin 2%, Russian 1.3%, Armenian 1.3%, Talysh 1.3%, other 2.4% (2009 estimate). Note: the separatist Nagorno-Karabakh region is populated almost entirely by ethnic Armenians.
They speak Azerbaijani (Azeri) (official language) 92.5%, Russian 1.4%, Armenian 1.4%, other 4.7% (2009 estimate)major-language sample(s): Russian is a widely spoken language and practice the following religions: Muslim 97.3% (predominantly Shia), Christian 2.6%, other <0.1, unaffiliated <0.1 (2020 estimate). Note: religious affiliation for most Azerbaijanis is nominal mainly; percentages for actual practicing adherents are probably much lower. We can conclude the following about the population in Azerbaijan: Highest population density is found in the far eastern area of the county, in and around Baku. Apart from smaller urbanized areas, the rest of the country has a relatively light and evenly distributed population. In Azerbaijan, we are talking about 56.8% (2021) of the total population is living in cities, and most of them reside in the following municipalities: 2.371 million, Baku (capital city) (2021).
Industry

Oil and natural gas exports drive economic growth. Pipeline to Ceyhan, Turkey, has opened up the European market. Severe pollution in Baku.
Before the decline in global oil prices since 2014, Azerbaijan's high economic growth was attributable to rising energy exports and some non-export sectors. Oil exports through the Baku-Tbilisi-Ceyhan Pipeline, the Baku-Novorossiysk, and the Baku-Supsa Pipelines remain the main economic driver, but efforts to boost Azerbaijan's gas production are underway. The expected completion of the geopolitically important Southern Gas Corridor (SGC) between Azerbaijan and Europe will open up another source of revenue from gas exports. First gas to Turkey through the SGC is expected in 2018, with project completion expected by 2020-21., Declining oil prices caused a 3.1% contraction in GDP in 2016 and a 0.8% decline in 2017, highlighted by a sharp reduction in the construction sector.
The economic decline was accompanied by higher inflation, a weakened banking sector, and two sharp currency devaluations in 2015. Azerbaijan's financial sector continued to struggle. In May 2017, Baku allowed the majority state-owned International Bank of Azerbaijan (IBA), the nations largest bank, to default on some of its outstanding debt and filed for restructuring in Azerbaijani courts; IBA also filed in US and UK bankruptcy courts to have its restructuring recognized in their respective jurisdictions.
Azerbaijan has made limited progress with market-based economic reforms. Pervasive public and private sector corruption and structural economic inefficiencies drag long-term growth, particularly non-energy sectors. However, the government has tried to combat corruption, particularly in customs and government services. Several other obstacles impede Azerbaijan's economic progress, including the need for more foreign investment in the non-energy sector and the continuing conflict with Armenia over the Nagorno-Karabakh region. While trade with Russia and the other former Soviet republics remains important, Azerbaijan has expanded trade with Turkey and Europe. It seeks new markets for non-oil/gas exports – mainly in the agricultural sector – with Gulf Cooperation Council member countries, the US, and others.
It is also improving Baku airport and the Caspian Sea port of Alat for use as a regional transportation and logistics hub., Long-term prospects depend on world oil prices, Azerbaijan's ability to develop export routes for its growing gas production, and its ability to improve the business environment and diversify the economy. In late 2016, the president approved a strategic roadmap for economic reforms that identified vital non-energy segments for development, such as agriculture, logistics, information technology, and tourism. In October 2017, the long-awaited Baku-Tbilisi-Kars railway, stretching from the Azerbaijani capital to Kars in north-eastern Turkey, began limited service.
Azerbaijan is rich in the following natural resources: Petroleum, natural gas, iron ore, nonferrous metals, bauxite.
The main industrial sectors are typically petroleum and petroleum products, natural gas, oilfield equipment; steel, iron ore; cement; chemicals and petrochemicals; textiles.
The country's export sectors are particularly strong in crude petroleum, natural gas, refined petroleum, tomatoes, gold (2019), partnering with these nations: Italy 28%, Turkey 15%, Israel 7%, Germany 5%, India 5% (2017). The export trade resulted in $15.21 billion. Note: Data are in current year dollars (2020 estimate). In a global rank of the export, values resulted in Azerbaijan's position of 91.
Land use in Azerbaijan: 11.3% (2018 estimate) forest, 31.1% (2018 estimate) other.
The arable land area is 22.8% (2018 estimate), and the agricultural land is 57.6% (2018 estimate). Land use for permanent crops 2.7% (2018 estimate), permanent pasture 32.1% (2018 estimate). The sum of the area of the irrigated land is 14,277 sq km (2012).
The main agro-industrial products of Azerbaijan are milk, wheat, potatoes, barley, tomatoes, watermelons, cotton, apples, maize, onions.
The country typically needs to import: gold, cars, refined petroleum, wheat, packaged medical supplies (2019), partnering with the following nations: the United Kingdom 17%, Russia 17%, Turkey 12%, China 6% (2019) in a sum value of $15.54 billion. Note: data are in current year dollars (2020 estimate) $17.71 billion. Note: data are in current year dollars (2019 estimate) $17.71 billion. Note: data are in current year dollars (2018 estimate). This sum value on the global ranking list of imports resulted in Azerbaijan 95.
Azerbaijan Driving Directions

In this post, you learned about Azerbaijan, Southwestern Asia, bordering the Caspian Sea, between Iran and Russia, with a small European portion north of the Caucasus range. We published some basic information about its capital, Baku (Baki, Baky), and the Azerbaijani nation.
Are you interested in visiting Azerbaijan and looking for driving directions? Click here to plan your route, or see a printable road map of Azerbaijan below for an overview of the route network.
Printable map of Azerbaijan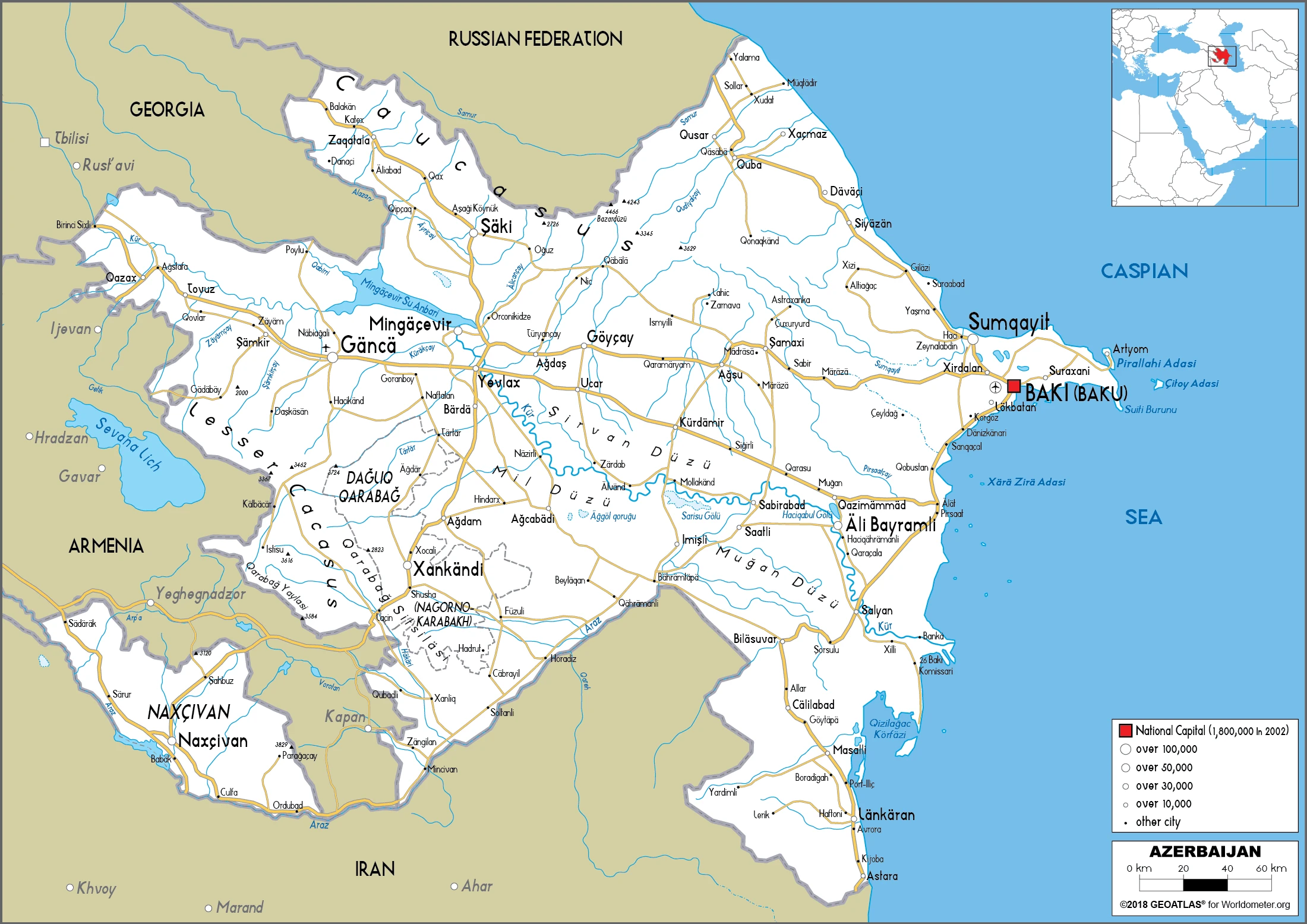 Did you know about Azerbaijan?
You are not the only one who doesn't know about Azerbaijan. It is a country in the Caucasus region of Eurasia. It's sandwiched between Russia and Iran but is most known for its oil production.
Azerbaijan is often overlooked in travel, but it has plenty to offer. Known for its cultural heritage and rich history, this country has something for everyone. Azerbaijan offers one of the most exciting landscapes in the world.
After virtually visiting Azerbaijan, you may also be interested in the neighboring countries: Armenia, Georgia, Iran, Russia, Turkey.
If you liked our Google map and Azerbaijan information page,
please share it with others or save the link https://www.drivingdirections.net in your bookmarks.