Burkina Faso Google Maps is a site/tool that offers a wide range of map views (topographic, satellite, street view) and navigation options, with little effort on your part, yet efficiently. If you need to plan a trip to a new place like Burkina Faso, Google maps are available on desktop, mobile, or tablet. This Google maps and information page is dedicated to Burkina Faso, Africa (54 countries), showing its location, country facts, details about its capital city Ouagadougou, bordering countries like Benin, Côte d'Ivoire, Ghana, Mali, Niger, Togo, and plenty of other information which may be interesting when you visit this African state.
Quick links: Google maps Burkina Faso, Ouagadougou Google maps, Driving Directions Burkina Faso, Printable Road Map.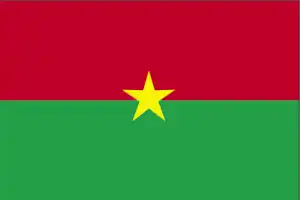 About Burkina Faso in a nutshell
Droughts and poor soils mean that many Burkinabés seek work southward in Ghana and Côte d'Ivoire.
Conventional short form of the name: Burkina Faso
The conventional long form of the name: none
Local long form: none
Local short form: Burkina Faso
Former name(s): Upper Volta, Republic of Upper Volta
Etymology: name translates as Land of the Honest (Incorruptible) Men.
The legal system in Burkina Faso: civil law based on the French model and customary law; in mid-2019, the National Assembly amended the penal code.
Climate: Tropical. Dry, cool weather November–February. Erratic rain March–April, mostly in southeast.
The national symbols are white stallion; national colors: red, yellow, green.
Internet TLD: .bf
Background

Many of Burkina Faso's ethnic groups arrived between the 12th and 15th centuries. The Gurma and Mossi peoples established several of the largest kingdoms in the area and used horse-mounted warriors in military campaigns. Of the various Mossi kingdoms, the most powerful were Ouagadougou and Yatenga. In the late 19th century, European states competed to control the region. France eventually conquered the area and established it as a French protectorate.
The area achieved independence from France in 1960 and changed its name to Burkina Faso in 1984. Repeated military coups were common in the country's first few decades. The last successful coup occurred in 1987 when Blaise COMPAORE deposed the former president, established a government, and ruled for 27 years. In October 2014, COMPAORE resigned following protests against his repeated efforts to amend the constitution's two-term presidential limit. An interim administration led a year-long transition period organizing presidential and legislative elections. In November 2015, Roch Marc Christian KABORE was elected president. He was reelected in November 2020.
Terrorist groups – including groups affiliated with Al-Qaida and the Islamic State – began attacks in the country in 2016 and conducted attacks in the capital in 2016, 2017, and 2018. By late 2020, terrorist attacks had resulted in approximately 4,000 deaths and over 1 million internally displaced persons. In addition to terrorism, the country faces many problems, including high population growth, recurring drought, pervasive and perennial food insecurity, and limited natural resources. It is one of the world's poorest countries.
Geography

The Sahara covers the north of the country. The south is primarily savanna. The three main rivers are the Black, White, and Red Voltas.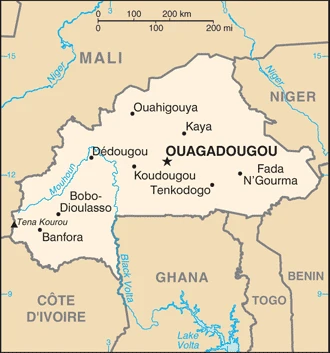 The West African state of Burkina Faso was known as Upper Volta until 1984. It became a multiparty state in 1991, though former military ruler Blaise Compaoré remains in power.
This state is located in Western Africa, north of Ghana, under the coordinates of 13 00 N, 2 00 W, covering an area of 274,200 sq km with a coastline of 0 km (landlocked country). Burkina Faso is slightly larger than Colorado.
Burkina Faso has 3,611 km of land boundaries in total, bordering with (6 nations): Benin 386 km, Côte d'Ivoire 545 km, Ghana 602 km, Mali 1325 km, Niger 622 km, Togo 131 km.
Mostly flat to dissected, undulating plains, hills in the west and southeast. Occupies an extensive plateau with savanna that is grassy in the north and gradually gives way to sparse forests in the south. (2019), with Tena Kourou 749 m as the highest point of Burkina Faso, while Mouhoun (Black Volta) River 200 m as the lowest point, causing a mean elevation at 297 m throughout the country. With a total of 274,200 sq km, Burkina Faso has 273,800 sq km of land and 400 sq km water surface area.
The principal river is the Volta river source (shared with Ghana m) – 1,600 km. The significant watersheds for Burkina Faso are Atlantic Ocean drainage: Niger (2,261,741 sq km) Volta (410,991 sq km).
landlocked savanna cut by the three principal rivers of the Black, Red, and White Voltas
The climate in Burkina Faso is as follows: Three climate zones, including a hot tropical savanna with a short rainy season in the southern half, a tropical hot semi-arid steppe climate typical of the Sahel region in the northern half, and a small area of hot desert in the very north of the country bordering the Sahara desert.
When you visit Burkina Faso, the natural hazards are recurring droughts.
The following major health-threatening issues shall be considered when visiting Burkina Faso: degree of risk: very high (2020), bacterial and protozoal diarrhea, hepatitis A, typhoid fever, dengue fever, malaria, schistosomiasis, rabies, meningococcal meningitis.
Current environmental issues affecting the Burkinabe people: recent droughts and desertification severely affecting agricultural activities, population distribution, and the economy; overgrazing; soil degradation; deforestation (2019).
Google maps Burkina Faso
The capital and other divisions
Capital city: Ouagadougou found under the coordinates 12 22 N, 1 31 W, applying the time zone UTC 0 (5 hours ahead of Washington, DC, during Standard Time), using the following daylight saving time: none.
Ouagadougou is a city in the west of Burkina Faso. The capital of Burkina Faso, Ouagadougou, is also the largest city in the country. A majority of residents are Muslims.
Burkina Faso became independent on 5 August 1960 (from France), and its national holiday is Republic Day, 11 December (1958);.
Administrative divisions: 13 regions; Boucle du Mouhoun, Cascades, Centre, Centre-Est, Centre-Nord, Centre-Ouest, Centre-Sud, Est, Hauts-Bassins, Nord, Plateau-Central, Sahel, Sud-Ouest.
People and society

No single ethnic group is dominant, but the Mossi, from around Ouagadougou, has always played an essential part in government. The people from the west are much more ethnically mixed. Extreme poverty has led to a strong sense of egalitarianism. Most women are still denied access to education, though their absence from public life belies their absolute power and social influence.
The population in Burkina Faso is 21,382,659 (July 2021 estimate). Note: estimates for this country explicitly take into account the effects of excess mortality due to AIDS; this can result in lower life expectancy, higher infant mortality, higher death rates, lower population growth rates, and changes in the distribution of the population by age and sex than would otherwise be expected, with an average of 2.58% (2021 estimate) change. That means Burkina Faso is the No. 59 in the world's populated rank list. With an average of 17.9 years median age (17 years for males and 17 years for women), Burkina Faso ranks No. 216 on the globe's median age rank list.
The people living in this country are the Burkinabe (also singular and plural) (noun) or Burkinabe (adjective) and belong mainly to the following ethnic groups: Mossi 52%, Fulani 8.4%, Gurma 7%, Bobo 4.9%, Gurunsi 4.6%, Senufo 4.5%, Bissa 3.7%, Lobi 2.4%, Dagara 2.4%, Tuareg/Bella 1.9%, Dioula 0.8%, unspecified/no answer 0.3%, other 7.2% (2010 estimate).
They speak French (official language), native African languages belonging to Sudanic family spoken by 90% of the population languages and practice the following religions: Muslim 63.2%, Roman Catholic 24.6%, Protestant 6.9%, traditional/animist 4.2%, none 0.7%, unspecified 0.4% (2017-18 estimate).
We can conclude the following about the population in Burkina Faso: Most of the population is located in the center and south. Nearly one-third of the population lives in cities. The capital and largest city are Ouagadougou (Ouaga), with a population of 1.8 Million, as shown in this population distribution map (2019). In Burkina Faso, we are talking about 31.2% (2021) of the total population is living in cities, and most of them reside in the following municipalities: 2.915 million, Ouagadougou (capital city), 1.020 million, Bobo-Dioulasso (2021).
Industry

Cotton is the major cash crop, but the encroaching Sahara Desert restricts agriculture. The beneficiary of foreign debt cancellation plans.
Burkina Faso is a poor, landlocked country that depends on adequate rainfall. Irregular rainfall patterns, poor soil, inadequate communications, and other infrastructure contribute to the economy's vulnerability to external shocks. About 80% of the population is engaged in subsistence farming, and cotton is the main cash crop.
The country has few natural resources and a weak industrial base. Cotton and gold are Burkina Faso's key exports – gold has accounted for about three-quarters of the country's total export revenues. Burkina Faso's economic growth and revenue depend mainly on production levels and global prices for the two commodities. The country has seen an upswing in gold exploration, production, and exports. In 2016, the government adopted a new development strategy, outlined in the 2016-2020 National Plan for Economic and Social Development, that aims to reduce poverty, build human capital, and satisfy basic needs. A new three-year IMF program (2018-2020), approved in 2018, will allow the government to reduce the budget deficit and preserve critical spending on social services and priority public investments.
While the end of the political crisis has allowed Burkina Faso's economy to resume positive growth, the country's fragile security situation could put these gains at risk. Mali's political insecurity, unreliable energy supplies, and poor transportation links pose long-term challenges.
Burkina Faso is rich in natural resources: Gold, manganese, zinc, limestone, marble, phosphates, pumice, salt.
The main industrial sectors are cotton lint, beverages, agricultural processing, soap, cigarettes, textiles, gold.
The country's export sectors are particularly strong in gold, cotton, zinc, cashews, sesame seeds (2019), partnering with these nations: Switzerland 59%, India 21% (2019). The export trade resulted in $4.47 billion. Note: Data are in current year dollars (2019 estimate). In a global rank of the export, values resulted in Burkina Faso's position of 128.
Land use in Burkina Faso: 19.3% (2018 estimate) forest, 36.5% (2018 estimate) other.
The arable land area is 22% (2018 estimate), and the agricultural land is 44.2% (2018 estimate). Land use for permanent crops 37% (2018 estimate), permanent pasture 21.93% (2018 estimate). The sum of the area of the irrigated land is 550 sq km (2016).
The main agro-industrial products of Burkina Faso are sorghum, maize, millet, cotton, cowpeas, sugar cane, groundnuts, rice, sesame seed, vegetables.
The country typically needs to import: refined petroleum, delivery trucks, packaged medicines, electricity, aircraft (2019), partnering with the following nations: Côte d'Ivoire 15%, China 9%, Ghana 8%, France 8%, India 6%, United States 5% (2019) in a sum value of $5.02 billion. Note: data are in current year dollars (2019 estimate) $5.17 billion. Note: data are in current year dollars (2018 estimate) $5.3 billion (2017 estimate). This sum value on the global ranking list of imports resulted in Burkina Faso 137.
Burkina Faso Driving Directions

In this post, you learned about Burkina Faso, Western Africa, north of Ghana. We published some basic information about its capital Ouagadougou, and the Burkinabe nation.
Are you interested in visiting Burkina Faso and looking for driving directions? Click here to plan your route, or see a printable road map of Burkina Faso below for an overview of the route network.
Printable map of Burkina Faso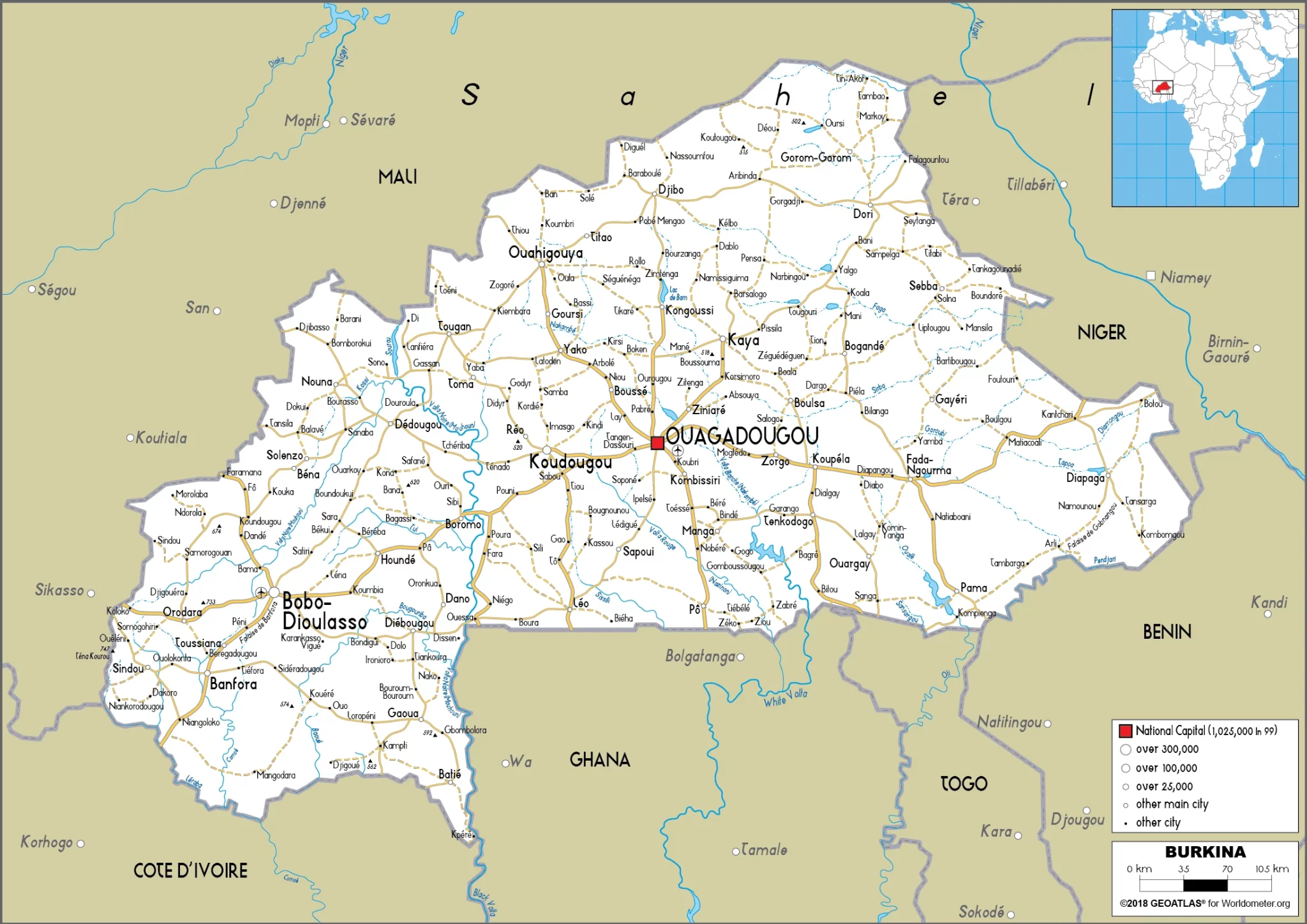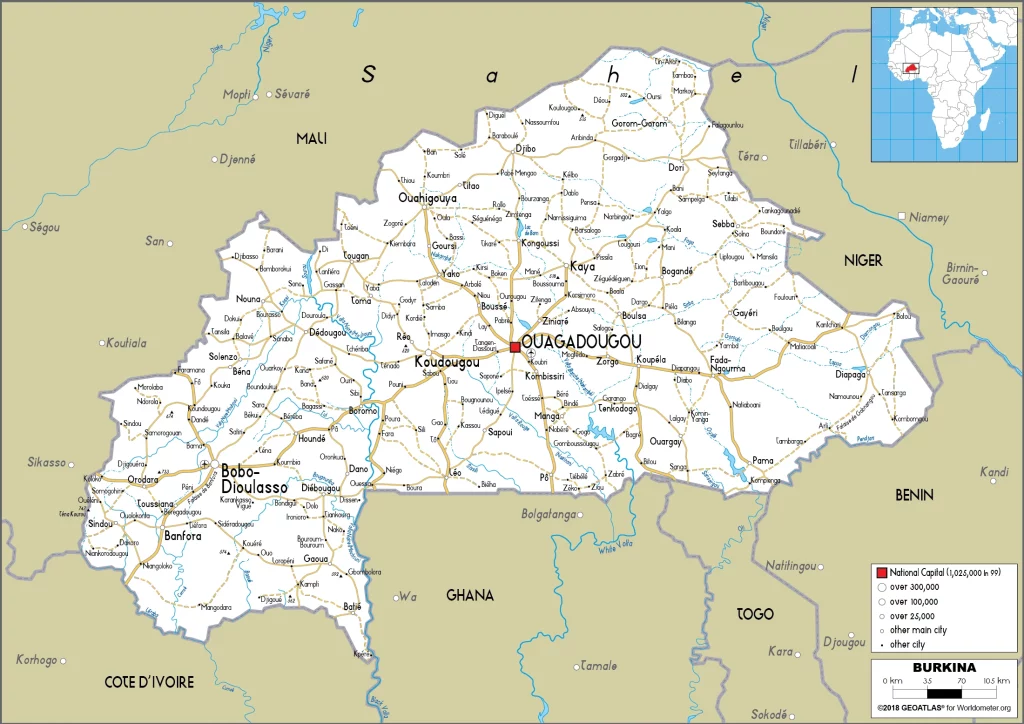 Did you know about Burkina Faso?
Burkina Faso is one of the poorest countries in the world, with a GDP per capita of less than USD 800. This nation has been plagued by political insecurity and poverty. Lately, there has been a lot of progress made under President Blaise Compaoré. He was recognized for promoting gender equality, combating HIV, AIDS, and malaria, and implementing more democratic reforms. It has one of the lowest human development indices globally, ranking 184th out of 188 countries.
After virtually visiting Burkina Faso, you may also be interested in the neighboring countries: Benin, Côte d'Ivoire, Ghana, Mali, Niger, Togo.
If you liked our Google map and Burkina Faso information page,
please share it with others or save the link https://www.drivingdirections.net in your bookmarks.