Gabon Google Maps is a site/tool that offers a wide range of map views (topographic, satellite, street view) and navigation options, with little effort on your part, yet efficiently. If you need to plan a trip to a new place like Gabon, Google maps are available on desktop, mobile, or tablet. This Google maps and information page is dedicated to Gabon, Africa (54 countries), showing its location, country facts, details about its capital city Libreville, bordering countries like Cameroon, Republic of the Congo, Equatorial Guinea, and plenty of other information which may be interesting when you visit this African state.
Quick links: Google maps Gabon, Libreville Google maps, Driving Directions Gabon, Printable Road Map.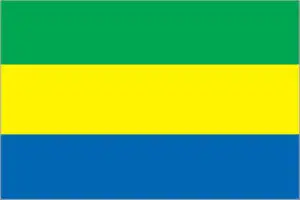 About Gabon in a nutshell
Libreville was founded as a settlement for freed French slaves in 1849.
Conventional short form of the name: Gabon
The conventional long form of the name: Gabonese Republic
Local long form: Republique Gabonaise
Local short form: Gabon
Former name(s): N/A
Etymology: name originates from the Portuguese word gabao meaning cloak, which is roughly the shape that the early explorers gave to the estuary of the Komo River by the capital of Libreville.
The legal system in Gabon: mixed legal system of French civil law and customary law.
Climate: Hot and tropical, with little distinction between seasons. Cold Benguela current cools the coast.
The national symbols are black panther; national colors: green, yellow, blue.
Internet TLD: .ga
Background

A sparsely populated country known for its dense rainforests and vast petroleum reserves, Gabon is one of the most prosperous and stable countries in central Africa. Approximately 40 ethnic groups are represented, the largest of which is the Fang, covering the northern third of Gabon and expanding north into Equatorial Guinea and Cameroon. From about the early 1300s, various kingdoms emerged in and surrounding present-day Gabon, including Loango and Orungu. Because most early Bantu languages spoken in these kingdoms did not have a written form, historical traditions were passed on orally, resulting in much of Gabon's early history being lost over time. Portuguese traders who arrived in the mid-1400s gave the area its name, Gabon. At that time, indigenous trade networks began to engage with European traders, exchanging goods such as ivory and wood. For a century beginning in the 1760s, trade-focused mainly on enslaved people. While many groups in Gabon participated in the slave trade, the Fang was a notable exception. As the slave trade declined in the late 1800s, France colonized the country and directed a widespread extraction of Gabonese resources. Anti-colonial rhetoric by Gabon's educated elites increased significantly in the early 1900s, but no widespread rebellion materialized.
French decolonization following World War II led to the country's independence in 1960. Within a year of independence, the government changed from a parliamentary to a presidential system, and Leon MBA won the first presidential election in 1961. El Hadj Omar BONGO Ondimba – one of the longest-ruling heads of state in history – was MBAs vice president and assumed the presidency after MBAs death in 1967. BONGO dominated the country's political scene for four decades (1967-2009). In 1968, he declared Gabon a single-party state and created the Parti Democratique Gabonais (PDG), the prevailing party in Gabonese politics today. In the early 1990s, he reintroduced a multiparty system under a new constitution after being confronted with growing political opposition. He was reelected by wide margins in 1995, 1998, 2002, and 2005 against a divided opposition and amidst allegations of fraud. Following President BONGOs death in 2009, a new election brought his son, Ali BONGO Ondimba, to power. President Ali BONGO Ondimba was reelected in 2016 in a close election against a united opposition. Gabon's Constitutional Court reviewed the contested election results and ruled in his favor.
Geography

Low plateaus and mountains lie beyond the coastal strip. Two-thirds of the land is covered by rainforest.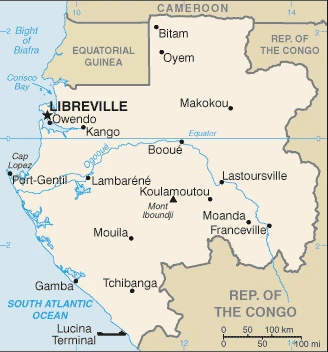 Gabon is a former French colony straddling the Equator on Africa's west coast. Independent since 1960, it returned to multiparty politics in 1990, after 22 years of one-party rule.
This state is located in Central Africa, bordering the Atlantic Ocean at the Equator, between the Republic of the Congo and Equatorial Guinea, under the coordinates of 1 00 S, 11 45 E, covering an area of 267,667 sq km with a coastline of 885 km. Gabon is Slightly smaller than Colorado.
Gabon has 3,261 km of land boundaries in total and borders with (3 nations): Cameroon 349 km, Republic of the Congo 2567 km, Equatorial Guinea 345 km.
The narrow coastal plain, hilly interior, savanna in east and south, with Mont Iboundji 1,575 m as the highest point of Gabon, while Atlantic Ocean 0 m as the lowest point, causing a mean elevation at 377 m throughout the country. With a total of 267,667 sq km, Gabon has 257,667 sq km of land and 10,000 sq km water surface area.
The significant watersheds for Gabon are Atlantic Ocean drainage: Congo (3,730,881 sq km) Germany Atlantic Ocean drainage: Rhine-Maas (198,735 sq km), (Black Sea) Danube (795,656 sq km) Ghana Atlantic Ocean drainage: Volta (410,991 sq km) Guinea Atlantic Ocean drainage: Niger (2,261,741 sq km), Senegal (456,397 sq km) Guyana Atlantic Ocean drainage: Amazon (6,145,186 sq km), Orinoco (953,675 sq km).
A small population and oil and mineral reserves have helped Gabon become one of Africa's wealthier countries; in general, these circumstances have allowed the country to maintain and conserve its pristine rainforest and rich biodiversity.
The climate in Gabon is as follows: Tropical, always hot, humid.
When you visit Gabon, the natural hazards shall be considered: None.
The following major health-threatening issues shall be considered when visiting Gabon: degree of risk: very high (2020), bacterial diarrhea, hepatitis A, typhoid fever, malaria and dengue fever, schistosomiasis, rabies.
Current environmental issues affecting the Gabonese people: deforestation (the forests that cover three-quarters of the country are threatened by excessive logging); burgeoning population exacerbating disposal of solid waste; oil industry contributing to water pollution; wildlife poaching.
Google maps Gabon
The capital and other divisions
Capital city: Libreville found under the coordinates 0 23 N, 9 27 E, applying the time zone UTC+1 (6 hours ahead of Washington, DC, during Standard Time), using the following daylight saving time: none.
Freeville is a nickname given to the capital of Gabon, Libreville. The city is located in the southwest part of the country and has an estimated population of 1,300,000. This city is also known as one of Africa's most dynamic capitals – a place where entrepreneurs come to make their fortunes (or at least have a good time) while living out their dreams.
Gabon became independent on 17 August 1960 (from France), and its national holiday is Independence Day, 17 August (1960).
Administrative divisions: 9 provinces; Estuaire, Haut-Ogooue, Moyen-Ogooue, Ngounie, Nyanga, Ogooue-Ivindo, Ogooue-Lolo, Ogooue-Maritime, Woleu-Ntem.
People and society

Some 40 different languages are spoken. The Fang, who live mainly in the north, are the largest ethnic group but have yet to gain control of the government. Oil wealth has led to the growth of an affluent middle class, but one in three people still live in poverty. Immigrant workers do menial jobs. Education follows the French system. With 87% of people living in towns, Gabon is one of Africa's most urbanized countries. The government is encouraging population growth.
The population in Gabon is 2,284,912 (July 2021 estimate). Note: estimates for this country explicitly take into account the effects of excess mortality due to AIDS; this can result in lower life expectancy, higher infant mortality, higher death rates, lower population growth rates, and changes in the distribution of the population by age and sex than would otherwise be expected, with an average of 2.41% (2021 estimate) change. That means Gabon is the No. 145 in the world's populated rank list. With an average of 21 years median age (21.4 years for males and 21.4 years for women), Gabon ranks No. 186 on the globe's median age rank list.
The people living in this country are the Gabonese (also singular and plural) (noun) or Gabonese (adjective) and belong mainly to the following ethnic groups: Gabonese-born 80.1% (includes Fang 23.2%, Shira-Punu/Vili 18.9%, Nzabi-Duma 11.3%, Mbede-Teke 6.9%, Myene 5%, Kota-Kele 4.9%, Okande-Tsogo 2.1%, Pygmy .3%, other 7.5%), Cameroonian 4.6%, Malian 2.4%, Beninese 2.1%, acquired Gabonese nationality 1.6%, Togolese 1.6%, Senegalese 1.1%, Congolese (Brazzaville) 1%, other 5.5% (includes Congolese (Kinshasa), Equatorial Guinean, Nigerian) (2012).
They speak French (official language), Fang, Myene, Nzebi, Bapounou/Eschira, Bandjabi languages and practice the following religions: Roman Catholic 42.3%, Protestant 12.3%, other Christian 27.4%, Muslim 9.8%, animist 0.6%, other 0.5%, none/no answer 7.1% (2012 estimate).
We can conclude the following about the population in Gabon: The relatively small population is spread in pockets throughout the country. The largest urban center is the capital of Libreville, located along the Atlantic coast in the northwest, as shown in this population distribution map. In Gabon, we are talking about 90.4% (2021) of the total population is living in cities, and most of them reside in the following municipalities: 845,000 Libreville (capital city) (2021).
Industry

Oil accounts for 75% of exports, but reserves are dwindling: not much post-oil planning. Serious debt problem. Tropical hardwoods and manganese.
Gabon enjoys a per capita income four times that of most Sub-Saharan African nations, but a large proportion of the population remains poor because of high-income inequality. Gabon relied on timber and manganese exports until oil was discovered offshore in the early 1970s. From 2010 to 2016, oil accounted for approximately 80% of Gabon's exports, 45% of its GDP, and 60% of its state budget revenues. Gabon faces fluctuating international oil, timber, and manganese exports.
A rebound of oil prices from 2001 to 2013 helped growth, but declining production has hampered Gabon from fully realizing potential gains as some fields passed their peak production. GDP grew nearly 6% per year over the 2010-14 period but slowed significantly from 2014 to just 1% in 2017 as oil prices declined. Low oil prices also weakened government revenue and negatively affected the trade and current account balances. In the wake of lower revenue, Gabon signed a 3-year agreement with the IMF in June 2017. Despite an abundance of natural wealth, poor fiscal management and over-reliance on oil have stifled the economy. Power cuts and water shortages are frequent. Gabon is reliant on imports, and the government heavily subsidizes commodities, including food, but will be hard-pressed to tamp down public frustration with unemployment and corruption.
Gabon is rich in the following natural resources: Petroleum, natural gas, diamond, niobium, manganese, uranium, gold, timber, iron ore, hydropower.
The main industrial sectors are petroleum extraction and refining, manganese, gold, chemicals, ship repair, food and beverages, textiles, lumbering and plywood, cement.
The country's export sectors are particularly strong in crude petroleum, manganese, lumber, veneer sheeting, refined petroleum (2019), partnering with these nations: China 63%, Singapore 5% (2019). The export trade resulted in $10.8 billion. Note: Data are in current year dollars (2019 estimate). In a global export rank, values resulted in Gabon's position of 100.
Land use in Gabon: 81% (2018 estimate) forest, 0% (2018 estimate) other.
The arable land area is 1.2% (2018 estimate), and the agricultural land is 19% (2018 estimate). Land use for permanent crops 0.6% (2018 estimate), permanent pasture 17.2% (2018 estimate). The sum of the area of the irrigated land is 40 sq km (2012).
The main agro-industrial products of Gabon are plantains, cassava, sugar cane, yams, taro, vegetables, maize, groundnuts, game meat, rubber.
The country typically needs to import: poultry meats, excavation machinery, packaged medicines, cars, rice (2019), partnering with the following nations: France 22%, China 17%, Belgium 6%, United States 6%, United Arab Emirates 5% (2019) in a sum value of $5.02 billion (2019 estimate) $4.722 billion (2018 estimate) $4.749 billion (2017 estimate). This sum value on the global ranking list of imports resulted in Gabon 138.
Gabon Driving Directions

In this post, you learned about Gabon, Central Africa, bordering the Atlantic Ocean at the Equator, between the Republic of the Congo and Equatorial Guinea. We published some basic information about its capital Libreville, and the Gabonese nation.
Are you interested in visiting Gabon and looking for driving directions? Click here to plan your route, or see a printable road map of Gabon below for an overview of the route network.
Printable map of Gabon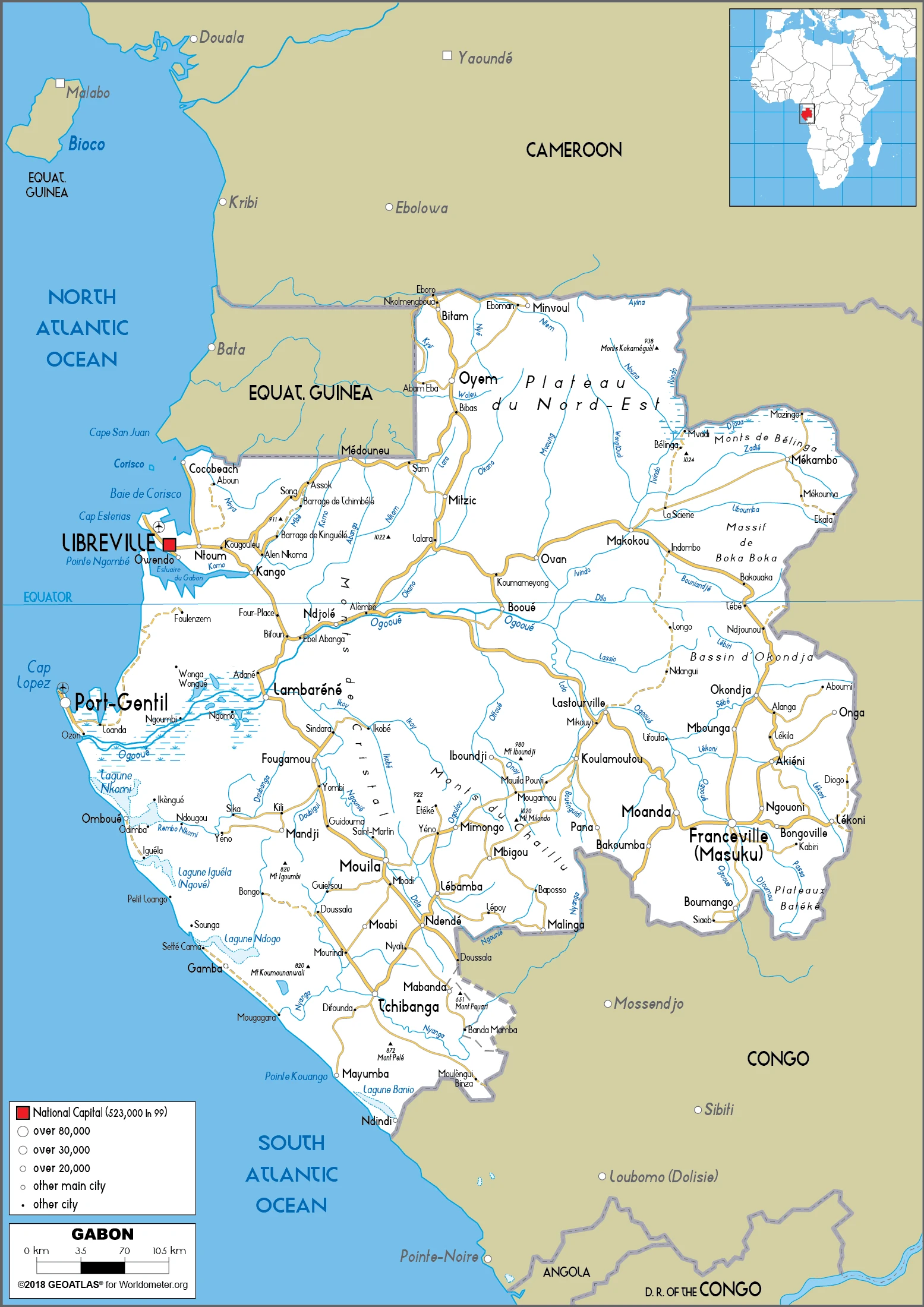 Did you know about Gabon?
Its primary language is French, and it is home to the most significant natural forest of Afro-tropical hardwood in the world. Gabon is one of the most beautiful and unexplored countries in Africa, but it also offers a fantastic tourist experience and incredible employment opportunities.
After virtually visiting Gabon, you may also be interested in the neighboring countries: Cameroon, the Republic of the Congo, Equatorial Guinea.
If you liked our Google map and Gabon information page,
please share it with others or save the link https://www.drivingdirections.net in your bookmarks.