Georgia Google Maps is a site/tool that offers a wide range of map views (topographic, satellite, street view) and navigation options, with little effort on your part, yet efficiently. If you need to plan a trip to a new place like Georgia, Google maps are available on desktop, mobile, or tablet. This Google maps and information page is dedicated to Georgia, Asia (22 countries), showing its location, country facts, details about its capital city Tbilisi, bordering countries like Armenia, Azerbaijan, Russia, Turkey, and plenty of other information which may be interesting when you visit this Asian state.
Quick links: Google maps Georgia, Tbilisi Google maps, Driving Directions Georgia, Printable Road Map.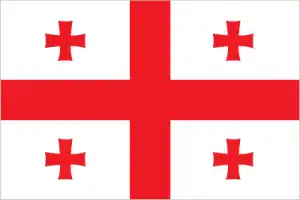 About Georgia in a nutshell
Western Georgia was the land of the legendary Golden Fleece of Greek mythology.
Conventional short form of the name: Georgia
The conventional long form of the name: none
Local long form: none
Local short form: Sakartvelo
Former name(s): Georgian Soviet Socialist Republic
Etymology: the Western name may derive from the Persian designation gurgan meaning Land of the Wolves; the native name Sakartvelo means Land of the Kartvelians and refers to the core central Georgian region of Kartli.
The legal system in Georgia: civil law system.
Climate: Subtropical along the coast, changing to continental extremes at high altitudes. Rainfall is moderate.
The national symbols are Saint George, lion; national colors: red, white.
Internet TLD: .ge
The strategic importance of Georgia's position was known long before its statehood. In the region, one power succeeded another: Persians, Macedonians, Romans, Byzantines, Muslim Arabs, and Seljuk Turks. Tbilisi was liberated from Arab rule in 1122. The brief Golden Age was followed by another 800 years of conquest, with the Turks and Russians emerging victorious for the most extended period. In 1918, the Federation of the Transcaucasus Territories declared independence. Georgia was occupied by the Red Army in 1920 and became a founding member republic of the Soviet Union.
It has 330 km of the Black Sea coastline. Batumi, an old trading city with a subtropical climate, is a tourism center. The fertile Kakheti, 50 km from Tbilisi, is the country's most famous wine region – its vines have been cultivated for 8,000 (!) years. Mtskheta was the capital of the former Iberian Empire in the first millennium A.D. The ruins of Bagrat's cathedral and Gelati's monastery from the 11th century and the mountain villages of the Swans in Svaneti, who still preserve their distinctive medieval culture, are world heritage sites of independent Georgia.
Background

The region of present-day Georgia contained the ancient kingdoms of Colchis and Kartli-Iberia. The area came under Roman influence, and Christianity became the state religion in the 330s. A Georgian golden age followed domination by Persians, Arabs, and Turks (11th-13th centuries) cut short by the Mongol invasion of 1236. Subsequently, the Ottoman and Persian empires competed for influence in the region. Georgia was absorbed into the Russian Empire in the 19th century. Independent for three years (1918-1921) following the Russian revolution, it was forcibly incorporated into the USSR in 1921 and regained its independence when the Soviet Union dissolved in 1991.
Geography

Kura Valley lies between the Caucasus Mountains in the north and the Lesser Caucasus range in the south. Lowlands along the Black Sea coast.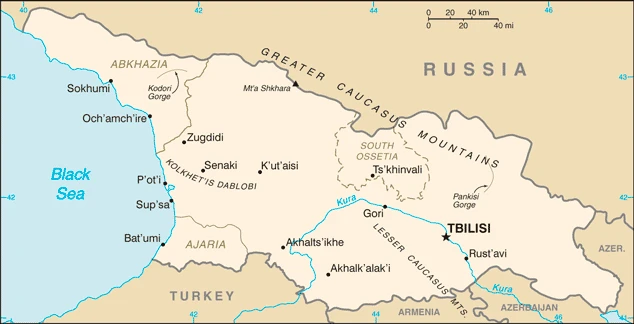 Located on the eastern shore of the Black Sea, Georgia has been torn by civil war and ethnic disputes since achieving independence from the Soviet Union in 1991.
This state is located in Southwestern Asia, bordering the Black Sea, between Turkey and Russia, with a sliver of land north of the Caucasus extending into Europe. Georgia views itself as part of Europe. Geopolitically, it can be classified as falling within Europe, the Middle East, or both, under the coordinates of 42 00 N, 43 30 E, covering an area of 69,700 sq km with a coastline of 310 km. Georgia is Slightly smaller than South Carolina; slightly larger than West Virginia.
Georgia has 1,814 km of land boundaries in total and borders with (4 nations): Armenia 219 km, Azerbaijan 428 km, Russia 894 km, Turkey 273 km.
Largely mountainous with great Caucasus mountains in the north and Lesser Caucasus Mountains in the south, Kolkhetis Dablobi (Kolkhida lowland) opens to the black sea in the West, Mtkvari river basin in the east, fertile soils in river valley flood plains and foothills of Kolkhida lowland, with Mta Shkhara 5,193 m, as the highest point of Georgia, while the Black Sea 0 m as the lowest point, causing a mean elevation at 1,432 m throughout the country. With a total of 69,700 sq km, Georgia has 69,700 sq km of land and 0 sq km water surface area.
Strategically located east of the Black Sea, Georgia controls much of the Caucasus Mountains and their routes.
The climate in Georgia is warm and pleasant, Mediterranean-like on the black sea coast.
When you visit Georgia, the natural hazards shall be considered: Earthquakes.
The following major health-threatening issues shall be considered when visiting Georgia: none.
Current environmental issues affecting the Georgian people: air pollution, particularly in Rustavi; heavy water pollution of Mtkvari River and the Black Sea; inadequate potable water supplies; soil pollution from toxic chemicals; land and forest degradation; biodiversity loss; waste management.
Google maps Georgia
The capital and other divisions
Capital city: Tbilisi found under the coordinates 41 41 N, 44 50 E, applying the time zone UTC+4 (9 hours ahead of Washington, DC, during Standard Time), using the following daylight saving time: none.
Tbilisi is a surreal, magical city. The capital of Georgia and the nation's largest metropolis, it is listed as a UNESCO World Heritage Site and offers a fantastic amount of things to do. From shopping for local handicrafts to tasting some of Georgia's traditional dishes at night markets, this article will give you many ideas on how to spend your time in Tbilisi.
Georgia became independent on 9 April 1991 (from the Soviet Union); notable earlier date: A.D. 1008 (Georgia unified under King BAGRAT III), and its national holiday is Independence Day, 26 May (1918).
Administrative divisions: 9 regions (mkharebi, singular – mkhare), 1 city (kalaki), and 2 autonomous republics (avtomnoy respubliki, singular – avtom respublika) regions: Guria, Imereti, Kakheti, Kvemo Kartli, Mtskheta Mtianeti, Racha-Lechkhumi and Kvemo Svaneti, Samegrelo and Zemo Svaneti, Samtskhe-Javakheti, Shida Kartli.
People and society

Paternalistic society, with strong family, cultural, and literary traditions. Georgia was converted to Christianity in 326 CE. Armenians in the south are the poorest group. Civil conflicts in the early 1990s against Abkhaz and Osset separatists displaced 300,000 people. Abkhazia and South Ossetia now effectively operate as separate states, backed up by Russian forces since the 2008 war. Russia opposes Georgian hopes of joining the E.U. and NATO.
The population in Georgia is 4,933,674 (July 2021 estimate), with an average of 0.05% (2021 estimate) change. That means Georgia is the No. 126 in the world's populated rank list. With an average of 38.6 years median age (35.9 years for males and 35.9 years for women), Georgia ranks No. 60 on the globe's median age rank list.
The people living in this country are the Georgian(s) (noun) or Georgian (adjective) and belong mainly to the following ethnic groups: Georgian 86.8%, Azeri 6.3%, Armenian 4.5%, other 2.3% (includes Russian, Ossetian, Yazidi, Ukrainian, Kist, Greek) (2014 estimate).
They speak Georgian (official language) 87.6%, Azeri 6.2%, Armenian 3.9%, Russian 1.2%, other 1% languages and practice the following religions: Orthodox (official) 83.4%, Muslim 10.7%, Armenian Apostolic 2.9%, other 1.2% (includes Catholic, Jehovahs Witness, Yazidi, Protestant, Jewish), none 0.5%, unspecified/no answer 1.2% (2014 estimate).
We can conclude the following about the population in Georgia: Settlement concentrated in the central valley, particularly in the capital city of Tbilisi in the east. Smaller urban agglomerations dot the black sea coast, with Batumi largest. In Georgia, we are talking about 59.9% (2021) of the total population is living in cities, and most of them reside in the following municipalities: 1.079 million, Tbilisi (capital city) (2021).
Industry

Transit revenues from pipelines taking oil to the West. Long-established and booming wine industry. Political instability. The fast pace of reforms in the late 2000s, at the cost of high unemployment.
Georgia's main economic activities include cultivating agricultural products such as grapes, citrus fruits, and hazelnuts; mining manganese, copper, and gold; and producing alcoholic and nonalcoholic beverages, metals, machinery, etc., chemicals in small-scale industries. The country imports nearly all of its needed natural gas and oil products. It has a sizeable hydropower capacity that now provides most of its electricity needs., Georgia has overcome the chronic energy shortages and gas supply interruptions of the past by renovating hydropower plants and by increasingly relying on natural gas imports from Azerbaijan instead of from Russia. Construction of the Baku-Tbilisi-Ceyhan oil pipeline, the South Caucasus gas pipeline, and the Baku-Tbilisi-Kars railroad is a strategy to capitalize on Georgia's strategic location between Europe and Asia to develop its role as a transit hub for gas, oil, and other goods.
Georgia's economy sustained GDP growth of more than 10% in 2006-07, based on strong inflows of foreign investment, remittances, and robust government spending. However, GDP growth slowed following the August 2008 conflict with Russia. It sank to a negative 4% in 2009 as foreign direct investment and workers remittances declined in the wake of the global financial crisis. The economy rebounded in 2010-17, but FDI inflows, the engine of Georgian economic growth before the 2008 conflict, have not recovered fully. Unemployment remains persistently high., The country is pinning its hopes for faster growth on a continued effort to build up infrastructure, enhance support for entrepreneurship, simplify regulations, and improve professional education, to attract foreign investment and boost employment, focusing on transportation projects, tourism, hydropower, and agriculture. Georgia had historically suffered from a chronic failure to collect tax revenues; however, since 2004, the government has simplified the tax code, increased tax enforcement, and cracked down on petty corruption, leading to higher revenues. The government has received high marks from the World Bank for improvements in business transparency.
Since 2012, the Georgian Dream-led government has continued the previous administration's low-regulation, low-tax, free-market policies while modestly increasing social spending and amending the labor code to comply with International Labor Standards. In mid-2014, Georgia concluded an association agreement with the E.U., paving the way to free trade and visa-free travel. In 2017, Georgia signed Free Trade Agreement (FTA) with China as part of Tbilisi's efforts to diversify its economic ties. Georgia seeks to develop its Black Sea ports to facilitate East-West trade further.
Georgia is rich in the following natural resources: Timber, hydropower, manganese deposits, iron ore, copper, minor coal, and oil deposits. Coastal climate and soils allow for important tea and citrus growth.
The main industrial sectors are typically steel, machine tools, electrical appliances, mining (manganese, copper, gold), chemicals, wood, and wine.
The country's export sectors are robust in copper, cars, iron alloys, wine, packaged medicines (2019), partnering with these nations: Russia 12%, Azerbaijan 12%, Armenia 9%, Bulgaria 8%, China 6%, Turkey 6%, Ukraine 6% (2019). The export trade resulted in $5.94 billion. Note: Data are in current year dollars (2017 estimate). In a global rank of the export, values resulted in Georgia's position of 121.
Land use in Georgia: 39.4% (2018 estimate) forest, 25.1% (2018 estimate) other.
The arable land area is 5.8% (2018 estimate), and the agricultural land is 35.5% (2018 estimate). Land use for permanent crops 1.8% (2018 estimate), permanent pasture 27.9% (2018 estimate). The sum of the area of the irrigated land is 4,330 sq km (2012).
The main agro-industrial products of Georgia are milk, grapes, maize, potatoes, wheat, watermelons, tomatoes, tangerines/mandarins, barley, apples.
The country typically needs to import: cars, refined petroleum, copper, packaged medicines, natural gas (2019), partnering with the following nations: Turkey 17%, China 11%, Russia 9%, Azerbaijan 6%, United States 6%, Germany 5% (2019) in a sum value of $8.94 billion. Note: data are in current year dollars (2020 estimate) $11.11 billion. Note: data are in current year dollars (2019 estimate) $10.77 billion. Note: data are in current year dollars (2018 estimate). This sum value on the global ranking list of imports resulted in Georgia 113.
Georgia Driving Directions

In this post, you learned about Georgia, Southwestern Asia, bordering the Black Sea, between Turkey and Russia, with a sliver of land north of the Caucasus extending into Europe. Georgia views itself as part of Europe. Geopolitically, it can be classified as falling within Europe, the Middle East, or both. We published some basic information about its capital Tbilisi, and the Georgian nation.
Are you interested in visiting Georgia and looking for driving directions? Click here to plan your route, or see a printable road map of Georgia below for an overview of the route network.
Printable map of Georgia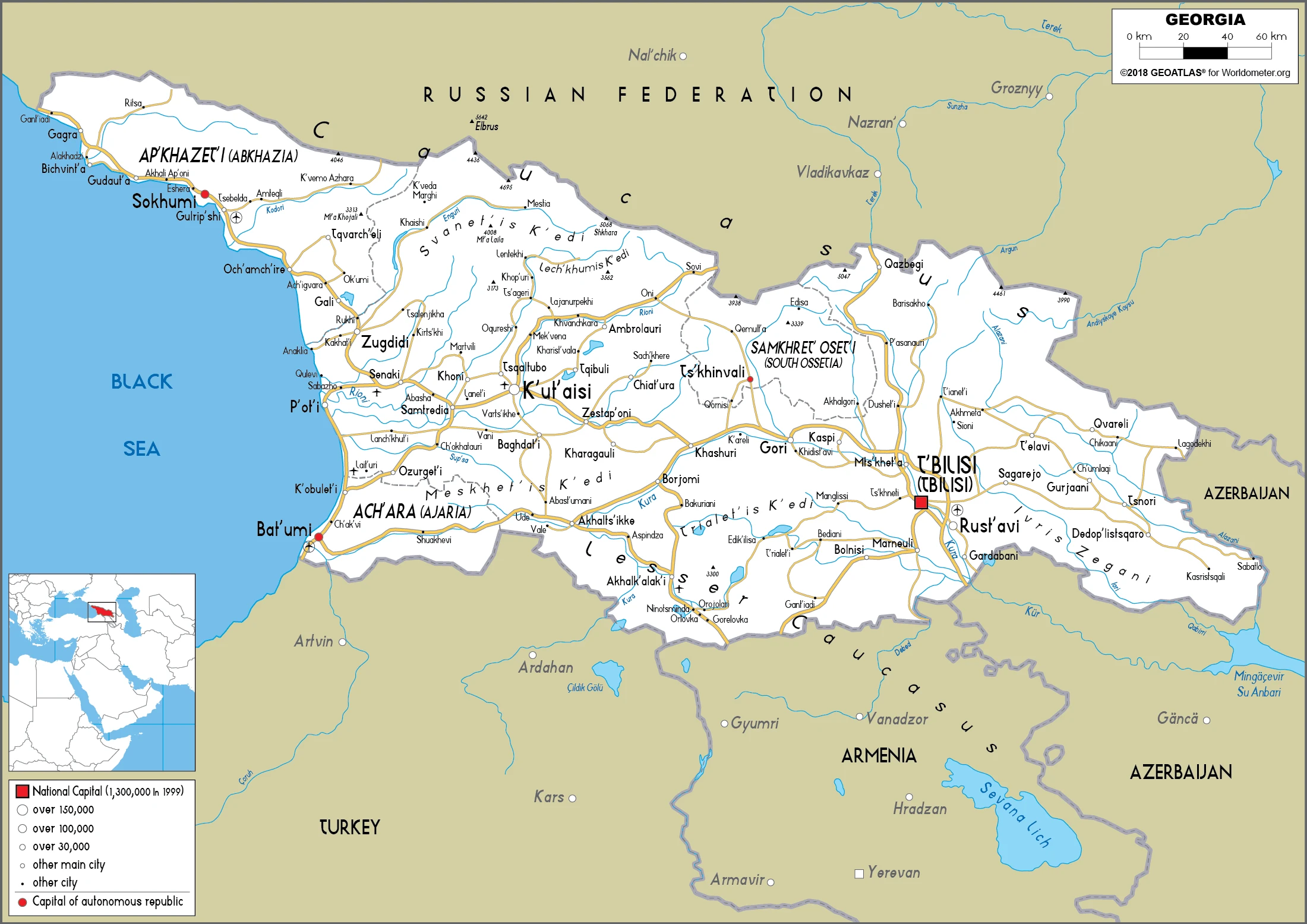 Did you know about Georgia?
Georgia is a country in the Caucasus Mountains, and it's the second-largest country in Europe. It was part of the Soviet Union until 1991. Georgia is not actually in Europe like most people think it is, but it is in the Caucasus Mountains and bordering Russia. The capital city of Tbilisi is also on UNESCO's World Heritage list as one of the oldest cities and capitals in the world!
After virtually visiting Georgia, you may also be interested in the neighboring countries: Armenia, Azerbaijan, Russia, Turkey.
If you liked our Google map and Georgia information page,
please share it with others or save the link https://www.drivingdirections.net in your bookmarks.