Indonesia Google Maps is a site/tool that offers a wide range of map views (topographic, satellite, street view) and navigation options, with little effort on your part, yet efficiently. If you need to plan a trip to a new place like Indonesia, Google maps are available on desktop, mobile, or tablet. This Google maps and information page is dedicated to Indonesia, Southeast Asia (19 countries), showing its location, country facts, details about its capital city Jakarta, bordering countries like Malaysia, Papua New Guinea, Timor-Leste, and plenty of other information which may be interesting when you visit this Southeastern Asian state.
Quick links: Google maps Indonesia, Jakarta Google maps, Driving Directions Indonesia, Printable Road Map.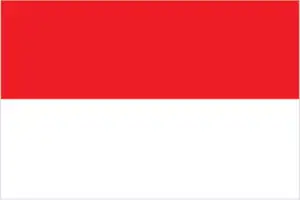 About Indonesia in a nutshell
Indonesia has a very youthful population: almost 30% of its people are under 15 years of age.
Conventional short form of the name: Indonesia
The conventional long form of the name: Republic of Indonesia
Local long form: Republik Indonesia
Local short form: Indonesia
Former name(s): Netherlands East Indies, Dutch East Indies
Etymology: the name is an 18th-century construct of two Greek words, Indos (India) and nesoi (islands), meaning Indian islands.
The legal system in Indonesia: civil law system based on the Roman-Dutch model and influenced by customary law.
Climate: The is predominantly tropical monsoon. Variations relate mainly to differences in latitude and altitude; hilly areas are cooler overall. Rain falls throughout the year, often in thunderstorms, but there is a relatively dry season from June to September.
The national symbols are garuda (mythical bird); national colors: red, white.
Internet TLD: .id
Background

The archipelago was once mainly under the control of Buddhist and Hindu rulers. Around the 7th century, a Buddhist kingdom arose in Sumatra. It expanded into Java and the Malay Peninsula until it was conquered in the late 13th century by the Hindu Majapahit Empire from Java. Majapahit (1290-1527) united most of modern-day Indonesia and Malaysia. Traders introduced Islam in the trade ports around the 11th century, and Indonesians gradually adopted Islam over the next 500 years. The Portuguese conquered parts of Indonesia in the 16th century, but they were ousted by the Dutch (except for East Timor), who began colonizing the islands in the early 17th century. It would be the early 20th century before Dutch colonial rule was established across the entirety of the boundaries of the modern Indonesian state. Japan occupied the islands from 1942 to 1945. Indonesia declared its independence shortly before Japan's surrender, but it required four years of sometimes brutal fighting, intermittent negotiations, and UN mediation before the Netherlands agreed to transfer sovereignty in 1949.
Sometimes unruly parliamentary democracy ended in 1957 when President SOEKARNO declared martial law and instituted Guided Democracy. After an abortive coup in 1965 by alleged communist sympathizers, SOEKARNO was gradually eased from power. From 1967 until 1998, President SUHARTO ruled Indonesia with his New Order government. After street protests toppled SUHARTO in 1998, free and fair legislative elections took place in 1999. Indonesia is now the world's third most populous democracy, the world's largest archipelagic state, and the world's largest Muslim-majority nation.
Current issues include: alleviating poverty, improving education, preventing terrorism, consolidating democracy after four decades of authoritarianism, implementing economic and financial reforms, stemming corruption, reforming the criminal justice system, addressing climate change, and controlling infectious diseases, particularly those of global and regional importance. In 2005, Indonesia reached a historic peace agreement with armed separatists in Aceh, which led to democratic elections in Aceh in December 2006. Indonesia faces low-intensity armed resistance in Papua by the separatist Free Papua Movement.
Geography

Indonesia is highly mountainous, with numerous tropical swamps. The land is covered with dense rainforest, especially in New Guinea, where it remains largely unexplored. There are more than 200 volcanoes, many of which are still active. Earthquakes, eruptions, and tsunamis are hazards. Java, Bali, Lombok, Sumatra, and Borneo were once joined together by dry land, which rising sea levels have since submerged. Coastal lowland development distinguishes some of the large islands.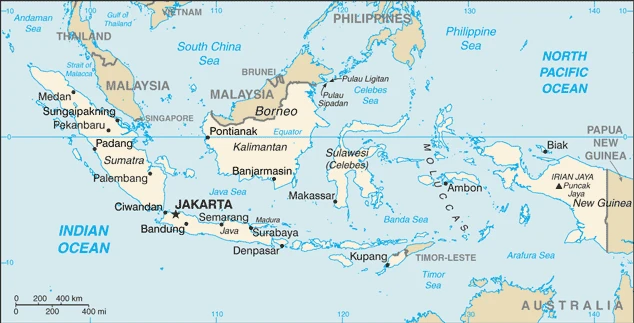 Formerly called the Dutch East Indies, Indonesia is the world's largest archipelago, with 18,108 islands scattered across 3000 miles (5000 km). It is the world's fourth most populous nation.
This state is located in Southeastern Asia, an archipelago between the Indian Ocean and the Pacific Ocean, under the coordinates of 5 00 S, 120 00 E, covering an area of 1,904,569 sq km with a coastline of 54,716 km. Indonesia is Slightly less than three times the size of Texas.
Indonesia has 2,958 km of land boundaries in total and borders with (3 nations): Malaysia 1881 km, Papua New Guinea 824 km, Timor-Leste 253 km.
Mostly coastal lowlands, larger islands have interior mountains, with Puncak Jaya 4,884 m as the highest point of Indonesia, while Indian Ocean 0 m as the lowest point, causing a mean elevation at 367 m throughout the country. With a total of 1,904,569 sq km, Indonesia has 1,811,569 sq km of land and 93,000 sq km water surface area.
Major water bodies in the country: Danau Toba – 1,150 sq km (a freshwater lake), while the major rivers are: Sepik (shared with Papua New Guinea s) – 1,126 km, Fly (shared with Papua New Guinea) – 1,050 km.
According to Indonesia's National Coordinating Agency for Survey and Mapping, the total number of islands in the archipelago is 13,466, of which 922 are permanently inhabited (Indonesia is the world's largest country comprised solely of islands); the country straddles the equator and occupies a strategic location astride or along major sea lanes from the Indian Ocean to the Pacific Ocean.
The climate in Indonesia is tropical, hot, humid, more moderate in highlands.
When you visit Indonesia, the natural hazards shall be considered: Occasional floods; severe droughts; tsunamis; earthquakes; volcanoes; forest fires volcanism: Indonesia contains the most volcanoes of any country in the world – some 76 are historically active; significant volcanic activity occurs on Java, Sumatra, the Sunda Islands, Halmahera Island, Sulawesi Island, Sangihe Island, and in the Banda Sea; Merapi (2,968 m), Indonesia's most active volcano and in eruption since 2010, has been deemed a decade volcano by the international association of volcanology and chemistry of the earths interior, worthy of study due to its explosive history and close proximity to human populations; on 22 December 2018, a large explosion and flank collapse destroyed most of the 338 m high island of Anak Krakatau (child of Krakatau) and generated a deadly tsunami inundating portions of western Java and southern Sumatra leaving more than 400 dead; other notable historically active volcanoes include Agung, Awu, Karangetang, Krakatau (Krakatoa), Makian, Raung, Sinabung, and Tambora.
The following major health-threatening issues shall be considered when visiting Indonesia: degree of risk: very high (2020), bacterial diarrhea, hepatitis A, typhoid fever, dengue fever, and malaria.
Current environmental issues affecting the Indonesian people: large-scale deforestation (much of it illegal) and related wildfires cause heavy smog; over-exploitation of marine resources; environmental problems associated with rapid urbanization and economic development, including air pollution, traffic congestion, garbage management, and reliable water and wastewater services; water pollution from industrial wastes, sewage.
Google maps Indonesia
The capital and other divisions
Capital city: Jakarta found under the coordinates 6 10 S, 106 49 E, applying the time zone UTC+7 (12 hours ahead of Washington, DC, during Standard Time), using the following daylight saving time: none.
Jakarta, the capital of Indonesia, is sprawling in more than 8,200 square km and has a population of more than 10 million people. The capital of Indonesia is often compared to a city of contrasts. One of these contrast is the architecture that reflects its long history. Jakarta is home to a mix of old and new buildings, from Dutch colonial buildings in the north to modern skyscrapers in the south. The author travels through Jakarta and chooses some examples of different architectural styles for readers to take a closer look at.
Indonesia became independent on 17 August 1945 (declared independence from the Netherlands), and its national holiday is Independence Day, 17 August (1945).
Administrative divisions: 31 provinces (provinsi-provinsi, singular – provinsi), 1 autonomous province, 1 special region* (daerah-daerah istimewa, singular – daerah istimewa), and 1 national capital district** (daerah khusus ibukota); Aceh, Bali, Banten, Bengkulu, Gorontalo, Jakarta**, Jambi, Jawa Barat (West Java), Jawa Tengah (Central Java), Jawa Timur (East Java), Kalimantan Barat (West Kalimantan), Kalimantan Selatan (South Kalimantan), Kalimantan Tengah (Central Kalimantan), Kalimantan Timur (East Kalimantan), Kalimantan Utara (North Kalimantan), Kepulauan Bangka Belitung (Bangka Belitung Islands), Kepulauan Riau (Riau Islands), Lampung, Maluku, Maluku Utara (North Maluku), Nusa Tenggara Barat (West Nusa Tenggara), Nusa Tenggara Timur (East Nusa Tenggara), Papua, Papua Barat (West Papua), Riau, Sulawesi Barat (West Sulawesi), Sulawesi Selatan (South Sulawesi), Sulawesi Tengah (Central Sulawesi), Sulawesi Tenggara (Southeast Sulawesi), Sulawesi Utara (North Sulawesi), Sumatera Barat (West Sumatra), Sumatera Selatan (South Sumatra), Sumatera Utara (North Sumatra), Yogyakarta. Note: following the implementation of decentralization beginning on 1 January 2001, regencies and municipalities have become the key administrative units responsible for providing most government services.
People and society

–Malay ethnic division disguises a diverse society. Bahasa Indonesia, the national language, coexists with at least 250 other spoken languages or dialects. Attempts by the Javanese political elite to suppress local cultures have been vigorously opposed, especially by the Aceh of northern Sumatra and the Papuans. Religious and inter-ethnic hostility is a problem, with clashes between Christians and Muslims in many areas and discrimination against ethnic Chinese leading to mob attacks on their businesses. Gender equality is enshrined in law; women are active in public life.
The population in Indonesia is 275,122,131 (July 2021 estimate), with an average of 0.81% (2021 estimate) change. That means Indonesia is the No. 4 in the world's populated rank list. With an average of 31.1 years median age (30.5 years for males and 30.5 years for women), Indonesia ranks No. 117 on the globe's median age rank list.
The people living in this country are the Indonesian(s) (noun) or Indonesian (adjective) and belong mainly to the following ethnic groups: Javanese 40.1%, Sundanese 15.5%, Malay 3.7%, Batak 3.6%, Madurese 3%, Betawi 2.9%, Minangkabau 2.7%, Buginese 2.7%, Bantenese 2%, Banjarese 1.7%, Balinese 1.7%, Acehnese 1.4%, Dayak 1.4%, Sasak 1.3%, Chinese 1.2%, other 15% (2010 estimate).
They speak Bahasa Indonesia (official language, modified form of Malay), English, Dutch, local dialects (of which the most widely spoken is Javanese) languages and practice the following religions: Muslim 87.2%, Protestant 7%, Roman Catholic 2.9%, Hindu 1.7%, other 0.9% (includes Buddhist and Confucian), unspecified 0.4% (2010 estimate).
We can conclude the following about the population in Indonesia: Major concentration on the island of java, which is considered one of the most densely populated places on earth. Sumatra contains some of the most significant clusters of the outer islands (those surrounding java and Bali), particularly in the south near the Selat Sunda and along the northeastern coast near Medan. The cities of makasar (sulawesi), banjarmasin (kalimantan) are also heavily populated. In Indonesia, we are talking about 57.3% (2021) of the total population is living in cities. Most of them reside in the following municipalities: 10.915 million, Jakarta (capital city), 3.510 million, Bekasi, 2.972 million, Surabaya, 2.607 million, Bandung, 2.397 million, Tangerang, 2.368 million, Medan (2021).
Industry

Varied resources, especially natural gas. Cheap and plentiful labor pool. Sizable state-owned sector and state control of prices of essential goods. Large foreign debt rescheduled. The 2004 tsunami, which killed over 130,000 people, devastated northern Sumatra. Bureaucracy and corruption damage business confidence. Regional conflicts and terrorist attacks deter tourists and investors. Piracy is rife.
Indonesia, the largest economy in Southeast Asia, has seen a slowdown in growth since 2012, primarily due to the end of the commodities export boom. During the global financial crisis, Indonesia outperformed its regional neighbors and joined China and India as the only G20 members posting growth. Indonesia's annual budget deficit is capped at 3% of GDP. The Government of Indonesia lowered its debt-to-GDP ratio from a peak of 100% shortly after the Asian financial crisis in 1999 to 34% today. In May 2017, Standard & Poor's became the last major rating agency to upgrade Indonesia's sovereign credit rating to investment grade.
Poverty and unemployment, inadequate infrastructure, corruption, a complex regulatory environment, and unequal resource distribution among its regions are still part of Indonesia's economic landscape. President Joko WIDODO – elected in July 2014, – seeks to develop Indonesia's marine resources and pursue other infrastructure development, including significantly increasing its electrical power generation capacity. Fuel subsidies were significantly reduced in early 2015, which has helped the government redirect its spending to development priorities. With the nine other ASEAN members, Indonesia will continue to move towards participation in the ASEAN Economic Community, though full implementation of economic integration has not yet materialized.
Indonesia is rich in the following natural resources: Petroleum, tin, natural gas, nickel, timber, bauxite, copper, fertile soils, coal, gold, silver.
The main industrial sectors are typically petroleum and natural gas, textiles, automotive, electrical appliances, apparel, footwear, mining, cement, medical instruments and appliances, handicrafts, chemical fertilizers, plywood, rubber, processed food, jewelry, and tourism.
The country's export sectors are particularly strong in coal, palm oil, natural gas, cars, gold (2019), partnering with these nations: China 15%, United States 10%, Japan 9%, Singapore 8%, India 7%, Malaysia 5% (2019). The export trade resulted in $178.26 billion. Note: Data are in current year dollars (2020 estimate). In a global rank of the export, values resulted in Indonesia's position of 33.
Land use in Indonesia: 51.7% (2018 estimate) forest, 17.1% (2018 estimate) other.
The arable land area is 13% (2018 estimate), and the agricultural land is 31.2% (2018 estimate). Land use for permanent crops 12.1% (2018 estimate), permanent pasture 6.1% (2018 estimate). The sum of the area of the irrigated land is 67,220 sq km (2012).
The main agro-industrial products of Indonesia are oil palm fruit, rice, maize, sugar cane, coconuts, cassava, bananas, eggs, poultry, rubber.
The country typically needs to import: refined petroleum, crude petroleum, vehicle parts, telephones, natural gas (2019), partnering with the following nations: China 27%, Singapore 12%, Japan 8%, Thailand 5%, United States 5%, South Korea 5%, Malaysia 5% (2019) in a sum value of $159.64 billion. Note: data are in current year dollars (2020 estimate) $204.23 billion. Note: data are in current year dollars (2019 estimate) $218.65 billion. Note: data are in current year dollars (2018 estimate). This sum value on the global ranking list of imports resulted in Indonesia 33.
Indonesia Driving Directions

In this post, you learned about Indonesia, Southeastern Asia, archipelago between the Indian Ocean and the Pacific Ocean. We published some basic information about its capital Jakarta, and the Indonesian nation.
Are you interested in visiting Indonesia and looking for driving directions? Click here to plan your route, or see a printable road map of Indonesia below for an overview of the route network.
Printable map of Indonesia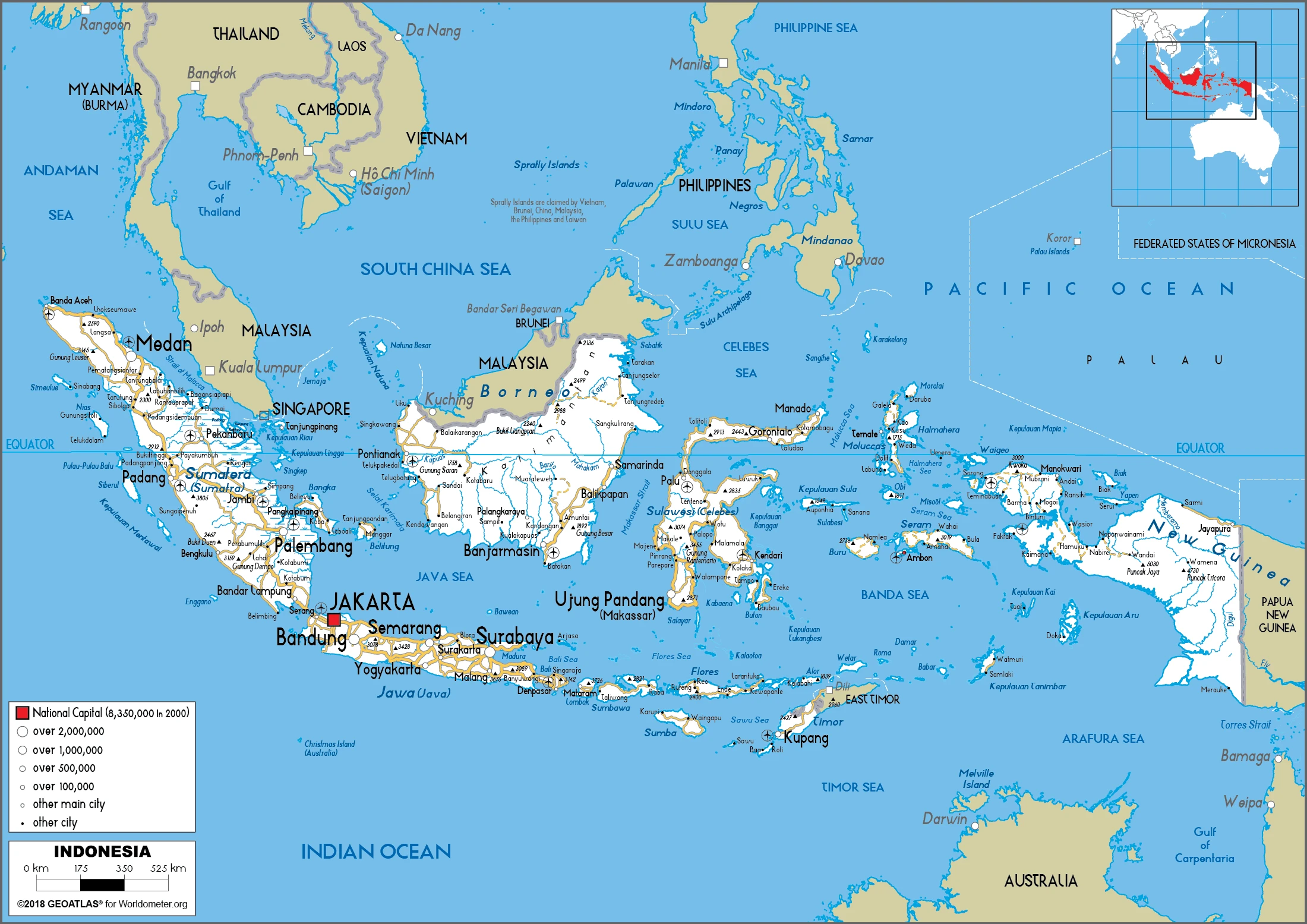 Did you know about Indonesia?
You never know…
After virtually visiting Indonesia, you may also be interested in the neighboring countries: Malaysia, Papua New Guinea, Timor-Leste.
If you liked our Google map and Indonesia information page,
please share it with others or save the link https://www.drivingdirections.net in your bookmarks.