Thailand Google Maps is a site/tool that offers a wide range of map views (topographic, satellite, street view) and navigation options, with little effort on your part, yet efficiently. If you need to plan a trip to a new place like Thailand, Google maps are available on desktop, mobile, or tablet. This Google maps and information page is dedicated to Thailand, Southeast Asia (19 countries), showing its location, country facts, and details about its capital city Krung Thep, bordering countries like Burma, Cambodia, Laos, Malaysia, and plenty of other information which may be interesting when you visit this Southeastern Asian state.
Quick links: Google maps Thailand, Krung Thep Google maps, Driving Directions Thailand, Printable Road Map.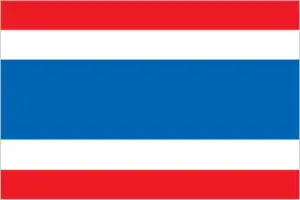 About Thailand in a nutshell
Conventional short form of the name: Thailand
The conventional long form of the name: Kingdom of Thailand
Local long form: Ratcha Anachak Thai
Local short form: Prathet Thai
Former name(s): Siam
Etymology: Land of the Tai People; the meaning of Tai is uncertain but may originally have meant human beings, people, or free people.
The legal system in Thailand: civil law system with common law influences.
Climate: Tropical. Hot, humid March-May; monsoon rains May-–October; cooler season November–-March.
The national symbols are garuda (mythical half-man, half-bird figure), elephant, and national colors: red, white, and blue.
Internet TLD: .th
Thai cuisine, tropical climate, ancient monuments, the limestone cliffs of the Andaman Sea, the entertainment districts of Bangkok and Pattaya, the hill tribes of the north, and traditional villages along the Mekong all combine to offer something for every traveler. Thailand's climate is governed by the monsoon, with a dry season from November to May, also the peak tourist season. The kingdom boasts four World Heritage Sites. The archaeological sites of Ban Chiang are the oldest known archaeological remains in Southeast Asia and the earliest evidence of agriculture in the region.
Sukhothai was the first capital of Siam in the 13th and 14th centuries, the seat of the first Thai kingdom, and the originator of a new style of Buddhist art and architecture that would dominate later periods. Founded in 1350, the second Thai capital, the monumental Ayutthaya, with its 375 monasteries, almost 100 city gates, and 30 fortifications, was destroyed by the Burmese in the mid-18th century. Thailand's natural World Heritage Site, the Thunkvai, and Huai Kha Khaeng Game Reserves, which include forest and savannah areas along the Myanmar border with Myanmar, contain all the wildlife of Southeast Asia – the area is a highly protected endangered species and is off-limits to tourists.
Thailand, meaning "land of the free," is the only Southeast Asian nation ever to have been colonized.
Background

Two unified Thai kingdoms emerged in the mid-13th century. The Sukhothai, located in the south-central plains, gained its independence from the Khmer empire to the east. By the late 13th century, Sukhothai's territory extended into present-day Burma and Laos. Sukhotai lasted until the mid-15th century. The Thai Lan Na kingdom was established in the north, with its capital at Chang Mai. The Burmese conquered Lan Na in the 16th century. The Ayutthaya kingdom (14th-18th centuries) succeeded the Sukhothai and would become known as the Siamese Kingdom. During the Ayutthaya period, the Thai/Siamese peoples consolidated their hold on what is present-day central and north-central Thailand. Following a military defeat at the hands of the Burmese in 1767, the Siamese Kingdom rose to new heights under the military ruler TAKSIN, who defeated the Burmese occupiers and expanded the territory of the kingdom into modern-day northern Thailand (formerly the Lan Na kingdom), Cambodia, Laos, and the Malay Peninsula. The kingdom fought off additional Burmese invasions and raids in the late 1700s and early 1800s. In the mid-1800s, Western pressure led to Siam signing trade treaties that reduced the country's sovereignty and independence.
In the 1890s and 1900s, the British and French forced the kingdom to cede Cambodian, Laotian, and Malay territories that had been under Siamese control. A bloodless revolution in 1932 led to the establishment of a constitutional monarchy. After the Japanese invaded Thailand in 1941, the government split into a pro-Japan faction and a pro-Ally faction backed by the king. Following the war, Thailand became a US treaty ally in 1954 after sending troops to Korea and later fighting alongside the US in Vietnam. Thailand, since 2005 has experienced several rounds of political turmoil, including a military coup in 2006 that ousted then Prime Minister THAKSIN Chinnawat, followed by large-scale street protests by competing for political factions in 2008, 2009, and 2010. Thaksin's youngest sister, YINGLAK Chinnawat, in 2011 led the Puea Thai Party to an electoral win and assumed control of the government. In early May 2014, after months of large-scale anti-government protests in Bangkok beginning in November 2013, YINGLAK was removed from office by the Constitutional Court. In late May 2014, the Royal Thai Army, led by Royal Thai Army Gen. PRAYUT Chan-Ocha, staged a coup against the caretaker government. PRAYUT was appointed prime minister in August 2014.
Since then, the military-affiliated National Council for Peace and Order (NCPO), led by PRAYUT, has ruled the country. This body drafted a new constitution guaranteeing military sway over Thai politics, which passed in a national referendum in August 2016. The constitution allows the military to select the entire 250-member Senate and requires a joint meeting of the House and Senate to select the prime minister, effectively giving the military a veto over the top executive by controlling 25% of the House. The NCPO has also restricted civil and political rights and suppressed political opponents. King PHUMIPHON Adunyadet passed away in October 2016 after 70 years on the throne; his only son, WACHIRALONGKON Bodinthrathepphayawarangkun (aka King Rama X), ascended the throne in December 2016. He signed the new constitution in April 2017. A long-delayed March 2019 election, disputed and widely viewed as skewed in favor of the party aligned with the military, allowed PRAYUT to continue his premiership. The country experienced large-scale pro-democracy protests in 2020.
Geography

One-third is a low plateau, drained by tributaries of the Mekong River. The central plain is the most fertile area.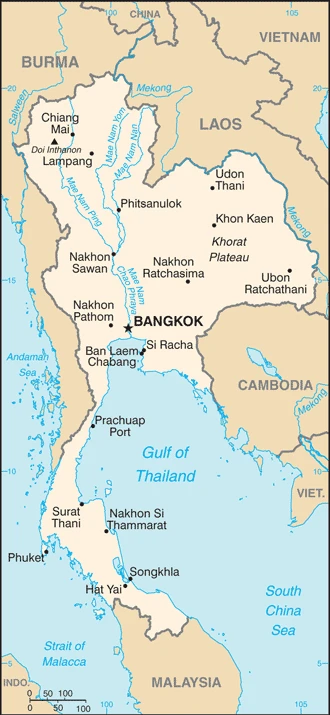 Thailand lies at the heart of mainland Southeast Asia. Continuing rapid industrialization has resulted in massive congestion in the capital and severe depletion of natural resources.
This state is located in Southeastern Asia, bordering the Andaman Sea and the Gulf of Thailand, southeast of Burma, under the coordinates of 15 00 N, 100 00 E, covering an area of 513,120 sq km with a coastline of 3,219 km. Thailand is About three times the size of Florida; slightly more than twice the size of Wyoming.
Thailand has 5,673 km of land boundaries and borders (4 nations): Burma 2416 km, Cambodia 817 km, Laos 1845 km, Malaysia 595 km.
The central plain, Khorat plateau in the east, mountains elsewhere, with Doi Inthanon 2,565 m as the highest point of Thailand, while Gulf of Thailand 0 m as the lowest point, causing a mean elevation at 287 m throughout the country. With a total of 513,120 sq km, Thailand has 510,890 sq km of land and 2,230 sq km of water surface area.
Major water bodies in the country: Thalesap Songkhla – 1,290 sq km (saltwater lake) while the major rivers are: Mekong (shared with Burma, Laos, China, Cambodia, and Vietnam) – 4,350 km, Salween (shared with China and Burma) – 3,060 km, Mun – 1,162 km. The significant watersheds for Thailand are Indian Ocean drainage: Salween (271,914 sq km) and Pacific Ocean drainage: Mekong (805,604 sq km).
Controls only land route from Asia to Malaysia and Singapore; ideas for constructing a canal across the Kra Isthmus that would create a bypass to the Strait of Malacca and shorten shipping times around Asia continue to be discussed.
The climate in Thailand is as follows: Tropical, rainy, warm, cloudy southwest monsoon (mid-May to September), dry, cool northeast monsoon (November to mid-march), and southern isthmus always hot and humid.
When you visit Thailand, the natural hazards shall be considered: Land subsidence in the Bangkok area resulting from the depletion of the water table; droughts.
The following major health-threatening issues shall be considered when visiting Thailand: degree of risk: very high (2020), bacterial diarrhea, dengue fever, Japanese encephalitis, and malaria.
Current environmental issues affecting the Thai people: air pollution from vehicle emissions; water pollution from organic and factory wastes; water scarcity; deforestation; soil erosion; wildlife populations threatened by illegal hunting; hazardous waste disposal.
Google maps Thailand
The capital and other divisions
Capital city: Krung Thep, the city's Thai name, means City of the Deity and is a shortening of the whole ceremonial Krungthepmahanakhon Amonrattanakosin Mahintharayutthaya Mahadilokphop Noppharatratchathaniburirom Udomratchaniwetmahasathan Amonphimanawatansathit Sakkathattiyawitsanukamprasit; translated the meaning is City of angels, the great city of immortals, magnificent city of the nine gems, the seat of the king, city of royal palaces, home of gods incarnate, erected by Vishvakarman at Indra's behest; it holds the worlds record as the longest place name (169 letters) found under the coordinates 13 45 N, 100 31 E, applying the time zone UTC+7 (12 hours ahead of Washington, DC, during Standard Time), using the following daylight saving time: none.
Krung Thep is the capital of Thailand. It was initially a fishing village on the west coast of the Malay Peninsula, but in 1768 it was conquered by King Rama I, who renamed it "Krung Thep," meaning "City of Angels". It is a fascinating city with rich history, vibrant culture, and beautiful scenery. Krung Thep is also known for its abundance of Buddhist temples, some of which date back to the 13th century, when it was still under the rule of Ayutthaya.
Thailand became independent in 1238 (the traditional founding date; it never colonized), and its national holiday is the Birthday of King WACHIRALONGKON, 28 July (1952).
Administrative divisions: 76 provinces (changwat, singular and plural) and 1 municipality (maha nakhon); Amnat Charoen, Ang Thong, Bueng Kan, Buri Ram, Chachoengsao, Chai Nat, Chaiyaphum, Chanthaburi, Chiang Mai, Chiang Rai, Chon Buri, Chumphon, Kalasin, Kamphaeng Phet, Kanchanaburi, Khon Kaen, Krabi, Krung Thep (Bangkok), Lampang, Lamphun, Loei, Lop Buri, Mae Hong Son, Maha Sarakham, Mukdahan, Nakhon Nayok, Nakhon Pathom, Nakhon Phanom, Nakhon Ratchasima, Nakhon Sawan, Nakhon Si Thammarat, Nan, Narathiwat, Nong Bua Lamphu, Nong Khai, Nonthaburi, Pathum Thani, Pattani, Phangnga, Phatthalung, Phayao, Phetchabun, Phetchaburi, Phichit, Phitsanulok, Phra Nakhon Si Ayutthaya, Phrae, Phuket, Prachin Buri, Prachuap Khiri Khan, Ranong, Ratchaburi, Rayong, Roi Et, Sa Kaeo, Sakon Nakhon, Samut Prakan, Samut Sakhon, Samut Songkhram, Saraburi, Satun, Sing Buri, Si Sa Ket, Songkhla, Sukhothai, Suphan Buri, Surat Thani, Surin, Tak, Trang, Trat, Ubon Ratchathani, Udon Thani, Uthai Thani, Uttaradit, Yala, Yasothon.
People and society

Buddhism is a national binding force. Six hundred thousand hill tribes-people live in the north and northeast. The Chinese minority is the most assimilated in the region. In the undeveloped far south, Malay Islamists are fighting for secession. Politics has been unstable since the 2006 fall of populist Prime Minister Thaksin; the military intervened again in 2014.
The population in Thailand is 69,480,520 (July 2021 estimate), with an average of 0.26% (2021 estimate) change. That means Thailand is the No. 20 in the world's populated rank list. With an average of 39 years median age (37.8 years for males and 37.8 years for women), Thailand ranks No. 59 on the globe's median age rank list.
The people living in this country are Thai (also singular and plural) (noun) or Thai (adjective) and belong mainly to the following ethnic groups: Thai 97.5%, Burmese 1.3%, other 1.1%, unspecified <.1% (2015 estimate). Note: data represent population by nationality. They speak Thai (official language) only 90.7%, Thai and other languages 6.4%, only other languages 2.9% (including Malay, Burmese) languages and practice the following religions: Buddhist 94.6%, Muslim 4.3%, Christian 1%, other <0.1%, none <0.1% (2015 estimate). We can conclude the following about the population in Thailand: Highest population density is found in and around Bangkok. Significant population clusters are found throughout large parts of the country, mainly north and northeast of Bangkok and in the extreme southern region of the country. In Thailand, we talk about 52.2% (2021) of the total population lives in cities. Most of them reside in the following municipalities: 10.723 million, Bangkok (capital city), 1.417 Chon Buri, 1.324 million, Samut Prakan, 1.182 million, Chiang Mai, 979,000 Songkla, 975,000 Nothaburi (2021).
Industry

Successful manufacturing. Natural gas reserves. Leading exporter of rice and rubber. Political turmoil. Tourism, although the sex industry, harms its image. Damage from natural disasters.
With a relatively well-developed infrastructure, a free-enterprise economy, and generally pro-investment policies, Thailand is highly dependent on international trade, with exports accounting for about two-thirds of GDP. Thailand's exports include electronics, agricultural commodities, automobiles and parts, and processed foods. The industry and service sectors produce about 90% of GDP. The agricultural sector, comprised mostly of small-scale farms, contributes only 10% of GDP but employs about one-third of the labor force. Thailand has attracted an estimated 3.0-4.5 million migrant workers, mostly from neighboring countries. Over the last few decades, Thailand has reduced poverty substantially. In 2013, the Thai Government implemented a nationwide 300 baht (roughly $10) per day minimum wage policy and deployed new tax reforms designed to lower rates on middle-income earners. The Thailand economy has been recovering from slow growth since the 2014 coup. Thailand's economic fundamentals are sound, with low inflation, unemployment, and reasonable public and external debt levels. Tourism and government spending – mostly on infrastructure and short-term stimulus measures – – have helped boost the economy, and The Bank of Thailand has been supportive, with several interest rate reductions. Over the longer-term, household debt levels, political uncertainty, and an aging population pose risks to growth.
Thailand is rich in the following natural resources: Tin, rubber, natural gas, tungsten, tantalum, timber, lead, fish, gypsum, lignite, fluorite, and arable land.
The main industrial sectors are typically tourism, textiles and garments, agricultural processing, beverages, tobacco, cement, light manufacturing such as jewelry and electric appliances, computers, and parts, integrated circuits, furniture, plastics, automobiles, and automotive parts, agricultural machinery, air conditioning and refrigeration, ceramics, aluminum, chemical, environmental management, glass, granite and marble, leather, machinery and metalwork, petrochemical, petroleum refining, pharmaceuticals, printing, pulp and paper, rubber, sugar, rice, fishing, cassava, worlds second-largest tungsten producer and third-largest tin producer.
The country's export sectors are robust in office machinery/parts, cars, and vehicle parts, integrated circuits, delivery trucks, and gold (2019), partnering with these nations: the United States 13%, China 12%, Japan 10%, Vietnam 5% (2019). The export trade resulted in $258.42 billion. Note: Data are in current year dollars (2020 estimate). In a global rank of the export, values resulted in Thailand's position of 25.
Land use in Thailand: 37.2% (2018 estimate) forest, 21.6% (2018 estimate) other.
The arable land area is 30.8% (2018 estimate), and the agricultural land is 41.2% (2018 estimate). Land use for permanent crops 8.8% (2018 estimate), permanent pasture 1.6% (2018 estimate). The sum of the area of the irrigated land is 64,150 sq km (2012).
The main agro-industrial products of Thailand are sugar cane, cassava, rice, oil palm fruit, rubber, maize, tropical fruit, poultry, pineapples, and mangoes/guavas.
The country typically needs to import: crude petroleum, integrated circuits, natural gas, vehicle parts, and gold (2019), partnering with the following nations: China 22%, Japan 14%, the United States 7%, Malaysia 6% (2019) in a sum value of $233.75 billion. Note: data are in current year dollars (2020 estimate) $272.83 billion. Note: data are in current year dollars (2019 estimate) $283.66 billion. Note: data are in current year dollars (2018 estimate). This sum value on the global ranking list of imports resulted in Thailand 24.
Thailand Driving Directions

In this post, you learned about Thailand, Southeastern Asia, bordering the Andaman Sea, and the Gulf of Thailand, southeast of Burma. We published some basic information about its capital Krung Thep (Bangkok), and the Thai nation.
Are you interested in visiting Thailand and looking for driving directions? Click here to plan your route, or see a printable road map of Thailand below for an overview of the route network.
Printable map of Thailand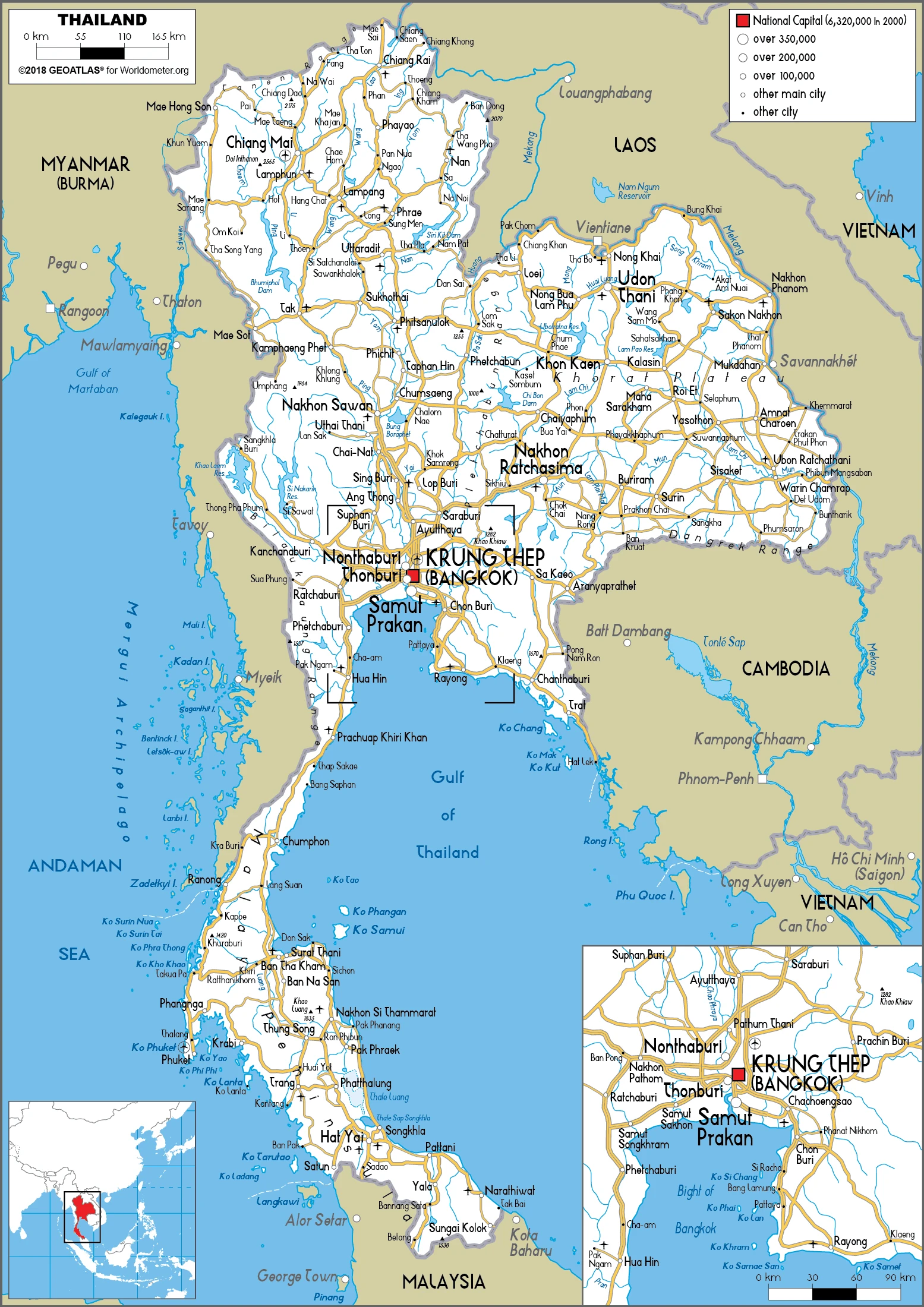 Did you know about Thailand?
Thailand is a beautiful country known for its delicious food, stunning beaches, and friendly people. It's also a great place to travel if you're looking for a safe and exciting destination. Thailand has one of the lowest violent crime rates globally, and it's generally considered a relatively safe country to visit. There are, however, some things to be aware of before you go. For example, don't walk around at night without carrying identification or money if you need to get a taxi or find a place to stay. And make sure you know the warning signs of scams – for example, being asked to pay for something upfront.
There are many things to do in Thailand, from exploring the rolling hills of Bangkok to soaking up the sun on Koh Samui. Thailand is worth checking out if you're looking for a relaxing vacation.
After virtually visiting Thailand, you may also be interested in the neighboring countries: Burma, Cambodia, Laos, and Malaysia.
If you liked our Google map and Thailand information page,
please share it with others or save the link https://www.drivingdirections.net in your bookmarks.