Italy Google Maps is a site/tool that offers a wide range of map views (topographic, satellite, street view) and navigation options, with little effort on your part, yet efficiently. If you need to plan a trip to a new place like Italy, Google maps are available on desktop, mobile, or tablet. This Google maps and information page is dedicated to Italy, Europe (47 countries), showing its location, country facts, details about its capital city Rome, bordering countries like Austria, France, Vatican City, San Marino, Slovenia, Switzerland, and plenty of other information which may be interesting when you visit this European state.
Quick links: Google maps Italy, Rome Google maps, Driving Directions Italy, Printable Road Map.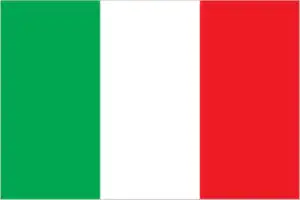 About Italy in a nutshell
Conventional short form of the name: Italy
The conventional long form of the name: Italian Republic
Local long form: Repubblica Italiana
Local short form: Italia
Former name(s): Kingdom of Italy
Etymology: derivation is unclear, but the Latin Italia may come from the Oscan Viteliu, meaning Land of Young Cattle (the bull was a symbol of southern Italic tribes).
The legal system in Italy: civil law system; judicial review of legislation under certain conditions in Constitutional Court.
Climate: The Mediterranean in the south. Seasonal extremes in the mountains and on the northern alluvial plain.
The national symbols are white and a five-pointed star (Stella d'Italia), while the national colors are red, white, and green.
Internet TLD: .it
Italy is a feast for the senses and the intellect. When you mention Italy, it calls up visions of Pompeii, the Renaissance, and Italy's rich treasury of art and architecture. However, some experiences in Italy involve simple acts, such as living an Italian lifestyle and eating regional cuisines.
Italian cuisine and the Venice Carnival are just two of the many attractions that attract almost 40 million tourists to the land of the Azzurri every year. Occupying the boot-shaped Appennine peninsula and the two largest islands in the Mediterranean, Italy is undoubtedly the most visited center. In Europe, there is no other country with such a diverse natural environment and rich historical and cultural heritage as Italy. In the north, the snow-capped peaks and glacial lakes of the Southern Alps, with the majestic, ice-and-wind-carved rocky peaks of the Dolomites, almost 'crown' Europe's youngest chain, the Appennines, which derive their name from the Celtic term 'rocky ridge', a 'crown' fixed to the boot heel by the broad green ribbon of the Po lowlands. The limestone cliffs overlooking the rolling hills of Tuscany, covered with snow in winter, are colored by a few crater lakes around Rome.
The coast of the Tyrrhenian Sea is the youngest land in Europe: Near Naples, the ruins of Pompeii and Herculaneum, destroyed by the historical eruptions of Mount Vesuvius, the sulfur-steaming crater of Solfa-tara, the highest volcano on the continent in Sicily, the glowing lava flows of Mount Etna, rising to over 3,000 meters, the nightly fireworks of Stromboli and the smoldering crater of Vulcano, the namesake of all volcanoes, show that the embers of Vulcan's workshop have not yet gone out. From the Bronze Age rock formations of Valcamonica in the Southern Alps to the volcanoes of the Lipari Islands, Italy is home to some 40 cultural and natural world heritage sites: the ancient settlements and cemeteries of the Etruscans, Greeks, and Romans, the treasures of Genoa, Venice, Padua, Ferrara, Ravenna, Verona, Pisa, Siena, Piacenza, Florence, Naples and Rome, the works of Italy's squid makes, popes and emperors, Renaissance scholars and thinkers, architects, painters and sculptors, and more.
Italy was a collection of dukedoms, monarchies, and city-states before unification in the 1860s.
Background

Italy became a nation-state in 1861 when the regional states of the peninsula, along with Sardinia and Sicily, were united under King Victor EMMANUEL II. An era of parliamentary government came to a close in the early 1920s when Benito MUSSOLINI established a Fascist dictatorship. His alliance with Nazi Germany led to Italy's defeat in World War II. A democratic republic replaced the monarchy in 1946, and economic revival followed. Italy is a charter member of NATO and the European Economic Community (EEC) and its subsequent successors, the EC and the EU. It has been at the forefront of European economic and political unification, joining the Economic and Monetary Union in 1999. Persistent problems include sluggish economic growth, high youth and female unemployment, organized crime, corruption, and economic disparities between southern Italy and the more prosperous north.
Geography

The Apennines form the backbone of a rugged peninsula, extending from the Alps into the Mediterranean Sea. An alluvial plain in the north.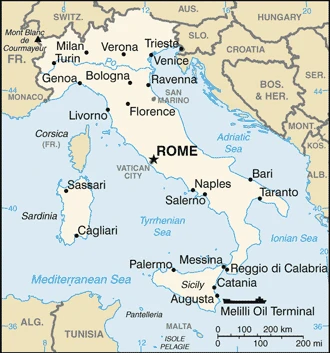 The Italian peninsula was home to the Roman Empire, one of the greatest ancient civilizations. The south has two famous volcanoes, Vesuvius and Etna.
This state is located in Southern Europe, a peninsula extending into the central Mediterranean Sea, northeast of Tunisia, under the coordinates of 42 50 N, 12 50 E, covering an area of 301,340 sq km with a coastline of 7,600 km. Italy is Almost twice the size of Georgia, slightly larger than Arizona.
Italy has 1,836.4 km of land boundaries and borders with (6 nations): Austria 404 km, France 476 km, Holy See (Vatican City) 3.4 km, San Marino 37 km, Slovenia 218 km, Switzerland 698 km.
Mostly rugged and mountainous, with some plains, and coastal lowlands, with Mont Blanc (Monte Bianco) de Courmayeur (a secondary peak of mont blanc) at 4,748 m as the highest point of Italy, while the Mediterranean Sea 0 m as the lowest point, causing a mean elevation at 538 m throughout the country. With 301,340 sq km, Italy has 294,140 sq km of land and 7,200 sq km of water surface area.
The significant watersheds for Italy are Atlantic Ocean drainage: Rhine-Maas (198,735 sq km), (Black Sea), Danube (795,656 sq km), (Adriatic Sea), Po (76,997 sq km), (Mediterranean Sea), Rhone (100,543 sq km).
Strategic location dominating the central Mediterranean and southern sea and air approaches to Western Europe.
The climate in Italy is as follows: Predominantly the Mediterranean, alpine in the far north, hot, dry in the south.
When you visit Italy, the natural hazards shall be considered: Regional risks include landslides, mudflows, avalanches, earthquakes, volcanic eruptions, flooding; land subsidence in Venice volcanism: significant volcanic activity; etna (3,330 m), which is in eruption as of 2010, is Europes most active volcano; flank eruptions pose a threat to nearby Sicilian villages; etna, along with the famous Vesuvius, which remains a threat to the millions of nearby residents in the Bay of Naples area, has both been deemed decade volcanoes by the international association of volcanology and chemistry of the interior of the earth, worthy of study due to their tumultuous history and proximity to human populations; Stromboli, on its namesake island, has also been continuously active with moderate volcanic activity; other historically active volcanoes include Campi Flegrei, Ischia, Larderello, Pantelleria, Vulcano, and Vulsini.
The following major health-threatening issues shall be considered when visiting Italy: none.
Current environmental issues affecting the Italian people: air pollution from industrial emissions such as sulfur dioxide; coastal and inland rivers polluted from industrial and agricultural effluents; acid rain damaging lakes; inadequate industrial waste treatment and disposal facilities.
Google maps Italy
The capital and other divisions
Capital city: Rome found under the coordinates 41 54 N, 12 29 E, applying the time zone UTC+1 (6 hours ahead of Washington, DC, during Standard Time), using the following daylight saving time: +1hr begins last Sunday in March; ends last Sunday in October.
Rome is considered one of the most famous cities in the world. Not only is it a tourist destination, not only did it serve as a capital city for the Roman Empire, but also, it's a popular destination to host events and gatherings. The ancient city of Rome is a living, breathing example of the impressive feats of engineering and architecture that humans have managed to achieve over the centuries. With its picturesque ruins scattered across the countryside, it's easy to see why people from worldwide want to visit this historic center.
Italy became independent on 17 March 1861 (the Kingdom of Italy proclaimed; Italy was not finally unified until 1871), and its national holiday is Republic Day, 2 June (1946).
Administrative divisions: 15 regions (regioni, singular – regione) and 5 autonomous regions (regioni autonome, singular – regione autonoma) regions: Abruzzo, Basilicata, Calabria, Campania, Emilia-Romagna, Lazio (Latium), Liguria, Lombardia, Marche, Molise, Piemonte (Piedmont), Puglia (Apulia), Toscana (Tuscany), Umbria, Veneto; autonomous regions: Friuli Venezia Giulia, Sardegna (Sardinia), Sicilia (Sicily), Trentino-Alto Adige (Trentino-South Tyrol) or Trentino-Suedtirol (German), Valle dAosta (Aosta Valley) or Vallee dAoste (French).
People and society

Ethnically homogeneous, but with a gulf between the prosperous, industrial north and the poorer, agricultural south. Strong regional identities persist, especially in Sicily and Sardinia. Family ties remain strong, though the influence of the Roman Catholic Church has lessened.
The population in Italy is 62,390,364 (July 2021 estimate), with an average of 0.09% (2021 estimate) change. That means Italy is the No. 23 in the world's populated rank list. With an average of 46.5 years median age (45.4 years for males and 45.4 years for women), Italy ranks No. 5 on the globe's median age rank list.
The people living in this country are the Italian(s) (noun) or Italian (adjective) and belong mainly to the following ethnic groups: Italian (includes small clusters of German-, French-, and Slovene-Italians in the north and Albanian-Italians and Greek-Italians in the south).
They speak Italian (official language), German (parts of Trentino-Alto Adige region are predominantly German-speaking), French (small French-speaking minority in Valle d'Aosta region), Slovene (Slovene-speaking minority in the Trieste-Gorizia area), languages and practice the following religions: Christian 80.8% (overwhelmingly Roman Catholic with tiny groups of Jehovahs Witnesses and Protestants), Muslim 4.9%, unaffiliated 13.4%, other 0.9% (2020 estimate).
We can conclude the following about the population in Italy: Despite a distinctive pattern with an industrial north and agricultural south, a fairly even population distribution exists throughout most of the country, with coastal areas, the Po river valley, and urban centers (particularly Milan, Rome, and Naples), attracting larger and denser populations. In Italy, we talk about 71.3% (2021) of the total population living in cities. Most of them reside in the following municipalities: 4.278 million, Rome (capital city), 3.144 million, Milan, 2.183 million, Naples, 1.795 million, Turin, 900,000 Bergamo, 850,000 Palermo (2021).
Industry

World leader in industrial and product design, fashion, and textiles. Vital tourism and agriculture. Large public sector debt: austerity packages. Reforms have failed to restore GDP growth. Lack of jobs.
Italy's economy comprises a developed industrial north dominated by private companies and a less-developed, highly subsidized agricultural south, with a legacy of unemployment and underdevelopment. The Italian economy is primarily driven by the manufacture of high-quality consumer goods produced by small and medium-sized enterprises, many family-owned. Italy also has a sizable underground economy, accounting for 17% of GDP by some estimates. These activities are most common in the agriculture, construction, and service sectors. Italy is the third-largest economy in the eurozone, but its exceptionally high public debt and structural impediments to growth have rendered it vulnerable to scrutiny by financial markets. Public debt has increased steadily since 2007, reaching 131% of GDP in 2017.
Investor concerns about Italy and the broader euro-zone crisis eased in 2013, bringing down Italy's borrowing costs on sovereign government debt from euro-era records. The government still faces pressure from investors and European partners to sustain its efforts to address Italy's longstanding structural economic problems, including labor market inefficiencies, a sluggish judicial system, and a weak banking sector. Italy's economy returned to modest growth in late 2014 for the first time since 2011. From 2015 to 2016, Italy's economy grew at about 1% each year, and in 2017 growth accelerated to 1.5% of GDP. In 2017, overall unemployment was 11.4%, but youth unemployment remained high at 37.1%. GDP growth is projected to slow slightly in 2018.
Italy is rich in the following natural resources: Coal, antimony, mercury, zinc, potash, marble, barite, asbestos, pumice, fluorspar, feldspar, pyrite (sulfur), natural gas and crude oil reserves, fish, and arable land.
The main industrial sectors are tourism, machinery, iron and steel, chemicals, food processing, textiles, motor vehicles, clothing, footwear, and ceramics.
The country's export sectors are particularly strong in packaged medicines, cars and vehicle parts, refined petroleum, valves, trunks/cases, and wine (2019), partnering with these nations: Germany 12%, France 11%, United States 10%, United Kingdom 5%, Spain 5%, Switzerland 5% (2019). The export trade resulted in $558.26 billion. Note: Data are in current year dollars (2020 estimate). In a global rank of the export, values resulted in Italy's position of 11.
Land use in Italy: 31.4% (2018 estimate) forest, 21.5% (2018 estimate) other.
The arable land area is 22.8% (2018 estimate), and the agricultural land is 47.1% (2018 estimate). Land use for permanent crops 8.6% (2018 estimate), permanent pasture 15.7% (2018 estimate). The sum of the area of the irrigated land is 39,500 sq km (2012).
The main agro-industrial products of Italy are milk, grapes, wheat, maize, tomatoes, apples, olives, sugar beet, oranges, and rice.
The country typically needs to import: crude petroleum, cars, packaged medicines, natural gas, and refined petroleum (2019), partnering with the following nations: Germany 16%, France 9%, China 7%, Spain 5%, Netherlands 5%, Belgium 5% (2019) in a sum value of $486.35 billion. Note: data are in current year dollars (2020 estimate) $569.7 billion. Note: data are in current year dollars (2019 estimate) $605.44 billion. Note: data are in current year dollars (2018 estimate). This sum value on the global ranking list of imports resulted in Italy 13.
Italy Driving Directions

In this post, you learned about Italy, Southern Europe, a peninsula extending into the central Mediterranean Sea northeast of Tunisia. We published some basic information about its capital Rome, and the Italian nation.
Are you interested in visiting Italy and looking for driving directions? Click here to plan your route, or see a printable road map of Italy below for an overview of the route network.
Printable map of Italy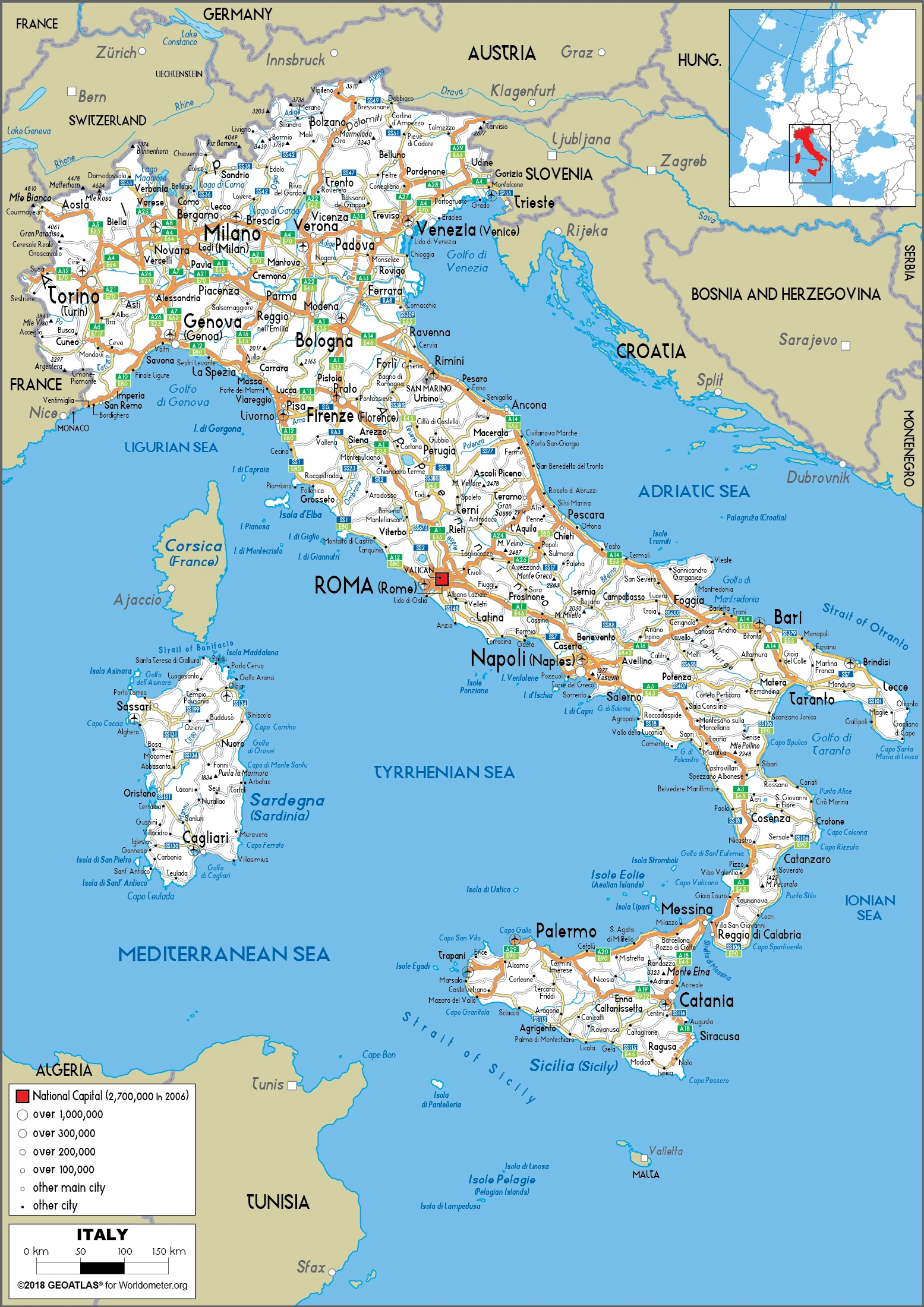 Did you know about Italy?
Did you know that Italy is home to the oldest and the most extensive wine cellar in the world? Did you also know it's the birthplace of Catalan cuisine? Or did you know that Italy is home to some of the best beaches in Europe? Italy has never ceased to amaze its visitors with its charm and beauty. UNESCO, which granted Italy World Heritage status, even called Italy "a mold for democracy" because of its separation between church and state.
After visiting Italy, you may be interested in the neighboring countries: Austria, France, Vatican City, San Marino, Slovenia, and Switzerland.
If you liked our Google map and Italy information page,
please share it with others or save the link https://www.drivingdirections.net in your bookmarks.