Jamaica Google Maps is a site/tool that offers a wide range of map views (topographic, satellite, street view) and navigation options, with little effort on your part, yet efficiently. If you need to plan a trip to a new place like Jamaica, Google maps are available on desktop, mobile, or tablet. This Google maps and information page is dedicated to Jamaica, Central America, and the Caribbean (35 countries), showing its location, country facts, details about its capital city Kingston, and plenty of other information which may be interesting when you visit this Central American and the Caribbean state.
Quick links: Google maps Jamaica, Kingston Google maps, Driving Directions Jamaica, Printable Road Map.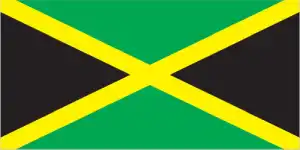 About Jamaica in a nutshell
Jamaica's Rastafarians revere the late emperor of Ethiopia, Haile Selassie, as their spiritual leader, and see Africa as their spiritual home.
Conventional short form of the name: Jamaica
The conventional long form of the name: none
Etymology: from the native Taino word haymaca meaning Land of Wood and Water or possibly Land of Springs.
The legal system in Jamaica: common law system based on the English model.
Climate: Tropical. Hot and humid at sea level, with temperate mountain areas. Hurricanes are likely June–November.
The national symbols are green-and-black streamertail (bird), Guaiacum officinale (Guaiacwood); national colors: green, yellow, black.
Internet TLD: .jm
Background

The island – discovered by Christopher COLUMBUS in 1494 – was settled by the Spanish early in the 16th century. The native Taino, who had inhabited Jamaica for centuries, were gradually exterminated and replaced by enslaved Africans. England seized the island in 1655 and established a plantation economy based on sugar, cocoa, and coffee. The abolition of slavery in 1834 freed a quarter million enslaved people, many of whom became small farmers. Jamaica gradually increased its independence from Britain. In 1958 it joined other British Caribbean colonies in forming the Federation of the West Indies. Jamaica withdrew from the Federation in 1961 and gained complete independence in 1962. Deteriorating economic conditions during the 1970s led to recurrent violence as rival gangs affiliated with the major political parties evolved into robust organized crime networks involved in international drug smuggling and money laundering. Violent crime, drug trafficking, and poverty pose significant challenges to today's government. Nonetheless, many rural and resort areas remain relatively safe and contribute substantially to the economy.
Geography

Mainly mountainous, with lush tropical vegetation. Inaccessible limestone area in the northwest. Low, irregular coastal plains are broken by hills and plateaus.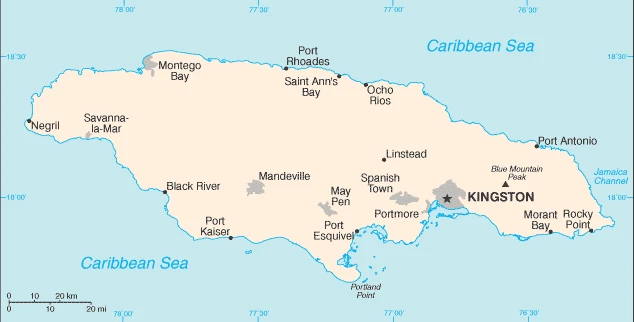 First colonized by the Spanish and then by the English, the Caribbean island of Jamaica achieved independence in 1962. It remains an influential force in Caribbean politics.
This state is located in the Caribbean, an island in the Caribbean Sea, south of Cuba, under the coordinates of 18 15 N, 77 30 W, covering an area of 10,991 sq km with a coastline of 1,022 km. Jamaica is About half the size of New Jersey, slightly smaller than Connecticut.
Mostly mountains, with narrow, discontinuous coastal plain, with Blue mountain peak 2,256 m as the highest point of Jamaica, while the Caribbean Sea 0 m as the lowest point, causing a mean elevation at 18 m throughout the country. With 10,991 sq km, Jamaica has 10,831 sq km of land and 160 sq km of water surface area.
The third-largest island in the Caribbean (after Cuba and Hispaniola); strategic location between Cayman Trench and Jamaica Channel, the main sea lanes for the Panama CanalThe climate in Jamaica is as follows: Tropical, hot, humid, soft interior.
When you visit Jamaica, the natural hazards shall be considered: Hurricanes (especially July to November).
The following major health-threatening issues shall be considered when visiting Jamaica: none.
Current environmental issues affecting the Jamaican people: heavy deforestation rates; coastal waters polluted by industrial waste, sewage, and oil spills; damage to coral reefs; air pollution in Kingston from vehicle emissions; land erosion.
Google maps Jamaica
The capital and other divisions
Capital city: Kingston found under the coordinates 18 00 N, 76 48 W, applying the time zone UTC-5 (same time as Washington, DC, during Standard Time), using the following daylight saving time: none.
Kingston is a major tourist destination in the Caribbean. The capital is a city full of life and culture, but it has also been the backdrop for some of its most gruesome crimes. No place in Jamaica quite matches Kingston for its eclectic cultural influences and vivid history.
Jamaica became independent on 6 August 1962 (from the UK), and its national holiday is Independence Day, 6 August (1962).
Administrative divisions: 14 parishes; Clarendon, Hanover, Kingston, Manchester, Portland, Saint Andrew, Saint Ann, Saint Catherine, Saint Elizabeth, Saint James, Saint Mary, Saint Thomas, Trelawny, Westmoreland note: for local government purposes, Kingston and Saint Andrew were amalgamated in 1923 into the present single corporate body known as the Kingston and Saint Andrew Corporation.
People and society

Social tensions result from vast disparities in wealth rather than race. A few wealthy, long-established families dominate economic and political life. Many women hold senior positions in public life. Armed crime, much of it narcotics-related, is a problem. Large areas of Kingston, which have their patois, are ruled by violent gangs. Jamaican music styles are influential worldwide.
The population in Jamaica is 2,816,602 (July 2021 estimate), with an average of 0.06% (2021 estimate) change. That means Jamaica is the No. 140 in the world's populated rank list. With an average of 29.4 years median age (28.6 years for males and 28.6 years for women), Jamaica ranks No. 131 on the globe's median age rank list.
The people living in this country are the Jamaican(s) (noun) or Jamaican (adjective) and belong mainly to the following ethnic groups: Black 92.1%, mixed 6.1%, East Indian 0.8%, other 0.4%, unspecified 0.7% (2011 estimate).
They speak English, English patois languages and practice the following religions: Protestant 64.8% (includes Seventh Day Adventist 12.0%, Pentecostal 11.0%, Other Church of God 9.2%, New Testament Church of God 7.2%, Baptist 6.7%, Church of God in Jamaica 4.8%, Church of God of Prophecy 4.5%, Anglican 2.8%, United Church 2.1%, Methodist 1.6%, Revived 1.4%, Brethren 0.9%, and Moravian 0.7%), Roman Catholic 2.2%, Jehovahs Witness 1.9%, Rastafarian 1.1%, other 6.5%, none 21.3%, unspecified 2.3% (2011 estimate).
We can conclude the following about the population in Jamaica: Population density is high throughout but increases in and around Kingston, Montego Bay, and Port Esquivel. In Jamaica, we are talking about 56.7% (2021) of the total population lives in cities, and most of them reside in the following municipalities: 592,000 Kingston (capital city) (2021).
Industry

Major bauxite producer, though sector vulnerable to changes in world prices. Tourism and light industry. Sugar, bananas, coffee, and rum are exported. The debt burden dominates the budget. High underemployment.
The Jamaican economy is heavily dependent on services, accounting for more than 70% of GDP. The country derives most of its foreign exchange from tourism, remittances, and bauxite/alumina. Earnings from remittances and tourism account for 14% and 20% of GDP, while bauxite/alumina exports have declined to less than 5%. Jamaica's economy has grown by less than 1% a year for the last three decades. Many impediments remain to growth: a bloated public sector that crowds out spending on important projects; high crime and corruption; red tape; and a high debt-to-GDP ratio. Jamaica, however, has made steady progress in reducing its debt-to-GDP ratio from a high of almost 150% in 2012 to less than 110% in 2017, in close collaboration with the International Monetary Fund (IMF).
The current IMF Stand-By Agreement requires Jamaica to produce a primary annual surplus of 7% to reduce its debt burden below 60% by 2025., Economic growth reached 1.6% in 2016. Still, it declined to 0.9% in 2017 after intense rainfall, demonstrating the economy's vulnerability to weather-related events. THEREFORE, the HOLNESS administration challenges maintaining the fiscal discipline to reduce the debt load while simultaneously implementing growth-inducing policies and attacking a severe crime problem. High unemployment exacerbates the crime problem, including gang violence fueled by advanced fee fraud (lottery scamming) and the drug trade.
Jamaica is rich in the following natural resources: Bauxite, alumina, gypsum, limestone.
The main industrial sectors are agriculture, mining, manufacturing, construction, financial and insurance services, tourism, telecommunications.
The country's export sectors are powerful in bauxite, refined petroleum, aluminum, rum, fruits, nuts (2019), partnering with these nations: the United States 32%, Netherlands 11%, Germany 9%, Canada 7%, Iceland 7% (2019). The export trade resulted in $5.92 billion. Note: Data are in current year dollars (2019 estimate). In a global rank of the export, values resulted in Jamaica's position of 122.
Land use in Jamaica: 31.1% (2018 estimate) forest, 27.5% (2018 estimate) other.
The arable land area is 11.1% (2018 estimate), and the agricultural land is 41.4% (2018 estimate). Land use for permanent crops 9.2% (2018 estimate), permanent pasture 21.1% (2018 estimate). The sum of the area of the irrigated land is 250 sq km (2012).
The main agro-industrial products of Jamaica are sugar cane, goat milk, yams, poultry, coconuts, oranges, bananas, gourds, plantains, grapefruit.
The country typically needs to import: refined petroleum, cars, crude petroleum, natural gas, packaged medicines (2019), partnering with the following nations: the United States 43%, China 11% (2019) in a sum value of $8.25 billion. Note: data are in current year dollars (2019 estimate) $7.89 billion. Note: data are in current year dollars (2018 estimate). This sum value on the global ranking list of imports resulted in Jamaica 118.
Jamaica Driving Directions

In this post, you learned about Jamaica, the Caribbean, an island in the Caribbean Sea, south of Cuba. We published some basic information about its capital Kingston, and the Jamaican nation.
Are you interested in visiting Jamaica and looking for driving directions? Click here to plan your route, or see a printable road map of Jamaica below for an overview of the route network.
Printable map of Jamaica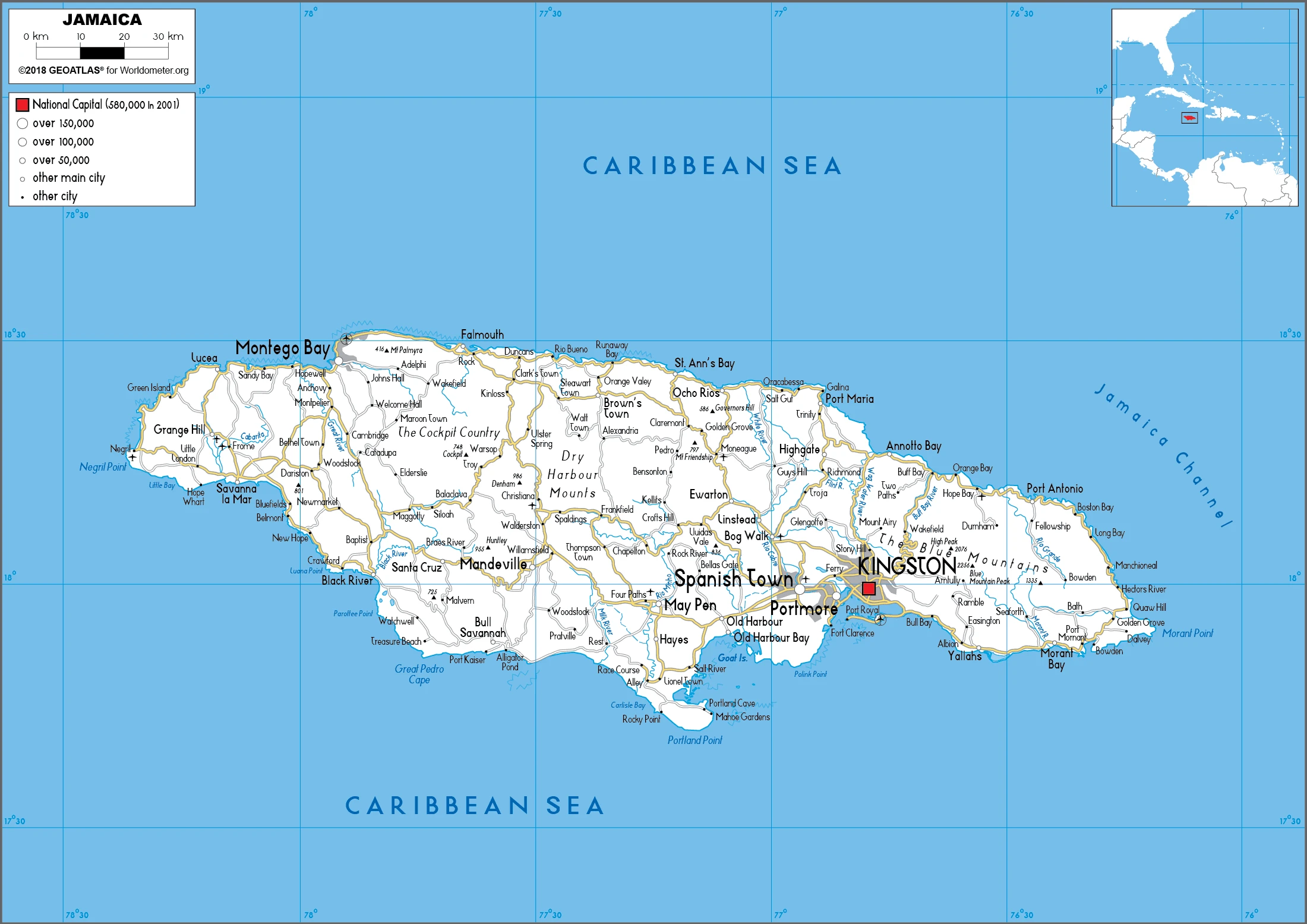 Did you know about Jamaica?
Jamaica is a beautiful Caribbean island known for its vibrant culture, delicious cuisine, and great weather. The Jamaican people are the best-known cultural aspect of Jamaica, as they have been well-known since the 19th century. Their language is unique, and it's not just a dialect of English – it's a little bit different than American English.
After virtually visiting Jamaica, you may also be interested in the neighboring countries: none.
If you liked our Google map and Jamaica information page,
please share it with others or save the link https://www.drivingdirections.net in your bookmarks.