Madagascar Google Maps is a site/tool that offers a wide range of map views (topographic, satellite, street view) and navigation options, with little effort on your part, yet efficiently. If you need to plan a trip to a new place like Madagascar, Google maps are available on desktop, mobile, or tablet. This Google maps and information page is dedicated to Madagascar, Africa (54 countries), showing its location, country facts, details about its capital city Antananarivo, and plenty of other information which may be interesting when you visit this African state.
Quick links: Google maps Madagascar, Antananarivo Google maps, Driving Directions Madagascar, Printable Road Map.
About Madagascar in a nutshell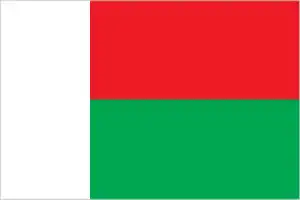 Conventional short form of the name: Madagascar
The conventional long form of the name: Republic of Madagascar
Local long form: Republique de Madagascar/Repoblikani Madagasikara,
Local short form: Madagascar / Madagasikara
Former name(s): Malagasy Republic
Etymology: the name Madageiscar was first used by the 13th-century Venetian explorer Marco POLO, as a corrupted transliteration of Mogadishu, the Somali port with which POLO confused the island.
The legal system in Madagascar: civil law system based on the old French civil code and customary law in matters of marriage, family, and obligation.
Climate: Tropical and often hit by cyclones. Monsoons affect the east coast. The southwest is much drier.
The national symbols are travellers palm, zebu; national colors: red, green, white.
Internet TLD: .mg
Madagascar was populated by sailors from the Indonesian archipelago between the 9th and 13th centuries. The island broke away from the edge of the African Rock Plate about 165 million years ago. Also known as miniature Africa: the Bactrian Arc runs through the southern part of the island. The 'mini-continent' has all the tropics' habitats, from rainforest to desert. It is one of the most ecologically rich areas on the planet, including nearby Comoros; it is home to a quarter of Africa's flowering plant species, 90% of the known lemurs and lemurs half of the world's chameleon species. The rainforests of Antsinanana and the Tsingy de Bamarha Nature Reserve are the island nation's natural world heritage sites, with pristine forests of bizarre karstic limestone cliffs and rocky ridges providing habitats for lemurs and rare birds. Around the capital rises the royal hill of Ambohimanga. The sacred site has been the site of ritual celebrations for 500 years, and in the 18th century, the first kingdom uniting the island's tribes was established here.
80% of Madagascar's plants and many animal species are found nowhere else.
Background

Madagascar was one of the last major habitable landmasses settled by humans. While there is some evidence of human presence on the island in the millennia B.C., large-scale settlement began between A.D. 350 and 550 with settlers from present-day Indonesia. The island attracted Arab and Persian traders as early as the 7th century, and migrants from Africa arrived around A.D. 1000. Madagascar was a pirate stronghold during the late 17th and early 18th centuries and served as a slave-trading center into the 19th century. From the 16th to the late 19th century, a native Merina Kingdom dominated much of Madagascar.
The French conquered the island in 1896 and made it a colony. Independence was regained in 1960. During 1992-93, free presidential and National Assembly elections were held, ending 17 years of single-party rule. In 1997, in the second presidential race, Didier RATSIRAKA, the leader during the 1970s and 1980s, returned to the presidency. The 2001 presidential election was contested between the followers of Didier RATSIRAKA and Marc RAVALOMANANA, nearly causing the secession of half of the country. In 2002, the High Constitutional Court announced RAVALOMANANA the winner. RAVALOMANANA won a second term in 2006 but, following protests in 2009, handed over power to the military, which then conferred the presidency on the mayor of Antananarivo, Andry RAJOELINA, in what amounted to a coup detat. Following a lengthy mediation process led by the Southern African Development Community, Madagascar held UN-supported presidential and parliamentary elections in 2013. Former de facto finance minister Hery RAJAONARIMAMPIANINA won a runoff election in December 2013 and was inaugurated in January 2014. In January 2019, RAJOELINA was declared the winner of a runoff election against RAVALOMANANA. Both RATSIRAKA and RAJAONARIMAMPIANINA also ran in the first round of the election, which took place in November 2018.
Geography

More than two-thirds is a savanna-covered plateau, which drops in the east through rainforests to the coast.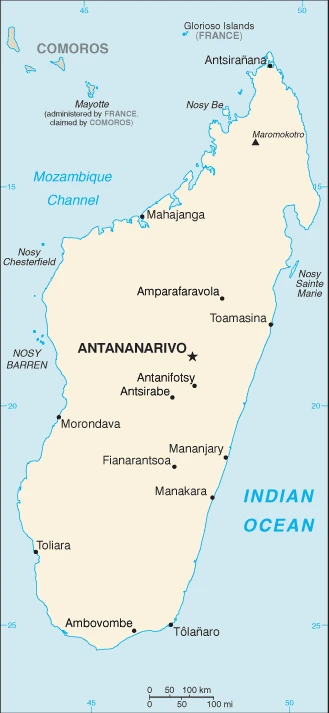 Madagascar is a beautiful place filled with breathtaking landscapes, brilliant wildlife, and generous people.
This state is located in Southern Africa, an island in the Indian Ocean, east of Mozambique, under the coordinates of 20 00 S, 47 00 E, covering an area of 587,041 sq km with a coastline of 4,828 km. Madagascar is Almost four times the size of Georgia, slightly less than twice the size of Arizona.
The narrow coastal plain, high plateau, and mountains in the center, with Maromokotro 2,876 m as the highest point of Madagascar, while Indian Ocean 0 m as the lowest point, causing a mean elevation at 615 m throughout the country. With a total of 587,041 sq km, Madagascar has 581,540 sq km of land and 5,501 sq km water surface area.
World's fourth-largest island; strategic location along the Mozambique Channel; despite Madagascar's proximity to the African continent, ocean currents isolate the island resulting in high rates of endemic plant and animal species; approximately 90% of flora and fauna on the island are found nowhere else.
The climate in Madagascar is as follows: Tropical along the coast, temperate inland, arid in the south.
When you visit Madagascar, the natural hazards shall be considered: Periodic cyclones, drought, and locust infestation volcanism: Madagascar's volcanoes have not erupted in historic times.
The following major health-threatening issues shall be considered when visiting Madagascar: degree of risk: very high (2020), bacterial diarrhea, hepatitis A, typhoid fever, malaria, and dengue fever, schistosomiasis, rabies.
Current environmental issues affecting the Malagasy people: erosion and soil degradation results from deforestation and overgrazing; desertification; agricultural fires; surface water contaminated with raw sewage and other organic wastes; wildlife preservation (endangered species of flora and fauna unique to the island).
Google maps Madagascar
The capital and other divisions
Capital city: Antananarivo found under the coordinates 18 55 S, 47 31 E, applying the time zone UTC+3 (8 hours ahead of Washington, DC, during Standard Time), using the following daylight saving time: none.
Madagascar is a country in the Indian Ocean and is composed of the fourth-largest island of the world's fourth-largest island population. Madagascar has experienced high poverty, malnutrition, and disease in recent years. Madagascar's economy is mainly based on agricultural exports such as vanilla, coffee, cloves, rice, and fisheries and tourism.
Madagascar became independent on 26 June 1960 (from France), and its national holiday is Independence Day, 26 June (1960).
Administrative divisions: 6 provinces (faritany); Antananarivo, Antsiranana, Fianarantsoa, Mahajanga, Toamasina, Toliara.
People and society

People are Malay-Indonesian in origin, intermixed with later migrants from Africa. The primary ethnic division is between the Merina of the central plateau and the poorer côtier (coastal) peoples. The Merina were the country's historical rulers and remained the social elite. The 2009 unrest led to four years of political transition.
The population in Madagascar is 27,534,354 (July 2021 estimate), with an average of 2.31% (2021 estimate) change. That means Madagascar is the No. 53 in the world's populated rank list. With an average of 20.3 years median age (20.1 years for males and 20.1 years for women), Madagascar ranks No. 193 on the globe's median age rank list.
The people living in this country are the Malagasy (also singular and plural) (noun) or Malagasy (adjective) and belong mainly to the following ethnic groups: Malayo-Indonesian (Merina and related Betsileo), Cotiers (mixed African, Malayo-Indonesian, and Arab ancestry – Betsimisaraka, Tsimihety, Antaisaka, Sakalava), French, Indian, Creole, Comoran.
They speak Malagasy (official language) 99.9%, French (official language) 23.6%, English 8.2%, other 0.6% (2018 estimate). Shares sum to more than 100% because some respondents gave more than one answer on the census languages and practice the following religions: Christian, indigenous, Muslim.
We can conclude the following about the population in Madagascar: Most of the population lives on the eastern half of the island. Significant clustering is found in the central highlands and eastern coastline, as shown in this population distribution map. In Madagascar, we are talking about 39.2% (2021) of the total population is living in cities, and most of them reside in the following municipalities: 3.532 million, Antananarivo (capital city) (2021).
Industry

Most people are farmers. Cash crops are vanilla, coffee, and cloves. Garments and shrimp were also exported. Political crises deter investors.
Madagascar is a mostly unregulated economy with many untapped natural resources but no capital markets, a weak judicial system, poorly enforced contracts, and rampant government corruption. The country faces challenges to improve education, healthcare, and the environment to boost long-term economic growth. Agriculture, including fishing and forestry, is a mainstay of the economy, accounting for more than one-fourth of GDP and employing roughly 80% of the population. Deforestation and erosion, aggravated by bushfires, slash-and-burn clearing techniques, and firewood as the primary source of fuel, are serious concerns to the agriculture-dependent economy. After discarding socialist economic policies in the mid-1990s, Madagascar followed a World Bank- and IMF-led policy of privatization and liberalization until a 2009 coup détat led many nations, including the United States, to suspend non-humanitarian aid until a democratically-elected president was inaugurated in 2014.
The pre-coup strategy had placed the country on a slow and steady growth path from a shallow starting point. Exports of apparel boomed after gaining duty-free access to the U.S. markU.S. in 2000 under the African Growth and Opportunity Act (AGOA); however, Madagascar's failure to comply with the requirements of the AGOA led to the termination of the country's duty-free access in January 2010, a sharp fall in textile production, a loss of more than 100,000 jobs, and a GDP drop of nearly 11%., Madagascar regained AGOA access in January 2015, and the ensuing growth has been slow and fragile. Madagascar produces around 80% of the world's vanilla, and its reliance on this commodity for most of its foreign exchange is a significant source of vulnerability. Economic reforms have been modest, and the country's financial sector remains weak, limiting the use of monetary policy to control inflation. An ongoing IMF program aims to strengthen financial and investment management capacity.
Madagascar is rich in natural resources: Graphite, chromite, coal, bauxite, rare earth elements, salt, quartz, tar sands, semiprecious stones, mica, fish, hydropower.
The main industrial sectors are meat processing, seafood, soap, beer, leather, sugar, textiles, glassware, cement, automobile assembly plant, paper, petroleum, tourism, mining.
The country's export sectors are particularly strong in vanilla, nickel, gold, clothing, and apparel, gemstones (2019), partnering with these nations: the United States 19%, France 18%, United Arab Emirates 7%, China 6%, Japan 6%, Germany 5%, India 5% (2019). The export trade resulted in $4.09 billion. Note: Data are in current year dollars (2019 estimate). In a global rank of the export, values resulted in Madagascar's position of 134.
Land use in Madagascar: 21.5% (2018 estimate) forest, 7.4% (2018 estimate) other.
The arable land area is 6% (2018 estimate), and the agricultural land is 71.1% (2018 estimate). Land use for permanent crops 1% (2018 estimate), permanent pasture 64.1% (2018 estimate). The sum of the area of the irrigated land is 10,860 sq km (2012).
The main agro-industrial products of Madagascar are rice, sugar cane, cassava, sweet potatoes, milk, vegetables, bananas, mangoes/guavas, tropical fruit, potatoes.
The country typically needs to import: refined petroleum, rice, cars, packaged medicines, clothing, and apparel (2019), partnering with the following nations: China 24%, France 11%, United Arab Emirates 9%, India 7%, South Africa 5% (2019) in a sum value of $4.7 billion. Note: data are in current year dollars (2019 estimate) $4.82 billion. Note: data are in current year dollars (2018 estimate) $5.796 billion (2017 estimate). This sum value on the global ranking list of imports resulted in Madagascar 143.
Madagascar Driving Directions

In this post, you learned about Madagascar, Southern Africa, an island in the Indian Ocean, east of Mozambique. We published some basic information about its capital Antananarivo, and the Malagasy nation.
Are you interested in visiting Madagascar and looking for driving directions? Click here to plan your route, or see a printable road map of Madagascar below for an overview of the route network.
Printable map of Madagascar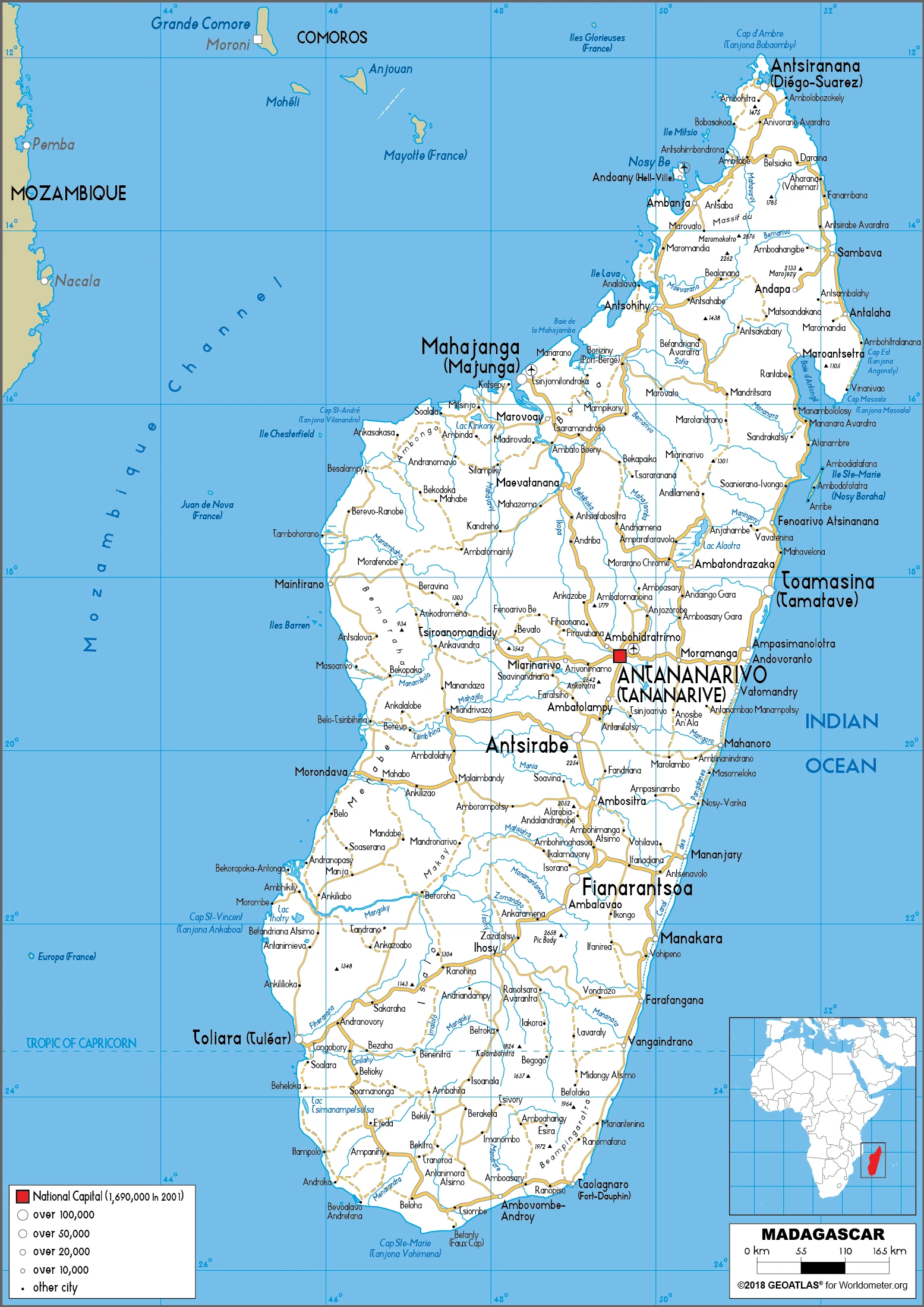 Did you know about Madagascar?
The island of Madagascar is a part of Africa, not South America. It is one of the world's poorest countries. In the 1990s, there was a coup d'etat, and the country has been in political turmoil ever since. The population suffers from poverty and environmental degradation. One of their major exports is coffee beans, but it is not enough to help the country get out of poverty.
There are many different types of wildlife in Madagascar, including lemurs, snakes, and lizards. Many of these animals are also endangered, so they can only be seen in Madagascar. Madagascar has many beautiful sights, like the Ranomafana National Park in the south, which contains rainforests and other plants.
After virtually visiting Madagascar, you may also be interested in the neighboring countries: none.
If you liked our Google map and Madagascar information page,
please share it with others or save the link https://www.drivingdirections.net in your bookmarks.