Nicaragua Google Maps is a site/tool that offers a wide range of map views (topographic, satellite, street view) and navigation options, with little effort on your part, yet efficiently. If you need to plan a trip to a new place like Nicaragua, Google maps are available on desktop, mobile, or tablet. This Google maps and information page is dedicated to Nicaragua, Central America and the Caribbean (35 countries), showing its location, country facts, details about its capital city Managua, bordering countries like Costa Rica, Honduras, and plenty of other information which may be interesting when you visit this Central American and the Caribbean state.
Quick links: Google maps Nicaragua, Managua Google maps, Driving Directions Nicaragua, Printable Road Map.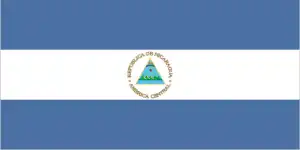 About Nicaragua in a nutshell
Conventional short form of the name: Nicaragua
The conventional long form of the name: Republic of Nicaragua
Local long form: Republica de Nicaragua
Local short form: Nicaragua
Etymology: Nicarao was the name of the largest indigenous settlement at the time of Spanish arrival; conquistador Gil GONZALEZ Davila, who explored the area (1622-23), combined the name of the community with the Spanish word agua (water), referring to the two large lakes in the west of the country (Lake Managua and Lake Nicaragua).
The legal system in Nicaragua: civil law system; Supreme Court may review administrative acts.
Climate: Tropical. The lowlands are hot all year round. The mountains are cooler. Prone to occasional hurricanes.
The national symbols are turquoise-browed motmot (bird); national colors: blue, white.
Internet TLD: .ni
The Central American state, where volcanic eruptions, earthquakes, hurricanes have hit, and civil wars over the last half-century, has come to terms with its eventful past and opened its doors to tourism in the third millennium. Lake Nicaragua, the largest body of standing water on the land bridge, is a structural reservoir. Its former marine saltwater origins are evidenced by its peculiar marine fauna adapted to freshwater conditions – the lake is home to freshwater sharks. The early Spanish settlement of León Viejo, established in the 16th century, is a World Heritage Site of Nicaragua.
Background

The Pacific coast of Nicaragua was settled as a Spanish colony from Panama in the early 16th century. Independence from Spain was declared in 1821, and the country became an independent republic in 1838. Britain occupied the Caribbean Coast in the first half of the 19th century but gradually ceded control of the region in subsequent decades. Violent opposition to governmental manipulation and corruption spread to all classes by 1978. It resulted in a short-lived civil war that brought a civic-military coalition, spearheaded by the Marxist Sandinista guerrillas led by Daniel ORTEGA Saavedra, to power in 1979. Nicaraguan aid to leftist rebels in El Salvador prompted the US to sponsor anti-Sandinista contra guerrillas through much of the 1980s. After losing free and fair elections in 1990, 1996, and 2001, former Sandinista President Daniel ORTEGA was elected president in 2006, 2011, 2016, and 2021. Widespread irregularities have marred municipal, regional, and national-level elections since 2008. Democratic institutions have weakened under the ORTEGA administration as the president has garnered complete control over all branches of government, especially after cracking down on a nationwide anti-government protest movement in 2018. In the 2021 presidential election, most prominent opposition candidates were either arrested or forced into exile, leaving only five lesser-known candidates of mostly small parties allied to Ortega's Sandinistas to run against him.
Geography

Extensive forested plains in the east. Central mountain region with many active volcanoes. Lakes dominate the Pacific coastlands.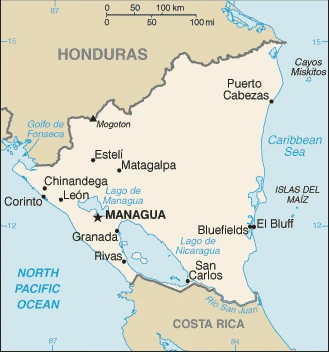 Nicaragua lies at the heart of Central America. The Sandinista revolution of 1978 led to 11 years of civil war between the left-wing Sandinistas and the right-wing US-backed Contras.
This state is located in Central America, bordering both the Caribbean Sea and the North Pacific Ocean, between Costa Rica and Honduras, under the coordinates of 13 00 N, 85 00 W, covering an area of 130,370 sq km with a coastline of 910 km. Nicaragua is Slightly larger than Pennsylvania; slightly smaller than New York state.
Nicaragua has 1,253 km of land boundaries and borders with (2 nations): Costa Rica, 313 km, Honduras, 940 km.
Extensive Atlantic coastal plains rising to central interior mountains, a narrow Pacific coastal plain interrupted by volcanoes, with Mogoton 2,085 m as the highest point of Nicaragua, while Pacific Ocean 0 m as the lowest point, causing a mean elevation at 298 m throughout the country. With 130,370 sq km, Nicaragua has 119,990 sq km of land and 10,380 sq km of water surface area.
Major water bodies in the country: Lago de Nicaragua – 8,150 sq km; Lago de Managua – 1,040 sq km (a freshwater lake).
The largest country in Central America; contains the largest freshwater body in Central America, Lago de Nicaragua.
The climate in Nicaragua is as follows: Tropical in the lowlands, more relaxed in the highlands.
When you visit Nicaragua, the natural hazards shall be considered: Destructive earthquakes; volcanoes; landslides; extremely susceptible to hurricanes volcanism: significant volcanic activity; Cerro negro (728 m), which last erupted in 1999, is one of Nicaragua's most active volcanoes; its lava flows and ash have been known to cause significant damage to farmland and buildings; other historically active volcanoes include Concepcion, Cosigning, Las Pilas, Masaya, Momotombo, San Cristobal, and Telica.
The following major health-threatening issues shall be considered when visiting Nicaragua: degree of risk: high (2020), bacterial diarrhea, hepatitis A, typhoid fever, dengue fever, and malaria.
Current environmental issues affecting the Nicaraguan people: deforestation, soil erosion; water pollution; drought.
Google maps Nicaragua
The capital and other divisions
Capital city: Managua found under the coordinates 12 08 N, 86 15 W, applying the time zone UTC-6 (1 hour behind Washington, DC, during Standard Time), using the following daylight saving time: none.
Managua is the capital of Nicaragua and is located in the Northern Central region, with a population of over 1.1 million inhabitants. The city was founded by the Spanish on July 12th, 1609, and is divided into 22 wards. It has many historical buildings and modern towers such as an airport, a large university, and a central market. Managua is known for its great liveliness during fiestas, where celebrations last for days.
Nicaragua became independent on September 15th, 1821 (from Spain), and its national holiday is Independence Day, September 15th (1821).
Administrative divisions: 15 departments (departamentos, singular – departamento) and 2 autonomous regions (regiones autonomistas, singular – region autonoma); Boaco, Carazo, Chinandega, Chontales, Costa Caribe Norte, Costa Caribe Sur, Esteli, Granada, Jinotega, Leon, Madriz, Managua, Masaya, Matagalpa, Nueva Segovia, Rio San Juan, Rivas.
People and society

Most people are mestizo (mixed Spanish–Amerindian), and there is a predominantly white elite. Caribbean regions are home to communities of Miskito Amerindians and blacks, which gained autonomy in 1987. The revolution improved the status of women, but these gains have been undone by rampant poverty.
The population in Nicaragua is 6,243,931 (July 2021 estimate), with an average of 0.93% (2021 estimate) change. That means Nicaragua is the No. 110 in the world's populated rank list. With an average of 27.3 years median age (26.4 years for males and 26.4 years for women), Nicaragua ranks No. 148 on the globe's median age rank list.
The people living in this country are the Nicaraguan(s) (noun) or Nicaraguan (adjective) and belong mainly to the following ethnic groups: Mestizo (mixed Amerindian and White) 69%, White 17%, Black 9%, Amerindian 5%.
They speak Spanish (official language) 95.3%, Miskito 2.2%, Mestizo of the Caribbean coast 2%, other 0.5% languages and practice the following religions: Roman Catholic 50%, Evangelical 33.2%, other 2.9%, none 0.7%, unspecified 13.2% (2017 estimate).
We can conclude the following about the population in Nicaragua: The overwhelming majority of the population resides in the western half of the country, with much of the urban growth centered in the capital city of Managua. Coastal areas also show large population clusters. In Nicaragua, we are talking about 59.3% (2021) of the total population lives in cities, and most of them reside in the following municipalities: 1.073 million, Managua (capital city) (2021).
Industry

Textiles, coffee, meat, and tobacco are the main exports: affected by world price fluctuations. Remittances from abroad. Substantial debt relief has cut debt to around 50% of GDP. Corruption.
Nicaragua, the poorest country in Central America and the second poorest in the Western Hemisphere, has widespread underemployment and poverty. GDP growth of 4.5% in 2017 was insufficient to make a significant difference. Textiles and agriculture combined account for nearly 50% of Nicaragua's exports. Beef, coffee, and gold are Nicaragua's top three export commodities., The Dominican Republic-Central America-United States Free Trade Agreement has been in effect since April 2006 and has expanded export opportunities for many Nicaraguan agricultural and manufactured goods. In 2013, the government granted a 50-year concession with the option for an additional 50 years to a newly formed Chinese-run company to finance and build an inter-oceanic canal and related projects at an estimated cost of $50 billion. The canal construction has not started.
Nicaragua is rich in the following natural resources: Gold, silver, copper, tungsten, lead, zinc, timber, and fish.
The main industrial sectors are typically food processing, chemicals, machinery and metal products, knit and woven apparel, petroleum refining and distribution, beverages, footwear, wood, electric wire harness manufacturing, and mining.
The country's export sectors are particularly strong in clothing and apparel, gold, insulated wiring, coffee, and beef (2019), partnering with these nations: the United States 60%, El Salvador 5%, Mexico 5% (2019). The export trade resulted in $5.34 billion. Note: Data are in current year dollars (2020 estimate). In a global export rank, values resulted in Nicaragua's position of 123.
Land use in Nicaragua: 25.3% (2018 estimate) forest, 32.5% (2018 estimate) other.
The arable land area is 12.5% (2018 estimate), and the agricultural land is 42.2% (2018 estimate). Land use for permanent crops 2.5% (2018 estimate), permanent pasture 27.2% (2018 estimate). The sum of the area of the irrigated land is 1,990 sq km (2012).
The main agro-industrial products of Nicaragua are sugar cane, milk, rice, maize, plantains, groundnuts, cassava, beans, coffee, and poultry.
The country typically needs to import: refined petroleum, clothing, and apparel, crude petroleum, packaged medicines, insulated wiring (2019), partnering with the following nations: the United States 27%, Mexico 12%, China 11%, Guatemala 9%, Costa Rica 7%, El Salvador 6%, Honduras 6% (2019) in a sum value of $5.94 billion. Note: data are in current year dollars (2020 estimate) $6.25 billion. Note: data are in current year dollars (2019 estimate) $6.75 billion. Note: data are in current year dollars (2018 estimate). This sum value on the global ranking list of imports resulted in Nicaragua 131.
Nicaragua Driving Directions

In this post, you learned about Nicaragua, Central America, bordering both the Caribbean Sea and the North Pacific Ocean, between Costa Rica and Honduras. We published some basic information about its capital Managua, and the Nicaraguan nation.
Are you interested in visiting Nicaragua and looking for driving directions? Click here to plan your route, or see a printable road map of Nicaragua below for an overview of the route network.
Printable map of Nicaragua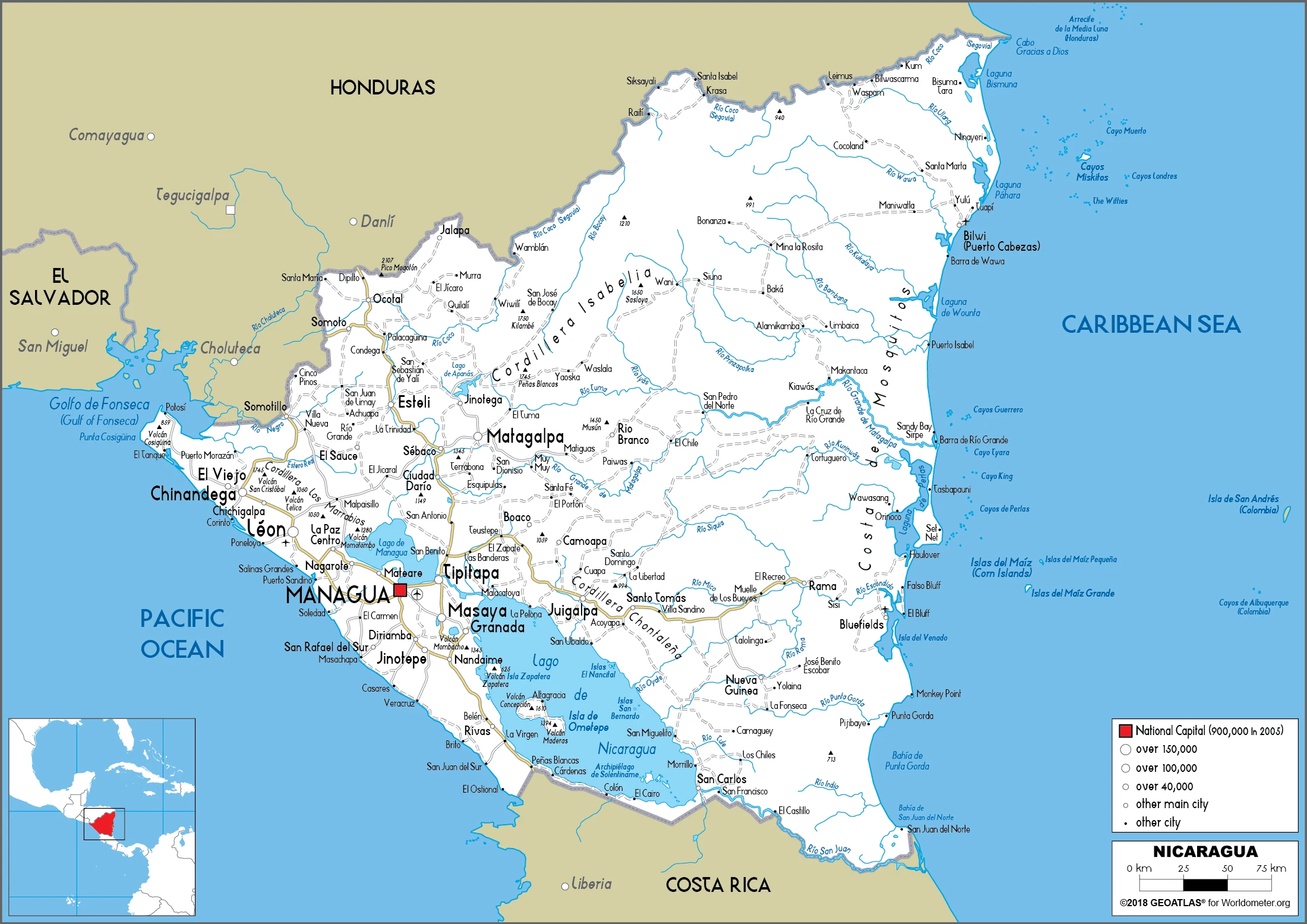 Did you know about Nicaragua?
Nicaragua is a beautiful country located in the northwest part of Central America. It has three mountain ranges and is home to Lake Nicaragua, the largest natural freshwater lake in Latin America. Paraguay, Brazil, and Argentina all border this country as well. It's a country with a rich history still alive today through festivals, traditional dress, music, and dance.
The country's name means "Rich Coast" due to its extensive coastline on the Pacific Ocean. Nicaragua has a population of 6,2 million people but is one of the poorest nations in the region. Nicaragua was colonized by Spain and was officially conquered by Panama in 1821. Nicaragua adopted its name in 1844 after neighboring countries objected to the original title, "Republic of Nicaraguensis".
After virtually visiting Nicaragua, you may also be interested in the neighboring countries: Costa Rica and Honduras.
If you liked our Google map and Nicaragua information page,
please share it with others or save the link https://www.drivingdirections.net in your bookmarks.