Niue Google Maps is a site/tool that offers a wide range of map views (topographic, satellite, street view) and navigation options, with little effort on your part, yet efficiently. If you need to plan a trip to a new place like Niue, Google maps are available on desktop, mobile, or tablet. This Google maps and information page is dedicated to Niue, Oceania (27 countries), showing its location, country facts, details about its capital city Alofi, bordering countries like none, and plenty of other information which may be interesting when you visit this Oceanian state.
Quick links: Google maps Niue, Alofi Google maps, Driving Directions Niue, Printable Road Map.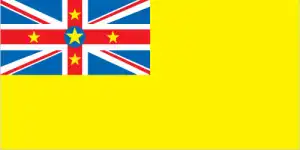 About Niue in a nutshell
Conventional short form of the name: Niue
The conventional long form of the name: none
Former name(s): Savage Island
Etymology: the origin of the name is obscure; in Niuean, the word supposedly translates as behold the coconut.
The legal system in Niue: English common law.
Climate: Tropical, modified by southeast trade winds.
The national symbols are yellow, five-pointed star; national color: yellow.
Internet TLD: .nu
Niue is a small, remote island country in the South Pacific that is not connected by land to any other country. It has about 2,000 people and is approximately 260 square kilometers in size. Its official language is English and the only currencies used are New Zealand dollars and Niuean dollars.
The people in the country are very active, with a high life expectancy, a high level of education, and low economic inequality. Agriculture is an integral part of the economy and culture in Niue, where most adults grow their food for consumption or sale.
Background

Voyagers from Samoa first settled on Niue around A.D. 900, and a second leading group of settlers came from Tonga around 1500. With only one reliable source of freshwater, conflict was high on the island. There was continued contact with both Samoa and Tonga, and customs from those islands heavily influenced Niuean culture, including forming an island-wide kingship system in the early 1700s. These kings, or Patu-Iki, were elected by Niueans. In 1774, British explorer James COOK abandoned attempts to land on the island after several unsuccessful tries, and he named it Savage Island because of the warlike appearance of the Niueans. Missionaries arrived in 1830 but were largely unsuccessful at staying on the island until 1846.
A Niuean trained as a Samoan missionary returned to the island and provided a space from which the missionaries could work. In addition to converting the population, the missionaries worked to stop the violent conflicts between Niueans and helped establish the first parliament in 1849. In 1889, King FATAAIKI and other chiefs asked the U.K. for protectorate status, a request repeated in 1895. The U.K. finally agreed in 1900, and King TOGIA-PULU-TOAKI formally ceded Niue that year. In 1901, Niue was annexed to New Zealand and included as part of the Cook Islands. Niue's remoteness and cultural and linguistic differences from the Cook Islands led New Zealand to separate Niue into its administration in 1904. The island became internally self-governing in 1974. It is an independent member of international organizations but is in free association with New Zealand, responsible for defense and foreign affairs. Economic opportunities in Niue are sparse. Over recent decades, the population has trended downwards, with substantial emigration to New Zealand. In 2004, a cyclone destroyed much of the southern part of the capital, Alofi, and left about 15% of the population homeless. Many chose not to rebuild and moved to New Zealand (2,400 km to the southwest), where approximately 90% of all ethnic Niueans live.
Geography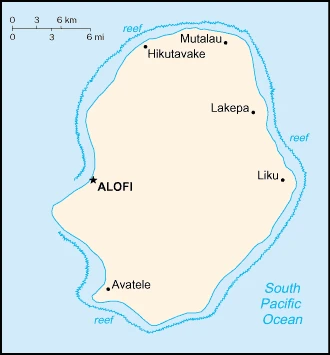 Niue officially called the Nation of Niue, is a Pacific island nation in the South Pacific Ocean and an unincorporated territory of New Zealand. The country has a population of 2400 people and 27 square miles, making it the third-smallest country globally.
This state is located in Oceania, an island in the South Pacific Ocean, east of Tonga, under the coordinates of 19 02 S, 169 52 W, covering an area of 260 sq km with a coastline of 64 km. Niue is 1.5 times the size of Washington, DC.
Steep limestone cliffs along the coast, central plateau, with an Unnamed elevation of 1.4 km east of Hikutavake 80 m as the highest point of Niue, while Pacific Ocean 0 m as the lowest point. With a total of 260 sq km, Niue has 260 sq km of land and 0 sq km of water surface area.
One of the world's largest coral islands, the only major break in the surrounding coral reef occurs in the central-western part of the coast.
The climate in Niue is as follows: Tropical, modified by southeast trade winds.
When you visit Niue, the natural hazards shall be considered: Tropical cyclones.
The following major health-threatening issues shall be considered when visiting Niue: degree of risk: high (2020), bacterial diarrhea, malaria.
Current environmental issues affecting the Niuean people: increasing attention to conservationist practices to counter the loss of soil fertility from traditional slash and burn agriculture.
Google maps Niue
The capital and other divisions
Capital city: Alofi found under the coordinates 19 01 S, 169 55 W, applying the time zone UTC-11 (6 hours behind Washington, DC, during Standard Time), using the following daylight saving time: none.
Alofi is the capital of the island nation of Niue, in a group of islands called the Cook Islands. Alofi means "place where many fish are caught." As with many other Pacific islands, Alofi has a long history of fishing and seafaring. The population of Alofi has increased significantly in recent years and is rapidly growing because of the booming tourism industry and a large fishing fleet.
Niue became independent on 19 October 1974 (Niue became a self-governing state in free association with New Zealand), and its national holiday is Waitangi Day (Treaty of Waitangi established British sovereignty over New Zealand), 6 February (1840).
People and society
The population in Niue is 2,000 (July 2021 estimate). Note: because of the island's limited economic and educational opportunities, Niueans have emigrated for decades – primarily to New Zealand, but also to Australia and other Pacific island states; Niue's population peaked in 1966 at 5,194, but by 2005 had fallen to 1,508; since then it has rebounded slightly; as of 2013, 23,883 people of Niuean ancestry lived in New Zealand – with more than 20% Niue-born; this means that there are about 15 times as many persons of Niuean ancestry living in New Zealand as in Niue, possibly the most eccentric population distribution in the world, with an average of -0.03% (2021 estimate) change. That means Niue is the No. 231 in the world's populated rank list.
The people living in this country are the Niuean(s) (noun) or Niuean (adjective) and belong mainly to the following ethnic groups: Niuean 65.4%, part-Niuean 14%, non-Niuean 20.6% (2017 estimate). Note: data represent the resident population.
They speak Niuean (official language) 46% (a Polynesian language closely related to Tongan and Samoan), Niuean and English 32%, English (official language) 11%, Niuean and others 5%, other 6% (2011 estimate) languages and practice the following religions: Ekalesia Niue (Congregational Christian Church of Niue – a Protestant church founded by missionaries from the London Missionary Society) 61.7%, Church of Jesus Christ 8.7%, Roman Catholic 8.4%, Jehovahs Witness 2.7%, Seventh Day Adventist 1.4%, other 8.2%, none 8.9% (2017 estimate).
We can conclude the following about the population in Niue: The population is distributed around the peripheral coastal areas of the island. In Niue, we are talking about 58.8% (2021) of the total population is living in cities, and most of them reside in the following municipalities: 1,000 Alofi (capital city) (2018).
Industry
The economy suffers from the typical Pacific island problems of geographic isolation, few resources, and a small population. The agricultural sector consists mainly of subsistence gardening, although some cash crops are grown for export. The industry consists primarily of small factories processing passion fruit, lime oil, honey, and coconut cream. The sale of postage stamps to foreign collectors is an essential source of revenue. Government expenditures regularly exceed revenues, and the shortfall is made up by critically needed grants from New Zealand to pay wages to public employees. Economic aid allocation from New Zealand in FY13/14 was US$10.1 million. Niue has cut government expenditures by reducing public service by almost half. The island, in recent years, has suffered a severe loss of population because of emigration to New Zealand. Efforts to increase GDP include promoting tourism and financial services, although the International Banking Repeal Act of 2002 resulted in the termination of all offshore banking licenses.
Niue is rich in the following natural resources: Arable land and fish.
The main industrial sectors are typically handicrafts and food processing.
The country's export sectors are particularly strong in tanker ships, fruit juice, thermostats, textiles, and measurement devices/appliances (2019), partnering with these nations: Indonesia 92%, South Korea 5% (2019). The export trade resulted in $201,400. Note: Data are in current year dollars (2014 estimate). In a global rank of the export, values resulted in Niue's position of 224.
Land use in Niue: 71.2% (2018 estimate) forest, 9.7% (2018 estimate) other.
The arable land area is 3.8% (2018 estimate), and the agricultural land is 19.1% (2018 estimate). Land use for permanent crops 11.5% (2018 estimate), permanent pasture 3.8% (2018 estimate). The sum of the area of the irrigated land is 0 sq km (2012).
The main agro-industrial products of Niue are coconuts, taro, fruit, sweet potatoes, tropical fruit, yams, vegetables, lemons, limes, and bananas.
The country typically needs to import: hydraulic engines, ships, refined petroleum, cars, plastics (2019), partnering with the following nations: New Zealand 43%, the United Kingdom 30%, Japan 22% (2019) in a sum value of $9.038 million (2004 estimate). This sum value on the global ranking list of imports resulted in Niue 226.
Niue Driving Directions

In this post, you learned about Niue, Oceania, east of Tonga. We published some basic information about its capital Alofi, and the Niuean nation.
Are you interested in visiting Niue and looking for driving directions? Click here to plan your route, or see a printable road map of Niue below for an overview of the route network.
Printable map of Niue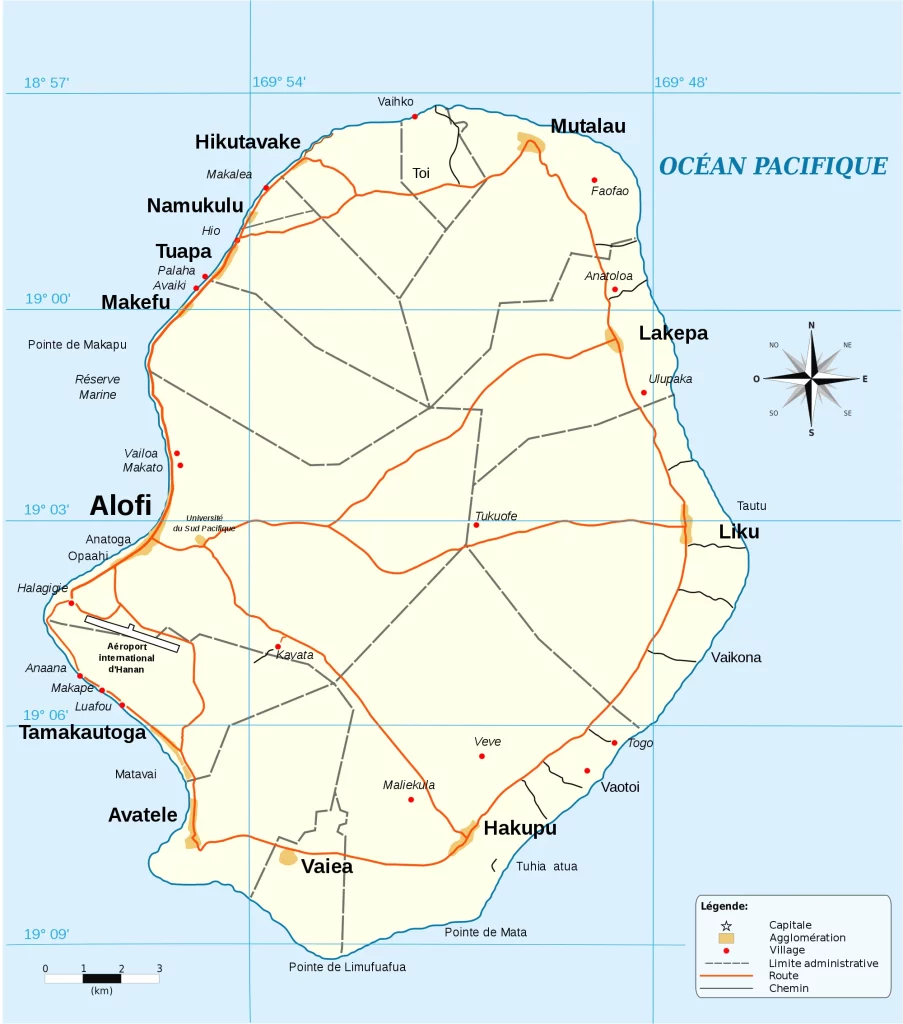 Did you know about Niue?
Niue is a small island located in the South Pacific. It measures just over 260 square miles. About 2,000 people live in Niue, and most of them speak English or Niuean, an indigenous language. The first European to visit Niue was Captain Cook in 1774, who stayed for two weeks and renamed the island "Hervey's Island."
After virtually visiting Niue, you may also be interested in the neighboring countries: the Cook Islands and Tonga.
If you liked our Google map and Niue information page,
please share it with others or save the link https://www.drivingdirections.net in your bookmarks.