Peru Google Maps is a site/tool that offers a wide range of map views (topographic, satellite, street view) and navigation options, with little effort on your part, yet efficiently. If you need to plan a trip to a new place like Peru, Google maps are available on desktop, mobile, or tablet. This Google maps and information page is dedicated to Peru, South America (13 countries), showing its location, country facts, details about its capital city Lima, bordering countries like Bolivia, Brazil, Chile, Colombia, Ecuador, and plenty of other information which may be interesting when you visit this South American state.
Quick links: Google maps Peru, Lima Google maps, Driving Directions Peru, Printable Road Map.
About Peru in a nutshell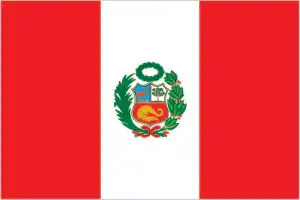 Lake Titicaca is the world's highest navigable lake.
Conventional short form of the name: Peru
The conventional long form of the name: Republic of Peru
Local long form: Republica del Peru
Local short form: Peru
Former name(s): N/A
Etymology: exact meaning is obscure, but the name may derive from a native word, biru, meaning river.
The legal system in Peru: civil law system.
Climate: The coast is mainly arid. The middle slopes of the Andes are temperate; higher peaks are snow-covered. East is hot, humid, and very wet.
The national symbols are vicuna (a camelid related to the llama). The national colors are red and white.
Internet TLD: .pe
The Pacific coast of Peru is dominated by desert due to cold currents, with the Andes rising well above 6,000 m in the center and the tropical rainforests of Amazonia in the east. Nowhere on Earth are the tropics, the sub-tropics, and the perpetual ice so close together as in the White Cordillera. The Huascarán, Manu, and Amazonian Rio Abiseo National Parks are Peru's natural world heritage sites. The seven World Heritage Sites preserve the memory of thousands of years of history. The ruins of Chavín are the remains of a high culture that flourished from 1500 BC to 300 BC. Covering an area of some 450 km2 in the coastal plain around Nazca, the mysterious carvings were carved into the desert surface by an unknown culture between 500 BC and 500 AD. The capital of the Chimu Empire, which flourished for almost half a millennium from 1000 AD, Chan Chan is the largest adobe city in the world. Cuzco was the capital of the Inca Empire from the 12th century, and 400 years later, the Spanish built Baroque buildings on the city's ruins. Archaeologists only discovered the ruined city of Machu Picchu in the early 20th century: the Inca city, built in the mid-15th century, was inhabited for only 100 years. Lima, founded in 1535, was the largest city on the continent then, and many of its buildings reflect the influence of Andalusian Moorish ornamentation. The old town of Arequipa, built between the 16th and 19th centuries and rebuilt several times after earthquakes, is a gem of Spanish Baroque architecture.
Background

Ancient Peru was the seat of several prominent Andean civilizations, most notably that of the Incas, whose empire was captured by Spanish conquistadors in 1533. Peru declared independence in 1821, and the remaining Spanish forces were defeated in 1824. After a dozen years of military rule, Peru returned to democratic leadership in 1980 but experienced economic problems and the growth of a violent insurgency. President Alberto FUJIMORIs election in 1990 ushered in a decade that saw a dramatic economic turnaround and significant progress in curtailing guerrilla activity. Nevertheless, the president's increasing reliance on authoritarian measures and an economic slump in the late 1990s generated mounting dissatisfaction with his regime, which led to his resignation in 2000. A caretaker government oversaw a new election in the spring of 2001, which installed Alejandro TOLEDO Manrique as the new head of government – Perus first democratically elected president of the indigenous ethnicity. The presidential election of 2006 saw the return of Alan GARCIA Perez, who oversaw a robust economic rebound after a disappointing presidential term from 1985 to 1990. Former army officer Ollanta HUMALA Tasso was elected president in June 2011 and carried on the three preceding administrations' sound, market-oriented economic policies.
Poverty and unemployment have fallen dramatically in the last decade, and today Peru boasts one of the best-performing economies in Latin America. Pedro Pablo KUCZYNSKI Godard won a narrow presidential runoff election in June 2016. Facing impeachment after evidence surfaced of his involvement in a vote-buying scandal, President KUCZYNSKI offered his resignation on 21 March 2018. Two days later, First Vice President Martin Alberto VIZCARRA Cornejo was sworn in as president. On 30 September 2019, President VIZCARRA invoked his constitutional authority to dissolve Perus Congress after months of battling with the body over anticorruption reforms. New congressional elections took place on 26 January 2020, resulting in the return of an opposition-led legislature. President VIZCARRA was impeached by Congress on 9 November 2020 for a second time and removed from office after being accused of corruption and mishandling the COVID-19 pandemic. Because of vacancies in the vice-presidential positions, constitutional succession led to the President of the Peruvian Congress, Manuel MERINO, becoming the next president of Peru. The population did not receive his ascension to the office well, and large protests forced his resignation on 15 November 2020. On 17 November, Francisco SAGASTI assumed the position of President of Peru after being appointed President of Congress the previous day.
Geography

The coastal plain rises to Andes Mountains. Uplands, dissected by fertile valleys, lies east of the Andes. Tropical forest in the extreme east.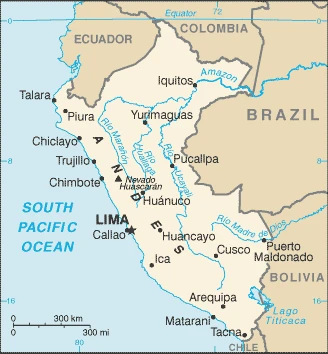 Once the heart of the Inca Empire before the Spanish conquest in the 16th century, Peru lies on the Pacific coast of South America, just south of the equator.
This state is located in Western South America, bordering the South Pacific Ocean, between Chile and Ecuador, under the coordinates of 10 00 S, 76 00 W, covering an area of 1,285,216 sq km with a coastline of 2,414 km. Peru is Almost twice the size of Texas, slightly smaller than Alaska.
Peru has 7,062 km of land boundaries in total and borders with (5 nations): Bolivia, 1212 km; Brazil, 2659 km; Chile, 168 km; Colombia, 1494 km; Ecuador, 1529 km.
Western coastal plain (costa), high and rugged Andes in the center (sierra), eastern lowland jungle of amazon basin (selva), with Nevado Huascaran 6,746 m as the highest point of Peru, while Pacific Ocean 0 m as the lowest point, causing a mean elevation at 1,555 m throughout the country. With a total of 1,285,216 sq km, Peru has 1,279,996 sq km of land and 5,220 sq km of water surface area.
Major water bodies in the country: Lago Titicaca (shared with Bolivia) – 8,030 sq km (a freshwater lake), while the major rivers are: Amazon (shared with Brazil) – 6,400 km. The significant watersheds for Peru are Atlantic Ocean drainage: Amazon (6,145,186 sq km).
The climate in Peru is as follows: It varies from tropical in the east to dry desert in the west and temperate to frigid in the Andes.
When you visit Peru, the natural hazards shall be considered: Earthquakes, tsunamis, flooding, landslides, and mild volcanic activity volcanism: volcanic activity in the Andes mountains; Ubinas (5,672 m), which last erupted in 2009, is the country's most active volcano; other historically active volcanoes include el Misti, Huaynaputina, Sabancaya, and Yucamane.
The following major health-threatening issues shall be considered when visiting Peru: Degree of risk: very high (2020), bacterial diarrhea, hepatitis A, typhoid fever, dengue fever, malaria, and Bartonellosis (Oroya fever).
Current environmental issues affecting the Peruvian people: deforestation (some the result of illegal logging); overgrazing of the slopes of the costa and sierra leading to soil erosion; desertification; air pollution in Lima; pollution of rivers and coastal waters from municipal and mining wastes; overfishing.
Google maps Peru
The capital and other divisions
Capital city: Lima found under the coordinates 12 03 S, 77 03 W, applying the time zone UTC-5 (same time as Washington, DC, during Standard Time), using the following daylight saving time: none.
The capital of Peru, Lima, is one of the oldest capital cities in the Americas. It was founded in 1535 on an island in the middle of a lagoon surrounded by marshy areas. The city has constantly expanded with architectural treasures like the Cathedral of Lima and Plaza Mayor. The medieval walls have given way to modern architecture, such as monuments, public buildings, and grand boulevards that cut across the city. Lima also has a large variety of restaurants, nightclubs, and shopping areas, all within walking distance of each other.
Peru became independent on 28 July 1821 (from Spain), and its national holiday is Independence Day, 28-29 July (1821).
Administrative divisions: 25 regions (regiones, singular – region) and 1 province (provincia); Amazonas, Ancash, Apurimac, Arequipa, Ayacucho, Cajamarca, Callao, Cusco, Huancavelica, Huanuco, Ica, Junin, La Libertad, Lambayeque, Lima, Lima, Loreto, Madre de Dios, Moquegua, Pasco, Piura, Puno, San Martin, Tacna, Tumbes, Ucayali note: Callao, the largest port in Peru, is also referred to as a constitutional province, the only province of the Callao region.
People and society

Though most people are Amerindians or mixed-race mestizos, society is dominated by a small group of Spanish descendants. Amerindians, and the small black community, suffer discrimination in towns, but access to information and political power are growing; the first Amerindian president was elected in 2001–-2006. Clashes with left-wing militants killed almost 70,000 people between 1980 and 2000.
The population in Peru is 32,201,224 (July 2021 estimate), with an average of 0.88% (2021 estimate) change. That means Peru is the No. 45 in the world's populated rank list. With an average of 29.1 years median age (28.3 years for males and 28.3 years for women), Peru ranks No. 138 on the globe's median age rank list.
The people living in this country are the Peruvian(s) (noun) or Peruvian (adjective) and belong mainly to the following ethnic groups: Mestizo (mixed Amerindian and White) 60.2%, Amerindian 25.8%, White 5.9%, African descent 3.6%, other (includes Chinese and Japanese descent) 1.2%, unspecified 3.3% (2017 estimate).
They speak Spanish (official language) 82.9%, Quechua (official language) 13.6%, Aymara (official language) 1.6%, Ashaninka 0.3%, other native languages (including a large number of minor Amazonian languages) 0.8%, other (includes foreign languages and sign language) 0.2%, none 0.1%, unspecified 0.7% (2017 estimate) languages and practice the following religions: Roman Catholic 60%, Christian 14.6% (includes Evangelical 11.1%, other 3.5%), other 0.3%, none 4%, unspecified 21.1% (2017 estimate).
We can conclude the following about the population in Peru: Approximately one-third of the population resides along the coastal desert belt in the west, with a strong focus on the capital city of lima. The Andean highlands, or sierra, strongly identified with the country's Amerindian population and contains roughly half of the overall population. The eastern slopes of the Andes, and adjoining rainforest, are sparsely populated. In Peru, we are talking about 78.3% (2020) of the total population is living in cities, and most of them reside in the following municipalities: 10.883 million, Lima (capital city), 935,000 Arequipa, 878,000 Trujillo (2021).
Industry

Abundant mineral resources: notably copper and gold. Rich Pacific fish stocks. World's largest cocaine producer.
Peru's economy reflects its varied topography – an arid lowland coastal region, the central high sierra of the Andes, and the dense forest of the Amazon. Many essential mineral resources are found in the mountainous and coastal areas, and Peru's coastal waters provide excellent fishing grounds. Peru is the world's second-largest producer of silver and copper. The Peruvian economy grew by an average of 5.6% per year from 2009-13 with a stable exchange rate and low inflation. This growth was due partly to high international prices for Perus metals and minerals exports, which account for 55% of the country's total exports. Growth slipped from 2014 to 2017 due to weaker world prices for these resources.
Despite Peru's strong macroeconomic performance, dependence on minerals and metals exports and imported foodstuffs makes the economy vulnerable to fluctuations in world prices. Peru's rapid expansion, along with cash transfers and other programs, has helped reduce the national poverty rate by over 35 percentage points since 2004. Still, inequality persists and continues to pose a challenge for the Ollanta HUMALA administration, which championed a policy of social inclusion and a more equitable income distribution. Poor infrastructure hinders the spread of growth to Perus non-coastal areas. The HUMALA administration passed several economic stimulus packages in 2014 to bolster growth, including reforms to environmental regulations to spur investment in Peru's lucrative mining sector, a move that some environmental groups opposed. However, in 2015, mining investment fell as global commodity prices remained low and social conflicts plagued the sector.
Peru's free trade policy continued under the HUMALA administration; since 2006, Peru has signed trade deals with the US, Canada, Singapore, China, Korea, Mexico, Japan, the EU, the European Free Trade Association, Chile, Thailand, Costa Rica, Panama, Venezuela, Honduras, concluded negotiations with Guatemala and the Trans-Pacific Partnership, and begun trade talks with El Salvador, India, and Turkey. Peru also has signed a trade pact with Chile, Colombia, and Mexico, called the Pacific Alliance, that seeks integration of services, capital, investment, and movement of people. Since the US-Peru Trade Promotion Agreement entered into force in February 2009, trade between Peru and the US has doubled. President Pedro Pablo KUCZYNSKI succeeded HUMALA in July 2016 and focused on economic reforms and free market policies to boost investment in Peru. Mining output increased significantly in 2016-2017, which helped Peru attain one of the highest GDP growth rates in Latin America, and Peru should maintain strong growth in 2018. However, economic performance was depressed by delays in infrastructure mega-projects and the start of a corruption scandal associated with a Brazilian firm. Massive flooding in early 2017 also dragged growth, offset by additional public spending for recovery efforts.
Peru is rich in natural resources: Copper, silver, gold, petroleum, timber, fish, iron ore, coal, phosphate, potash, hydropower, and natural gas.
The main industrial sectors are typically mining and refining of minerals, steel and metal fabrication, petroleum extraction and refining, natural gas and natural gas liquefaction, fishing and fish processing, cement, glass, textiles, clothing, food processing, beer, soft drinks, rubber, machinery, electrical machinery, chemicals, and furniture.
The country's export sectors are powerful in copper, gold, refined petroleum, zinc, fishmeal, tropical fruits, lead, iron, and molybdenum (2019), partnering with these nations: China 29%, the United States 12%, Canada 5%, South Korea 5%, Switzerland 5% (2019). The export trade resulted in $54.88 billion. Note: Data are in current year dollars (2019 estimate). In a global rank of the export, values resulted in Peru's position of 54.
Land use in Peru: 53% (2018 estimate) forest, 28.2% (2018 estimate) other.
The arable land area is 3.1% (2018 estimate), and the agricultural land is 18.8% (2018 estimate). Land use for permanent crops is 1.1% (2018 estimate), and permanent pasture is 14.6% (2018 estimate). The summed area of the irrigated land is 25,800 sq km (2012).
The main agro-industrial products of Peru are sugar cane, potatoes, rice, plantains, milk, poultry, maize, cassava, oil palm fruit, and grapes.
The country typically needs to import: refined petroleum, crude petroleum, cars, broadcasting equipment, and delivery trucks (2019), partnering with the following nations: China 24%, the United States 22%, Brazil 6% (2019) in a sum value of $51.38 billion. Note: data are in current year dollars (2019 estimate) $51.41 billion. Note: data are in current year dollars (2018 estimate) $46.15 billion (2017 estimate). This sum value on the global ranking list of imports resulted in Peru's 59.
Peru Driving Directions

In this post, you learned about Peru, and Western South America, bordering the South Pacific Ocean between Chile and Ecuador. We published some basic information about its capital Lima, and the Peruvian nation.
Are you interested in visiting Peru and looking for driving directions? Click here to plan your route, or see a printable Peru map below for an overview of the route network.
Printable map of Peru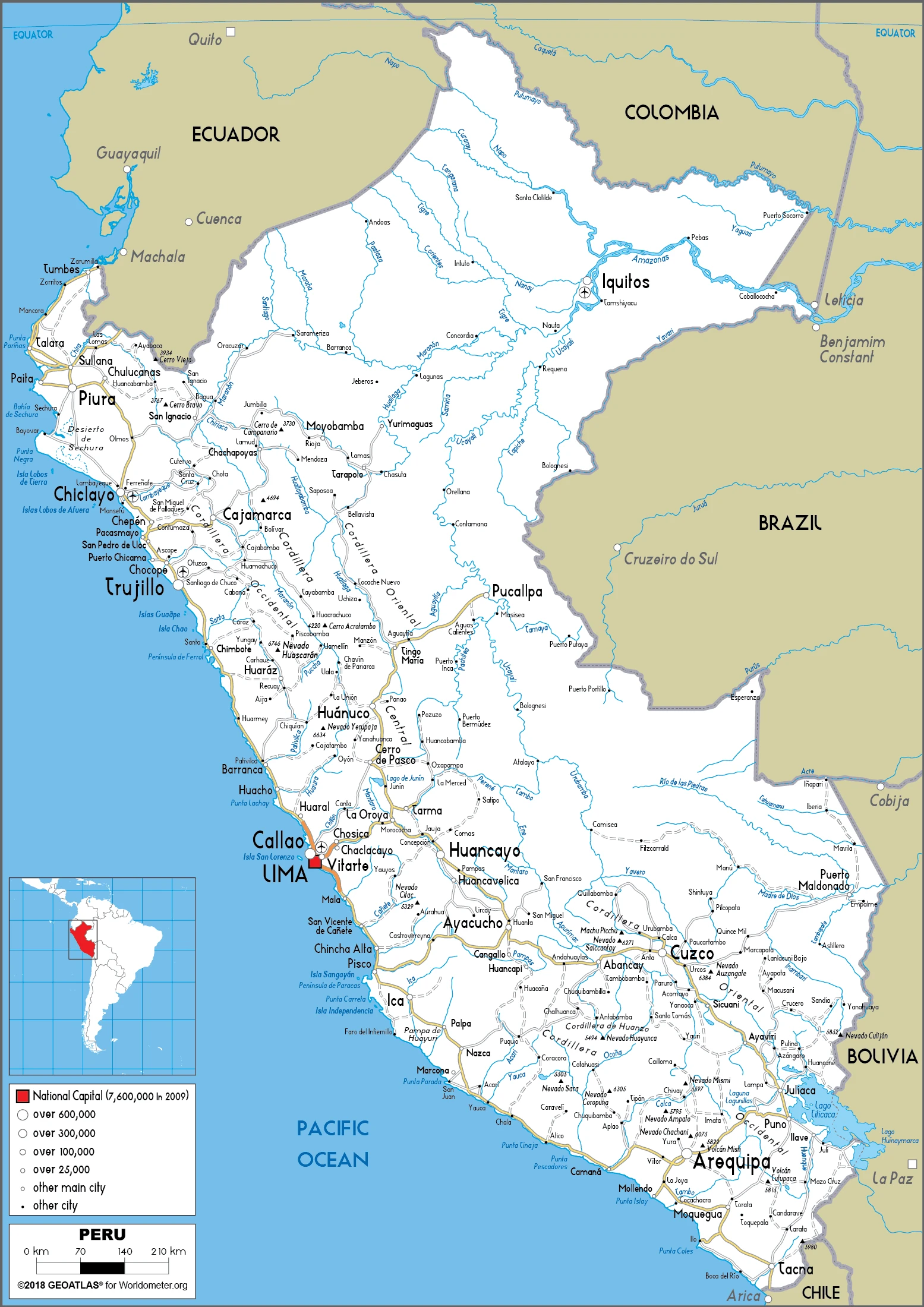 Did you know about Peru?
Peru is a South American country known for its rich history and culture and diverse geography ranging from the Pacific coastline to the Andes mountains to the Amazon rainforest. The country is home to many ancient civilizations, including the Moche, Nazca, and Inca cultures, which have left behind impressive architectural and cultural relics, such as the Machu Picchu and the Nazca Lines.
Peru is also known for its diverse cuisine, heavily influenced by indigenous, Spanish, and African culinary traditions. Some of the country's most popular dishes include ceviche, a seafood dish made with raw fish marinated in lime juice, and lomo saltado, a stir-fry dish made with beef, tomatoes, and onions.
The country is also a popular destination for eco-tourism, with its vast areas of protected wilderness and diverse range of flora and fauna, including the Amazon rainforest, which is home to a wide variety of plant and animal species, and the Galápagos Islands, which are famous for their unique wildlife.
Peru has a growing economy focusing on industries such as tourism, mining, and agriculture. Despite its recent economic growth, the country still faces challenges such as income inequality, poverty, and political instability. However, with its rich cultural heritage and natural beauty, Peru remains a popular destination for travelers and a source of pride for its people.
After virtually visiting Peru, you may also be interested in the neighboring countries: Bolivia, Brazil, Chile, Colombia, and Ecuador.
If you liked our Google map and Peru information page,
please share it with others or save the link https://www.drivingdirections.net in your bookmarks.