Portugal Google Maps is a site/tool that offers a wide range of map views (topographic, satellite, street view) and navigation options, with little effort on your part, yet efficiently. If you need to plan a trip to a new place like Portugal, Google maps are available on desktop, mobile, or tablet. This Google maps and information page is dedicated to Portugal, Europe (47 countries), showing its location, country facts, details about its capital city Lisbon, bordering countries like Spain, and plenty of other information which may be interesting when you visit this European state.
Quick links: Google maps Portugal, Lisbon Google maps, Driving Directions Portugal, Printable Road Map.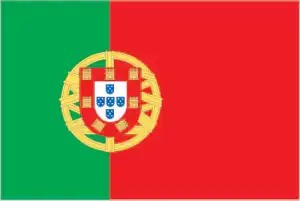 About Portugal in a nutshell
Conventional short form of the name: Portugal
The conventional long form of the name: Portuguese Republic
Local long form: Republica Portuguesa
Local short form: Portugal
Former name(s): N/A
Etymology: name derives from the Roman designation Portus Cale meaning Port of Cale; Cale was an ancient Celtic town and port in present-day northern Portugal.
The legal system in Portugal: civil law system; Constitutional Court review of legislative acts.
Climate: North is cool and moist. South is warmer, with dry, mild winters.
The national symbols are the armillary sphere (a spherical astrolabe modeling objects in the sky and representing the Republic); national colors: red and green.
Internet TLD: .pt
The city of Lisbon is rapidly growing and evolving. Since Portugal joined the European Union, a country with one of the fastest-growing economies in Europe, the city has grown and become more sophisticated. Around 260km (160 miles) south of Lisbon, Algarve is in the southwesternmost part of Europe. The Portuguese coast stretches 160km (100 miles) and is dotted with beaches, some of which are the finest in Portugal.
The great pioneers founded Portugal's fame and power: the first to circumnavigate Africa, Bartholomeo Diaz, and the first to reach India by sea. Vasco da Gama, the first to circumnavigate the Earth, Fernando Magellán, and the first to discover Brazil, Pedro Alvarez Cabral. The country has a rich history and many World Heritage Sites. The prehistoric rock art of the Coa River valley is found in 16 sites – the oldest is estimated to be 22,000 years old. The former trading town of Evora, with its Roman ruins and Moorish, Romanesque and Gothic monuments, is a museum city and an inspiration for Portuguese architecture in Brazil. The houses of the old town of Porto, at the mouth of the Douro, are terraced into the cliffs. On the river's upper reaches, the historic Alto Douro wine region has cultivated the vines that provide Porto's 'raw material' for two thousand years. Founded in the 12th century, Guimaráes was the capital of the first Portuguese kingdom, and its buildings were constructed using traditional building materials and methods until the 19th century.
Portugal's first monarch founded the monastery of Santa Maria d'Alcobaca, Alfonso I, the monastery of Tomar, built four years later by the Knights Templar, and the late 14th-century Gothic monastery Batalha by King John I. The Jerome Colossi Tower in Lisbon's harbor is a true architectural masterpiece built in the 16th century in honor of Vasco da Gama. At the same time, the nearby Belém Tower commemorates Portuguese navigators and explorers. From the 19th century onwards, Sintra was the summer residence of Portuguese kings and the first center of European Romantic architecture.
Portugal is the world's leading producer of cork, which comes from the bark of the cork oak.
Background

Following its heyday as a global maritime power during the 15th and 16th centuries, Portugal lost much of its wealth and status with the destruction of Lisbon in a 1755 earthquake, occupation during the Napoleonic Wars, and the independence of Brazil's wealthiest colony in 1822. A 1910 revolution deposed the monarchy, and for most of the next six decades, repressive governments ran the country. In 1974, a left-wing military coup installed broad democratic reforms. The following year, Portugal granted independence to all of its African colonies. Portugal is a founding member of NATO and entered the E.C. (now the E.U.) in 1986.
Geography

The Tagus River bisects the country from east to west, dividing the mountainous north from the lower and undulating south.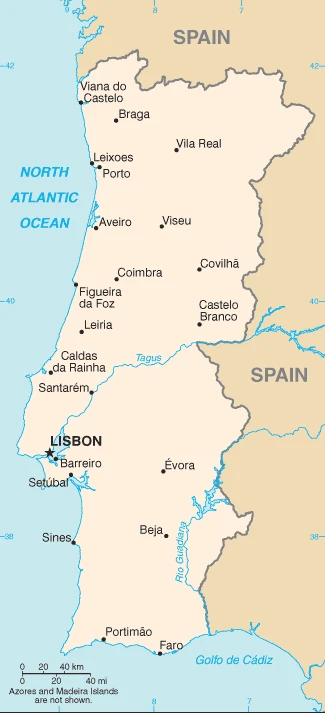 With its long Atlantic coast, Portugal lies on the western side of the Iberian Peninsula, which it shares with Spain. It is the most westerly country on the European mainland.
This state is located in Southwestern Europe, bordering the North Atlantic Ocean, west of Spain, under the coordinates of 39 30 N, 8 00 W, covering an area of 92,090 sq km with a coastline of 1,793 km. Portugal is Slightly smaller than Virginia.
Portugal has 1,224 km of land boundaries and borders (1 nation): while Spain has 1224 km.
The west-flowing Tagus river divides the country: the north is mountainous toward the interior, while rolling plains, with Ponta characterize the south do pico (pico or pico alto) on Ilha do Pico in the Azores 2,351 m as the highest point of Portugal, while Atlantic Ocean 0 m as the lowest point, causing a mean elevation at 372 m throughout the country. With 92,090 sq km, Portugal has 91,470 sq km of land and 620 sq km of water surface area.
Azores and Madeira Islands occupy strategic locations and western sea approaches to the Strait of Gibraltar; two of the four North Atlantic archipelagos make up Macaronesia; the others are the Canary Islands (Spain) and Cabo Verde.
The climate in Portugal is as follows: Maritime temperate, cool and rainy in the north, warmer and drier in the south.
When you visit Portugal, the natural hazards shall be considered: the Azores are subject to severe earthquakes volcanism: limited volcanic activity in the Azores islands; Fayal or Faial (1,043 m) last erupted in 1958; most volcanoes have not erupted in centuries; historically active volcanoes include agua de pau, Furnas, Pico, Picos volcanic system, San Jorge, Sete Cidades, and Terceira.
The following major health-threatening issues shall be considered when visiting Portugal: none.
Current environmental issues affecting the Portuguese people: soil erosion; air pollution caused by industrial and vehicle emissions; water pollution, especially in urban centers and coastal areas.
Google maps Portugal
The capital and other divisions
Capital city: Lisbon found under the coordinates 38 43 N, 9 08 W, applying the time zone UTC 0 (5 hours ahead of Washington, DC, during Standard Time), using the following daylight saving time: +1hr, begins last Sunday in March; ends last Sunday in October.
Lisbon is a city built on the Tagus River and located in western Portugal in the southwestern Iberian Peninsula. Several other major cities are nearby, such as Porto, Coimbra, and Faro. Lisbon is ranked as one of the largest cities in the European Union, and it's also one of the oldest, dating back to around 800 B.C., making it about 2,500 years old at the time of first contact with the Romans. Lisbon has impressive architecture and many exciting things to do as well.
Portugal became independent on 1143 (the Kingdom of Portugal recognized); 1 December 1640 (independence was reestablished following 60 years of Spanish rule); 5 October 1910 (republic proclaimed), and its national holiday is Portugal Day (Dia de Portugal), 10 June (1580).
Administrative divisions: 18 districts (distritos, singular – distrito) and 2 autonomous regions (regioes autonomas, singular – regiao autonoma); Aveiro, Acores (Azores), Beja, Braga, Braganca, Castelo Branco, Coimbra, Evora, Faro, Guarda, Leiria, Lisboa (Lisbon), Madeira, Portalegre, Porto, Santarem, Setubal, Viana do Castelo, Vila Real, Viseu.
People and society

A homogeneous and stable society is losing some of its conservative traditions. History of immigration from former colonies, and recently from eastern Europe. Urban areas and the south are more socially liberal. The north is more responsive to traditional Roman Catholic values. Family ties remain essential.
The population in Portugal is 10,263,850 (July 2021 estimate), with an average of -0.23% (2021 estimate) change. That means Portugal is the No. 90 in the world's populated rank list. With an average of 44.6 years median age (42.7 years for males and 42.7 years for women), Portugal ranks No. 13 on the globe's median age rank list.
The people living in this country are the Portuguese (also singular and plural) (noun) or Portuguese (adjective) and belong mainly to the following ethnic groups: white homogeneous Mediterranean population; citizens from Portugal's former colonies in Africa and Asia and other foreign-born.
They speak Portuguese (official language), Mirandese (official language, but locally used) languages and practice the following religions: Roman Catholic 81%, other Christian 3.3%, other (includes Jewish, Muslim) 0.6%, none 6.8%, unspecified 8.3% (2011 estimate) note: data represent population 15 years of age and older.
We can conclude the following about the population in Portugal: Concentrations are primarily along or near the Atlantic coast. Both Lisbon and the second-largest city, Porto, are coastal cities. In Portugal, we are talking about 66.8% (2021) of the total population lives in cities, and most of them reside in the following municipalities: 2.972 million, Lisbon (capital city), 1.316 million, and Porto (2021).
Industry

Tourism. Exports of vegetables, fruit, wine, cars, and clothing. Mounting debt forced an E.U. bailout in 2011 and harsh cuts to reduce the budget deficit.
Portugal has become a diversified and increasingly service-based economy since joining the European Community – the E.U.'s predecessor – in 1986. Over the following two decades, the successive government's privatized many state-controlled firms and liberalized key areas of the economy, including the financial and telecommunications sectors. The country joined the Economic and Monetary Union in 1999 and began circulating the euro on 1 January 2002, along with 11 other E.U. members., The economy grew by more than the E.U. average for much of the 1990s, but the growth rate slowed from 2001-to 2008. After the global financial crisis in 2008, Portugal's economy contracted in 2009. It fell into recession from 2011 to 2013, as the government implemented spending cuts and tax increases to comply with the conditions of an EU-IMF financial rescue package signed in May 2011. Portugal successfully exited its EU-IMF program in May 2014, and its economic recovery gained traction in 2015 because of strong exports and a rebound in private consumption.
GDP growth accelerated in 2016 and probably reached 2.5 % in 2017. Unemployment remained high, at 9.7% in 2017, but has improved steadily since peaking at 18% in 2013. The center-left minority Socialist government has unwound some unpopular austerity measures while remaining within most E.U. fiscal targets. The budget deficit fell from 11.2% of GDP in 2010 to 1.8% in 2017, the country's lowest since democracy was restored in 1974, surpassing the E.U. and IMF projections of 3%. Portugal exited the E.U.'s excessive deficit procedure in mid-2017.
Portugal is rich in the following natural resources: Fish, forests (cork), iron ore, copper, zinc, tin, tungsten, silver, gold, uranium, marble, clay, gypsum, salt, arable land, and hydropower.
The main industrial sectors are typically textiles, clothing, footwear, wood and cork, paper and pulp, chemicals, fuels and lubricants, automobiles and auto parts, base metals, minerals, porcelain and ceramics, glassware, technology, telecommunications; dairy products, wine, other foodstuffs; ship construction and refurbishment; tourism, plastics, financial services, optics.
The country's export sectors are particularly strong in cars and vehicle parts, refined petroleum, leather footwear, paper products, and tires (2019), partnering with these nations: Spain 23%, France 13%, Germany 12%, United Kingdom 6%, United States 5% (2019). The export trade resulted in $85.28 billion. Note: Data are in current year dollars (2020 estimate). In a global rank of the export, values resulted in Portugal's position of 44.
Land use in Portugal: 37.8% (2018 estimate) forest, 22.5% (2018 estimate) other.
The arable land area is 11.9% (2018 estimate), and the agricultural land is 39.7% (2018 estimate). Land use for permanent crops 7.8% (2018 estimate), permanent pasture 20% (2018 estimate). The sum of the area of the irrigated land is 5,400 sq km (2012).
The main agro-industrial products of Portugal are milk, tomatoes, olives, grapes, maize, potatoes, pork, apples, oranges, and poultry.
The country typically needs to import: cars and vehicle parts, crude petroleum, aircraft, packaged medicines, refined petroleum, and natural gas (2019), partnering with the following nations: Spain 29%, Germany 13%, France 9%, Italy 5%, Netherlands 5% (2019) in a sum value of $89.31 billion. Note: data are in current year dollars (2020 estimate) $103.05 billion. Note: data are in current year dollars (2019 estimate) $103.59 billion. Note: data are in current year dollars (2018 estimate). This sum value on the global ranking list of imports resulted in Portugal 43.
Portugal Driving Directions

In this post, you learned about Portugal, Southwestern Europe, bordering the North Atlantic Ocean, west of Spain. We published some basic information about its capital Lisbon, and the Portuguese nation.
Are you interested in visiting Portugal and looking for driving directions? Click here to plan your route, or see a printable road map of Portugal below for an overview of the route network.
Printable map of Portugal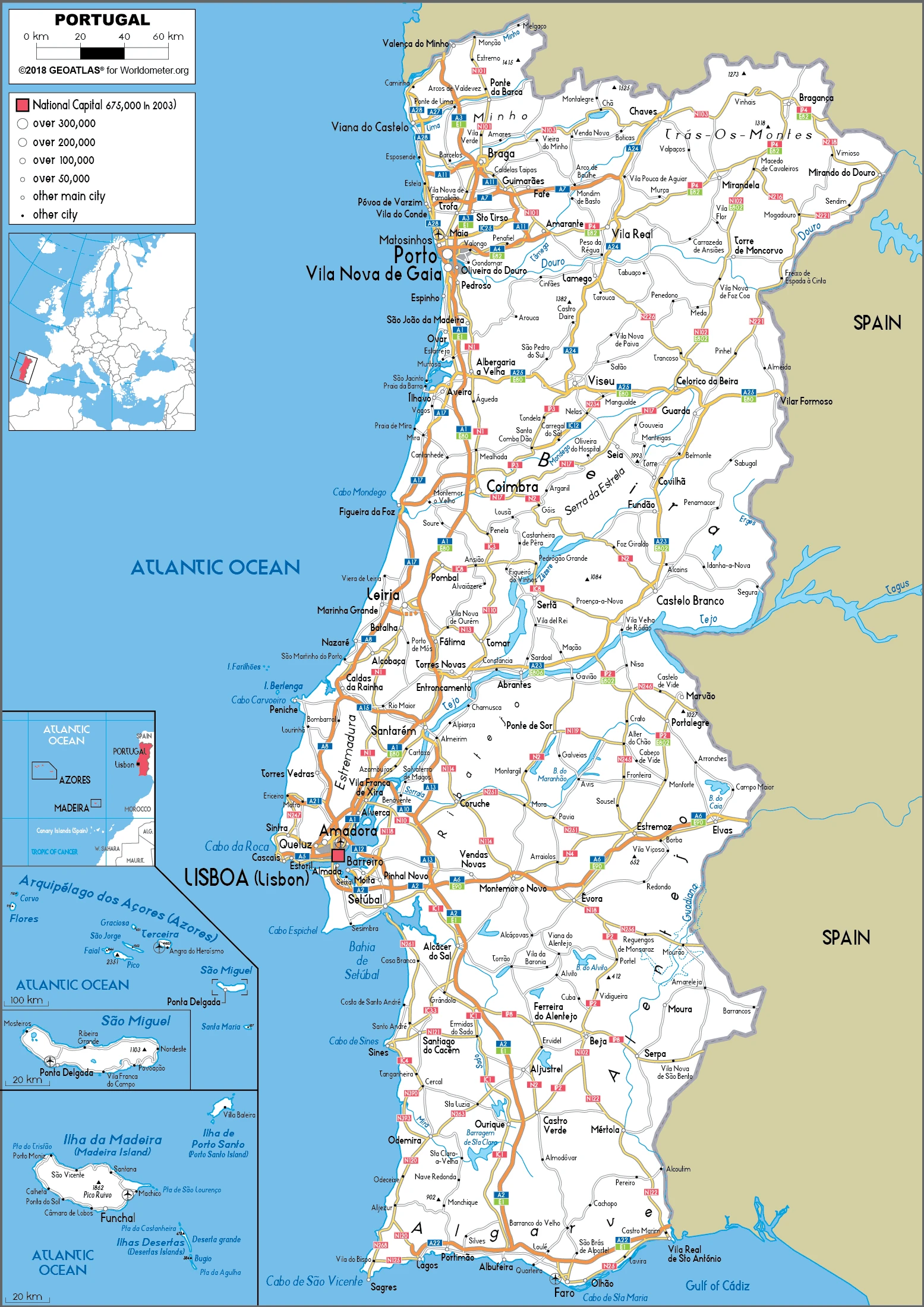 Did you know about Portugal?
Portugal is a beautiful country and has a rich history. The Portuguese language is one of the most widely spoken languages globally! It also boasts some of the best beaches in Europe and excellent cuisine.
A surprising fact about Portugal is that it has the longest coastline of any country in Western Europe. It shares borders with Spain and France. Another interesting fact is that Portuguese people are the third most numerous ethnic group globally.
After virtually visiting Portugal, you may also be interested in the neighboring country: Spain and France.
If you liked our Google map and Portugal information page,
please share it with others or save the link https://www.drivingdirections.net in your bookmarks.