Zimbabwe Google Maps is a site/tool that offers a wide range of map views (topographic, satellite, street view) and navigation options, with little effort on your part, yet efficiently. If you need to plan a trip to a new place like Zimbabwe, Google maps are available on desktop, mobile, or tablet. This Google maps and information page is dedicated to Zimbabwe, Africa (54 countries), showing its location, country facts, details about its capital city Harare, bordering countries like Botswana, Mozambique, South Africa, Zambia, and plenty of other information which may be interesting when you visit this African state.
Quick links: Google maps Zimbabwe, Harare Google maps, Driving Directions Zimbabwe, Printable Road Map.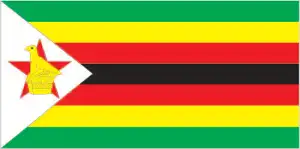 About Zimbabwe in a nutshell
Conventional short form of the name: Zimbabwe
The conventional long form of the name: Republic of Zimbabwe
Former name(s): Southern Rhodesia, Rhodesia, Zimbabwe-Rhodesia
Etymology: takes its name from the Kingdom of Zimbabwe (13th-15th century) and its capital of Great Zimbabwe, the largest stone structure in pre-colonial southern Africa.
The legal system in Zimbabwe: mixed legal system of English common law, Roman-Dutch civil law, and customary law.
Climate: Tropical, though moderated by the high altitude. Wet season November– March. Drought is common in the eastern highlands.
The national symbols are Zimbabwe bird symbol, African fish eagle, flame lily; national colors: green, yellow, red, black, white.
Internet TLD: .zw
Spread across the Matabele highlands, Zimbabwe is co-crowned by the Zambezi Valley to the north. Three-quarters of the southern African state inhabitants, which gained independence in 1980, belong to the Sona ethnic group. In the third millennium, the expulsion of white farmers and the expropriation of their land, soaring inflation, fuel shortages, corruption, and dictatorship have crippled the country's economy and, by extension, its tourism industry. Yet there is no shortage of attractions: with its historical monuments and the abundance of wildlife in its national parks, Zimbabwe is a match for any other black African country. Its World Heritage sites include three cultural heritages.
The massive granite domes and pendoliths of the Matobo Mountains preserve the rock paintings of the early Stone Age inhabitants. The ruins of Great Zimbabwe show traces of an advanced Bantu civilization between the 11th and 16th centuries. In contrast, the ruins of Khami are relics of the trading center that followed a century later. The Mana Pools National Park and surrounding reserves in the Lower Zambezi Valley, with its unique fauna, were initially given international protection to conserve the endangered narrow rhino population. This decision has now been all but rendered redundant by poaching. The Victoria Rhinoceros is a World Heritage Site shared with neighboring Zambia.
The ruins of the 1000-year-old city of Great Zimbabwe, after which the country is named, are near modern-day Masvingo.
Background

A series of trading states developed in the area of Zimbabwe before the arrival of the first European explorers. The largest of these was the Kingdom of Zimbabwe (ca. 1220-1450). In the 1880s, European colonists arrived with the British South Africa Company (BSAC), which obtained mining rights and established company rule over the area. The southern portion of BSAC holdings was annexed by the UK in 1923 and became the British colony of Southern Rhodesia. A 1961 constitution was formulated that favored whites in power. In 1965 the government unilaterally declared its independence. Still, the UK did not recognize the act and demanded more complete voting rights for the black African majority in the country (then called Rhodesia). UN sanctions and a guerrilla uprising finally led to free elections in 1979 and independence (as Zimbabwe) in 1980. Robert MUGABE, the nation's first prime minister, was the country's only ruler (as president since 1987) from independence until his resignation in November 2017. His chaotic land redistribution campaign, which began in 1997 and intensified after 2000, caused an exodus of white farmers, crippled the economy, and ushered in widespread shortages of essential commodities. MUGABE rigged the 2002 presidential election to ensure his reelection, ignoring international condemnation.
Geography

High plateaus in the center are bordered by the Zambezi River and Limpopo in the south. Rivers crisscross the central area.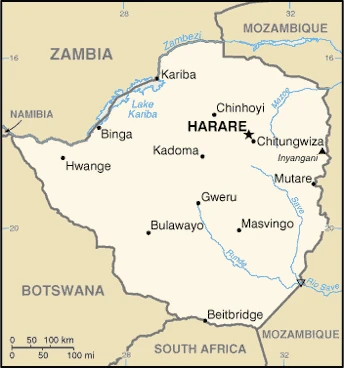 Situated in southern Africa, Zimbabwe achieved independence from the UK in 1980. President Robert Mugabe, in power since then, has become increasingly authoritarian.
This state is located in Southern Africa, between South Africa and Zambia, under the coordinates of 20 00 S, 30 00 E, covering an area of 390,757 sq km with a coastline of 0 km (landlocked country). Zimbabwe is About four times the size of Indiana, slightly larger than Montana.
Zimbabwe has 3,229 km of land boundaries and borders with (4 nations): Botswana 834 km, Mozambique 1402 km, South Africa 230 km, Zambia 763 km.
Mostly high plateau with higher central plateau (high veld), mountains in the east, with Inyangani 2,592 m as the highest point of Zimbabwe, while junction of the Runde and Save Rivers 162 m as the lowest point, causing a mean elevation at 961 m throughout the country. With 390,757 sq km, Zimbabwe has 386,847 sq km of land and N/A water surface area.
The principal rivers are Zambezi (shared with Zambia s), Angola, Namibia, Botswana, and Mozambique) – 2,740 km, Limpopo (shared with South Africa, Botswana, and Mozambique) – 1,800 km. The significant watersheds for Zimbabwe are Indian Ocean drainage: Zambezi (1,332,412 sq km), Internal (endorheic basin) drainage: Okavango Basin (863,866 sq km).
Landlocked; the Zambezi forms a natural riverine boundary with Zambia; in full flood (February-April), the massive Victoria Falls on the river forms the world's most giant curtain of falling water; Lake Kariba on the Zambia-Zimbabwe border forms the world's largest reservoir by volume (180 cu km; 43 cu mi).
The climate in Zimbabwe is as follows: Tropical, moderated by altitude, rainy season (November to March).
When you visit Zimbabwe, the natural hazards shall be considered: Rare recurring droughts, floods, and severe storms.
The following major health-threatening issues shall be considered when visiting Zimbabwe: degree of risk: high (2020), bacterial and protozoal diarrhea, hepatitis A, typhoid fever, malaria, and dengue fever, schistosomiasis, rabies.
Current environmental issues affecting the people living there: deforestation; soil erosion; land degradation; air and water pollution; the black rhinoceros herd – once the largest concentration of the species in the world – has been significantly reduced by poaching; poor mining practices have led to toxic waste and heavy metal pollution.
Google maps Zimbabwe
The capital and other divisions
Capital city: Harare is found under the coordinates 17 49 S, 31 02 E, applying the time zone UTC+2 (7 hours ahead of Washington, DC, during Standard Time), using the following daylight saving time: none.
Harare is the capital of Zimbabwe and the most populated city in the country. It is a major economic center for southern Africa. Despite its importance, Harare has faced many challenges over the years. At one point, 80% of Harare's inhabitants lived in poverty. However, Harare has experienced significant economic growth over the past few years thanks to its flourishing metallurgical, textile, chemical, and food industries.
Zimbabwe became independent on 18 April 1980 (from the UK), and its national holiday is Independence Day, 18 April (1980).
Administrative divisions: 8 provinces and 2 cities with provincial status; Bulawayo, Harare, Manicaland, Mashonaland Central, Mashonaland East, Mashonaland West, Masvingo, Matabeleland North, Matabeleland South, Midlands.
People and society

Two main ethnic groups: Shona in the north and east, and Ndebele in the south. Shona outnumber Ndebele by four to one. Whites are generally far more affluent than blacks. Official efforts to redress this imbalance (such as land redistribution) have become increasingly aggressive. The political opposition to Mugabe joined him in a fractious unity government from 2009 to 2013 in an attempt to rebuild the country.
The population in Zimbabwe is 14,829,988 (July 2021 estimate). Note: estimates for this country explicitly take into account the effects of excess mortality due to AIDS; this can result in lower life expectancy, higher infant mortality, higher death rates, lower population growth rates, and changes in the distribution of the population by age and sex than would otherwise be expected, with an average of 1.94% (2021 estimate) change. That means Zimbabwe is the No. 73 in the world's populated rank list. With an average of 20.5 years median age (20.3 years for males and 20.3 years for women), Zimbabwe ranks No. 189 on the globe's median age rank list.
The people living in this country belong mainly to the following ethnic groups: African 99.4% (predominantly Shona; Ndebele is the second largest ethnic group), other 0.4%, unspecified 0.2% (2012 estimate).
They speak Shona (official language; most widely spoken), Ndebele (official language, second most widely spoken), English (official language; traditionally used for official business), 13 minority languages (official language; includes Chewa, Chibarwe, Kalanga, Koisan, Nambya, Ndau, Shangani, sign language, Sotho, Tonga, Tswana, Venda, and Xhosa) languages and practice the following religions: Protestant 74.8% (includes Apostolic 37.5%, Pentecostal 21.8%, other 15.5%), Roman Catholic 7.3%, other Christian 5.3%, traditional 1.5%, Muslim 0.5%, other 0.1%, none 10.5% (2015 estimate).
We can conclude the following about the population in Zimbabwe: Aside from major urban agglomerations in Harare and Bulawayo, population distribution is pretty even, with slightly greater overall numbers in the eastern half, as shown in this population distribution map.
Industry

Undermined by mismanagement, corruption, and international isolation. High unemployment. Abandoned own currency in 2009 after hyperinflation.
Zimbabwe's economy depends heavily on its mining and agriculture sectors. Following a contraction from 1998 to 2008, the economy recorded real growth of more than 10% per year in 2010-2013, before falling below 3% in 2014-2017 due to poor harvests, low diamond revenues, and decreased investment. Lower mineral prices, infrastructure and regulatory deficiencies, a poor investment climate, a large public, and external debt burden, and extremely high government wage expenses impede the country's economic performance. Until early 2009, the Reserve Bank of Zimbabwe (RBZ) routinely printed money to fund the budget deficit, causing hyperinflation. Adopting a multi-currency basket in early 2009 – which allowed currencies such as the Botswana pula, the South African rand, and the US dollar to be used locally – reduced inflation below 10% per year. In January 2015, as part of the government's effort to boost trade and attract foreign investment, the RBZ announced that the Chinese renmimbi, Indian rupee, Australian dollar, and Japanese yen would be accepted as legal tender Zimbabwe. However, transactions were predominantly carried out in US dollars and South African rand until 2016, when the rands devaluation and instability led to near-exclusive use of the US dollar.
The government in November 2016, began releasing bond notes, a parallel currency legal only in Zimbabwe that the government claims will have a one-to-one exchange ratio with the US dollar, to ease cash shortages. Bond notes began trading at a discount of up to 10% in the black market by 2016. Zimbabwe's government entered a second Staff Monitored Program with the IMF in 2014 and undertook other measures to reengage with international financial institutions. Zimbabwe repaid roughly $108 million in arrears to the IMF in October 2016. Still, financial observers note that Zimbabwe is unlikely to gain new financing because the government has not disclosed how it plans to repay more than $1.7 billion in arrears to the World Bank and African Development Bank. Before granting new loans, international financial institutions want Zimbabwe to implement significant fiscal and structural reforms. Foreign and domestic investment continues to be hindered by the lack of land tenure and titling, the inability to repatriate dividends to investors overseas, and the lack of clarity regarding the government's Indigenization and Economic Empowerment Act.
Zimbabwe is rich in the following natural resources: Coal, chromium ore, asbestos, gold, nickel, copper, iron ore, vanadium, lithium, tin, and platinum group metals.
The main industrial sectors are typically mining (coal, gold, platinum, copper, nickel, tin, diamonds, clay, numerous metallic and nonmetallic ores), steel, wood products, cement, chemicals, fertilizer, clothing, footwear, foodstuffs, beverages.
The country's export sectors are particularly strong in gold, tobacco, iron alloys, nickel, diamonds, and jewelry (2019), partnering with these nations: the United Arab Emirates 40%, South Africa 23%, Mozambique 9% (2019). The export trade resulted in $4.422 billion. Note: Data are in current year dollars (2018 estimate). In a global export rank, values resulted in Zimbabwe's position of 129.
Land use in Zimbabwe: 39.5% (2018 estimate) forest, 18% (2018 estimate) other.
The arable land area is 10.9% (2018 estimate), and the agricultural land is 42.5% (2018 estimate). Land use for permanent crops 0.3% (2018 estimate), permanent pasture 31.3% (2018 estimate). The sum of the area of the irrigated land is 1,740 sq km (2012).
The main agro-industrial products of Zimbabwe are sugar cane, maize, milk, tobacco, cassava, vegetables, bananas, beef, cotton, and oranges.
The country typically needs to import: refined petroleum, delivery trucks, packaged medicines, fertilizers, tractors (2019), partnering with the following nations: South Africa 41%, Singapore 23%, China 8% (2019) in a sum value of $7.215 billion (2018 estimate) $9.658 billion (2017 estimate). This sum value on the global ranking list of imports resulted in Zimbabwe 125.
Zimbabwe Driving Directions

In this post, you learned about Zimbabwe, Southern Africa, between South Africa and Zambia. We published some basic information about its capital Harare.
Are you interested in visiting Zimbabwe and looking for driving directions? Click here to plan your route, or see a printable road map of Zimbabwe below for an overview of the route network.
Printable map of Zimbabwe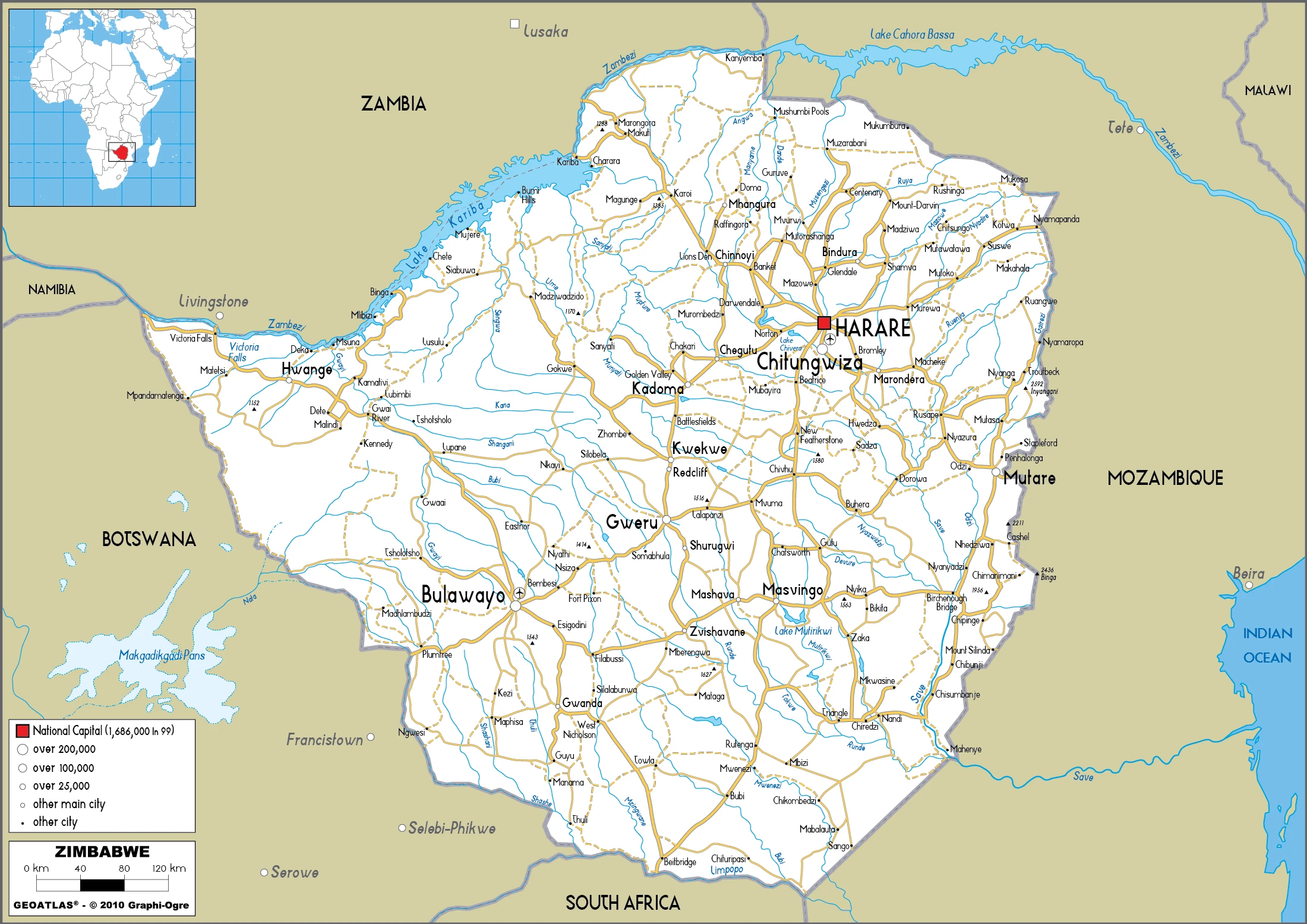 Did you know about Zimbabwe?
Zimbabwe is a country in southern Africa, formerly known as Rhodesia. The government called Zimbabwe in 1980 when the country gained its independence from Britain. The country experienced economic and social turmoil in the 1990s and 2000s due to crises that depleted the economy. This has led to high unemployment rates and many people living below the poverty line. Currently, Zimbabwe is still recovering from these problems.
Did you know that Zimbabwe is the home of many myths and legends? It's believed that some mythical creatures still exist there, such as the mbuna, a dragon-like creature. There are also tales of Bigfoot or Yeti sightings.
After virtually visiting Zimbabwe, you may also be interested in the neighboring countries: Botswana, Mozambique, South Africa, and Zambia.
If you liked our Google map and Zimbabwe information page,
please share it with others or save the link https://www.drivingdirections.net in your bookmarks.