Belize Google Maps is a site/tool that offers a wide range of map views (topographic, satellite, street view) and navigation options, with little effort on your part, yet efficiently. If you need to plan a trip to a new place like Belize, Google maps are available on desktop, mobile, or tablet. This Google maps and information page is dedicated to Belize, Central America, and the Caribbean (35 countries), showing its location, country facts, details about its capital city Belmopan, bordering countries like Guatemala, Mexico, and plenty of other information which may be interesting when you visit this Central American and the Caribbean state.
Quick links: Google maps Belize, Belmopan Google maps, Driving Directions Belize, Printable Road Map.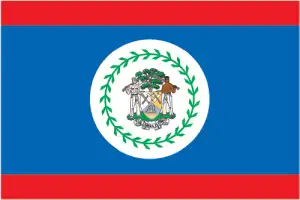 About Belize in a nutshell
Belize's barrier reef is the second-largest in the world.
Conventional short form of the name: Belize
The conventional long form of the name: none
Local long form: N/A
Local short form: N/A
Etymology: may be named for the Belize River, whose name possibly derives from the Maya word belix, meaning muddy-watered.
The legal system in Belize: English common law.
Climate: Tropical. Very hot and humid, with May–December rainy season. English-speaking black Creoles
The national symbols are Bairds tapir (a large, browsing, forest-dwelling mammal), keel-billed toucan, Black Orchid; national colors: red, blue.
Internet TLD: .bz
Background

Belize was the site of several Mayan city-states until their decline at the end of the first millennium A.D. The British and Spanish disputed the region in the 17th and 18th centuries. It formally became the colony of British Honduras in 1862. Territorial disputes between the U.K. and Guatemala delayed the independence of Belize until 1981. Guatemala refused to recognize the new nation until 1992, and the two countries were involved in an ongoing border dispute. Both nations have voted to send the dispute to the International Court of Justice for final resolution. Tourism has become the mainstay of the economy. Current concerns include the country's heavy foreign debt burden, high crime rates, high unemployment combined with a majority youth population, growing involvement in the Mexican and South American drug trade, and one of the highest HIV/AIDS prevalence rates in Central America.
Geography

Almost half the land area is forested. Low mountains in the southeast. Flat swampy coastal plains.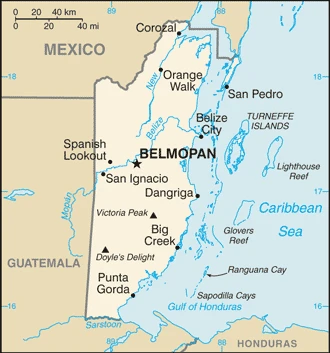 Belize lies on the eastern shore of the Yucatan Peninsula. Formerly called British Honduras, Belize was the last Central American country to gain independence in 1981.
This state is located in Central America, bordering the Caribbean Sea, between Guatemala and Mexico, under the coordinates of 17 15 N, 88 45 W, covering an area of 22,966 sq km with a coastline of 386 km. Belize is Slightly smaller than Massachusetts.
Belize has 542 km of land boundaries in total and borders with (2 nations): Guatemala 266 km, Mexico 276 km.
The flat, swampy coastal plain, low mountains in the south, with Doyles delight 1,124 m, as the highest point of Belize, while the Caribbean Sea 0 m as the lowest point, causing a mean elevation at 173 m throughout the country. With a total of 22,966 sq km, Belize has 22,806 sq km of land and 160 sq km water surface area.
The only country in Central America without a coastline on the North Pacific Ocean
The climate in Belize is as follows: Tropical, very hot and humid, rainy season (May to November), dry season (February to May).
When you visit Belize, the natural hazards shall be considered: Frequent, devastating hurricanes (June to November) and coastal flooding (especially in the south).
The following major health-threatening issues shall be considered when visiting Belize: none.
Current environmental issues affecting the Belizean people: deforestation; water pollution, including pollution of Belize's Barrier Reef System, from sewage, industrial effluents, agricultural runoff; inability to properly dispose of solid waste.
Google maps Belize
The capital and other divisions
Capital city: Belmopan found under the coordinates 17 15 N, 88 46 W, applying the time zone UTC-6 (1 hour behind Washington, DC, during Standard Time), using the following daylight saving time: none.
Belmopan is the capital and largest city in the country of Belize. With a population of about 30,000 people, it is also the second most populous settlement in Belize. It is located on the Caribbean coast of central Belize, 56 kilometers from Tegucigalpa and about 620 km east of Mexico City.
Belize became independent on 21 September 1981 (from the U.K.), and its national holiday is Battle of St. Georges Caye Day (National Day), 10 September (1798); Independence Day, 21 September (1981).
Administrative divisions: 6 districts; Belize, Cayo, Corozal, Orange Walk, Stann Creek, Toledo.
People and society

English-speaking black Creoles are outnumbered by Spanish speakers, including native mestizos (European– Amerindian) and immigrants from neighboring states. The Creoles have traditionally dominated society, but high emigration to the U.S. has weakened their influence. The Afro-Carib Garifuna have their language. Corruption, and trafficking of people and narcotics, are significant problems.
The population in Belize is 405,633 (July 2021 estimate), with an average of 1.67% (2021 estimate) change. That means Belize is the No. 175 in the world's populated rank list. With an average of 23.9 years median age (23 years for males and 23 years for women), Belize ranks No. 172 on the globe's median age rank list.
The people living in this country are the Belizean(s) (noun) or Belizean (adjective) and belong mainly to the following ethnic groups: Mestizo 52.9%, Creole 25.9%, Maya 11.3%, Garifuna 6.1%, East Indian 3.9%, Mennonite 3.6%, White 1.2%, Asian 1%, other 1.2%, unknown 0.3% (2010 estimate). Note: percentages add up to more than 100% because respondents could identify more than one ethnic origin.
They speak English 62.9% (official language), Spanish 56.6%, Creole 44.6%, Maya 10.5%, German 3.2%, Garifuna 2.9%, other 1.8%, unknown 0.3%, none 0.2% (cannot speak) languages and practice the following religions: Roman Catholic 40.1%, Protestant 31.5% (includes Pentecostal 8.4%, Seventh Day Adventist 5.4%, Anglican 4.7%, Mennonite 3.7%, Baptist 3.6%, Methodist 2.9%, Nazarene 2.8%), Jehovahs Witness 1.7%, other 10.5% (includes Bahai, Buddhist, Hindu, Church of Jesus Christ, Muslim, Rastafarian, Salvation Army), unspecified 0.6%, none 15.5% (2010 estimate).
We can conclude the following about the population in Belize: Approximately 25% to 30% of the population lives in the former capital, Belize City. Over half of the overall population is rural. Population density is slightly higher in the north and east. In Belize, we are talking about 46.2% (2021) of the total population is living in cities, and most of them reside in the following municipalities: 23,000 Belmopan (capital city) (2018).
Industry

Tourism, agriculture, and offshore banking. Oil extraction began in 2005. Sugar, textiles, lobsters, and shrimp are exported. Severe hurricane damage is a recurring problem.
Tourism is the number one foreign exchange earner in this small economy, followed by sugar, bananas, citrus, marine products, and crude oil exports. The government's expansionary monetary and fiscal policies, initiated in September 1998, led to GDP growth averaging nearly 4% in 1999-2007, but GPD growth has averaged only 2.1% from 2007-2016, with 2.5% growth estimated for 2017. Belize's dependence on energy imports makes it susceptible to energy price shocks., Although Belize has the third-highest per capita income in Central America, the average income figure masks a huge income disparity between rich and poor. A key government objective remains to reduce poverty and inequality with the help of international donors. High unemployment, a growing trade deficit, and heavy foreign debt burden continue to be significant concerns. Belize faces continued pressure from rising sovereign debt and a growing trade imbalance.
Belize is rich in the following natural resources: Arable land potential, timber, fish, hydropower.
The main industrial sectors are typically garment production, food processing, tourism, construction, oil.
The country's export sectors are particularly strong in raw sugar, bananas, fruit juice, fish products, crude petroleum (2019), partnering with these nations: the United Kingdom 27%, United States 24%, Spain 6%, Jamaica 5%, Ireland 5% (2019). The export trade resulted in $710 million. Note: Data are in current year dollars (2020 estimate). In a global rank of the export, values resulted in Belize's position of 186.
Land use in Belize: 60.6% (2018 estimate) forest, 32.5% (2018 estimate) other.
The arable land area is 3.3% (2018 estimate), and the agricultural land is 6.9% (2018 estimate). Land use for permanent crops 1.4% (2018 estimate), permanent pasture 2.2% (2018 estimate). The sum of the area of the irrigated land is 35 sq km (2012).
The main agro-industrial products of Belize are sugar care, oranges, bananas, maize, poultry, rice, sorghum, papayas, grapefruit, soybeans.
The country typically needs to import: refined petroleum, cigarettes, recreational boats, natural gas, cars (2019), partnering with the following nations: the United States 36%, China 13%, Mexico 12%, Guatemala 10% (2019) in a sum value of $900 million. Note: data are in current year dollars (2020 estimate) $1.2 billion. Note: data are in current year dollars (2019 estimate) $1.16 billion. Note: data are in current year dollars (2018 estimate). This sum value on the global ranking list of imports resulted in Belize 193.
Belize Driving Directions

In this post, you learned about Belize, Central America, bordering the Caribbean Sea, between Guatemala and Mexico. We published basic information about its capital Belmopan, and the Belizean nation.
Are you interested in visiting Belize and looking for driving directions? Click here to plan your route, or see a printable road map of Belize below for an overview of the route network.
Printable map of Belize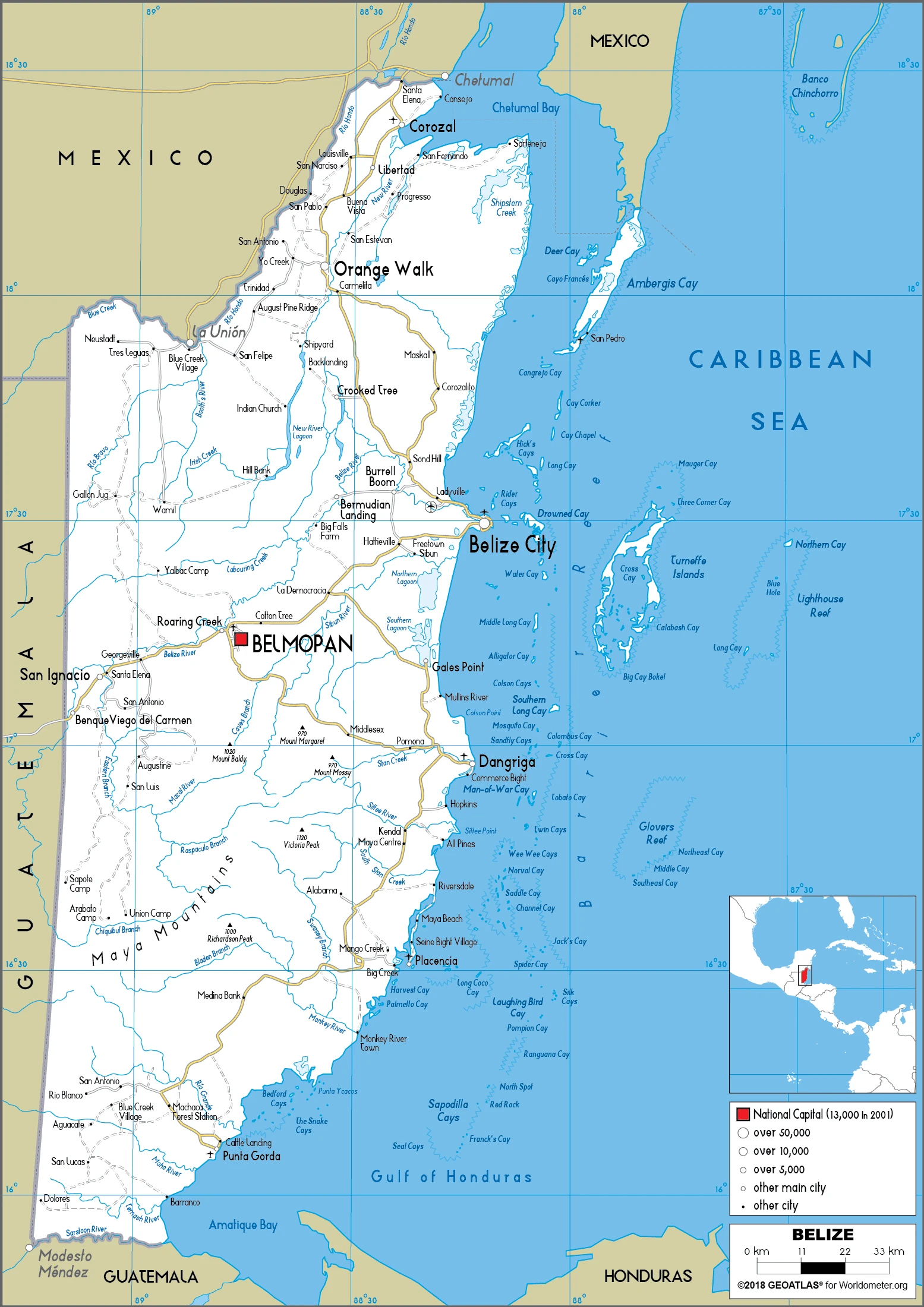 Did you know about Belize?
Belize was formerly known as British Honduras, and back in 1884, it became an independent nation. It's also a top travel destination because many people like its natural beauty and culture. Belize offers many activities, such as snorkeling, cave exploring, and zip-lining.
After virtually visiting Belize, you may also be interested in the neighboring countries: Guatemala, Mexico.
If you liked our Google map and Belize information page,
please share it with others or save the link https://www.drivingdirections.net in your bookmarks.