Botswana Google Maps is a site/tool that offers a wide range of map views (topographic, satellite, street view) and navigation options, with little effort on your part, yet efficiently. If you need to plan a trip to a new place like Botswana, Google maps are available on desktop, mobile, or tablet. This Google maps and information page is dedicated to Botswana, Africa (54 countries), showing its location, country facts, details about its capital city Gaborone, bordering countries like Namibia, South Africa, Zambia, Zimbabwe, and plenty of other information which may be interesting when you visit this African state.
Quick links: Google maps Botswana, Gaborone Google maps, Driving Directions Botswana, Printable Road Map.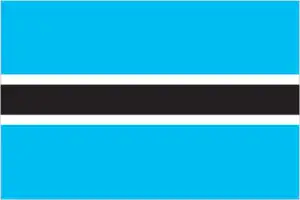 About Botswana in a nutshell
Water, Botswana's most precious resource, is honored in the name of the currency – pula.
Conventional short form of the name: Botswana
The conventional long form of the name: Republic of Botswana
Local long form: Republic of Botswana
Local short form: Botswana
Former name(s): Bechuanaland
Etymology: the name Botswana means Land of the Tswana – referring to the country's major ethnic group.
The legal system in Botswana: mixed legal system of civil law influenced by the Roman-Dutch model and also customary and common law.
Climate: Dry and prone to drought. Summer wet season, April–October. Winters are warm, with cold nights.
The national symbols are zebra; national colors: blue, white, black.
Internet TLD: .bw
Background

Seeking to stop incorporating their land into Rhodesia (Zimbabwe) or the Union of South Africa, in 1885, three tribal chiefs traveled to Great Britain. They successfully lobbied the British Government to put Bechuanaland under UK protection. Upon independence in 1966, the British protectorate of Bechuanaland adopted the new name of Botswana. More than five decades of uninterrupted civilian leadership, progressive social policies, and significant capital investment have created one of the most stable economies in Africa.
The ruling Botswana Democratic Party has won every national election since independence. President Mokgweetsi Eric MASISI assumed the presidency in April 2018 following the retirement of former President Ian KHAMA due to constitutional term limits. MASISI won his first election as president in October 2019, and he is Botswana's fifth president since independence. Mineral extraction, principally diamond mining, dominates economic activity, though tourism is a growing sector due to the country's conservation practices and extensive nature preserves. Botswana has one of the world's highest HIV/AIDS infection rates and one of Africa's most progressive and comprehensive programs for dealing with the disease.
Geography

Lies on a vast plateau, high above sea level. Hills in the east. The Kalahari Desert is in the center and southwest. Swamps and salt pans elsewhere and in Okavango Basin.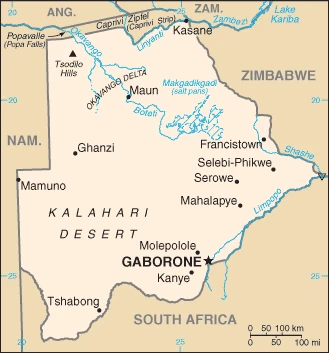 Landlocked in the heart of southern Africa, Botswana boasts the world's largest inland river delta. Diamonds provide potential wealth, but HIV/AIDS cripples the country.
This state is located in Southern Africa, north of South Africa, under the coordinates of 22 00 S, 24 00 E, covering an area of 581,730 sq km with a coastline of 0 km (landlocked country). Botswana is Slightly smaller than Texas, almost four times the size of Illinois.
Botswana has 4,347.15 km of land boundaries in total, and bordering with (4 nations): Namibia 1544 km, South Africa 1969 km, Zambia 0.15 km, Zimbabwe 834 km.
Predominantly flat to gently rolling tableland, Kalahari desert in the southwest, with Tsodilo hills 1,489 m as the highest point of Botswana, while junction of the Limpopo and Shashe Rivers 513 m as the lowest point, causing a mean elevation at 1,013 m throughout the country. With a total of 581,730 sq km, Botswana has 566,730 sq km of land and 15,000 sq km water surface area.
The principal rivers are Zambezi (shared with Zambia s), Angola, Namibia, Zimbabwe, and Mozambique m) – 2,740 km, Limpopo (shared with South Africa, Zimbabwe, and Mozambique m) – 1,800 km, Okavango river mouth (shared with Angola, and Namibia) – 1,600 km. The significant watersheds for Botswana are Atlantic Ocean drainage: Orange (941,351 sq km), Indian Ocean drainage: Zambezi (1,332,412 sq km) Internal (endorheic basin) drainage: Okavango Basin (863,866 sq km).
landlocked; population concentrated in the southern and eastern parts of the country
The climate in Botswana is as follows: Semiarid, warm winters, and hot summers.
When you visit Botswana, the natural hazards shall be considered: Periodic droughts; seasonal August winds blow from the West, carrying sand and dust across the country, which can obscure visibility.
The following major health-threatening issues shall be considered when visiting Botswana: degree of risk: high (2020), bacterial diarrhea, hepatitis A, typhoid fever, malaria.
Current environmental issues affecting the Motswana (singular), Batswana (plural) people: overgrazing; desertification; limited freshwater resources; air pollution.
Google maps Botswana
The capital and other divisions
Capital city: Gaborone found under the coordinates 24 38 S, 25 54 E, applying the time zone UTC+2 (7 hours ahead of Washington, DC, during Standard Time), using the following daylight saving time: none.
The capital of Botswana is known for its cosmopolitan city life, beautiful scenery, and variety of cultural activities. Gaborone is an international hub for embassies, investors, and tourists due to its proximity to other countries in Southern Africa.
Botswana became independent on 30 September 1966 (from the UK), and its national holiday is Independence Day (Botswana Day), 30 September (1966).
Administrative divisions: 10 districts and 6 town councils; Central, Chobe, Francistown, Gaborone, Ghanzi, Jwaneng, Kgalagadi, Kgatleng, Kweneng, Lobatse, North East, North West, Selebi-Phikwe, South East, Southern, Sowa Town.
People and society

The nomadic San bushmen, the first inhabitants, are marginalized. One in five adults live with HIV/AIDS: only Swaziland and Lesotho are worse affected. Life expectancy is around 64 years. Diamond revenue has widened wealth inequalities.
The population in Botswana is 2,350,667 (July 2021 estimate). Note: estimates for this country explicitly take into account the effects of excess mortality due to AIDS; this can result in lower life expectancy, higher infant mortality, higher death rates, lower population growth rates, and changes in the distribution of the population by age and sex than would otherwise be expected, with an average of 1.43% (2021 estimate) change. That means Botswana is the No. 144 in the world's populated rank list. With an average of 25.7 years median age (24.5 years for males and 24.5 years for women), Botswana ranks No. 157 on the globe's median age rank list.
The people living in this country are the Motswana (singular), Batswana (plural) (noun) or Motswana (singular), Batswana (plural) (adjective) and belong mainly to the following ethnic groups: Tswana (or Setswana) 79%, Kalanga 11%, Basarwa 3%, other, including Kgalagadi and people of European ancestry 7%.
They speak Setswana 77.3%, Sekalanga 7.4%, Shekgalagadi 3.4%, English (official language) 2.8%, Zezuru/Shona 2%, Sesarwa 1.7%, Sembukushu 1.6%, Ndebele 1%, other 2.8% (2011 estimate) languages and practice the following religions: Christian 79.1%, Badimo 4.1%, other 1.4% (includes Bahai, Hindu, Muslim, Rastafarian), none 15.2%, unspecified 0.3% (2011 estimate).
We can conclude the following about the population in Botswana: The population is primarily concentrated in the east with a focus in and around the capital of Gaborone and the far central-eastern city of Francistown. This population distribution map shows that population density remains low in other areas, especially in the Kalahari to the West. In Botswana, we are talking about 71.6% (2021) of the total population is living in cities, and most of them reside in the following municipalities: 269,000 Gaborone (capital city) (2018).
Industry

Overreliance on diamonds: vulnerable to world price fluctuations. Beef is exported to Europe. Tourism aimed at wealthy wildlife enthusiasts. AIDS is devastating the population.
Until the beginning of the global recession in 2008, Botswana maintained one of the world's highest economic growth rates since its independence in 1966. Botswana recovered from the global recession in 2010 but only grew modestly until 2017, primarily due to a downturn in the global diamond market. However, water and power shortages also played a role. Through fiscal discipline and sound management, Botswana has transformed itself from one of the poorest countries in the world five decades ago into a middle-income country with a per capita GDP of approximately $18,100 in 2017. Botswana also ranks as one of the least corrupt and best places to do business in Sub-Saharan Africa.
Because of its heavy reliance on diamond exports, Botswana's economy closely follows global price trends for that one commodity. Diamond mining fueled much of Botswana's past economic expansion and currently accounts for one-quarter of GDP, approximately 85% of export earnings, and about one-third of the Government's revenues.
In 2017, Diamond exports increased to the highest levels since 2013 at about 22 million carats of output, driving Botswana's economic growth to about 4.5% and increasing foreign exchange reserves to about 45% of GDP. De Beers, a major international diamond company, signed a 10-year deal with Botswana in 2012 and moved its rough stone sorting and trading division from London to Gaborone in 2013. The move was geared to support the development of Botswana's nascent downstream diamond industry.
Tourism is a secondary earner of foreign exchange, and many Batswana engage in tourism-related services, subsistence farming, and cattle rearing. According to official government statistics, unemployment is around 20%, but unofficial estimates are higher. The prevalence of HIV/AIDS is the second highest globally and threatens the country's impressive economic gains.
Botswana is rich in the following natural resources: Diamonds, copper, nickel, salt, soda ash, potash, coal, iron ore, silver.
The main industrial sectors are typically diamonds, copper, nickel, salt, soda ash, potash, coal, iron ore, silver, beef processing, textiles.
The country's export sectors are particularly strong in diamonds, insulated wiring, gold, beef, carbonates (2019), partnering with these nations: India 21%, Belgium 19%, United Arab Emirates 19%, South Africa 9%, Israel 7%, Hong Kong 6%, Singapore 5% (2019). The export trade resulted in $6.16 billion. Note: Data are in current year dollars (2019 estimate). In a global rank of the export, values resulted in Botswana's position of 119.
Land use in Botswana: 19.8% (2018 estimate) forest, 34.4% (2018 estimate) other.
The arable land area is 0.6% (2018 estimate), and the agricultural land is 45.8% (2018 estimate). Land use for permanent crops 0% (2018 estimate), permanent pasture 45.2% (2018 estimate). The sum of the area of the irrigated land is 20 sq km (2012).
The main agro-industrial products of Botswana are milk, roots/tubers, vegetables, sorghum, beef, game meat, watermelons, cabbages, goat milk, onions.
The country typically needs to import: diamonds, refined petroleum, cars, delivery trucks, electricity (2019), partnering with the following nations: South Africa 58%, Namibia 9%, Canada 7% (2019) in a sum value of $7.44 billion. Note: data are in current year dollars (2019 estimate) $7.31 billion. Note: data are in current year dollars (2018 estimate). This sum value on the global ranking list of imports resulted in Botswana 122.
Botswana Driving Directions

In this post, you learned about Botswana, Southern Africa, north of South Africa. We published some basic information about its capital Gaborone, and the Motswana (singular), Batswana (plural) nation.
Are you interested in visiting Botswana and looking for driving directions? Click here to plan your route, or see a printable road map of Botswana below for an overview of the route network.
Printable map of Botswana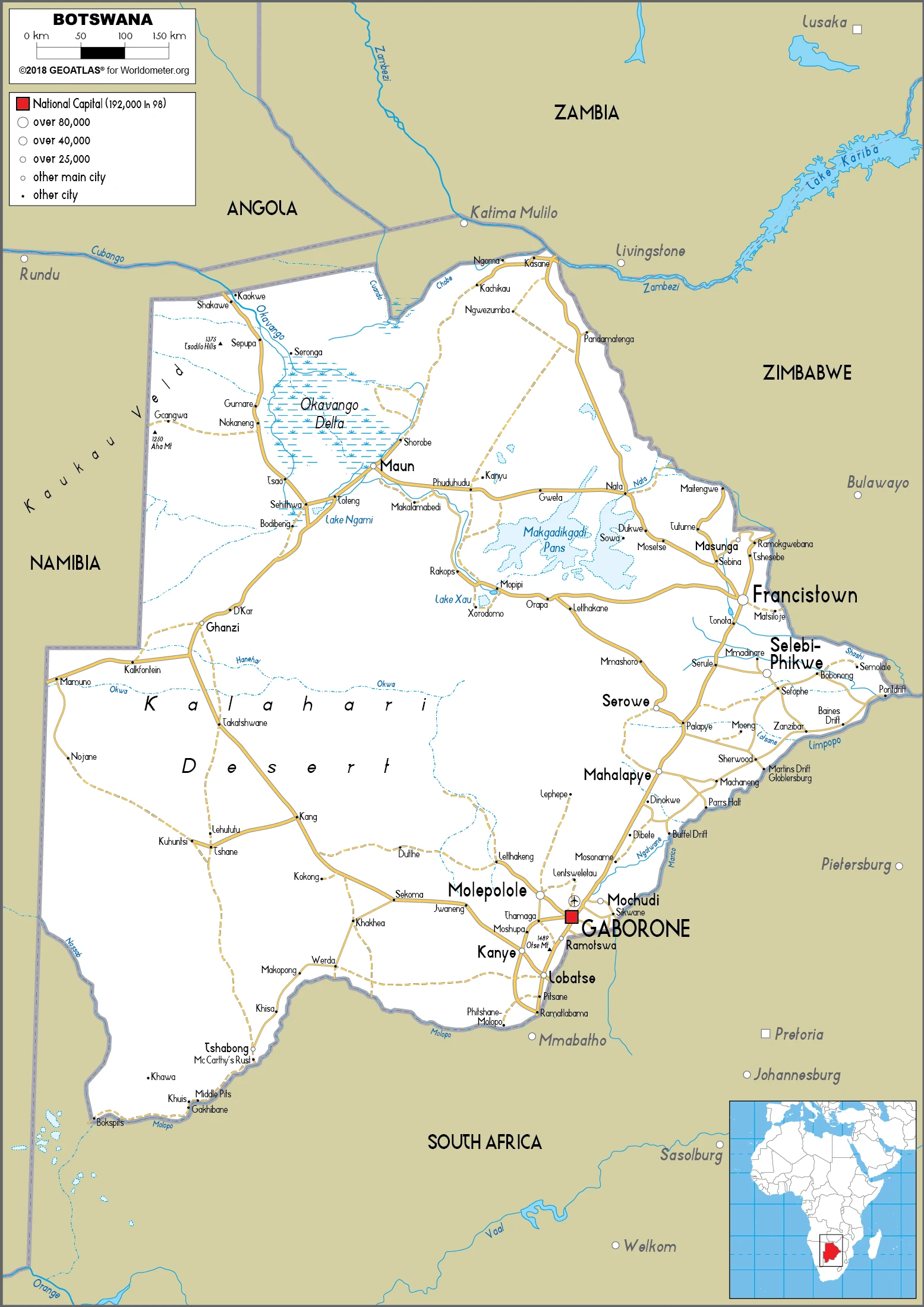 Did you know about Botswana?
It's the most sparsely populated country in Africa and one of the poorest. It's known for its wildlife and national parks, which make up the most significant percentage of its land area. The country is also known for diamonds, copper, and other minerals in the Kalahari desert.
After virtually visiting Botswana, you may also be interested in the neighboring countries: Namibia, South Africa, Zambia, Zimbabwe.
If you liked our Google map and Botswana information page,
please share it with others or save the link https://www.drivingdirections.net in your bookmarks.