Faroe Islands Google Maps is a site/tool that offers a wide range of map views (topographic, satellite, street view) and navigation options, with little effort on your part, yet efficiently. If you need to plan a trip to a new place like the Faroe Islands, Google maps are available on desktop, mobile, or tablet. This Google maps and information page is dedicated to the Faroe Islands, Europe (47 countries), showing its location, country facts, details about its capital city Torshavn, bordering countries like none, and plenty of other information that may be interesting when you visit this European state.
Quick links: Google maps Faroe Islands, Torshavn Google maps, Driving Directions Faroe Islands, Printable Road Map.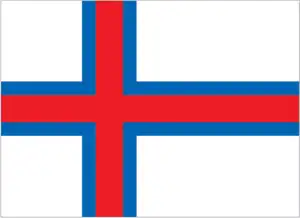 About Faroe Islands in a nutshell
Conventional short form of the name: Faroe Islands
The conventional long form of the name: none
Local long form: none
Local short form: Foroyar
Former name(s): N/A
Etymology: the archipelagos name may derive from the Old Norse word faer, meaning sheep.
The legal system in Faroe Islands: the laws of Denmark apply where applicable.
Climate: Mild winters, cool summers, usually overcast, foggy, windy.
The national symbols are ram; national colors: red, white, blue.
Internet TLD: .fo
The archipelago of 18 basaltic islands at 62 degrees north latitude has as extreme a climate as you'd expect from a piece of land in the middle of the ocean, near the Arctic Circle. Fog is a part of everyday life, with ten different words used in the local language to describe fog. Due to frequent and strong winds, the islands are almost devoid of woody vegetation. The inhabitants of the Faroe Islands converted to Christianity around the year 1000. The archipelago came under the jurisdiction of the Kingdom of Norway in 1035 and then under the Kingdom of Denmark in 1380. The archipelago has enjoyed varying degrees of autonomy throughout history but has never gained or achieved complete independence. In the first half of the 20th century, it became an overseas county of Denmark and, since 1948, an autonomous region. It did not follow Denmark into the European Union, mainly because of fishing restrictions – and the maintenance of a centuries-old whaling tradition. The islands have their national flag, and their inhabitants speak their language.
Background

The population of the Faroe Islands is largely descended from Viking settlers who arrived in the 9th century. The islands have been connected politically to Denmark since the 14th century. A high degree of self-government was granted by the Faroese in 1948, who have autonomy over most internal affairs while Denmark is responsible for justice, defense, and foreign affairs. The Faroe Islands are not part of the European Union.
Geography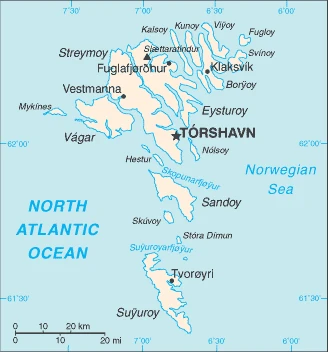 The Faroe Islands are located in the North Atlantic Ocean, 450 miles from Iceland and Denmark. They are a group of 18 islands known as the Kingdom of Faroe. There is no permanent population on the islands due to inhospitable weather conditions and a lack of natural resources.
This state is located in Northern Europe, an island group between the Norwegian Sea and the North Atlantic Ocean, about halfway between Iceland and Norway, under the coordinates of 62 00 N, 7 00 W, covering an area of 1,393 sq km with a coastline of 1,117 km. Faroe Islands is Eight times the size of Washington, DC.
Rugged, rocky, some low peaks, cliffs along most of the coast, with Slaettaratindur 882 m as the highest point of Faroe Islands, while Atlantic Ocean 0 m as the lowest point, causing a mean elevation at N/A throughout the country. With a total of 1,393 sq km, Faroe Islands has 1,393 sq km of land and 0 sq km (some lakes and streams) water surface area.
An archipelago of 17 inhabited islands, one uninhabited island, and a few uninhabited islets; strategically located along vital sea lanes in northeastern Atlantic; precipitous terrain limits habitation to small coastal lowlands.
The climate in the Faroe Islands is as follows: Mild winters, cool summers, usually overcast, foggy, windy.
The natural hazards shall be considered when you visit the Faroe Islands: Strong winds and heavy rains can occur throughout the year.
The following major health-threatening issues shall be considered when visiting the Faroe Islands: none.
Current environmental issues affecting the Faroese people: coastal erosion, landslides, and rockfalls, flash flooding, wind storms, oil spills.
Google maps Faroe Islands
The capital and other divisions
Capital city: Torshavn found under the coordinates 62 00 N, 6 46 W, applying the time zone UTC 0 (5 hours ahead of Washington, DC, during Standard Time), using the following daylight saving time: +1hr, begins last Sunday in March; ends last Sunday in October.
The capital of the Faroe Islands, Torshavn, is an exciting place to visit in the North Atlantic Ocean. Like other Scandinavia cities, it has a rich cultural heritage and fascinating architecture. The city charms visitors with its large harbor and relaxed atmosphere.
The Faroe Islands became independent on none (part of the Kingdom of Denmark; self-governing overseas administrative division of Denmark), and its national holiday is Olaifest (Olavsoka) (commemorates the death in battle of King OLAF II of Norway, later St. OLAF), 29 July (1030).
Administrative divisions: part of the Kingdom of Denmark; self-governing overseas administrative division of Denmark; there are 29 first-order municipalities (kommunur, singular – kommuna) Eidhi, Eystur, Famjin, Fuglafjordhur, Fugloy, Hov, Husavik, Hvalba, Hvannasund, Klaksvik, Kunoy, Kvivik, Nes, Porkeri, Runavik, Sandur, Sjovar, Skalavik, Skopun, Skuvoy, Sorvagur, Sumba, Sunda, Torshavn, Tvoroyri, Vagar, Vagur, Vestmanna, Vidhareidhi.
People and society
The population in the Faroe Islands is 51,943 (July 2021 estimate), with an average of 0.62% (2021 estimate) change. That means the Faroe Islands is the No. 208 in the world's populated rank list. With an average of 37.2 years median age (36.9 years for males and 36.9 years for women), Faroe Islands ranks No. 72 on the globe's median age rank list.
The people living in this country are the Faroese (also singular and plural) (noun) or Faroese (adjective) and belong mainly to the following ethnic groups: Faroese 85.9% (Scandinavian and Anglo-Saxon descent), Danish 8.2%, other Nordic 1.4%, other 4.5% (includes Filipino, Romanian, Polish) (2021 estimate). Note: data represent respondents by country of birth.
They speak Faroese 93.8% (derived from Old Norse), Danish 3.2%, other 3% (2011 estimate). Note: data represent population by primary language languages and practice the following religions: Christian 89.3% (predominantly Evangelical Lutheran), other 1%, none 3.8%, unspecified 6% (2011 estimate).
We can conclude the following about the population in the Faroe Islands: The island of Streymoy is by far the most populous with over 40% of the population. It has approximately twice as many inhabitants as Eysturoy, the second-most populous island. Seven of the inhabited islands have fewer than 100 people. In the Faroe Islands, we are talking about 42.6% (2021) of the total population is living in cities, and most of them reside in the following municipalities: 21,000 Torshavn (capital city) (2018).
Industry
The Faroese economy has experienced significant growth since 2011 due to higher fish prices and increased salmon farming and catches in the pelagic fisheries. Fishing has been the primary source of income for the Faroe Islands since the late 19th century, but dependence on fishing makes the economy vulnerable to price fluctuations. Nominal GDP, measured in current prices, grew 5.6% in 2015 and 6.8% in 2016. GDP growth was forecast at 6.2% in 2017, slowing to 0.5% in 2018 due to lower fisheries quotas, higher oil prices, and fewer farmed salmon combined with lower salmon prices. The fisheries sector accounts for about 97% of exports and half of GDP. Unemployment is low, estimated at 2.1% in early 2018. Aided by an annual subsidy from Denmark, which amounts to about 11% of Faroese GDP, Faroese have a standard of living equal to that of Denmark.
The Faroe Islands have bilateral free trade agreements with the EU, Iceland, Norway, Switzerland, and Turkey. For the first time in 8 years, the Faroe Islands managed to generate a public budget surplus in 2016, which continued in 2017. The local government intends to reduce public debt, which reached 38% of GDP in 2015. Fiscal sustainability analysis of the Faroese economy shows that a long-term tightening of fiscal policy of 5% of GDP is required for fiscal sustainability. Increasing public infrastructure investments will likely lead to continued growth in the short term, and the Faroese economy is becoming somewhat more diversified. Growing industries include financial services, petroleum-related businesses, shipping, maritime manufacturing, civil aviation, IT, telecommunications, and tourism.
The Faroe Islands is rich in the following natural resources: Fish, whales, hydropower, possible oil, and gas.
The main industrial sectors are fishing, fish processing, tourism, minor ship repair and refurbishment, handicrafts.
The country's export sectors are particularly strong in fish and fish products (97%) (2017 estimate), partnering with these nations: Russia 26.4%, UK 14.1%, Germany 8.4%, China 7.9%, Spain 6.8%, Denmark 6.2%, US 4.7%, Poland 4.4%, Norway 4.1% (2017). The export trade resulted in $1.184 billion. Note: Data are in current year dollars (2016 estimate). In a global rank of the export, values resulted in Faroe Islands' position of 173.
Land use in Faroe Islands: 0.1% (2018 estimate) forest, 97.8% (2018 estimate) other.
The arable land area is 2.1% (2018 estimate), and the agricultural land is 2.1% (2018 estimate). Land use for permanent crops 0% (2018 estimate), permanent pasture 0% (2018 estimate).
The main agro-industrial products of the Faroe Islands are potatoes, mutton, sheepskins, sheep offals, beef, sheep fat, cattle offals, cattle hides, cattle fat.
The country typically needs to import: goods for household consumption, machinery and transport equipment, fuels, raw materials, semi-manufactures, cars, partnering with the following nations: Denmark 33%, China 10.7%, Germany 7.6%, Poland 6.8%, Norway 6.7%, Ireland 5%, Chile 4.3% (2017) in a sum value of $978.4 million (2016 estimate) $906.1 million (2015 estimate). This sum value on the global ranking list of imports resulted in Faroe Islands 191.
Faroe Islands Driving Directions

In this post, you learned about the Faroe Islands, Northern Europe, island group between the Norwegian Sea and the North Atlantic Ocean, about halfway between Iceland and Norway. We published some basic information about its capital Torshavn, and the Faroese nation.
Are you interested in visiting the Faroe Islands and looking for driving directions? Click here to plan your route, or see a printable road map of the Faroe Islands below for an overview of the route network.
Printable map of Faroe Islands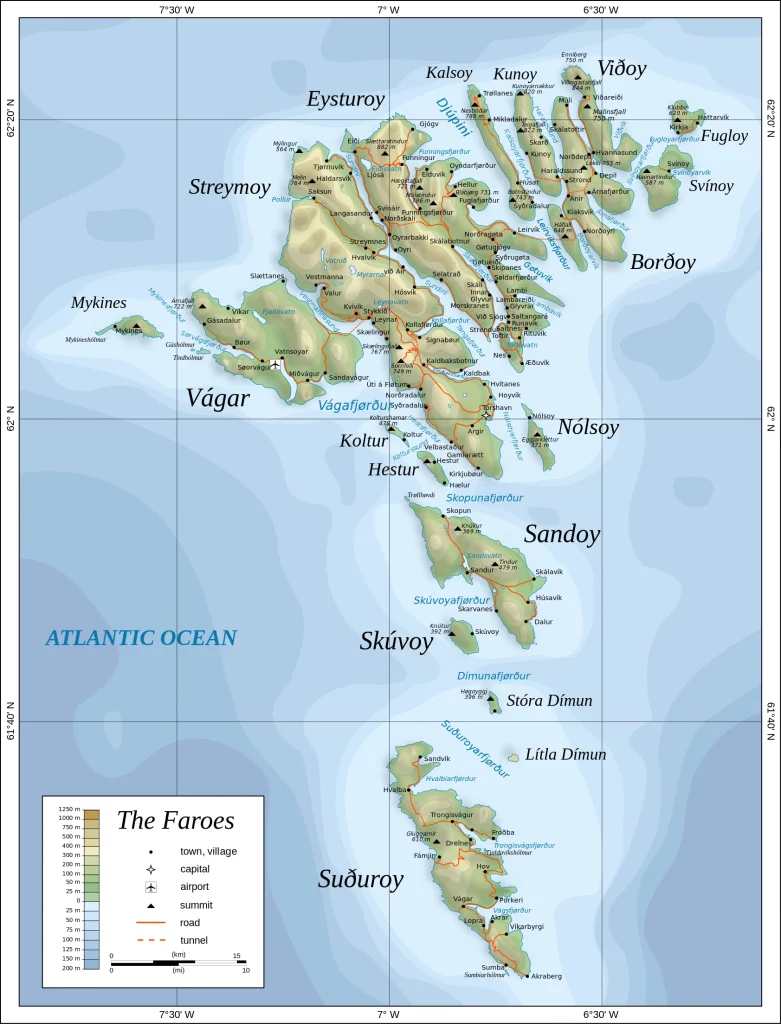 Did you know about Faroe Islands?
The Faroe Islands are a group of 18 islands between Norway and Iceland. The population is just over 50,000 people, but they have preserved their unique culture. The country's name comes from the Old Norse "fara fjór," which means "the sheep island". They speak an ancient form of Norse, which hasn't been spoken in centuries. The country's official language is a mixture of Faroese and Danish, making it easy for travelers to learn the basics of their language before visiting.
The islands have a high standard of living, with few people in poverty. Life expectancy is close to 82 years, the highest in Europe.
After virtually visiting the Faroe Islands, you may also be interested in the neighboring countries: Denmark, Iceland, Norway, the United Kingdom.
If you liked our Google map and the Faroe Islands information page,
please share it with others or save the link https://www.drivingdirections.net in your bookmarks.