Grenada Google Maps is a site/tool that offers a wide range of map views (topographic, satellite, street view) and navigation options, with little effort on your part, yet efficiently. If you need to plan a trip to a new place like Grenada, Google maps are available on desktop, mobile, or tablet. This Google maps and information page is dedicated to Grenada, Central America and the Caribbean (35 countries), showing its location, country facts, details about its capital city Saint Georges, and plenty of other information which may be interesting when you visit this Central American and the Caribbean state.
Quick links: Google maps Grenada, Saint Georges Google maps, Driving Directions Grenada, Printable Road Map.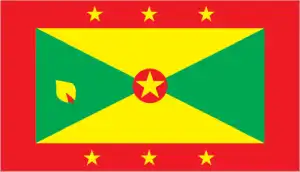 About Grenada in a nutshell
Conventional short form of the name: Grenada
The conventional long form of the name: none
Etymology: derivation of the name remains obscure; some sources attribute the designation to Spanish influence (most likely named for the Spanish city of Granada), with subsequent French and English interpretations resulting in the present-day Grenada; in Spanish granada means pomegranate.
The legal system in Grenada: common law based on English model.
Climate: Tropical, tempered by trade winds. Hurricanes are a hazard in the July– November wet season.
The national symbols are Grenada dove, bougainvillea flower; national colors: red, yellow, green.
Internet TLD: .gd
Background

Carib Indians inhabited Grenada when Christopher COLUMBUS discovered the island in 1498, but it remained uncolonized for more than a century. The French settled in Grenada in the 17th century, established sugar estates, and imported large numbers of enslaved Africans. Britain took the island in 1762 and vigorously expanded sugar production. In the 19th century, cacao eventually surpassed sugar as the main export crop. In the 20th century, nutmeg became the leading export.
In 1967, Britain gave Grenada autonomy over its internal affairs. Complete independence was attained in 1974, making Grenada one of the smallest independent countries in the Western Hemisphere. In 1979, a leftist New Jewel Movement seized power under Maurice BISHOP, ushering in the Grenada Revolution. On 19 October 1983, factions within the revolutionary government overthrew and killed BISHOP and members of his party. Six days later, the island was invaded by US forces and six other Caribbean nations, which quickly captured the ringleaders and their hundreds of Cuban advisers. The rule of law was restored, and democratic elections were reinstituted the following year and have continued since then.
Geography

Volcanic in origin, with densely forested central mountains. Its territory also includes the islands of Carriacou and Petite Martinique.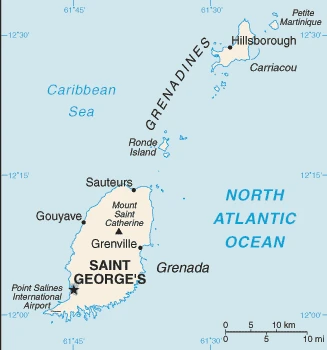 Grenada's southernmost of the Windward Islands made world headlines in 1983 when the US and Caribbean allies mounted an invasion to sever links with Castro's Cuba.
This state is located in the Caribbean, an island between the Caribbean Sea and the Atlantic Ocean, north of Trinidad and Tobago, under the coordinates of 12 07 N, 61 40 W, covering an area of 344 sq km with a coastline of 121 km. Grenada is Twice the size of Washington, DC.
Volcanic in origin with central mountains, Mount Saint Catherine 840 m as the highest point of Grenada, and the Caribbean Sea 0 m as the lowest point, causing a mean elevation at N/A throughout the country. With a total of 344 sq km, Grenada has 344 sq km of land and 0 sq km of water surface area.
The administration of the islands of the Grenadines group is divided between Saint Vincent and the Grenadines and Grenada.
The climate in Grenada is as follows: Tropical, tempered by northeast trade winds.
When you visit Grenada, the natural hazards shall be considered: Lies on the edge of the hurricane belt; hurricane season lasts from June to November volcanism: mount Saint Catherine (840 m) lies on the island of Grenada; Kick em Jenny, an active submarine volcano (seamount) on the Caribbean seafloor, lies about 8 km north of the island of Grenada; these two volcanoes are at the southern end of the volcanic island arc of the lesser Antilles that extends up to the Netherlands dependency of saba in the north.
The following major health-threatening issues shall be considered when visiting Grenada: none.
Current environmental issues affecting the Grenadian people: deforestation causing habitat destruction and species loss; coastal erosion and contamination; pollution and sedimentation; inadequate solid waste management.
Google maps Grenada
The capital and other divisions
Capital city: Saint Georges found under the coordinates 12 03 N, 61 45 W, applying the time zone UTC-4 (1 hour ahead of Washington, DC, during Standard Time), using the following daylight saving time: none.
If you are traveling through Grenada, Saint Georges is the capital of this country that offers relaxation and adventure. Perfect for those who need a break from urban life, this tropical location has many things to see, including the world's largest waterfall!
Grenada became independent on 7 February 1974 (from the UK), and its national holiday is Independence Day, 7 February (1974).
Administrative divisions: 6 parishes and 1 dependency*; Carriacou and Petite Martinique, Saint Andrew, Saint David, Saint George, Saint John, Saint Mark, Saint Patrick.
People and society

Grenadians are mainly of African origin; their traditions remain strong, especially on Carriacou. Inter-ethnic marriage has reduced tensions between the groups. Extended families, often headed by women, are the norm. Wealth disparities are not marked, but levels of poverty are growing.
The population in Grenada is 113,570 (July 2021 estimate), with an average of 0.35% (2021 estimate) change. That means Grenada is the No. 189 in the world's populated rank list. With an average of 33.3 years median age (33.1 years for males and 33.1 years for women), Grenada ranks No. 99 on the globe's median age rank list.
The people living in this country are the Grenadian(s) (noun) or Grenadian (adjective) and belong mainly to the following ethnic groups: African descent 82.4%, mixed 13.3%, East Indian 2.2%, other 1.3%, unspecified 0.9% (2011 estimate).
They speak English (official language), French patois languages and practice the following religions: Protestant 49.2% (includes Pentecostal 17.2%, Seventh Day Adventist 13.2%, Anglican 8.5%, Baptist 3.2%, Church of God 2.4%, Evangelical 1.9%, Methodist 1.6%, other 1.2%), Roman Catholic 36%, Jehovahs Witness 1.2%, Rastafarian 1.2%, other 5.5%, none 5.7%, unspecified 1.3% (2011 estimate).
We can conclude the following about the population in Grenada: Approximately one-third of the population is found in the capital of st. Georges. The island's population is concentrated along the coast. In Grenada, we are talking about 36.7% (2021) of the total population lives in cities, and most of them reside in the following municipalities: 39,000 Saint Georges (capital city) (2018).
Industry

Severe damage from Hurricane Ivan in 2004 to crops and 90% of buildings; reconstruction taking years. Nutmeg, cocoa, bananas, and mace. Smuggling is a serious problem.
Grenada relies on tourism and revenue generated by St. Georges University – a private university offering degrees in medicine, veterinary medicine, public health, the health sciences, nursing, arts and sciences, and business – as its primary source of foreign exchange. In the past two years, the country expanded its sources of revenue, including selling passports under its citizenship by investment program. These projects produced a resurgence in the construction and manufacturing sectors of the economy. In 2017, Grenada experienced its fifth consecutive year of growth, and the government successfully marked the completion of its five-year structural adjustment program that included, among other things, austerity measures, increased tax revenue, and debt restructuring. Public debt-to-GDP was reduced from 100% of GDP in 2013 to 71.8% in 2017.
Grenada is rich in the following natural resources: Timber, tropical fruit.
The main industrial sectors are typically food and beverages, textiles, light assembly operations, tourism, construction, education, call-center operations.
The country's export sectors are particularly strong in fish, nutmeg, cocoa beans, fruits, wheat, toilet paper (2019), partnering with these nations: the United States 40%, Saint Vincent and the Grenadines 7%, Saint Lucia 7%, France 6%, Netherlands 5%, Germany 5%, Ireland 5%, Antigua and Barbuda 5% (2019). The export trade resulted in $650 million. Note: Data are in current year dollars (2018 estimate). In a global rank of the export, values resulted in Grenada's position of 187.
Land use in Grenada: 50% (2018 estimate) forest, 17.7% (2018 estimate) other.
The arable land area is 8.8% (2018 estimate), and the agricultural land is 32.3% (2018 estimate). Land use for permanent crops 20.6% (2018 estimate), permanent pasture 2.9% (2018 estimate). The sum of the area of the irrigated land is 20 sq km (2012).
The main agro-industrial products of Grenada are bananas, watermelons, sweet potatoes, sugar cane, tomatoes, plantains, coconuts, melons, cucumbers, cabbages.
The country typically needs to import: aircraft, poultry meat, cars, refined petroleum, food preparation materials (2019), partnering with the following nations: the United States 35%, Canada 24%, China 5% (2019) in a sum value of $640 million. Note: data are in current year dollars (2018 estimate) $314.7 million (2016 estimate). This sum value on the global ranking list of imports resulted in Grenada 197.
Grenada Driving Directions

In this post, you learned about Grenada, the Caribbean island between the Caribbean Sea and the Atlantic Ocean, north of Trinidad and Tobago. We published some basic information about its capital Saint Georges, and the Grenadian nation.
Are you interested in visiting Grenada and looking for driving directions? Click here to plan your route, or see a printable road map of Grenada below for an overview of the route network.
Printable map of Grenada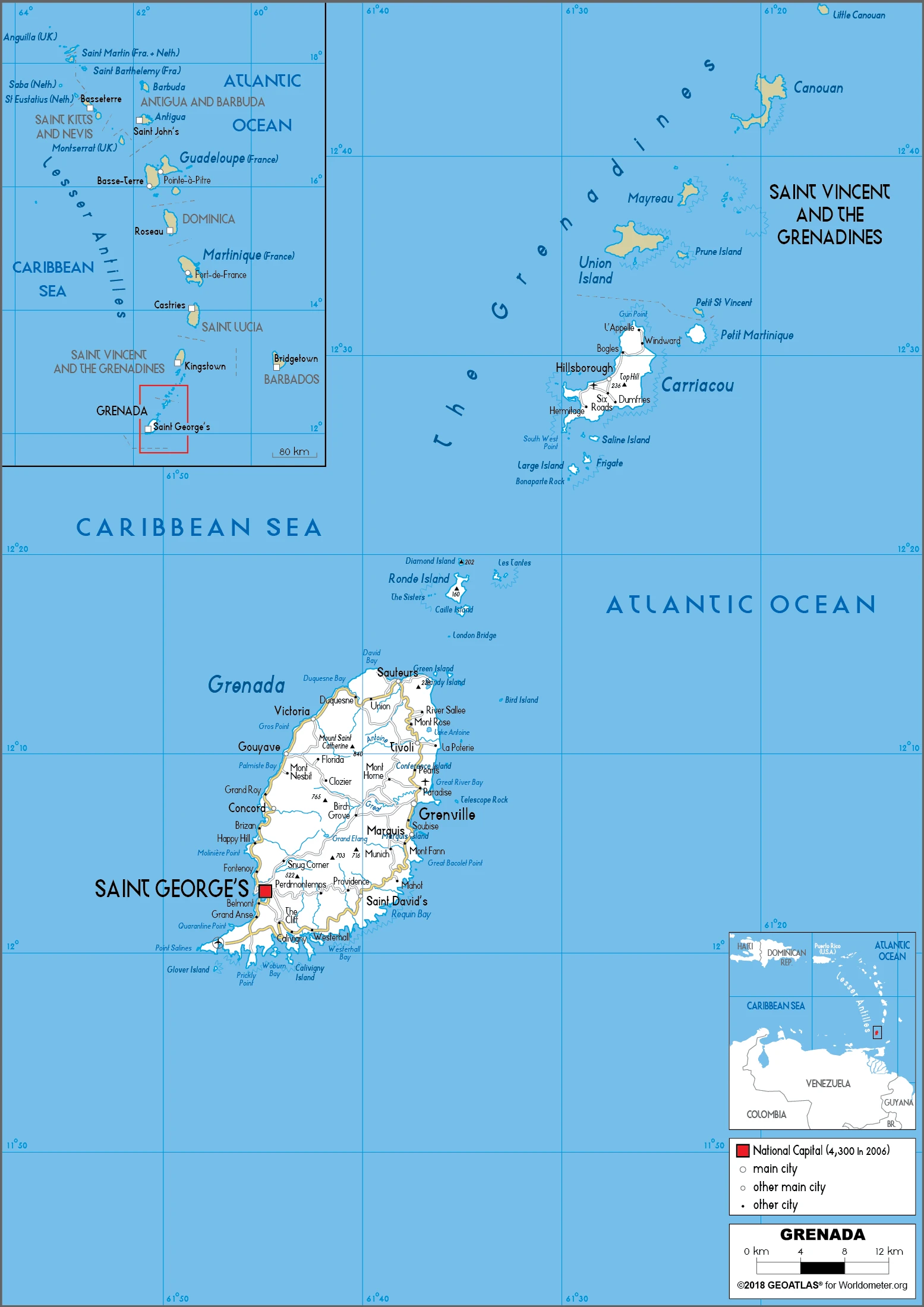 Did you know about Grenada?
Grenada is the largest Windward Islands in the Caribbean Sea and just two-and-a-half hours by air from Miami. The island's most notable attraction is its immense beauty – it has been voted one of the top ten islands globally by National Geographic.
After virtually visiting Grenada, you may also be interested in the neighboring countries: Barbados, Martinique, Saint Vincent and the Grenadines, Trinidad and Tobago.
If you liked our Google map and Grenada information page,
please share it with others or save the link https://www.drivingdirections.net in your bookmarks.