Luxembourg Google Maps is a site/tool that offers a wide range of map views (topographic, satellite, street view) and navigation options, with little effort on your part, yet efficiently. If you need to plan a trip to a new place like Luxembourg, Google maps are available on desktop, mobile, or tablet. This Google maps and information page is dedicated to Luxembourg, Europe (47 countries), showing its location, country facts, details about its capital city Luxembourg, bordering countries like Belgium, France, Germany, and plenty of other information which may be interesting when you visit this European state.
Quick links: Google maps Luxembourg, Luxembourg Google maps, Driving Directions Luxembourg, Printable Road Map.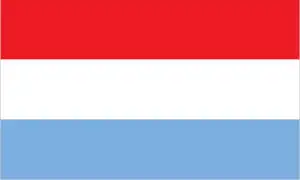 About Luxembourg in a nutshell
Conventional short form of the name: Luxembourg
The conventional long form of the name: Grand Duchy of Luxembourg
Local long form: Grand Duche de Luxembourg
Local short form: Luxembourg
Former name(s): N/A
Etymology: the name derives from the Celtic lucilem (little) and the German burg (castle or fortress) to produce the meaning of the little castle; the name is actually ironic, since for centuries the Fortress of Luxembourg was one of Europes most formidable fortifications; the name passed to the surrounding city and then to the country itself.
The legal system in Luxembourg: civil law system.
Climate: The is moist, with warm summers and mild winters. Snow is common only in the Ardennes.
The national symbols are red, rampant lion; national colors: red, white, light blue.
Internet TLD: .lu
On most maps of Europe, the letters of the Grand Duchy's name do not even fit inside the country. The tiny state of the Ardennes, spread over wooded hillsides dotted with deep river valleys, owes its wealth to iron ore fields that extend from Lorraine. The capital of the Grand Duchy, Luxembourg, with its old quarters and fortifications linked by boldly arched bridges guarding the Alzette river valley, is a World Heritage site.
Luxembourg's capital is home to around 2000 investment funds and 150 banks.
Background

Founded in 963, Luxembourg became a grand duchy in 1815 and an independent state under the Netherlands. It lost more than half of its territory to Belgium in 1839 but gained a more significant measure of autonomy. In 1867, Luxembourg attained complete independence because it promised perpetual neutrality. Overrun by Germany in both world wars, it ended its neutrality in 1948 when it entered into the Benelux Customs Union and when it joined NATO the following year. In 1957, Luxembourg became one of the six founding countries of the EEC (later the E.U.), and in 1999 it joined the euro currency zone.
Geography

Dense Ardennes forests in the north, with a low, open plateau to the south. Undulating terrain throughout.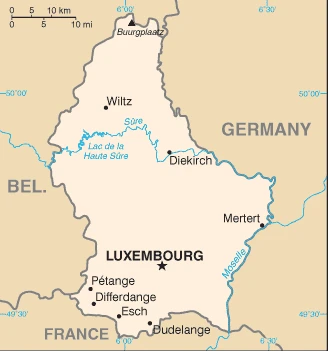 Part of the plateau of the Ardennes in western Europe, Luxembourg is one of Europe's wealthiest states. It is also home to crucial E.U. institutions, a tax haven, and a banking center.
This state is located in Western Europe, between France and Germany, under the coordinates of 49 45 N, 6 10 E, covering an area of 2,586 sq km with a coastline of 0 km (landlocked country). Luxembourg is Slightly smaller than Rhode Island, about half the size of Delaware.
Luxembourg has 327 km of land boundaries in total and borders with (3 nations): Belgium 130 km, France 69 km, Germany 128 km.
Mostly gently rolling uplands with broad, shallow valleys, uplands to slightly mountainous in the north, the steep slope down to Moselle flood plain in the southeast, with Buurgplaatz 559 m as the highest point of Luxembourg, while Moselle River 133 m as the lowest point, causing a mean elevation at 325 m throughout the country. With a total of 2,586 sq km, Luxembourg has 2,586 sq km of land and 0 sq km water surface area.
The significant watersheds for Luxembourg are Atlantic Ocean drainage: Rhine-Maas (198,735 sq km).
Landlocked; the only grand duchy in the world.
The climate in Luxembourg is as follows: Modified continental with mild winters cool summers.
When you visit Luxembourg, the natural hazards shall be considered: Occasional flooding.
The following major health-threatening issues shall be considered when visiting Luxembourg: none.
Current environmental issues affecting the Luxembourg people: air and water pollution in urban areas, soil pollution of farmland, unsustainable consumption patterns (transport, energy, recreation, space) threaten biodiversity and landscapes.
Google maps Luxembourg
The capital and other divisions
Capital city: Luxembourg found under the coordinates 49 36 N, 6 07 E, applying the time zone UTC+1 (6 hours ahead of Washington, DC, during Standard Time), using the following daylight saving time: +1hr begins last Sunday in March; ends last Sunday in October.
Luxembourg is a small country in Western Europe. The capital of Luxembourg, also known as the City of Luxembourg, has a population of around 507,000 people. The most famous thing about Luxembourg is that it hosts the European Court of Justice (ECJ). The ECJ is the highest court of appeal for the European Union and its member states; it serves as a court of last resort to settle disputes between individuals or companies from E.U. member states who have problems with E.U. law.
Luxembourg became independent in 1839 (from the Netherlands), and its national holiday is National Day (birthday of Grand Duke HENRI), 23 June.
Administrative divisions: 12 cantons (cantons, singular – canton); Capellen, Clervaux, Diekirch, Echternach, Esch-sur-Alzette, Grevenmacher, Luxembourg, Mersch, Redange, Remich, Vianden, Wiltz.
People and society

Ethnic tensions are rare, despite many foreigners (over a third of residents). Integration has been straightforward; most are fellow western Europeans and Catholics, mainly from Italy and Portugal. Low unemployment and high salaries promote stability. Divorce rates are rising, and marriage is becoming less common.
The population in Luxembourg is 639,589 (July 2021 estimate), with an average of 1.7% (2021 estimate) change. That means Luxembourg is the No. 168 in the world's populated rank list. With an average of 39.5 years median age (38.9 years for males and 38.9 years for women), Luxembourg ranks No. 56 on the globe's median age rank list.
The people living in this country are the Luxembourger(s) (noun) or Luxembourg (adjective) and belong mainly to the following ethnic groups: Luxembourger 51.1%, Portuguese 15.7%, French 7.5%, Italian 3.6%, Belgian 3.3%, German 2.1%, Spanish 1.1%, British 1%, other 14.6% (2019 estimate). Note: data represent population by nationality.
They speak Luxembourgish (official language administrative and judicial language and national language (spoken vernacular)) 55.8%, Portuguese 15.7%, French (official language administrative, judicial, and legislative language) 12.1%, German (official language administrative and judicial language) 3.1%, Italian 2.9%, English 2.1%, other 8.4% (2011 estimate) languages and practice the following religions: Christian (predominantly Roman Catholic) 70.4%, Muslim 2.3%, other (includes Buddhist, folk religions, Hindu, Jewish) 0.5%, none 26.8% (2010 estimate).
We can conclude the following about the population in Luxembourg: Most people live in the south, on or near the border with France. In Luxembourg, we are talking about 91.7% (2021) of the total population is living in cities, and most of them reside in the following municipalities: 120,000 Luxembourg (capital city) (2018).
Industry

Traditional industries such as steelmaking have given way to the banking and service sectors. Low taxes and banking secrecy laws attract foreign investors.
This small, stable, high-income economy has historically featured solid growth, low inflation, and low unemployment. Luxembourg, the only Grand Duchy globally, is a landlocked country in northwestern Europe surrounded by Belgium, France, and Germany. Despite its tiny landmass and small population, Luxembourg is the fifth-wealthiest country globally when measured on a gross domestic product (PPP) per capita basis. Luxembourg has one of the highest current account surpluses as a share of GDP in the eurozone. It maintains a healthy budgetary position, with a 2017 surplus of 0.5% of GDP and the lowest public debt level in the region. Since 2002, the Luxembourgs government has proactively implemented policies and programs to support economic diversification and attract foreign direct investment. The government focused on key innovative industries that showed promise for supporting economic growth: logistics, information, and communications technology (ICT); health technologies, including biotechnology and biomedical research; clean energy technologies; and more recently, space technology and financial services technologies.
The economy has evolved and flourished, posting strong GDP growth of 3.4% in 2017, far outpacing the European average of 1.8%. Luxembourg remains a financial powerhouse – the financial sector accounts for more than 35% of GDP – because of the exponential growth of the investment fund sector through the launch and development of cross-border funds (UCITS) in the 1990s. After the U.S., Luxembourg is the world's second-largest investment fund asset domicile, with $4 trillion of assets in custody in financial institutions. Luxembourg has lost some of its advantages as a favorable tax location because of OECD and E.U. pressure and the LuxLeaks scandal, which revealed advantageous tax treatments offered to foreign corporations. In 2015, the government's compliance with E.U. requirements to implement automatic tax information exchange on savings accounts – thus ending banking secrecy – has constricted banking activity. Likewise, changes to how E.U. members collect taxes from e-commerce have cut Luxembourg's sales tax revenues, requiring the government to raise additional levies and reduce some direct social benefits as part of the tax reform package of 2017. The tax reform package also included reductions in the corporate tax rate and increases in deductions for families, intended to increase purchasing power and competitiveness.
Luxembourg is rich in the following natural resources: Iron ore (no longer exploited) arable land.
The main industrial sectors are typically banking and financial services, construction, real estate services, iron, metals, steel, information technology, telecommunications, cargo transportation and logistics, chemicals, engineering, tires, glass, aluminum, tourism, biotechnology.
The country's export sectors are robust in iron and iron products, tires, cars, broadcasting equipment, clothing, and apparel (2019), partnering with these nations: Germany 23%, France 13%, Belgium 12%, Netherlands 6%, Italy 5% (2019). The export trade resulted in $137.09 billion. Note: Data are in current year dollars (2020 estimate). In a global rank of the export, values resulted in Luxembourg's position of 35.
Land use in Luxembourg: 33.5% (2018 estimate) forest, 15.8% (2018 estimate) other.
The arable land area is 24% (2018 estimate), and the agricultural land is 50.7% (2018 estimate). Land use for permanent crops 0.6% (2018 estimate), permanent pasture 26.1% (2018 estimate). The sum of the area of the irrigated land is 0 sq km (2012).
The main agro-industrial products of Luxembourg are milk, wheat, barley, triticale, potatoes, pork, beef, grapes, rapeseed, oats.
The country typically needs to import: cars, refined petroleum, broadcasting equipment, scrap iron, aircraft (2019), partnering with the following nations: Belgium 27%, Germany 24%, France 11%, Netherlands 5% (2019) in a sum value of $110.1 billion. Note: data are in current year dollars (2020 estimate) $108.29 billion. Note: data are in current year dollars (2019 estimate) $110.28 billion. Note: data are in current year dollars (2018 estimate). This sum value on the global ranking list of imports resulted in Luxembourg 37.
Luxembourg Driving Directions

In this post, you learned about Luxembourg, Western Europe, between France and Germany. We published some basic information about its capital Luxembourg, and the Luxembourg nation.
Are you interested in visiting Luxembourg and looking for driving directions? Click here to plan your route, or see a printable road map of Luxembourg below for an overview of the route network.
Printable map of Luxembourg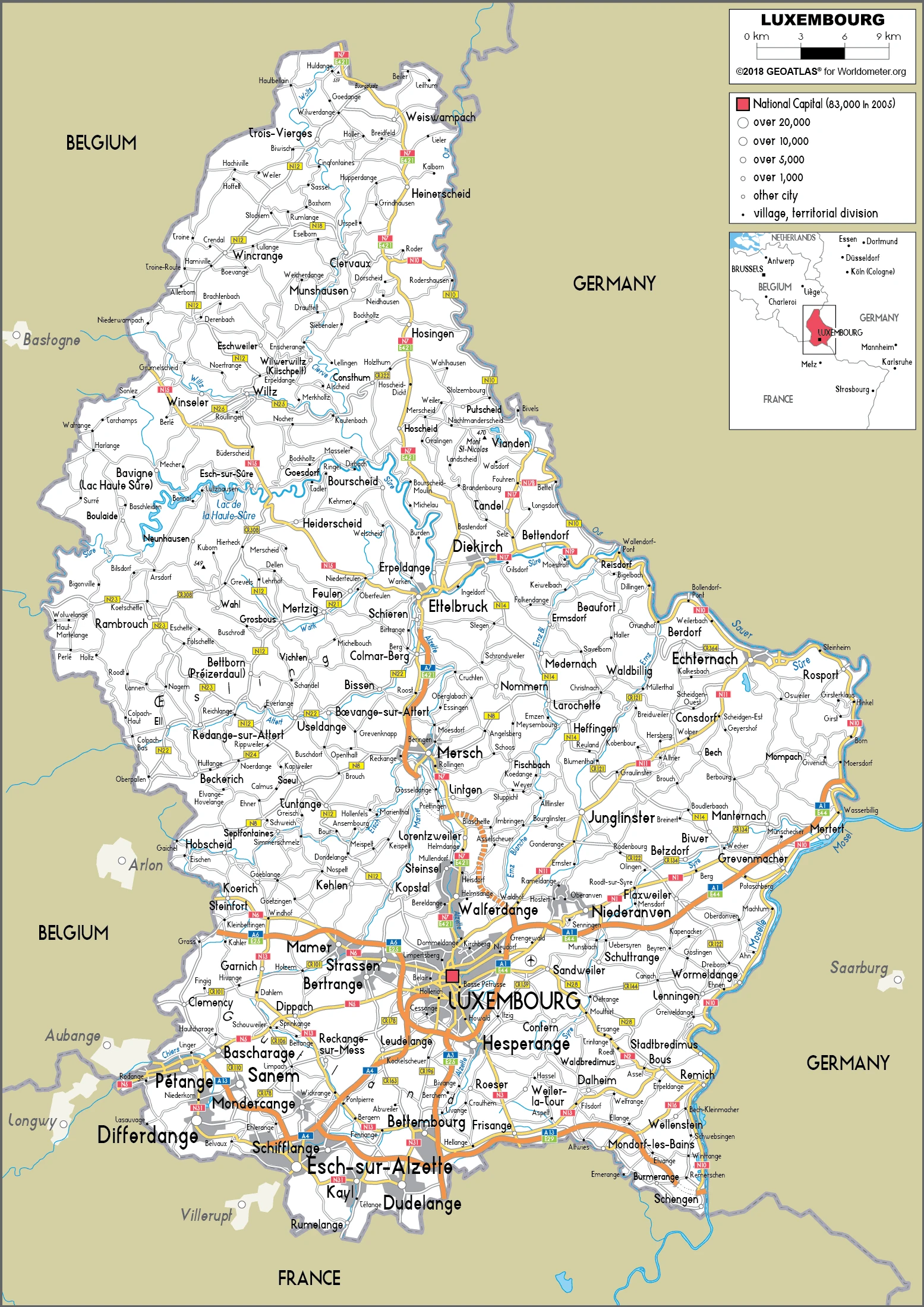 Did you know about Luxembourg?
In 2016, Luxembourg was the wealthiest country globally and had a per capita GDP of $81,180. Luxembourg has a tiny population of about 500,000, which means that its population is 1 millionth of the population of France and 150 millionths of the U.S. Population.
Luxembourg has beautiful scenery due to its rolling hills and crystal clear rivers. The capital boasts high-rise buildings, chateaus, churches, cathedrals, medieval fortifications, shopping areas, and luxury hotels.
After virtually visiting Luxembourg, you may also be interested in the neighboring countries: Belgium, France, Germany.
If you liked our Google map and Luxembourg information page,
please share it with others or save the link https://www.drivingdirections.net in your bookmarks.