Nigeria Google Maps is a site/tool that offers a wide range of map views (topographic, satellite, street view) and navigation options, with little effort on your part, yet efficiently. If you need to plan a trip to a new place like Nigeria, Google maps are available on desktop, mobile, or tablet. This Google maps and information page is dedicated to Nigeria, Africa (54 countries), showing its location, country facts, details about its capital city Abuja, bordering countries like Benin, Cameroon, Chad, Niger, and plenty of other information which may be interesting when you visit this African state.
Quick links: Google maps Nigeria, Abuja Google maps, Driving Directions Nigeria, Printable Road Map.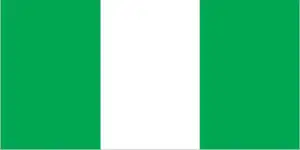 About Nigeria in a nutshell
Conventional short form of the name: Nigeria
The conventional long form of the name: Federal Republic of Nigeria
Etymology: named for the Niger River that flows through the west of the country to the Atlantic Ocean; from a native term Ni Gir meaning River Gir.
The legal system in Nigeria: mixed legal system of English common law, Islamic law (in 12 northern states), and traditional law.
Climate: The south is hot, rainy and humid for most of the year. The arid north has one very humid wet season. The Jos Plateau and highlands are cooler.
The national symbols are eagle; national colors: green, white.
Internet TLD: .ng
Africa's most diverse people make up the West African nation of almost 220 million. Renowned international experts designed and built the new capital of the former British colony, Abuja, in the 1970s and 1980s. With eight million inhabitants, Lagos is one of the most dangerous cities in the world. High population growth and the depopulation of the Sahelian north have led to the acquisition of more and more farmland and thus to large-scale deforestation: after Côte d'Ivoire, Nigeria has the highest rate of deforestation on the planet. The forests that have been cut down are burned and put under cultivation. In the northeastern border region of the country, the Sucur people, who cultivated their terraced lands, were once also involved in iron mining. The culture and habitat of this traditional group is a World Heritage site, as is the last remnant of the ancient forest of southern Nigeria, the sacred forest of Osun, the Yoruba fertility god, near the town of Osogbo, the last surviving shrine of Yoruba culture.
Nigeria is Africa's most populous state – one in every six Africans is Nigerian.
Background

In ancient and pre-colonial times, the area of present-day Nigeria was occupied by a great diversity of ethnic groups with very different languages and traditions. British influence and control over what would become Nigeria and Africa's most populous country grew through the 19th century. A series of constitutions after World War II granted Nigeria greater autonomy. After independence in 1960, politics were marked by coups and primarily military rule until the death of a military head of state in 1998 allowed for a political transition. In 1999, a new constitution was adopted, and a peaceful transition to civilian government was completed. The government faces the daunting task of institutionalizing democracy and reforming a petroleum-based economy, whose revenues have been squandered through decades of corruption and mismanagement. In addition, Nigeria continues to experience longstanding ethnic and religious tensions. Although significant irregularities and violence marred both the 2003 and 2007 presidential elections, Nigeria is currently experiencing its most extended period of civilian rule since independence. The general elections of 2007 marked the first civilian-to-civilian transfer of power in the country's history. National and state elections in 2011 and 2015 were generally regarded as credible. The 2015 election was also heralded by the fact that the then-umbrella opposition party, the All Progressives Congress, defeated the long-ruling Peoples Democratic Party that had governed since 1999 and assumed the presidency, marking the first peaceful transfer of power from one party to another. Presidential and legislative elections were held in early 2019 and deemed broadly free and fair despite voting irregularities, intimidation, and violence.
Geography

The coastal area of beaches, swamps, and lagoons gives way to the rainforest and the savanna on the high plateaus. Semidesert to the north.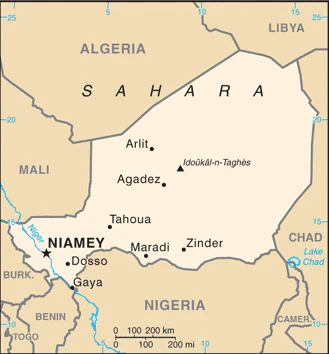 West Africa's biggest nation, Nigeria, is a federation of 36 states and Abuja's capital. Dominated by military governments since 1966, democracy returned in 1999.
This state is located in Western Africa, bordering the Gulf of Guinea, between Benin and Cameroon, under the coordinates of 10 00 N, 8 00 E, covering an area of 923,768 sq km with a coastline of 853 km. Nigeria is About six times the size of Georgia; slightly more than twice the size of California.
Nigeria has 4,477 km of land boundaries in total and borders (4 nations): Benin 809 km, Cameroon 1975 km, Chad 85 km, Niger 1608 km.
Southern lowlands merge into central hills and plateaus, mountains in the southeast, plains in the north, with Chappal Waddi 2,419 m as the highest point of Nigeria, while the Atlantic Ocean 0 m as the lowest point, causing a mean elevation of 380 m throughout the country. With a total of 923,768 sq km, Nigeria has 910,768 sq km of land and 13,000 sq km of water surface area.
Major water bodies in the country: Lake Chad (endorheic lake shared with Niger, Chad, and Cameroon) – 10,360-25,900 sq km (a freshwater lake), while the major rivers are: Niger (shared with Guinea, Mali, and Niger) – 4,200 km. The significant watersheds for Nigeria are Atlantic Ocean drainage: Niger (2,261,741 sq km), Internal (endorheic basin) drainage: Lake Chad (2,497,738 sq km), North Macedonia Atlantic Ocean drainage: (Black Sea) Danube (795,656 sq km).
The Niger River enters the country in the northwest and flows southward through tropical rain forests and swamps to its delta in the Gulf of Guinea
The climate in Nigeria is as follows: Varies, equatorial in the south, tropical in the center, arid in the north.
When you visit Nigeria, the natural hazards shall be considered: Periodic droughts; flooding.
The following major health-threatening issues shall be considered when visiting Nigeria: degree of risk: very high (2020), bacterial and protozoal diarrhea, hepatitis A and E, typhoid fever, malaria, dengue fever, yellow fever, leptospirosis and schistosomiasis, rabies, meningococcal meningitis, Lassa fever
Current environmental issues affecting the Nigerian people: severe overpopulation and rapid urbanization have led to numerous environmental problems; urban air and water pollution; rapid deforestation; soil degradation; loss of arable land; oil pollution – water, air, and soil have suffered severe damage from oil spills.
Google maps Nigeria
The capital and other divisions
Capital city: Abuja found under the coordinates 9 05 N, 7 32 E, applying the time zone UTC+1 (6 hours ahead of Washington, DC, during Standard Time), using the following daylight saving time: none.
Abuja has a population of 2.2 million and is the capital of Nigeria. In the late 17th century, it became the administrative headquarters for the Sokoto Caliphate and is now home to many government buildings. It was built on land granted to the Sultanate of Gobir by Sultan Ibrahim Bare Maina in 1878. Many different industries come together in this city, making Abuja a very diverse place to live.
Nigeria became independent on 1 October 1960 (from the UK), and its national holiday is Independence Day (National Day), 1 October (1960).
Administrative divisions: 36 states and 1 territory*; Abia, Adamawa, Akwa Ibom, Anambra, Bauchi, Bayelsa, Benue, Borno, Cross River, Delta, Ebonyi, Edo, Ekiti, Enugu, Federal Capital Territory, Gombe, Imo, Jigawa, Kaduna, Kano, Katsina, Kebbi, Kogi, Kwara, Lagos, Nasarawa, Niger, Ogun, Ondo, Osun, Oyo, Plateau, Rivers, Sokoto, Taraba, Yobe, Zamfara.
People and society

Some 250 ethnic groups: tensions threaten national unity with sporadic intercommunal violence. The mainly Muslim north has introduced sharia (Islamic law); Boko Haram militants use bombings, assassinations, and abductions to fight for an Islamic state. Women have more economic independence in the south. Militants in the oil-rich Niger Delta demand a share in the oil wealth for the region's impoverished population.
The population in Nigeria is 219,463,862 (July 2021 estimate). Note: estimates for this country explicitly take into account the effects of excess mortality due to AIDS; this can result in lower life expectancy, higher infant mortality, higher death rates, lower population growth rates, and changes in the distribution of the population by age and sex than would otherwise be expected, with an average of 2.53% (2021 estimate) change. That means Nigeria is the No. 6 in the world's populated rank list. With an average of 39 years median age (38 years for males and 38 years for women), Nigeria ranks No. 207 on the globe's median age rank list.
The people living in this country are the Nigerian(s) (noun) or Nigerian (adjective) and belong mainly to the following ethnic groups: Hausa 30%, Yoruba 15.5%, Igbo (Ibo) 15.2%, Fulani 6%, Tiv 2.4%, Kanuri/Beriberi 2.4%, Ibibio 1.8%, Ijaw/Izon 1.8%, other 24.7% (2018 estimate). Note: Nigeria, Africa's most populous country, comprises more than 250 ethnic groups.
They speak English (official language), Hausa, Yoruba, Igbo (Ibo), Fulani, over 500 additional indigenous languages, and practice the following religions: Muslim 53.5%, Roman Catholic 10.6%, other Christian 35.3%, other .6% (2018 estimate).
We can conclude the following about the population in Nigeria: The largest population of any African nation. Significant population clusters are scattered throughout the country, with the highest density areas being in the south and southwest, as shown in this population distribution map. In Nigeria, about 52.7% (2021) of the total population lives in cities. Most of them reside in the following municipalities: 14.862 million, Lagos, 4.103 million, Kano, 3.649 million, Ibadan, 3.464 million, Abuja (capital city), 3.171 million, Port Harcourt, 1.782 million, Benin City (2021).
Industry

Overdependent on oil, principal export since the 1970s. Mismanagement and corruption. Debt reduced. Instability.
Nigeria is Sub-Saharan Africa's largest economy and relies heavily on oil as its primary foreign exchange earnings and government revenues. Following the 2008-09 global financial crises, the banking sector was effectively recapitalized and regulation enhanced. Since then, Nigeria's economic growth has been driven by agriculture, telecommunications, and services growth. Economic diversification and strong growth have not translated into a significant decline in poverty levels; over 62% of Nigeria's over 180 million people still live in extreme poverty., Despite its strong fundamentals, oil-rich Nigeria has been hobbled by the inadequate power supply, lack of infrastructure, delays in the passage of legislative reforms, an inefficient property registration system, restrictive trade policies, an unstable regulatory environment, a slow and ineffective judicial system, unreliable dispute resolution mechanisms, insecurity, and pervasive corruption.
Regulatory constraints and security risks have limited new investment in oil and natural gas, and Nigeria's oil production had been contracting every year since 2012 until a slight rebound in 2017., President BUHARI, elected in March 2015, has established a cabinet of economic ministers that includes several technocrats. He has announced plans to increase transparency, diversify the economy away from oil, and improve fiscal management. Still, he has taken a primarily protectionist approach that favors domestic producers at the expense of consumers. President BUHARI ran on an anti-corruption platform and has made some headway in alleviating corruption, such as implementing a Treasury Single Account that allows the government to manage its resources better and a more transparent government payroll and personnel system that eliminated duplicate and ghost workers.
The government also is working to develop stronger public-private partnerships for roads, agriculture, and power. Nigeria entered a recession in 2016 due to lower oil prices and production, exacerbated by militant attacks on oil and gas infrastructure in the Niger Delta region, coupled with destructive economic policies, including foreign exchange restrictions. GDP growth turned positive in 2017 as oil prices recovered and output stabilized.
Nigeria is rich in natural resources: Natural gas, petroleum, tin, iron ore, coal, limestone, niobium, lead, zinc, and arable land.
The main industrial sectors are typically crude oil, coal, tin, columbite, rubber products, wood, hides and skins, textiles, cement, other construction materials, food products, footwear, chemicals, fertilizer, printing, ceramics, steel.
The country's export sectors are particularly strong in crude petroleum, natural gas, scrap vessels, flexible metal tubing, cocoa beans (2019), partnering with these nations: India 16%, Spain 10%, United States 7%, France 7%, Netherlands 6% (2019). The export trade resulted in $39.94 billion. Note: Data are in current year dollars (2020 estimate). In a global rank of the export, values resulted in Nigeria's position of 63.
Land use in Nigeria: 9.5% (2018 estimate) forest, 12.5% (2018 estimate) other.
The arable land area is 37.3% (2018 estimate), and the agricultural land is 78% (2018 estimate). Land use for permanent crops 7.4% (2018 estimate), permanent pasture 33.3% (2018 estimate). The sum of the area of the irrigated land is 2,930 sq km (2012).
The main agro-industrial products of Nigeria are cassava, yams, maize, oil palm fruit, rice, vegetables, sorghum, groundnuts, fruit, and sweet potatoes.
The country typically needs to import: refined petroleum, cars, wheat, laboratory glassware, packaged medicines (2019), partnering with the following nations: China 30%, Netherlands 11%, United States 6%, Belgium 5% (2019) in a sum value of $72.18 billion. Note: data are in current year dollars (2020 estimate) $100.82 billion. Note: data are in current year dollars (2019 estimate) $71.64 billion. Note: data are in current year dollars (2018 estimate). This sum value on the global ranking list of imports resulted in Nigeria 48.
Nigeria Driving Directions

In this post, you learned about Nigeria, Western Africa, bordering the Gulf of Guinea, between Benin and Cameroon. We published some basic information about its capital Abuja, and the Nigerian nation.
Are you interested in visiting Nigeria and looking for driving directions? Click here to plan your route, or see a printable road map of Nigeria below for an overview of the route network.
Printable map of Nigeria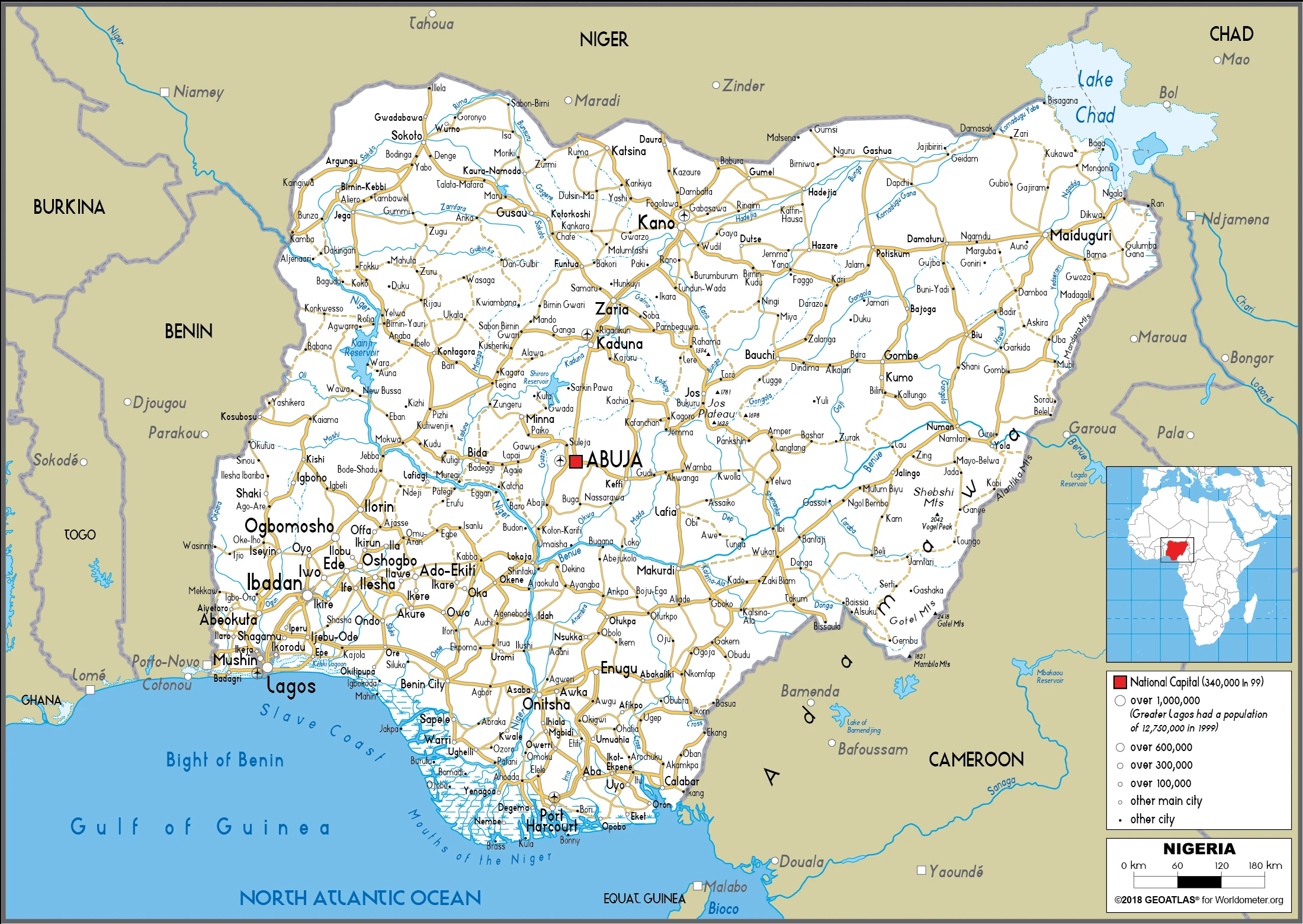 Did you know about Nigeria?
Nigeria is located in Africa and borders the countries mentioned above. The population of Nigeria is over 191 million people. This country has a diverse culture and diverse languages. The people have a vibrant history dating back to 3,000 BCE. Many ethnic groups, including the Hausa, Yoruba, Igbo, and Fulani, live in this country.
The oil industry supports around 2 million jobs in Nigeria.
After virtually visiting Nigeria, you may also be interested in the neighboring countries: Benin, Cameroon, Chad, and Niger.
If you liked our Google map and Nigeria information page,
please share it with others or save the link https://www.drivingdirections.net in your bookmarks.