Poland Google Maps is a site/tool that offers a wide range of map views (topographic, satellite, street view) and navigation options, with little effort on your part, yet efficiently. If you need to plan a trip to a new place like Poland, Google maps are available on desktop, mobile, or tablet. This Google maps and information page is dedicated to Poland, Europe (47 countries), showing its location, country facts, details about its capital city Warsaw, bordering countries like Belarus, Czechia, Germany, Lithuania, Russia, Slovakia, Ukraine, and plenty of other information which may be interesting when you visit this European state.
Quick links: Google maps Poland, Warsaw Google maps, Driving Directions Poland, Printable Road Map.
About Poland in a nutshell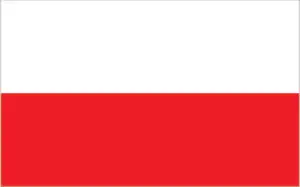 Conventional short form of the name: Poland
The conventional long form of the name: Republic of Poland
Local long form: Rzeczpospolita Polska
Local short form: Polska
Former name(s): Polish Peoples Republic
Etymology: name derives from the Polanians, a west Slavic tribe that united several surrounding Slavic groups (9th-10th centuries A.D.) and who passed on their name to the country; the name of the tribe likely comes from the Slavic pole (field or plain), indicating the flat nature of their country.
The legal system in Poland: civil law system; judicial review of legislative, administrative, and other governmental acts; constitutional law rulings of the Constitutional Tribunal are final.
Climate: Rainfall peaks during the hot summers. Cold winters with snow, especially in mountains.
The national symbols are white crowned eagle; national colors: white, red.
Internet TLD: .pl
The huge S-curve of the Vistula traces the medieval nuclei of the 13th-century merchant and royal city of Krakow, the destroyed and rebuilt Warsaw in the Second World War, and Torun, founded by the Teutonic Knights. The Old Towns of these three cities are World Heritage sites, as is Zamosc, a former merchant town founded in the 16th century in the late Renaissance style and still preserving Italian and Central European architectural traditions. The brick knight's castle of Malbork was the seat of the Grand Masters of the German Order of Knights in the 13th century and has been restored several times since. Kalwaria Zeb-Grzybowska's pilgrimage site and the shrine of Mary is a unique cultural site in Catholic Poland, which has remained almost unchanged since the early 17th century. Europe's largest timber-framed adobe churches are the Peace Churches built by Silesian evangelicals in Jawor and Swidnica after the Peace of Westphalia, which ended the Thirty Years' War. In the southeast, the wooden churches of Lesser Poland were masterpieces built by medieval Roman Catholic noble families and served as status symbols: they replaced the stone churches of the towns. Wroclaw's exhibition hall and Wieliczka's medieval salt mines are world-famous monuments to the industry's history. At the same time, the barracks of the Auschwitz concentration camp are a reminder of the darkest period in our history. On the Neisse, the Muzakowski Park, a cultural garden that stretches from the Neisse into Germany, is a masterpiece of 19th-century landscape architecture. At the same time, on the "other side", on the Belarusian border, Bialowieza National Park is the world's largest European bison reserve.
Wild wisent (European bison) live in the Bialowieza Forest straddling the Poland–Belarus border.
Background

Poland's history as a state began near the middle of the 10th century. By the mid-16th century, the Polish-Lithuanian Commonwealth ruled a vast tract of land in Central and Eastern Europe. During the 18th century, internal disorders weakened the nation, and in a series of agreements between 1772 and 1795, Russia, Prussia, and Austria partitioned Poland among themselves. Poland regained its independence in 1918, only to be overrun by Germany and the Soviet Union in World War II. It became a Soviet satellite state following the war. Labor turmoil in 1980 led to the formation of the independent trade union Solidarity that, over time, became a political force with over 10 million members. Free elections in 1989 and 1990 won Solidarity control of the parliament and the presidency, bringing the communist era to a close. A shock therapy program during the early 1990s enabled the country to transform its economy into one of the most robust in Central Europe. Poland joined NATO in 1999 and the EU in 2004. With its transformation to a democratic, market-oriented country largely completed and significant investments in defense, energy, and other infrastructure, Poland is an increasingly active member of Euro-Atlantic organizations.
Geography

Lowlands, part of the North European Plain, cover most of the country. The Tatra Mountains run along the southern border.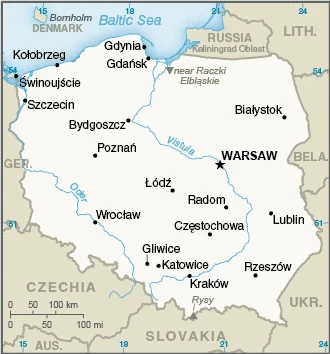 Located in the heart of Europe, Poland has undergone massive social, economic, and political change since the collapse of communism in 1989. It joined the EU in 2004.
This state is located in Central Europe, east of Germany, under the coordinates of 52 00 N, 20 00 E, covering an area of 312,685 sq km with a coastline of 440 km. Poland is About twice the size of Georgia, slightly smaller than New Mexico.
Poland has 2,865 km of land boundaries and borders with (7 nations): Belarus 375 km, Czechia 699 km, Germany 467 km, Lithuania 100 km, Russia (Kaliningrad Oblast) 209 km, Slovakia 517 km, Ukraine 498 km.
Mostly flat plain, mountains along the southern border, with Rysy 2,499 m as the highest point of Poland, while near Raczki Elblaskie -2 m as the lowest point, causing a mean elevation at 173 m throughout the country. With a total of 312,685 sq km, Poland has 304,255 sq km of land and 8,430 sq km of water surface area.
Major water bodies in the country: Zalew Szczecinski/Stettiner Haff (shared with Germany) – 900 sq km (saltwater lake) while the major rivers are: Vistula (shared with Belarus and Ukraine) – 1,213 km. The significant watersheds for Poland are the Atlantic Ocean drainage: (Black Sea) Danube (795,656 sq km).
Historically, an area of conflict because of flat terrain and the lack of natural barriers on the North European Plain.
The climate in Poland is as follows: Temperate with cold, cloudy, moderately severe winters with frequent precipitation, mild summers with frequent showers and thundershowers.
When you visit Poland, the natural hazards shall be considered: Flooding.
The following major health-threatening issues shall be considered when visiting Poland: degree of risk: intermediate (2016), N/A, tickborne encephalitis (2016).
Current environmental issues affecting the Polish people: decreased emphasis on heavy industry and increased environmental concern by the post-communist governments have improved the environment; air pollution remains serious because of emissions from burning low-quality coals in homes and from coal-fired power plants; the resulting acid rain causes forest damage; water pollution from industrial and municipal sources is a problem, as is the disposal of hazardous wastes.
Google maps Poland
The capital and other divisions
Capital city: Warsaw found under the coordinates 52 15 N, 21 00 E, applying the time zone UTC+1 (6 hours ahead of Washington, DC, during Standard Time), using the following daylight saving time: +1hr, begins last Sunday in March; ends last Sunday in October.
Warsaw is Poland's capital and the largest city, and one of the most populated cities in Europe. There are many things to do in Warsaw, from visiting a famous castle to taking a boat trip on the Vistula River. The city is known for its culture, cosmopolitanism, cleanliness, welcoming attitude, and great food. Warsaw celebrates its heritage in a festival known as the Warsaw Uprising, commemorating the 1944 uprising against Nazi occupation.
Poland became independent on 11 November 1918 (republic proclaimed); notable earlier dates: 14 April 966 (adoption of Christianity, traditional founding date), 1 July 1569 (Polish-Lithuanian Commonwealth created), and its national holiday is Constitution Day, 3 May (1791).
Administrative divisions: 16 voivodships provinces (wojewodztwa, singular – wojewodztwo); Dolnoslaskie (Lower Silesia), Kujawsko-Pomorskie (Kuyavia-Pomerania), Lodzkie (Lodz), Lubelskie (Lublin), Lubuskie (Lubusz), Malopolskie (Lesser Poland), Mazowieckie (Masovia), Opolskie (Opole), Podkarpackie (Subcarpathia), Podlaskie, Pomorskie (Pomerania), Slaskie (Silesia), Swietokrzyskie (Holy Cross), Warminsko-Mazurskie (Warmia-Masuria), Wielkopolskie (Greater Poland), Zachodniopomorskie (West Pomerania).
People and society

Ethnic homogeneity masks social tensions. Secular liberals criticize the semiofficial status of the Roman Catholic Church, though its influence is now waning. Abortion is banned, except for exceptional cases. Growing wealth disparities are resented. The German minority in the west is becoming more assertive.
The population in Poland is 38,185,913 (July 2021 estimate), with an average of -0.23% (2021 estimate) change. That means Poland is the No. 37 in the world's populated rank list. With an average of 41.9 years median age (40.3 years for males and 40.3 years for women), Poland ranks No. 39 on the globe's median age rank list.
The people living in this country are the Pole(s) (noun) or Polish (adjective) and belong mainly to the following ethnic groups: Polish 96.9%, Silesian 1.1%, German 0.2%, Ukrainian 0.1%, other and unspecified 1.7% (2011 estimate). Note: represents ethnicity declared first.
They speak Polish (official language) 98.2%, Silesian 1.4%, other 1.1%, unspecified 1.3% languages and practice the following religions: Catholic 85.9% (including Roman Catholic 85.6% and Greek Catholic, Armenian Catholic, and Byzantine-Slavic Catholic .3%), Orthodox 1.3% (almost all are Polish Autocephalous Orthodox), Protestant 0.4% (mainly Augsburg Evangelical and Pentecostal), other 0.4% (includes Jehovahs Witness, Buddhist, Hare Krishna, Gaudiya Vaishnavism, Muslim, Jewish, Church of Jesus Christ), unspecified 12.1% (2017 estimate).
We can conclude the following about the population in Poland: Population is concentrated in the southern area around Krakow and the central area around Warsaw and Lodz, with an extension to the northern coastal city of Gdansk. In Poland, we are talking about 60.1% (2021) of the total population living in cities, and most of them reside in the following municipalities: 1.790 million, Warsaw (capital city), 769,000 Krakow (2021).
Industry

Heavy industries dominate; services are growing. The foreign investment reflects a sizeable potential market. Rapid privatization. Only EU states avoided recession in the 2007–-2009 global downturn. Not adopting the euro yet.
Poland has the sixth-largest economy in the EU and has long had a reputation as a business-friendly country with sound macroeconomic policies. Since 1990, Poland has pursued a policy of economic liberalization. During the 2008-09 economic slowdown, Poland was the only EU country to avoid a recession. Because of the government's loose fiscal policy combined with a commitment to rein in spending in the medium-term, Poland is the largest recipient of EU development funds. Their cyclical allocation can significantly impact the rate of economic growth. The Polish economy performed well during the 2014-17 period, with the real GDP growth rate generally exceeding 3%, partly because of increases in government social spending that have helped accelerate consumer-driven growth. However, since 2015, Poland has implemented new business restrictions and taxes on foreign-dominated economic sectors, including banking and insurance, energy, and healthcare, that have dampened investor sentiment and have increased the government's ownership of some firms.
The government reduced the retirement age in 2016 and has had mixed success in introducing new taxes and boosting tax compliance to offset the increased costs of social spending programs and relieve upward pressure on the budget deficit. Some credit rating agencies estimate that Poland is at risk of exceeding the EU's 3%-of-GDP limit on budget deficits during the next few years, possibly impacting its access to future EU funds. Poland's economy is projected to perform well in the next few years because of an anticipated cyclical increase in the use of its EU development funds and continued robust household spending. Poland faces several systemic challenges, including addressing some of the remaining deficiencies in its road and rail infrastructure, business environment, rigid labor code, the commercial court system, government red tape, and burdensome tax system, especially for entrepreneurs. Additional long-term challenges include diversifying Poland's energy mix, strengthening investments in innovation, research, and development, as well as stemming the outflow of educated young Poles to other EU member states, especially in light of a coming demographic contraction due to emigration, persistently low fertility rates, and the aging of the Solidarity-era baby boom generation.
Poland is rich in the following natural resources: Coal, sulfur, copper, natural gas, silver, lead, salt, amber, and arable land.
The main industrial sectors are machine building, iron, steel, coal mining, chemicals, shipbuilding, food processing, glass, beverages, and textiles.
The country's export sectors are particularly strong in cars and vehicle parts, seats, furniture, computers, and video displays (2019), partnering with these nations: Germany 27%, Czechia 6%, United Kingdom 6%, France 6%, Italy 5% (2019). The export trade resulted in $333.54 billion. Note: Data are in current year dollars (2020 estimate). In a global rank of the export, values resulted in Poland's position of 21.
Land use in Poland: 30.6% (2018 estimate) forest, 21.2% (2018 estimate) other.
The arable land area is 36.2% (2018 estimate), and the agricultural land is 48.2% (2018 estimate). Land use for permanent crops 1.3% (2018 estimate), permanent pasture 10.7% (2018 estimate). The sum of the area of the irrigated land is 970 sq km (2012).
The main agro-industrial products of Poland are milk, sugar beet, wheat, potatoes, triticale, maize, barley, apples, mixed grains, and rye.
The country typically needs to import: cars and vehicle parts, crude petroleum, packaged medicines, broadcasting equipment, office machinery/parts (2019), partnering with the following nations: Germany 25%, China 10%, Italy 5%, Netherlands 5% (2019) in a sum value of $292.44 billion. Note: data are in current year dollars (2020 estimate) $302.87 billion. Note: data are in current year dollars (2019 estimate) $306.43 billion. Note: data are in current year dollars (2018 estimate). This sum value on the global ranking list of imports resulted in Poland at 21.
Poland Driving Directions

In this post, you learned about Poland, Central Europe, east of Germany. We published some basic information about its capital Warsaw, and the Polish nation.
Are you interested in visiting Poland and looking for driving directions? Click here to plan your route, or see a printable road map of Poland below for an overview of the route network.
Printable map of Poland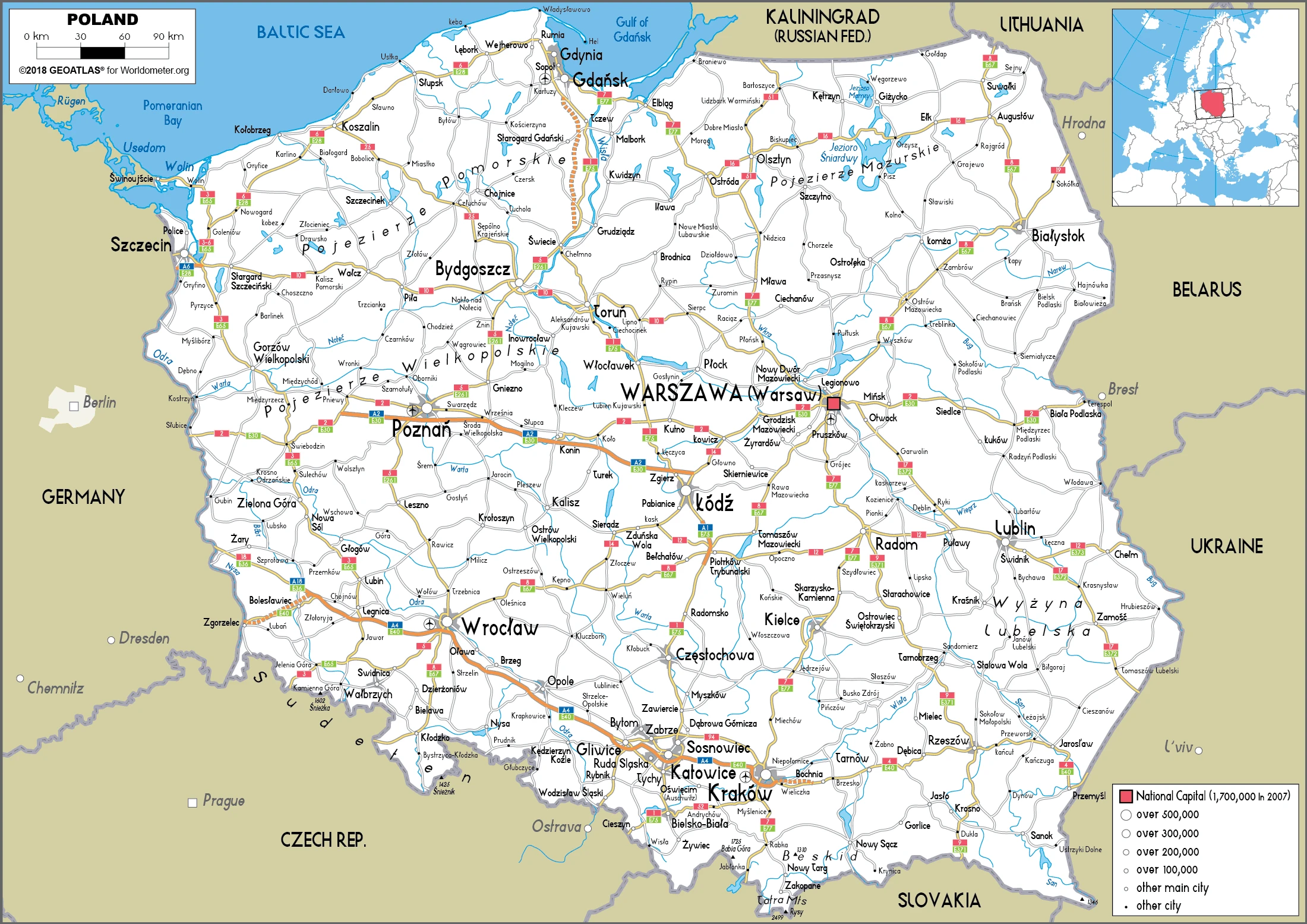 Did you know about Poland?
Poland is a north-eastern country in Europe that borders Russia. It is the 10th largest country in Europe and the sixth-largest member of the European Union by population. One of the most iconic features of Poland is the Wawel Castle which was built in the 14th century.
Poland is made up of 16 different provinces and 2,748 towns. Other than Polish, 13 languages are spoken in Poland. After Polish, the most popular language is German, followed by Ukrainian and Belarusian.
After virtually visiting Poland, you may also be interested in the neighboring countries: Belarus, Czechia, Germany, Lithuania, Russia, Slovakia, and Ukraine.
If you liked our Google map and Poland information page,
please share it with others or save the link https://www.drivingdirections.net in your bookmarks.