Slovakia Google Maps is a site/tool that offers a wide range of map views (topographic, satellite, street view) and navigation options, with little effort on your part, yet efficiently. If you need to plan a trip to a new place like Slovakia, Google maps are available on desktop, mobile, or tablet. This Google maps and information page is dedicated to Slovakia, Europe (47 countries), showing its location, country facts, details about its capital city Bratislava, bordering countries like Austria, Czechia, Hungary, Poland, Ukraine, and plenty of other information which may be interesting when you visit this European state.
Quick links: Google maps Slovakia, Bratislava Google maps, Driving Directions Slovakia, Printable Road Map.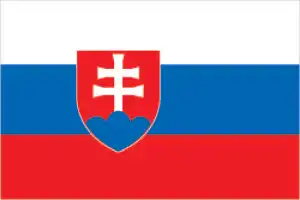 About Slovakia in a nutshell
Conventional short form of the name: Slovakia
The conventional long form of the name: Slovak Republic
Local long form: Slovenska republika
Local short form: Slovensko
Former name(s): N/A
Etymology: may derive from the medieval Latin word Slavus (Slav), which had the local form Sloven, used since the 13th century to refer to the territory of Slovakia and its inhabitants.
The legal system in Slovakia: civil law system based on Austro-Hungarian codes.
Climate: Continental. Moderately warm summers and steady rainfall. Cold winters with heavy snowfalls.
The national symbols are the double-barred cross (Cross of St. Cyril and St. Methodius) surmounting three peaks; national colors: white, blue, and red.
Internet TLD: .sk
The magnificent peaks of the High Tatras, the famous ski slopes of the more gentle Low Tatras, and the limestone gorges of the Slovak Paradise attract crowds of tourists in winter and summer. The stalactite caves of the Slovak Karst and the Dobšina Ice Cave, together with the underground world of the Aggtelek Karst in Hungary and the beech forests of the Eastern Carpathians, are among the natural World Heritage sites. The country's cultural world heritage sites are authentic jewel boxes of history. The medieval mining settlement of Banská Stiavnica, once famous for its silver and gold mining, has developed over the centuries into a mining center, with Renaissance palaces, Baroque churches, elegant squares, and ornate townhouses, and in the 16th century, a Baroque church, a Renaissance palace, and in the 16th century a Baroque church, elegant squares, and ornate townhouses.
Bardejov, in the Highlands, was once a Hungarian free royal town, its medieval old town and market square evoking the atmosphere of a 14th-15th century trading town. Spissky Castle (Spissky hrad) was once the largest fortress in the Carpathian Basin. Built in the 12th century on an earlier Celtic fortress and extended, rebuilt, and fortified in Gothic, Renaissance, and Baroque styles in later centuries, it survived the Tatar invasion almost intact, but less so after the Habsburg conquest, but most of it has been restored. The village of Vlkolínec, consisting of only 45 wooden houses, is the largest surviving group of traditional log houses in Slovak mountain settlements. This heritage of folk architecture is no longer inhabited – the whole village is a village museum and a Skansen.
From 1526 to 1784, Bratislava, then known as Pozsony, served as the capital of Hungary.
Background

Slovakia traces its roots to the 9th-century state of Great Moravia. Subsequently, the Slovaks became part of the Hungarian Kingdom, where they remained for the next 1,000 years. After the formation of the dual Austro-Hungarian monarchy in 1867, the backlash to language and education policies favoring the use of Hungarian (Magyarization) encouraged the strengthening of Slovak nationalism and a cultivation of cultural ties with the closely related Czechs, who fell administratively under the Austrian half of the empire. After the dissolution of the Austro-Hungarian Empire at the close of World War I, the Slovaks joined the Czechs to form Czechoslovakia.
The new state was envisioned as a nation with Czech and Slovak branches. During the interwar period, Slovak nationalist leaders pushed for autonomy within Czechoslovakia, and in 1939 Slovakia became an independent state created by and allied with Nazi Germany. Following World War II, Czechoslovakia was reconstituted and came under communist rule within Soviet-dominated Eastern Europe. In 1968, an invasion by Warsaw Pact troops ended the efforts of Czechoslovakia's leaders to liberalize communist rule and create socialism with a human face, ushering in a period of repression known as normalization. The peaceful Velvet Revolution swept the Communist Party from power at the end of 1989 and inaugurated a return to democratic rule and a market economy. On 1 January 1993, Czechoslovakia underwent a nonviolent velvet divorce into its two national components, Slovakia and the Czech Republic. Slovakia joined both NATO and the EU in the spring of 2004 and the eurozone on 1 January 2009.
Geography

The Tatra Mountains stretch along the northern border with Poland. Southern lowlands include the fertile Danube plain.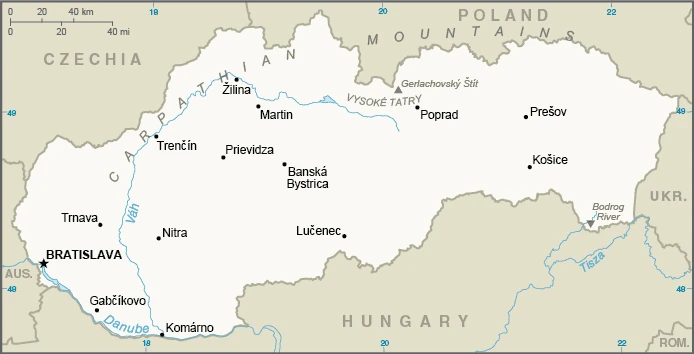 Landlocked in central Europe, Slovakia became a separate state in 1993, splitting ex-communist Czechoslovakia in two. It joined the EU in 2004 and the eurozone five years later.
This state is located in Central Europe, south of Poland, under the coordinates of 48 40 N, 19 30 E, covering an area of 49,035 sq km with a coastline of 0 km (landlocked country). Slovakia is About one and a half times the size of Maryland and about twice the size of New Hampshire.
Slovakia has 1,587 km of land boundaries and borders with (5 nations): Austria 105 km, Czechia 241 km, Hungary 627 km, Poland 517 km, and Ukraine 97 km.
Rugged mountains in the central and northern part and lowlands in the south, with Gerlachovsky, stit 2,655 m as the highest point of Slovakia, while Bodrok River 94 m as the lowest point, causing a mean elevation at 458 m throughout the country. With 49,035 sq km, Slovakia has 48,105 sq km of land and 930 sq km of water surface area.
The principal rivers are the Danube (shared with Germany, Austria, Hungary, Croatia, Serbia, Bulgaria, Romania, Moldova, and Ukraine) – 2,888 km. The significant watersheds for Slovakia are the Atlantic Ocean drainage: (Black Sea) Danube (795,656 sq km).
Landlocked; most of the country is rugged and mountainous; the Tatra Mountains in the north are interspersed with many scenic lakes and valleys.
The climate in Slovakia is as follows: Temperate, cool summers, cold, cloudy, humid winters.
When you visit Slovakia, the natural hazards shall be considered: Flooding.
The following major health-threatening issues shall be considered when visiting Slovakia: none.
Current environmental issues affecting the Slovak people: air pollution and acid rain present human health risks and damage to forests; land erosion caused by agricultural and mining practices; water pollution.
Google maps Slovakia
The capital and other divisions
Capital city: Bratislava found under the coordinates 48 09 N, 17 07 E, applying the time zone UTC+1 (6 hours ahead of Washington, DC, during Standard Time), using the following daylight saving time: +1hr begins last Sunday in March; ends last Sunday in October.
Bratislava is the capital of Slovakia. The city was founded around 910 AD and was part of the Kingdom of Hungary. The city is located on both banks of the Danube River. In addition to being an important economic center, Bratislava is also home to many museums and performing arts organizations.
Slovakia became independent on 1 January 1993 (Czechoslovakia split into the Czech Republic and Slovakia), and its national holiday is Constitution Day, 1 September (1992).
Administrative divisions: 8 regions (kraje, singular – kraj); Banska Bystrica, Bratislava, Kosice, Nitra, Presov, Trencin, Trnava, Zilina.
People and society

The majority of Slovaks are the dominant group. The Magyars (Hungarians) seek the protection of their language and culture, backed by Hungary. Magyar parties exist in the political mainstream and occasionally form part of the ruling coalition. Ethnic Czechs have dual citizenship. Roma is unrepresented and faces significant discrimination. Rural eastern regions are the least developed.
The population in Slovakia is 5,436,066 (July 2021 estimate), with an average of -0.08% (2021 estimate) change. That means Slovakia is the No. 118 in the world's populated rank list. With an average of 41.8 years median age (40.1 years for males and 40.1 years for women), Slovakia ranks No. 41 on the globe's median age rank list.
The people living in this country are the Slovak(s) (noun) or Slovak (adjective) and belong mainly to the following ethnic groups: Slovak 80.7%, Hungarian 8.5%, Romani 2%, other 1.8% (including Czech, Ruthenian, Ukrainian, Russian, German, Polish), unspecified 7% (2011 estimate). Note: data represent population by nationality; Romani populations are usually underestimated in official statistics and may represent 7–11% of Slovakia's population.
They speak Slovak (official language) 78.6%, Hungarian 9.4%, Roma 2.3%, Ruthenian 1%, other or unspecified 8.8% (2011 estimate) languages and practice the following religions: Roman Catholic 62%, Protestant 8.2%, Greek Catholic 3.8%, other or unspecified 12.5%, none 13.4% (2011 estimate).
We can conclude the following about the population in Slovakia: A fairly even distribution throughout most of the country. Slightly larger concentration in the west in proximity to the Czech border. In Slovakia, we are talking about 53.8% (2021) of the total population living in cities, and most of them reside in the following municipalities: 437,000 Bratislava (capital city) (2021).
Industry

Heavy industry, especially cars. The 2007-–2009 global downturn hit exports. Inexpensive workforce. Rising foreign investment. High unemployment, budget deficits. Successful privatizations.
Slovakia's economy suffered from a slow start in the first years after its separation from the Czech Republic in 1993 due to its authoritarian leadership and high levels of corruption. Still, economic reforms implemented after 1998 have placed Slovakia on a solid growth path. With a population of 5.4 million, the Slovak Republic has a small, open economy driven mainly by automobile and electronics exports, which account for more than 80% of GDP. Slovakia joined the EU in 2004 and the eurozone in 2009. The country's banking sector is sound and predominantly foreign-owned. Slovakia has been a regional FDI champion for several years, attractive due to a relatively low-cost yet skilled labor force and a favorable geographic location in the heart of Central Europe. Exports and investment have been critical drivers of Slovakia's robust growth. The unemployment rate fell to historic lows in 2017, and rising wages fueled increased consumption, which played a more prominent role in 2017 GDP growth.
A favorable outlook for the Eurozone suggests continued strong growth prospects for Slovakia during the next few years, although inflation is also expected to pick up. Among the most pressing domestic issues potentially threatening the attractiveness of the Slovak market are shortages in the qualified labor force, persistent corruption issued, inadequate judiciary, and a slow transition to an innovation-based economy. The energy sector, in particular, is characterized by unpredictable regulatory oversight and high costs, in part driven by government interference in regulated tariffs. Moreover, the government's attempts to maintain low household energy prices could harm the profitability of domestic energy firms while undercutting energy efficiency initiatives.
Slovakia is rich in natural resources: Lignite, small amounts of iron ore, copper and manganese ore, salt, and arable land.
The main industrial sectors are typically automobiles; metal and metal products; electricity, gas, coke, oil, nuclear fuel; chemicals, synthetic fibers, wood and paper products; machinery; earthenware and ceramics; textiles; electrical and optical apparatus; rubber products; food and beverages; pharmaceutical.
The country's export sectors are robust in cars and vehicle parts, video displays, broadcasting equipment, tires, and refined petroleum (2019), partnering with these nations: Germany 22%, Czechia 11%, Poland 7%, France 7%, Hungary 6%, Austria 5%, United Kingdom 5% (2019). The export trade resulted in $89.92 billion. Note: Data are in current year dollars (2020 estimate). In a global rank of the export, values resulted in Slovakia's position of 43.
Land use in Slovakia: 40.2% (2018 estimate) forest, 19.7% (2018 estimate) other.
The arable land area is 28.9% (2018 estimate), and the agricultural land is 40.1% (2018 estimate). Land use for permanent crops 0.4% (2018 estimate), permanent pasture 10.8% (2018 estimate). The sum of the area of the irrigated land is 869 sq km (2012).
The main agro-industrial products of Slovakia are wheat, maize, sugar beet, milk, barley, rapeseed, potatoes, sunflower seed, soybeans, and pork.
The country typically needs to import: cars and vehicle parts, broadcasting equipment, crude petroleum, natural gas, and insulated wiring (2019), partnering with the following nations: Germany 18%, Czechia 18%, Poland 8%, Hungary 7%, Russia 5% (2019) in a sum value of $87.95 billion. Note: data are in current year dollars (2020 estimate) $96.75 billion. Note: data are in current year dollars (2019 estimate) $99.92 billion. Note: data are in current year dollars (2018 estimate). This sum value on the global ranking list of imports resulted in Slovakia 44.
Slovakia Driving Directions

In this post, you learned about Slovakia, Central Europe, and the south of Poland. We published some basic information about its capital Bratislava, and the Slovak nation.
Are you interested in visiting Slovakia and looking for driving directions? Click here to plan your route, or see a printable road map of Slovakia below for an overview of the route network.
Printable map of Slovakia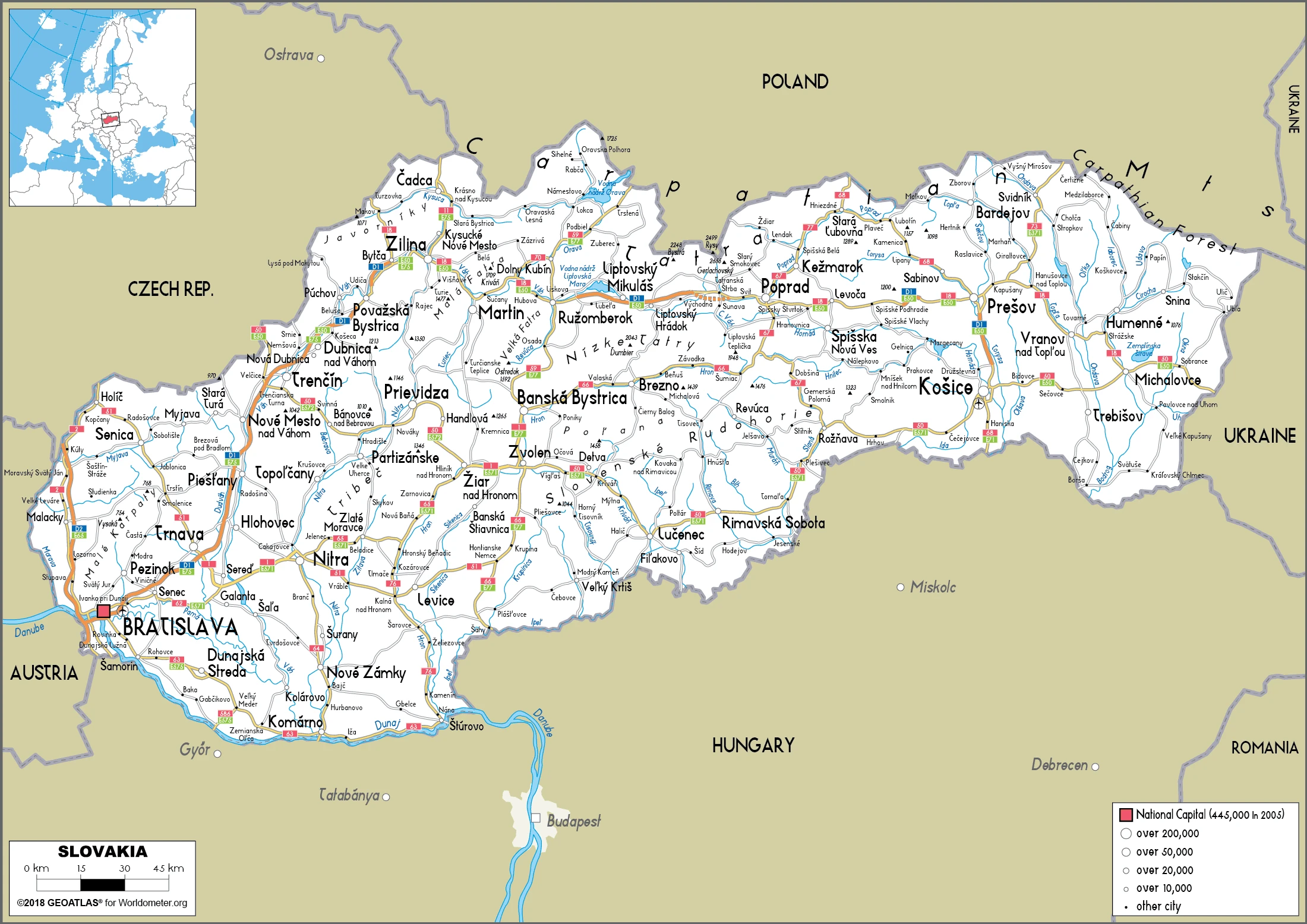 Did you know about Slovakia?
If you're looking for a country off the beaten path, Slovakia might be the perfect place. The country is small and has a rich history. It's also home to some of the most beautiful architecture in Europe.
If you're thinking of visiting Slovakia, check out its many attractions. The country is full of beautiful landscapes, fascinating cultures, and delicious food. There are also a lot of things to see and do in Slovakia. You can explore the capital city, Bratislava, or go on a hike in the countryside. Or you could take a trip to one of the lakes in the country. Whatever your interests may be, Slovakia has something for you.
After virtually visiting Slovakia, you may also be interested in the neighboring countries: Austria, Czechia, Hungary, Poland, and Ukraine.
If you liked our Google map and Slovakia information page,
please share it with others or save the link https://www.drivingdirections.net in your bookmarks.