Switzerland Google Maps is a site/tool that offers a wide range of map views (topographic, satellite, street view) and navigation options, with little effort on your part, yet efficiently. If you need to plan a trip to a new place like Switzerland, Google maps are available on desktop, mobile, or tablet. This Google maps and information page is dedicated to Switzerland, Europe (47 countries), showing its location, country facts, details about its capital city Bern, bordering countries like Austria, France, Italy, Liechtenstein, Germany, and plenty of other information which may be interesting when you visit this European state.
Quick links: Google maps Switzerland, Bern Google maps, Driving Directions Switzerland, Printable Road Map.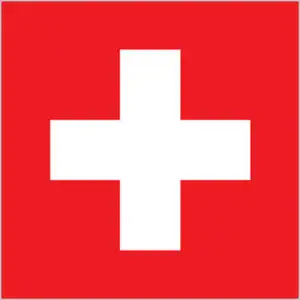 About Switzerland in a nutshell
Conventional short form of the name: Swiss Confederation
The conventional long form of the name: Swiss Confederation
Local long form: Schweizerische Eidgenossenschaft (German); Confederation Suisse (French); Confederazione Svizzera (Italian); Confederaziun Svizra (Romansh)
Local short form: Switzerland
Etymology: name derives from the canton of Schwyz, one of the founding cantons of the Old Swiss Confederacy that formed in the 14th century
The legal system in Switzerland: civil law system; judicial review of legislative acts, except for federal decrees of a general obligatory character.
Climate: Most rain falls in the warm summer months. Winters are snowy but milder and foggy away from the mountains. Avalanches are a problem.
The national symbols are the Swiss cross (white cross on a red field, arms of equal length); national colors: red, and white.
Internet TLD: .ch
Switzerland evokes images of towering peaks, mountain lakes, and meadows. It is also rich with a cultural life found in cities such as sophisticated Geneva or perfectly preserved medieval Bern.
Covering an area of around 200,000 square kilometers, the Alps are shared by seven countries, but Switzerland is the only one of them to be entirely dominated by the Alps and their foothills. With 45 peaks of this distinctive high mountain range rising above 4,000 meters, it is no coincidence that Switzerland is the proud owner of the Jungfrau-Aletsch Glacier region, the only natural World Heritage Site in the Alps. This is the most glaciated part of the mountain range, home to Europe's longest glacier and the most beautiful ice-carved rock pyramids in the whole of the Alps. The forest-covered mountain pyramid of Monté San Giorgio, south of Lake Lugano, is also a World Heritage site: it is the richest deposit of marine sediment from the Triassic period (245-230 million years ago).
Switzerland is not short of cultural World Heritage sites with its rich history. For more than a millennium, the Benedictine monastery of St. Gallen was one of the essential abbeys in Europe. Founded in 719 AD and restored in the 18th century in Baroque style, it closed in 1805. The Benedictine monastery of St John, also built in the 8th century AD in the valley of the river Müstair, has intact the most significant wall paintings of the Carolingian period, together with other frescoes and stucco decoration. The old town of Bern, the capital of Switzerland, was built in the 12th century on a hilltop surrounded by the river Aare. By the 16th century, Bern had become the largest city-state north of the Alps. The medieval old town was enlarged in the 18th century with the addition of Baroque buildings. The fortifications, walls, and castles of the ancient town of Bellinzona in Lombardy were built in the 13th century to protect trade routes.
Famed for its neutrality, Switzerland only joined the UN in 2002 and remained outside the EU.
Background

The Swiss Confederation was founded in 1291 as a defensive alliance among three cantons. In succeeding years, other localities joined the original three. The Swiss Confederation secured its independence from the Holy Roman Empire in 1499. A constitution of 1848, subsequently modified in 1874 to allow voters to introduce referenda on proposed laws, replaced the confederation with a centralized federal government. Switzerland's sovereignty and neutrality have long been honored by the major European powers, and the country was not involved in either of the two world wars. The political and economic integration of Europe over the past half-century and Switzerland's role in many UN and international organizations has strengthened Switzerland's ties with its neighbors. However, the country did not officially become a UN member until 2002. Switzerland remains active in many UN and international organizations but retains a strong commitment to neutrality.
Geography

Mostly mountainous, with river valleys. The Alps cover 60% of its area; the Jura in the west cover 10%. Lowlands lie along the east-west axis.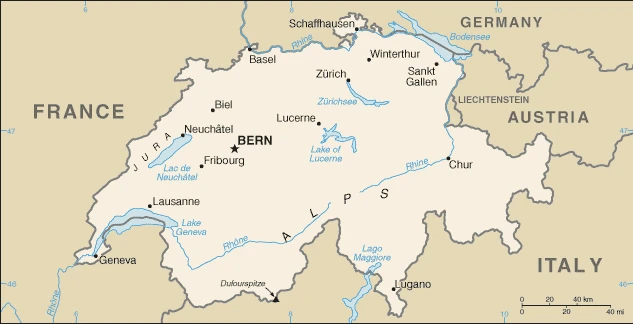 One of the world's most prosperous countries, Switzerland sits at the center of Europe. It has retained its neutral status through every significant European conflict since 1815.
This state is located in Central Europe, east of France, north of Italy, under the coordinates of 47 00 N, 8 00 E, covering an area of 41,277 sq km with a coastline of 0 km (landlocked country). Switzerland is Slightly less than twice the size of New Jersey.
Switzerland has 1,770 km of land boundaries in total and borders (5 nations): Austria 158 km, France 525 km, Italy 698 km, Liechtenstein 41 km, Germany 348 km.
Mostly mountains (the Alps in the south, Jura in the northwest) with a central plateau of rolling hills, plains, and large lakes, with Dufourspitze 4,634 m as the highest point of Switzerland, while Lake Maggiore 195 m as the lowest point, causing a mean elevation at 1,350 m throughout the country. With a total of 41,277 sq km, Switzerland has 39,997 sq km of land and 1,280 sq km of water surface area.
Major water bodies in the country: Lake Constance (shared with Germany and Austria) – 540 sq km; Lake Geneva (shared with France) – 580 sq km (a freshwater lake), while the major rivers are: Rhine (shared with Germany, France, and the Netherlands) – 1,233 km. The significant watersheds for Switzerland are Atlantic Ocean drainage: Rhine-Maas (198,735 sq km), (Black Sea), Danube (795,656 sq km), (Adriatic Sea), Po (76,997 sq km), (Mediterranean Sea), Rhone (100,543 sq km).
Landlocked; crossroads of northern and southern Europe, along with southeastern France, northern Italy, and southwestern Austria, has the highest elevations in the Alps.
The climate in Switzerland is as follows: Temperate, but varies with altitude, cold, cloudy, rainy/snowy winters, cool to warm, cloudy, humid summers with occasional showers.
When you visit Switzerland, the natural hazards shall be considered: Avalanches, landslides, and flash floods.
The following major health-threatening issues shall be considered when visiting Switzerland: none.
Current environmental issues affecting the Swiss people: air pollution from vehicle emissions; water pollution from agricultural fertilizers; chemical contaminants and erosion damage the soil and limit productivity; loss of biodiversity.
Google maps Switzerland
The capital and other divisions
Capital city: Bern found under the coordinates 46 55 N, 7 28 E, applying the time zone UTC+1 (6 hours ahead of Washington, DC, during Standard Time), using the following daylight saving time: +1hr begins last Sunday in March; ends last Sunday in October.
The city of Bern is the capital of Switzerland and has been for many years. Even though it's not considered a large city, it has many attractions that will draw you to explore all of its corners. The most famous landmark is the Zytglogge, which translates to "clock tower." It is a medieval city with distinctive Romanesque architecture. It also has been home to many influential people such as Thomas von Aquin, Leonard Euler, and Albert Einstein.
Switzerland became independent on 1 August 1291 (founding of the Swiss Confederation), and its national holiday was the Founding of the Swiss Confederation in 1291.
Administrative divisions: 26 cantons (cantons, singular – canton in French; cantoni, singular – cantone in Italian; Kantone, singular – Kanton in German); Aargau, Appenzell Ausserrhoden, Appenzell Innerrhoden, Basel-Landschaft, Basel-Stadt, Berne/Bern, Fribourg/Freiburg, Geneve (Geneva), Glarus, Graubuenden/Grigioni/Grischun, Jura, Luzern, Neuchatel, Nidwalden, Obwalden, Sankt Gallen, Schaffhausen, Schwyz, Solothurn, Thurgau, Ticino, Uri, Valais/Wallis, Vaud, Zug, Zuerich note: 6 of the cantons – Appenzell Ausserrhoden, Appenzell Innerrhoden, Basel-Landschaft, Basel-Stadt, Nidwalden, Obwalden – are referred to as half cantons because they elect only one member (instead of two) to the Council of States and, in popular referendums where a majority of popular votes and a majority of cantonal votes are required, these 6 cantons only have a half vote.
People and society

Switzerland is composed of distinct German-Swiss, French-Swiss, and Italian-Swiss linguistic groups. In the east, a 60,000-strong minority speaks Romansch. The country is divided into 26 autonomous cantons (states), each with control over health care, education, housing, and taxation. Public referenda are widely used to decide policy. Society is conservative; marriage is common, but divorce is above the EU average rate.
The population in Switzerland is 8,453,550 (July 2021 estimate), with an average of 0.65% (2021 estimate) change. That means Switzerland is the No. 99 in the world's populated rank list. With an average of 42.7 years median age (41.7 years for males and 41.7 years for women), Switzerland ranks No. 33 on the globe's median age rank list.
The people living in this country are the Swiss (also singular and plural) (noun) or Swiss (adjective) and belong mainly to the following ethnic groups: Swiss 69.3%, German 4.2%, Italian 3.2%, Portuguese 2.5%, French 2.1%, Kosovo 1.1%, Turkish 1%, other 16.6% (2019 estimate). Note: data represent permanent and non-permanent resident populations by country of birth.
They speak German (or Swiss German) (official language) 62.1%, French (official language) 22.8%, Italian (official language) 8%, English 5.7%, Portuguese 3.5%, Albanian 3.3%, Serbo-Croatian 2.3%, Spanish 2.3%, Romansh (official language) 0.5%, other 7.9% languages and practice the following religions: Roman Catholic 34.4%, Protestant 22.5%, other Christian 5.7%, Muslim 5.5%, other 1.6%, none 29.5%, unspecified 0.8% (2019 estimate).
We can conclude the following about the population in Switzerland: Population distribution corresponds to elevation, with the northern and western areas far more heavily populated. The higher alps of the south limit settlement. In Switzerland, we are talking about 74% (2021) of the total population lives in cities, and most of them reside in the following municipalities: 1.408 million, Zurich, 434,000 Bern (capital city) (2021).
Industry

A diversified economy relies on services – the banking sector manages over a quarter of the world's offshore private wealth – and specialized industries (engineering, watches, etc.).
Switzerland, a country that espouses neutrality, is a prosperous and modern market economy with low unemployment, a highly skilled labor force, and a per capita GDP among the highest in the world. Switzerland's economy benefits from a highly developed service sector, led by financial services, and a manufacturing industry specializing in high-technology, knowledge-based production. Its economic and political stability, transparent legal system, exceptional infrastructure, efficient capital markets, and low corporate tax rates also make Switzerland one of the world's most competitive economies., The Swiss have brought their economic practices primarily into conformity with the EU's to gain access to the Union's Single Market and enhance the country's international competitiveness. Some trade protectionism remains, however, particularly for its small agricultural sector. The fate of the Swiss economy is tightly linked to that of its neighbors in the eurozone, which purchases half of the Swiss exports. The global financial crisis of 2008 and the resulting economic downturn in 2009 stalled demand for Swiss exports and put Switzerland into a recession. The Swiss National Bank (SNB) implemented a zero-interest rate policy to boost the economy and prevent the franc's appreciation. Switzerland's economy began to recover in 2010.
However, the sovereign debt crises unfolding in neighboring eurozone countries, coupled with economic instability in Russia and other Eastern European economies, drove up demand for the Swiss franc by investors seeking a safe-haven currency. In January 2015, the SNB abandoned the Swiss francs peg to the euro, roiling global currency markets and making active SNB intervention necessary for present-day Swiss monetary policy. The independent SNB has upheld its zero interest rate policy and conducted major market interventions to prevent further appreciation of the Swiss franc. Still, parliamentarians have urged it to do more to weaken the currency. The franc's strength has made Swiss exports less competitive and weakened the country's growth outlook; GDP growth fell below 2% per year from 2011 through 2017., In recent years, Switzerland has responded to increasing pressure from neighboring countries and trading partners to reform its banking secrecy laws by agreeing to conform to OECD regulations on administrative assistance in tax matters, including tax evasion. The Swiss Government has also renegotiated its double taxation agreements with numerous countries, including the US, to incorporate OECD standards.
Switzerland is rich in the following natural resources: Hydropower potential, timber, and salt.
The main industrial sectors are machinery, chemicals, watches, textiles, precision instruments, tourism, banking, insurance, and pharmaceuticals.
The country's export sectors are particularly strong in gold, packaged medicines, medical cultures/vaccines, watches, and jewelry (2019), partnering with these nations: Germany 16%, United States 14%, United Kingdom 8%, China 7%, France 6%, India 6%, Italy 5% (2019). The export trade resulted in $470.91 billion. Note: Data are in current year dollars (2020 estimate). In a global rank of the export, values resulted in Switzerland's position of 15.
Land use in Switzerland: 31.5% (2018 estimate) forest, 29.8% (2018 estimate) other.
The arable land area is 10.2% (2018 estimate), and the agricultural land is 38.7% (2018 estimate). Land use for permanent crops 0.6% (2018 estimate), permanent pasture 27.9% (2018 estimate). The sum of the area of the irrigated land is 630 sq km (2012).
The main agro-industrial products of Switzerland are milk, sugar beet, wheat, potatoes, pork, barley, apples, maize, beef, and grapes.
The country typically needs to import: gold, packaged medicines, jewelry, cars, and medical cultures/vaccines (2019), partnering with the following nations: Germany 21%, Italy 8%, United States 6%, France 6%, United Kingdom 5%, the United Arab Emirates 5% (2019) in a sum value of $401.91 billion. Note: data are in current year dollars (2020 estimate) $394 billion. Note: data are in current year dollars (2019 estimate) $395.86 billion. Note: data are in current year dollars (2018 estimate). This sum value on the global ranking list of imports resulted in Switzerland 17.
Switzerland Driving Directions

In this post, you learned about Switzerland, Central Europe, east of France, and north of Italy. We published some basic information about its capital Bern, and the Swiss nation.
Are you interested in visiting Switzerland and looking for driving directions? Click here to plan your route, or see a printable road map of Switzerland below for an overview of the route network.
Printable map of Switzerland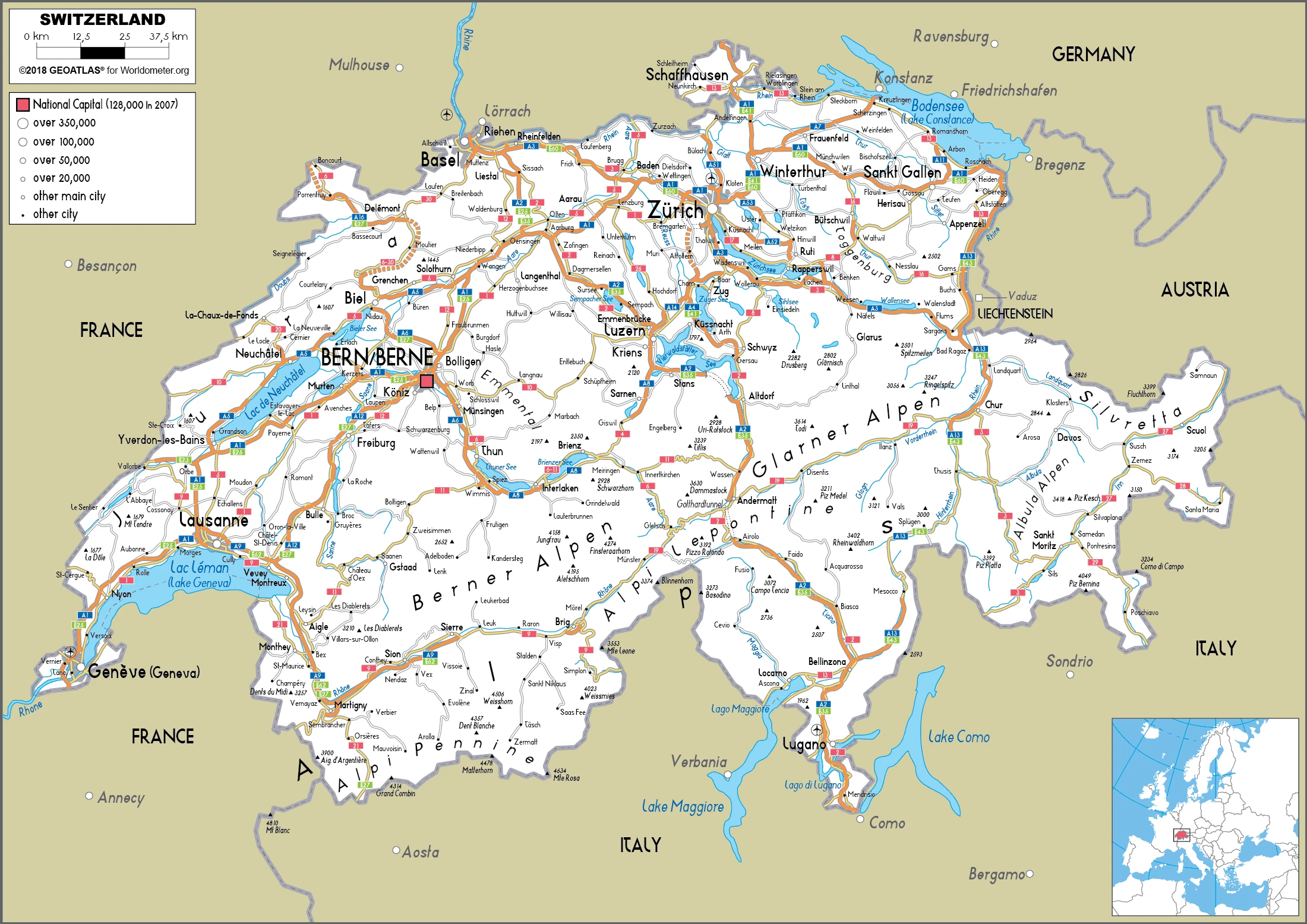 Did you know about Switzerland?
Switzerland is a country with a varied landscape that ranges from the Alps to Lake Geneva. Though Switzerland's population is about 8 million people, it has one of the most stable democracies with no military. Swiss citizens also have universal healthcare and access to higher education.
Bern, the Swiss capital, was founded by the Romans in 1800 BCE as they conquered the region. It served as the capital of both the Roman Empire and the Holy Roman Empire. Many museums located in Bern focus on history, art, and culture.
After virtually visiting Switzerland, you may also be interested in the neighboring countries: Austria, France, Italy, Liechtenstein, and Germany.
If you liked our Google map and Switzerland information page,
please share it with others or save the link https://www.drivingdirections.net in your bookmarks.