Tunisia Google Maps is a site/tool that offers a wide range of map views (topographic, satellite, street view) and navigation options, with little effort on your part, yet efficiently. If you need to plan a trip to a new place like Tunisia, Google maps are available on desktop, mobile, or tablet. This Google maps and information page is dedicated to Tunisia, Africa (54 countries), showing its location, country facts, details about its capital city Tunis, bordering countries like Algeria, Libya, and plenty of other information which may be interesting when you visit this African state.
Quick links: Google maps Tunisia, Tunis Google maps, Driving Directions Tunisia, Printable Road Map.
About Tunisia in a nutshell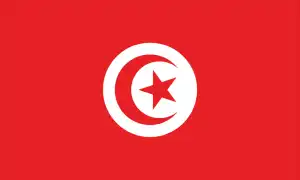 Conventional short form of the name: Tunisia
The conventional long form of the name: Republic of Tunisia
Local long form: Al Jumhuriyah at Tunisiyah
Local short form: Tunis
Former name(s): N/A
Etymology: the country's name derives from the capital city of Tunis.
The legal system in Tunisia: mixed legal system of civil law, based on the French civil code and Islamic (sharia) law; some judicial review of legislative acts in the Supreme Court in joint session.
Climate: Summer temperatures are high. The north is often wet and windy in winter. The far south is arid.
The national symbols are encircled red crescent moon and five-pointed star; the national colors: are red and white.
Internet TLD: .tn
On the shores of the Gulf of Tunis, Carthage was founded by the Punic people in the 9th century BC and flourished for almost eight centuries until the Romans destroyed it and built a new city. Kerkuane is one of the rare Punic cities that the Romans did not rebuild after its destruction (around 250 BC), so 'only' Phoenician ruins remain. The best-preserved ruined city in Tunisia, the former Thugga (now Dugga), was built on the ruins of a 3rd century BC Punic capital in the 2nd-3rd centuries AD. The Roman city of El Jem was also built on Punic ruins, and its amphitheater was the fourth largest such structure in the Roman Empire. Founded in the 7th century, Kairouan, the Islamic holy city, was the capital for almost half a millennium and is still the cultural and spiritual center of the Maghreb, its Grand Mosque being the most significant and most crucial Muslim building in North Africa. The old town of Sousse was built in the 9th century as part of the Islamic fortifications of the coast. Tunis was the most significant and most prosperous city in the Islamic world for 400 years from the 12th century. Some 700 buildings in its Medina are reminders of its glorious past. The wetlands of the Iskeul National Park are the only natural world heritage site in the Maghreb: the only freshwater lake in North Africa to have survived as a nesting and resting place for hundreds of thousands of migratory birds. Planned reservoirs on the rivers feeding the lake threaten the survival of the wetland.
Tunisia was the center of trading empires from the 9th century BCE.
Background

Tunisia has been the nexus of much different colonization, including those of the Phoenicians (as early as the 12 century B.C.), the Carthaginians, Romans, Vandals, Byzantines, various Arab and Berber kingdoms, and the Ottomans (16th to late 19th centuries). The rivalry between French and Italian interests in Tunisia culminated in a French invasion in 1881 and the creation of a protectorate. In the decades following World War I, agitation for independence finally convinced the French to recognize Tunisia as an independent state in 1956. The country's first president, Habib BOURGUIBA, established an authoritarian one-party state. He dominated the country for 31 years, repressing Islamic fundamentalism and establishing rights for women unmatched by any other Arab nation. In November 1987, BOURGUIBA was removed from office and replaced by Zine el Abidine BEN ALI in a bloodless coup. Street protests in Tunis in December 2010 over high unemployment, corruption, widespread poverty, and high food prices escalated in January 2011, culminating in rioting that led to hundreds of deaths. On 14 January 2011, the same day BEN ALI dismissed the government, he fled the country, and by late January 2011, a national unity government was formed. Elections for the new Constituent Assembly were held in late October 2011, and in December, it elected human rights activist Moncef MARZOUKI as interim president. The Assembly began drafting a new constitution in February 2012 and, after several iterations and a months-long political crisis that stalled the transition, ratified the document in January 2014. Parliamentary and presidential elections for a permanent government were held in 2014. Beji CAID ESSEBSI was elected as the first president under the country's new constitution. Following ESSEBSIs death in office in July 2019, Tunisia moved its scheduled presidential election forward two months. After two rounds of voting, Kais SAIED was sworn in as president in October 2019. Tunisia also held legislative elections on schedule in October 2019. SAIEDs term, as well as that of Tunisia's 217-member parliament, expires in 2024.
Geography

Plains surround mountains in the north. Vast, low-lying salt pans in the center. To the south lies the Sahara Desert.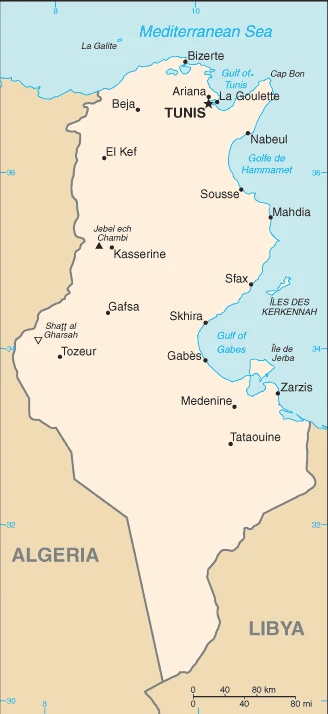 A French north African colony until 1956, Tunisia was relatively liberal in social terms, but in 2011 protesters ousted the dictatorial president, triggering the "Arab Spring" across the region.
This state is located in Northern Africa, bordering the Mediterranean Sea, between Algeria and Libya, under the coordinates of 34 00 N, 9 00 E, covering an area of 163,610 sq km with a coastline of 1,148 km. Tunisia is Slightly larger than Georgia.
Tunisia has 1,495 km of land boundaries and borders (2 nations): Algeria, 1034 km, and Libya, 461 km.
Mountains in the north, hot, dry central plain, and semiarid south merge into the Sahara, with Jebel Ech Chambi 1,544 m as the highest point of Tunisia, while Shatt al Gharsah -17 m as the lowest point, causing a mean elevation at 246 m throughout the country. With a total of 163,610 sq km, Tunisia has 155,360 sq km of land and 8,250 sq km of water surface area.
Strategic location in the central Mediterranean; Malta and Tunisia are discussing the commercial exploitation of the continental shelf between their countries, particularly for oil exploration.
The climate in Tunisia is as follows: Temperate in the north with mild, rainy winters and hot, dry summers, and desert in the south.
When you visit Tunisia, the natural hazards shall be considered: Flooding, earthquakes, and droughts.
The following major health-threatening issues shall be considered when visiting Tunisia: none.
Current environmental issues affecting the Tunisian people: toxic and hazardous waste disposal is ineffective and poses health risks; water pollution from raw sewage; limited natural fresh water resources; deforestation; overgrazing; soil erosion; desertification.
Google maps Tunisia
The capital and other divisions
Capital city: Tunis found under the coordinates 36 48 N, 10 11 E, applying the time zone UTC+1 (6 hours ahead of Washington, DC, during Standard Time), using the following daylight saving time: none.
Tunisia is the capital of Tunisia. It was the birthplace of Islam and the seat of its first caliphate in 657 CE. The city is also known for its cuisine, popular with tourists due to several local delicacies such as hummus, brick pastry, and Tunisian nougat. Tunis today is a mixture between old and new, with some buildings from antiquity to modernity, such as La Kasbah, an ancient palace fortress.
Tunisia became independent on 20 March 1956 (from France), and its national holiday is Independence Day, 20 March (1956); Revolution and Youth Day, 14 January (2011).
Administrative divisions: 24 governorates (wilayat, singular – wilayah); Beja (Bajah), Ben Arous (Bin Arus), Bizerte (Banzart), Gabes (Qabis), Gafsa (Qafsah), Jendouba (Jundubah), Kairouan (Al Qayrawan), Kasserine (Al Qasrayn), Kebili (Qibili), Kef (Al Kaf), LAriana (Aryanah), Mahdia (Al Mahdiyah), Manouba (Manubah), Medenine (Madanin), Monastir (Al Munastir), Nabeul (Nabul), Sfax (Safaqis), Sidi Bouzid (Sidi Bu Zayd), Siliana (Silyanah), Sousse (Susah), Tataouine (Tatawin), Tozeur (Tawzar), Tunis, Zaghouan (Zaghwan).
People and society

The population is almost entirely Arab-Berber descent, with Jewish and Christian minorities. Many still live in extended family groups of three or four generations. Women have better rights than most other Arab countries and make up a quarter of the workforce. The low birth rate is a result of a longstanding family planning policy. The Islamist-led transitional government elected in 2011 was replaced by a consensus government in 2014.
The population in Tunisia is 11,811,335 (July 2021 estimate), with an average of 0.75% (2021 estimate) change. That means Tunisia is the No. 79 in the world's populated rank list. With an average of 32.7 years median age (32 years for males and 32 years for women), Tunisia ranks No. 107 on the globe's median age rank list.
The people living in this country are the Tunisian(s) (noun) or Tunisian (adjective) and belong mainly to the following ethnic groups: Arab 98%, European 1%, Jewish and other 1%.
They speak Arabic (official language, one of the languages of commerce), French (commerce), Berber (Tamazight) languages and practice the following religions: Muslim (official; Sunni) 99%, other (includes Christian, Jewish, Shia Muslim, and Bahai) <1%. We can conclude the following about the population in Tunisia: The overwhelming majority of the population is located in the northern half of the country. The south remains largely underpopulated, as shown in this population distribution map. In Tunisia, we are talking about 69.9% (2021) of the total population living in cities, and most of them reside in the following municipalities: 2.403 million, Tunis (capital city) (2021).
Industry

Competitive and diversified. Expanding manufacturing. Exports olives, dates, citrus fruit, and phosphates. Instability, affecting tourism. Free trade with the EU.
Tunisia's economy – , structurally designed to favor vested interests, – faced many challenges exposed by the 2008 global financial crisis that helped precipitate the 2011 Arab Spring revolution. After the revolution and a series of terrorist attacks, including on the country's tourism sector, barriers to economic inclusion continued to add to slow economic growth and high unemployment., Following an ill-fated experiment with socialist economic policies in the 1960s, Tunisia focused on bolstering exports, foreign investment, and tourism, all of which have become central to the country's economy. Key exports now include textiles and apparel, food products, petroleum products, chemicals, and phosphates, with about 80% of exports bound for Tunisia's leading economic partner, the EU.
Tunisia's strategy, coupled with investments in education and infrastructure, fueled decades of 4-5% annual GDP growth and improved living standards. Former President Zine el Abidine BEN ALI (1987-2011) continued these policies, but as his reign wore on, cronyism and corruption stymied economic performance, unemployment rose, and the informal economy grew. Tunisia's economy became less and less inclusive. These grievances contributed to the January 2011 overthrow of BEN ALI, further depressing Tunisia's economy as tourism and investment declined sharply. Tunisia's government remains under pressure to boost economic growth quickly to mitigate chronic socio-economic challenges and exceptionally high levels of youth unemployment, which have persisted since the 2011 revolution. Successive terrorist attacks against the tourism sector and worker strikes in the phosphate sector, which accounted for nearly 15% of GDP, slowed growth from 2015 to 2017. Tunis seeks increased foreign investment and works with the IMF through an Extended Fund Facility agreement to fix fiscal deficiencies.
Tunisia is rich in the following natural resources: Petroleum, phosphates, iron ore, lead, zinc, and salt.
The main industrial sectors are typically petroleum, mining (particularly phosphate and iron ore), tourism, textiles, footwear, agribusiness, and beverages.
The country's export sectors are particularly strong in insulated wiring, clothing and apparel, crude petroleum, olive oil, and vehicle parts (2019), partnering with France at 29%, Italy at 17%, and Germany at 13% (2019). The export trade resulted in $19.17 billion. Note: Data are in current year dollars (2019 estimate). In a global rank of the export, values resulted in Tunisia's position of 85.
Land use in Tunisia: 6.6% (2018 estimate) forest, 28.6% (2018 estimate) other.
The arable land area is 18.3% (2018 estimate), and the agricultural land is 64.8% (2018 estimate). Land use for permanent crops 15.4% (2018 estimate), permanent pasture 31.1% (2018 estimate). The sum of the area of the irrigated land is 4,590 sq km (2012).
The main agro-industrial products of Tunisia are wheat, milk, tomatoes, barley, olives, watermelons, green chilies/peppers, potatoes, dates, and green onions/shallots.
The country typically needs to import: refined petroleum, natural gas, low-voltage protection equipment, cars, and insulated wiring (2019), partnering with the following nations: France 17%, Italy 16%, Germany 8%, China 8%, Algeria 7% (2019) in a sum value of $23.42 billion. Note: data are in current year dollars (2019 estimate) $24.65 billion. Note: data are in current year dollars (2018 estimate). This sum value on the global ranking list of imports resulted in Tunisia 76.
Tunisia Driving Directions

In this post, you learned about Tunisia, Northern Africa, bordering the Mediterranean Sea, between Algeria and Libya. We published some basic information about its capital Tunis, and the Tunisian nation.
Are you interested in visiting Tunisia and looking for driving directions? Click here to plan your route, or see a printable road map of Tunisia below for an overview of the route network.
Printable map of Tunisia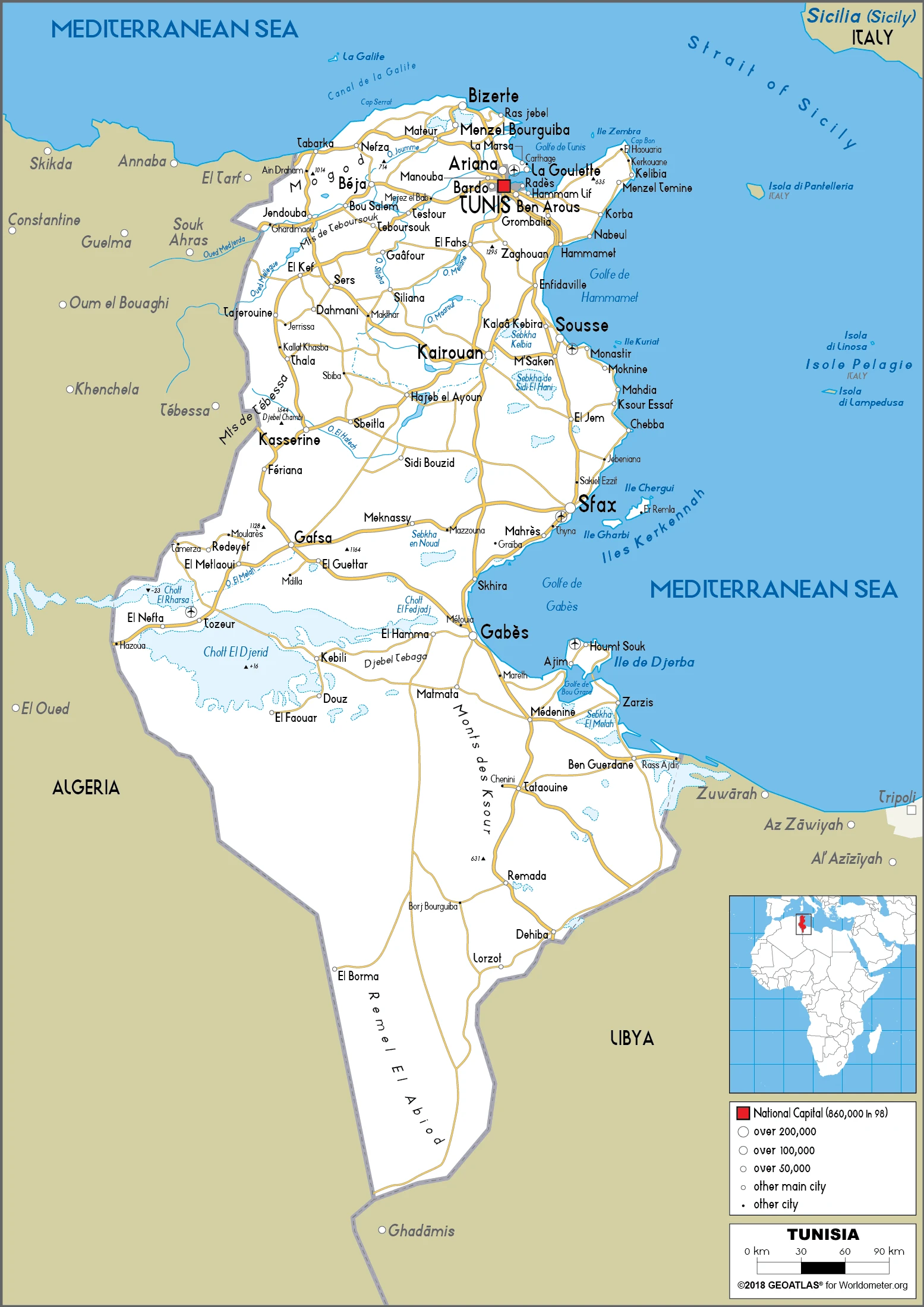 Did you know about Tunisia?
It is the smallest country in the Arab world and borders Libya to the west, Algeria to the east, and even France to the north. The capital of Tunisia is Tunis. Tunisia emerged in 1881 as a constitutional monarchy after being under the Ottoman rule for hundreds of years.
Tunisia was the first country in Africa to gain its independence. The Tunisian Revolution is one of the most significant events in the 20th century that led to new concepts being put into action. Tunisia paved the way for many other African countries to become independent and was a model for democracy and human rights.
Tunisia is known for its history and variety of cultural sites. Each year, tourists visit the country to enjoy these sites. Tunisia has also been seen as a travel destination for those trying to make friends in foreign countries.
After virtually visiting Tunisia, you may also be interested in the neighboring countries: Algeria and Libya.
If you liked our Google map and Tunisia information page,
please share it with others or save the link https://www.drivingdirections.net in your bookmarks.