Uganda Google Maps is a site/tool that offers a wide range of map views (topographic, satellite, street view) and navigation options, with little effort on your part, yet efficiently. If you need to plan a trip to a new place like Uganda, Google maps are available on desktop, mobile, or tablet. This Google maps and information page is dedicated to Uganda, Africa (54 countries), showing its location, country facts, and details about its capital city Kampala, bordering countries like the Democratic Republic of the Congo, Kenya, Rwanda, South Sudan, Tanzania, and plenty of other information which may be interesting when you visit this African state.
Quick links: Google maps Uganda, Kampala Google maps, Driving Directions Uganda, Printable Road Map.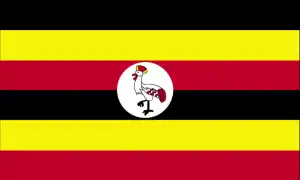 About Uganda in a nutshell
Conventional short form of the name: Uganda
The conventional long form of the name: Republic of Uganda
Etymology: The British adopted the name Buganda as the designation for their East African colony in 1894; Buganda was a powerful East African state during the 18th and 19th centuries.
The legal system in Uganda: mixed legal system of English common law and customary law.
Climate: Altitude and the influence of the lakes modify the equatorial climate. Rain falls throughout the year; spring is the wettest period.
The national symbols are the grey crowned crane; the national colors: are black, yellow, and red.
Internet TLD: .ug
Uganda is advertised as the "Pearl of Africa" in travel agency brochures. The former British colony was long a hunting paradise, and after independence, the wildlife (and population) was decimated by the dictatorship of Idi Amin. The country's arid savannah in the northeast, around the Sudanese border, is still in a state of civil war, but the more fabulous south of Uganda is a peaceful tourist paradise. In a bay on the Ugandan shore of Lake Victoria, near the town of Jinja near the equator, Africa's longest river emerges from the continent's largest lake at a width of about 200 meters, then, after a series of rapids and rapids, flows through the Murchison Falls, discovered by S.W. Baker and Sass Flora, into Lake Albert, before continuing north as the White Nile. Murchison National Park is the only nature reserve in the Victoria Nile.
Except for zebras, the Queen Elizabeth National Park around Lake Edward is home to the typical East African savannah animals. In the background is Ruwenzori: Uganda's mountain range rising to over 5,100m; the legendary Moon Mountain of Ptolemy is a World Heritage Site. Rising on the triple border between Congo and Rwanda, the Ugandan area of the Virunga volcano group is occupied by the Bwindi Impenetrable Forest National Park, a habitat for mountain gorillas. On a hill in Kampala, Mount Kasubi stands the tomb of the Buganda kings – a fine example of the traditional preservation of African culture.
Lake Victoria is the world's third-largest lake.
Background

British influence in Uganda began in the 1860s with explorers seeking the source of the Nile. It expanded in subsequent decades with various trade agreements and the establishment of the Uganda Protectorate in 1894. The colonial boundaries created by Britain to delimit Uganda grouped a wide range of ethnic groups with different political systems and cultures. These differences complicated the establishment of an active political community after independence was achieved in 1962. The dictatorial regime of Idi AMIN (1971-79) was responsible for the deaths of some 300,000 opponents. Guerrilla war and human rights abuses under Milton OBOTE (1980-85) claimed at least another 100,000 lives. The rule of Yoweri MUSEVENI since 1986 has brought relative stability and economic growth to Uganda. In December 2017, parliament approved the removal of presidential age limits, making it possible for MUSEVENI to continue standing for office. Uganda faces numerous challenges. However, that could affect future stability, including explosive population growth, power and infrastructure constraints, corruption, underdeveloped democratic institutions, and human rights deficits.
Geography

Predominantly a large plateau with the Ruwenzori mountain range and the Great Rift Valley in the west. Lake Victoria lies to the southeast. Vegetation is of savanna type.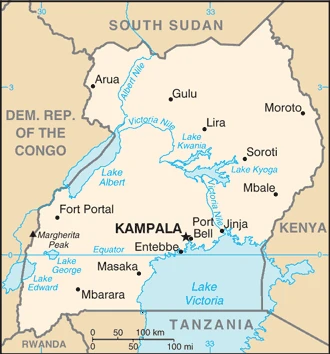 This state is located in East-Central Africa, west of Kenya, east of the Democratic Republic of the Congo, under the coordinates of 1 00 N, 32 00 E, covering an area of 241,038 sq km with a coastline of 0 km (landlocked country). Uganda is Slightly more than two times the size of Pennsylvania, slightly smaller than Oregon.
Uganda has 2,729 km of land boundaries and borders with (5 nations): the Democratic Republic of the Congo 877 km, Kenya 814 km, Rwanda 172 km, South Sudan 475 km, Tanzania 391 km.
Mostly plateau with rim of mountains, with Margherita peak on mount Stanley 5,110 m as the highest point of Uganda, while Albert Nile 614 m as the lowest point, causing a mean elevation at N/A throughout the country. With a total of 241,038 sq km, Uganda has 197,100 sq km of land and 43,938 sq km of water surface area.
Major water bodies in the country: Lake Victoria (shared with Tanzania and Kenya) – 62,940 sq km; Lake Albert (shared with the Democratic Republic of Congo) – 5,590 sq km; Lake Kyoga – 4,430 sq km; Lake Edward (shared with the Democratic Republic of Congo) – 2,150 sq km (a freshwater lake), while the major rivers are: Nile (shared with Rwanda, Tanzania, South Sudan, Sudan, and Egypt) – 6,650 km. The significant watersheds for Uganda are Atlantic Ocean drainage: Congo (3,730,881 sq km), (Mediterranean Sea) Nile (3,254,853 sq km).
Landlocked; a fertile, well-watered country with many lakes and rivers; Lake Victoria, the world's largest tropical lake and the second-largest freshwater lake, is shared among Kenya, Tanzania, and Uganda.
The climate in Uganda is as follows: Tropical, generally rainy with two dry seasons (December to February, June to August), and semiarid in the northeast.
When you visit Uganda, the natural hazards shall be considered: Droughts, floods; earthquakes; landslides; hailstorms.
The following major health-threatening issues shall be considered when visiting Uganda: degree of risk: very high (2020), bacterial diarrhea, hepatitis A and E, typhoid fever, malaria, dengue fever, and Trypanosomiasis-Gambiense (African sleeping sickness), schistosomiasis, rabies.
Current environmental issues affecting the Ugandan people: draining of wetlands for agricultural use; deforestation; overgrazing; soil erosion; water pollution from industrial discharge and water hyacinth infestation in Lake Victoria; widespread poaching.
Google maps Uganda
The capital and other divisions
Capital city: Kampala found under the coordinates 0 19 N, 32 33 E, applying the time zone UTC+3 (8 hours ahead of Washington, DC, during Standard Time), using the following daylight saving time: none.
Kampala is Uganda's capital, one of the largest cities in East Africa. It is located on the east bank of the River Nile near its confluence with Lake Victoria and straddles a savanna region. Kampala's metropolitan area is home to about 4 million people. It has a reputation as a highly congested city that's so busy during the day that traffic almost comes to a standstill. With this in mind, Kampala is also known for its proximity to the airport, which makes it easy for people from all over Uganda to come in when they need help with travel arrangements.
Uganda became independent on 9 October 1962 (from the UK), and its national holiday is Independence Day, 9 October (1962).
Administrative divisions: 134 districts and 1 capital city*; Abim, Adjumani, Agago, Alebtong, Amolatar, Amudat, Amuria, Amuru, Apac, Arua, Budaka, Bududa, Bugiri, Bugweri, Buhweju, Buikwe, Bukedea, Bukomansimbi, Bukwo, Bulambuli, Buliisa, Bundibugyo, Bunyangabu, Bushenyi, Busia, Butaleja, Butambala, Butebo, Buvuma, Buyende, Dokolo, Gomba, Gulu, Hoima, Ibanda, Iganga, Isingiro, Jinja, Kaabong, Kabale, Kabarole, Kaberamaido, Kagadi, Kakumiro, Kalaki, Kalangala, Kaliro, Kalungu, Kampala, Kamuli, Kamwenge, Kanungu, Kapchorwa, Kapelebyong, Karenga, Kasese, Kasanda, Katakwi, Kayunga, Kazo, Kibaale, Kiboga, Kibuku, Kikuube, Kiruhura, Kiryandongo, Kisoro, Kitagwenda, Kitgum, Koboko, Kole, Kotido, Kumi, Kwania, Kween, Kyankwanzi, Kyegegwa, Kyenjojo, Kyotera, Lamwo, Lira, Luuka, Luwero, Lwengo, Lyantonde, Madi-Okollo, Manafwa, Maracha, Masaka, Masindi, Mayuge, Mbale, Mbarara, Mitooma, Mityana, Moroto, Moyo, Mpigi, Mubende, Mukono, Nabilatuk, Nakapiripirit, Nakaseke, Nakasongola, Namayingo, Namisindwa, Namutumba, Napak, Nebbi, Ngora, Ntoroko, Ntungamo, Nwoya, Obongi, Omoro, Otuke, Oyam, Pader, Pakwach, Pallisa, Rakai, Rubanda, Rubirizi, Rukiga, Rukungiri, Rwampara, Sembabule, Serere, Sheema, Sironko, Soroti, Tororo, Wakiso, Yumbe, Zombo.
People and society

The primarily rural population comprises 13 main ethnic groups. President Museveni has worked hard to break down ethnic hatreds, but a noticeable north-south divide persists, with most development in the south. After two decades of brutal clashes (1987, –2008), the Ugandan army is still pursuing remnants of the Lord's Resistance Army across the DRC, South Sudan, and the CAR.
The population in Uganda is 44,712,143 (July 2021 estimate). Note: estimates for this country explicitly take into account the effects of excess mortality due to AIDS; this can result in lower life expectancy, higher infant mortality, higher death rates, lower population growth rates, and changes in the distribution of the population by age and sex than would otherwise be expected, with an average of 3.31% (2021 estimate) change. That means Uganda is the No. 33 in the world's populated rank list. With an average of 15.7 years median age (14.9 years for males and 14.9 years for women), Uganda ranks No. 226 on the globe's median age rank list.
The people living in this country are the Ugandan(s) (noun) or Ugandan (adjective) and belong mainly to the following ethnic groups: Baganda 16.5%, Banyankole 9.6%, Basoga 8.8%, Bakiga 7.1%, Iteso 7%, Langi 6.3%, Bagisu 4.9%, Acholi 4.4%, Lugbara 3.3%, other 32.1% (2014 estimate).
They speak English (the official language, taught in schools, used in courts of law, and by most newspapers and some radio broadcasts), Ganda or Luganda (the most widely used of the Niger-Congo languages and the language used most often in the capital), other Niger-Congo languages, Nilo-Saharan languages, Swahili (official language), Arabic languages and practice the following religions: Protestant 45.1% (Anglican 32.0%, Pentecostal/Born Again/Evangelical 11.1%, Seventh Day Adventist 1.7%, Baptist .3%), Roman Catholic 39.3%, Muslim 13.7%, other 1.6%, none 0.2% (2014 estimate).
We can conclude the following about the population in Uganda: Population density is relatively high compared to other African nations. Most of the population is concentrated in the central and southern parts of the country, particularly along the shores of lake victoria and lake Albert. The northeast is the least populated, as shown in this population distribution map. In Uganda, we are talking about 25.6% (2021) of the total population living in cities, and most of them reside in the following municipalities: 3.470 million, Kampala (capital city) (2021).
Industry

Resource-rich, but undeveloped and poor. Exports coffee, fish, tea, and flowers. Oil exploration. Hydroelectric power is reducing oil imports. Great potential from mining. Debt relief.
Uganda has substantial natural resources, including fertile soils, regular rainfall, substantial reserves of recoverable oil, and small deposits of copper, gold, and other minerals. Agriculture is one of the most critical sectors of the economy, employing 72% of the workforce. The country's export market suffered a significant slump following the outbreak of conflict in South Sudan but has recovered lately, mainly due to record coffee harvests, which account for 16% of exports and increasing gold exports, which account for 10% of exports. Uganda has a small industrial sector dependent on imported inputs such as refined oil and heavy equipment. Overall, productivity is hampered by several supply-side constraints, including insufficient infrastructure, lack of modern technology in agriculture, and corruption. Uganda's economic growth has slowed since 2016 as government spending, and public debt has grown.
Uganda's budget is dominated by energy and road infrastructure spending, while Uganda relies on donor support for long-term growth drivers, including agriculture, health, and education. The most significant infrastructure projects are externally financed through concessional loans but at inflated costs. As a result, debt servicing for these loans is expected to rise. Oil revenues and taxes are expected to become a more prominent source of government funding as oil production starts in the next three to 10 years. Over the next three to five years, foreign investors are planning to invest $9 billion in production facilities projects, $4 billion in an export pipeline, and a $2-3 billion refinery to produce petroleum products for the domestic East African Community markets. Furthermore, the government is looking to build several hundred million dollars worth of highway projects in the oil region. Uganda faces many economic challenges. Instability in South Sudan has led to a sharp increase in Sudanese refugees and is disrupting Uganda's primary export market. Additional economic risks include poor economic management, endemic corruption, and the government's failure to invest adequately in the health, education, and economic opportunities for a burgeoning young population. Uganda has one of the lowest electrification rates in Africa – only 22% of Ugandans have access to electricity, dropping to 10% in rural areas.
Uganda is rich in the following natural resources: Copper, cobalt, hydropower, limestone, salt, arable land, and gold.
The main industrial sectors are sugar processing, brewing, tobacco, cotton textiles, cement, and steel production.
The country's export sectors are robust in gold, coffee, milk, fish and fish products, and tobacco (2019), partnering with these nations: the United Arab Emirates 58%, Kenya 9% (2019). The export trade resulted in $6.12 billion. Note: Data are in current year dollars (2019 estimate). In a global rank of the export, values resulted in Uganda's position of 120.
Land use in Uganda: 14.5% (2018 estimate) forest, 14.3% (2018 estimate) other.
The arable land area is 34.3% (2018 estimate), and the agricultural land is 71.2% (2018 estimate). Land use for permanent crops 11.3% (2018 estimate), permanent pasture 25.6% (2018 estimate). The sum of the area of the irrigated land is 140 sq km (2012).
The main agro-industrial products of Uganda are sugar cane, plantains, cassava, maize, sweet potatoes, milk, vegetables, beans, bananas, and sorghum.
The country typically needs to import: packaged medicines, aircraft, delivery trucks, cars, and wheat (2019), partnering with the following nations: China 19%, India 17%, Kenya 16%, United Arab Emirates 7%, Japan 5% (2019) in a sum value of $9.54 billion. Note: data are in current year dollars (2019 estimate) $8.65 billion. Note: data are in current year dollars (2018 estimate) $7.44 billion (2017 estimate). This sum value on the global ranking list of imports resulted in Uganda 108.
Uganda Driving Directions

In this post, you learned about Uganda, East-Central Africa, west of Kenya, and east of the Democratic Republic of the Congo. We published some basic information about its capital Kampala and the Ugandan nation.
Are you interested in visiting Uganda and looking for driving directions? Click here to plan your route, or see a printable road map of Uganda below for an overview of the route network.
Printable map of Uganda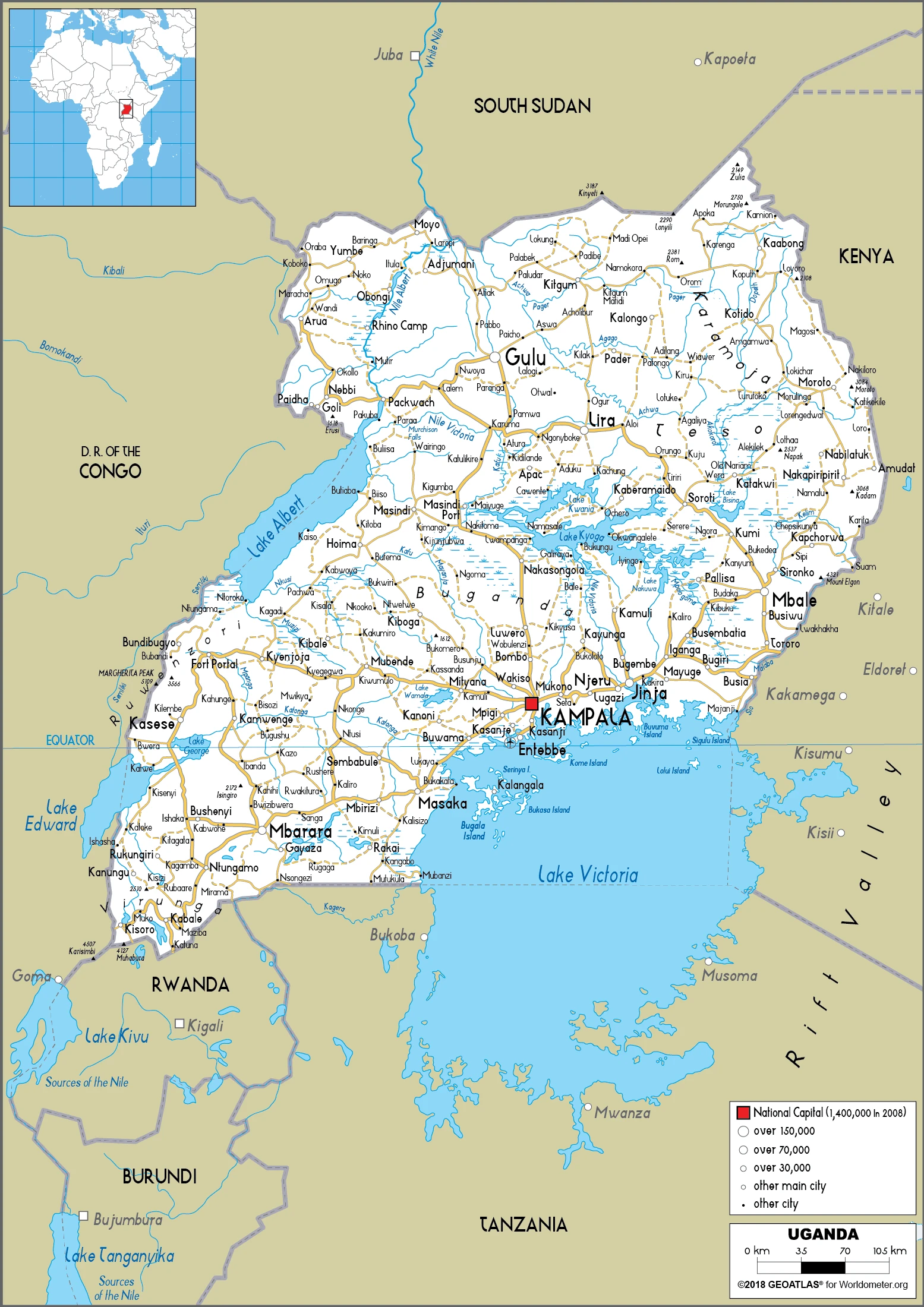 Did you know about Uganda?
It has a varied landscape, from highlands in the north to lowlands in the south. The country is home to many different cultures and languages. It is also known for its natural resources, including oil, diamonds, and gold. Uganda has been through a lot in its history. It was colonized by the British and then the Italians before becoming independent in 1962. Since then, it has undergone many changes, including a Civil War in 1990 and an economic crisis in 2008. However, recent years have seen significant progress made. Today, Uganda is one of the fastest-growing economies in Africa and is considered one of the most stable countries in the region.
Uganda has a rich history and is known for its lush green landscapes, beaches, and mountains. The country is also known for its active volcanoes and diverse wildlife. There are many things to do in Uganda, and it is a great place to visit if you want to experience different cultures and scenery.
After virtually visiting Uganda, you may also be interested in the neighboring countries: the Democratic Republic of the Congo, Kenya, Rwanda, South Sudan, and Tanzania.
If you liked our Google map and Uganda information page,
please share it with others or save the link https://www.drivingdirections.net in your bookmarks.