Kiribati Google Maps is a site/tool that offers a wide range of map views (topographic, satellite, street view) and navigation options, with little effort on your part, yet efficiently. If you need to plan a trip to a new place like Kiribati, Google maps are available on desktop, mobile, or tablet. This Google maps and information page is dedicated to Kiribati, Oceania (27 countries), showing its location, country facts, details about its capital city Tarawa, and plenty of other information which may be interesting when you visit this Oceanian state.
Quick links: Google maps Kiribati, Tarawa Google maps, Driving Directions Kiribati, Printable Road Map.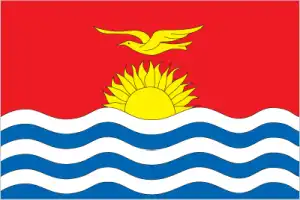 About Kiribati in a nutshell
In 1981, the UK paid A$10 million to Banabans to compensate for the destruction of their island by mining.
Conventional short form of the name: Kiribati
The conventional long form of the name: Republic of Kiribati
Local long form: Republic of Kiribati
Local short form: Kiribati
Former name(s): Gilbert Islands
Etymology: the name is the local pronunciation of Gilberts, the former designation of the islands; originally named after explorer Thomas GILBERT, who mapped many of the islands in 1788.
The legal system in Kiribati: English common law supplemented by customary law.
Climate: Central islands have a maritime equatorial climate. Those to north and south are tropical, with constant high temperatures. There is little rainfall.
The national symbols are frigatebird; national colors: red, white, blue, yellow.
Internet TLD: .ki
Background

Kiribati comprises three distinct island groups – the Gilbert Islands, the Line Islands, and the Phoenix Islands. The first Austronesian voyagers arrived in the Gilbert Islands as early as 3000 B.C., but these islands were not widely settled until about A.D. 200 Micronesians. Around 1300, Samoans and Tongans invaded the southern Gilbert Islands, bringing Polynesian cultural elements with them. Later arrivals by Fijians brought Melanesian elements to the Gilbert Islands, and extensive intermarriage between the Micronesian, Polynesian and Melanesian people led to the creation of Gilbertese cultural traditions creating what would become Gilbertese cultural traditions at the time Europeans spotted the islands in the 1600s. Various Melanesian and Polynesian peoples visited the Phoenix Islands and the Line Islands. Still, their isolation and lack of natural resources meant that long-term settlements were impossible, and both island groups were uninhabited by European contact. Kiribati experienced sustained European contact by the 1760s.
All three island groups were named and charted by 1826. American whaling ships frequently passed through the islands, and the U.K. declared a protectorate over the Gilbert and nearby Ellice Islands in 1892 to block growing U.S. influence. Phosphate-rich Banaba Island was annexed to the protectorate in 1900. In 1916, the protectorate became a colony, and some Line Islands were added in 1916 and 1919, with the final ones added in 1972. The Phoenix Islands were added to the colony in 1937, and the U.K. agreed to share some of them with the U.S. because of their strategic location for aviation. Japan occupied the northern Gilbert Islands in 1941. The islands of Makin and Tarawa were the sites of major US amphibious victories over entrenched Japanese garrisons in 1943. The U.K. continued to rule the colony after World War II. The Ellice Islands became its colony in 1974.
The Gilbert Islands became fully self-governing in 1977 and independent in 1979 as Kiribati, the Gilbertese spelling of Gilberts. The U.S. relinquished all claims to the sparsely inhabited Phoenix and the Line Islands in a 1979 treaty of friendship. In 1994, Kiribati adjusted the international dateline to the east of the Line Islands, bringing all islands in the country to the same day and giving Kiribati the earliest time zone. Kiribati is a leading climate change and marine protection advocate. The Phoenix Islands Protected Area was established in 2008. In 2010, it became the world's largest (and deepest) UNESCO World Heritage site. In 2012, Kiribati purchased a 22 sq km (8.5 sq mi) plot of land in Fiji for potential eventual resettlement of its population because of climate change.
Geography

Kiribati consists of three groups of tiny, very low-lying coral atolls scattered across 1,930,000 sq. miles (5 million sq. km) of the ocean. Most of the 33 atolls have central lagoons.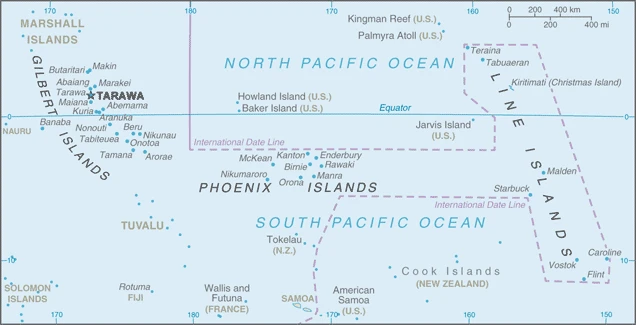 Situated in the mid-Pacific, the islands adopted the name Kiribati (pronounced "Keer-ee-bus," a corruption of their former name "Gilberts") upon independence from Britain in 1979.
This state is located in Oceania, a group of 32 coral atolls and one raised coral island in the Pacific Ocean, straddling the Equator. The capital Tarawa is about halfway between Hawaii and Australia, under the coordinates of 1 25 N, 173 00 E, covering an area of 811 sq km with a coastline of 1,143 km. Kiribati is Four times the size of Washington, DC.
Mostly low-lying coral atolls surrounded by extensive reefs, with an Unnamed elevation on Banaba 81 m as the highest point of Kiribati, while Pacific Ocean 0 m as the lowest point, causing a mean elevation at 2 m throughout the country. With 811 sq km, Kiribati has 811 sq km of land and 0 sq km of water surface area.
21 of the 33 islands are inhabited; Banaba (Ocean Island) in Kiribati is one of the three great phosphate rock islands in the Pacific Ocean – the others are Makatea in French Polynesia and Nauru; Kiribati is the only country in the world to fall into all four hemispheres (northern, southern, eastern, and western).
The climate in Kiribati is as follows: Tropical, marine, hot and humid, moderated by trade winds.
When you visit Kiribati, the natural hazards shall be considered: Typhoons can occur any time, but usually from November to March; occasional tornadoes; low levels of some of the islands make them sensitive to changes in sea level.
The following major health-threatening issues shall be considered when visiting Kiribati: degree of risk: high (2020), bacterial diarrhea, malaria.
Current environmental issues affecting the I-Kiribati people: heavy pollution in the lagoon of south Tarawa atoll due to overcrowding mixed with traditional practices such as lagoon latrines and open-pit dumping; groundwater at risk; potential for water shortages, disease; coastal erosion.
Google maps Kiribati
The capital and other divisions
Capital city: Tarawa found under the coordinates 1 21 N, 173 02 E, applying the time zone UTC+12 (17 hours ahead of Washington, DC, during Standard Time), using the following daylight saving time: none.
Kiribati is an island country in the central Pacific Ocean. Although Kiribati has been inhabited for millennia, it became independent from the United Kingdom on September 30, 1978. Their capital city of Tarawa is one of the most remote capital cities globally, with only around 6,000 people.
Kiribati became independent on July 12, 1979 (from the U.K.), and its national holiday is Independence Day, July 12 (1979).
Administrative divisions: 3 geographical units: the Gilbert Islands, Line Islands, Phoenix Islands.
People and society

Officially I-Kiribati, many local people still refer to themselves as Gilbertese. Almost all are Micronesian, apart from the inhabitants of the island of Banaba, who employed anthropologists to establish their racial distinction. Most people are poor subsistence farmers, and many travels abroad to work. Traditional chiefs effectively rule the islands.
The population in Kiribati is 113,001 (July 2021 estimate), with an average of 1.05% (2021 estimate) change. That means Kiribati is the No. 190 in the world's populated rank list. With an average of 25.7 years median age (24.8 years for males and 24.8 years for women), Kiribati ranks No. 158 on the globe's median age rank list.
The people living in this country are the I-Kiribati (also singular and plural) (noun) or I-Kiribati (adjective) and belong mainly to the following ethnic groups: I-Kiribati 96.2%, I-Kiribati/mixed 1.8%, Tuvaluan 0.2%, other 1.8% (2015 estimate).
They speak I-Kiribati, English (official language) languages and practice the following religions: Roman Catholic 57.3%, Kiribati Uniting Church 31.3%, Christ of Jesus Christ 5.3%, Bahai 2.1%, Seventh Day Adventist 1.9%, other 2.1% (2015 estimate).
We can conclude the following about the population in Kiribati: It consists of three archipelagos spread out over an area roughly the size of India. The eastern line islands and central phoenix islands are sparsely populated. Still, the western gilbert islands are some of the most densely settled places on earth, with the main island of South Tarawa boasting a population density similar to Tokyo or Hong Kong. In Kiribati, we are talking about 56.3% (2021) of the total population is living in cities, and most of them reside in the following municipalities: 64,000 Tarawa (capital city) (2018).
Industry

Since the exhaustion of Banaba's phosphate deposits in 1980, copra (dried coconut) and fish have become the main exports. Foreign aid and remittances are vital to compensate for Kiribati's isolation and lack of resources.
A remote country of 33 scattered coral atolls, Kiribati has few natural resources and is one of the least developed Pacific Island countries. Commercially viable phosphate deposits were exhausted by independence from the United Kingdom in 1979. Earnings from fishing licenses and seafarer remittances are important sources of income. Although the number of seafarers employed declined due to changes in global shipping demands, remittances are expected to improve with more overseas temporary and seasonal work opportunities for Kiribati nationals. Economic development is constrained by a shortage of skilled workers, weak infrastructure, and remoteness from international markets.
The public sector dominates economic activity, with ongoing capital projects in infrastructure, including road rehabilitation, water and sanitation projects, and renovations to the international airport, spurring some growth. Public debt increased from 23% of GDP at the end of 2015 to 25.8% in 2016. Kiribati is dependent on foreign aid, which was estimated to have contributed over 32.7% in 2016 to the government's finances. The country's sovereign fund, the Revenue Equalization Reserve Fund (RERF), held offshore, had an estimated balance of $855.5 million in late July 2016. The RERF seeks to avoid exchange rate risk by holding investments in more than 20 currencies, including the Australian dollar, U.S. dollar, the Japanese yen, and the Euro. Drawdowns from the RERF helped finance the government's annual budget.
Kiribati is rich in the following natural resources: Phosphate (production discontinued in 1979), coconuts (copra), fish.
The main industrial sectors are typically fishing handicrafts.
The country's export sectors are solid in fish and fish produces, ships, coconut oil, copra (2019), partnering with these nations: Thailand 53%, Philippines 17%, South Korea 10%, Japan 9% (2019). The export trade resulted in $30 million. Note: Data are in current year dollars (2019 estimate). In a global rank of the export, values resulted in Kiribati's position of 215.
Land use in Kiribati: 15% (2018 estimate) forest, 43% (2018 estimate) other.
The arable land area is 2.5% (2018 estimate), and the agricultural land is 42% (2018 estimate). Land use for permanent crops 39.5% (2018 estimate), permanent pasture 0% (2018 estimate). The sum of the area of the irrigated land is 0 sq km (2012).
The main agro-industrial products of Kiribati are coconuts, roots/tubers nes, bananas, vegetables, taro, tropical fruit, poultry, pork, nuts, eggs.
The country typically needs to import: refined petroleum, netting, raw sugar, rice, poultry meats (2019), partnering with the following nations: China 20%, Fiji 19%, Australia 12%, Taiwan 11%, South Korea 11%, New Zealand 7%, Japan 5% (2019) in a sum value of $180 million. Note: data are in current year dollars (2019 estimate) $170 million. Note: data are in current year dollars (2018 estimate). This sum value on the global ranking list of imports resulted in Kiribati 213.
Kiribati Driving Directions

In this post, you learned about Kiribati, Oceania, a group of 32 coral atolls and one raised coral island in the Pacific Ocean, straddling the Equator. The capital Tarawa is about halfway between Hawaii and Australia. We published some basic information about its capital Tarawa, and the I-Kiribati nation.
Are you interested in visiting Kiribati and looking for driving directions? Click here to plan your route, or see a printable road map of Kiribati below for an overview of the route network.
Printable map of Kiribati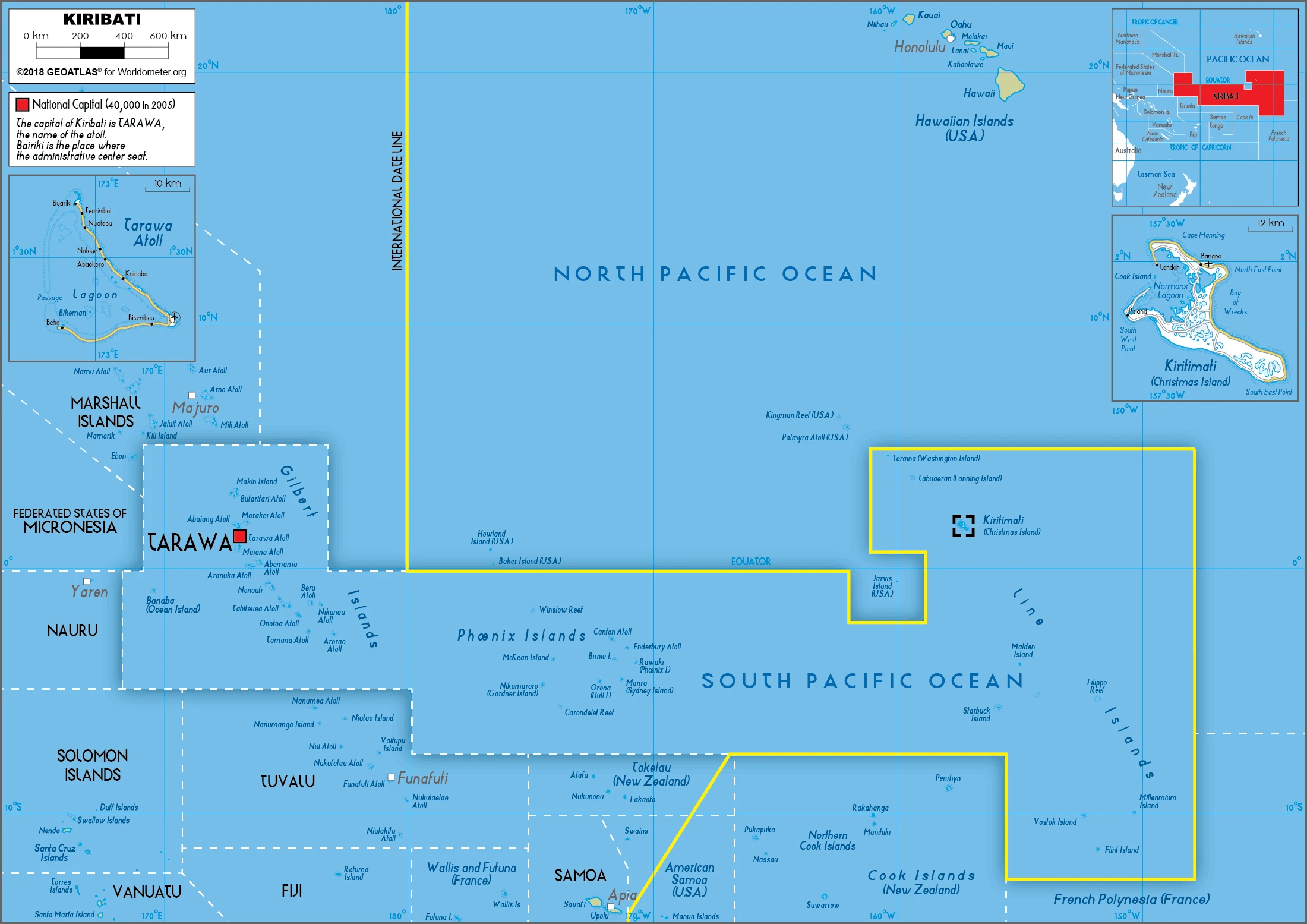 Did you know about Kiribati?
Kiribati is a small island in the Pacific Ocean. It's been called "the other Atlantis." Kiribati is home to about 113,000 people and has rich mineral resources. There are even manganese, gold, silver, and nickel deposits on the islands. The population density is high on the island, with some villages having over 10 times more people than they can support. Many people have left the island to find work in Australia or New Zealand, so now Kiribati has one of the lowest populations in Oceania.
After virtually visiting Kiribati, you may also be interested in the neighboring countries: none.
If you liked our Google map and Kiribati information page,
please share it with others or save the link https://www.drivingdirections.net in your bookmarks.