Bosnia and Herzegovina Google Maps is a site/tool that offers a wide range of map views (topographic, satellite, street view) and navigation options, with little effort on your part, yet efficiently. If you need to plan a trip to a new place like Bosnia and Herzegovina, Google maps are available on desktop, mobile, or tablet. This Google maps and information page is dedicated to Bosnia and Herzegovina, Europe (47 countries), showing its location, country facts, details about its capital city Sarajevo, bordering countries like Croatia, Montenegro, Serbia, and plenty of other information which may be interesting when you visit this European state.
Quick links: Google maps Bosnia and Herzegovina, Sarajevo Google maps, Driving Directions Bosnia and Herzegovina, Printable Road Map.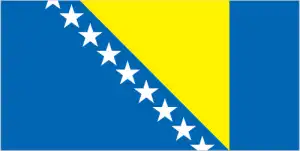 About Bosnia and Herzegovina in a nutshell
Conventional short form of the name: Bosnia and Herzegovina
The conventional long form of the name: none
Local long form: none
Local short form: Bosna i Hercegovina
Former name(s): Peoples Republic of Bosnia and Herzegovina, Socialist Republic of Bosnia and Herzegovina
Etymology: the larger northern territory is named for the Bosna River; the smaller southern section takes its name from the German word herzog, meaning duke, and the ending -ovina, meaning land, forming the combination denoting dukedom.
The legal system in Bosnia and Herzegovina: civil law system; Constitutional Court review of legislative acts.
Climate: Continental. Hot summers and cold, often snowy winters.
The national symbols are golden lily; national colors: blue, yellow, white.
Internet TLD: .ba
In Bosnia and Herzegovina, the Dinarid mountain range of the Dinarides is a land of steeply rising, parallel ridges of extensive and cultivated karst basins, or polje. The country has only one coastal corridor, barely 20 km wide, which juts into southern Dal-Macia. It is the picturesque valley of the Neretva River, the most picturesque in Herzegovina. Rising from the sea with a steep limestone cliff, the Dinara Mountains give their name to the entire mountain range. Between the great bends of the Neretva and Drina rivers, the peaks reach up to 2,000 m, and the karstic forms are made even wilder and more varied by the once ice-carved shapes.
Further away from the coast, the climate changes from the Mediterranean to more mountainous and continental, with the polje usually completely dry in summer. Bosnia and Herzegovina's history has been shaped by the Illyrians, Romans, Slavs, Turks, and then by the Austro-Hungarian Empire: for the last two thousand years, it has been an almost constant collision zone of different empires and religions. The secession from the Yugoslav confederation led to bloody wars and ethnic cleansing. Before the peace agreement, the country, inhabited by Orthodox Serbs, Muslim Bosniaks, and Catholic Croats, was divided into the Croat-Bosnian Federation in the south and the Republika Srpska in the north. Although the scars of war are slowly healing, the third millennium has also seen the emergence of tourism – and like its Balkan counterparts, Bosnia and Herzegovina is not short of great attractions. Among these, the cosmopolitan old town of Sarajevo, which heroically resisted the Serb siege for more than three years, the Turkish-style old town of Sarajevo, the Jajce waterfalls, painted by Csontváry, the Old Bridge and old town of Mostar, initially built in the 16th century and rebuilt with Hungarian help, and the Mehmet Pasha Bridge in Visegrad are among the highlights.
The murder of Archduke Ferdinand of Austria in Sarajevo in 1914 triggered the First World War.
Background

Bosnia and Herzegovina declared sovereignty in October 1991 and independence from the former Yugoslavia on 3 March 1992 after a referendum boycotted by ethnic Serbs. The Bosnian Serbs – supported by neighboring Serbia and Montenegro – responded with armed resistance to partition the republic along ethnic lines and join Serb-held areas to form a Greater Serbia. In March 1994, Bosniaks and Croats reduced the number of warring factions from three to two by signing an agreement creating a joint Bosniak-Croat Federation of Bosnia and Herzegovina. On 21 November 1995, in Dayton, Ohio, the warring parties initialed a peace agreement that ended three years of interethnic civil strife (the final agreement was signed in Paris on 14 December 1995).
The Dayton Peace Accords retained Bosnia and Herzegovina's international boundaries and created a multiethnic and democratic government charged with conducting foreign, diplomatic, and fiscal policy. Also recognized was a second tier of government composed of two entities roughly equal in size: the predominantly Bosniak-Bosnian Croat Federation of Bosnia and Herzegovina and the predominantly Bosnian Serb-led Republika Srpska (RS).
The Federation and RS governments are responsible for overseeing most government functions. Additionally, the Dayton Accords established the Office of the High Representative to oversee the implementation of the civilian aspects of the agreement. The Peace Implementation Council at its conference in Bonn in 1997 also gave the High Representative the authority to impose legislation and remove officials, the so-called Bonn Powers. An original NATO-led international peacekeeping force (IFOR) of 60,000 troops assembled in 1995 was succeeded over time by a smaller, NATO-led Stabilization Force (SFOR). In 2004, European Union peacekeeping troops (EUFOR) replaced SFOR. EUFOR deploys around 600 troops in theater in security assistance and training capacity.
Geography

Hills and mountains, with narrow river valleys. Lowlands in the north. Mainly deciduous forest covers about half of the total area.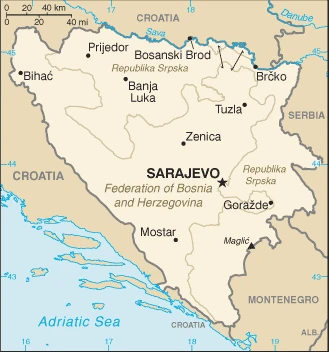 Perched in the highlands of southeast Europe, Bosnia and Herzegovina was the focus of the bitter ethnic conflict that accompanied the early 1990s dissolution of the Yugoslav state.
This state is located in Southeastern Europe, bordering the Adriatic Sea and Croatia, under the coordinates of 44 00 N, 18 00 E, covering an area of 51,197 sq km with a coastline of 20 km. Bosnia and Herzegovina is slightly smaller than West Virginia.
Bosnia and Herzegovina has 1,543 km of land boundaries and borders with (3 nations): Croatia 956 km, Montenegro 242 km, Serbia 345 km.
With Maglic 2,386 m as the highest point of Bosnia and Herzegovina, Mountains and valleys, while the Adriatic Sea 0 m as the lowest point, causing a mean elevation at 500 m throughout the country. With a total of 51,197 sq km, Bosnia and Herzegovina has 51,187 sq km of land and 10 sq km water surface area.
The significant watersheds for Bosnia and Herzegovina are Atlantic Ocean drainage: (Black Sea) Danube (795,656 sq km).
within Bosnia and Herzegovina's recognized borders, the country is divided into a joint Bosniak/Croat Federation (about 51% of the territory), and the Bosnian Serb-led Republika Srpska or RS (about 49% of the territory); the region called Herzegovina is contiguous to Croatia and Montenegro, and traditionally has been settled by an ethnic Croat majority in the west and an ethnic Serb majority in the east
The climate in Bosnia and Herzegovina is as follows: Hot summers and cold winters, high elevation areas have short, cool summers and long, severe winters, mild, rainy winters along the coast.
When you visit Bosnia and Herzegovina, the natural hazards are destructive earthquakes.
The following major health-threatening issues shall be considered when visiting Bosnia and Herzegovina: none.
Current environmental issues affecting the Bosnian, Herzegovinian people: air pollution; deforestation and illegal logging; inadequate wastewater treatment and flood management facilities; sites for urban waste disposal are limited; land mines leftover from 1992-1995 civil strife are a hazard in some areas.
Google maps Bosnia and Herzegovina
The capital and other divisions
Capital city: Sarajevo found under the coordinates 43 52 N, 18 25 E, applying the time zone UTC+1 (6 hours ahead of Washington, DC, during Standard Time), using the following daylight saving time: +1hr begins last Sunday in March; ends last Sunday in October.
Sarajevo is a town in Bosnia and Herzegovina. It was besieged during the Bosnian war and rebuilt after its destruction. That is not to say that it's unscathed, as both the damage done to it during the war as well as the aftermath has left an imprint on its surroundings.
Bosnia and Herzegovina became independent on 1 March 1992 (from Yugoslavia);, and its national holiday is Independence Day, 1 March (1992) and Statehood Day, 25 November (1943) – both observed in the Federation of Bosnia and Herzegovina entity; Victory Day, 9 May (1945) and Dayton Agreement Day, 21 November (1995) – both observed in the Republika Srpska entity note: there is no national-level holiday.
Administrative divisions: 3 first-order administrative divisions – Brcko District (Brcko Distrikt) (ethnically mixed), Federation of Bosnia and Herzegovina (Federacija Bosne i Hercegovine) (predominantly Bosniak-Croat), Republika Srpska (predominantly Serb).
People and society

Despite sharing the exact origin and spoken language, Bosnians have been divided by history between Orthodox Serbs, Roman Catholic Croats, and Muslim Bosniaks. Ethnic cleansing was practiced by all sides in the civil war, displacing about 60% of the population. Hopes for EU integration will require further ethnic reconciliation.
The population in Bosnia and Herzegovina is 3,824,782 (July 2021 estimate), with an average of -0.21% (2021 estimate) change. That means Bosnia and Herzegovina is the No. 130 in the world's populated rank list. With an average of 43.3 years median age (41.6 years for males and 41.6 years for women), Bosnia and Herzegovina ranks No. 27 on the globe's median age rank list.
The people living in this country are the Bosnian(s), Herzegovinian(s) (noun) or Bosnian, Herzegovinian (adjective) and belong mainly to the following ethnic groups: Bosniak 50.1%, Serb 30.8%, Croat 15.4%, other 2.7%, not declared/no answer 1% (2013 estimate). Note: Republika Srpska authorities dispute the methodology and refuse to recognize the results; Bosniak has replaced Muslim as an ethnic term to avoid confusion with the religious term Muslim – an adherent of Islam.
They speak Bosnian (official language) 52.9%, Serbian (official language) 30.8%, Croatian (official language) 14.6%, other 1.6%, no answer 0.2% (2013 estimate) languages and practice the following religions: Muslim 50.7%, Orthodox 30.7%, Roman Catholic 15.2%, atheist 0.8%, agnostic 0.3%, other 1.2%, undeclared/no answer 1.1% (2013 estimate).
We can conclude the following about the population in Bosnia and Herzegovina: The northern and central areas of the country are the most densely populated. In Bosnia and Herzegovina, we are talking about 49.4% (2021) of the total population is living in cities, and most of them reside in the following municipalities: 344,000 Sarajevo (capital city) (2021).
Industry

Potential to recover status as a thriving market economy with a solid manufacturing base, but still struggles with resettling refugees and the legacy of war. Little foreign investment.
Bosnia and Herzegovina has a transitional economy with limited market reforms. The economy relies heavily on exporting metals, energy, textiles, furniture, remittances, and foreign aid. A highly decentralized government hampers economic policy coordination and reform, while excessive bureaucracy and a segmented market discourage foreign investment. The economy is among the least competitive in the region. Foreign banks, primarily from Austria and Italy, control much of the banking sector, though the most significant bank is a private domestic one.
The Konvertibilna Marka (convertible mark) – the national currency introduced in 1998 – is pegged to the euro through a currency board arrangement, which has maintained confidence in the currency and has facilitated reliable trade links with European partners. Bosnia and Herzegovina became full members of the Central European Free Trade Agreement in September 2007. In 2016, Bosnia began a three-year IMF loan program, but it has struggled to meet the economic reform benchmarks required to receive all funding installments. Bosnia and Herzegovina's private sector is growing slowly, but foreign investment dropped sharply after 2007 and remains low. High unemployment remains the most serious macroeconomic problem. Successful implementation of a value-added tax in 2006 provided a steady source of revenue for the government. It helped rein in gray-market activity, though public perceptions of government corruption and misuse of taxpayer money have encouraged a large informal economy to persist. National-level statistics have improved over time, but a large share of economic activity remains unofficial and unrecorded. Bosnia and Herzegovina's top economic priorities are accelerating integration into the EU, strengthening the fiscal system, public administration reform, World Trade Organization membership, and securing economic growth by fostering a dynamic, competitive private sector.
Bosnia and Herzegovina is rich in the following natural resources: Coal, iron ore, antimony, bauxite, copper, lead, zinc, chromite, cobalt, manganese, nickel, clay, gypsum, salt, sand, timber, hydropower.
The main industrial sectors are typically steel, coal, iron ore, lead, zinc, manganese, bauxite, aluminum, motor vehicle assembly, textiles, tobacco products, wooden furniture, ammunition, domestic appliances, oil refining.
The country's export sectors are particularly strong in electricity, seating, leather shoes, furniture, insulated wiring (2019), partnering with these nations: Germany 14%, Italy 12%, Croatia 11%, Serbia 11%, Austria 9%, Slovenia 8% (2019). The export trade resulted in $6.81 billion. Note: Data are in current year dollars (2020 estimate). In a global rank of the export, values resulted in Bosnia and Herzegovina's position of 117.
Land use in Bosnia and Herzegovina: 42.8% (2018 estimate) forest, 15% (2018 estimate) other.
The arable land area is 19.7% (2018 estimate), and the agricultural land is 42.2% (2018 estimate). Land use for permanent crops 2% (2018 estimate), permanent pasture 20.5% (2018 estimate). The sum of the area of the irrigated land is 30 sq km (2012).
The main agro-industrial products of Bosnia and Herzegovina are maize, milk, vegetables, potatoes, wheat, plums/sloes, apples, barley, cabbages, poultry.
The country typically needs to import: refined petroleum, cars, packaged medicines, coal, electricity (2019), partnering with the following nations: Croatia 15%, Serbia 13%, Germany 10%, Italy 9%, Slovenia 7%, China 6% (2019) in a sum value of $9.71 billion. Note: data are in current year dollars (2020 estimate) $11.15 billion. Note: data are in current year dollars (2019 estimate) $11.55 billion. Note: data are in current year dollars (2018 estimate). This sum value on the global ranking list of imports resulted in Bosnia and Herzegovina 107.
Bosnia and Herzegovina Driving Directions

In this post, you learned about Bosnia and Herzegovina, Southeastern Europe, bordering the Adriatic Sea and Croatia. We published some basic information about its capital Sarajevo, and the Bosnian Herzegovinian nation.
Are you interested in visiting Bosnia and Herzegovina and looking for driving directions? Click here to plan your route, or see a printable road map of Bosnia and Herzegovina below for an overview of the route network.
Printable map of Bosnia and Herzegovina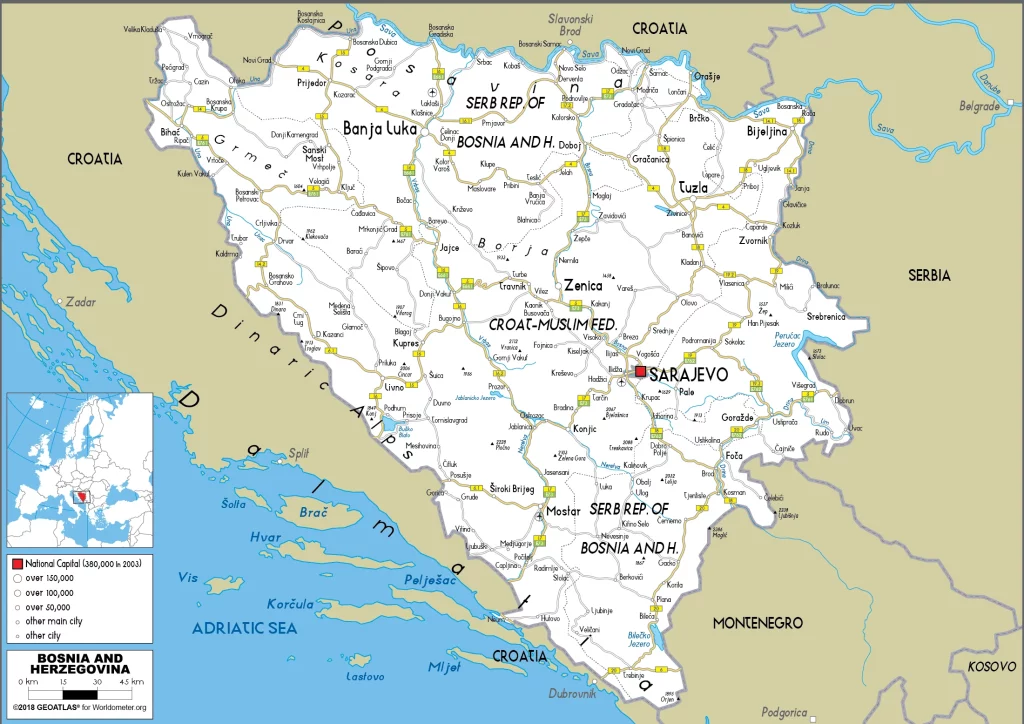 Did you know about Bosnia and Herzegovina?
One of the most exciting parts about Bosnia and Herzegovina is its geography. It has a moderate continental climate because it's located right on the boundary between the Mediterranean and Central European climates.
Most Bosnians are Muslim by faith, with Christianity as a minority religion.
After virtually visiting Bosnia and Herzegovina, you may also be interested in the neighboring countries: Croatia, Montenegro, Serbia.
If you liked our Google map and Bosnia and Herzegovina information page,
please share it with others or save the link https://www.drivingdirections.net in your bookmarks.