Montenegro Google Maps is a site/tool that offers a wide range of map views (topographic, satellite, street view) and navigation options, with little effort on your part, yet efficiently. If you need to plan a trip to a new place like Montenegro, Google maps are available on desktop, mobile, or tablet. This Google maps and information page is dedicated to Montenegro, Europe (47 countries), showing its location, country facts, details about its capital city Podgorica, bordering countries like Albania, Bosnia and Herzegovina, Croatia, Kosovo, Serbia, and plenty of other information which may be interesting when you visit this European state.
Quick links: Google maps Montenegro, Podgorica Google maps, Driving Directions Montenegro, Printable Road Map.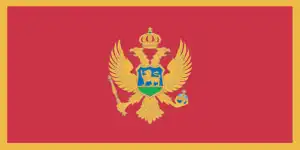 About Montenegro in a nutshell
Conventional short form of the name: Montenegro
The conventional long form of the name: none
Local long form: none
Local short form: Crna Gora
Former name(s): Peoples Republic of Montenegro, Socialist Republic of Montenegro, Republic of Montenegro
Etymology: the country's name locally as well as in most Western European languages means black mountain and refers to the dark coniferous forests on Mount Lovcen and the surrounding area.
The legal system in Montenegro: civil law.
Climate: The lowlands have hot, dry summers and mild winters. Heavy snow in winter in the mountains.
The national symbols are double-headed eagle; national colors: red, gold.
Internet TLD: .me
Montenegro (Crna Gora in Serbian), which broke away from Yugoslavia in May 2006, is the "country of the black mountains", with almost two-thirds of its territory at an altitude of at least 1000 m above sea level. Its climate is mountainous in the higher parts and the Mediterranean on the coast, with the area around the Gulf of Kotor receiving the highest winter rainfall in Europe. The highest mountain in Montenegro (and in the whole Dinarides) is home to the Durmitor National Park, a Natural World Heritage Site. Former glaciers formed the park's surface, and numerous underground watercourses and rivers carve the mountain. The most spectacular is the 1300-meter deep Tara River Canyon Valley – Europe's second deepest gorge.
The barren coastline, with its picture-postcard villages and the magnificent vertical walls of the Gulf of Kotor, almost 2,000 meters high, is the most picturesque in the Adriatic basin. Kotor's natural harbor and its medieval atmosphere date back to the Greeks. It was an important center of trade and art in the Middle Ages, and its icon-painting school spread far and wide. The 1979 earthquake severely damaged four of the town's Romanesque churches and the medieval walls, but most of it has now been restored with UNESCO's help. Built on what was once islands, now both peninsulas, the medieval towns of Budva and Sveti Stefan, are the jewels of the Adriatic coast. Cetinje, 25 km from the coast, is the cradle of Montenegrin national culture and the country's cultural capital.
Dark forests once cloaked Montenegro's mountains; its name means "Black Mountain".
Background

The name Crna Gora or Black Mountain (Montenegro) began in the 13th century in a highland region in the Serbian province of Zeta. The later medieval state of Zeta maintained its existence until 1496, when Montenegro finally fell under Ottoman rule. Over subsequent centuries, Montenegro maintained autonomy within the Ottoman Empire. From the 16th to 19th centuries, Montenegro was a theocracy ruled by a series of bishop princes. In 1852, it transformed into a secular principality. Montenegro was recognized as an independent sovereign principality at the Congress of Berlin in 1878. After World War I, Montenegro fought on the Allies' side. The Kingdom of Serbs, Croats absorbed Montenegro and Slovenes, which became the Kingdom of Yugoslavia in 1929. After World War II, it became a constituent republic of the Socialist Federal Republic of Yugoslavia. When the latter dissolved in 1992, Montenegro joined with Serbia, creating the Federal Republic of Yugoslavia and, after 2003, shifting to a looser State Union of Serbia and Montenegro. In May 2006, Montenegro invoked its right under the Constitutional Charter of Serbia and Montenegro to hold a referendum on independence from the two-state union. The vote for severing ties with Serbia barely exceeded 55% – the threshold set by the EU – allowing Montenegro to restore its independence on 3 June 2006 formally. In 2017, Montenegro joined NATO and is currently completing its EU accession process, has officially applied to join the EU in December 2008.
Geography

A narrow coastal strip on the Adriatic. Fertile lowland plains around Lake Scutari. Mountainous interior with deep canyons.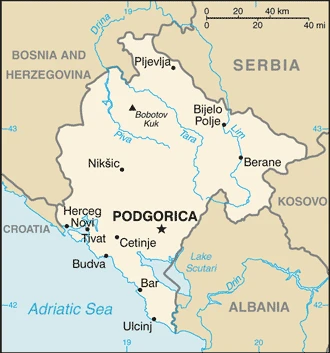 Perched on the Adriatic coast, this tiny republic became a separate state in 2006, after 88 years of federation with its neighbors in various forms of the state of Yugoslavia.
This state is located in Southeastern Europe, between the Adriatic Sea and Serbia, under the coordinates of 42 30 N, 19 18 E, covering an area of 13,812 sq km with a coastline of 293.5 km. Montenegro is slightly smaller than Connecticut, slightly larger than twice the size of Delaware.
Montenegro has 680 km of land boundaries in total and borders (5 nations): Albania 186 km, Bosnia and Herzegovina 242 km, Croatia 19 km, Kosovo 76 km, Serbia 157 km.
Highly indented coastline with narrow coastal plain backed by rugged high limestone mountains and plateaus, with Bobotov Kuk 2,522 m as the highest point of Montenegro, while the Adriatic Sea 0 m as the lowest point, causing a mean elevation at 1,086 m throughout the country. With a total of 13,812 sq km, Montenegro has 13,452 sq km of land and 360 sq km of water surface area.
Major water bodies in the country: Lake Scutari (shared with Albania) – 400 sq km (a freshwater lake). The significant watersheds for Montenegro are Atlantic Ocean drainage: (Black Sea) Danube (795,656 sq km).
Strategic location along the Adriatic coast.
The climate in Montenegro is as follows: Mediterranean climate, hot, dry summers and autumns, and relatively cold winters with heavy snowfalls inland.
When you visit Montenegro, the natural hazards shall be considered: Destructive earthquakes.
The following major health-threatening issues shall be considered when visiting Montenegro: degree of risk: intermediate (2020), bacterial diarrhea, Crimean-Congo hemorrhagic fever.
Current environmental issues affecting the Montenegrin people: pollution of coastal waters from sewage outlets, especially in tourist-related areas such as Kotor; severe air pollution in Podgorica, Pljevlja, and Niksie; air pollution in Pljevlja is caused by the nearby lignite power plant and the domestic use of coal and wood for household heating.
Google maps Montenegro
The capital and other divisions
Capital city: Podgorica found under the coordinates 42 26 N, 19 16 E, applying the time zone UTC+1 (6 hours ahead of Washington, DC, during Standard Time), using the following daylight saving time: +1 hr, begins last Sunday in March; ends last Sunday in October.
The capital of Montenegro is the most populated city in the country and is also located on the Adriatic Sea. Podgorica has a small population, but it's very diverse due to its vast multicultural background. Many attractions include the Old Town, Roman theater, St. Michael's Church, Orthodox Cathedral, etc.
Montenegro became independent on 3 June 2006 (from the State Union of Serbia and Montenegro); notable earlier dates: 13 March 1852 (Principality of Montenegro established); 13 July 1878 (Congress of Berlin recognizes Montenegrin independence); 28 August 1910 (the Kingdom of Montenegro established), and its national holiday is Statehood Day, 13 July (1878, the day the Berlin Congress recognized Montenegro as the 27th independent state in the world, and 1941, the day the Montenegrins staged an uprising against fascist occupiers and sided with the partisan communist movement).
Administrative divisions: 24 municipalities (opstine, singular – opstina); Andrijevica, Bar, Berane, Bijelo Polje, Budva, Cetinje, Danilovgrad, Gusinje, Herceg Novi, Kolasin, Kotor, Mojkovac, Niksic, Petnijica, Plav, Pljevlja, Pluzine, Podgorica, Rozaje, Savnik, Tivat, Tuzi, Ulcinj, Zabljak.
People and society

Most Montenegrins are Orthodox Christians. They speak a language closely related to Serbian, using Cyrillic script. Muslim Albanians, who make up 70% of the population of the southern Ulcinj region, supported independence. Foreigners, particularly Russians, British, and Serbs, are buying Adriatic real estate.
The population in Montenegro is 607,414 (July 2021 estimate), with an average of -0.4% (2021 estimate) change. That means Montenegro is the No. 171 in the world's populated rank list. With an average of 39.6 years median age (38.1 years for males and 38.1 years for women), Montenegro ranks No. 54 on the globe's median age rank list.
The people living in this country are the Montenegrin(s) (noun) or Montenegrin (adjective) and belong mainly to the following ethnic groups: Montenegrin 45%, Serbian 28.7%, Bosniak 8.7%, Albanian 4.9%, Muslim 3.3%, Romani 1%, Croat 1%, other 2.6%, unspecified 4.9% (2011 estimate).
They speak Serbian 42.9%, Montenegrin (official language) 37%, Bosnian 5.3%, Albanian 5.3%, Serbo-Croat 2%, other 3.5%, unspecified 4% (2011 estimate) languages and practice the following religions: Orthodox 72.1%, Muslim 19.1%, Catholic 3.4%, atheist 1.2%, other 1.5%, unspecified 2.6% (2011 estimate).
We can conclude the following about the population in Montenegro: Highest population density is concentrated in the south, southwest. The extreme eastern border is the least populated area. In Montenegro, we are talking about 67.8% (2021) of the total population lives in cities, and most of them reside in the following municipalities: 177,000 Podgorica (capital city) (2018).
Industry

Tourism (along Adriatic) drives growth. Bauxite reserves, aluminum industry. Return of investment, foreign aid. Crackdown on cigarette smuggling, black market, corruption led to approval in 2010 as a candidate for EU membership. Uses the euro, though not part of the eurozone.
Montenegro's economy is transitioning to a market system. Around 90% of Montenegrin state-owned companies have been privatized, including 100% banking, telecommunications, and oil distribution. Tourism, which accounts for more than 20% of Montenegro's GDP, brings in three times as many visitors as Montenegro's total population every year. Several new luxury tourism complexes are in various stages of development along the coast, and a number are being offered in connection with nearby boating and yachting facilities. In addition to tourism, energy and agriculture are considered two distinct pillars of the economy. Only 20% of Montenegro's hydropower potential is utilized. Montenegro plans to become a net energy exporter, and the construction of an underwater cable to Italy, which will be completed by the end of 2018, will help meet its goal., Montenegro uses the euro as its domestic currency, though it is not an official eurozone member. In January 2007, Montenegro joined the World Bank and IMF, and in December 2011, the WTO. Montenegro began negotiations to join the EU in 2012, having met the conditions set down by the European Council, which called on Montenegro to take steps to fight corruption and organized crime.
The government recognizes the need to remove impediments to remain competitive and open the economy to foreign investors. Net foreign direct investment in 2017 reached $848 million, and investment per capita is one of the highest in Europe due to a low corporate tax rate. The most prominent foreign investors in Montenegro in 2017 were Norway, Russia, Italy, Azerbaijan, and Hungary. Montenegro is currently planning major overhauls of its road and rail networks and possible expansions of its air transportation system. In 2014, the Government of Montenegro selected two Chinese companies to construct a 41 km-long section of the country's highway system, which will become part of China's Belt and Road Initiative. Cheaper borrowing costs have stimulated Montenegro's growing debt, which currently sits at 65.9% of GDP, with a forecast, absent fiscal consolidation, to increase to 80% once the repayment to China Export-Import Bank of a €800 million highway loan begins in 2019. Montenegro first instituted a value-added tax (VAT) in April 2003 and introduced differentiated VAT rates of 17% and 7% (for tourism) in January 2006. To reduce its public debt, the Montenegrin Government increased the non-tourism Value Added Tax (VAT) rate to 21% as of January 2018.
Montenegro is rich in the following natural resources: Bauxite, hydroelectricity.
The main industrial sectors are typically steelmaking, aluminum, agricultural processing, consumer goods, tourism.
The country's export sectors are solid in aluminum, packaged medicines, cars, zinc, wine (2019), partnering with these nations: Serbia 17%, Hungary 15%, China 11%, Russia 7%, Bosnia and Herzegovina 6%, Germany 6%, Italy 5%, Poland 5% (2019). The export trade resulted in $1.24 billion. Note: Data are in current year dollars (2020 estimate). In a global rank of the export, values resulted in Montenegro's position of 170.
Land use in Montenegro: 40.4% (2018 estimate) forest, 21.4% (2018 estimate) other.
The arable land area is 12.9% (2018 estimate), and the agricultural land is 38.2% (2018 estimate). Land use for permanent crops 1.2% (2018 estimate), permanent pasture 24.1% (2018 estimate). The sum of the area of the irrigated land is 24 sq km (2012).
The main agro-industrial products of Montenegro are milk, potatoes, grapes, vegetables, tomatoes, watermelons, wheat, apples, cabbages, barley.
The country typically needs to import: refined petroleum, cars, packaged medicines, recreational boats, cigarettes (2019), partnering with the following nations: Serbia 30%, Bosnia and Herzegovina 8%, Croatia 8%, Italy 6%, Greece 6%, Germany 5% (2019) in a sum value of $2.9 billion. Note: data are in current year dollars (2020 estimate) $3.59 billion. Note: data are in current year dollars (2019 estimate) $3.67 billion. Note: data are in current year dollars (2018 estimate). This sum value on the global ranking list of imports resulted in Montenegro 161.
Montenegro Driving Directions

In this post, you learned about Montenegro, Southeastern Europe, between the Adriatic Sea and Serbia. We published some basic information about its capital Podgorica, and the Montenegrin nation.
Are you interested in visiting Montenegro and looking for driving directions? Click here to plan your route, or see a printable road map of Montenegro below for an overview of the route network.
Printable map of Montenegro
Did you know about Montenegro?
Montenegro is one of the newest countries to join the European Union, is one of the smallest countries in Europe, and has a population of around 600,000. It gained independence from Serbia in 2006 and was formerly a part of Yugoslavia. Montenegro has beautiful coastlines and resorts popular with tourists who enjoy activities such as beach bars, water sports, and hiking.
After virtually visiting Montenegro, you may also be interested in the neighboring countries: Albania, Bosnia and Herzegovina, Croatia, Kosovo, Serbia.
If you liked our Google map and Montenegro information page,
please share it with others or save the link https://www.drivingdirections.net in your bookmarks.