Burundi Google Maps is a site/tool that offers a wide range of map views (topographic, satellite, street view) and navigation options, with little effort on your part, yet efficiently. If you need to plan a trip to a new place like Burundi, Google maps are available on desktop, mobile, or tablet. This Google maps and information page is dedicated to Burundi, Africa (54 countries), showing its location, country facts, details about its capital city Gitega (political capital), Bujumbura (commercial capital), bordering countries like the Democratic Republic of the Congo, Rwanda, Tanzania, and plenty of other information which may be interesting when you visit this African state.
Quick links: Google maps Burundi, Gitega (political capital), Bujumbura (commercial capital) Google maps, Driving Directions Burundi, Printable Road Map.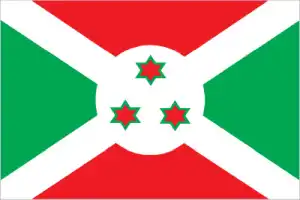 About Burundi in a nutshell
Burundi's fertility rate is one of the highest in Africa. On average, women have six children.
Conventional short form of the name: Burundi
The conventional long form of the name: Republic of Burundi
Local long form: Republique du Burundi / Republika yu Burundi
Local short form: Burundi
Former name(s): Urundi, German East Africa, Ruanda-Urundi, Kingdom of Burundi
Etymology: name derived from the pre-colonial Kingdom of Burundi (17th-19th century).
The legal system in Burundi: mixed legal system of Belgian civil law and customary law.
Climate: Temperate, with high humidity. Heavy and frequent rainfall, mostly October –May. Highlands have frost.
The national symbols are lion; national colors: red, white, green.
Internet TLD: .bi
Background

Established in the 1600s, the Burundi Kingdom has had borders similar to modern Burundi since the 1800s. Burundi's two major ethnic groups, the majority Hutu and minority Tutsi, share a common language and culture and primarily lived in peaceful cohabitation under Tutsi monarchs in pre-colonial Burundi. Regional, class and clan distinctions contributed to social status in the Burundi Kingdom, yielding a complex class structure. After World War I, German colonial and Belgian rule preserved Burundi's monarchy in the late 19th and early 20th centuries. Seeking to simplify administration, Belgian colonial officials reduced the number of chiefdoms and eliminated most Hutu chiefs from positions of power.
In 1961, the Burundian Tutsi king's oldest son, Louis Rwagasore, was murdered by a competing political faction shortly before becoming prime minister, triggering increased political competition that contributed to later instability. Burundi gained its independence from Belgium in 1962 as the Kingdom of Burundi. Revolution in neighboring Rwanda stoked ethnic polarization as the Tutsi increasingly feared violence and loss of political power. A failed Hutu-led coup in 1965 triggered a purge of Hutu officials and set the stage for Tutsi officers to overthrow the monarchy in 1966 and establish a Tutsi-dominated republic. A Hutu rebellion in 1972 that resulted in the death of several thousand Tutsi civilians sparked a brutal crackdown on Hutu civilians by the Tutsi-led military, which ultimately killed 100,000-200,000 people. International pressure led to a new constitution in 1992 and democratic elections in June 1993.
Burundi's first democratically elected president, Hutu Melchior NDADAYE, was assassinated in October 1993 after only 100 days in office by Tutsi military officers fearing Hutu domination, sparking a civil war. His successor, Cyprien NTARYAMIRA, died when the Rwandan president's plane he was traveling on was shot down in April 1994, which triggered the Rwandan genocide and further entrenched ethnic conflict in Burundi. The internationally brokered Arusha Agreement, signed in 2000, and subsequent ceasefire agreements with armed movements ended the 1993-2005 civil war. Burundi's second democratic elections were held in 2005, resulting in Pierre NKURUNZIZA as president. In 2010 and 2015 after a controversial court decision allowed him to circumvent a term limit. President Evariste NDAYISHIMIYE – from NKURUNZIZAs ruling party – was elected in 2020.
Geography

Hilly with high plateaus in the center and savanna in the east. Great Rift Valley on the western side.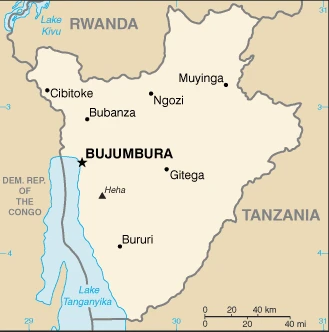 Burundi lies just south of the equator on the Nile–. Congo watershed in central Africa. More than two-thirds of people live below the poverty line.
This state is located in Central Africa, east of the Democratic Republic of the Congo, west of Tanzania, under the coordinates of 3 30 S, 30 00 E, covering an area of 27,830 sq km with a coastline of 0 km (landlocked country). Burundi is Slightly smaller than Maryland.
Burundi has 1,140 km of land boundaries and borders with (3 nations): the Democratic Republic of the Congo 236 km, Rwanda 315 km, Tanzania 589 km.
Hilly and mountainous, dropping to a plateau in east, some plains, with Heha 2,670 m as the highest point of Burundi, while Lake Tanganyika 772 m as the lowest point, causing a mean elevation at 1,504 m throughout the country. With 27,830 sq km, Burundi has 25,680 sq km of land and 2,150 sq km water surface.
Major water bodies in the country: Lake Tanganyika (shared with Democratic Republic of Congo, Tanzania, and Zambia) – 32,000 sq km (a freshwater lake), no (saltwater lake) while the major rivers are: Nile (shared with Egypt, Sudan, South Sudan, Uganda, Rwanda, and Tanzania) – 6,650 km. The significant watersheds for Burundi are Atlantic Ocean drainage: Congo (3,730,881 sq km), (Mediterranean Sea) Nile (3,254,853 sq km).
Landlocked; straddles the crest of the Nile-Congo watershed; the Kagera, which drains into Lake Victoria, is the most remote headstream of the White Nile.
The climate in Burundi is as follows: Equatorial, high plateau with considerable altitude variation (772 m to 2,670 m above sea level), average annual temperature varies with altitude from 23 to 17 degrees celsius but is generally moderate as the average altitude is about 1,700 m, average annual rainfall is about 150 cm, two wet seasons (February to May and September to November), and two dry seasons (June to August and December to January).
When you visit Burundi, the natural hazards shall be considered: Flooding, landslides, drought.
The following major health-threatening issues shall be considered when visiting Burundi: degree of risk: very high (2020), bacterial and protozoal diarrhea, hepatitis A, typhoid fever, malaria, dengue fever, schistosomiasis, rabies.
Current environmental issues affecting the Burundian people: soil erosion due to overgrazing and the expansion of agriculture into marginal lands; deforestation (little forested land remains because of uncontrolled cutting of trees for fuel); habitat loss threatens wildlife populations.
Google maps Burundi
The capital and other divisions
Capital city: Gitega (political capital), Bujumbura (commercial capital) found under the coordinates 3 25 S, 29 55 E, applying the time zone UTC+2 (7 hours ahead of Washington, DC, during Standard Time), using the following daylight saving time: none.
Gitega is a city that people come to visit on the eastern shore of Lake Tanganyika in Burundi. It is a destination for tourists and locals who come here to escape the hustle and bustle and find peace and solitude.
Burundi became independent on 1 July 1962 (from UN trusteeship under Belgian administration), and its national holiday is Independence Day, 1 July (1962).
Administrative divisions: 18 provinces; Bubanza, Bujumbura Mairie, Bujumbura Rural, Bururi, Cankuzo, Cibitoke, Gitega, Karuzi, Kayanza, Kirundo, Makamba, Muramvya, Muyinga, Mwaro, Ngozi, Rumonge, Rutana, Ruyigi.
People and society

Burundi has been riven by ethnic conflict between the majority Hutu and the Tutsi, who controlled the army – with repeated large-scale massacres: hundreds of thousands of people died between 1993 and 2004. The constitution now guarantees an ethnic balance in the government and army. Twa Pygmies were not involved in the conflict.
The population in Burundi is 12,241,065 (July 2021 estimate). Note: estimates for this country explicitly take into account the effects of excess mortality due to AIDS; this can result in lower life expectancy, higher infant mortality, higher death rates, lower population growth rates, and changes in the distribution of the population by age and sex than would otherwise be expected, with an average of 3.68% (2021 estimate) change. That means Burundi is the No. 77 in the world's populated rank list. With an average of 17.7 years median age (17.4 years for males and 17.4 years for women), Burundi ranks No. 217 on the globe's median age rank list.
The people living in this country are the Burundian(s) (noun) or Burundian (adjective) and belong mainly to the following ethnic groups: Hutu, Tutsi, Twa (Pygmy).
They speak Kirundi only 29.7% (official language); French only .3% (official language); Swahili only .2%; English only .1% (official language); Kirundi and French 8.4%; Kirundi, French, and English 2.4%, other language combinations 2%, unspecified 56.9% (2008 estimate) languages and practice the following religions: Roman Catholic 62.1%, Protestant 23.9% (includes Adventist 2.3% and other Protestant 21.6%), Muslim 2.5%, other 3.6%, unspecified 7.9% (2008 estimate).
We can conclude the following about the population in Burundi: One of Africa's most densely populated countries. Concentrations tend to be in the north and along the northern shore of Lake Tanganyika in the west. Most people live on farms near areas of fertile volcanic soil, as shown in this population distribution map. In Burundi, we are talking about 14.1% (2021) of the total population is living in cities, and most of them reside in the following municipalities: 1.075 million, Bujumbura (capital city) (2021).
Industry

Overwhelmingly agricultural economy, mainly subsistence. Small quantities of gold and tungsten. The potential of oil in Lake Tanganyika. Ongoing political fragility.
Burundi is a landlocked, resource-poor country with an underdeveloped manufacturing sector. Agriculture accounts for over 40% of GDP and employs more than 90% of the population. Burundi's primary exports are coffee and tea, which account for more than half of foreign exchange earnings. Still, these earnings are subject to fluctuations in weather and international coffee and tea prices. Burundi is heavily dependent on aid from bilateral and multilateral donors and foreign exchange earnings from participation in the African Union Mission to Somalia (AMISOM). Foreign aid represented 48% of Burundi's national income in 2015, one of the highest percentages in Sub-Saharan Africa. Still, this figure decreased to 33.5% in 2016 due to political turmoil surrounding President Nkurunziza's bid for a third term. Burundi joined the East African Community (EAC) in 2009.
Burundi faces several underlying weaknesses – low governmental capacity, corruption, a high poverty rate, poor educational levels, a weak legal system, a poor transportation network, and overburdened utilities – that have prevented the implementation of planned economic reforms. The purchasing power of most Burundians has decreased as wage increases have not kept pace with inflation, which reached approximately 18% in 2017. Real GDP growth dropped precipitously following political events in 2015 and has yet to recover to pre-conflict levels. Continued resistance by donors and the international community will restrict Burundi's economic growth as the country deals with a large current account deficit.
Burundi is rich in the following natural resources: Nickel, uranium, rare earth oxides, peat, cobalt, copper, platinum, vanadium, arable land, hydropower, niobium, tantalum, gold, tin, tungsten, kaolin, limestone.
The main industrial sectors are typically light consumer goods (sugar, shoes, soap, beer); cement, assembly of imported components; public works construction; food processing (fruits).
The country's export sectors are particularly strong in gold, coffee, tea, raw earth metal ores, wheat flours (2019), partnering with these nations: the United Arab Emirates 50%, the Democratic Republic of the Congo 7% (2019). The export trade resulted in $290 million. Note: Data are in current year dollars (2018 estimate). In a global rank of the export, values resulted in Burundi's position of 201.
Land use in Burundi: 6.6% (2018 estimate) forest, 20.1% (2018 estimate) other.
The arable land area is 38.9% (2018 estimate), and the agricultural land is 73.3% (2018 estimate). Land use for permanent crops 15.6% (2018 estimate), permanent pasture 18.8% (2018 estimate). The sum of the area of the irrigated land is 230 sq km (2012).
The main agro-industrial products of Burundi are cassava, bananas, sweet potatoes, plantains, beans, vegetables, potatoes, cashew nuts, maize, taro.
The country typically needs to import: refined petroleum, packaged medicines, cement, raw sugar, cars (2019), partnering with the following nations: China 14%, Saudi Arabia 14%, India 9%, Kenya 7%, United Arab Emirates 7%, Tanzania 5%, Zambia 5% (2019) in a sum value of $910 million. Note: data are in current year dollars (2018 estimate) $927 million (2018 estimate) $1.295 billion (2017 estimate). This sum value on the global ranking list of imports resulted in Burundi 192.
Burundi Driving Directions

In this post, you learned about Burundi, Central Africa, east of the Democratic Republic of the Congo, west of Tanzania. We published some basic information about its capital Gitega (political capital), Bujumbura (commercial capital), and the Burundian nation.
Are you interested in visiting Burundi and looking for driving directions? Click here to plan your route, or see a printable road map of Burundi below for an overview of the route network.
Printable map of Burundi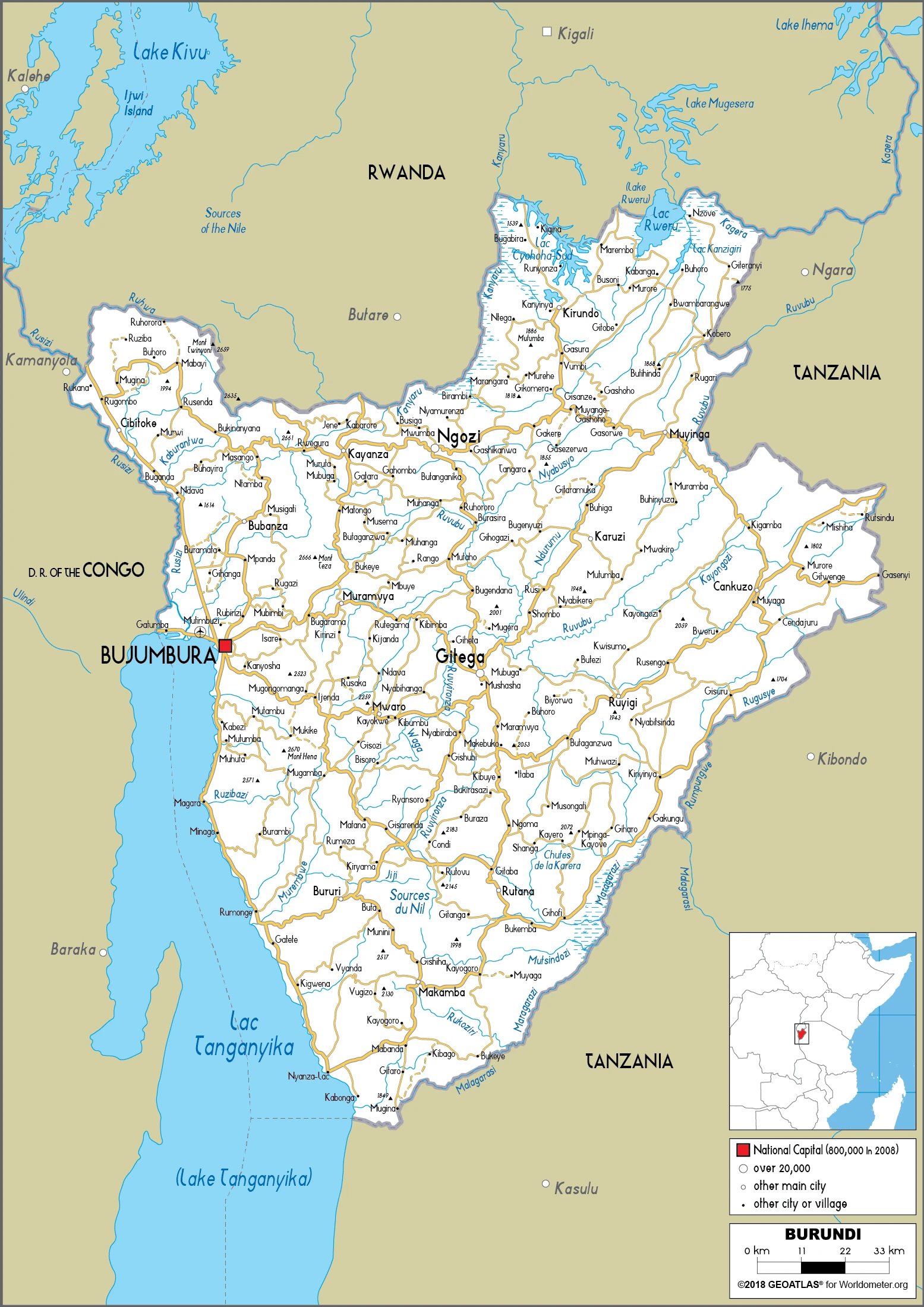 Did you know about Burundi?
The country's population split almost evenly between Hutu and Tutsi ethnicities resulting in a 12-year civil war from 1993 to 2004. There are over 12 million people in Burundi, and the vast majority live in poverty and struggle with hunger and malnutrition.
After virtually visiting Burundi, you may also be interested in the neighboring countries: the Democratic Republic of the Congo, Rwanda, Tanzania.
If you liked our Google map and Burundi information page,
please share it with others or save the link https://www.drivingdirections.net in your bookmarks.