Malawi Google Maps is a site/tool that offers a wide range of map views (topographic, satellite, street view) and navigation options, with little effort on your part, yet efficiently. If you need to plan a trip to a new place like Malawi, Google maps are available on desktop, mobile, or tablet. This Google maps and information page is dedicated to Malawi, Africa (54 countries), showing its location, country facts, details about its capital city Lilongwe, bordering countries like Mozambique, Tanzania, Zambia, and plenty of other information which may be interesting when you visit this African state.
Quick links: Google maps Malawi, Lilongwe Google maps, Driving Directions Malawi, Printable Road Map.
About Malawi in a nutshell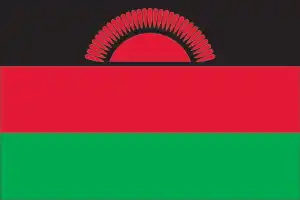 Conventional short form of the name: Malawi
The conventional long form of the name: Republic of Malawi
Local long form: Dziko la Malawi
Local short form: Malawi
Former name(s): British Central African Protectorate, Nyasaland Protectorate, Nyasaland
Etymology: named for the East African Maravi Kingdom of the 16th century; the word maravi means fire flames.
The legal system in Malawi: mixed legal system of English common law and customary law; judicial review of legislative acts in the Supreme Court of Appeal.
Climate: Mainly subtropical. The south is hot and humid. Highlands are cooler.
The national symbols are lion; national colors: black, red, green.
Internet TLD: .mw
The "soul" of Malawi, the former British protectorate of Nyasaland, is Lake Malawi (Nyasa), which covers almost a quarter of its territory. Malawi's land area, excluding the lake, is the same size as the country's, and its population is similar. David Livingstone's 'second home', the Scottish missionary-explorer, is commemorated in several places, including the former capital Blantyre, named after his missionary hometown. Tourists rarely start their tour of Africa with Malawi. There are two groups of visitors to this country, which stretches deep into Mozambique: those who spend only a few days in 'transit' on a multi-country trip, and those who return to Africa as 'connoisseurs', having traveled most of the way across the black continent and wanting something special: A risk-free scuba dive in a crystal-clear African lake, a hike through the fantastic rock formations of the Mulanje Mountains or a visit to one of the 120 species of orchids that grow on the Nyika plateau. And if you want to follow in Livingstone's footsteps, you can take a log raft down the Shire River, which drains the waters of Lake Malawi, all the way to Mozambique's Zambezi. Chongon's World Heritage-listed rock paintings, from the Chongon Cretaceous to the present day, are the work of hunter-gatherers. The country's natural heritage is of great importance for the study of evolution: Lake Malawi National Park has earned the title of 'Africa's Galápagos' with almost 200 endemic fish species, most of them belonging to the mouth-breathing perch family, which live only in the lake.
Lake Nyasa is 353 miles (568 km) in length and contains at least 500 species of fish.
Background

Malawi shares its name with the Chewa word for flames and is linked to the Maravi people from whom the Chewa language originated. The Maravi settled in what is now Malawi around 1400 during one of the later waves of Bantu migration across central and southern Africa. Several Malawi ethnic groups trace their origins to different Maravi lineages. A powerful Maravi kingdom, established around 1500, reached its zenith around 1700 when it controlled what is now southern and central Malawi and portions of neighboring Mozambique and Zambia before beginning to decline because of destabilization from the escalating global trade in enslaved people. In the early 1800s, widespread conflict in southern Africa displaced various ethnic Ngoni groups, some of which moved into Malawi and further undermined the Maravi. Members of the Yao ethnic group – which had long traded with Malawi from Mozambique – introduced Islam and began to settle in Malawi in significant numbers in the mid-1800s. In the late 1800s, members of the Lomwe ethnic group also moved into southern Malawi from Mozambique. British missionary and trading activity increased in the area around Lake Nyasa in the mid-1800s. Britain declared a protectorate, called British Central Africa, over what is now Malawi in 1891 and eliminated various political entities that sought to retain their autonomy over the subsequent decade.
The British renamed the territory Nyasaland in 1907. It was part of the colonial Federation of Rhodesia and Nyasaland – including present-day Zambia and Zimbabwe – from 1953 to 1963 before gaining independence from Malawi in 1964. Hastings Kamuzu BANDA served as prime minister at independence, and when the country became a republic in 1966, he became president. He later instituted one-party rule under his Malawi Congress Party (MCP) and was declared president. After three decades of one-party rule, the country held multiparty presidential and parliamentary elections in 1994 under a provisional constitution that wholly affected the following year. Bakili MULUZI of the United Democratic Front party became Malawi's first freely elected president when he defeated BANDA at the polls in 1994. He won reelection in 1999. President Bingu wa MUTHARIKA was elected in 2004 and subsequently started his party, the Democratic Progressive Party, in 2005. MUTHARIKA was reelected to a second term in 2009. He died abruptly in 2012 and was succeeded by Vice President Joyce BANDA, who had earlier started her party, the Peoples Party. Mutharika's brother, Peter MUTHARIKA, defeated BANDA in the election in 2014. Peter MUTHARIKA was reelected in a disputed election in 2019 that resulted in countrywide protests. The courts ordered a new election, and in 2020 Lazarus CHAKWERA of the MCP was elected president after defeating MUTHARIKA as head of a coalition of opposition parties. Population growth, increasing pressure on agricultural lands, corruption, and the scourge of HIV/AIDS pose major problems for Malawi.
Geography

Lake Nyasa takes up one-fifth of the landscape. Highlands lie west of the lake. Much of the land is covered by forests and savanna.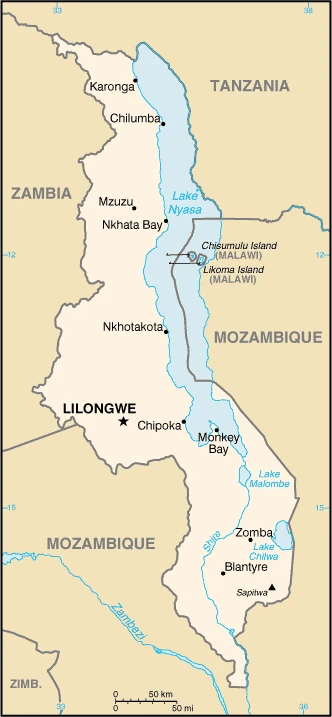 Malawi lies landlocked in southeast Africa, a former colony of the UK, following the Great Rift Valley. Its name means "the land where the sun is reflected in the water like fire."
This state is located in Southern Africa, east of Zambia, west, and north of Mozambique, under the coordinates of 13 30 S, 34 00 E, covering an area of 118,484 sq km with a coastline of 0 km (landlocked country). Malawi is Slightly smaller than Pennsylvania.
Malawi has 2,857 km of land boundaries in total and borders with (3 nations): Mozambique 1498 km, Tanzania 512 km, Zambia 847 km.
Narrow, elongated plateau with rolling plains, rounded hills, some mountains, with Sapitwa (Mount Mlanje) 3,002 m as the highest point of Malawi, while junction of the Shire River and international boundary with Mozambique 37 m as the lowest point, causing a mean elevation at 779 m throughout the country. With a total of 118,484 sq km, Malawi has 94,080 sq km of land and 24,404 sq km water surface area.
Major water bodies in the country: Lake Malawi (shared with Mozambique and Tanzania) – 22,490 (a freshwater lake), Lake Chilwa – 1,040 sq km (saltwater lake) while the major rivers are: Zambezi (shared with Angola, Zimbabwe, Mozambique, Zambia, Tanzania, and Namibia) – 2,740 km. The significant watersheds for Malawi are Atlantic Ocean drainage: Congo (3,730,881 sq km) Indian Ocean drainage: Zambezi (1,332,412 sq km).
Landlocked; Lake Nyasa, some 580 km long, is the country's most prominent physical feature; it contains more fish species than any other lake on earth.
The climate in Malawi is as follows: Sub-tropical, rainy season (November to May), dry season (May to November).
When you visit Malawi, the natural hazards shall be considered: Flooding, droughts, earthquakes.
The following major health-threatening issues shall be considered when visiting Malawi: degree of risk: very high (2020), bacterial and protozoal diarrhea, hepatitis A, typhoid fever, malaria, and dengue fever, schistosomiasis, rabies.
Current environmental issues affecting the Malawian people: deforestation; land degradation; water pollution from agricultural runoff, sewage, industrial wastes; siltation of spawning grounds endangers fish populations; adverse effects of climate change (extremely high temperatures, changing precipitation patterns).
Google maps Malawi
The capital and other divisions
Capital city: Lilongwe found under the coordinates 13 58 S, 33 47 E, applying the time zone UTC+2 (7 hours ahead of Washington, DC, during Standard Time), using the following daylight saving time: none.
Lilongwe is the capital city of Malawi, located in the central region. It is also known as "the Garden City" because hills and mountains nestle it. The nature of the city is beautiful, and it's easy to see why it would be the capital.
Malawi became independent on 6 July 1964 (from the UK), and its national holiday is Independence Day, 6 July (1964).
Administrative divisions: 28 districts; Balaka, Blantyre, Chikwawa, Chiradzulu, Chitipa, Dedza, Dowa, Karonga, Kasungu, Likoma, Lilongwe, Machinga, Mangochi, Mchinji, Mulanje, Mwanza, Mzimba, Neno, Ntcheu, Nkhata Bay, Nkhotakota, Nsanje, Ntchisi, Phalombe, Rumphi, Salima, Thyolo, Zomba.
People and society

Most Malawians share a common Bantu origin. Protestant Chewa lives in central regions, while Muslim Yao lives along the lake and south. Unlike neighboring states, ethnicity has not been exploited for political ends. Multiparty elections in 1994 ended the 30-year dictatorship of Dr. Banda. Half of the population lives in poverty.
The population in Malawi is 20,308,502 (July 2021 estimate). Note: estimates for this country explicitly take into account the effects of excess mortality due to AIDS; this can result in lower life expectancy, higher infant mortality, higher death rates, lower population growth rates, and changes in the distribution of the population by age and sex than would otherwise be expected, with an average of 2.39% (2021 estimate) change. That means Malawi is the No. 62 in the world's populated rank list. With an average of 16.8 years median age (16.7 years for males and 16.7 years for women), Malawi ranks No. 221 on the globe's median age rank list.
The people living in this country are the Malawian(s) (noun) or Malawian (adjective) and belong mainly to the following ethnic groups: Chewa 34.3%, Lomwe 18.8%, Yao 13.2%, Ngoni 10.4%, Tumbuka 9.2%, Sena 3.8%, Manganja 3.2%, Tonga 1.8%, Nyanja 1.8%, Nkhonde 1%, other 2.2%, foreign 0.3% (2018 estimate).
They speak English (official language), Chewa (common), Lambya, Lomwe, Ngoni, Nkhonde, Nyakyusa, Nyanja, Sena, Tonga, Tumbuka, Yao. Note: Chewa and Nyanja are mutually intelligible dialects; Nkhonde and Nyakyusa are mutually intelligible dialects languages and practice the following religions: Protestant 33.5% (includes Church of Central Africa Presbyterian 14.2%, Seventh Day Adventist/Baptist 9.4%, Pentecostal 7.6%, Anglican 2.3%), Roman Catholic 17.2%, other Christian 26.6%, Muslim 13.8%, traditionalist 1.1%, other 5.6%, none 2.1% (2018 estimate).
We can conclude the following about the population in Malawi: Population density is the highest south of lake Nyasa as shown in this population distribution map. In Malawi, we are talking about 17.7% (2021) of the total population is living in cities, and most of them reside in the following municipalities: 1.171 million, Lilongwe (capital city), 962,000 Blantyre-Limbe (2021).
Industry

Mainly subsistence farming. Tobacco accounts for over half of export earnings. Tea and sugar are grown. Drought and corruption are problems.
Landlocked Malawi ranks among the world's least developed countries. Historically, the country's economic performance has been constrained by policy inconsistency, macroeconomic instability, poor infrastructure, rampant corruption, high population growth, and poor health and education outcomes that limit labor productivity. The economy is predominately agricultural, with about 80% of the population living in rural areas. Agriculture accounts for about one-third of GDP and 80% of export revenues. The performance of the tobacco sector is key to short-term growth as tobacco accounts for more than half of exports. However, Malawi is looking to diversify away from tobacco to other cash crops.
The economy depends on substantial inflows of economic assistance from the IMF, the World Bank, and individual donor nations. Donors halted direct budget support from 2013 to 2016 because of concerns about corruption and fiscal carelessness, but the World Bank resumed budget support in May 2017. In 2006, Malawi was approved for relief under the Heavily Indebted Poor Countries (HIPC) program. Still, recent increases in domestic borrowing mean that debt servicing in 2016 exceeded the levels before HIPC debt relief. Heavily dependent on rain-fed agriculture, with corn being the staple crop, Malawi's economy was hit hard by the El Nino-driven drought in 2015 and 2016 and now faces a threat from the fall armyworm. The drought also slowed economic activity, led to two consecutive years of declining economic growth, and contributed to high inflation rates. Depressed food prices over 2017 led to a significant drop in inflation (from an average of 21.7% in 2016 to 12.3% in 2017), with a similar drop in interest rates.
Malawi is rich in the following natural resources: Limestone, arable land, hydropower, unexploited deposits of uranium, coal, and bauxite.
The main industrial sectors are tobacco, tea, sugar, sawmill products, cement, consumer goods.
The country's export sectors are robust in tobacco, tea, raw sugar, beans, soybean products, clothing, and apparel (2019), partnering with these nations: Belgium 16%, United States 8%, Egypt 7%, South Africa 6%, Germany 6%, Kenya 5%, the United Arab Emirates 5% (2019). The export trade resulted in $1.16 billion. Note: Data are in current year dollars (2019 estimate). In a global rank of the export, values resulted in Malawi's position of 174.
Land use in Malawi: 34% (2018 estimate) forest, 6.8% (2018 estimate) other.
The arable land area is 38.2% (2018 estimate), and the agricultural land is 59.2% (2018 estimate). Land use for permanent crops 1.4% (2018 estimate), permanent pasture 19.6% (2018 estimate). The sum of the area of the irrigated land is 740 sq km (2012).
The main agro-industrial products of Malawi are sweet potatoes, cassava, sugar cane, maize, mangoes/guavas, potatoes, tomatoes, pigeon peas, bananas, plantains.
The country typically needs to import: postage stamps, refined petroleum, packaged medicines, fertilizers, office machinery/parts (2019), partnering with the following nations: South Africa 17%, China 16%, United Arab Emirates 9%, India 9%, the United Kingdom 8% (2019) in a sum value of $3.2 billion. Note: data are in current year dollars (2019 estimate) $2.92 billion. Note: data are in current year dollars (2018 estimate) $11.631 billion (2017 estimate). This sum value on the global ranking list of imports resulted in Malawi 156.
Malawi Driving Directions

In this post, you learned about Malawi, Southern Africa, east of Zambia, west, and north of Mozambique. We published some basic information about its capital Lilongwe, and the Malawian nation.
Are you interested in visiting Malawi and looking for driving directions? Click here to plan your route, or see a printable road map of Malawi below for an overview of the route network.
Printable map of Malawi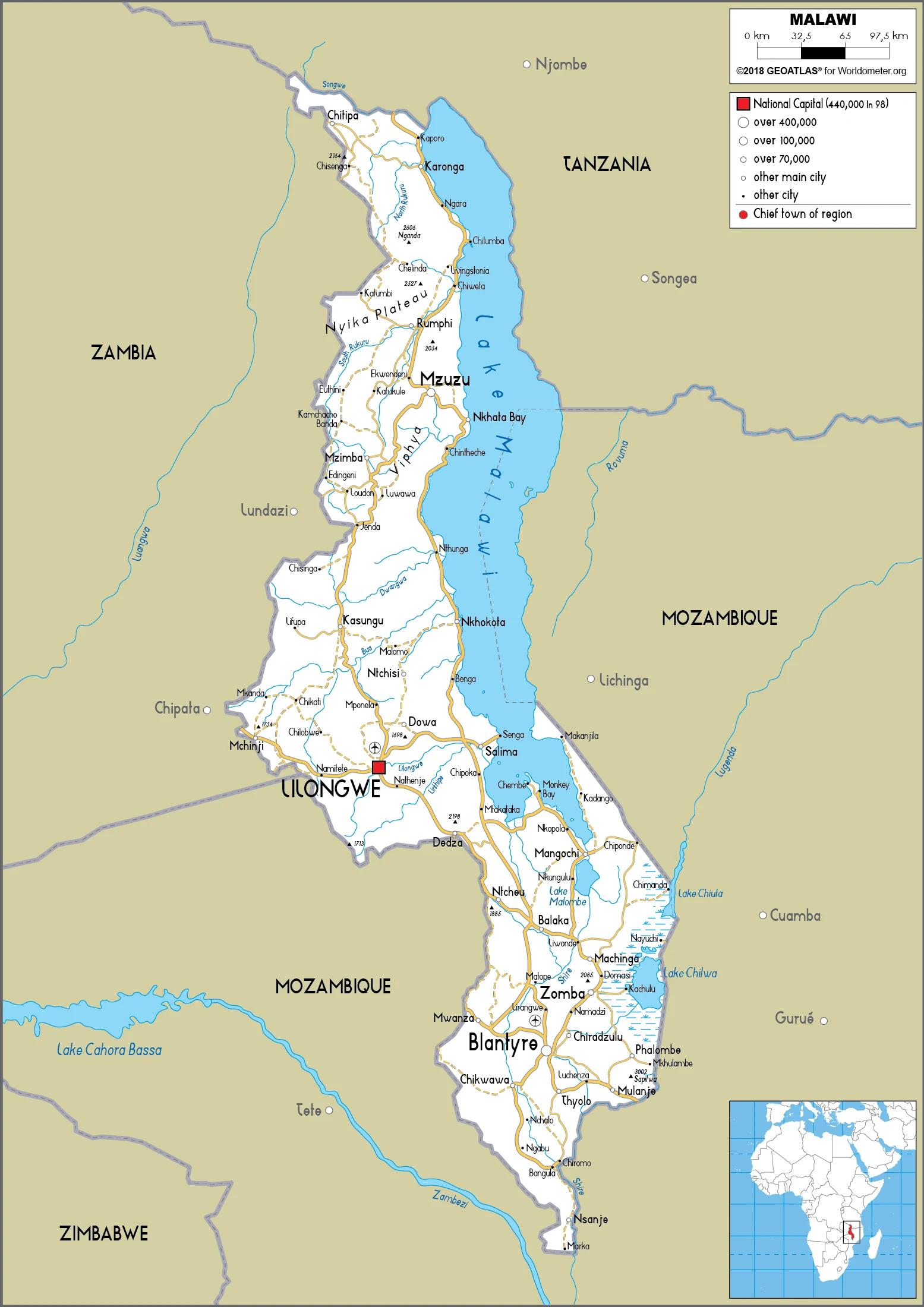 Did you know about Malawi?
Malawi is a small country located in southeast Africa. The capital city is Lilongwe, and they have a population of around 20 million people. Malawi is one of the poorest countries in the world, with almost half living below the poverty line. Because of this, Malawi has faced many challenges, such as a high infant mortality rate due to Malaria, HIV/AIDS, and other diseases.
After virtually visiting Malawi, you may also be interested in the neighboring countries: Mozambique, Tanzania, Zambia.
If you liked our Google map and Malawi information page,
please share it with others or save the link https://www.drivingdirections.net in your bookmarks.