Malaysia Google Maps is a site/tool that offers a wide range of map views (topographic, satellite, street view) and navigation options, with little effort on your part, yet efficiently. If you need to plan a trip to a new place like Malaysia, Google maps are available on desktop, mobile, or tablet. This Google maps and information page is dedicated to Malaysia, Southeast Asia (19 countries), showing its location, country facts, details about its capital city Kuala Lumpur, bordering countries like Brunei, Indonesia, Thailand, and plenty of other information which may be interesting when you visit this Southeastern Asian state.
Quick links: Google maps Malaysia, Kuala Lumpur Google maps, Driving Directions Malaysia, Printable Road Map.
About Malaysia in a nutshell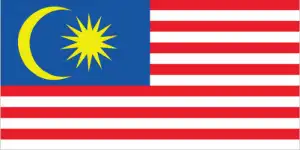 Conventional short form of the name: Malaysia
The conventional long form of the name: none
Local long form: none
Local short form: Malaysia
Former name(s): Federation of Malaya
Etymology: the name means Land of the Malays.
The legal system in Malaysia: mixed legal system of English common law, Islamic (sharia) law, and customary law; judicial review of legislative acts in the Federal Court at request of supreme head of the federation.
Climate: Warm equatorial. Rainfall always heavy, but with distinct rainy seasons.
The national symbols are tiger, hibiscus; national colors: gold, black.
Internet TLD: .my
Malaysia occupies the southern part of the Malay Peninsula and the northern quarter of the island of Borneo, 650 km away. The country has a diverse geographical environment on the north side of the equator in the tropical rainforest belt. In the central part of the peninsula, the Cameron Highlands, with their pleasant climate and elevation of 1,500 m, offers colonial nostalgia resorts, flower gardens, and tea plantations for those fleeing the tropical heat of the lowlands. Melaka's port city, reflecting Chinese, Portuguese, Dutch, and British influences, is the richest in reminders of its colonial past. Malaysia's most famous beach resort is Penang Island, off the peninsula's northwest coast. Borneo is home to two of the country's natural world heritage sites. Gunung Mulu National Park in Sarawak, once inhabited by headhunting Dajaks, is the most studied tropical karst area on earth, with 295 km of cave passages explored. The world's largest cave chamber, the Sarawak Chamber, is 600 m long, 415 m wide, and 80 m high. In Sabah's Kinabalu National Park, the highest mountain peak in Southeast Asia – between the Himalayas and New Guinea – rises to 4,100 m. Rising at the flora border, the diverse habitats of Mount Kinabalu are home to plants unique to the Himalayas, China, Australia, and Malaysia.
Malaysia is Southeast Asia's major tourist destination, with over 25 million visitors.
Background

Malaysia's location has long made it a significant cultural, economic, historical, social, and trade link between the islands of Southeast Asia and the mainland. Through the Strait of Malacca, which separates the Malay Peninsula from the archipelago, flowed maritime trade and influences from China, India, the Middle East, and the east coast of Africa. Before the 14th century, several powerful maritime empires existed in what is modern-day Malaysia, including the Srivijayan, which controlled much of the southern part of the peninsula between the 7th and 13th centuries, and the Majapahit Empire, which took control over most of the peninsula and the Malay Archipelago between the 13th and 14th centuries. The adoption of Islam between the 13th and 17th centuries also saw the rise of several powerful maritime states and sultanates on the Malay Peninsula and the island of Borneo, such as the port city of Malacca (Melaka), which at its height in the 15th century had a navy and hosted thousands of Chinese, Arab, Persian, and Indian merchants.
The Portuguese in the 16th century and the Dutch in the 17th century were the first European colonial powers to establish themselves on the Malay Peninsula and Southeast Asia. However, it was the British who ultimately secured their hegemony across the territory and during the late 18th and 19th centuries established colonies and protectorates in the area that is now Malaysia. Japan occupied these holdings from 1942 to 1945. In 1948, the British-ruled territories on the Malay Peninsula except Singapore formed the Federation of Malaya, which became independent in 1957. Malaysia was formed in 1963 when the former British colonies of Singapore and Sabah and Sarawak on the northern coast of Borneo joined the Federation. The first several years of the country's independence were marred by a communist insurgency, Indonesian confrontation with Malaysia, Philippine claims to Sabah, and Singapore's expulsion in 1965. During the 22-year term of Prime Minister MAHATHIR Mohamad (1981-2003), Malaysia was prosperous in diversifying its economy from dependence on exports of raw materials to the development of manufacturing, services, and tourism. Prime Minister MAHATHIR and a newly-formed coalition of opposition parties defeated Prime Minister Mohamed NAJIB bin Abdul Razak's United Malays National Organization (UMNO) in May 2018, ending over 60 years of uninterrupted rule by UMNO. MAHATHIR resigned in February 2020 amid a political dispute. King ABDULLAH then selected Tan Sri MUHYIDDIN Yassin as the new prime minister.
Geography

The Malay Peninsula has central mountains, an eastern coastal belt, and fertile western plains. Swampy coastal plains rise to mountains on Borneo.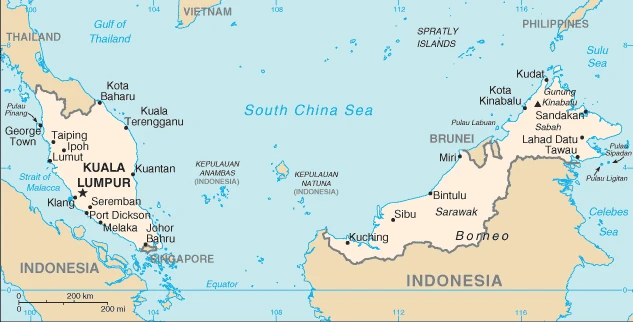 Malaysia stretches 1240 miles (2000 km) across Southeast Asia from the Malay peninsula to Sabah in eastern Borneo. Federated in 1963, it included Singapore for two years.
This state is located in Southeastern Asia, peninsula bordering Thailand and northern one-third of the island of Borneo, bordering Indonesia, Brunei, and the South China Sea, south of Vietnam, under the coordinates of 2 30 N, 112 30 E, covering an area of 329,847 sq km with a coastline of 4,675 km. Malaysia is Slightly more significant than New Mexico.
Malaysia has 2,742 km of land boundaries and borders with (3 nations): Brunei 266 km, Indonesia 1881 km, Thailand 595 km.
Coastal plains rise to hills and mountains, with Gunung Kinabalu 4,095 m as the highest point of Malaysia, while the Indian Ocean 0 m as the lowest point, causing a mean elevation at 419 m throughout the country. With a total of 329,847 sq km, Malaysia has 328,657 sq km of land and a 1,190 sq km water surface area.
Strategic location along the Strait of Malacca and the southern South China Sea.
The climate in Malaysia is as follows: Tropical, annual southwest (April to October), and northeast (October to February) monsoons.
When you visit Malaysia, the natural hazards shall be considered: Flooding, landslides, forest fires.
The following major health-threatening issues shall be considered when visiting Malaysia: degree of risk: intermediate (2020), bacterial diarrhea, dengue fever, leptospirosis.
Current environmental issues affecting the Malaysian people: air pollution from industrial and vehicular emissions; water pollution from raw sewage; deforestation; smoke/haze from Indonesian forest fires; endangered species; coastal reclamation damaging mangroves and turtle nesting sites.
Google maps Malaysia
The capital and other divisions
Capital city: Kuala Lumpur found under the coordinates 3 10 N, 101 42 E, applying the time zone UTC+8 (13 hours ahead of Washington, DC, during Standard Time), using the following daylight saving time: none.
Kuala Lumpur is a modern and vibrant city with rich culture and heritage. It offers a wide range of activities to all types of travelers, from shopping, dining, and exploring the Golden Triangle. Kuala Lumpur has a metropolitan population of over 2.6 million. If you are in the city, visit some of its top attractions, such as Batu Caves, The Lake Gardens, or Petronas Twin Towers.
Malaysia became independent on 31 August 1957 (from the UK), and its national holiday is Independence Day (or Merdeka Day), 31 August (1957) (independence of Malaya); Malaysia Day, 16 September (1963) (formation of Malaysia).
Administrative divisions: 13 states (negeri-negeri, singular – negeri); Johor, Kedah, Kelantan, Melaka, Negeri Sembilan, Pahang, Perak, Perlis, Pulau Pinang, Sabah, Sarawak, Selangor, Terengganu; and 1 federal territory (Wilayah Persekutuan) with 3 components, Kuala Lumpur, Labuan, and Putrajaya.
People and society

The critical distinction is between Malays (Bumiputras, literally "sons of the soil") and the Chinese, who traditionally controlled most economic activity. Since the 1970s, Malays have been favored for education and jobs to address this imbalance.
The population in Malaysia is 33,519,406 (July 2021 estimate), with an average of 1.06% (2021 estimate) change. That means Malaysia is the No. 43 in the world's populated rank list. With an average of 29.2 years median age (28.9 years for males and 28.9 years for women), Malaysia ranks No. 134 on the globe's median age rank list.
The people living in this country are the Malaysian(s) (noun) or Malaysian (adjective) and belong mainly to the following ethnic groups: Bumiputera 62.5% (Malays and indigenous peoples, including Orang Asli, Dayak, Anak Negeri), Chinese 20.6%, Indian 6.2%, other 0.9%, non-citizens 9.8% (2019 estimate).
They speak Bahasa Malaysia (official language), English, Chinese (Cantonese, Mandarin, Hokkien, Hakka, Hainan, Foochow), Tamil, Telugu, Malayalam, Panjabi, Thai languages and practice the following religions: Muslim (official) 61.3%, Buddhist 19.8%, Christian 9.2%, Hindu 6.3%, Confucianism, Taoism, other traditional Chinese religions 1.3%, other 0.4%, none 0.8%, unspecified 1% (2010 estimate).
We can conclude the following about the population in Malaysia: A highly uneven distribution with over 80% of the population residing on the Malay peninsula. In Malaysia, we are talking about 77.7% (2021) of the total population is living in cities, and most of them reside in the following municipalities: 8.211 million, Kuala Lumpur (capital city), 1.045 million, Johor Bahru, 828,000 Ipoh (2021).
Industry

A thriving industrial base includes electronics, manufacturing, and heavy industry. Tourism is a significant earner. Leading producer of palm oil, tin, and tropical hardwoods.
Malaysia, an upper-middle-income country, has transformed itself since the 1970s from a producer of raw materials into a multi-sector economy. Under current Prime Minister NAJIB, Malaysia is attempting to achieve high-income status by 2020 and move further up the value-added production chain by attracting investments in high technology, knowledge-based industries, and services. Najib's Economic Transformation Program is a series of projects and policy measures intended to accelerate the country's economic growth. The government has also taken steps to liberalize some services sub-sectors. Malaysia is vulnerable to a fall in world commodity prices or a general slowdown in global economic activity., The NAJIB administration continues efforts to boost domestic demand and reduce the economy's dependence on exports. Domestic demand continues to anchor economic growth, supported mainly by private consumption, accounting for 53% of GDP. Nevertheless, exports remain a significant economic driver, particularly electronics, oil and gas, and palm oil.
In 2015, gross exports of goods and services were equivalent to 73% of GDP. The oil and gas sector supplied about 22% of government revenue in 2015, down significantly from prior years amid a decline in commodity prices and diversification of government revenues. Malaysia has embarked on a fiscal reform program to achieve a balanced budget by 2020, including the rationalization of subsidies and the 2015 introduction of a 6% value-added tax. During the period, sustained low commodity prices strained government finances and shrunk Malaysia's current account surplus, and weighed heavily on the Malaysian ringgit, which was among the region's worst-performing currencies during 2013-17. The ringgit hit new lows following the US presidential election amid a broader selloff of emerging market assets., Bank Negara Malaysia (the central bank) maintains adequate foreign exchange reserves; a well-developed regulatory regime has limited Malaysia's exposure to riskier financial instruments, although it remains vulnerable to volatile global capital flows. To increase Malaysia's competitiveness, Prime Minister NAJIB raised possible revisions to the unique economic and social preferences accorded to ethnic Malays under the New Economic Policy of 1970 but retreated in 2013 after encountering significant opposition from Malay nationalists and other vested interests. In September 2013, NAJIB launched the new Bumiputra Economic Empowerment Program, policies that favor and advance the economic condition of ethnic Malays. Malaysia signed the 12-nation Trans-Pacific Partnership (TPP) free trade agreement in February 2016, although the future of the TPP remains unclear following the US withdrawal from the agreement. Along with nine other ASEAN members, Malaysia established the ASEAN Economic Community in 2015, aiming to advance regional economic integration.
Malaysia is rich in the following natural resources: tin, petroleum, timber, copper, iron ore, natural gas, bauxite.
The main industrial sectors are typically Peninsular Malaysia – rubber and oil palm processing and manufacturing, petroleum and natural gas, light manufacturing, pharmaceuticals, medical technology, electronics and semiconductors, timber processing; Sabah – logging, petroleum, and natural gas production; Sarawak – agriculture processing, petroleum and natural gas production, logging.
The country's export sectors are robust in integrated circuits, refined petroleum, natural gas, semiconductors, palm oil (2019), partnering with these nations: Singapore 13%, China 13%, United States 11%, Hong Kong 6%, Japan 6%, Thailand 5% (2019). The export trade resulted in $207.37 billion. Note: Data are in current year dollars (2020 estimate). In a global rank of the export, values resulted in Malaysia's position of 29.
Land use in Malaysia: 62% (2018 estimate) forest, 14.8% (2018 estimate) other.
The arable land area is 2.9% (2018 estimate), and the agricultural land is 23.2% (2018 estimate). Land use for permanent crops 19.4% (2018 estimate), permanent pasture 0.9% (2018 estimate). The sum of the area of the irrigated land is 3,800 sq km (2012).
The main agro-industrial products of Malaysia are oil palm fruit, rice, poultry, eggs, vegetables, rubber, coconuts, bananas, pineapples, pork.
The country typically needs to import: integrated circuits, refined petroleum, crude petroleum, broadcasting equipment, coal (2019), partnering with the following nations: China 24%, Singapore 14%, Japan 6%, United States 6%, Taiwan 5%, Thailand 5% (2019) in a sum value of $185.59 billion. Note: data are in current year dollars (2020 estimate) $210.68 billion. Note: data are in current year dollars (2019 estimate) $221.83 billion. Note: data are in current year dollars (2018 estimate). This sum value on the global ranking list of imports resulted in Malaysia 30.
Malaysia Driving Directions

In this post, you learned about Malaysia, the Southeastern Asia, peninsula bordering Thailand and northern one-third of the island of Borneo, bordering Indonesia, Brunei, and the South China Sea, south of Vietnam. We published some basic information about its capital Kuala Lumpur, and the Malaysian nation.
Are you interested in visiting Malaysia and looking for driving directions? Click here to plan your route, or see a printable road map of Malaysia below for an overview of the route network.
Printable map of Malaysia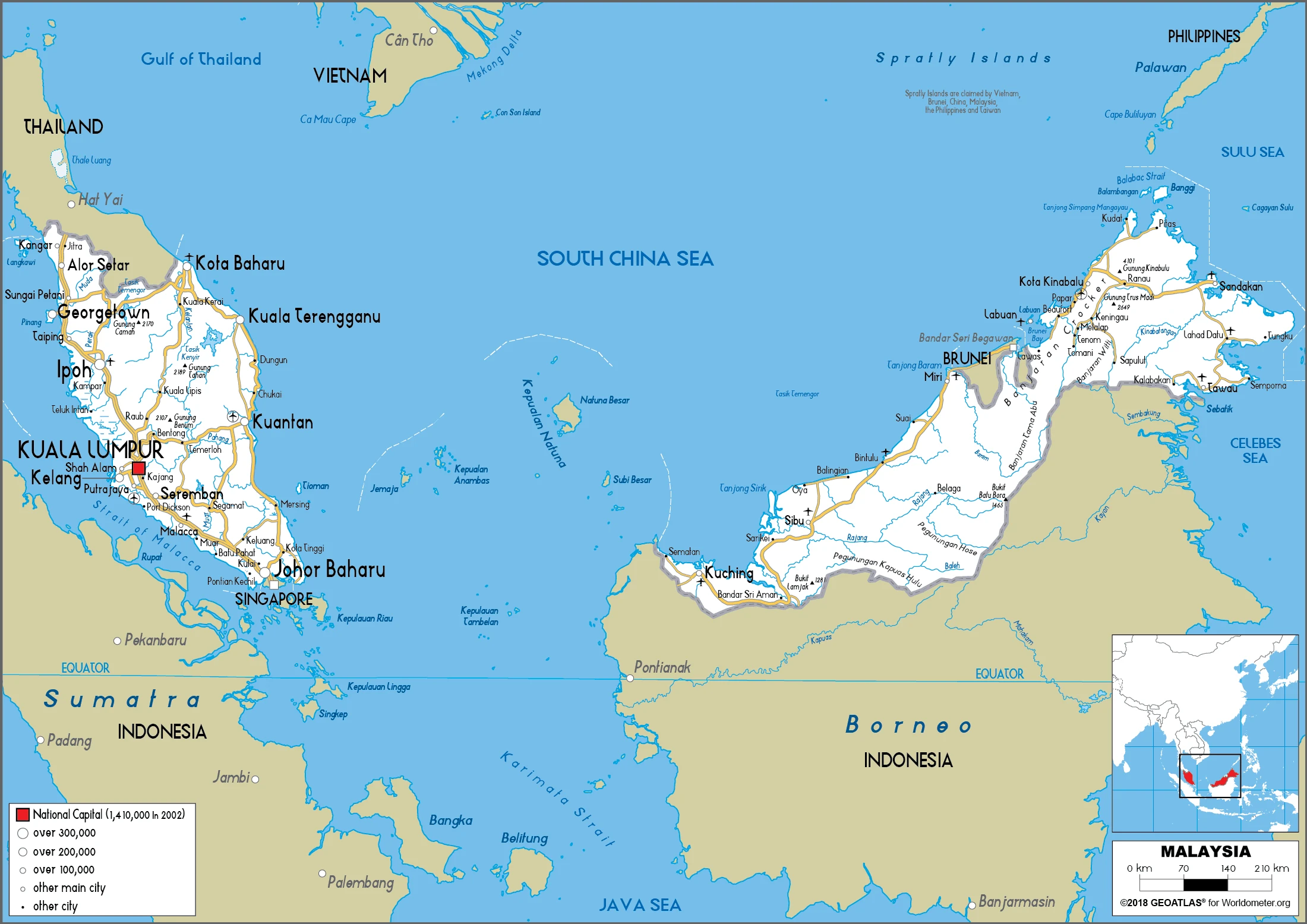 Did you know about Malaysia?
Malaysia has one of the highest population densities in the world. In addition to the capital city, Kuala Lumpur, Malaysia also has some beautiful natural wonders, such as Mount Kinabalu and the islands of Langkawi.
Since 1990, Malaysia has been ruled by a semi-democratic government. It is still the only country in Southeast Asia not to be colonized by another country. It has many resources such as tin, oil, and coal.
After virtually visiting Malaysia, you may also be interested in the neighboring countries: Brunei, Indonesia, Thailand.
If you liked our Google map and Malaysia information page,
please share it with others or save the link https://www.drivingdirections.net in your bookmarks.